Disclaimer - Nothing on this website is intended to be a substitute for professional medical advice, diagnosis, or treatment...
Read More Here
.
Our goal here at Sleep Advisor is to help our readers achieve a healthier life through better sleep. Along with providing researched-backed knowledge on important sleep health topics, another significant component of helping our readers improve their sleep is by connecting them with the right products through first-hand testing.
To provide transparency, we will walk you through how we rate and review specific mattress and accessory products, including important consumer-focused categories that allow us to better recommend certain products based on the needs of different sleepers.
How We Review Mattresses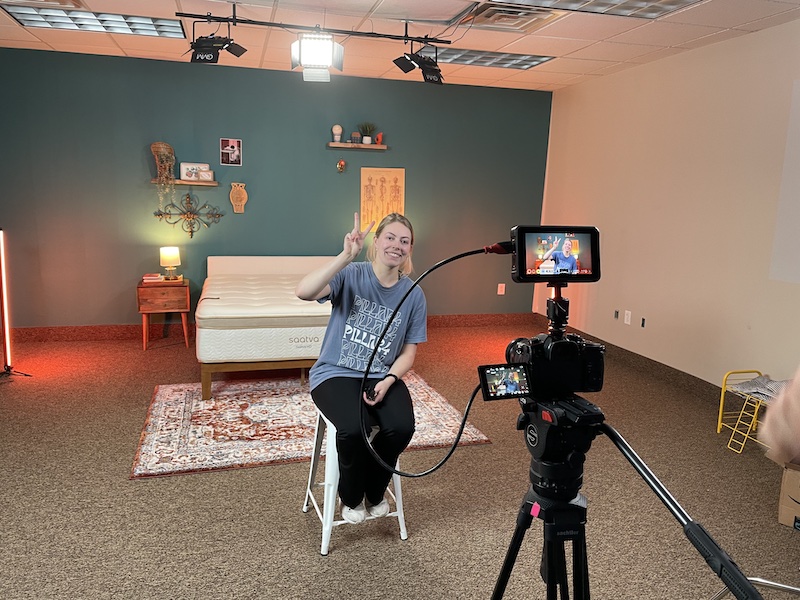 Firmness
Mattress firmness is a measure of how hard or soft a bed feels, and it is rated on a scale of 1-10, with 1 being the softest and 10 the firmest. Our mattress testers provide us with their firmness rating for each bed based on their experience with the product.
However, it's important to note that firmness is subjective. While our firmness ratings should provide a general understanding of how hard or soft a particular bed should feel, this can vary depending on your size since plus-size sleepers will experience a bed differently than lightweight sleepers.
Want to learn more? Read our in-depth guide on mattress firmness
Sleep Position and Body Weight
As mentioned above, mattresses are going to feel differently based on your weight, but another component of this is your sleep position. For instance, a softer mattress could be comfortable for a side sleeper to provide more cushioning around the shoulder and hip. However, that same softer mattress could be uncomfortable for a stomach sleeper since they could find their hips sinking too much into the bed, compromising their lower back alignment.
To help simplify the process, we use a star-rating system for mattresses according to each bodyweight category and sleep position.
0 stars – We do not recommend the mattress for this group
1 star – We think this mattress could work for some people in this group but not the majority
2 stars – We think this mattress could work for most people in this group
3 stars – We recommend this mattress for this group
| Weight | Side Sleepers | Back Sleepers | Stomach Sleepers |
| --- | --- | --- | --- |
| Lightweight Sleepers (-130 lbs) | ★★★ | ★★★ | ★☆☆ |
| Average-Weight Sleepers (130-230 lbs) | ★★★ | ★★★ | ★☆☆ |
| Heavyweight Sleepers (+230 lbs) | ★★☆ | ☆☆☆ | ☆☆☆ |
Performance for Couples
Many mattress shoppers share a bed with a partner, so we also include a performance rating for couples. This rating is based on features that are advantageous to couples sharing a mattress, such as bounce, motion isolation, edge support, firmness versatility, cooling, and weight capacity. Beds that rate well for couples also fare well in these categories. 
A 5 of 5 rating for couples typically means the bed is highly supportive for two sleepers of varying weights and has a medium firmness that could work for both partners. It will have bounce as well as motion isolation, making it conducive for sleep and sex. The edges will be strong to allow couples to spread out, and the bed has cooling elements to help prevent overheating.
Helpful Finds: Best Mattresses for Couples
Support
When our mattress testers look at support, they are seeing how well the mattress keeps their body lifted and their spine in a neutral alignment. They also take into account how supportive the bed should be for lightweight, average-weight, and plus-size sleepers.
Support is important for consumers because it helps the spine remain in its natural S-shaped alignment, which can help prevent or alleviate back pain.
The tester then rates the bed for support on a scale of 1-5, with 1 being the worst and 5 the best. Along with assessing how supported their spine feels lying on the bed in different positions, we also take into account the materials used in the mattress, such as quality foams, durable coils, the type of mattress, and the firmness level.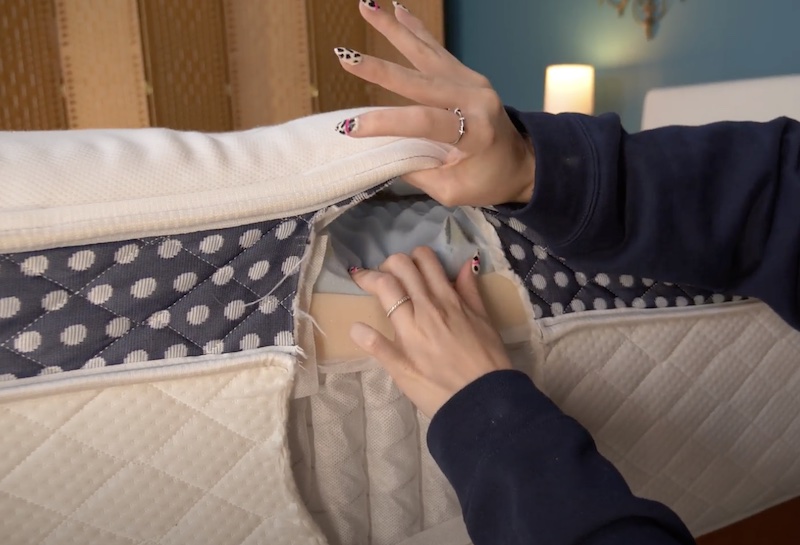 Edge Support
Edge support refers to how supportive the sides of the mattress feel. With good edge support, you shouldn't feel like you're rolling off the bed. This is typically important for couples who like to spread out when they sleep or people who may frequently sit on the edge of their bed.
We rate edge support on a 1-5 scale. A 1 rating means we found the mattress to have terrible edge support to the point that you're sinking so much you can feel the foundation layer or feel as though you'll slide off the bed entirely. A 5 rating is the best and means there's little to no sagging along the perimeter, no matter if you're sitting or lying right at the edge of the mattress. We also take into account if the mattress is built with reinforced materials along the edges, which can help with edge support.
Learn more: Why Is Edge Support Important?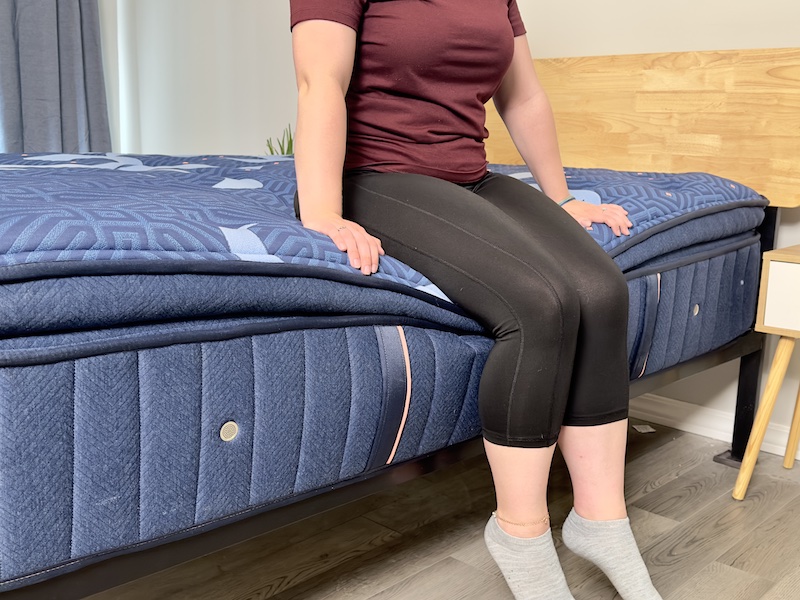 Cooling
Cooling is important for people who struggle to sleep because they run hot at night. We rate cooling on a 1-5 scale. If the bed receives a 1 rating, that means there are no cooling materials present and the bed sleeps very hot. Conversely, a 5 rating means the bed not only feels cool but is constructed with multiple cooling features.
Along with our reviewers physically testing how cool a bed feels, we also look for cooling features such as gel in memory foam, latex, coils, perforated foams, and breathable cover fabrics.
Helpful Finds: Our Top-Rated Cooling Mattresses
Motion Isolation
Motion isolation reflects how well a mattress prevents movement from transferring to the other side of the bed. This is often most valuable for couples, particularly those who are on different sleep schedules or if one partner tosses and turns a lot. A bed with high motion isolation could reduce the risk of nighttime disturbances.
One of the ways we test motion isolation is to use seismograph data to determine how much the bed absorbs little versus big movements.
We also analyze motion isolation by having an extra tester move around on the mattress so we can see how well it isolates motion for two people sharing a bed.
Motion isolation is rated 1-5, and along with our testing, we also consider the materials a bed is equipped with. For example, all-foam beds with memory foam can be excellent for motion isolation, whereas traditional innerspring mattresses typically aren't.
Find out more: What Is Motion Isolation?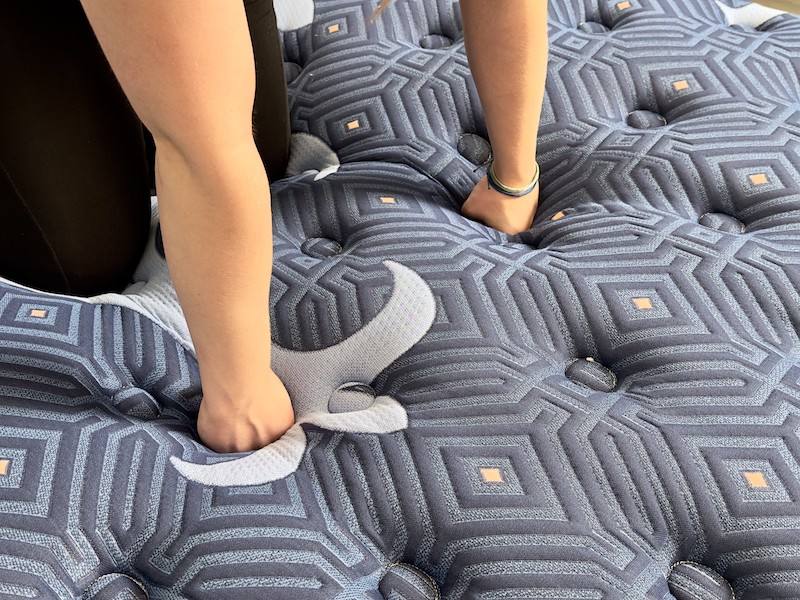 Bounce
Bounce is exactly as it sounds; this reflects how bouncy a mattress is. Bouncy, or responsive, beds are quick to respond to movement, immediately going back to their original position when you get up or move around.
We rate bounce on a 1-5 scale, with 1 meaning there's no bounce and 5 meaning there's lots of bounce. We also consider the materials in the mattress since some foster more buoyancy than others. For instance, beds with coils and latex are typically more bouncy than memory foam mattresses.
Pressure Relief
Pressure relief in a mattress is important because it helps alleviate discomfort and pain in sensitive pressure points. While we think this feature is valuable to all sleep positions, it's especially vital for side sleeping since pressure can more easily build up on your hip and shoulder.
We rate pressure relief on a 1-5 scale, with 1 meaning that our reviewer felt lots of pressure on the mattress, and a 5 rating meaning they experienced great pressure relief. The reviewers also use pressure maps to be certain there's pressure relief coming from the mattress.
Other factors we consider when looking at pressure relief are the materials, mattress type, and firmness. For example, memory foam and softer latex can be helpful for pressure relief, whereas traditional innerspring mattresses likely won't provide as much pressure relief.
The firmness can also impact pressure relief, though this will also depend on the sleeper's weight and how much they sink into the comfort layers.
Learn More: Why Pressure Relief Matters in a Mattress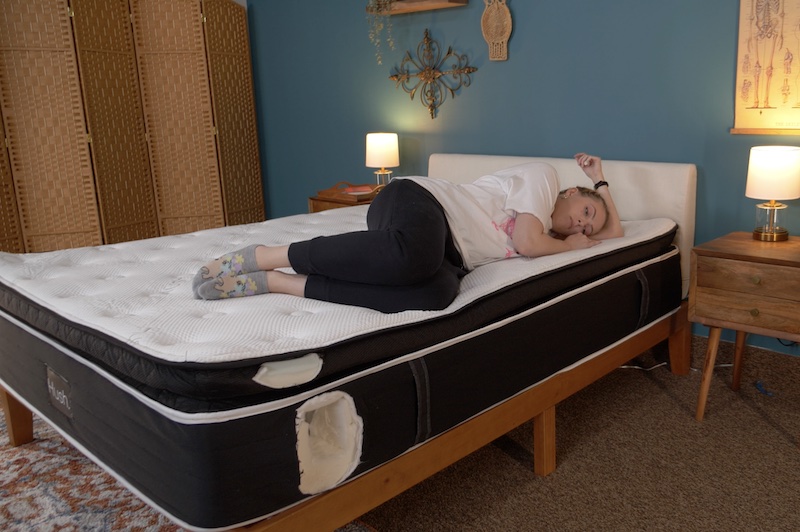 Our Overall Score
Our reviews will also include an aggregate score, which is an overall rating for the mattress. The aggregate score is the average of our scores for support, edge support, cooling, motion isolation, bounce, and pressure relief.  We add up these scores, then divide by six, for six categories.
Check out our top mattress picks of 2023
Pillows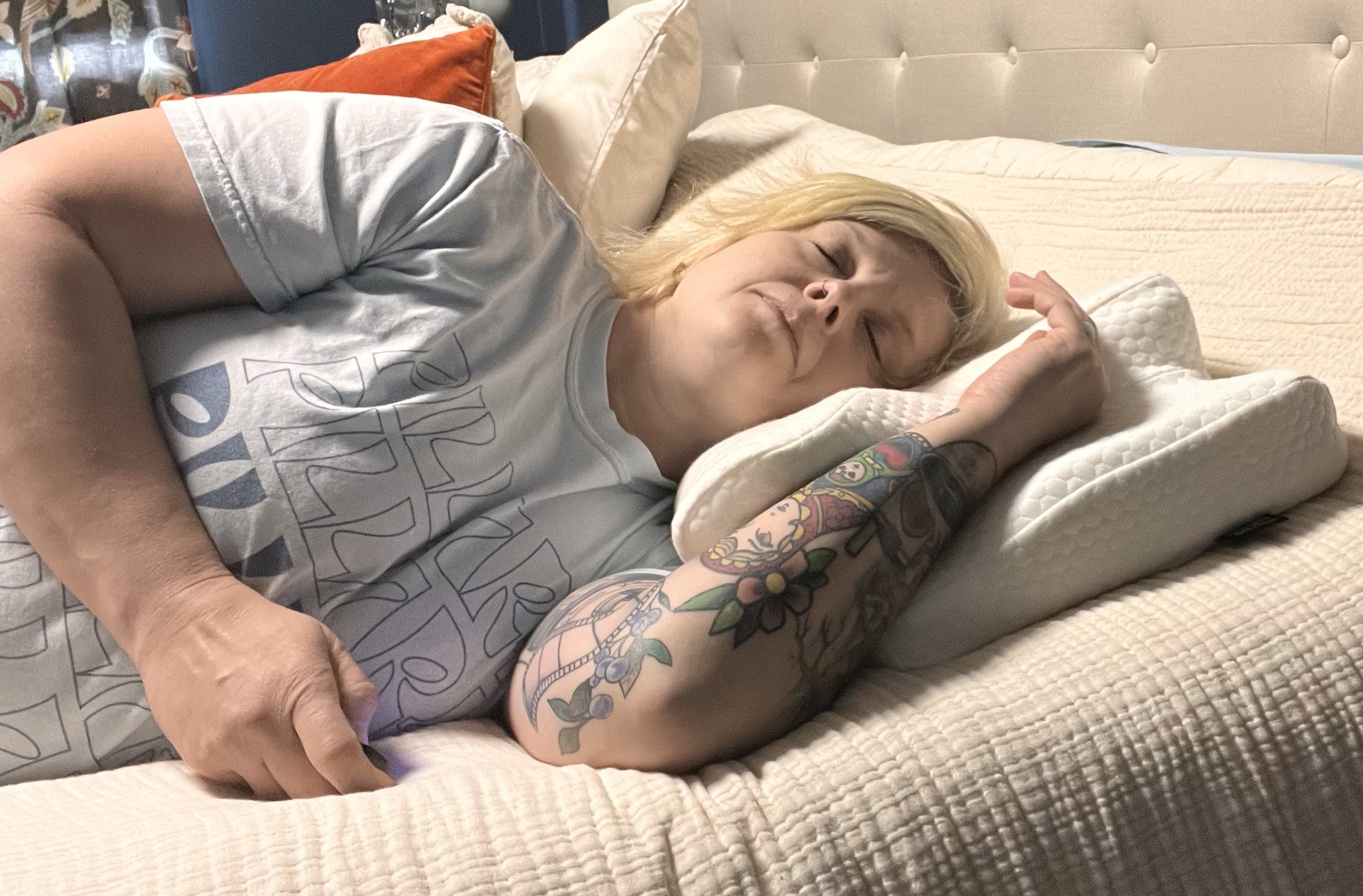 Sleep Position
Often with pillows, the product may work for one sleep position better than others, which is why we provide star ratings for pillows based on how we feel they work for stomach, back, and side sleepers.
Side Sleepers
0 stars – We don't recommend this pillow for side sleepers.
1 star – We think the pillow could be okay for this position, but there are better options available.
2 stars – We think the pillow should work for most people in this sleep position. It may not be specifically made for side sleepers but should still be a good option.
3 stars – We think the pillow is a great match for this sleep position. It has great support for the neck and head, and it has a medium to high loft. The pillow may also be specifically designed for sleepers.
Discover our favorite pillows for side sleepers
Back Sleepers
0 stars – We don't recommend this pillow for back sleepers
1 star – We think the pillow could be okay for this position, but there are better options available.
2 stars – We think the pillow should work for most people in this sleep position.
3 stars – We think the pillow is a great match for this sleep position. It has great support for the neck and head, and it has a medium loft.
Check out Sleep Advisor's top-rated pillows for back sleepers
Stomach Sleepers
0 stars – We do not recommend this pillow for stomach sleepers.
1 star – We think the pillow could be okay for this position, but there are better options available.
2 stars – We think the pillow could work for most people in this sleep position.
3 stars – We think the pillow is a great match for this sleep position. The pillow is flat and supports a healthy neck and spine alignment.
Visit our list of the best pillows for stomach sleepers
Temperature
We rate temperature on a 1-5 scale, evaluating the pillow's cooling capabilities. Typically, a 5 rating means the pillow actually feels cool to the touch, whereas a 1 rating means the pillow has no cooling properties and sleeps hot.
Other considerations that can go into analyzing a pillow's cooling capabilities are the materials it's made with. For example, latex naturally sleeps cool, and memory foam that also has cooling gel or a perforated design can help with temperature regulation. Breathable cover fabrics are also considered.
Support
We rate support on a 1-5 scale. While a 5 rating represents great support for the neck and head, a 1 rating means we experienced terrible support. Support is typically more important for side and back sleepers since they need a pillow to give them enough of a lift that their neck and head remain in a neutral alignment with the rest of their spine.
Along with our experience with the product in regards to spine alignment, we consider the pillow's core since foam pillows often provide good support. We'll also look at the loft since low-loft pillows may not give adequate support to back and side sleepers.
Check out our favorite pillows for neck pain and shoulder pain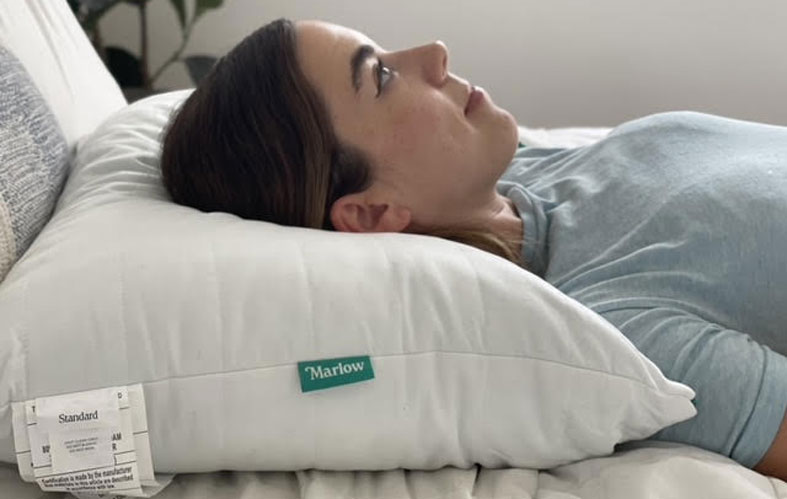 Durability
A pillow's durability is important because you want to ensure you'll get your money's worth with a new product, and this includes being able to use it for a long enough time. As with the other categories, durability is rated 1-5, with 5 being very durable.
As we assess durability, we are looking at the fill and cover materials and stitching details, and if foams are used, we consider the density of that foam. Along with looking at the product at hand, certain materials and quality construction can help give us insight into how long a product could last.
Comfort
Overall comfort is another important category that we rate 1-5, with 5 being that we felt very comfortable lying on this pillow. Because comfort can be relative to your sleep position, we also take into account whether or not the pillow is adjustable, as this gives it a better chance of appealing to multiple sleep types. We also assess whether it does a good job of relieving any tension in the head and neck.
Find out more: The Different Types of Pillows
Off-Gassing
Off-gassing is an important consideration with pillows since your head rests up against them, and for those sensitive to smells, this could be an issue. Off-gassing is essentially just a new product smell that can be present in mattress and bedding products that used synthetic materials. The good news is that it's temporary, but it could be bothersome if you want to use your pillow right away.
A 5 score means our team didn't notice any off-gassing, whereas a 1 score means it's very noticeable and may take as long as a week to dissipate. We also look at the materials used in the product because this can impact off-gassing. For example, bedding and mattress products made with more natural and organic materials typically don't produce (or don't produce as much) off-gassing after being unboxed.
Allergens
If a pillow contains both a hypoallergenic fill and cover, and it features multiple certifications, then we'll give it a 5 rating. However, if there are no hypoallergenic materials present and no certifications, then it will receive a 1 rating.
Cleaning & Care
Typically, pillows that have a trial that extends past 120 nights and a warranty that lasts 5 years or longer will get a 5 rating. There are occasions in which the trial period is longer than 120 nights, but the warranty may be less time. In this case, we may still give the product a higher rating because we feel the extended trial period is worth it.
Conversely, pillows that don't come with any trial or warranty deal will receive a 1 rating.
Learn More: How to Wash Your Pillows
Our Overall Score
The overall score represents the average of the scores we collect for temperature through sleep trial and warranty. To calculate this, we add up all those scores and then divide by eight, for eight categories.
Helpful Finds: The Best Pillows of 2023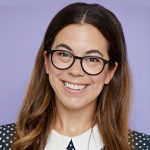 Jill Zwarensteyn is the editor for Sleep Advisor and a certified sleep science coach. She is enthusiastic about providing helpful and engaging information on all things sleep and wellness.
Based in Los Angeles, she is an experienced writer and journalist who enjoys spending her free time at the beach, hiking, reading, or exploring new places around town.
She's also an avid traveler who has a personal goal of being able to successfully sleep on an airplane someday.