Disclaimer - Nothing on this website is intended to be a substitute for professional medical advice, diagnosis, or treatment...
Read More Here
.
For some people, a pillow might be an afterthought. However, the type of pillow you choose should be much more deliberate. After all, qualities like the firmness, height, and support of your pillow can impact your body from the neck down each night.
That being said, there are so many pillow options out on the market, it can be hard to know which one to get. If you're in search of a new pillow and are not as familiar with different pillow styles, we're here to help you on your quest. In this article, we'll go over 17 different types of pillows, including the pros and cons of each type. Keep reading to learn more about the different types of pillows so you can choose the type that is best suited for you with the ultimate goal of sleeping more soundly.
17 Types of Pillows
1. Down Pillows
Down[1] is a soft, fluffy fiber usually found close to the skin on the chest of geese, ducks, or swans. This soft undercoating can be used to fill a pillow, sometimes combined with feathers and sometimes not. Down is considered a more high-end material and usually makes for softer, squishy pillows.
Pros:
Lightweight
Moldable
Soft
Durable
Good for stomach sleepers
Cons:
Needs fluffing in order to not go completely flat
More expensive
Can cause allergies
May not always be ethically sourced
Minimal support for side and back sleeping
If this sounds like the right pillow for you, check out our list of the best down pillows.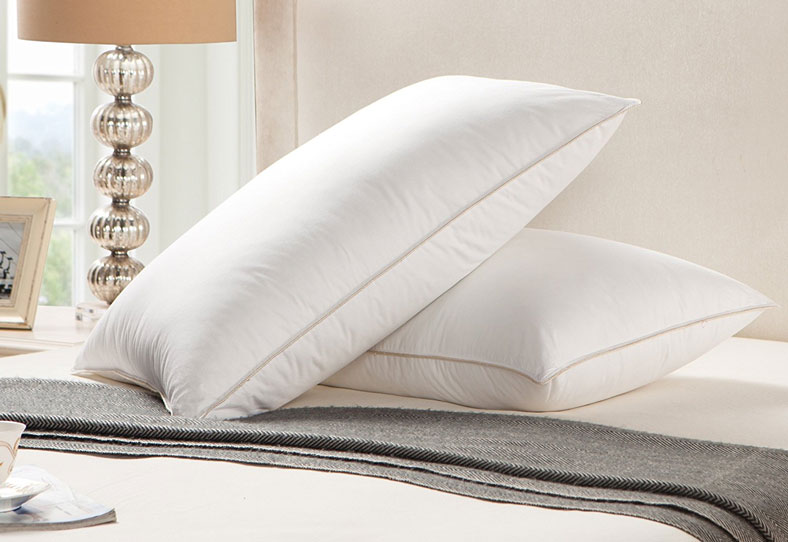 2. Down Alternative Pillows
Down alternative pillows are typically filled with polyester that is designed to mimic the soft feeling of down pillows. These are a great budget-friendly alternative to down pillows. Some people are against the use of down pillows since the material comes from animals, so down alternative can be a great solution. Plus, they're better for allergies than traditional down.
Down alternative pillows are common and easy to find. Like traditional down pillows, these are typically soft and flatter, making them ideal for many stomach sleepers.
Pros:
More affordable than traditional down pillows
Animal-free alternative to regular down
Hypoallergenic
Easily moldable
Soft and lightweight
Good for stomach sleepers
Cons:
Can develop lumps
Minimal support for side and back sleeping
3. Feather Pillows
Like down pillows, feather pillows come from geese or ducks. Whereas down is made from the fluffy feathers near the bird's chest, feather pillows are made from the longer feathers from the bird's wings and backs.
These pillows still feel soft and fluffy but are typically a bit firmer and will retain their shape longer than down pillows. If you're allergic to down, be aware that many feather pillows have a small amount of down in them, so you'll want to be sure of the pillow's contents before purchasing.
Pros:
Soft
Lightweight
Holds its shape better than down
Moldable
Cons:
Flattens easily
Quills may poke out of the pillow
Needs fluffing to maintain its shape
Not as support as foam pillows
Learn more about the difference between down and feather pillows.
4. Cotton Pillow
Cotton is used a lot in bedding and even pillowcases, but it is less common in pillow filling. That's because there are synthetic fibers that are less expensive to produce, but if you happen to be allergic to synthetics or want something more natural, cotton-filled pillows are a great option.
Cotton pillows tend to be naturally absorbent and breathable, which can make them an excellent choice for those who sleep hot. Additionally, if you experience allergies, cotton pillows are often hypoallergenic.
Pros:
Breathable
Organic options available
Natural material
Hypoallergenic
Odorless
Cons:
Can become lumpy
May flatten over time
5. Latex Pillows
Latex is becoming more popular in the bedding world. That's because it doesn't retain heat, and it's durable and supportive. Latex pillows can be natural or synthetic, though many eco-friendly brands opt for natural or organic latex.
Pros:
Supportive
Durable
Cooling
Natural latex is eco-friendly
Moldable
Cons:
May not work for those with latex allergies
Expensive
If natural latex sounds like your kind of pillow, check out our list of the best latex pillows.
6. Memory Foam Pillows
There are a couple of different types of memory foam pillows: those made from one solid piece of foam, and those made from shredded or cubed memory foam.
Solid memory foam pillows are popular because they are both dense, supporting, and contouring, which should be helpful for optimal head and neck alignment. You also don't typically need to re-fluff these pillows.
Pros:
Durable
Excellent contouring to the head and neck
Good for neck pain relief
No clumping
No need to fluff
Cons:
They can have a temporary off-gassing smell when unpackaged
Can retain heat
Usually not a good option for stomach sleepers
Synthetic material
Keep reading to learn more about the best memory foam pillows of 2023.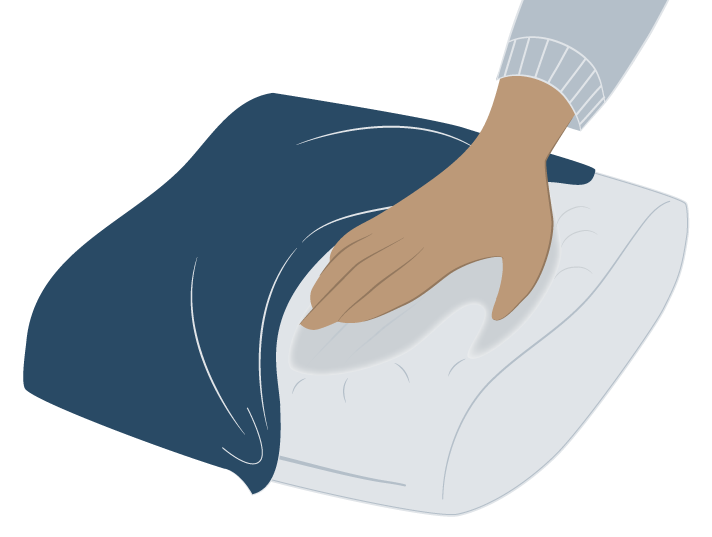 7. Shredded Memory Foam Pillows
Shredded memory foam pillows are made from the same material as regular memory foam pillows, but unlike regular memory foam pillows, these use shredded pieces of memory foam.
Shredding the memory makes these pillows more moldable and breathable than traditional memory foam pillows. These pillows still have the nice contouring and support that regular memory foam pillows have and tend to be a great option for back and side sleepers.
Pros:
Better airflow
More moldable
Good for back and side sleepers
Cons:
Potential off-gassing
Usually not great for stomach sleepers
Synthetic material
8. Adjustable Pillows
Adjustable pillows are a great option for folks who aren't sure exactly how firm or lofty they want their pillow to be. They're usually filled with shredded memory foam, poly foam, or latex that you can remove or add back in until the pillow suits your preferences. However, there are some pillows that have a different adjustable design, such as side zippers designed to adjust the feel.
Adjustable pillows can also be helpful if you get your pillows as a set of two, and you have a partner with different needs.
Pros:
Come in a variety of shapes, sizes, and fillings
More versatility for different sleep positions
Variety of firmness levels and lofts
Cons:
Removing the filling might be messy
Can take some experimenting to find your ideal pillow height and firmness
You would need somewhere to store extra fill
9. Bamboo Pillows
Bamboo is a soft, cooling, antimicrobial, and sustainable material. These pillows usually feature bamboo as a fabric in the cover and/or shell, and the pillow's filling is actually made of something else. If you're buying a bamboo pillow for its sustainability, be sure to check its full list of materials.
Pros:
Hypoallergenic
Soft and breathable
Antimicrobial
Moisture-wicking
Eco-friendly
Cons:
Can be expensive
Can have a chemical off-gassing smell, depending on the inner fill
If this sounds like the right pillow for you, check out our list of the best bamboo pillows.
10. Kapok Fiber Pillows
Kapok fiber comes from the inside of seed pods from the Silk Cotton Tree[2]. When the fruits on these trees ripen, the kapok fibers naturally rain down to the ground, making these pillows a great option for eco-conscious shoppers.
Kapok fiber pillows feel similar to down pillows in that they're soft, lightweight, buoyant, and need to be fluffed on occasion. Unlike down, though, kapok fiber is hypoallergenic.
Pros:
Eco-friendly
Hypoallergenic
Soft, buoyant, and lightweight
Naturally mold and mildew-resistant
Easily moldable in shape
Cons:
Needs to be fluffed
Can be expensive
More flammable than other pillow materials
If this sounds good to you, check out our review of the Layla pillow – a soft blend of kapok fiber and shredded foam.
11. Gel Pillows
Gel pillows are popular for their ability to keep sleepers cool at night since gel is a cooling material. Usually, these pillows have gel infused into memory foam. This is because memory foam tends to run hot, allowing people the benefits of memory foam without the heat retention.
Pros:
No fluffing needed
Pressure-relieving
Good for cooling
Usually combined with memory foam
Cons:
Synthetic pillows
Not usually great for stomach sleepers because of the foam
If you tend to sleep hot, check out our list of the best gel pillows.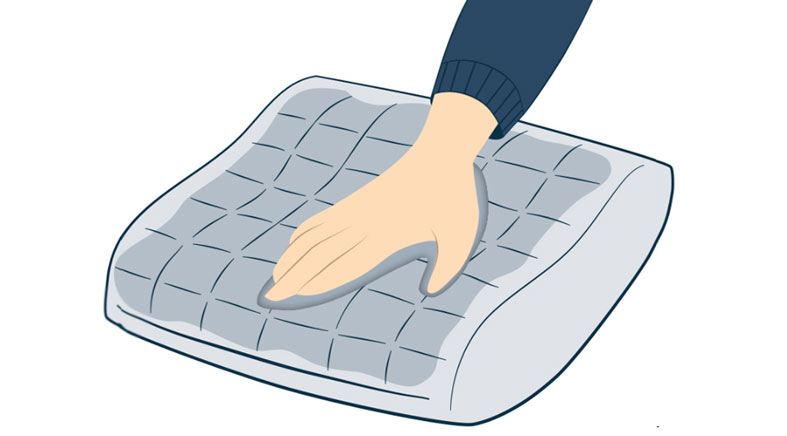 12. Buckwheat Pillows
Buckwheat pillows originated in Japan about 600 years ago[3] and have started gaining popularity in Western cultures. Contrary to the name, buckwheat is actually not a type of wheat but is a "pseudocereal," a type of grain that doesn't grow on grass. Quinoa is another example of this sort of grain.
Pillows filled with buckwheat use the hard outer shell of the grain that protects the buckwheat seed. These pillows are breathable, hypoallergenic, and mold to the head and neck easily.
Pros:
Hypoallergenic
Breathable
Natural
Supportive
Moldable
Cons:
Can make noise when moving around
Too firm for some sleepers
Can feel crunchy
Heavier than other pillows
If this sounds good to you, check out our list of the best buckwheat pillows.
13. Polyester Pillows
Polyester pillows are filled with polyester fiberfill, also called poly fill. Polyester is a synthetic fiber originally made from petroleum[4], a nonrenewable resource. It is inexpensive to produce, which makes it the most widely used fiber in the world, which also means that polyester pillows are less expensive than other types of pillows that use natural fibers.
Additionally, since polyester pillows come in a variety of firmness levels, shapes, and sizes, they are typically well-suited for many types of body types and preferred sleep positions.
Pros:
Inexpensive
Hypoallergenic
Lightweight
Easily moldable
Cons:
Can develop lumps
Not breathable
Not durable
Not environmentally-friendly
14. Microbead Pillows
Microbeads are small synthetic balls made from plastic. You may be familiar with them in products like U-shaped travel pillows, padded trays, drawing pads, and even some stuffed animals. These microbeads feel similar to buckwheat, in that they're easily moldable, relatively firm, breathable, cooling, and dense. However, unlike buckwheat, this is a synthetic material.
Pros:
Malleable
Breathable
Cooling
Firm
Supportive
Cons:
Not environmentally-friendly
Messy if microbeads escape their covering
Not as durable
Can retain heat
Can have a chemical off-gassing smell
15. Body Pillow
Body pillows support your entire body rather than just your head. They are long and narrow in shape and run the length of your body. This design can be comfortable and supportive, especially when sleeping on your side. This way, you can have something in between your knees, nestled between your arms, and beneath your head.
These pillows can be filled with a variety of materials, including organic or synthetic materials, and can come in a variety of firmness levels. Pregnant sleepers can often benefit from a body pillow.
Pros:
They're versatile
Made from a variety of materials
Different firmness levels
Can be helpful for pregnant sleepers
Cons:
Take up a significant amount of space on the bed
Can be expensive
Cumbersome
Can create extra space between you and your partner

16. Wool Pillows
Most of us know wool for its use in clothing or even bedding, but we probably don't think of it as pillow stuffing. This natural fiber shorn from sheep makes for a thermoregulating pillow stuffing, helping to keep you warm when it's cool or keep you cool when it's warm.
They're a good choice for those with allergies as they're hypoallergenic. While they tend to start out fluffy, they can flatten, which means they could be a good fit for stomach sleepers since they need a thinner pillow.
Pros:
Eco-friendly
Helps regulate your body temperature
Natural flame retardant
Naturally antimicrobial and antibacterial
Dust-mite resistant
Cons:
Dry clean only
Can absorb odors
Flatten over time
Not vegan
17. Water Pillows
If you grew up in the 80s or 90s, you probably remember waterbeds. Well, a water pillow is the very same concept, but in a smaller form. The point of this is that it maintains its consistency no matter how many times you lie on it, and it cradles to the shape of your head. They tend to feel firm and supportive, rather than soft or especially cushioning.
Pros:
Conform to your neck and head
No need to fluff
Hypoallergenic
They can be adjustable
Cons:
Leaks can be messy and they can possibly damage your mattress
May be too firm for some sleepers
May make a sloshing noise when you move
Summary
As you can see, pillows come in a multitude of different materials and designs. While it might be stressful to navigate all these options, the upside is that there's something for everyone. Furthermore, the right pillow could enhance your quality of sleep and help you wake up ache-free in the morning.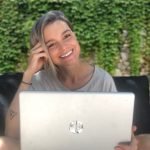 Natalie is a content writer for Sleep Advisor with a deep passion for all things health and a fascination with the mysterious activity that is sleep. Outside of writing about sleep, she is a bestselling author, improviser, and creative writing teacher based out of Austin.
When she's doing none of these things, you will most likely find her outdoors, at the gym, or... asleep.