Transparency Disclosure – We may receive a referral fee for products purchased through the links on our site...

Read More

.
If you're having trouble sleeping through the night due to allergens or overheating, your pillow could be to blame.
A growing number of people are finding restful and peaceful sleep with bamboo pillows. They're naturally hypoallergenic, which gives relief to those who suffer from allergies. This fiber is also lightweight and breathable, so you'll stay cool and comfortable throughout the night.
One thing that might dissuade someone from trying this type of pillow is the higher price points. And with more companies manufacturing bamboo pillows, it can be difficult to know which brands have the best quality and value.
To help you on your journey to better sleep, we've put together this guide of the most popular brands of bamboo pillows. In this article, we'll review the top bestsellers and share our findings. If you do decide to try one, you'll be armed with the research for your best night of sleep.
Adjustable Loft

Coop Home Goods

Main Features: Fully Adjustable, Hypoallergenic, High-Quality Materials

CLICK HERE FOR PRICE

Luxury Bamboo Pillow

Snuggle-Pedic Ultra Luxury

Main Features: Fully Adjustable, Hypoallergenic, High-Quality Materials with Kool-Flow technology

CLICK HERE FOR PRICE

Ideal for all Sleep Positions

Xtreme Comforts

Main Features: Designed for Stomach Sleepers, Adjustable, Hypoallergenic

CLICK HERE FOR PRICE

Ideal for Acid Reflux Suffers

Brentwood Home Zuma

Main Features: Multiple uses and applications

CLICK HERE FOR PRICE

Best Lumbar Support

The Original Miracle Bamboo

Main Features: Good Budget Choice, Temperature Regulated, Hypoallergenic

CLICK HERE FOR PRICE

Odor-Free

LANGRIA Luxury Bamboo

Main Features: Adjustable, Hypoallergenic, Filling cotton storage bag included

CLICK HERE FOR PRICE

Hypoallergenic

Clara Clark Premium

Main Features: High-Quality Materials, Hypoallergenic, Filling cotton storage bag included

CLICK HERE FOR PRICE
Top 7 Bamboo Pillow Reviews
Coop Home Goods
Cover is 60% Polyester, 40% Rayon Derived from Bamboo
Memory Foam fill
Fully adjustable
Hypoallergenic
CertiPUR-US certified
GREENGUARD Gold certified
Made in USA
The Coop Home Goods is a fan favorite among even the most difficult to please sleepers. Its high-quality construction combines the support of memory foam with the softness and flexibility of a down pillow.
This is a fully adjustable model that accommodates all types of sleeping positions, from side, back and stomach. It has a proprietary mix of shredded visco elastic memory foam so that you can add or remove pieces for maximum comfort.
This brand also uses CertiPUR-US Certified foam. Basically, that means that it is made without ozone depleters, toxic flame-retardants, harmful heavy metals, formaldehyde or phthalates. Allergy sufferers will also be happy to know that Coop Home Goods bamboo pillows are hypoallergenic and dust mite resistant.
Many people who use this model refer to it as an adjustable cloud, which is the ultimate sleep experience!
One thing to watch out for is the odor that the foam emits when the package is first opened. Luckily, the smell disappears after airing out for just a day or two.
Snuggle-Pedic Ultra Luxury
Cover: 43% Viscose of Bamboo, 56.4 percent Polyester, .6 Percent Lycra
Memory Foam filling
Fully Adjustable
Hypoallergenic
Certipur-US certified
Made in USA
This is another shredded memory foam style model in the premium bedding category. It features a patented Kool-Flow technology and a micro-vented cover to help keep you cool and comfortable throughout the night.
While other adjustable memory foam bamboo pillows require some guesswork, the Snuggle-Pedic stands out because you can have one of their sleep experts adjust it for you for an ideal fit based on your unique preferences.
This brand has developed quite a reputation among even the hardest to please sleepers for its softness, durability and overall comfort.
Because the Snuggle-Pedic pillow's foam has thicker shredding than the Coop brand, some people find it to be a slightly firmer pillow and less buoyant.
Depending on your overall sleeping preference, that could be a good or a bad thing!
Xtreme Comforts
Kool-Flow(tm) Bamboo Cover
Memory Foam filling
Hypoallergenic
CertiPUR-US certified
Made in USA
This pillow is designed specifically for stomach sleepers, who make up only 7 percent of the population.
It has a thinner profile than traditional models that you see on TV, but still contains the same premium quality shredded memory foam.
People who sleep on their stomach tend to complain of neck and shoulder issues, and the slimmer design of the Xtreme Comfort pillow can mean instant relief for those problems.
People who use Xtreme Comforts also appreciate that it's thin enough to be portable and take on trips. And to be honest, it's not just for stomach sleepers.
Side and back sleepers also show an equal amount of appreciation for this item.
The only potential negative of this particular model is that it can definitely be too slim for people who want really fluffy pillows.
Brentwood Home Zuma Therapeutic Foam
Supportive base
Super soft stretch knit cover
CertiPUR-US certified
Made in USA
Instead of being a traditional pillow, the Brentwood is a wedge that elevates your upper body and legs.
The gradual slope of the wedge can also be used for lying on your side for extra support.
While this product is originally intended as a therapeutic pillow for people suffering from symptoms like acid reflux, breathing difficulties, poor circulation, hernias and back and neck pain, it's also incredibly useful as a prop against the headboard for reading in bed.
My favorite application is putting it on my lap and then using it as a perfectly angled prop for my laptop!
The Original Miracle Bamboo
Cover: 40% Viscose from Bamboo and 60% Polyester
Memory foam fill
Hypoallergenic
People who are plagued by flipping their pillow throughout the night will want to try out the Original Miracle Bamboo pillow.
It features an ultra comfort 3-in-1 technology that combines softness, support, and adjustability.
This model is also known as the pillow that "hugs you back" because its special blend of shredded memory foam responds to the heat and pressure of your body to form the ideal shape for optimum sleeping comfort.
Like other foam pillows on the market, this one arrives with a slightly odd smell, but again, it will go away after being exposed to air within one to two days.
LANGRIA Luxury Bamboo
Bamboo cover
Memory foam filling
Adjustable
Hypoallergenic
CertiPUR-US certified
When a pillow comes with its own carrying case for travel, you know you're going to sleep like a boss.
The LANGRIA is suitable for all sleeping positions due to its self-adjusting filling capability, and also features breathable fabric so you can stay cool throughout the night.
This model is often compared to the quality of the infamous Tempurpedic brand without the steep price tag. Similarly to the more expensive pillows, the LANGRIA's memory foam shredding can be added or removed for the ultimate sleep experience.
When the pillow arrives, it'll take about 24 hours after being opened in order to expand to its original sleep.
So if you're excited about sleeping on your LANGRIA the day it arrives, just know that you might have to wait one day to experience the blissful sleep you've been waiting for.
Clara Clark Premium
Bamboo zippered cover
Memory foam filling
Hypoallergenic
Adjustable
This bamboo pillow wins for having the best looking outer design. It features luxurious memory foam designed to enhance your posture and keep your body perfectly aligned.
This makes it ideal for sleeping in any position.
The quality is comparable to the more expensive pillows in that you can adjust the filling to meet your individual needs.
Many people who have bought this were impressed by the quality for such a reasonable cost.
One thing to note when you get this pillow is that it does require aggressive fluffing before use and you'll need to continue to fluff it regularly.
Also, like the other brands, you'll likely notice an odor when you remove it from the package. The odor goes away, so there's no need to worry.
What is a Bamboo Pillow?
While most people think of bamboo as a woody, tree-like plant, it's actually a grass. When it's spun into fabric, it becomes one of the softest materials available. It's naturally harvested, so it doesn't contain the pesticides or chemicals that are found in cotton and other common bedding materials.
When this material is shredded into fabric, it makes one of the most comfortable types of cushions. In addition to feeling like you're sleeping on a fluffy cloud, these pillows have a reputation for being therapeutic, breathable and temperature control.
How to Choose a Bamboo Pillow
Materials
In our research, we found that most pillows are not actually made from bamboo. Rather, just the cover is made from bamboo woven into fabric and the filling is usually a type of shredded memory foam.
Some brands, like Xtreme Comforts, do have a viscose fiber filling made out of bamboo in addition to the soft, shredded foam.
New trends in this market include the use of gel and aloe vera. The manufacturers who use a blend of shredded gel-memory foam are able to provide a unique experience for sleepers with an extra soft and cushy feel that still has ample support.
Whenever you find aloe vera mixed with bamboo in the cover, you can rest assured that you're getting an amazingly soft pillow. There is some research to support that a cover infused with aloe can deliver extra nutrients and promote faster cell regeneration, which gives skin a fresh and youthful glow.
Quality
The quality of bamboo pillows can vary greatly, depending on the brand. Several models on the market are known for being lumpy, flat and hard, so be sure to check our in-depth reviews to find one that is soft, luxurious and comfortable.
The reason that some of the poor quality designs receive complaints about their lumpiness or hardness is because of the poor quality foam inside of the pillow. This happens when the inside shredding is in disproportionate sizes and isn't a top-notch material. Over time, lesser quality pillows lose their bounce and become flat.
Get More Info: Top Rated Pillows for 2021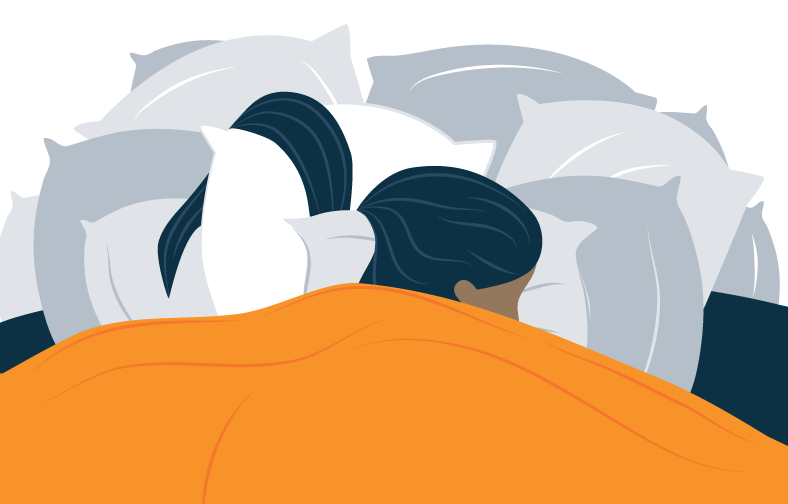 Size
Bamboo pillows usually come in three sizes: standard, queen and king. The size you'll want should correspond with the size of your bed. Some brands don't specify standard, queen or king and they use more of a one-size fits all approach.
The biggest difference between the different sizes will appear in the width of the pillows, which can vary from about 2 to 3 inches between sizes. Typically, the larger the size, the more expensive the price tag.
Most of them will range from 26 to 30 inches wide. They're heavier than regular pillows and can weigh anywhere from 3.5 to 5 pounds.
Lifespan and Warranty
A good quality option should last for years, especially if taken care of properly. Ideally, a top quality product will retain its shape and comfort for at least the warranty period. One thing that helps these last longer than a standard memory foam pillow is the shredded that can be adjusted and fluffed.
The warranty period varies greatly by brand. Some manufacturers don't even have a publicly stated warranty. The average guarantee is between 5 and 6 years, though Xtreme Comfort offers an impressive 20-year warranty.
USA or Imported?
Most people prefer to buy items like bedding in the US rather than pillows made in China. There's a perception of higher quality, less chemicals and better customer service and support. In our research, we found that the biggest difference between US-made and imported bamboo pillows is the price.
Additionally, the shredded materials may be of a slightly higher grade in the pillows that are made in the US, but in terms of comfort, the ones made in China have been rated equally in terms of comfort.
Bamboo vs Other Pillows
Memory Foam
Bamboo and memory foam pillows do have some overlap since they often contain a modified memory foam filling. Traditional memory foam cushions are known to be less accommodating. In addition, they also have a reputation for being hot, and therefore uncomfortable, to sleep on.
While bamboo pillows can arrive with a bit of an odor, standard memory foam pillows often have a much more powerful odor. People who care about their health have expressed concerns about the continuous off gassing that they experience with pure memory foam.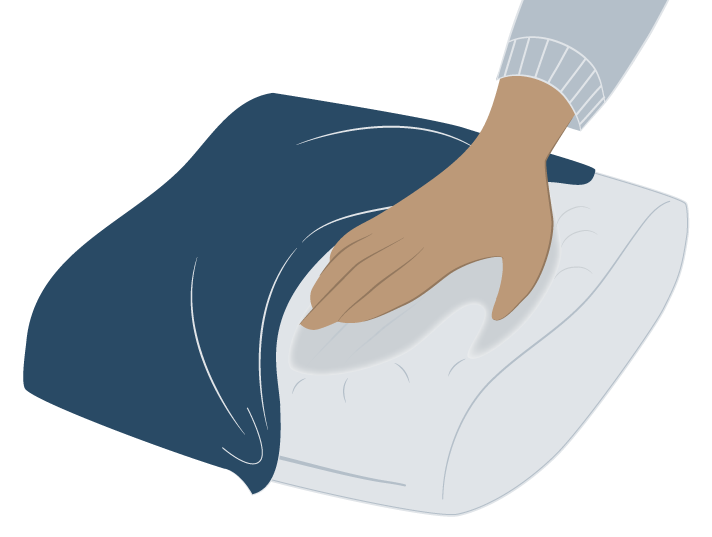 Down
Down comes from the fluffy part of a bird's feathers, so these types of pillows are the most luxurious and considered to be extremely soft, supple and moldable. However, there are some huge disadvantages to this type of bedding.
First, the methodologies used to obtain the down are extremely inhumane and beyond the scope of this article. In addition, they are insanely expensive, difficult to clean, require constant fluffing and triggers allergic reactions in a high percentage of people. Down pillows are also notorious for flattening during the night and causing people to wake up with extreme discomfort and numb extremities.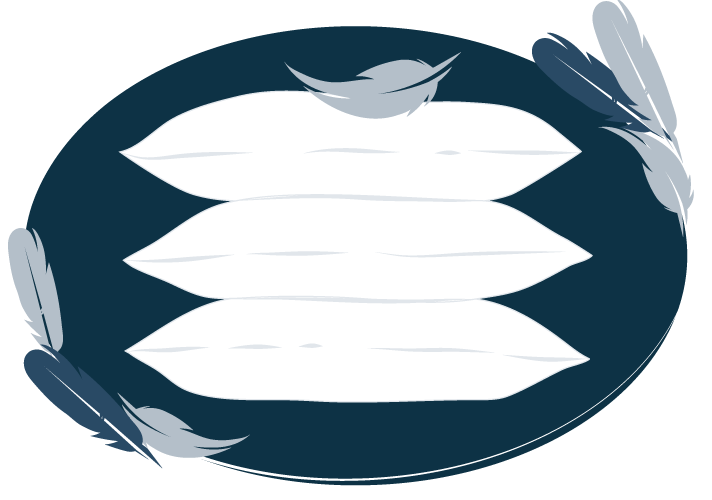 Latex
Latex pillows offer a good amount of orthopedic support, which makes them popular among people who suffer from back pain. They're also fairly inexpensive compared to other types of bedding. Many users also appreciate the lack of off gassing that they observe in memory foam pillows.
However, pillows made from latex are known to be harder and less comfortable than other types of pillows. This can be solved by getting natural latex, but that is more expensive than both synthetic latex and memory foam.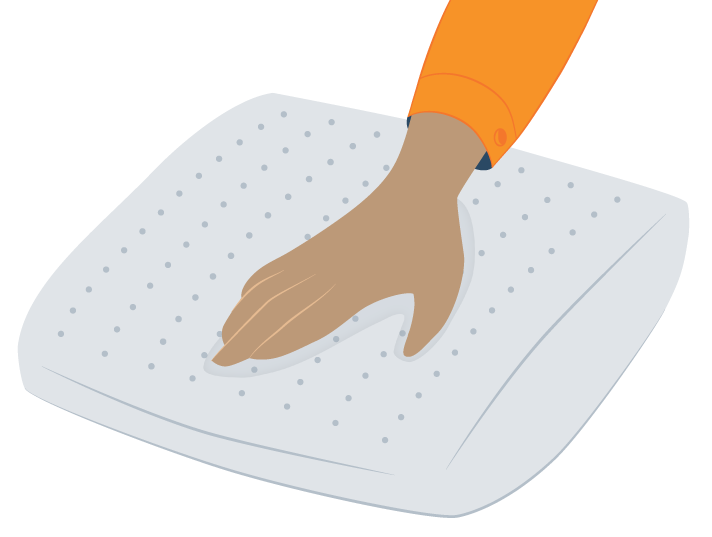 Tempurpedic
Tempur is a type of memory foam manufactured by the company, Tempurpedic. It was originally developed through a NASA contract, and contains a blend of various substances to make the memory foam. It has been refined and developed by scientists over the years, but because of its synthetic polyurethane foam blend, it has been known to produce offensive and potentially harmful off gassing odor.
Other complaints about Tempurpedic include high prices and too much body heat retention, which makes many sleepers uncomfortable.
My Pillow
My Pillow claims to be superior to all pillows because of a patented interlocking fill that adjusts to any sleeper. It boasts the softness and adjustability of a down pillow without flattening overnight. The interlocking fill resembles polyurethane, and many users complain that it's basically a really cheap material and not a comfortable pillow overall.
Considering the expensive price tag of My Pillow, we recommend sticking with a bamboo pillow for the ultimate in comfort and value.
Benefits of Owning a Bamboo Pillow
Because getting consistently quality sleep is an important part of being healthy, it's only natural that people would seek out a solution that provides the most health benefits. Because these pillows are naturally organic, anti-microbial, dust mite resistant and incredibly soft to the touch with no friction, people seek them out to help with issues such as migraines, acne and hair loss.
The ergonomic and adjustable features of these pillows also make them ideal for people who snore or have back and neck pain.
And finally, because these are natural pillows produced without harmful chemicals and pesticides, they're a top choice among pregnant women.
Find Out More: Best Pregnancy Pillows
Naturally Organic
Since bedding is in contact with our body's largest organ (skin), people are now focusing more attention on buying naturally organic materials. Sleeping on pillows that are not made from organic fabrics means coming into contact with chemicals, pesticides and other harmful ingredients that can cause discomfort and even long-term health challenges.
Read More: Is Your Pillow Toxic?
The process of growing bamboo is a naturally organic one, though there are some chemicals involved in the production, or spinning, of the fabric. By contrast, it has now been discovered that even organic cotton farming uses pesticides, so if you're looking for a natural organic solution, a bamboo pillow is the best choice.
View Our Guide: Best Rated Organic Pillows
Cooler Sleep
Our bodies tend to sweat at night in an effort to keep cool. Bedding made out of cotton or synthetics does nothing to help our body temperatures regulate. If anything, these materials make us feel even hotter!
Bamboo absorbs 40% more water than cotton, allowing the water (sweat) to whisk away from your body and evaporate more efficiently. This is the reason why these types of pillows and sheets feel cool to the touch.
There's nothing worse than waking up drenched in a pool of your own sweat! Fortunately, a bamboo pillow can keep your head cool and comfortable.
Want to know more? Check out our full guide for cooling pillows.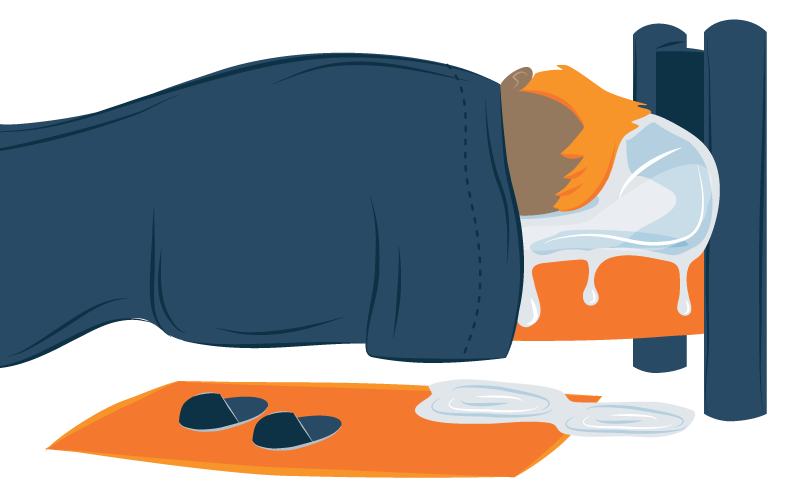 Great for All Sleeping Positions
The adjustable properties mean that you can customize the pillow to a form that is most comfortable for you. Many of them have zipper compartments where you can add or remove stuffing. This means that you can have a flat sleeping surface, or a tall, fluffy one. It all depends on you!
Because of the ability to customize the exact shape and size of the cushion, these pillows work equally well for side, stomach and back sleepers.
Anti-bacterial & Dust Mite Resistant
Bamboo contains a naturally occurring substance called "bamboo-kun," that gives the plant and its corresponding fabric protection against pest and fungal infestation. This benefits translates to anti-bacterial properties and resistance to dust mites.
Hypo-allergenic
In addition to not containing any chemical additives or materials that spark allergies, the resistance to dust mites (mentioned above) is also a key to making bamboo models hypoallergenic.
It turns out that the materials that dust mites excrete when they eat your skin cells can cause all sorts of problems in humans, ranging from allergies to asthma. For those that suffer from asthma, a bamboo pillow is an ideal choice.
Environmentally Friendly and Sustainable
Bamboo is considered an environmentally friendly and sustainable crop because it can be grown in areas where other plants aren't able to grow. It is also adaptable to varying water levels, unlike cotton, which requires irrigation. And since it requires no special pesticides or fertilizers to grow, no harmful chemicals are introduced into the earth's soil.
At the end of its useful life, it is also compostable and biodegradable.
Bamboo Pillow Aftercare Advice & Tips
Depending on which pillow you buy, your washing and care instructions will vary. The most important thing to do is to check your label and err on the side of caution.
The frequency with which you clean you clean your pillow is a matter of preference, usually every 2 to 4 months, and more frequently for people who have allergies.
In general, it's not recommended that the memory foam portion be washed in a washing machine. This will cause the foam to deteriorate. Instead of a washing machine, a gentle hand wash in lukewarm water and a mild, non-bleach detergent is best for cleaning your pillow.
To dry, lay flat, preferably in the sun.
On the other hand, you can and should wash the bamboo cover often. Make sure to wash the cover on gentle cycle only. It can be placed in the dryer on low, but again check your instructions because bamboo sometimes shrinks even more than cotton!
Your pillow should last for years, but here's a tip to know when it's time to replace it:  fold it in half and then let go. If it opens right back in place, it's still in good shape. But, if it stays folded and doesn't move, it's definitely time for a new one.
Frequently Asked Questions about Bamboo Pillows
How Can I Fluff My Bamboo Pillow?
A lot of people are surprised when they first receive their bamboo pillow in the mail. To save space in the shipping process, the pillows are compressed tightly in their packages. After you take it out of the package, let it sit for 24-48 hours before using it. It will naturally expand to its natural shape.
To accelerate the process, you can also place the pillow in the dryer on low heat for about 15 to 20 minutes.
Need more details? Check out our guide on how to fluff your pillow.
Can You Be Allergic to Bamboo?
It is extremely rare to be allergic to bamboo. In instances where someone has an allergic reaction from sleeping on one of these pillows, it is most likely due to something that the bamboo fabric is blended with, the detergent used on the cover, or the propagation of dust mites, which have excretions that often cause allergic reactions and asthma.
Why Does a Bamboo Pillow Smell Like Mold?
If your pillow has been wet for extended periods, it can begin to smell like mold. To prevent that from happening, make sure you completely dry your pillow after washing it and before using it. If the moldy smell has already happened, you can get rid of the smell by washing the item gently by hand and drying in the sun.
New bamboo pillows can sometimes have a bit of a smell from the production process and external packaging. Once out of the package and left to air out, they have a neutral smell within a day.
Our Final Thoughts
These pillows are true wonders of nature. There are a lot of models to choose from, but the fact that these are easily adjustable, hypoallergenic and reasonably priced makes them an ideal solution for a night of blissful sleep.
Countless people have had incredibly positive experiences by making the switch. There are numerous stories of people who couldn't sleep comfortably in a bed for years after injuries and surgeries that are now sleeping like a baby on their brand new bamboo pillow.
The soft and smooth texture of the bamboo makes this one of the most comfortable materials to sleep on. Considering that we spend approximately one third of our lives in bed, it makes sense to invest in bedding that makes our experience as positive and pleasant as possible.
Our team covers as many areas of expertise as we do time zones, but none of us started here as a so-called expert on sleep. What we do share is a willingness to ask questions (lots of them), seek experts, and dig deep into conventional wisdom to see if maybe there might be a better path towards healthy living. We apply what we learn not only to our company culture, but also how we deliver information to our over 12.7M readers.
Sleep research is changing all the time, and we are 100% dedicated to keeping up with breakthroughs and innovations. You live better if you sleep better. Whatever has brought you here, we wish you luck on your journey towards better rest.