Transparency Disclosure – We may receive a referral fee for products purchased through the links on our site...

Read More

.
Having a comfortable bed makes all the difference when it comes to sleep quality. What about other bedding accessories, though? Sheets are among the most important bedding, and there's nothing like curling up in a cozy set at the end of the day.
As a consumer, you don't have to break the bank to get great sheets. Some of the best affordable sheets bring exceptional comfort and value at prices you can get behind.
In this review, we'll look at some of the best affordable sheets and what makes them stand out. We'll also answer your most frequently asked questions and discuss important factors you should consider before buying.
Our Top Picks for Best Affordable Sheets
Editor's Choice
Sleepers looking for ultimate comfort and ease of maintenance should consider this Brooklinen set. These Percale sheets have a breathable 270-thread count weave that gives them a luxury look and feel. In addition, the weave allows maximum breathability, allowing the sheets to stay cool throughout the night, which is great for hot sleepers.
The Brooklinen is made with 100 percent long-staple cotton that gives off a comfortable feel. The set is available in six standard mattress sizes, but King and Cali-King come with King-sized pillowcases. You can also choose among a few colors to match the rest of your bedding.
What makes it unique?
The set has an OEKO-TEX® certification showing that the fabric has been tested for toxins and harmful substances according to global criteria.
Brooklinen offers a 1-year warranty and a 365-night trial for you to test the sheets. In addition, the company pays return shipping fees if you're in the USA.
Best Affordable Sheets on a Budget
Brooklyn Bedding Brushed Microfiber Sheets
Soft and moisture-wicking sheets. Great for hot sleepers.
Sleep Advisor Score
4.70 / 5
Budget shoppers should take a look at these Brooklyn Bedding Brushed Microfiber Sheets. Brooklyn Bedding did an excellent job of producing sheets that deliver comfort, moisture-wicking, and cooling without spending too much.
These sheets feature finely woven fibers brushed for additional softness and supreme breathability. This set is lightweight and breezy, making it a good choice for hot sleepers. The fabric is moisture-wicking, helping to keep your bed dry and fresh even when you sweat. Also, the microfiber in these sheets has a tight weave to enhance its durability even with frequent washing.
Why we like it
The Brooklyn Bedding set is machine-washable and resistant to wrinkles, which means no ironing is needed to keep the sheets flat. Tumble drying is allowed but on low.
The company offers eight sizes and six colors, making it easy to match these budget sheets to the rest of your bedding.
Best Affordable Luxury Sheets
Luxome Luxury Sheet Set
Soft 400-thread count luxury sheets.
Sleep Advisor Score
4.90 / 5
Luxome sets a high bar for luxury with this sheet set, which they allege can feel softer than Egyptian cotton with a 1,000-thread count. The sheets are made from 100% pure viscose from bamboo, and their 400-thread count is especially impressive for this fabric. A sateen weave ups the opulence even more, lending the sheets a silk-like texture.
Because they're made from bamboo, the sheets are naturally breathable and built for cooling. They should regulate the surrounding temperature in sync with the sleeper's body, letting heat dissipate before the environment becomes too warm or humid.
What else stands out about these sheets?
Their pockets are 17 inches deep, which enables them to fit over mattresses and even toppers with no trouble.
A certification from OEKO-TEX® STANDARD 100 testifies that these sheets are free of harmful chemicals and other worrisome substances.
Best Affordable Organic Sheets
Birch Organic Sheets
Eco-friendly sheets made of 100% cotton.
Sleep Advisor Score
4.10 / 5
The care that goes into crafting bed sheets from organic materials often results in a high price tag. However, this cotton sheet set from Birch is comparatively budget-friendly in addition to being 100% organic cotton. Like all of Birch's fabrics, it's certified by the Global Organic Textile Standard. It also boasts Fair Trade certification, a signal of the brand's commitment to small farmers.
These sheets have a sateen weave that preserves the breathability of the cotton while lending it an attractive sheen. They can be machine-washed, and according to Birch, each wash cycle will render them a little bit softer.
What else makes these sheets great?
You can purchase this sheet set in one of five colors, including classic white and lovely light blue.
Birch attaches a 100-night sleep trial and 1-year limited warranty to these sheets, so you have a substantial amount of time to make sure they're the right fit for you and your bed.
Best Affordable Egyptian Cotton Sheets
Silk And Snow Egyptian Cotton Sheets
Genuine Egyptian cotton at an affordable price.
Sleep Advisor Score
5.00 / 5
Egyptian cotton sheets are known for their high price, but this Silk & Snow set brings all the benefits of certified Egyptian cotton at an affordable price. The set includes one fitted sheet, one flat sheet, and two standard pillowcases for all sizes except Twin and Twin XL. These two come with one pillowcase.
Silk & Snow uses Egyptian cotton certified by the Cotton Egypt Association, ensuring the most rigorous softness, durability, and quality standards. These are machine-washable on a gentle cycle and with cold water. Tumble drying is also allowed but on low.
Why should you buy it?
Silk & Snow offers a 1-year warranty on defects caused by faulty materials and manufacturing. In addition, you get a 100-night trial during which you can return the set if you don't like it.
Silk & Snow is one of the most transparent companies, showing their customers exactly where they source the materials and every other step of the manufacturing process.
Best Affordable Sheets with Corner Straps
TEMPUR-Pedic TEMPUR-Classic sheets
Soft and durable sheets, featuring corner straps for a snug fit.
Sleep Advisor Score
4.00 / 5
If you're a restless sleeper, you probably know the struggle of your sheets moving around the bed. This can cause bumps and rolls on the mattress, making it hard to find a comfortable spot. Tempur-Pedic came up with a solution with their Staytight™ corner straps for a secure and snug fit. The bands keep the sheet in place so there's no bunching.
The Tempur-Pedic Tempur-Classic set is soft and durable as it's made from long-staple cotton with a 250-thread count. The fabric features four-way stretch and remains smooth even after years of use and washing.
What's worth noting?
The Tempur-Pedic Tempur-Classic set is available in multiple colors and sizes. All sizes include a fitted sheet, a flat sheet, and a pillowcase.
Although the set comes with a 1-year warranty, the company doesn't accept returns unless the product is damaged upon delivery. The warranty, however, is meant to protect your investment.
Best Affordable Sheets for Hot Sleepers
Sweet Zzz Organic Bamboo Sheets
Breathable sheets made from 100% viscose sourced from organic bamboo trees.
Hot sleepers often struggle to find a cool spot on the mattress. The built-up heat and lack of breathability can make it difficult to fall and say asleep if you're already a hot sleeper. The Sweet Zzz Bamboo Sheets are made from 100 percent viscose sourced from organically grown bamboo trees. The sheets feature a 400 thread count sateen weave that's soft to the touch and good for sensitive skin.
Viscose is cool when you're hot and warm when you're cold. The material is known for its excellent temperature regulation, so you don't have to worry about being cold when the temperatures drop. The fitted sheet has deep pockets and an elastic band that ensures the best fitment on mattresses up to 15 inches tall.
What's worth mentioning?
The elastic band makes it easy to fit this sheet on all mattresses, regardless of height. This means the same sheet will fit a 6-inch bed and a 15-inch bed.
How to Pick the Best Affordable Sheets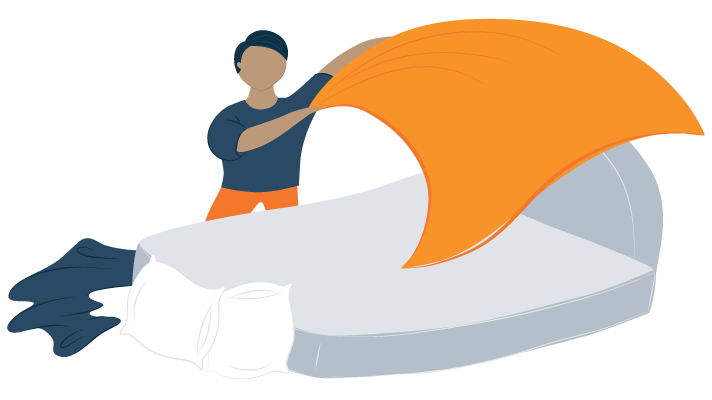 The sheets we mentioned above have an affordable price, which makes them good for budget shoppers. However, there are other things you should also pay attention to when buying, like materials, texture, durability, and more.
Material
Sheets are made from various materials, offering different benefits to appeal to all kinds of sleepers. Materials play a significant role in the comfort, cooling, appearance, and durability of your sheets. Cotton, silk, and linen are usually the most expensive, but even these can be found at budget prices, depending on a few other factors. On the other hand, polyester and microfiber sheets are the cheapest because they're easier to produce.
When looking at materials, shoppers should also consider how the material looks and feels. Is it soft and breathable? Does it feel durable? You should check how delicate the fabric is and if it's going to be easy to clean. All of this can help you figure out the best material for your budget and other needs.
Thread Count
Thread count is the number of horizontal and vertical threads in one square inch of material. The rule of thumb is that fabric with a higher thread count is more comfortable and has a luxurious feel. However, there are a few other things to consider. For example, thread count isn't the only thing indicating quality. You should also consider the thread itself because some brands use multi-play or thin threads to get the highest count.
Weave
The pattern or weave in which the threads are woven affects your sheet's appearance and feel. Affordable sheets have a twill, percale, or sateen weave, although you may also come across knitted sheets depending on the material. Some weaves are gentler than others, which is especially important if you have sensitive skin.
Texture
The texture is similar to weave as it determines the feel of your sheets. Some models have a smoother texture and are more suitable for people with sensitive skin while others are more texturized. Affordable sheets can have different textures depending on the material and construction.
Fit
Most sheets are available in standard mattress sizes, but this is still something you should check beforehand. Some brands offer only four dimensions, while others have six or more. The best way to determine is to measure your mattress. However, keep in mind that a flat sheet should be somewhat bigger than your bed to ensure a proper fit. Fitted sheets usually have elastic to keep them in place, but you should check if the pocket depth fits your mattress height.
Price
Price is among the most critical factors to consider when choosing affordable sheets. The overall cost depends on many things like size, materials, weave, thread count, and preference-based features like cooling. Although you should have a predetermined budget, you should still carefully consider all buying factors before simply deciding on the cheapest sheets.
Appearance
Not all sheets look the same, so you'll notice a variety of designs, patterns, and colors affecting the overall appearance. Some brands offer a few color choices, while others have only white sheets. Although most people prefer neutral colors, some like pinks, purples, and blues, among other colors. The appearance also depends on whether the sheets have a matte or shiny finish. On top of that, you may also find the brand's logo somewhere on the sheets.
Cooling
Cooling is a preference-based feature, so it's not something you'll find with all sheets. The sheets' cooling capabilities depend on the material, breathability, and weave. For example, synthetic fabrics and those with a tight weave may not be as breathable and cooling. On the other hand, natural materials like cotton and silk are more cooling as they allow better airflow. As such, they can help prevent overheating and sweating.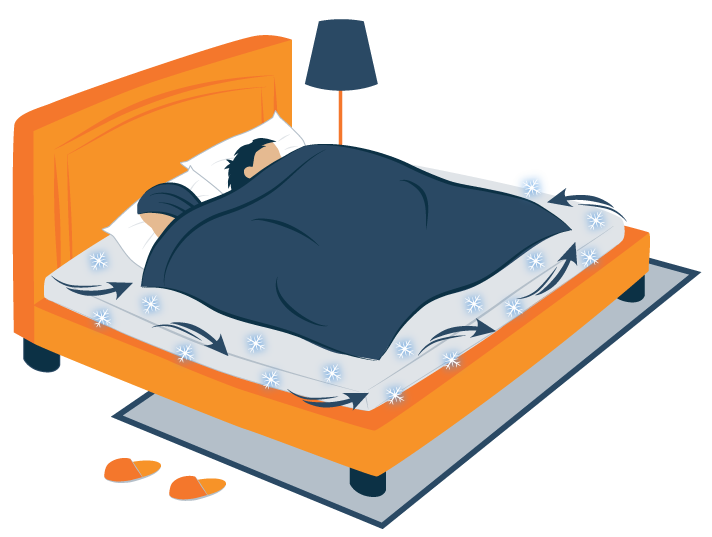 Durability
Although affordable products are often tied to poor durability, there are affordable sheets that can last a decent amount of time. Durable sheets hold up for years, even after all the washing and tumble drying. Plus, these are unlikely to tear at the seams or anywhere else. However, the durability of a sheet depends on several, like the fabric material and overall manufacturing quality.
Wrinkling
Fitted sheets stretch across your mattress, which helps straighten wrinkles. On the other hand, flat sheets may come out more wrinkled after washing and especially after tumble drying. Some materials wrinkle less than others. For instance, you'll notice viscose is resistant to wrinkles but cotton isn't. Also, some materials are safe to iron, but make sure to check this beforehand.
Care
Most sheets are easy to clean since they're usually machine-washable and safe to tumble dry. However, you should double-check this by reading the label provided by the manufacturer. You can find this somewhere on the sheet or inside the packaging. If not, you can find it on the brand's website.
Frequently Asked Questions
What are the softest affordable sheets?
The softest affordable sheets are made from smooth and breathable materials, featuring a gentle finish. Silk, microfiber, and linen sheets are the softest and most delicate, but these aren't the cheapest. Nonetheless, you can find affordable sheets made from these materials that are soft and breathable.
What is the best grade of sheets?
The best-grade sheets are made from quality materials and have a thread count between 300 and 500. However, you should also look at other factors like durability, wrinkling, and weave to help ensure they're good quality. As mentioned earlier, some brands may use thinner threads to achieve a higher count.
How much should I pay for nice sheets?
You can find nice affordable sheets at around 20 to 50 dollars, depending on the material, size, and thread count. Larger sizes are more expensive because they use more material and typically include two pillowcases instead of one. How much you're willing to pay depends on your budget, but nice sheets can be found at various prices.
What are the healthiest sheets to buy?
Sheets made from natural, organic materials are the healthiest to buy because they're not made with synthetics, and they're hypoallergenic and resistant to dust mites. These are often also moisture-wicking and breathable, so they're unlikely to cause bacteria build-up. On top of that, the healthiest sheets have certifications like OEKO-TEX®.
Are bamboo sheets worth the money?
Bamboo sheets are hypoallergenic, comfortable, and easy to clean, which makes them worth the money. Although these are known to be on the more expensive side, there are budget options for eco-conscious shoppers interested in bamboo sheets.