Do you wake up sweaty throughout the middle of the night? Or does your sleeping partner feel like radiating heat throughout the entire time? The truth is that some people are just naturally hot sleepers when it comes to it.
Unfortunately, this could result in not enough sleep and poor rest which could have a serious and harmful impact on your overall lifestyle.
If you're one of those people, the biggest advice that you could follow is to address the issue directly with the construction of your mattress. It could have a tremendous impact as there are specifically designed mattresses targeting people who have hard times getting to the right cool temperature during the night.
Of course, there is an abundance of cooling mattress options as this is a huge market. The competition is severe, and while this provides you with an array of choices, it could also get quite overwhelming, especially if you know nothing about these things.
This is where we'd like to provide you with a helping hand. We intend to help you understand what to look for when purchasing a cooling mattress.
Additionally, we've taken the liberty of bringing a quick and precise review of a few models which are truly geared towards cooling you off. So, let's quit wasting time and have a look.
| Image | Name | Material | Price Range | Rating |
| --- | --- | --- | --- | --- |
| | Brooklyn Bedding Aurora | TitanFlex foam, High-density polyfoam | $$$ | 9.4 |
| | Winkbeds Cool Control | Gel and Hypersoft Foam, High Ild Edge Support, Tempurped Support Springs, Optional Coolcontrol Base | $$$ | 9.2 |
| | Purple | Memory Foam and Hyper-Elastic Polymer | $$ | 9.1 |
| | Leesa | Memory and Avena Foam | $$ | 9.0 |
| | Saatva | Lumbar Support Enhancement, Individually Wrapped Comfort Coils, Dual Perimeter Edge Support and Steel Coil Base Support System | $$$ | 8.9 |
| | Brentwood Home Cypress | Gel and CertiPUR-US Foams | $$ | 8.7 |
| | Beautyrest Recharge | Layer Fire Resistant Fiber, Gel Touch Foam, Air-Cool Foams and Ventilated Air-Cool Beauty Edge Foam | $$ | 8.6 |
Our 7 "Cold" / Cool Mattress Reviews
Brooklyn Bedding Aurora
Highlights
Hybrid Design

Custom TitanFlex Foam

Multiple Firmness Levels

Made in The US
Made by veteran in the mattress industry, Brooklyn Bedding, Aurora is a hybrid bed that brings much more than just exceptional cooling. With 12.5" height and four separate layers it features custom proprietary foam called TitanFlex.
It's a latex-like material that brings much better bounce and airflow than traditional memory foam, while still providing nice contouring and pressure relief. You will never feel "stuck" or excessive "hug" with this one.
Why we love it? – As soon as you touch Aurora, you will instantly feel cool due to "phase change" covers made from a mixture of polyester and rayon which have fantastic temperature regulation properties. A mix of TitanFlex foam and coils further enhance this feel while adding necessary support.
It comes with a 120-day trial, 10-year warranty and shipping is free in the continental US. Aurora is a luxury option with a slightly higher price tag but with unparalleled performance and quality for the money. It's been voted as one of the best beds available in 2018 and we simply enjoyed every second sleeping on it.
PROS
Promotes coolness
Designed to align your spine regardless of your position
Thick yet supportive
CONS
Not ideal for free-falling sleeping position
Only foam materials
Winkbeds Cool Control
This is one of the most tech-savvy and contemporary solutions found on the market.
The Winkbed with integrated Cool control base is going to enable you to control the conditions of your sleeping environment fully. It features an active cooling bases which take advantage of fans that are built into it.
The best thing about it is that they are capable of blowing both hot and cool air to your mattress, allowing you to control the temperature on both spectrums. You and your partner will love the fact that you can change the temperature separately on each half of the bed.
It's capable of raising the overall temperature by as much as 30 degrees or reducing it by as much as 10.
Apart from the base, the mattress itself is designed with cooling features in mind. It's made of coils, gel beads, pillow top and support foam at the base to make sure that everything is handled as per the highest industry standards.
PROS
Ultimate temperature control
Enhanced comfort and support
High-end materials
CONS
It's very expensive
Depends on electricity
Purple
If you're looking for serious heat control as well as comfort and support, this particular mattress could actually do you a lot of good. It comes with a seriously tailored structure of 3 different layers.
The first layer is made out of hyper-elastic polymer, and it is two inches thick. This is the comfort layer, and it's also the one which is going to prevent heat conduct.
It is conveniently solved with air holes so that the breathability is thoroughly enhanced and the airflow is guaranteed.
The second layer is made out of 3.5 inches of polyurethane foam, and the third layer is made of the same material, but it is 4 inches in total.
This gives you a 9.5 inches cooling mattress which offers some serious back support, regardless of whether you prefer to sleep on your back or your side. It delivers enhanced spinal alignment which should always be your main priority.
PROS
Promotes coolness
Designed to align your spine regardless of your position
Thick yet supportive
CONS
Not ideal for free-falling sleeping position
Only foam materials
Leesa
Leesa mattresses take advantage of a specific top layer which is particularly advanced and comprehensive.
The specific Avena foam which sits on top of a regular memory foam brings latex-like capabilities at a price point which is far more affordable.
The three-layer construction ends with 6 inches of support foam which are going to ensure that you get the necessary relief of stress on serious pressure points.
If you're suffering from pain in your lower back or your hips and shoulders, this is a solution that could truly help you out.
Additionally, the top layer of Avena foam will provide you with the necessary heat reduction and control.
PROS
Contemporary Avena foam
Enhanced back support
Truly comfortable
CONS
Might induce the "trapped" effect
No gel is used
Saatva
As we've mentioned already above, the most effective mattress that you can possibly go for when it comes to hot sleepers is the one made out of springs and coils as they would transfer the least amount of heat and are easily cooled off thanks to the enhanced air flow.
If there is one brand that you ought to consider when it comes to spring and coil mattresses, it's Saatva. They have specialized in manufacturing innerspring beds of the highest quality.
There are two layers of coils in the mattress, which essentially means that the majority of the entire product is actually air. There is a euro-style pillow top which has some memory foam.
However, the layers are far too thin to absorb a substantial amount of heat, making the entire thing generally quite cool.
PROS
Comprehensive innerspring construction of 2 layers
A lot of air in the mattress
Thin pillow top doesn't allow heat absorption
CONS
The coils could eventually peak through
Might feel slightly firmer
Brentwood Home Cypress (Bamboo Cover)
Right off the bat, the mattress is made out of a few different layers with the first one being 3.5-inches, gel-infused memory foam to produce the necessary heat prevention without jeopardizing the spinal alignment one bit.
Not only is this mattress going to keep you cooled off, but it's also going to eliminate the overall noise and motion transfer.
This means that you are unlikely to feel it if your partner starts moving during the night, which would induce a truly deeper night's sleep.
The foams are CertiPUR-US certified, guaranteeing there are no toxic or potentially dangerous ingredients which is always something to consider.
The feel is rather medium, and it's great for all types of sleeping positions and preferences.
PROS
Comprehensive combination of materials
Made in the USA
CertiPUR-US Certification
Prevents heat absorption
CONS
A bit bulkier with its 13 inches of thickness
It's softer than expected
Beautyrest Recharge Simmons Luxury (Cooling Gel)
The first and foremost thing that needs to be said about this particular product is that it's constructed with a specific air-cool design. It features foams which channel the air in a cooling manner.
The entire thing is correctly ventilated thanks to the air-cool beauty edge foam as well as the overall structure of the mattress.
The top is covered with a luxury pillow top which makes the mattress approximately 14 inches thick.
There are a few layers, with the first one being 1.25 inches thick and is made out of the airflow-enhancing fiber. It also increases the conformability and the comfort of the mattress.
There is a total of 0.5 inches of gel touch foam which increases the coolness as well as the comfort brought by the mattress.
PROS
Comprehensive construction and a great combination of materials
Perfect, ventilated design
High-end materials
CONS
It's not as durable
Might feel a bit softer
What Materials Keep You Coolest?
Coils & Springs
A cool mattress needs to be made out of the right material. Coils and springs are featured in the most traditional options on the market. Usually, each coil would be wrapped individually, or all of them would be put together. If you are a hot sleeper, we thoroughly recommend that you stick to the former construction type – the ones which are wrapped individually.
In the majority of the situations, the coils will be found within the support layer of the cooling mattress, and there are various types of different foam situated on top. In any case, springs, as well as coils, are known to provide a serious degree of heat transfer which is something that you ought to look forward to.
Latex
We truly support latex, and it's because it comes with a myriad of attractive qualities. If we put aside the fact that it's incredibly durable, latex is known for not conducting heat. This means that you can usually expect for this particular material to feel exactly the same, regardless of the temperature of the room.
Additionally, latex mattress have holes as well as a range of different types of aeration, making them incredibly breathable. This would allow a cool airflow through the mattress, making it the overly preferred option when it comes to hot sleepers.
Bamboo
Bamboo is another material which gained quite a lot of popularity throughout the last few years. One of the main reasons for that is because it is incredibly breathable, gentle and it truly brings the sensation that you are sleeping on a cloud and this is something you might account for.
Additionally, the material is known not to conduct heat as much as other materials, isolating it from the hotter temperature of your room. Furthermore, bamboo is one of the most durable and naturally sourced products, and as such, it brings hypoallergenic properties, and it's safe to use by people with certain allergies or breathing challenges.
Gel Foam
Now, you should know that there are quite a lot of different types of gel foams out on the market. This is something that you should consider as it could put things into perspective. Gel conducts heat the same way water does, only slightly worse due to the nature of the product, which is quite understandable.
Water conducts serious amounts of heat before it gets warmer and gel does the same. Therefore, there is a certain capacity of heat that your gel bed would be able to take up before it starts to heat, giving you a nice head start.
Of course, some types of gel usually work better than others. Gel beads on their own are not enough to provide the necessary level of heat transfer, but a few technologies and materials which are infused within it could truly make a difference. These include graphite, copper, gel materials which are far more heavily infused.
Memory Foam
If we have to be deadly honest with you, out of all the materials that we've taken a look at, memory foam beds are the worst type to consider for a cooling mattress. They are viscoelastic – that's why. This means that they are elastic and viscous.
While this provides a lot of responsiveness and it is great for addressing certain issues, if you are a hot sleeper, you wouldn't really enjoy these.
Of course, there are contemporary mattresses with foam which is infused with other materials which do not conduct heat in order to compensate. This is something that you should account for.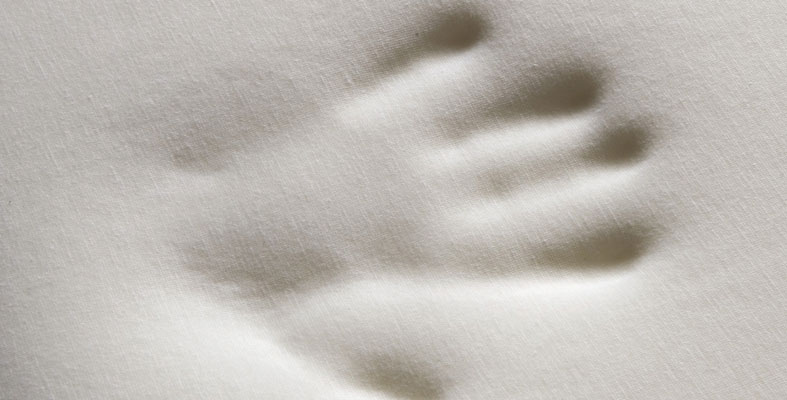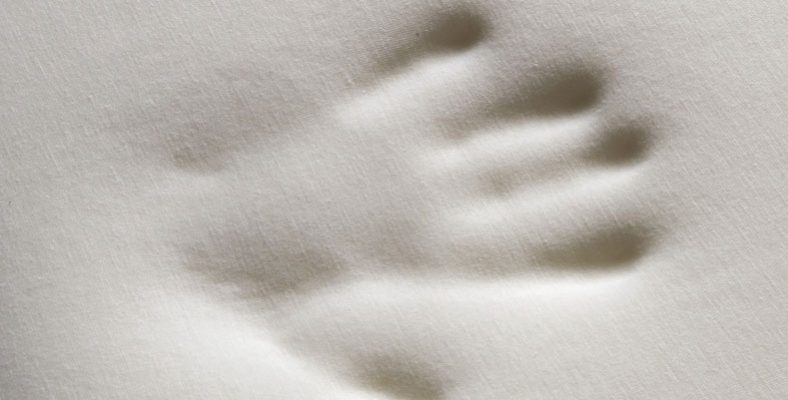 Bedding Accessories to Consider
The BedJet Cooling System
The BedJet Cooling system is easily a revolutionary product when it comes to cooling your mattress. It's a patented technology which is designated to transform any bed into a controlled sleeping environment without changing the overall feel or appeal of your mattress. There are no foreign mattress pads, and there are absolutely no toppers, wires or tubes to sleep on.
You would be able to reach the necessary and desired temperature almost instantly, regardless of whether you want to cool it down or heat it up. It's controlled remotely through your smartphone for additional convenience, and it's a great option to consider if you don't feel like buying a new specialized mattress.
Cooling Mattress Pads
Cooling mattress pads are a great solution for those of you who desperately need a solution for the cooling issue but are not capable of putting up the cash for a brand new mattress. There are a lot of options depending on your sleeping preferences and budget.
These are regular toppers that you place over your mattress. They are made, however, of cooling material, usually gel or latex or they are memory foam solutions induced with other well-known cooling agents.
Electric Cooling Pads
An electric cooling pad is another option that you could go for. It is usually slightly thinner than regular toppers, and that's what some people find attractive. On the other hand, it's an electric solution that you'd have to plug in the outlet to generate electricity. This is not something that everyone looks forward to.
On the upside, it is capable of reaching the desired temperature quickly and to maintain it. This is a clear advantage. At the same time, you could also use it to heat the temperature up at your own convenience.
Purple's Bamboo Sheets
Purple's Bamboo sheets are high-quality sheets which are specifically fashioned out of polyester and, of course, bamboo. If you own sportswear, you are definitely aware of the way it doesn't conduct and transfer heat and helps you maintain a rather cool body temperature when you work out. These sheets have the same intention, even though they offer tremendous comfort as well.
The combination of polyester and bamboo is also a safe one so you shouldn't really be worried about any allergic reactions.
Cooling Pillows
A cooling pillow could also help a lot. You know how you're always turning your pillow during the summer heat in order to always sleep on the cool side? Well, if you took advantage of a great cooling pillow, you wouldn't really have to do this.
A properly tailored cooling pillow would prevent heat transfer and won't conduct the temperature in a way that most pillows do. You can take a look here and find out some of the best options in this category, currently available on the market. Our personal recommendation is to consider something made out of latex.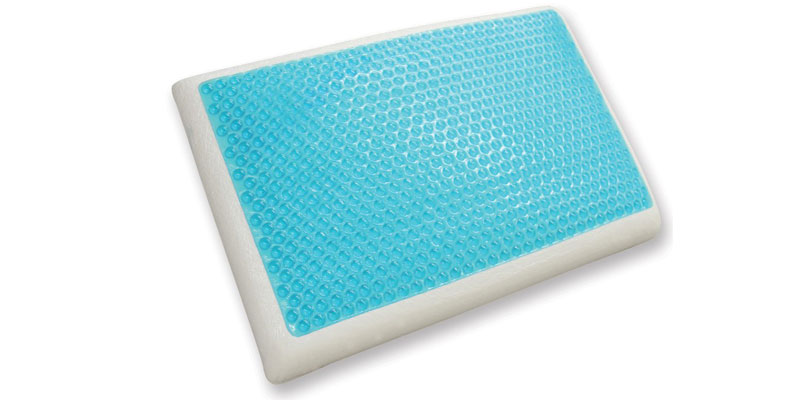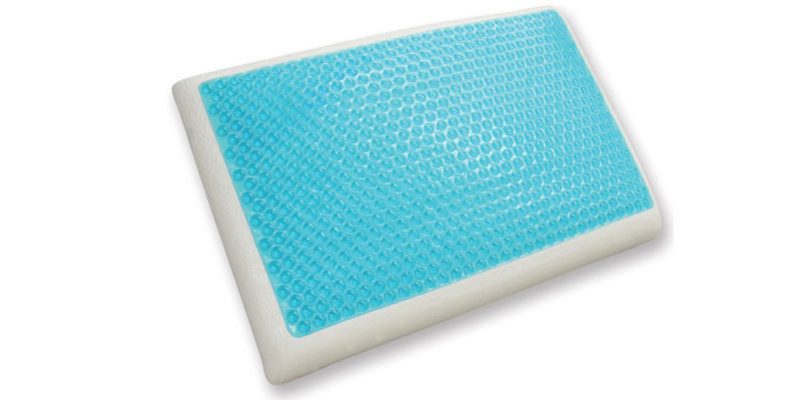 Why Your Cover Matters Too?
Non-Quilted Cover
If you are a hot sleeper, a non-quilted cover is something that you could benefit from significantly. They are thinner and are widely used when it comes to a lot of online mattress marketplaces. This is mainly because they aren't as expensive as their quilted counterparts, but they are also significantly thinner. This means that there is not a lot of material that gets in the way of air circulation and prevents your mattress from cooling off.
Quilted Cover
It goes without saying that quilted covers would appeal more to those of you who prefer a more traditional look of your bedroom. However, the additional material also means that a bit more heat could get produced as more product would be essentially surrounding your body.
When you purchase a quilted cover, you should also pay attention to the material which is quilted in the cover as well. It is most commonly a low-density memory foam or even poly foam, both of which are not best-known for handling the heat that well.
Reasons Why You Get Hot While Sleeping
Your Temperature Changes Each Night
Obviously, the temperature is a very important factor, and it is determining when it comes to our overall circadian rhythm and the time when we fall asleep. Interestingly enough, the temperature-regulating cells in your brain are going to switch off during the REM phase of your sleep.
This means that your body temperature is likely to equal the one of your room. This is the most common reason for midnight chills, and that's why a lot of people stack on a few blankets.
This is not something that you ought to do, though. Lowering the temperature actually makes you sleep a lot more comfortable. Even a one-degree drop could promote early morning waking and reduce those sweaty arousals throughout the night. So, yes – your temperature does change throughout the night, and this has a lot to do with you getting too hot and waking up all sweating.
Hot Flashes (Women)
The hot flash is a specific female feeling which is characterized by the sensation of sudden, intense warmth which isn't caused by something external. They can appear immediately, or you could feel them over a period of a few minutes.
There are a few different symptoms including tingling in your fingers, sweating in your upper body, having skin which would suddenly feel a lot warmer and others of the kind. The most common reason for their appearance is menopause in women. If you are going through this, you shouldn't be overly surprised if you're waking up in the middle of the night, sweating through your PJs. Lower the room temperature and go back to sleep.
Anxiety & Night Sweats
Anxiety is also known to cause the so-called "nervous sweating, " and it's something to consider. This is because your brain reacts to a certain feeling in a manner which intensifies blood flow and stimulates the increase of temperature. Night sweats are the most common consequence of this particular experience.
Alcohol & Night Sweats
A huge part of keeping your body cooled off and at the right temperature is staying well hydrated. Unfortunately, a lot of us have the habit of having a few drinks before we go to sleep. Sure, it's relaxing and enjoyable. However, alcohol is one of the most prominent substances which would dehydrate you tremendously. This is definitely something to consider.
The most obvious consequence is sweating and increasing your body's temperature throughout the night. Cutting back the nightcaps is definitely something that would reduce those midnight arousals substantially.
Our Final Thoughts
---
Obviously, there are quite a few things that you ought to account for if you are a hot sleeper seeking remedy for this unpleasant sensation. Taking advantage of a mattress that stays cool is undoubtedly going to ease the burden and promote a better night's sleep.
It's hard and rather misleading to conclusively determine which one of the above is the best mattress for night sweats as each person has his own individual preferences when it comes to sleeping. While some of them promote coolness, they might not be suited for your favorite sleeping position. Others might feel softer or firmer. It's important to account for your individual preferences and always put the support and comfort first.
With this in mind, we truly hope that you've found value in all of those mentioned above. If you pay close attention to what we wrote, you would be able to pick the best air cooled mattress without having to spend your entire day for it. If you want more options, make sure to search through our reviews and find the bed that suits your budget and needs.
Author:
Mark Reddick
When I'm not learning about sleep, you can find me watching "the big game" with my friends. I absolutely love sports and have grown to follow the rest aspect in athletes. Modern technology allows us to track athletes sleep and rest, which in turn helps predict their performance.
I hope that everyone that finds our site takes a new approach to sleep. The world needs to stop thinking about it as something "we just do", but rather something that allows us "to do everyday."
Cheers to having the best sleep of your life!