Transparency Disclosure – We may receive a referral fee (at no additional cost to the buyer) for products purchased through the links on our site or other applicable pages. To learn more, please read our full disclosure page here. We also encourage you to read about how we may research and/or test Products here.
Do you wake up sweaty throughout the middle of the night? Or does your sleeping partner feel like radiating heat throughout the entire time? The truth is that some people are just naturally hot sleepers when it comes to it.
Unfortunately, this could result in not enough sleep and poor rest, which could have a serious and harmful impact on your overall lifestyle.
If you're one of those people, the biggest advice that you could follow is to address the issue directly with the construction of your mattress. It could have a tremendous impact as there are specifically designed mattresses targeting people who have a hard time getting to the right cool temperature during the night.
Of course, there are an abundance of cooling mattress options out there, as this is a huge market. The competition is intense, and while this provides you with an array of choices, it could also get quite overwhelming, especially if you aren't well-versed in the field.
This is where we'd like to provide you with a helping hand. We intend to help you understand what to look for when purchasing a cooling mattress.
Additionally, we've taken the liberty of writing a quick and precise review of a few models which are truly geared towards cooling you off. So, let's quit wasting time and have a look!
Our 8 "Cold" / Cool Mattress Reviews
Brooklyn Aurora – Exceptional Cooling
Highlights:
CertiPUR-US® Certified
120-Night Trial
10-Year Warranty
Made in the USA
Brooklyn Aurora has exceptional cooling capabilities in a high-end design that provides comfort and support. The company has purposely crafted the Aurora with a variety of features, such as phase changing technology, that make it truly cool to the touch.
The mattress is a hybrid design, with innersprings at the base and foam comfort layers on top. The company uses a proprietary TitanCool™ foam and has included infusions such as copper and titanium in its layers to conduct heat away from sleepers. The innerspring level helps air flow naturally through the mattress, which ultimately helps with cooling.
Why is it special? The Aurora's concentration on cooling is central to the design of the bed. Not only are the layers optimized to keep sleepers cool, the bed provides a gentle cradle instead of sinking sleepers deep into heat-trapping layers, which aids temperature regulation efforts even further.
Brooklyn Aurora not only cools – it is also very comfortable. The bed is available in three firmnesses (Soft, Medium, and Firm), has handles that make adjustments easy, and ships for free directly to your door. Its hybrid design and strong coil layer even make it a good choice for sleepers with a little extra weight.
If you want to learn more, visit our in depth overview of the Aurora bed.
Casper Wave – Spine Alignment
Highlights:
CertiPUR-US® Certified
OEKO-TEX® Certified
100-Night Trial
10-Year Warranty
Designed and Assembled in the USA
The Casper Wave is a five-layer foam bed that has good cooling and the added benefit of superior spine alignment features. Its layers are strategically placed, with memory foam positioned deeper in the bed so it will not absorb and trap heat from the sleeper's body. In addition, a Flo Foam top layer has an open-cell design, and individuals are cradled by the bed instead of sinking and overheating deep within.
What makes it unique? Casper Wave sleeps cool while providing an ergonomically pleasing design. The company provides support and pressure relief where it is needed most by including precision-cut channels and gel inserts into its mattress.
There are channels cut horizontally in the shoulder region to increase softness and reduce pressure. At the hips, specifically-tailored strips of support gel have been added to increase firmness and keep the hips from sinking into the bed. The overall effect of both is a solution to keep your spine straight as you sleep.
For an in-depth look at this model, jump to our full Wave analysis.
DreamCloud – Exceptional Value
Highlights:
CertiPUR-US® Certified
365-Night Trial
Everlong Warranty
DreamCloud's substantial hybrid design, which uses foams and coils, represents an exceptional value in the marketplace. It has premium features, such as cashmere, a Euro top, and double tufting, while selling for significantly less than comparable in-store brands.
The mattress has a few features to help you sleep cool while enjoying all of the luxuries it has to offer. It contains gel-infused memory foam, aerated latex, a heat-treated cotton pad, as well as a coil layer that encourages a high amount of airflow. All of these properties help the bed to sleep temperature neutral.
What stands out? If you are worried about finding a bed cool enough for your needs, DreamCloud provides a 365-night risk-free trial. This means you can experience this mattress for a year, through the changes of seasons and spikes in temperatures, to see if it is everything you need to accommodate your temperature regulation considerations.
Need to know even more? We reviewed this bed completely, see it here if you want to know more before you purchase it.
WinkBeds coolControl™ – Advanced Cooling
Highlights:
CertiPUR-US® Certified

OEKO-TEX® Standard 100

120-Night Trial
"Any Reason" Guarantee
Lifetime Warranty
Made in the USA
WinkBeds has an exciting offering in the field of mattress cooling. Their WinkBed mattress is made to work with an optional coolControl™ base created by the company. This base is controlled via a remote or app and short airflow tubes that connect the base to the mattress and allow the dispersion of conditioned air throughout the bed.
It is energy efficient, quiet, and the air circulation will even help you stay dry. The temperature can be lowered a full 10 degrees, or even raised by 30, making it versatile all year round.
Why is it special? Not only can you set the temperature for The WinkBed – both sides of the mattress can be set to different temperatures. If you have a partner who is comfortable at a different level, you can both find your best sleep on one bed.
The WinkBed comes in Softer, Luxury Firm (most popular), and Firmer options, as well as a Plus design for heavier folks. Regardless of firmness preference or weight, you can enjoy cooling and temperature regulation in just a few clicks.
Purple – Temperature Neutral
Highlights:
CertiPUR-US® Certified
100-Night Trial
10-Year Warranty
Made in the USA
Purple is a stand-out for a variety of reasons. Their clever marketing showcases raw eggs dropped onto their bed under weighted glass without breaking to showcase its pressure relief. Their top layer is a proprietary polymer grid that is unlike anything else on the market – it buckles or bends, depending on whether pressure relief or support is needed.
However, Purple's grid layer is not only a unique design. It is also amazingly temperature neutral. It will not absorb your body's temperature or heat up accordingly.
What makes it unique? The polymer in Purple's hyper-elastic grid stays temperature neutral and its cell-like design is conducive to airflow. If you want a brand new comfort experience without materials that trap in heat, this is definitely a bed you should consider.
Purple is a versatile bed that works well in a variety of sleeping positions, meaning you can avoid overheating whether you sleep on your stomach, back, side, or a combination of all three.
For a deep-dive into this bed you can check our full review.
The Muse – Memory Foam
Highlights:
CertiPUR-US® Certified
120-Night Trial
10-Year Warranty
Made in the USA
Muse has directly addressed the overheating issues traditional memory foam faces by using high-performance materials in their ultra-cool cover and the layers of their memory foam bed.
The cover is noticeably cool to the touch, and this is due to the company's proprietary technology called Cool Wire Fabric. It feels luxurious and is woven with fibers that wick away moisture, which helps keep sleepers dry and cool. Under the cover, temperature regulating gel is infused into the memory foam layer that is closest to the body.
What stands out? The way the ultra-cool cover and gel memory foam work together is an exciting advancement in memory bed technology. Muse will help you wake up refreshed instead of starting your day in a pool of sweat.
The mattress is available in Soft, Medium, and Firm versions, and you can experience deeper pressure relief, gentle cradling, or a firmer feel depending on your sleep needs.
Want to learn more about the Muse? Check out our full written review here.
Zenhaven – Aerated Latex
Highlights:
Dual-Sided
Organic Cotton Cover
OEKO-TEX® Certified
120-Day Trial
20-Year Warranty
Made in the USA
Zenhaven is an all-latex bed that has four layers of aerated American Talalay latex, wrapped in an organic New Zealand wool fire barrier and a quilted organic cotton cover. Latex is a hypoallergenic material, resistant to microbes and mold.
Because each layer is aerated, the bed has more airflow and cooling capabilities than many made with solid blocks of materials. Zenhaven uses the Talalay process, which is created by pouring latex into a mold with pins that form the aeration, followed by rounds of vacuuming and flash freezing.
This is viewed as a more premium process than Dunlop latex undergoes because there are two more steps and the result is an extremely consistent material.
Why is it special? Zenhaven's aerated latex creates a cooler sleep environment. The mattress is also double-sided, with Luxury Plush and Gentle Firm sides, so you can test out two firmness levels in one bed.
Zenhaven even has a five-zone comfort layer to give more support to the torso and shoulder areas. It is a comfortable and durable bed, backed by an impressive 20-year warranty.
You can see our informational analysis of this bed if you want to know more.
Elements Aspen 10″ Latex Mattress
Highlights:
CertiPUR-US® Certified
OEKO-TEX® Certified
120-Night Trial
10-Year Warranty
Made in the USA
If you are shopping on a budget, Ultimate Dreams Latex does a nice job of keeping nights cool without breaking the bank. The cover includes bamboo fibers that wick away moisture, which is a great way to keep you dry, as well as cool, throughout the night.
What makes it unique? The Talalay process has been used to treat the latex in this bed, meaning it is whipped and poured into a mold, then vacuumed and flash frozen. It is impressive to find this type of premium process applied to a bed at a budget price point.
The aeration of the Talalay will help move air through the bed, as will a convoluted layer of foam that serves as the base. The movement of air through both features will help greatly with cooling.
Dreamfoam, the makers of the bed, should contact you to determine the firmness level of your order. So, whether you have a dominant sleep position or are a combination sleeper, they will help you find the appropriate comfort level.
Think this bed may be right for you? Read our full Ultimate Dreams review here.
What Materials Keep You Coolest?
Coils & Springs
A cool mattress needs to be made out of the right materials. Coils and springs are featured in the most traditional options on the market. Usually, each coil is wrapped individually or all of them are connected together. There are even some options with two rows of springs.
In the majority of products, coils will be found within the support layer, with various types of different foams situated on top. Coils are known to provide a serious degree of heat reduction since there is a much higher level of airflow throughout the product, which is something you can look forward to if you prefer this type of feel.
Latex
Latex also comes with a myriad of attractive qualities, like its durability. However, even if we set that aside, it must be stated that latex is not known for conducting heat. This means that you can usually expect for this particular material to feel exactly the same, night after night.
Additionally, a latex mattress has holes as well as a range of different types of aeration, making them incredibly breathable. This allows a cool airflow through the mattress, making it a preferred option by many when it comes to hot sleepers.
Bamboo
Bamboo is another material that has gained quite a lot of popularity throughout the last few years. One of the main reasons for that is because it is incredibly breathable, gentle, and it truly brings the sensation that you are sleeping on a cloud. Sounds nice, right?
Additionally, the material is known not to conduct heat as much as other materials, isolating it from the hotter temperature of your room. Furthermore, bamboo is one of the most durable and naturally sourced products, and as such, it brings hypoallergenic properties, and it's generally safe to use by people with certain allergies or breathing challenges.
Gel Foam
Now, you should know that there are quite a lot of different types of gel foams out on the market. This is something that you should consider as it could put things into perspective. Gel conducts heat the same way water does, only slightly less due to the nature of the product, which is quite understandable.
Water conducts serious amounts of heat before it gets warmer and gel does the same. Therefore, there is a certain capacity of heat that your gel bed would be able to take up before it starts to heat, giving you a nice head start.
Of course, some types of gel usually work better than others. Some gel beads on their own may not be enough to provide the necessary level of heat transfer, but a few technologies and materials which are infused within it could truly make a difference. These include graphite, copper, and gel materials that are far more heavily infused, and there are also phase change materials that can be quite effective.
Memory Foam
Out of all the materials that we've taken a look at, memory foam beds can have the most challenges to overcome for a cooling mattress. However, this has also driven major innovation in the space. Open cell designs and gel infusions have taken the market by storm, as the more traditional types really do tend to retain uncomfortable heat throughout the night, which is problematic to many.
Contemporary mattresses with foam that is infused with gels or layered strategically with other materials is quite common and a much better way to get the slow-sinking, deeper cradled feel that so many people love.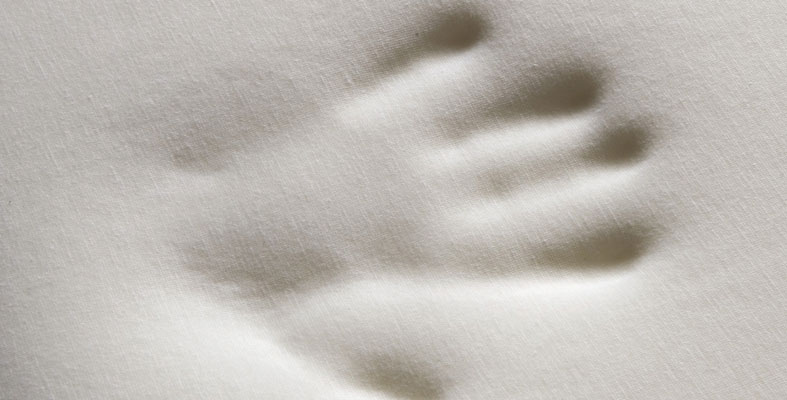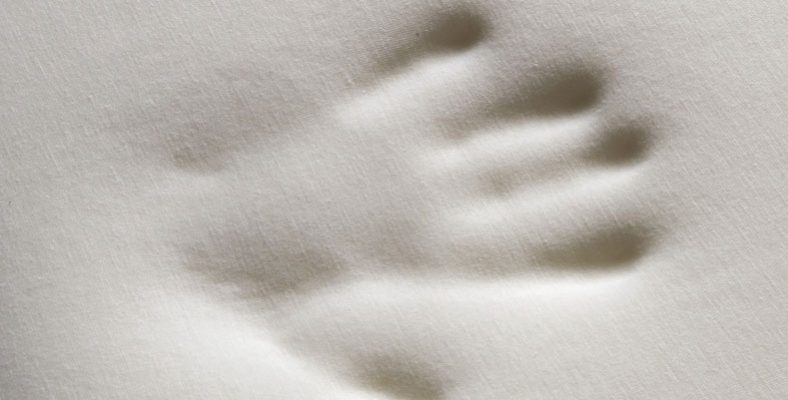 Bedding Accessories and Systems to Consider
The BedJet Cooling System
The BedJet Cooling system is easily a revolutionary product when it comes to cooling your mattress. It's a patented technology designated to transform any bed into a controlled sleeping environment without changing the overall feel or appeal of your mattress. There are no foreign mattress pads, and there are absolutely no toppers, wires, or tubes to sleep on.
You can reach the necessary and desired temperature almost instantly, regardless of whether you want to cool it down or heat it up. It's controlled remotely through your smartphone for additional convenience, and it's a great option to consider if you don't feel like buying a new specialized mattress.
Cooling Mattress Pads
Cooling mattress pads are a great solution for those of you who desperately need a solution for the cooling issue but are not capable of putting up the cash for a brand new mattress. There are a lot of options depending on your sleeping preferences and budget.
These are like regular toppers that you place over your mattress. They are made, however, of cooling material, usually gel or latex, or they are memory foam solutions induced with other well-known cooling agents.
Electric Cooling Pads
An electric cooling pad is another option that you could go for. It is usually slightly thinner than regular toppers, and that's what some people find attractive. On the other hand, it's an electric solution that you'd have to plug in the outlet to generate electricity, which isn't something that everyone looks forward to.
On the upside, it is capable of reaching and maintaining the desired temperature quickly, which is a huge advantage. With many of these options, you can also use the product to heat the temperature up at your own convenience, making it a two-in-one, multi-seasonal solution.
Purple's Bamboo Sheets
Purple's Bamboo sheets are high-quality sheets which are specifically fashioned out of polyester and, of course, bamboo. If you own sportswear, there's a good chance you've encountered this material and are definitely aware of the way it doesn't conduct and transfer heat, yet helps maintain a rather cool body temperature when you work out. These sheets have the same intention, and they offer tremendous comfort as well.
The combination of polyester and bamboo is also viewed as a safe one, so you shouldn't really be worried about an allergic reactions.
Cooling Pillows
A cooling pillow could also help a lot. You know how you're always turning your pillow during the summer heat in order to always sleep on the cool side? Well, if you took advantage of a great cooling pillow, you might not ever have to do this again.
A properly tailored cooling pillow would prevent heat transfer and won't conduct the temperature in a way that most pillows do. You can take a look here and find out some of the best options in this category, currently available on the market. There are many options available, including products made out of latex.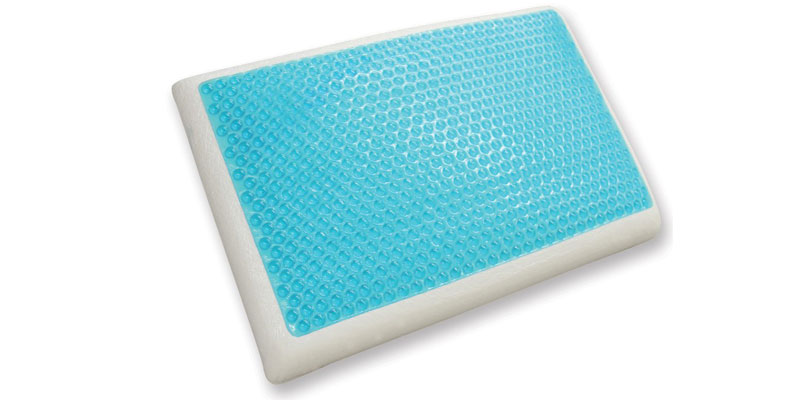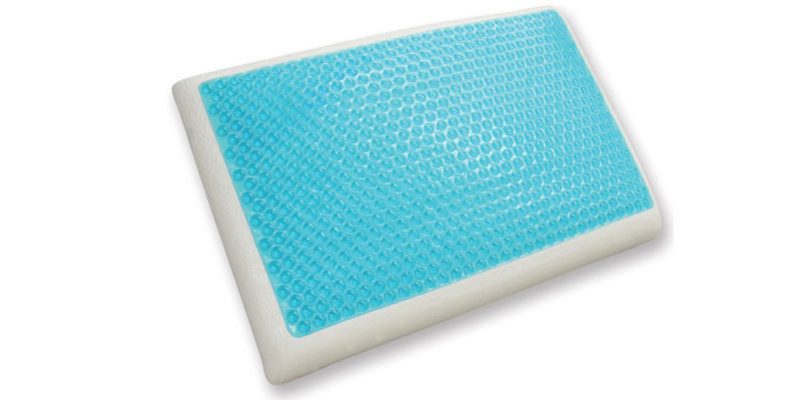 Budget Brands Exist
Every day, mattress companies are coming up with cool new ways to keep temperature regulated in their beds, using things like copper and gels to wick away heat so you don't wake up in a pool of your own sweat at 3 AM. Despite what you may think, these awesome new features aren't strictly limited to the higher-priced performance brands.
For one thing, online brands are able to cut their costs by selling directly to their consumers through internet websites. Online chat functions take the place of in-store sales reps, and interactive web pages take the place of a showroom. Research suggests that an online sleep trial is better for establishing if a bed is a good fit than a 15-20 second test drive in a store.
Read More: Top Budget Brands
Why Your Cover Matters Too?
Non-Quilted Cover
If you are a hot sleeper, a non-quilted cover is something that you could benefit from significantly. They are thinner and are widely used when it comes to a lot of online mattress marketplaces. This is mainly because they aren't as expensive as their quilted counterparts, but they are also significantly thinner. This means that there is not a lot of material that gets in the way of air circulation and prevents your mattress from cooling off.
Quilted Cover
It goes without saying that quilted covers would appeal more to those of you who prefer a more traditional look in your bedroom. However, the additional material also means that a bit more heat could get produced as, essentially, more product would be surrounding your body.
When you purchase a quilted cover, you should also pay attention to the material quilted in the cover as well. It is most commonly a low-density memory foam or even poly foam, both of which could have some challenges when it comes to handling the heat well.
Cool Wire Technology
Cold wire technology is a functional design that helps to reduce the temperature level of the sleeper. This often comes in the form of special yarn or fibers that are woven directly into the cover and have a phase changing effect. The fibers are wicking in nature, so they whisk away moisture as you rest.
Reasons Why You Get Hot While Sleeping
Your Temperature Changes Each Night
Obviously, the temperature is a very important factor, and it is determining when it comes to our overall circadian rhythm and the time when we fall asleep. Interestingly enough, the temperature-regulating cells in your brain switch off during the REM phase of your sleep.
This means that your body temperature is likely to equal the one of your room. This is the most common reason for midnight chills, and that's why a lot of people stack on a few blankets.
This is not necessarily something that you ought to do, though. Lowering the temperature can actually make you sleep a lot more comfortable. Even a one-degree drop could promote early morning waking and reduce those sweaty arousals throughout the night. So, yes – your temperature does change throughout the night, and this has a lot to do with you getting too hot and waking up all sweaty.
Hot Flashes (Women)
The hot flash is a specific female feeling which is characterized by the sensation of sudden, intense warmth that isn't caused by something external. They can appear immediately, or you could feel them over a period of a few minutes.
There are a few different symptoms including tingling in your fingers, sweating in your upper body, having skin that suddenly feels a lot warmer, and others of the kind. The most common reason for their appearance is menopause in women. If you are going through this, you shouldn't be overly surprised if you're waking up in the middle of the night, sweating through your PJs. You can try to lower the room temperature and go back to sleep, and picking an appropriate material to lie on can also help.
Anxiety & Night Sweats
Anxiety is also known to cause the so-called "nervous sweating," and it's something to consider. This is because your brain reacts to a certain feeling in a manner that intensifies blood flow and stimulates the increase of temperature. Night sweats are the most common consequence of this particular experience.
Alcohol & Night Sweats
A huge part of keeping your body cooled off and at the right temperature is staying well hydrated. Many people have the habit of having a few drinks before going to sleep. Sure, it can be relaxing and enjoyable for some. However, alcohol is one of the most prominent substances that can dehydrate you tremendously, which is definitely something to consider.
The most obvious consequence is sweating and increasing your body's temperature throughout the night. Cutting back the nightcaps is definitely something that has the potential to reduce those midnight arousals substantially.
Purchasing Online vs. In Store
Brands are coming up with new and innovative cooling technologies every day that can help prevent your bed from overheating in the night, and these features are on display in stores and on internet websites for online mattress brands. Many of these technologies are incredibly cool to the touch and are fascinating to check out in person, but what's the best way to prove their value?
The mark of an excellent mattress cooling system isn't a 5 to 10-second touch; you really have to lay on it all night and see how it performs throughout your entire sleep cycle. A product may feel a certain way when you lay down for a few minutes, but you still may bolt awake covered in sweat at 3 AM.
Look for trials, available with most online brands, to give you an opportunity to really put a potential solution to the test in the room where you will be sleeping.
Want to shop some great boxed mattresses? Click here to learn more.
Our Final Thoughts
---
Obviously, there are quite a few things that you ought to account for if you are a hot sleeper seeking remedy for this unpleasant sensation. Taking advantage of a mattress that stays cool is undoubtedly going to ease the burden and promote a better night's sleep.
It's hard and rather misleading to conclusively determine which one of the above is the best mattress for night sweats as each person has his own individual preferences when it comes to sleeping. While some of them promote coolness, they might not be suited for your favorite sleeping position. Others might feel softer or firmer. It's important to account for your individual preferences and always put the support and comfort first.
With this in mind, we truly hope that you've found value in all of those mentioned above. If you pay close attention to what we wrote, you should be able to pick the best type of cooling mattress without having to spend your entire day on it. If you want more options, make sure to search through our reviews and find the bed that suits your budget and needs, or see our top picks for 2019 here.
Author:
Mark Reddick
When I'm not learning about sleep, you can find me hanging out with my wife and close friends.
I absolutely love entrepreneurship and learning how to improve yourself daily. We only get one life, and I want to make it the best one possible.
I hope that everyone that finds our site takes a new approach to sleep. The world needs to stop thinking about it as something "we just do," but rather something that allows us "to do every day."