Transparency Disclosure – We may receive a referral fee for products purchased through the links on our site...

Read More

.
Disclaimer - Nothing on this website is intended to be a substitute for professional medical advice, diagnosis, or treatment...

Read More Here

.
Do you want your mattress to feel cooler and have more cushioning, but you can't afford to get a new bed altogether? If so, you might want to consider getting one of the best cooling mattress pads.
A cooling mattress pad is made with breathable, temperature-regulating materials that can help create a cooler and more comfortable sleep environment, particularly for hot sleepers. Plus, they come in different sizes to fit all kinds of mattresses.
We've grouped our favorite best cooling mattress pads into different categories to narrow down your search. Further below, we also share important buying considerations when purchasing this type of mattress pad.
The 8 Top Cooling Mattress Pads Reviewed
Editor's Choice
Brooklyn Bedding Luxury Cooling Mattress Protector
Sleep Advisor Score
4.70 / 5
We chose this Brooklyn Bedding mattress protector for our editor's choice for its cooling effect, ease of maintenance, and overall quality. The protector is made from a conductive material designed to draw heat away from your body. In addition, the material feels smooth for a luxurious touch.
The Brooklyn Bedding protector fits like a fitted sheet and is hypoallergenic to protect you from bed bugs, dust mites, and bacteria. This model is also waterproof, so fluids and liquids are easy to deal with, which is convenient if you sleep with kids and pets.
What stands out about this product?
This cooling mattress protector is washable, so you can clean it with similar colors using only cold to warm water. You can also tumble-dry it on low but avoid using any bleach.

The company offers six standard mattress sizes, a 30-day trial, and a 3-year warranty with this product.
Most Comfortable Cooling Mattress Pad
Cozy Earth Bamboo Mattress Pad
The Cozy Earth Bamboo mattress pad is a cooling, moisture-wicking mattress pad that will keep your mattress clean and protected. Perfect for sleepers looking for that extra comfort for their mattress.
Sleep Advisor Score
4.90 / 5
This Cozy Earth mattress pad is an excellent option for those after a comfortable product. The company used 100 percent viscose from bamboo fabric to deliver a cooling effect suitable for hot sleepers. The fabric helps regulate temperature by pulling body heat away from you. As a result, you should sweat and overheat less.
The Cozy Earth mattress pad has a thin profile, so it won't make your mattress much taller, and the filling doesn't shift thanks to the stitching that keeps it in place. The pad also has a 360-degree elastic that helps you secure it around the mattress.
Why we like it
Although it only comes in white, you can choose among five mattress sizes to fit your bed. Plus, this product has deep pockets, so it's easy to fit on all mattresses.

Cozy Earth offers a 10-year warranty and a 100-night trial, giving you enough time to test how this bamboo pad fits your needs.
Best Luxury Cooling Mattress Pad
Saatva Organic Mattress Pad
If you want a luxury sleep environment without buying a new mattress, consider the Saatva mattress pad. The pad has diamond quilting that not only looks luxurious but adds a plush layer to your existing mattress, making it more comfortable regardless of your preferred sleep position.
The cotton in this mattress pad is GOTS-certified, moisture-wicking, and machine-washable. The cotton side panels have an extra-wide elastic to help secure the pad in place so that it doesn't move around on the mattress. This pad should fit mattresses up to 16 inches tall.
What else should you know?
Saatva is a luxury brand that offers many customization options, so you can get this pad in nine different sizes to fit your bed.

Cotton is a breathable material that helps keep the surface of your bed cool and more comfortable. In addition, this pad is machine-washable and easy to keep clean.
Best Hypoallergenic Cooling Mattress Pad
Helix Glaciotex Mattress Protector
This innovative mattress protector by Helix is one of the best options if you're after a hypoallergenic model. The protector is made from a polyester and polyethylene blend that helps keep away bacteria, allergens, and dust mites. On top of that, it's waterproof, keeping your mattress safe from stains, spills, and other accidents.
The Helix GlacioTex protector is made from fibers with a high thermal conductivity. This allows it to pull away body heat to keep the surface of the bed cool at all times. The protector is easy to spot-clean, but you can also wash it in the machine using cool or warm water.
What are the standout features?
The Helix GlacioTex mattress protector has skirted edges that make it easy to fit over your mattress. Plus, it comes in six standard mattress sizes, so you shouldn't have a problem finding one that fits.

Helix offers a 100-night trial with this product.
Best Soft Cooling Mattress Pad
Layla Mattress Protector
The Layla Cooling Mattress Protector is woven with fibers designed to keep you and your mattress cool. It also provides waterproof protection..
Sleep Advisor Score
4.60 / 5
Read Full Review
This Layla mattress protector is an excellent option if you're after a soft model. The protector starts with a liquid-proof barrier added to prevent spills from getting to your mattress. However, what stands out the most is the cooling effect coming from specialized fibers woven into a textured fabric. This is combined with hexagon stitching to provide comfortable padding and a luxury look.
The Layla mattress protector is cool to the touch, so you shouldn't struggle to find a cool spot on the bed. The protector helps prolong the life of your mattress, so it's an excellent way to protect your investment.
What's worth mentioning?
Layla offers three models, but the cooling one is best for hot sleepers as it keeps the surface cool to the touch.

You have 30 days to return it for a refund if you decide it's not for you.
Best Down Alternative Cooling Mattress Pad
Sweet Zzz Plant-Based Mattress Pad
This mattress pad is made with a premium plant-based down alternative for softness and comfort. The pad stays plush and is unlikely to go flat even with regular use. The construction starts with natural cotton that's gentle on the skin, making it great for children and those with sensitive skin.
Cotton, a breathable material, is featured in all the layers, making this pad a good option for hot sleepers. This mattress pad is thick, giving off a luxurious feel that aids in pressure relief.
Why we like it
Although it feels like down, the cotton filling is more suitable for allergy-prone individuals who can't sleep on real down pads and pillows.

This model can fit mattresses that are 6 to 17 inches tall, making it a good option for nearly all beds. Plus, it comes in six standard mattress sizes.
Best Organic Cooling Mattress Pad
Birch Organic Mattress Pad
The Birch Organic Mattress Pad has organic cotton in three layers. This helps provide maximum absorption, protection, and comfort. The pad has a sateen weave and a wave pattern that gives it a luxurious look and a soft touch.
The cotton is breathable to help keep things cool, and the top layer is moisture-absorbing to prevent spills and liquids from getting to your mattress. The Birch has double-stitched edges that help it maintain its shape even after years of use. The company offers six standard sizes, so it's easy to find one that fits.
What are the key features?
Cotton in this product is GOTS and Fair Trade Certified, ensuring the highest quality and social and economic well-being of those who participated in its manufacturing from the earliest steps.

The Birch Organic Mattress Pad has a non-slip band that helps keep it from sliding and moving on your bed.
Best Breathable Cooling Mattress Pad
Puffy Mattress Pad
The Puffy Mattress Pad is a hypoallergenic mattress pad designed to keep you cool at night. It's Oeko-Tex 100 certified making it chemical free and safe for all sleepers.
Sleep Advisor Score
4.50 / 5
The Puffy mattress pad is made from top-quality raw materials to ensure comfort, cooling, and durability. The bamboo fabric is naturally cooling and breathable to prevent you from overheating and sweating. The pad has a soft and smooth cover that remains cozy and cool to the touch, which is excellent for hot sleepers. The jacquard knitted design makes it look as high-end as it feels.
This Puffy mattress pad has deep pockets, so it can fit beds up to 15 inches tall. On top of that, the company offers six standard sizes, making it easy to find one that fits your bed.
Why do we like it?
Puffy offers an industry-leading lifetime warranty and a 101-night trial, giving you enough time to decide if this pad works for you.

This mattress pad is machine-washable, so it's easy to keep fresh and clean.
What to Look for When Buying a Cooling Mattress Pad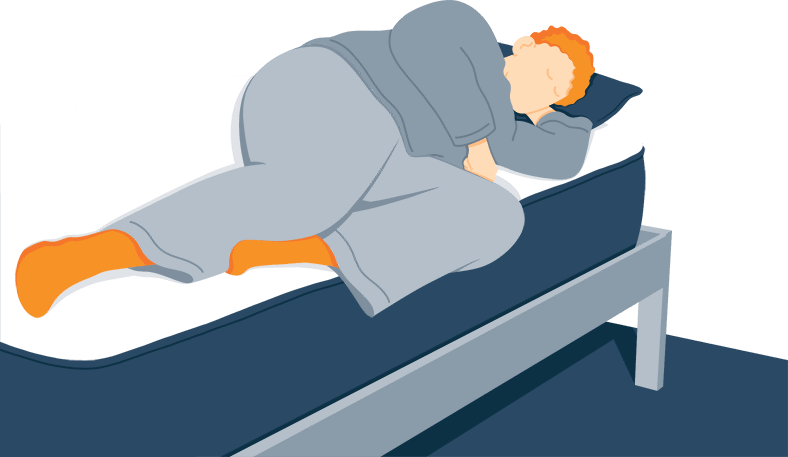 Mattress Pad Price
Like other sleep accessories, mattress pads are available at various prices. The best way to start is to figure out your budget to save yourself time. Factors like materials, size, thickness, and the brand itself can all impact the overall price of your mattress pad. For example, synthetic materials are often cheaper than organic ones due to their shorter lifespan. On the other hand, pads that have an enhanced design and proprietary materials can be more expensive.
Cooling Features
The main selling point of a cooling mattress pad is its ability to cool your bed and prevent you from overheating. These pads are built with breathable, temperature-regulating materials that are designed to prevent heat build-up, allowing for a more comfortable sleep environment. Examples of cooling materials in pads are cotton, heat-conducting fibers, and bamboo.
Your Sleep Position
Although mattress pads aren't very thick, some have a slightly taller profile that could affect the firmness of your mattress. For this reason, you should consider the best sleeping position for your needs. Some pads can add more cushioning to a mattress, making it more comfortable to use for side sleeping. However, this may make it less comfortable to use for stomach sleeping.
Mattress Pad Materials
The materials used in a mattress pad can impact how it feels and performs and how long it lasts. In the case of cooling pads, the materials can also impact how well the pad regulates temperature and whether it allows heat to build up around you. If you're interested in getting a pad and you sleep hot, make sure it comes with materials designed to promote cooling.
Mattress Pad Quality
The overall quality of a cooling mattress pad depends on several factors. You should consider the materials, manufacturing quality, stitching, and the brand itself. How does the pad look? Does the stitching look durable? Does the pad feel like it could last a long time? Although these things may be harder to navigate when buying online, most brands offer a trial period for you to test the pad before committing to the purchase.
Mattress Pad Firmness
As said, a mattress pad is unlikely to change your mattress' firmness too much. However, some could affect the feel of your bed, so it's best to consider this in advance. Thicker pads are usually softer, but this also depends on the materials. If you come across a model with multiple firmness options, make sure to consider your preferred sleep position before deciding on one.
Mattress Pad Thickness
Pad thickness is another critical factor you should consider before buying. Although some cooling pads are as thin as sheets, others are a few inches tall. This can affect the feel of your bed and may improve (or worsen) your sleep quality depending on your usual sleep posture.
Pressure Relief
People struggling with pressure build-up may want to consider a memory foam mattress topper that can add cushioning to their bed. Mattress pads are often too thin to relieve pressure on their own unless you only feel a small amount of pressure every once in a while.
Trial and Warranty
Cooling mattress pads usually come with both a trial and a warranty, although the length of both periods will depend on the brand. In most cases, you get at least 30 days to test how the cooling mattress pad fits you. When it comes to warranty, you can get anywhere from a year to a lifetime warranty.
Types of Cooling Mattress Pads
Many brands offer various types of cooling mattress pads made from different materials. Some are more cooling while others are hypoallergenic, so it's best to consider all options.
Memory Foam
Memory foam mattress pads aren't too popular due to the foam's natural ability to retain heat. These models can restrict airflow, which isn't the best option for hot sleepers. However, newer models that have an open-cell structure are better at cooling. These allow more airflow to prevent overheating. Plus, many newer pads have copper and graphite infusions to further enhance cooling.
Poly Foam
Poly foam provides more airflow because it doesn't conform around the body like memory foam. Basic poly foam might retain heat, but advanced poly foam is unlikely to do so because it often has an open-cell structure. These mattress pads can also have gel, graphite, and copper infusions for better cooling.
Gel
Gel mattress pads are a popular option for hot sleepers. These are typically made from foam and infused with gel to help dissipate moisture and heat. You'll also notice that gel is popular in other bedding products like toppers and mattresses.
Latex
Latex is a good option for those looking for natural materials and people with allergies. However, if you have a latex allergy specifically, you should avoid these products. Latex comes from rubber trees, so it's a sustainable material. The two types are Dunlop and Talalay latex, offering variable performance and feel. Talalay latex is more soft and breathable while Dunlop is denser.
For more, see our article on Dunlop vs Talalay latex.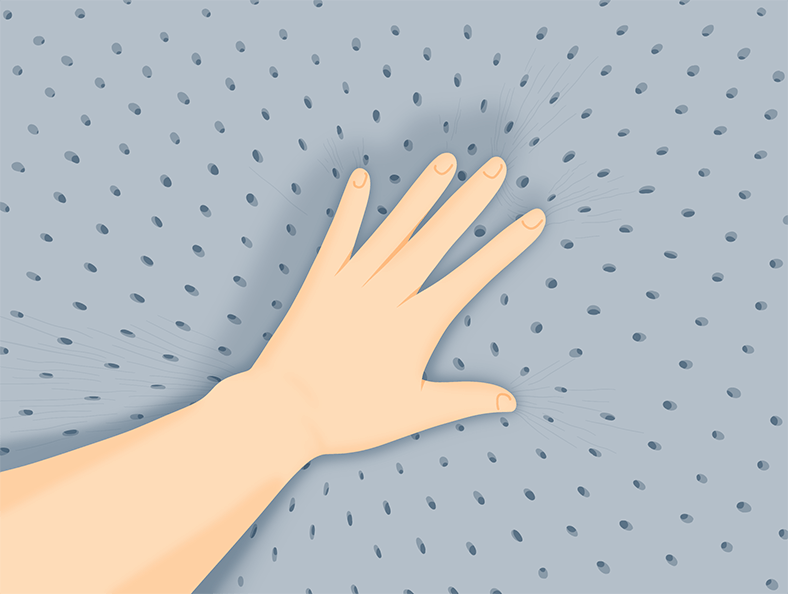 Cotton and Wool
Cotton and wool are natural materials that help with temperature regulation and moisture wicking. Cotton mattress pads are breathable and lightweight. These prevent moisture build-up, so they're good for those prone to sweating. On the other hand, wool is more versatile and can be warm in cold months but cool in the summer.
Cooling Mattress Pad FAQs
How does a cooling pad work?
Cooling pads work by regulating the temperature of your bed, making it more suitable for sleeping. Most models do this by incorporating different materials that aid in temperature regulation and cooling. This often includes cotton, wool, latex, and other similar materials.
Who should buy a cooling mattress pad?
Cooling mattress pads are meant for hot sleepers who struggle to fall and stay asleep due to overheating and sweating. People who live in a warm climate and those who generally sleep hot should all benefit from a cooling mattress pad.
What's the difference between a mattress pad and a topper?
A mattress topper is typically thicker than a mattress pad. Since it's thicker, a topper is also better at altering the feel of your mattress, making it softer or firmer. However, toppers can have the same cooling properties as pads because cotton, wool, and other materials can be used in both. For more details, see our article about Mattress Pads vs Mattress Toppers.
What else can I put on my mattress to keep cool?
Apart from a cooling mattress pad, you can also use cooling sheets and pillows. Either of these bedding accessories can help with cooling if they're made from temperature-regulating materials to further help cool the surface of the bed.
Will a cooling mattress pad help with night sweats?
A cooling mattress pad could help with night sweats if you're sweating due to the warm climate. However, if you're experiencing night sweats due to a health condition, a mattress pad alone may not help enough.
What is the best cooling mattress pad?
The best cooling mattress pad is one that suits your unique needs, providing you with a more comfortable sleep environment. For this reason, take some time to consider the price, size, thickness, and materials that would work best for you. You should also think about your mattress dimensions and height to ensure an easy fit.