Transparency Disclosure – We may receive a referral fee for products purchased through the links on our site...

Read More

.
Disclaimer - Nothing on this website is intended to be a substitute for professional medical advice, diagnosis, or treatment...

Read More Here

.
Comforters can enhance the comfort of your sleep space, but they can also add unnecessary heat. For this reason, hot sleepers and those who live in a warm climate might stay away from using them.
Luckily, some brands make cooling comforters that could leave you feeling cozy without making you too warm. These types of comforters are built with different cooling features and materials that help keep a neutral temperature.
In this article, we'll discuss the best cooling comforters, their standout features, and what you should consider before buying one.
The Best Cooling Comforters for Hot Sleepers
10 Best Cooling Comforters
Editor's Choice
Brooklinen Down Comforter
The Brooklinen Down comforter use natural down and is great for those looking for a really fluffy feel.
Sleep Advisor Score
4.70 / 5
This Brooklinen down comforter is an excellent option for those who live in a variable climate. The down cluster fill makes it warm in winter and cool in summer. The comforter is lightweight and soft, adding luxury and coziness to your bed all year round.
The Brooklinen has a cotton sateen shell that's temperature neutral, so it won't add any heat. Plus, the entire thing is hypoallergenic and treated with antimicrobials, so it's suitable for allergy-prone people. The comforter has loops on every corner, making it easy to attach to a duvet cover if needed.
What are the key features?
Brooklinen offers three models: Lightweight, All-Season, and Ultra-Warm. Hot sleepers should like the Lightweight Brooklinen best as it's the most breathable.
The company offers multiple sizes, a 1-year warranty, and a 365-night trial.
The hypoallergenic design is excellent for those with allergies.
Most Comfortable Cooling Comforter
Saatva All-Year Down Alternative Comforter
The Saatva All-Year Comforter is made with a down-alternative and works well for hot sleepers or sleeping in warmer temperatures.
Sleep Advisor Score
5.00 / 5
If you're looking for the most comfortable cooling comforter, you may want to consider the Saatva. This model has box quilting that keeps the fill evenly distributed, so it doesn't pool in one place. The cotton shell is filled with a blend of 3D down alternative and lyocell fill that maintain a neutral temperature suitable for hot sleepers.
This hypoallergenic cooling comforter is machine-washable, making it easy to keep clean and fresh. You should wash it with similar colors and use a gentle cycle to avoid damage. The comforter has corner loops, so you can attach it to your duvet cover.
Why we like it
Saatva uses certified organic cotton woven into a 200-thread count percale weave. This makes it cozy but also cool and crisp enough for hot sleepers.
The company offers a 1-year warranty and a 45-day trial, which should be enough to see if this cooling comforter fits your needs.
Best Value Cooling Comforter
Layla Comforter
Layla Sleep is known for memory foam beds with its signature hexagon patterns. You'll find this shape in all of its bedding products, and its comforter is no different. If you're looking for a soft cotton comforter that also features a down alternative fill, then this is the comforter for you.
Sleep Advisor Score
4.70 / 5
Value-seekers should like this Layla comforter as it's made to deliver comfort, cooling, and coziness for everyone. This comforter is wrapped in a 300 thread count cotton fabric that keeps it crisp and airy, which should fit hot sleepers well. The Layla is also filled with down alternative and is hypoallergenic, meaning it's safe for allergy-prone people.
The Layla is OEKO-TEX® certified, having all parts and components tested for harmful substances. Another thing worth noting is the patent-pending hexagon pattern, as the company claims it's more efficient for keeping the fill evenly distributed.
What should you know?
The Layla comes in gray and white, and you can choose several sizes to fit your bed. The comforter is machine-washable and safe to dry in a tumble dryer.
This value comforter comes with a 5-year warranty and a 120-night trial, which should give you enough time to decide if this one fits your needs.
Best Luxury Cooling Comforter
Cozy Earth Silk Comforter
If you're looking for a luxurious upgrade to your bedding, the Cozy Earth Silk comforter is the perfect fit— featuring 100% Mulberry silk and bamboo viscose.
Sleep Advisor Score
5.00 / 5
The Cozy Earth Silk Comforter helps regulate temperature by incorporating cooling materials and a breathable design. This is a luxury comforter with a secured inner filling you can use separately.
The company offers several fill options, allowing you to choose between standard and extra fill. Either way, the comforter has a thinner profile and is lightweight, so it'll just drape over your body without any pressure. The outer shell is filled with Mulberry silk that stays cool and crisp even during the hottest weather. Additionally, this Cozy Earth has anchor loops, so it's easy to attach to your duvet.
Why do we like it?
Cozy Earth offers three sizes and two fill options. However, silk is a good choice for hot sleepers as it remains cool to the touch regardless of the weather.
This luxury comforter comes with a 100-night trial and an industry-leading 10-year warranty, indicating the brand's quality and reliability.
Best Temperature Regulating Cooling Comforter
DreamCloud Duvet
Constructed with microfibers and Climasmart technology, the DreamCloud Duvet is a lightweight blanket that adapts to your body temperature!
Sleep Advisor Score
4.70 / 5
This DreamCloud cotton duvet is an excellent option if you're looking for something to keep you warm during winter and cool during summer. The cotton shell is breathable and temperature-responsive, making this duvet versatile and suitable for all seasons. Besides improving airflow, cotton is also good at absorbing moisture, so it's good for people experiencing hot flashes and sweating.
The DreamCloud is filled with down alternative, featuring Climasmart microfiber technology that helps it adapt to your body temperature. In addition, the box stitching helps keep the fill evenly distributed so that it doesn't create lumps and bumps.
What stands out?
The DreamCloud Duvet doesn't require a cover. The comforter comes in white bed linen, but it's also compatible with other covers if you want to use one.
The company offers six standard mattress sizes, a 1-year warranty, a 30-day trial, and free shipping, adding more value to an already great product.
Best Organic Cooling Comforter
Avocado Alapaca Duvet Insert Lightweight
A luxurious, organic duvet insert. Sourced from the Peruvian Andes, Avocado's alpaca fiber is renowned for its supreme breathability, wicking, and thermoregulating properties.
Sleep Advisor Score
4.50 / 5
Sleepers looking for an organic cooling comforter may want to look at this Avocado Alpaca Duvet Insert. The comforter has a GOTS organic cotton case and is filled with natural alpaca fiber. IYou can choose among two weights, although the lightweight option is best for hot sleepers.
Alpaca fiber has excellent moisture-wicking properties and is thermoregulating. The unique wool has a gentle texture and a delicate feel but is also flame-resistant, hypoallergenic, and antimicrobial, making this duvet suitable for anyone with allergies. However, this is an insert, so you should use a duvet cover to protect it from staining.
What's worth mentioning?
The Avocado Alpaca Duvet Insert comes with a 100-night trial and a 1-year warranty, covering for damage caused by faulty materials and manufacturing.
Although it's not machine-washable, this organic cooling comforter doesn't require much. All you should do is hang it in the direct sun once in a while to keep it fresh.
Best Hypoallergenic Cooling Comforter
TEMPUR-Pedic PrimaLoft Comforter
The TEMPUR-Pedic PrimaLoft Comforter is airy, soft, and stays cool throughout the night.
Sleep Advisor Score
4.50 / 5
Allergy-prone sleepers know the struggle of finding comfortable bedding that aids in preventing allergy spikes. This Tempur-Pedic comforter is hypoallergenic, so it should be a good option for those struggling with daily allergies.
This comforter features the brand's proprietary PrimaLoft® fill that's hypoallergenic and soft. The fill is an alternative to goose down, so it's unlikely to trigger your allergies. Plus, it's luxurious and soft to the touch, so it doesn't lack that cozy feel that you want with comforters. The fill is packed inside a 300-thread count cotton sateen fabric that further enhances breathability and cooling. This model has box quilting to keep the fill in place, so it doesn't pool in the corners.
What else should you know?
This Tempur-Pedic comes in two sizes: King and Queen.
Tempur-Pedic offers a 1-year warranty but no trial for the customers to test the product.
Best Lightweight Cooling Comforter
Leesa Duvet Comforter
Made from hypoallergenic, 100% recycled PET microfiber fill that is completely machine washable. Also 100% breathable cotton shell with square baffles that keep lumps at bay.
Sleep Advisor Score
4.70 / 5
This lightweight Leesa Duvet Comforter has excellent cooling properties from its organic cotton shell and lightweight fill. Cotton is breathable and does a great job of keeping the surface crisp, which should benefit hot sleepers. Additionally, the polyester fill is hypoallergenic.
One of the best things about this Leesa comforter is that it's machine-washable, making it easy to keep clean and looking good. The comforter also has four corner ties, allowing you to use any duvet cover that fits. The Leesa comes only in white, but you can choose among four sizes.
Why we think you'll like it
Apart from easy maintenance, this Leesa comforter offers versatility by regulating temperature depending on the season. This makes it suitable for cold and warm weather.
Leesa offers a 1-year warranty and a 30-day return policy, giving you enough time to decide if this lightweight cooling comforter is right for you.
What is a Cooling Comforter?
A cooling comforter is a comforter built with cooling properties to help hot sleepers rest easier. The cooling features are the main difference between a regular comforter and a cooling one. The cooling effect usually comes from materials and technologies that make a comforter moisture-wicking, breathable, and temperature-regulating.
Materials like wool and down help with cooling, but some brands may also use proprietary blends for a more unique feel. Both the fill and case have important roles in keeping a person cool, so make sure to check all the materials used.
How to Choose a Cooling Comforter
The bedding market offers a range of comforters suitable for all kinds of sleepers, but those who sleep hot should focus on cooling ones. Along with cooling properties, there are other features to consider before buying.
Cooling Features
The cooling features of a comforter make all the difference because, without them, you'd likely feel too warm. Of course, how cool a comforter will feel depends on the materials, so this should be the first thing you check. Look for breathable and moisture-wicking materials that don't allow the heat to build up. Apart from certain materials, some brands also use cooling technologies to keep the surface cool and crisp.
Materials and Quality
When it comes to materials, you should consider both the fill and outer case. The case is typically made from cotton, a breathable and cool fabric. However, fill types vary and can include down, down alternative, and different proprietary blends and materials. Which one you'll choose depends on your needs and preferences. One thing you should take note of is the overall quality of materials and manufacturing. Make sure to choose well-made products that can last long, even with frequent use.
Price
Cooling comforters are available at various prices, so there's an option for every budget. You can find a comforter for any price between 20 and 1,000 dollars, so it's just a matter of where you stand. Although you should consider the price, the overall cost shouldn't be your primary concern. Some value options can bring excellent comfort and cooling without breaking the bank. Also, keep in mind that the price depends on the materials, size, and cooling features.
Size
Like with cooling sheets and other bedding, brands offer a few sizes to pick from based on your needs. Comforters, including cooling ones, should be a bit bigger than your bed. So even if you get the size that fits, don't be surprised to see it's slightly larger. One way to check this beforehand is to see the exact dimensions.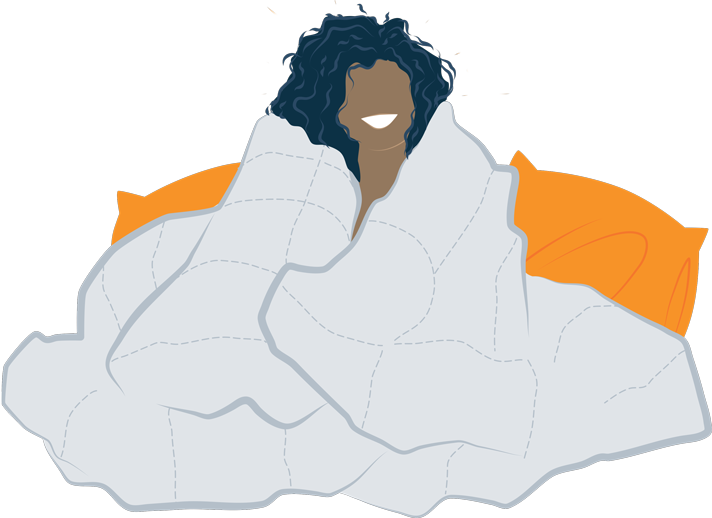 Weight
Cooling comforters aren't particularly heavy because they're usually made from down, down alternative, or another similarly lightweight material. However, some weighted models exist and are excellent for reducing anxiety and helping with relaxation. Weighted cooling comforters have glass beads that add some weight for that deep-pressure feel.
Trial and Warranty
Most companies offer a trial and warranty, given that cooling comforters are intended for personal use. In most cases, you'll come across 1-year warranties and trials that last 30 to 120 days on average. Some companies offer a longer warranty but no trial if they don't accept bedding accessories back.
Pros and Cons of Cooling Comforters
| Pros | Cons |
| --- | --- |
| Moisture-wicking | Not for those who sleep cold |
| Cool to the touch | Too lightweight for some |
| Versatile | Some don't include a trial period |
| Easy to clean | |
Types of Cooling Comforters
Down – Down comforters are usually the luxury option. These have insulating qualities, which makes them warmer than any other type. However, down is soft, fluffy, and a good choice for those who sometimes sleep cold.


---

Down Alternative – Down alternative is polyester or microfiber. These are equally soft and fluffy but not as expensive as down. On top of that, they're breathable and cool enough for most hot sleepers.


---

Cotton – Cotton models are more affordable. These are good at cooling, and they're also easy to keep clean.


---

Wool – Wool has excellent temperature-regulating properties, so it's a good option if you're after natural materials. These comforters can keep you warm during winter and wick away moisture during summer.


---

Silk – Silk is another luxury option that has natural thermoregulating properties. This material is known for keeping you cold in summer and warm in winter.
Frequently Asked Questions
Are down comforters too hot for summer?
Down comforters are typically more suitable for cold weather, but in some cases, they can also be good for warm weather. This usually depends on the person and the room temperature they sleep in. Down is fluffy and breathable, so it can help cool you a little if the weather isn't too warm.
Is down alternative better for hot sleepers?
Down alternative comforters are more suitable for hot sleepers because they don't have strong insulating properties as down models. Instead, they're more breathable and don't retain heat as much, making them good for hot sleepers.
How much does a cooling comforter cost?
A cooling comforter can cost anywhere between 20 and 1,000 dollars depending on the materials, size, weight, and technologies used to bring that cooling effect. As said, it helps to have a budget in mind, but you should also consider other buying factors before making a decision.
How do you clean a cooling comforter?
You should always check for cleaning instructions on the label sewn into the comforter of your choice. If not, you can find this information on the manufacturer's website. This is important to check because some comforters are safe to wash and are even machine-washable, while others should never get wet.
What type of comforter is best for hot sleepers?
Hot sleepers should benefit from a cooling comforter made from breathable materials that enhance airflow. These models are usually cool to the touch, helping prevent hot flashes and sweating for those who struggle with this.
Where can you buy cooling comforters?
Cooling comforters are available online and in-store. You can get each of these on the brand's official website, where you can also learn more about their features, trial, and warranty.
What size comforter should I get?
Comforters come in various sizes, so you can choose any that fits your needs. In most cases, they come in standard mattress sizes but with slightly bigger dimensions. One thing to remember is that the size almost always affects the price, so bigger comforters are more costly than smaller ones.