Transparency Disclosure – We may receive a referral fee for products purchased through the links on our site...

Read More

.
If your current blanket is leaving you feeling hot and sweaty throughout the night, you may find yourself looking for a cooling blanket. These helpful products allow you to feel cozy and tucked in without overheating. They can be used all year long or just during warmer months.
If this sounds like you, you're in luck. We've compiled a list of our favorite best cooling blankets. We'll share details about each model, and further below, we've also provided a useful buyer's guide so you can know what to look for as you shop.
The Best Cooling Blankets
Sleep Number True Temp Blanket
37.5® Technology

Active-Particle Technology

Hypoallergenic

Multiple Colors and Sizes
This cooling blanket features 37.5® Technology that helps it adapt to your temperature. As a result, the blanket cools you when you're hot and warms you when you're cold, which makes it excellent for all seasons. This product also features Active-Particle Technology that helps it resist heat and humidity, which ensures longevity and durability. 
The True Temp® blanket has a temperature-balancing layer that aids in temperature regulation. On top of that, this blanket comes in multiple colors, so it's easy to match with the rest of your bedding. You can choose between King and Queen sizes, depending on the size of your bed.
Why we like it
The True Temp® has a 300-thread-count cotton cover with 37.5 polyester technology. The fill is made from 60 percent polyester and the same 37.5 polyester technology for added cooling. 

This cooling blanket has an OEKO-TEX® Standard 100 certification that ensures safety from harmful substances. 
Best Weighted Cooling Blanket
Bearaby Tree Napper
Natural Eucalyptus Fibers

Free Shipping

Three Weight Options

Multiple Colors
Weighted blankets are known to help with anxiety and insomnia. The Tree Napper by Bearaby is available in three weight options, so you can choose between 15, 20, and 25 pounds, depending on your body weight. The blanket is made from natural eucalyptus fibers called Tencel™ Lyocell, which is soft, smooth, and cool to the touch. 
Tencel™ helps wick away moisture and is 100 percent biodegradable. As such, it's one of the most sustainable fabrics and an excellent option for eco-conscious shoppers. This cooling blanket is available in multiple colors, so it's easy to match with the rest of your bedding.
What stands out?
The Tree Napper is smooth and soft to the touch, so it's one of the coziest weighted blankets. The weight is evenly distributed across your body, helping the production of serotonin while reducing cortisol.

This weighted blanket is safe to wash in a washing machine using cold water and a delicate cycle. Tumble dry on low.
Best Soft Cooling Blanket
Cozy Earth Bamboo Blanket
Viscose from Bamboo Fabric

Oversized

Moisture-Wicking Fabric

Machine-Washable
If you're after a soft cooling blanket to cozy up without it making you warm, you may want to check out the Cozy Earth Bamboo Blanket. The blanket is made from 100 percent viscose from bamboo fabric with an enhanced weave that prevents pilling. The fabric is smooth and soft to the touch while also temperature regulating. 
This cooling blanket is available in several sizes, but each is oversized to be slightly larger than your bed. This way, the blanket fits all sleepers regardless of their size and weight. The Cozy Earth is moisture-wicking and breathable to keep you cool throughout the night. 
What you should know
Cozy Earth offers a 10-year warranty and a 100-night trial, giving you plenty of time to test how you like this cooling blanket.

The viscose is a soft fabric that's safe to wash in a washing machine. You can also tumble-dry on low. 
Best Luxury Cooling Blanket
Brooklinen Linen Quilt
100 Percent Linen

Made in Portugal

Polyester Fill

Machine-Washable
The Brooklinen Linen Quilt blanket offers outstanding softness with cooling to keep you comfortable regardless of the weather. The blanket has long-staple fibers made from the finest European flax. In addition, it's pre-washed and garment-dyed, so it should stay looking like new for years to come. The blanket has diamond-stitched detailing for that luxurious look. 
This cooling blanket is safe to wash in a washing machine, and you can also tumble-dry it on low. The company offers two colors and multiple sizes, so it's easy to find the right fit for your bed. 
What's worth noting?
The company offers a 365-night trial for you to test this luxury cooling blanket. If you're unhappy with the purchase, you can return the blanket for a full refund. 

The Linen Quilt stays soft even after multiple washing and drying sessions. The fibers help with cooling but may also keep you warm when the weather is cold. 
Best Silk Cooling Comforter
Nest Silk Cloud Comforter
300-Thread-Count Cotton

100 Percent Mulberry Silk

Free Shipping

Suitable for All Seasons
Mulberry silk is a fabric like no other, as it's lightly warm during winter but cool during the summer, making this comforter suitable for all seasons. The Nest Silk Cloud Comforter is available in two sizes and only one color, and it has loops for you to attach to your duvet. This product also comes in a tote you can use for storage or carry. 
The silk is paired with 300-thread-count organic cotton, adding to the lightweight and weightless feel. The comforter is breathable, meaning that it doesn't retain heat or moisture. In addition, it's easy to clean, although machine-washing isn't recommended. If you must wash it, use a delicate rinse cycle without spinning. 
Why we picked it
Mulberry silk is warm and cozy but can also be cooling when needed. The material is naturally hypoallergenic, so this comforter is suitable for allergy-sensitive people.
Best Organic Cooling Blanket
Parachute Home Organic Air Cotton Quilt
Four Colors

Two Sizes

60-Night Trial

Machine-Washable
Organic materials are often the best for hypoallergenic and eco-conscious people. With that said, it doesn't get much better than this organic cotton quilt, adding a layer of soft comfort. The quilt features a 3-ply gauze fabrication and is made from 100 percent organic cotton. In addition, it has OEKO-TEX Standard 100 and GOTS certifications to ensure it's free of toxins and harmful chemicals. 
The Parachute Home Organic Air Cotton Quilt is available in two sizes and four colors, making it easy to find a match for every sleeper. On top of that, it's safe to wash in a washing machine, making maintenance a breeze. 
Why should you consider it?
The company offers a 60-night trial for customers to test how they like this cooling blanket. This should give you enough time to decide whether this model fits your needs. 

Both the OEKO-TEX and GOTS certifications mean the product had passed strict safety standards. 
Best All-Season Cooling Blanket
Nectar Resident Serenity Quilt
Machine-Washable

100 Percent Cotton Cover

Polyester Batting Fill

Antimicrobial Technology
The Nectar Resident Serenity Quilt is suitable for all seasons as it's made from cotton that adapts to different temperatures. The cotton cover adds warmth when you're cold and cools you when you're warm, so it's a good option for hot sleepers and those who sleep cold.
The quilt has a polyester batting fill that adds a bit of fluff, making this blanket cozy and comfortable. In addition, the bedspread has a 4-inch diamond quilting that makes it look luxurious while also keeping the fill in place. The antimicrobial technology ensures no dust mites and bacteria can build up. 
Why we like it
This Nectar quilt comes in white, grey, and blue, and you can also choose between six standard mattress sizes to match the size of your bed. 

This cooling blanket is machine-washable, which makes maintenance easy regardless of the size you choose. 
Best Affordable Cooling Comforter
Buffy Breeze Comforter
Temperature-Regulating Fabric

Tencel™ lyocell Fiber

300-Thread-Count

Attachment Loops
This Buffy comforter is one of the best affordable options. This comforter is made from Tencel™ fabric and has a Tencel™ lyocell fiber fill that gives it additional fluff and cushioning for a cozy feel. The Buffy Breeze comforter has a 300-thread-count Tencel™ shell with a sateen weave that makes it smooth and cool to the touch.
One of the best things about this affordable cooling blanket is that it's biodegradable and compostable. This Buffy model is made entirely from natural materials, so it's a good option for eco-conscious shoppers. 
What's worth mentioning?
The Buffy Breeze is available in three standard mattress sizes, so it's easy to find one that suits your bed. You can use a duvet cover if you want, as the comforter has loops for easy attachment. 

The stitching keeps the fill in place so that it doesn't pile or separate, ensuring the longevity of both the looks and feel. 
What is a Cooling Blanket?
Cooling blankets are made specifically for hot sleepers and those who live in warmer climates. These are usually made with specific cooling technologies and moisture-wicking materials, providing the breathability and cooling you need to prevent overheating and night sweats.
Cooling blankets can look like any other blankets, comforters, and duvets. The difference isn't usually visible, but you may notice it when you touch a cooling model. These are often cool to the touch, thanks to the breathable fabrics used in them.
How Do They Work?
Cooling blankets usually include lightweight and natural fibers that provide a cool-to-the-touch effect. Fabrics like linen, cotton, and silk are best known for their breathability and cooling. In addition, some blankets have proprietary cooling technologies and patented materials to achieve the best cooling and moisture-wicking. These work by pulling the heat away from your body and dispersing it so that no heat builds up and causes you to overheat.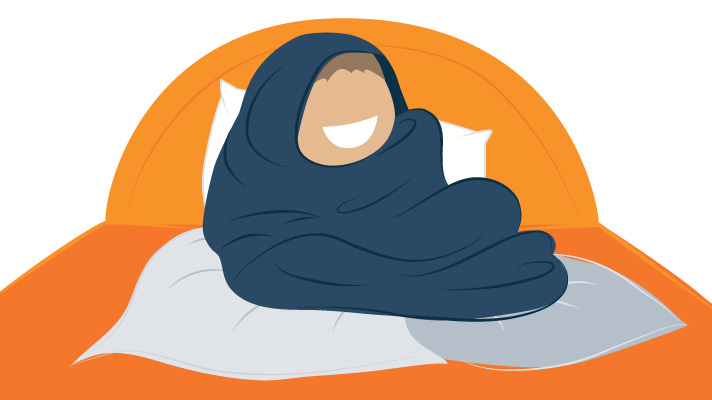 How to Pick a Cooling Blanket
Picking a cooling blanket should be simple enough, but there are multiple considerations buyers should be aware of before starting their search. Thinking about these factors makes it easier to pick a cooling blanket more suitable for your needs.
Cooling Features
The cooling features should be a top priority when buying a cooling blanket. This is what makes these blankets good at temperature regulation. Many models use breathable or moisture-wicking fabrics. However, some brands have proprietary technologies paired with cooling fabrics to enhance the chilly effect.
Material
Material plays a huge role in how cool a blanket is. Some fabrics are more breezy than others. You'll often come across cotton, silk, and linen in cooling blankets. Fabrics to avoid are wool and flannel since these tend to keep you warm. However, you should always carefully inspect the fabrics used in your blanket, not only because of cooling but for ease of maintenance as well. Here are some of the most popular options: 
Cotton is the most accessible material. This doesn't mean that it's of the lowest quality – as a matter of fact, some of the best sleeping solutions are made of 100 percent cotton and nothing else. Cotton is soft and breathable, and it is particularly convenient for cleaning. The flip side is that it's not as cool as other materials.
This is for those of you who are looking for exceptional luxury and cooling and are ready to pay for it. Satin blankets are expensive, but they are also fantastic quality. They are very gentle and soft upon contact, which is something many sleepers enjoy.
Bamboo is another very popular material, and it is known for its hypoallergenic properties. Additionally, bamboo comes from a sustainable source, making this an eco-friendly fabric. Bamboo blankets are thermo-regulating – they can be used in both summer and winter months, depending on your preferences. They are also very lightweight.
When it comes to bed linen and high-end materials, Egyptian cotton is a great option. This material brings enhanced cooling and comfort. Of course, this also reflects in the price, but the quality is exceptional and incomparable to anything else on the market.
Price
Cooling blankets are available at various prices, so there's a model for everyone's budget. In most cases, it's best to have a pre-determined budget to figure out the price you're comfortable with. The price usually depends on the cooling features, materials, size, and design. Although the cost of the product is important, it shouldn't be the only deciding factor.
Maintenance and Care
Most cooling blankets are machine-washable, but this is something you will want to check beforehand. Whether you can wash your blanket in a machine depends on the material and manufacturing process, so it's best to always check the label or manufacturer's website. If a blanket is machine-washable, it's typically advised to use cold water and a gentle cycle to avoid damaging it. Some are also safe to tumble dry in low temperatures.
Color and Design
Choosing a color and design shouldn't be too complicated, but you may find that there aren't that many options. In many cases, manufacturers offer two or three colors at best. Most are solid, so you'll unlikely find any patterns and designs. The only thing that may stand out is the stitching giving the blanket a bit of a design pattern.
Size
The size of your cooling blanket depends on the size of your bed. Most brands offer a few sizes, but some may only offer a single standard size. The best way to figure out the best size for you is to consider the dimensions of your bed and whether you'll share the blanket. Also, keep in mind that the size often affects the price, so bigger blankets are more expensive than smaller ones.
Weight
Cooling blankets don't weigh any more than regular blankets, so you don't have to worry about them being too heavy. However, if you're looking for added weight, you may want to consider weighted blankets with cooling features. Weighted blankets have glass beads or pellets that add some weight to the design, but they also may have cooling features to make them more suitable for hot sleepers.
Why Hot Weather Affects Your Sleep
There might be a few different reasons for this. First, it might just be a very hot night. If that's the case, there is hardly anything that you can do. Crank up the AC and wait it out.
On the other hand, you might be hot during the sleep because your mattress retains a lot of heat, especially if it's a foam-based model. If that's the case, you can consider using a cooling bed topper for additional convenience. They are not that expensive and could help you out.
Your blanket is not cool. If your blanket isn't breathable and cool enough, you would eventually start to feel particularly hot.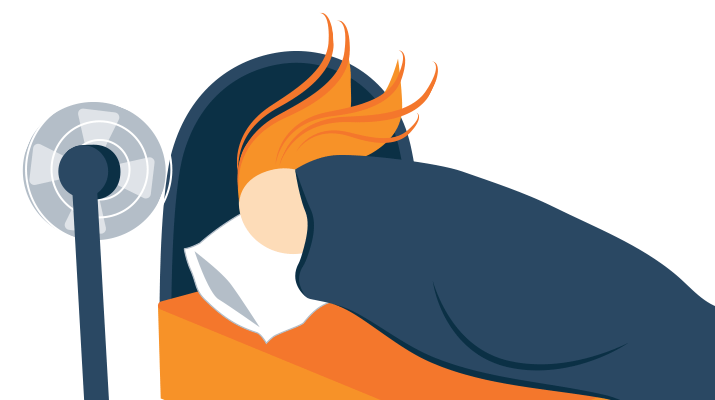 Comforter or a Blanket?
The main difference between a comforter and a blanket is that blankets typically contain a single layer of fabric, while comforters are fluffier and usually filled with down or down alternative.
Some people like the additional thickness of a comforter, whereas others feel it's not necessary and may opt for a blanket instead.
View Our Comparison: Blankets vs. Comforter
Frequently Asked Questions
Why Do I Sleep Hot?
There might be a few different reasons for this. First, it might just be a very hot night. If that's the case, you can try using a fan, opening the window, or running the AC to help you stay cool while you wait it out.
On the other hand, you might be hot while sleeping because your mattress retains a lot of heat, especially if it's a foam-based model. If that's the case, you can consider using a cooling bed topper for additional convenience. 
The other reason may be that your blanket is too warm. If your blanket isn't breathable and cool enough, you would eventually start to feel hot.
You may also sleep hot due to menopause or a health condition that could cause you to sweat at night, such as stress, anxiety, or hormone disorders.
Can cooling blankets go in the dryer?
Whether a cooling blanket can go in the dryer depends on the materials in it. For example, some natural fibers like bamboo may lose their cooling properties if you tumble-dry them. Cotton should remain the same, which is why tumble-drying a cotton cooling blanket is often safe. However, you should always check for a maintenance label somewhere on the blanket. If not, you can find specific care instructions on the brand's website.
What are cooling blankets made from?
Cooling blankets are made from breathable materials that allow a continuous airflow, which helps keep them breezy and fresh. Some models are made from natural materials while others have a blend of synthetic fabrics, all of which can be cooling.
What do you use a cooling blanket for?
Cooling blankets are meant for hot sleepers but also people struggling with menopause, night sweats, and overheating. If you usually sleep hot, a cooling blanket can help with temperature regulation, which should allow for better sleep. Menopause is known to trigger hot flashes, which is something a cooling blanket can help with by creating a more temperature-neutral sleeping environment.
What are the best materials for cooling blankets?
The best materials for cooling blankets include linen, silk, satin, bamboo, Egyptian cotton, and cotton. These are naturally cooling materials that will help maintain your bed breezy and fresh even during hot weather.
Can I use a cooling blanket year-round?
Some cooling blankets can also warm you during the winter months, depending on the materials they're made with. For example, cotton is known to adapt to your body temperature, so it may help keep you warm when it's cold outside. Also, some blankets are dual-sided, featuring a warming material on one side and a cooling one on the other side.
Do cooling blankets actually work?
Cooling blankets can work, but it's important you pick a quality-made model with temperature regulating materials and technologies that help achieve this effect. Not all blankets are cooling, and not all cooling blankets will be as efficient, which is why it's important to consider all buying factors before deciding on one. In some cases, you might need to invest in additional cooling bedding, including pillows, sheets, and a mattress topper.
What kind of blanket is best for hot sleepers?
Hot sleepers should look for a cooling blanket made from naturally breathable materials that provide airflow. This way, the blanket will keep you cozy but remain breezy and fresh.
Conclusion
Cooling blankets can provide a great solution if you want the comfort of a blanket without worrying about waking up hot and sweaty.
While cooling features are an essential component for finding one, you'll also want to consider other important factors when purchasing a cooling blanket, such as your budget and the quality and feel of the materials. By doing so, you should be able to find something that fits your needs and preferences, providing you with better overall comfort and sleep.
Our team covers as many areas of expertise as we do time zones, but none of us started here as a so-called expert on sleep. What we do share is a willingness to ask questions (lots of them), seek experts, and dig deep into conventional wisdom to see if maybe there might be a better path towards healthy living. We apply what we learn not only to our company culture, but also how we deliver information to our over 12.7M readers.
Sleep research is changing all the time, and we are 100% dedicated to keeping up with breakthroughs and innovations. You live better if you sleep better. Whatever has brought you here, we wish you luck on your journey towards better rest.