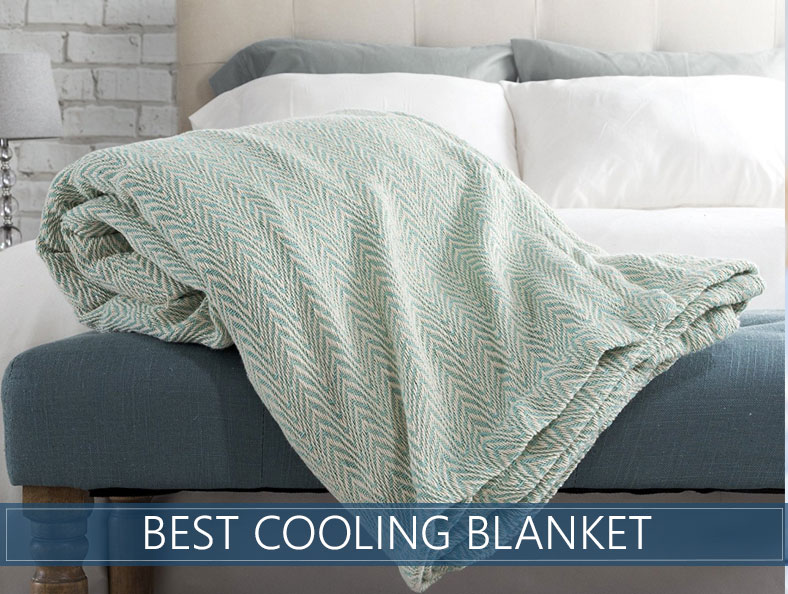 Transparency Disclosure – We may receive a referral fee (at no additional cost to the buyer) for products purchased through the links on our site or other applicable pages. To learn more, please read our full disclosure page here. We also encourage you to read about how we may research and/or test Products here.
As soon as summer and spring arrive, people start looking for cool blankets for their beds. It goes without saying that these are capable of seriously enhancing your sleeping sensation as they solve a challenging issue – heat through the hot summer nights.
Let's be honest – it doesn't matter how hot the weather truly is – we prefer sleeping tucked in a blanket. There's just something about this that makes us feel comfortable.
Of course, when it's a thousand degrees out there, the last thing you'd want is to feel hot when you sleep.
A cool blanket for the summer months is what you're looking for. There are quite a lot of different options, though, and picking the best one is far from being a walk in the park. Hopefully, this would help you out.
Our 8 Cooling Blankets & Comforter Reviews
Of course, picking one on your own might be a bit challenging. With this in mind, we've selected some of the best options currently on the market. Please note that the first four are comforters while the last four are cool blankets.
BedJet AirComforter
This is regarded as the first powered cooling as well as warming sheet for your bed. It's an accessory item for your bed, and it is a part of the BedJet Climate Comfort System. This is not a product to be used separately.
Now, the comforter is specifically intended to improve the overall distribution of coolness through the entire surface of your bed.
It is also engineered of 100% cotton fibers. The comforter contains internal cavities for enhanced airflow.
It's designed to improve the proper cooling performance as well as the overall cooling experience of the entire BedJet.
This is a model that can be used on each side of your bed to induce proper cooling to each one of them.
PROS
It will enhance the overall coolness
It takes advantage of smart technology
It has enhanced cotton fibers in it
CONS
It is quite expensive
It can't be used as a standalone unit
Hypoallergenic 230 TC Down Blankets With Satin Trim
This is a hypoallergenic comforter which is made of 550 Fill Power, high-end duck down.
One of the main issues with comforters of the kind is that the down tends to shift quite a lot. This one is sewn through the construction, and this addresses this annoying issue quite conveniently.
The blanket has 1-inch satin trim detail which makes it particularly soft and gentle upon contact. It's also machine washable for further convenience.
The best thing about this is that you can throw it in the dryer without worrying that the fabric will get ruined. All in all, this is a solution that is easy to take care of.
At the same time, you should know that this cool blanket is particularly manufactured for DOWNLITE bedding. Of course, you can use it with other furniture, but it won't guarantee the prominent results.
PROS
High-quality duck down filling
Sewn-through design for enhanced retention of the fabric
Incredibly soft and refreshing upon contact
CONS
Even though it says it's washable, the product tends to shrink after machine-washed
Not as appropriate for dryers as it claims to be
Ibestuff Air Condition Summer Comforter
If you are looking for a breathable and cool comforter to use throughout the summer months, you have stumbled upon the right place.
This is a comforter made of 100% cotton, mulberry silk and natural fiber which is particularly great for your health.
This is suitable for when the temperatures are between 80 and 95 degrees Fahrenheit or when the room is properly air-conditioned.
You can also use it alongside a thicker comforter throughout the winter period for additional warmth.
The best thing about the comforter is that it is very breathable and it absorbs moisture – hence, you shouldn't worry about the occasional mid-night sweat.
The comforter is great against different allergens, dust mites, and other dirt.
PROS
Great against allergens and dust mite
It has enhanced breathability and comfort
There is no static electricity
CONS
Some people report that it's a bit stiff
It is particularly thin
Zen Bamboo Luxury Goose Down Alternative
If you love sleeping well-tucked in your favorite comforter, but the summer heat prevents you from doing so, you've stumbled upon the right place.
This particular bamboo comforter which is made of bamboo, as well as brushed microfiber, is a very plush model while, at the same time, is also refreshing.
This is a hypoallergenic unit which is also resistant to stain. It won't fade, and it won't wrinkle up to feel uncomfortable.
The comforter is also particularly easy to care for and to maintain. It is washable in a washing machine. When you tumble-dry it, just make sure that you set a lower temperature.
The comforter is going to stay cool and fresh between the washes. There is nothing that you should be concerned with.
PROS
Fresh feel, and it looks very nice
Very breathable and cool
Stylish, luxurious and it provides a plush sensation
CONS
It's a bit bulky
It's not as stain resistant as it claims
100% Pure Flax Linen by Sofia's Linen
Now, this is a cool blanket which will bring you all the comfort and coziness that you want without making you sweat through it in the hot summer night or afternoon.
The entire thing is made of linen, and it offers design suited for every single part of your home.
The blanket also feels incredibly good. Made of pure linen, and this comes with a lot of different benefits. The more you wash it, the softer it becomes.
This product is going to help you enjoy a deep sleep on your sofa, patio chair or bed.
The blanket is hygroscopic as it absorbs moisture and it manages to remain cool. It also has thermo-regulating capabilities.
This means that it's going to remain cool throughout the summer, but it's also warm in the cold winter months. This is something that prevents you from the need to purchase new ones.
PROS
It's universal regarding thermal regulation and aesthetic appeal
Made of high-quality 100% Linen
It gets softer as you wash it over and over again
CONS
It is rather expensive for a blanket
It's not that easy to take care of
Cocoon CoolMax
Now, if you are looking for something to take with you on your travels, this is a great solution.
It is the perfect companion that you could use in your car, at home, on the plane or train – pretty much wherever you need it to comfort you.
At the same time, it is particularly small and lightweight. You can carry it with you without any hassle or hurdle.
The blanket has a proprietary CoolMax knit which is breathable; it wicks the moisture away very conveniently and particularly effectively.
This cool blanket feels amazingly soft on your skin. It has a measurement of 55 x 70 inches, making it particularly reliable and convenient for a lot of different purposes.
PROS
Very breathable sleeping solution
It will keep cool, and it wicks moisture
Incredibly gentle upon contact
CONS
It's very thin
Its reliability is rather compromised
Lavish Home Chevron 100% Egyptian
This cool blanket is made of 100% cotton. Of course, there are a few things that you might be interested in.
The cotton is 100% Egyptian, and it is particularly lightweight and gentle.
At the same time, the comprehensive thermo-regulating properties of the fabric allow for the blanket to keep you cool throughout the hot summer days and warm enough during the winter.
This is one of the best options available out there. The quality of the blanket is unquestionable, and it brings an incredibly comfortable sleeping sensation, even when it's hot outside.
The maintenance and the care of the blanket are also fairly straightforward and shouldn't pose a challenge.
The blanket is washed in your washing machine and tumble dried. Just make sure that you use settings with lower temperatures.
PROS
Convenient and suited for year-round use
It takes advantage of high-end materials
Enhanced breathability
CONS
Its appeal is rather old-time
It's made in India and shipped across to the US
Cotton Throw Blankets by Utopia Bedding
Now, these are quite affordable and are great for different furniture. You can use it on the sofa or the bed. They are thermal-regulating, which means that they accommodate throughout the different seasons to provide you with the necessary performance.
With this said – they are cool during the summer and warm during the winter- it's as simple as that.
If you want to achieve the best results while taking care and maintaining these awesome cool blankets, it's best for you to tumble dry on a lower setting.
You should also use colder temperature of the water when you machine wash them.
The product is free from all kinds of synthetic materials as well as of harmful chemicals.
This is great for people who have certain allergies.
PROS
Affordable
Made of natural ingredients
It's particularly cool during the summer months
CONS
Its overall appeal is not quite pleasing
Why Hot Weather Affects Your Sleep
A recent survey carried out by The Washington Post uncovered, that about 80% of people sleep better when the weather is cool. And, as it turns out, these results are far from being a subjective personal preference – there's solid science that backs them up.
Think of it this way – when you go to sleep, your set point for the temperature of your body is going to be lower. This is the temperature that your brain is actively trying to achieve. And, naturally, if the sleeping environment is hotter, you will wake up.
What is more, regulation of the heat distribution is undoubtedly a critical component of your sleep. One of the techniques that would allow you to achieve that very quickly without any issues is through taking a warm bath right before you go to bed. The sudden drop in the temperature when you get out of the shower will mimic the natural nosedive that your brain is attempting to achieve. This will ease you to sleep a lot quicker.
Of course, if you don't feel like having a hot shower every night before you go to bed, you can rely on cool blankets. These are blankets which are breathable and do not retain heat. Therefore, they won't complement the sweating.
Bedding Materials and Coolness
As you can see from the reviews, there are a few different types of materials that you can take your pick from. Let's see the most common ones and how do they compare to each other.
Cotton
Cotton is the most accessible material. This doesn't mean that it's of the lowest quality – as a matter of fact, some of the best sleeping solutions are made of 100% cotton and nothing else. It's soft, breathable, and it is particularly convenient to take care of. The flipside is that it's not as cool as other materials.
Satin
This is for those of you who are looking for the highest-end appeal and coolness and are ready to pay for it. Satin blankets are quite expensive, but they are also absolutely exquisite. They are very gentle and soft upon contact which is something that we are particularly fond of.
Bamboo
Bamboo is another very popular material. It is known for its hypoallergenic properties and for the fact that it comes from a sustainable source. Bamboo blankets are thermo-regulating – they can be used in both summer and winter months, depending on your preferences. They are also very lightweight.
Egyptian
When it comes to bed linen and high-end materials, Egyptian cotton has reigned the field for quite some time. It brings splendid coolness, enhanced comfort and a sensation that's beyond comprehension. Of course, this also reflects in the price, but the quality is unobjectionable and incomparable to anything else on the market.
Frequently Asked Questions
Why Do I Sleep Hot?
There might be a few different reasons for you to sleep hot. First, it might just be a very hot night. If that's the case, there is hardly anything that you can do. Crank up the AC and wait it out.
On the other hand, you might sleep hot because your mattress retains a lot of heat, especially if it's a foam-based model. If that's the case, you can consider using a bed topper for additional convenience. They are not that expensive and could help you out.
Your blanket is not cool. If your blanket isn't breathable and cool enough, you would eventually start to feel particularly hot.
Comforter or a Blanket?
The main difference between both is that the former is designed to sit right on top of your mattress. It is easy to layer it without having to add serious bulk to the sides of your mattress. At the same time, this could leave you with a sense that the bed is unfinished.
On the other hand, we have the cool blanket. This is a solution that's designed to have a cascade and to drape over the sides of your bed. It might look awesome on its own, but it also has its off-sides. For instance, if you fail to get the right type, you might end up sweating more as a result.
For even more options, check out our top throw blanket page.
Conclusion
---
As you can see, the differences between a comforter and a blanket might not be as serious as you'd imagine. However, they are pronounced which is something to account for.
It's also evident that there are quite a few different things that you might want to keep in mind when purchasing a cool blanket. With this in mind, we hope that the provided information is at least enough to start doing your research.
You should get a blanket that adheres to your personal preferences – this is the most important thing that you'd have to consider.
Our team covers as many areas of expertise as we do time zones, but none of us started here as a so-called expert on sleep. What we do share is a willingness to ask questions (lots of them), seek experts, and dig deep into conventional wisdom to see if maybe there might be a better path towards healthy living. We apply what we learn not only to our company culture, but also how we deliver information to our over 12.7M readers.
Sleep research is changing all the time, and we are 100% dedicated to keeping up with breakthroughs and innovations. You live better if you sleep better. Whatever has brought you here, we wish you luck on your journey towards better rest.