Transparency Disclosure – We may receive a referral fee for products purchased through the links on our site...

Read More

.
Disclaimer - Nothing on this website is intended to be a substitute for professional medical advice, diagnosis, or treatment...

Read More Here

.
Sweaty, sleepless nights and sluggish mornings are a common struggle when you sleep next to a warm partner while enduring hot nights.
When you still can't sleep well after kicking off the covers and cranking up the fan, a cooling mattress topper could be a perfect solution. Aside from conserving energy, toppers often add a plush element and enhance one's sleeping experience, relieving pressure points, and improving the mattress you already have.
Although some buyers may initially shy away from toppers with larger price tags, the promise of lower electric bills and better nights of sleep arguably warrants the initial investment.
We've made it easy to find the right one (less than 5 minutes!). Check out the comparison table below for our most up to date picks.
The Top Cooling Mattress Toppers
My Video Review of The Best Cooling Mattress Toppers
Our Top 6 Cooling Topper Reviews
Best Gel-Infused Cooling Mattress Topper
Layla Mattress Topper
This copper-infused mattress topper will keep you cool at night.
Sleep Advisor Score
4.20 / 5
Read Full Review
Layla takes cooling gel up a notch for their mattress topper with the addition of copper. Copper gel beads are infused into the topper and are designed to absorb and pull away body heat for a cooler environment. Because Copper is naturally great at conducting heat, you should expect fantastic cooling from the Layla Memory Foam Topper.
This topper is a total of two inches thick, so it is on the thinner end for toppers but should still deliver quality comfort for your bed space.
Why should you buy it?
The memory foam in this topper is CertiPur-US® certified, so you know the product you're getting is deemed safe.
The Layla Memory Foam Topper is backed by a 5-year warranty.
Memory foam is an exceptional material for relieving uncomfortable pressure points. You should feel the foam cradle you as you lie on top of your bed.
Read our full Layla Memory Foam Topper Review.
Best Plush Cooling Mattress Topper
Helix Plush Mattress Topper
The Helix Plush mattress topper adds a thin layer of plushness and quilting to the top of a mattress. It doesn't dramatically change the firmness or feel but does add a bit of luxurious plushness.
Sleep Advisor Score
4.40 / 5
Read Full Review
If you're looking to soften up your mattress, we recommend trying out the Helix Plush Mattress Topper. This product contains a Revoloft Cluster fiberfill that should feel soft as lie you down.
Along with a plush design, the Helix topper is made to be hypoallergenic and breathable, further enhancing your quality of rest. The topper features baffle box stitching to ensure the fiberfill stays evenly distributed throughout the entire topper.
While this topper from Helix is the thinnest on our list, its plush design should still provide helpful cushioning for firmer mattresses.
Why you should consider it?
Upon purchasing this product, you'll get up to 100 nights to test it out in the comfort of your home. If you don't like it, you can return the item for a full refund.
Taking care of your Helix topper should be easy, thanks to the machine-washable construction.
Best Graphite Cooling Mattress Topper
Saatva Graphite Mattress Topper
A luxurious topper with contouring support from its graphite infusion.
Sleep Advisor Score
4.80 / 5
Read Full Review
Many bedding companies are turning to graphite as a way to help keep memory foam cool throughout the night since the material is known to get hot. Graphite is a crystalline form of the carbon element and has long been used in other products to help pull heat away, such as in computers or phones.
For this memory foam topper, graphite is infused into the foam itself, promoting a cooler sleep space. This is further enhanced by the organic cotton cover, a breathable fabric.
What's worth noting?
Saatva offers customers a 180-night home trial and a 1-year limited warranty with the purchase of this topper. For those skeptical of graphite's cooling abilities, the trial period is a great way to test out the product before committing to the purchase.
The Saatva Graphite Mattress Topper is CertiPUR-US® for your health and safety.
Best Hypoallergenic Cooling Mattress Topper
Puffy Deluxe Mattress Topper
A mattress topper with two firmness options.
Sleep Advisor Score
5.00 / 5
Read Full Review
Allergies can be problematic, turning otherwise peaceful nights into restless ones. If you're looking for something that not only helps you stay cool but is also adept at keeping allergens at bay, we think you should consider the Puffy Mattress Topper.
This topper is built with 40 percent bamboo and 60 percent polyester to help foster temperature regulation. This is further supported by the cool-to-the-touch cover. Of course, the other big perk with this product is that it's hypoallergenic, so you shouldn't have to worry about frustrating allergies.
What stands out about it?
This topper comes in two firmness options, soft or firm. This allows you to select the feel that best complements your needs for more comfortable sleep.
The removable and washing machine-friendly cover should make it easy to keep your topper in tip-top shape.
The Puffy Topper comes with a 101-night sleep trial and a lifetime warranty.
Best Cooling Mattress Topper for Side Sleepers
TEMPUR-Adapt Mattress Topper
Offers 3 inches of support for superior pressure relief.
Sleep Advisor Score
4.50 / 5
Read Full Review
Regular side sleepers may find that the mattress they have feels slightly too firm and doesn't cradle them enough to provide comfort to the hips and shoulders. Rather than spending hundreds or thousands on a new bed, they can utilize a softer topper for added comfort.
Tempur-Pedic's TEMPUR-Adapt® + Cooling Topper is made with three inches of extra-soft proprietary TEMPUR® material to help cradle you as you sleep. As a result, you should experience good pressure relief in the hips and shoulders while the cooling topper works to keep you from overheating.
What makes it unique?
The special cooling topper is designed to be moisture-wicking and breathable. Furthermore, this cover is removable and you can wash it in the machine so caring for it should be a breeze.
Your purchase of the TEMPUR-Adapt® + Cooling Topper comes with a 10-year consumer warranty.
Considerations When Selecting a Cooling Topper For Your Bed
To help you narrow down which cooling topper to get, you'll need to first weigh some important considerations.
Price
Many consumers often use price as the first filter when selecting new products, and a topper is no different. While a more expensive cooling topper may cost more upfront, this could save you big bucks in the long run since you won't have to replace it as often. The advantage of toppers is that they can enhance a bed's feel without the heavy investment of a new mattress altogether. So, even though a pricier topper may seem like a lot, it's still cheaper than buying a new bed. Furthermore, the online sales model help cut costs, so you could save even more of your hard-earned money.
Materials
Mattress toppers come in all shapes and sizes and have a variety of materials. While some memory foam claims to be cooling, they are not all created equal. Gel beads and convoluted texture help circulate cool air, though latex and open-cell foams will likely have the best cooling effects.
Sleeping Position
The way you sleep will also figure into your topper selection because the needs for each position are different. If you're a side sleeper, you'll likely want something plush that will help tend to pressure points. Back sleepers will likely enjoy a medium-firm topper that can give them some cushioning but also good support. Last, stomach sleepers often enjoy firmer toppers the best. Toppers with a firmer feel can help keep their midsection lifted for better back alignment.
Firmness
The firmness of the topper is also a vital consideration so that you pick something that isn't just cooling but feels good too. As mentioned, your sleep position will influence the ideal firmness. However, your body weight is also important. If you're a lightweight person, plush toppers are best for extra cushioning, particularly if your mattress feels too firm. Average-size sleepers enjoy the middle-ground feel of a medium-firm topper, while heavyweight individuals should look at firm toppers to keep them well-supported.
Thickness
The majority of mattress toppers are between two and four inches thick. Mattress topper thickness will impact how the product feels, so choose accordingly. A 2-inch topper can give some extra support, but because it's thinner, you may not get the same effect as something a little thicker. If you're new to using toppers, a 3-inch pad is often the safest bet since it's that sweet spot in the middle and is a popular size. However, you'll likely feel the most impact from a 4-inch topper as these can provide exceptional support and comfort, particularly for side sleepers or heavier people.
Pressure Relief
For many people, a topper is a great way to add valuable pressure relief to your bed space. Pressure relief is often most important for side sleepers, back sleepers, and lightweight people. Softer toppers made with memory foam should do an excellent job of melting away pressure. That being said, latex is also known for exceptional pressure relief while naturally remaining temperature-neutral.
Up Your 'Cool' Factor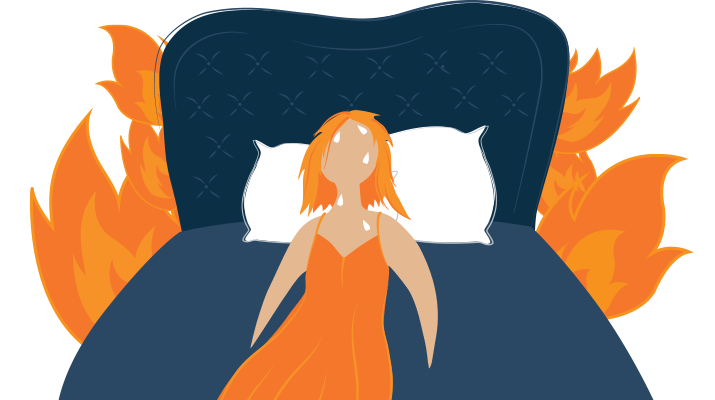 Along with a cooling topper, you should also consider other ways to stay comfortable while you sleep. Two significant products for hot sleepers that could help are cooling pillows and sheets. Because these products touch you directly, you can experience ad immediate cooling effect. The great news is that there are many fantastic sheets for cooling and temperature-regulating pillows available to shoppers to help with restless, hot nights.
Comfort is King
The goal of a good mattress topper is to provide enhanced comfort, and while cooling is important, the pad's overall feel should be a major deciding factor as well. That being said, comfort is subjective. What's satisfying for one person may not be for another. The right cooling topper will be based on your unique needs. Comfort can also be tricky for couples, especially if they have very different preferences. Often, a middle-of-the-road feel is the best option for couples since it's the most adaptable to both partners.
Finding the Right Fit
When shopping for mattress toppers, you will probably notice that they match standard mattress sizing. This is no coincidence.
Your topper should match the exact size of your mattress. Therefore, if your mattress is a Queen, you should purchase a Queen-size topper. Getting the right size helps ensure there are no support issues or uncomfortable gaps between the topper and bed.
Storage and Care
Some people may choose to only use their topper part-time or have plans to move in the near future. In this case, you should consider how easy it is to move the product – whether you're transferring it to another room or another country. If you plan to store it, look into whether you can conveniently package it. Will it fit in your home's storage closet?
Cleaning is also something to consider. Keeping a topper well-maintained can help extend its lifespan. Each manufacturer is different, though, so before buying, research what they say about maintenance. Does it have to be spot-cleaned only? Does it require special detergents or professional care? You may find that the method of cleaning isn't convenient and decide on something else.
Want to learn more? Read on how to properly store a mattress topper.
Pros of a Cooling Mattress Topper
Maximize Your Comfort
There's no need to resign yourself to nights of tossing, turning, and excessive sweating. A cooling pad requires little effort – there's no installation, and companies will often ship the pad straight to your doorstep. The added comfort that a topper can provide is well worth it if it helps you sleep better, as this can result in a better quality of life and performance.
Reduce Your Electricity Costs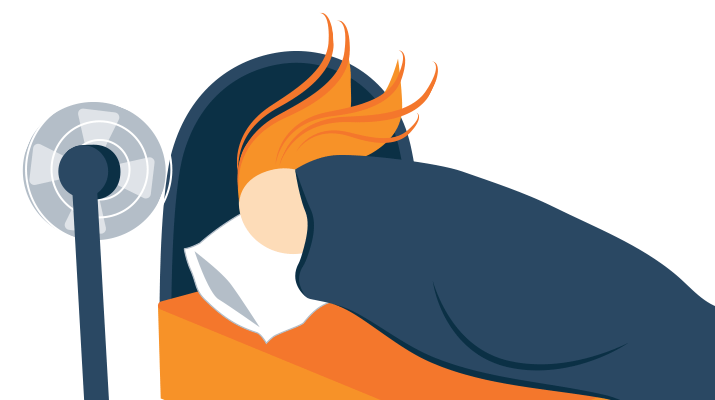 If you're a hot sleeper, you may find yourself constantly reaching to turn the fan on or run the air conditioning. However, that can quickly rack up expensive electricity bills. Employing the use of a topper and other cooling bedding products is a helpful way to save money in the long run since you would be less likely to need the fan or air conditioning.
Investment For Long-term Health
Sleep is a vital component of a healthy life. Good quality rest helps strengthen your immune system, prevents long-term medical problems, and allows you to perform better at work or school. If you're not sleeping well, this can negatively impact your quality of life. Therefore, investing in products that will improve your sleep is also an investment in your long-term health.
What Types of Materials are Best for Cooling Toppers?
Shoppers have a wide selection of cooling toppers to choose from, including the materials they are made with. These materials can offer unique benefits depending on what you need.
Memory Foam
Memory foam is an exceptional material for relieving pressure, which is often why it is used in bedding products. However, the foam tends to run hot, so manufacturers implement special cooling features to keep the temperature down.
Gel – Gel is one of the most popular methods for cooling memory foam. For this, the gel beads are infused into the memory foam.


---

Copper – Some brands incorporate copper, a naturally heat-conducting metal, into their memory to mitigate heat retention.


---

Graphite – Graphite is a crystalline form of carbon that is naturally heat-resistant, also making it useful for memory foam.
Hybrid
Hybrid toppers are also an option. As a mattress, hybrids offer great cooling because of the coils, so manufacturers brought this to toppers but on a smaller scale. Rather than using full-size coils, hybrid toppers use micro coils to deliver cooling and support, combined with memory or other foams.
Latex
Latex is a popular choice for hot sleepers because it naturally sleeps cool. This material can provide great pressure relief and support, without the heat retention of memory foam. Furthermore, naturally-made latex offers the most eco-friendly option for consumers.
Innerspring
Manufacturers do not tend to make innerspring toppers that solely contain coils. The closest alternative would be a hybrid made of micro coils and foams. If you enjoy the innerspring feel though, we recommend investing in an innerspring mattress instead.
Poly Foam
Poly foam toppers are the least expensive to make, which also means they're one of the cheapest options for shoppers. Despite the lower price, you should also note that this foam is lower quality compared to other types. If you want to get a poly foam topper, consider something denser to ensure it lasts longer.
Open-Celled Memory Foam
Another trick to keeping memory foam cool is to construct the foam in an open-cell design, in which the foam has pockets inside of it for enhanced airflow. Because of the open-cell design, however, this foam won't be as dense as the regular closed-cell kind.
Frequently Asked Questions about Cooling Mattress Toppers
Which mattress pad is right for me?
There are plenty of factors to consider when choosing a mattress topper that best suits your needs. You will need to look at product features like price, materials, and thickness. Ask yourself important questions, such as whether you're shopping on a tight budget, concerned about pain, or if you sleep with a partner. As you deliberate, these factors will help you narrow down your options.
What's the Difference Between a Topper and a Pad
A mattress topper and pad may sometimes be referred to interchangeably, but they are, in fact, two distinct products. A mattress topper is designed to distinctly enhance the feel of a mattress, while also providing added benefits like cooling or protection. On the other hand, a pad can provide some extra cushioning and deliver mattress protection. Mattress pads are typically cheaper than toppers, but both products should last for the same amount of time, depending on the quality of the materials. If you need to create a noticeably different feel or prolong your bed's lifespan for a few more years, then we recommend a topper.
Will my cooling mattress topper last?
Your cooling mattress topper should last anywhere from three to five years. Just like regular mattresses, toppers are not meant to be thrown out and replaced frequently. With proper care, the product should last you a while. Furthermore, toppers with removable covers are also more predisposed to stay in good condition for a longer duration of time.
What are the best bed sheets to keep me cool?
There is a variety of bed sheet options to upgrade your sleeping conditions on warm nights. Proponents of synthetic bedding, which is engineered to fight against climbing temperatures, claim that state-of-the-art fabrics can achieve what natural products lack. But some of these materials are treated with particular chemicals that can wash out over time, reducing their potency.
In contrast, natural fabrics like linen, cotton, and bamboo are hailed as tried-and-true materials that help prevent sweat from absorbing. However, make sure to purchase bedding with a low to medium threat count (between 200-400); higher thread counts trap heat more.
Check Out Full Guide: Best Cooling Sheets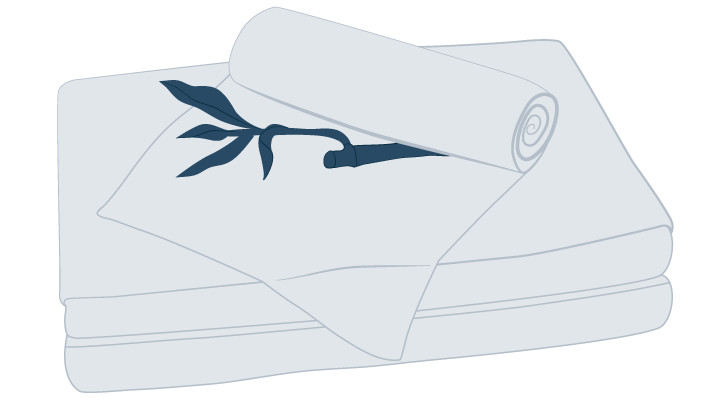 How do I keep cool while sleeping on a hot memory foam mattress?
A cooling topper for your bed can offset heat from a memory foam mattress. Additionally, investing in other helpful products like breathable sheets and cooling pillows can help you remain cool all night long. The good news for memory foam fans is that innovations like gel, open-cell construction, copper, and graphite mean that you don't have to sacrifice your memory foam for a cool night's sleep!
View Our Guide: Top Rated Cooling Beds
Conclusion
Keeping your bed cool and your nights restful doesn't have to be an ordeal. A high-quality, cooling mattress topper can compensate for less-than-optimal sleeping conditions and improve breathability and comfort – without breaking the bank.
Although it's important to be mindful of factors like budget and size, it's even more valuable to remember that your purchase is a long-term investment for your well-being. A good night's sleep doesn't have to be a dream – with the right cooling topper it's more than possible.
Sources and References:
Effect of High Rebound Mattress Toppers on Sleep and Sleep-Related Symptoms – Clinicaltrials.gov
Evaluating the effect of mattress topper thickness and firmness
combination on pressure and temperature distribution – iea.cc
Mattresses and Pads Flammability – cpsc.gov