Transparency Disclosure – We may receive a referral fee for products purchased through the links on our site...

Read More

.
Disclaimer - Nothing on this website is intended to be a substitute for professional medical advice, diagnosis, or treatment...

Read More Here

.
Layla is the same company that brings customers their popular flippable memory foam mattress. The brand has recently redesigned its fine line of comfortable sleep products, including their incredibly soft memory foam topper. This cozy 2-inch tall design has nearly all the same properties of their mattress, including copper enhanced support and supreme pressure relief.
Our in-depth overview of the Layla Mattress topper examines what features this topper can add to your bed and scores it based on our scoring system.
Stick around for complete details or skip ahead for our scoring and summary.
Layla Mattress Topper
This copper-infused mattress topper will keep you cool at night.
Sleep Advisor Score
4.20 / 5
Read Full Review
---
You will love this topper if you:
Sleep hot – This is the same ThermoGel infused cover as the Layla mattress, a technology designed to dissipate body heat. Also, copper gel beads in the foam are there to aid with temperature absorption and cooling.
Need enhanced Pressure Relief – Memory foam lovers enjoy the soft hug like sensation unique to this material. Layla's foam evenly distributes weight so the foams can properly conform and wipe away nagging strain.
Require Support – The memory foam in Layla's topper was made to condense underpressure thanks to the copper infusion in the foam. This tech allows this memory foam to foster stronger support for sleepers. This is a nice feature to have, especially since most models out there add softness without additional support.
You might not like this topper if you:
Want firm – This is a softer foam, very similar to the soft side of the Layla mattress. Although this material is soft, it remains supportive thanks to the copper infusion mentioned above.
But you can also see our top rated toppers list for 2021.
Video Review
Construction (Materials & Quality)
This product ships compressed inside of a medium-sized box. Setup is relatively easy. Simply unbox, roll out, and give it thirty minutes to an hour to take shape.
The cover is a soft viscose, lycra, and polyester blend that includes a ThermoGEL cooling agent for temperature regulation. This zip off fabric is easily removed for more convenient cleaning. The brand highly recommends that it be dry cleaned but states that it can also be washed in the washing machine with cool water on a gentle cycle.
Beneath the cover is a 2-inch layer of copper-infused memory foam. This specially designed material was made to not only cool but to also add support to the structure of memory material. The design behind the copper infusion should allow the material to tighten up under pressure, giving Layla some more durability than your average memory foam product.
Firmness (Comfort & Feel)
Toppers are meant to change the feel of the user's current sleep surface. How the Layla topper will feel completely depends on the bed the sleeper puts it on. Overall, this design aims to foster a softer feeling.
This 2-inch foam is designed to make most beds plusher. This allows the majority of sleepers to experience a deep hug on the surface that conforms to their curves and dampens motion. It has a rather slow response, so no additional bounce is likely to be added to your bed by this product.
How this helps or hinders repositioning will depend on the bed that it is put on. It is not an overly thick material, so as long as the surface beneath is either bouncy or firm, sleepers should be able to reposition just fine.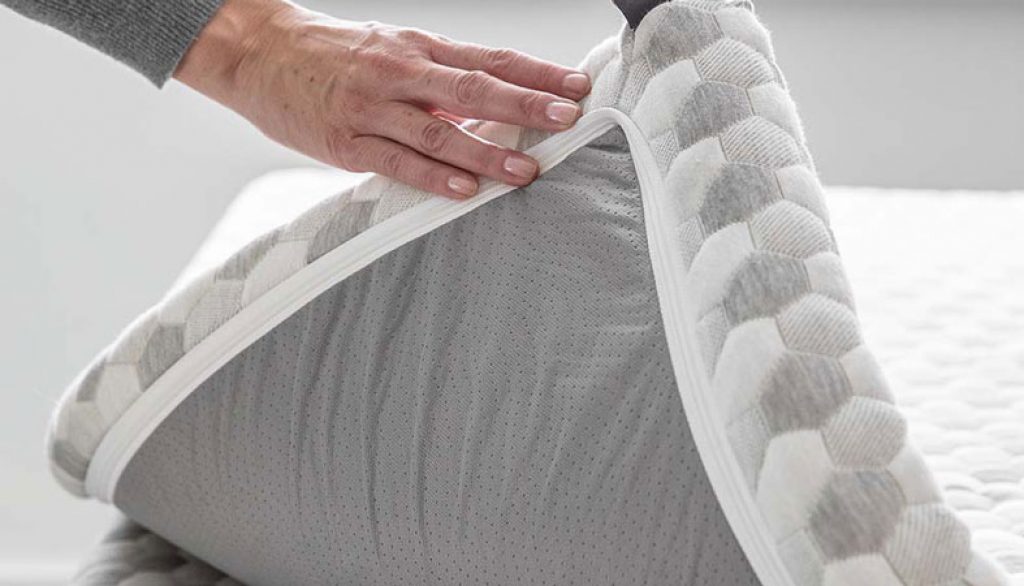 Back sleepers may like how the Layla topper conforms to the small of their back. Its design was made to add support without sacrificing comfort. (If your back is sore, check out the best mattress toppers for back pain.)
This topper should work wonders for side sleepers. This foam was made to foster pressure relief in the hips and shoulders, making for a softer and more conforming sleep experience
Stomach sleepers are likely to enjoy how this copper infused material adds support to their hips. This technology allows the foam to conform to the sleeper's curves, without letting the lower back droop too low into the bed. As long as the sleeper uses a sturdy mattress beneath, this foam should be a comfortable option for stomach sleepers.
The Layla Topper is an option that most sleepers are likely to enjoy due to its highly conforming properties and temperature regulation. It is on the shorter side, so expect this model to slightly change the feel of your mattress without making any drastic changes.
Temperature Regulation
Memory foam used to be known for overheating, but sleep industry innovations have helped to solve this problem. The Layla topper incorporates two unique cooling properties. The use of the brands proprietary ThermoGel keeps the surface cool while copper infused memory materials help to further reduce the temperature.
Motion Transfer
Feeling your sleeping partner's movements night after night can get old, and they are likely thinking the same thing about you. But instead bottling up your frustration and not sleeping, it may be time to look at the real culprit. Your bed.
Buying a new mattress can be costly, but that's why a topper like Layla's could be an affordable option that solves all your motion transfer problems. This product was built to absorb energy and should help to greatly reduce motion transfer on just about any surface.
Other Considerations
Cover – The cover is a polyester, lycra, and viscose blend with included ThermoGEL.
Warranty – The brand issues a 5-year warranty that covers splitting in the foam and defects in the cover.
Shipping – Free shipping is available within the contiguous United States. Delivery is also available to Alaska, Hawaii, and Canada for an additional fee.
CertiPUR-US® Certified – This indicates that the product was tested by a third party for harmful levels of and hazardous chemicals, including ozone depleters, formaldehyde, mercury, and lead.
Made in the USA
| Size | Dimensions (inches) | Price (w/o discount) |
| --- | --- | --- |
| Twin | 38" x 74" x 2" | $199.00 |
| Twin XL | 38" x 80" x 2" | $229.00 |
| Full | 54" x 74" x 2" | $279.00 |
| Queen | 60" x 80" x 2" | $299.00 |
| King | 60" x 80" x 2" | $399.00 |
| Cali King | 72" x 84" x 2" | $399.00 |
Final Thoughts
Layla's bed topper is a great option if sleepers are looking for a way to improve their current mattress. Simply unbox and roll it out over your sleep surface and you are ready to go.
This is an affordable option that offers all the comforts of memory foam and more. A true cool sleeping memory foam is hard to find and Layla has just made it that much easier with their topper. Sleepers, this could be the metaphorical cherry on top of your new mattress!
Layla Mattress Topper
This copper-infused mattress topper will keep you cool at night.
Sleep Advisor Score
4.20 / 5
Read Full Review
Related Articles