Disclaimer – Nothing on this website is intended to be a substitute for professional medical advice, diagnosis, or treatment…
Read More Here
.
You've probably been making your bed for years, but have you been doing it right?
For example, do you know the three steps involved in making hospital corners? And why are they called that anyway? We'll get to that. In the meantime, can tell you that making a bed isn't rocket science, but there are some crucial steps to keep in mind to ensure you get the best and most comfortable night of sleep possible.
If you wake up with your sheets tangled up around your feet, then you'll benefit from this guide about how to make your bed. Because no one likes tangled sheets!
Layers of a Bed
Base Layers
There are two optional layers that you may want to include:
Dust ruffle – This is a piece of material that goes around the box spring to hide it and prevent the area under the bed from showing. It's also called a bed skirt. There are ruffled versions (hence the namesake) and more streamlined versions as well.
Mattress pad – Although it's technically optional, we view a mattress pad as a requirement. Some brands have comfort layers to soften your mattress, but the primary purpose of these is to protect the fabric of your mattress. All sorts of things can seep through your sheets and onto your mattress. Sweat and other bodily fluids will cause embarrassing stains when it comes time to move or donate your mattress. Putting a pad or mattress protector over the surface will keep it looking new.
Bottom Sheet
The bottom sheet is often fitted with elastic at the edges or all around. Fitted sheets are often the bane of people's existence when it comes to folding, but they're important for providing you with a clean and comfortable sleeping surface.
Top Sheet
The next layer is the top sheet. The color and pattern will usually match the fitted sheet unless you decided to purchase each piece individually so that you can mix and match.
Blanket
Blankets are optional depending on the season and your personal preferences. You may choose to place the blanket between the top sheet and the top layer, or you may want to leave the blanket folded at the end of the bed or store it in a basket. The choice is yours.
Top Layer
The top layer is a comforter, duvet or quilt. Duvet covers are becoming a popular choice because they're easier to take care of. A comforter or heavy quilt would have to be professionally cleaned, while a duvet cover can go in the washing machine and then cover a quilt easily.
Pillows
Interior designers recommend following the rule of odd numbers. This means putting either three, five or seven pillows on the bed. Since you technically need only one or two pillows for sleeping, have a sanitary storage place (not the floor) to store pillows when they're not in use. A basket by the bedside table or a trunk are both ideal.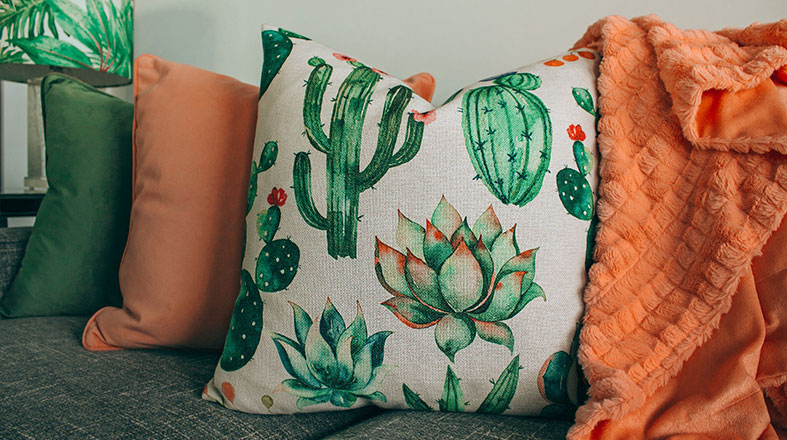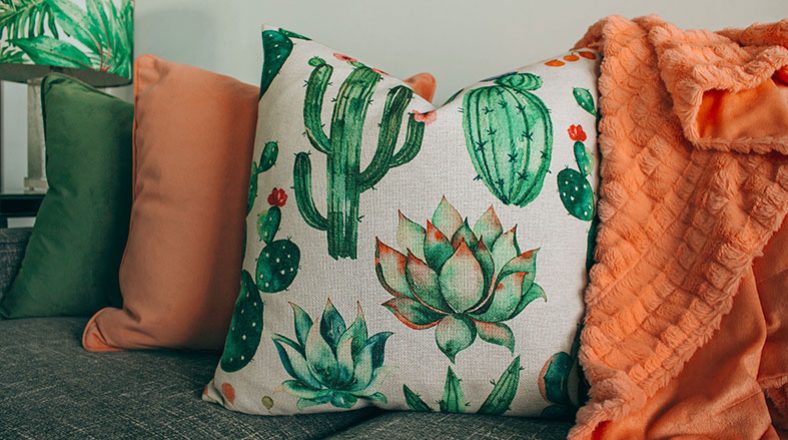 ---
How to Make Your Own Bed
Clear the Bed
Start with a clean surface. Place pillows, duvets, quilts, blankets and the top sheet aside. Avoid putting them on the floor. Instead, drape them over a chair or another piece of furniture.
Put the Fitted Sheet
Identify which side of the sheet is long and which is shorter. Starting with the long end, fit one corner over the top edge by the head of the bed, and then extend it lengthwise on the same side to the foot. Continue traveling clockwise until all four corners are securely fitted on the mattress. Smooth out any wrinkles, and make sure the elastic fits snugly on the corners.
Sometimes, it can be a challenge to determine which part of the sheet is longer than the other. If you get striped sheets, it becomes a heck of a lot easier. All you have to do is make sure the stripes are vertically oriented, and you'll automatically have your fitted sheet in the right position.
View Our Guide: Best Deep Pocket Sheets
Put the Top Sheet
Drape it over the mattress and make sure that both sides of the bed have an equal amount of material hanging down. One thing people tend to forget is to put the finished side down. That way, when you fold the sheet over for display, the pattern or finished stitching become visible.
Tuck the sheet under the mattress at the foot of the bed and along the sides. We recommend using hospital corners, which we'll explain below.
Make Hospital Corners
The term "hospital corners" originates from the way hospital beds are made, but the term is also used in the hotel industry and the military. It's widely viewed as the best way to make a bed. The end effect is crisp and luxurious, even though the name has none of those qualities.
Here's how to do it in five easy steps:
Make sure your top sheet is placed squarely on the surface with equal amounts of material hanging from both sides.
Neatly tuck the end of the sheet into the foot of the bed between the mattress and the box spring or frame.
There should be a panel of fabric hanging down from each side. Starting on one side, lift the material and lay it on the surface. Straighten out any wrinkles.
You'll notice that there's a triangular piece of material dangling. Tuck it underneath the mattress.
The last step is to take the piece of fabric that you reserved earlier and tuck that underneath as well. You should see a nice, clean seam, similar to when you wrap a present.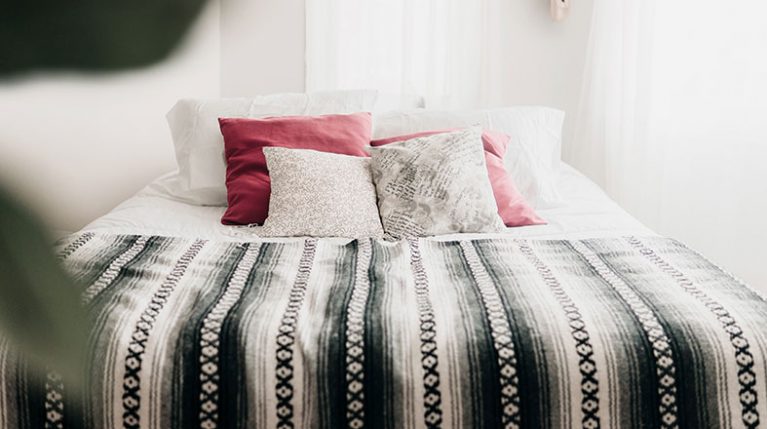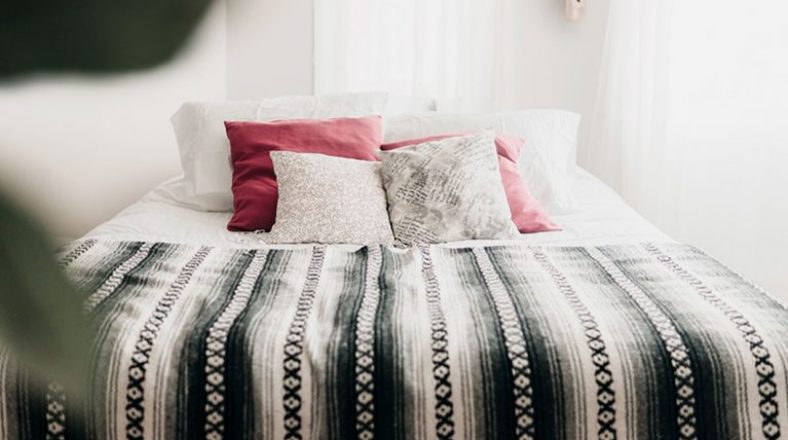 Place the Duvet or Comforter
If you're using a comforter or duvet only, this part is easy. All you have to do is place it on the top of the sheets or blanket and make sure that it's placed in the center with about six inches of space at the head to allow it to fold over. If you have a duvet cover, then it can be tricky to get the quilt or comforter to fit cleanly into the fabric cover.
One way is to turn the cover inside out and reach your arms inside to grasp each corner. Still holding on the inside corners of the duvet cover grab two corners of your comforter or quilt. Hold on tight and shake the comforter until the cover goes right-side out. You may have to make some minor adjustments and smooth out a few lumps, but this process is the easiest way to do it.
Fold the Top Sheet and Duvet Down
You've got everything in place, and the next step is to fold down the top sheet, so you can see the finished edge. Since duvets are thick, you won't be folding those. That's why you left a six-inch gap between the edge of the duvet and the head of the bed.
Fluff the Pillows
Pillows can flatten or become misshapen, but to have a stylish bedroom, you want them fluffed and in their best form. The best way to fluff a pillow is to grab each side and then press together toward the middle. It's hard to explain, so think of like playing the accordion.
If you have a long and narrow accent pillow, place it on the mattress and karate chop it in the middle. It sounds like a violent act, but no one gets harmed, and it gives the pillow extra fluff and a bit of texture to complete the look of your bedroom sanctuary.
Add Finishing Touches
You might notice that only two pillows can make it look unfinished. Some people like to double the number of pillows, so they stack on top of each other. Or opt for Euro pillow shams, which are square.
If you'd like to duplicate the look of a five-star hotel, consider folding a blanket in thirds and placing it at the end or foot. This technique could also work with your duvet. Instead of folding it with your top sheet, pull it down toward the foot of in a tri-fold, allowing the pattern to remain visible.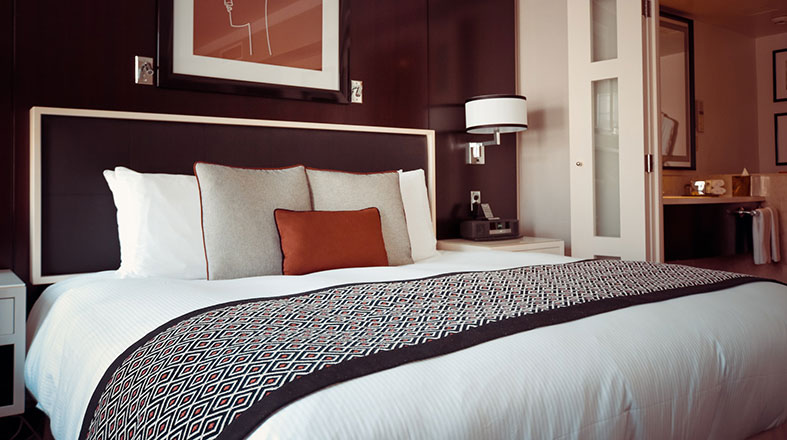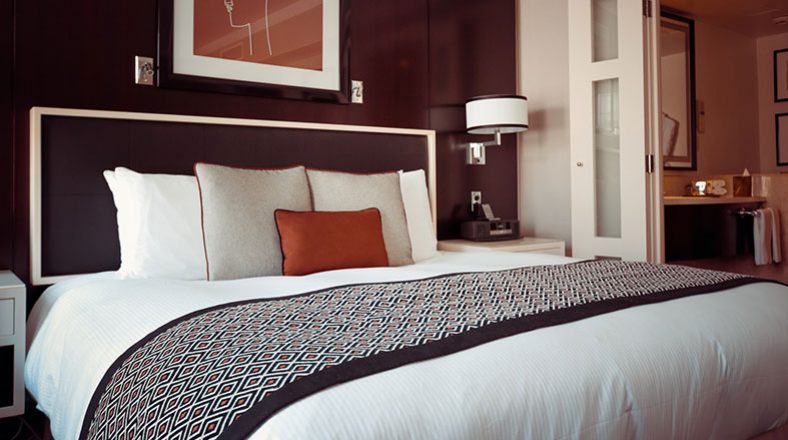 ---
Healthy Bed Habits
Fix Your Bed Every Morning
A lot of information has been published recently about the benefits of making your bed every morning. It boosts happiness levels and gives you a feeling of accomplishment. Most of us face challenges and complex tasks throughout the day. By accomplishing the feat of bed-making, and doing it well, you'll be able to cross something off your list and hopefully maintain that momentum all day.
Wash Your Beddings every 1 to 2 Weeks
You should wash your sheets regularly, but it doesn't have to be daily or even weekly. Some people can get by with washing them once every two weeks as long as they're not smelly. Items that don't touch your skin directly like duvet covers could be washed as little as once per quarter.
Simplify Duvet Layering
We shared a procedure above about the best way to put a cover over a duvet. We firmly believe that having a cover makes life much easier than having to find industrial-sized washers or professional (and expensive) dry cleaners to make your bedding look new.
If you're still struggling to put the cover over your duvet, enlist the help of a friend to make the job easier.
Use a Mattress Pad
The mattress pad goes directly over the mattress and underneath the fitted sheet. If you tend to sleep hot or have a mattress that's no longer comfortable, look for a functional cover with cooling or support properties. Otherwise, we recommend a basic cotton pad that will shield your valuable mattress from sweat stains, bodily fluids, and spilled drinks.
Stains on a mattress could void a warranty and are also unsightly to look at when you're changing your sheets.
Learn More: How to Remove Stains from Mattress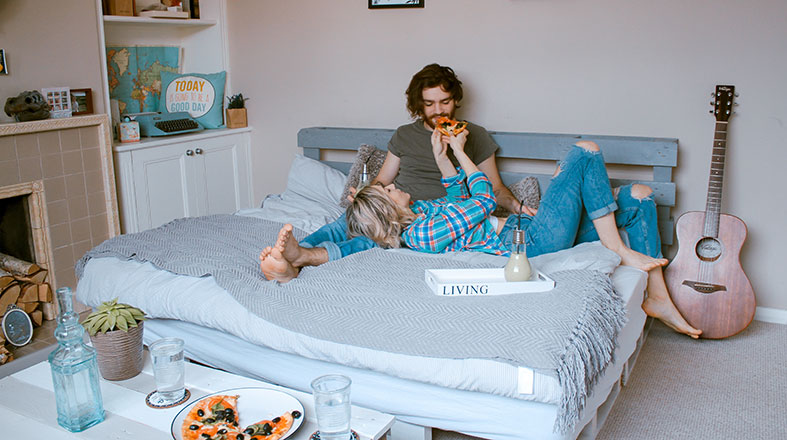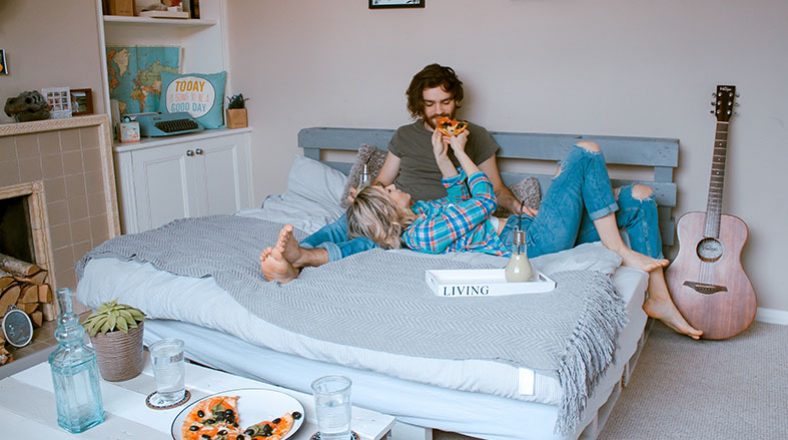 Frequently Asked Questions
How should I make a hotel style bed?
Crisp white cotton sheets are the first step to duplicating the look and feel of a hotel experience. We also recommend using hospital corners for your top sheet. Then fold your duvet down in thirds so that the white sheet is on prominent display.
Finally, add a bunch of pillows. Follow the rule of odd numbers, adding two to four standard pillows, two Euro pillows, and a small accent pillow.
How should I make a bed with a footboard?
The process is the same, but you'll have to navigate the boundaries of the footboard. If your arms and hands are too wide to fit in the spacing, you may have to lift your mattress in order to tuck the sheets properly.
What can I add to make it more comfy?
A functional mattress pad is our first tip to make it more comfortable. Extra pillows and soft blankets also work wonders and recreate the feeling of a sanctuary.
How can I layer a bed with a quilt?
Yes, definitely! The only limits here are your imagination. If the weather is cold, an additional quilt can keep you warm. Or, if you'd prefer to use it as an accent piece, fold it in thirds and lay it at the foot.
What are the benefits of making your bed every day?
Making your bed every day is an ideal way to begin the morning. You get to start the day having accomplished a task, and you can carry that momentum and positive feeling with you all day. And, when it's time to go to sleep, there's nothing more inviting than a crisp, well-made bed to make you feel snug as a bug in a rug.
Conclusion
---
We know it's a little thing, but considering how much of our lives we spend sleeping, we think that having a well-made bed deserves more attention. How many nights have you crawled into bed, negotiating twisted sheets and misplaced pillows? Instead, wouldn't you like to experience crawling under covers that are crisp, cool and tightly tucked? It might help you sleep better. Let us know if it does!
Jill Zwarensteyn
Editor
About Author
Jill Zwarensteyn is the Editor for Sleep Advisor and a Certified Sleep Science Coach. She is enthusiastic about providing helpful and engaging information on all things sleep and wellness.