Transparency Disclosure – We may receive a referral fee for products purchased through the links on our site...

Read More

.
Whether you live in a cold climate or just like to crank the AC and get cozy, having an extra source of warmth never hurts when it comes to sleep. The perfect sleeping environment varies from person to person, and the perfect blanket does as well, which is why we looked into the highest rated blanket options for multiple preferences, from breathable to extra cozy.
Whether you want to keep it on the edge of your bed, or tucked into the mattress, these options in a variety of styles and sizes should help you get comfy in no time.
6 Best Blankets for 2021
100% Microfiber Polyester
5 size options
Multiple color options
Reversible design: Smooth and fuzzy sides
One of the most common and cozy options is a fleece blanket for sharing on movie nights or hogging while wrapped up with a book. Bedsure is our favorite option because of its affordable price combined with the variety of sizes and colors which are hard to beat. Made from microfiber, this soft material will keep you warm, but not sweaty as the material breathes and wicks away moisture.
Reviewers love that this blanket is easy to clean, meaning kids, pets, and guests can all use it without making you worry too much as you can just throw it in the wash when they're through. As it comes in a few sizes, it could be used as a throw just as easily as a bedsheet. One of the best features is its anti-static material, meaning your little ones won't be able to shock each other after dragging it on the carpet.
100% Microfiber
5 size options
Multiple color options
Reversible design: Smooth and sherpa sides
This stylish blanket is just as much a fashion statement as it is a luxurious way to keep warm. Extremely soft and warm without the guilt of animal cruelty, this product is our favorite faux fur option. Not only is it hypoallergenic, but it's also machine washable and available in a variety of colors.
Made from microfiber, this material is lightweight for easy transportation and it should breathe well to prevent overheating. Reviewers love that this blanket shouldn't shed in the wash or onto furniture, plus it doesn't seem to lose its super soft texture after a few washes. This product would be great for a throw or movie-blanket, but should also work just as well as a bedsheet or backup for cool nights.
We recommend this blanket for those who want a fur feel and look for a fraction of the price and none of the guilt. If you're always cold, this thick material could be the solution you've been looking for.
Cotton Craft –
Best Cotton
100% Cotton (only 2 models are made with Polyester & Rayon blend)
4 size options
Multiple color options and woven pattern options
Reversible design
Our favorite cotton option is Cotton Craft's premium 100 percent pure cotton thermal blanket. Available in a variety of colors and sizes, the herringbone pattern should fit right in as a throw, a bedspread, or just something to wrap up in. At an affordable price, this machine-washable option would be a great minimalist accent in any home.
We love that this product is machine washable for easy care and that it's durable for long time use. Because the cotton breathes, this should be a great multi-seasonal option, keeping you cozy in the winter without making you overheat in the summer. Reviewers say this blanket was just as cozy and soft as luxury items for a lot less money.
Many reviewers use this blanket as an insulator between their bedspread and sheets to keep them warm in the winter. Once it warms up, reviewers say you could probably lose the bedspread and stay cozy with just the blanket and sheets. While this material may shed with the first wash, it shouldn't lose its soft texture or structure.
Pinzon Velvet Plush –
Best Polyester
100% Polyester

4 size options
Multiple color options
Made in OEKO-TEX Standard 100 factory
Our favorite polyester blanket will probably fool you into thinking it's made of something other than synthetic materials because it is extremely soft. Made from micro-plush with a velvety feel, this blanket is available in a variety of colors and sizes so you can use it on your bed, or just around the house.
This material is OEKO-Tex certified, meaning it has been tested and met the standards for safe levels of chemicals in the manufacturing process, so you should be able to rest easy without fearing strong fumes or skin irritation unless you're allergic to polyester. Reviewers love that this blanket doesn't seem to fade or lose its fluff over time, so even though it comes at a good price, you shouldn't need to replace it often.
Additionally, this product shouldn't pill or stiffen after washing and drying, meaning you should get the same soft comfort every night. We love this blanket for colder climates, but if you need your product to breathe, you may be better off with one of our cotton choices.
100% Acrylic

Multiple color options and woven pattern options
2 size options
Our favorite knit product is the Bourina throw that comes in pretty much every color imaginable. Made with a tightly woven acrylic fabric, this soft throw should be breathable without shedding with use. The geometric pattern embroidered across the material looks much more expensive than it is and the little tassels should look great draped across your favorite couch.
This product was created to resist bleaching from the sun, so it should be safe even next to bright windows. Should you accidentally stain it, the throw is machine washable so you probably won't need to worry about a trip to the dry cleaners. Reviewers say this material is lightweight and great for drafty homes when they need to warm their feet or arms while lounging.
One of the best features is that this blanket shouldn't snarl or snag in the wash according to reviewers due to its well-made construction.
Utopia Bedding –
Great Value
100% Microfiber

4 size options
Multiple color options
Plush design
This polyester-fleece fabric with a satin edge makes a great addition to bedding sets in cooler months. Placing it between your sheets and bedspread, this should insulate your bed without weighing you down or making you feel trapped in mountains of blankets. Available in six colors, the bedding is machine washable, sturdy, and a little stretchy for added comfort.
When you don't have it on your bed, this product would be great for camping to keep warm without taking up too much weight in your pack. At such a low price, it would be hard to find a better functioning blanket. Reviewers say this material is great for defense against wind and drafts, and it's soft enough to be used with direct skin contact, unlike other scratchy materials.
As it's machine washable, this blanket should hold up through frequent use, and reviewers say it shouldn't pill or shed in the wash.
Blankets Buying Guide
Within the wide world of blanket options, we want to help you find the best option suited for your needs that will last, keep you warm, and best of all, be worth your money. This guide should help you determine what you need to find that product.
Types of Blankets for Bed and Casual Use
Whether you need additional insulation for your bedding, or just another throw to keep you warm on the couch, we should have a suitable option on our list. While some products can be used for both, some qualities are best suited for specific needs.
Throws and Afghans
For keeping warm on the couch or by your desk, smaller materials like a throw or afghan could double as a decor element as well as a shawl or blanket. While fleece or faux fur are great winter options, a nice patterned or embroidered cotton is a great multi-season choice.
Need more details? Check out our complete guide to best throw blankets.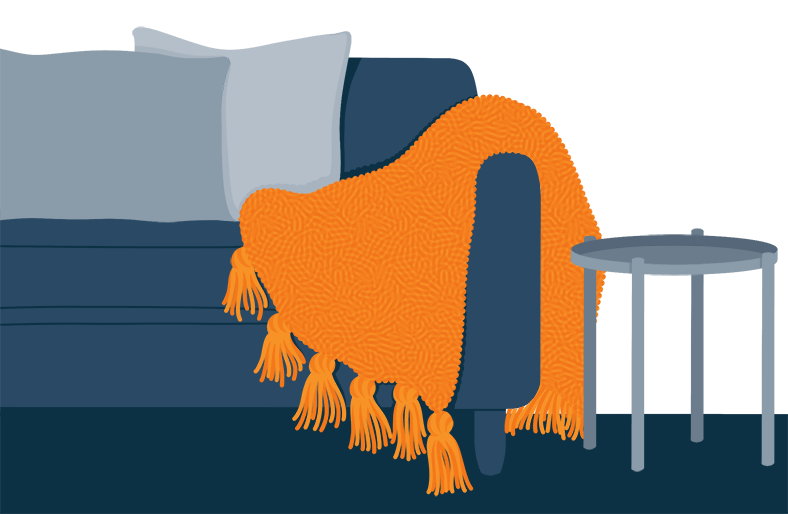 Duvets/Comforters
For keeping warm at night, you'll probably do better with a duvet or comforter that can insulate heat or provide a thick layer of warmth. These should come in a variety of sizes to fit your mattress and should be long enough to extend down the sides of the bed. We recommend breathable cotton for warm climates or summer months.
Learn more:
Quilts
Quilts are great for use as a bedspread, a throw, and if you aren't too worried about cleaning it, even a picnic blanket. Usually lined with a lightweight material for insulation and comfort, they can be used year-round, especially if they are made of a material that breathes, such as cotton.
Weighted
Some blankets are filled with small weights that create a soothing effect in some users. The pressure can stimulate the production of feel-good hormones and help relax those with anxiety. These blankets may help you sleep, but they tend to get hotter than the average blanket.
For More Info: Weighted Blankets for Anxiety & Insomnia
Heated
Heated blankets can be great for soothing cramps and warming you up on a cool day, however, not every model is meant to be slept with. Before relying on a heated blanket to keep you warm all night, make sure you read the user manual to avoid a fire hazard.
Read Our Guide: Top Rated Electric Blankets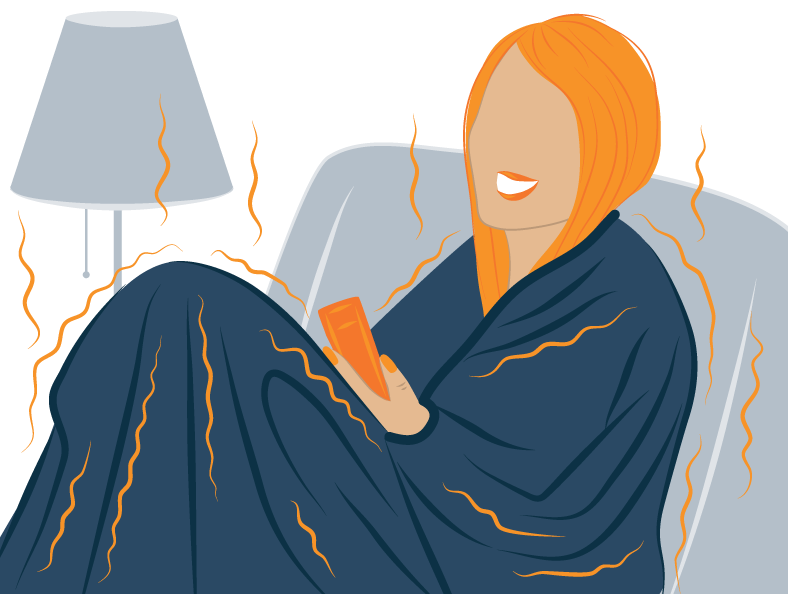 Qualities to Look for in the World's Greatest Blankets
Compatibility with Intended Use
While it might be easy to be persuaded by a super soft material or the color that perfectly matches your drapes, you'll want to make sure your product will be up to the task you're looking to accomplish. Smaller children would probably do best with an easily washable fabric, while adults may want to ensure their plush blanket can breathe well if they live in a warmer climate.
Size
Many blankets come in a variety of sizes from throw to king. Before buying, make sure the dimensions will match your bed, especially if you think it may shrink in the wash. Keep in mind that prices are subject to change with different sizes.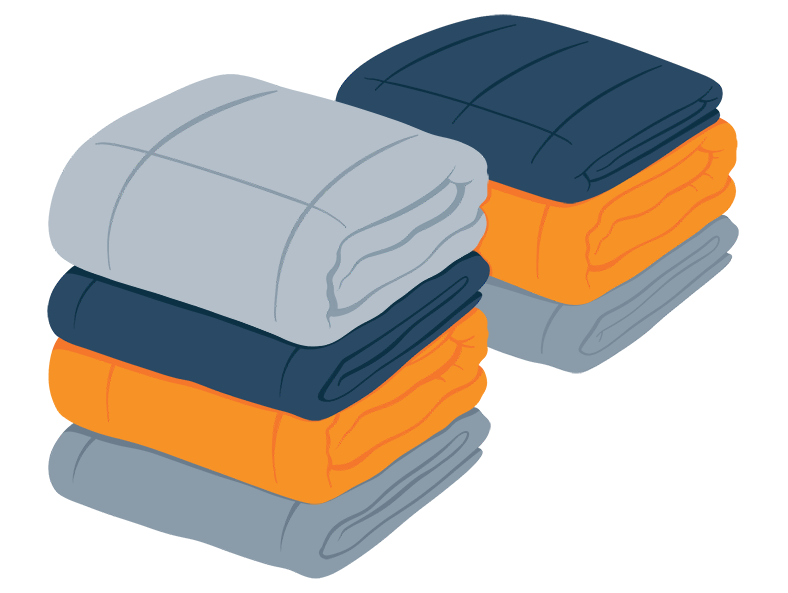 Price
We try to recommend the best value products for our readers, so while each of our options should be affordable for most buyers, preference tends to vary. Keep in mind that synthetic materials are more likely to be affordable, so natural materials at a good price are usually an extra bargain.
Durability
Shedding and lint are real, and while some materials should get over this after one or two washes with no noticeable change in fabric, this isn't always the case. If your blankets are likely to get a lot of mileage, you may consider a tightly woven synthetic fabric. Additionally, make sure the product you purchase is machine washable if you are prone to spills.
For those who live in sunny areas, it may be a good idea to find a material that resists discoloration and fading due to sun exposure.
Design
For throws and bedspreads, woven and embroidered designs are common and can add a stylish flair to a design. However, if you choose a product will lots of frills or a fringe, be aware that it may tangle in the dryer depending on the material.
Construction and Weave
The best construction and weave will largely depend on user preference, however, we suggest considering a blanket with a tight weave to minimize shedding and increase warmth. While a sateen weave will increase the soft feel of a fabric, a herringbone weave looks stylish and could keep you warmer.
When it comes to construction, it can be hard to determine the strength of stitches and the quality of materials online. While reading reviews can be helpful, you may benefit from products with quality materials such as cotton, rayon, wool, or microfiber if you have concerns.
Softness
A soft blanket is a necessity in any household, and our favorite soft choices are made from microfiber and cotton.
Warmth
Wool and tightly knit polyester are great options for heat retention, but they aren't always the best for breathing or softness. While shopping, keep in mind that there may be some tradeoffs.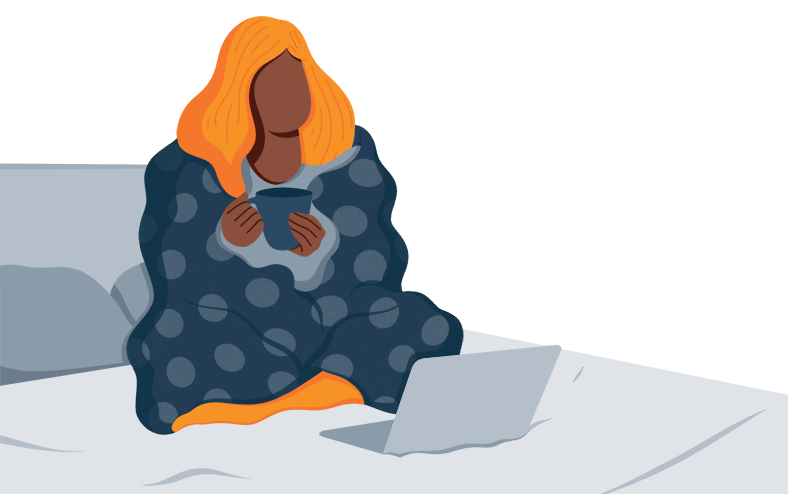 Common Materials
Cotton
Cotton is great for warm climates as the lightweight material breathes well and can usually withstand many washes. Keep in mind that 100 percent cotton may shrink in the dryer, so you may want to buy a size up or hang dry to avoid any size changes. Cotton can also be a great material for stretchiness if you prefer a non-restrictive material.
Fleece
This material is great for keeping you warm without allowing you to overheat due to its resistance to moisture and insulation against humidity, making it a wise multi-season option. Fleece is usually made of synthetic materials in a specific weave, meaning it should be a less expensive option.
Polyester
This plastic-based material is inexpensive to produce and versatile, allowing it to be used in a variety of fabrics. If you're looking for warmth and heat retentive material, this could be your best budget option.
Wool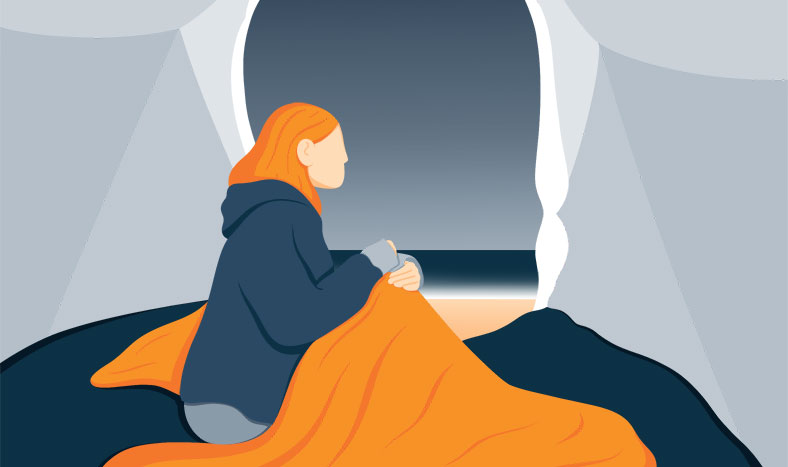 While traditionally wool is produced by sheep, it can come from a variety of animals including rabbits, camels, and some cattle. Wool can be used to make the soft and luxurious cashmere or it can be used for strong insulation and moisture-wicking in clothing and bedding. Some manufacturers use synthetic wool that is less expensive to produce but should still be effective.
View Our Complete Guide: Best Rated Wool Blankets
Cashmere
Made from wool, cashmere is a luxury material both lightweight and extremely soft. This material is usually not machine washable and may shed over time.
Organic Materials
Some manufacturers use all organic cotton or wool for their products. In some cases, these may cost more, but for those with allergies or environmental concerns, it may be worth a few extra dollars. Organic materials can be great for reducing air and water pollution, and can even help preserve soil.
Down Fill
If you're looking to stay extra warm, a blanket with down filling should do the trick. As feathers or synthetic materials can trap warm air in an insulating layer, they may great bedspreads during cool weather. Synthetic down is inexpensive and usually easy to clean, however, real feathers may cost more but could also be more effective.
Additional Considerations When Buying a Blanket
Warranty and Returns
Some companies are so certain that you'll like their product that they offer a warranty for a short period following your purchase. If your product isn't satisfactory, you may be able to return it for a refund. If you're not sure about a product, make sure you are aware of the return policy and if there is a warranty available before you buy.
Maintenance and Cleaning
While many of the options on our list are easy to clean and even machine washable, some blankets require more care and attention. If all you have time for is spot cleaning or throwing something in the washer, you may consider going with an easy to clean option rather than sensitive materials or those that can get tangled or misshapen in the washer.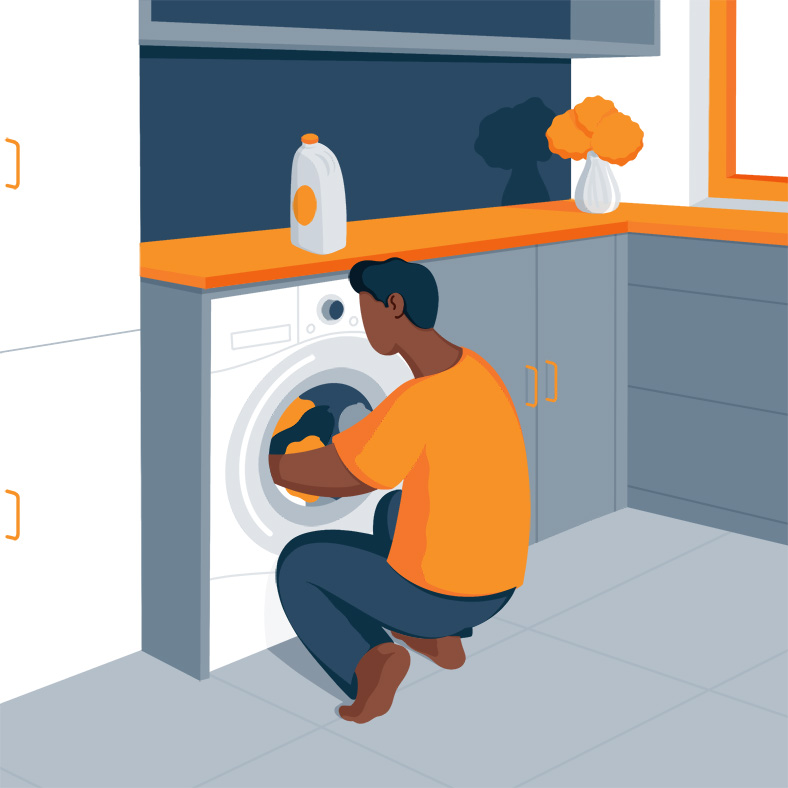 Conclusion
Whether you're searching for a new bedspread or just a few throws to keep you warm in a drafty house, there should be a viable option on our list. Our buyer's guide should help point you in the right direction regarding materials, warmth, and comfort factors, but you are ultimately responsible for finding the right product for your needs.
While shopping, we recommend trying to find a product that can cover a variety of uses for a good price. While we are always impressed by a soft cozy product, we don't think it needs to break the bank to be effective.