Our lives are busier than ever, so our sleep must be better than ever to compensate. Luckily, the science of mattress-making has gifted us with the solution. Do you know how to choose the mattress which can relax your body so well that your life can literally change, one night at a time? This buyer's guide make it easy to find the perfect bed for all the back sleepers in the world.
Unfortunately, not all benefit us the same and some can actually damage our health. Others don't last very long, become deformed over time and sag. Even if a mattress is quality, depending on your sleeping position, it might not be the most suitable.
What Should Back Sleepers Look for in a Mattress?
While being excited by the chance to finally get a good night sleep on a proper mattress is great, you should still consider the other features of a possible buy. This kind of investment will be with you for a long time, which is why you need to evaluate all relevant features. Without further ado, let's look at the main attributes you should focus on prior to making a purchase.
Firmness
This is without a doubt the most important factor you should have in mind if you want to sleep like a baby. Back sleepers come in different shapes and sizes and, unless you are absolutely certain about the firmness you like, medium is the safest pick. The lower back requires just the right amount of support and too much or too little can cause pain after just a few nights.
Generally, back sleepers are the easiest people to share a good night sleep with because medium firmness causes the least amount of issues for others. However, if you have a partner you should still check with them before committing.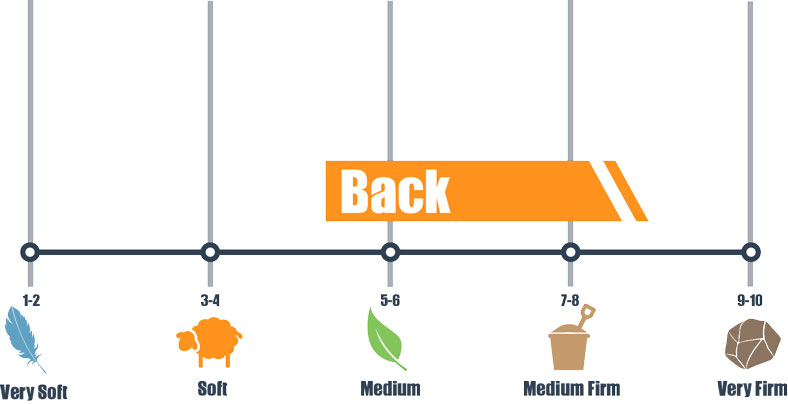 Construction
The amount of support and the suitability of a mattress depend on its structure. Gone are the days when the only option were the sagging springs and each type of sleeper can now find the perfect solution. The newest foam models are usually the ones to consider as they are relatively affordable and provide high degree of comfort.
The different builds and materials are also responsible for the air flow during sleep. Good circulation from the bottom and the sides, together with good heat absorption, keep your body nice and cool. The manufacturers make this possible by optimizing the number of layers, lowering the usage of glue, as well as maintaining efficient general layout.
Longevity
Buying a new bed is not something you do every month, which is why you want yours to last a long time and by "last" we mean a bed able to provide you with the same great quality sleep after as it did when it was new. Sagging and deformation over time are some of the primary reasons you would go shopping for a new one. Therefore, you should pay extra attention to the quality of the materials used and what other customers report to be the expected lifespan.
Luckily, we've compiled enough information based on countless reviews to make your choice much easier.
Warranty
Committing to mattress is a serious investment and you would want security. A lot of companies offer warranties but not all are the same. You should carefully check what is covered and for how long.
For example, you pay nothing for issues covered by the warranty during the non-prorated period. However, during the prorated period you would have to pay some sort of a fee to change or repair the mattress. Sometimes, an impressive 20-year warranty might include only 4 years of non-prorated coverage.
Price
Honestly, this is not as straightforward as we might want to think. When it comes to beds, the most expensive one is not necessarily the best one and there are a few reasons for it. The first thing you should look at, when trying to figure out if a mattress is worth it or not, is practicality.
You need to know whether you are paying for an expensive cover material or for a great build quality. Back sleepers' number one concern should be the comfort level and back support. Paying for a suitable unit won't make you experience buyer's remorse because, after all, a good sleep is the priority.
The amount you spend will vary depending on your budget but the focus should remain the same – to buy the best possible bed for your needs.
The Effects of Sleeping on the Right Bed
Finding the perfect fit will change more aspects of your life than you've ever thought. Good rest is directly responsible for better general health and reduces the risk of many diseases. Especially important is the delta sleep, during which our brains are in the restorative mode.

Sleeping on the right mattress helps you transition into deep sleep and re-energizes you to meet the new day's challenges. It is the end of turning all night long, sweating and lower back pain.
A back sleeper will be able to stand straight and say goodbye to the pain.
Our Back Sleeper Beds Reviews
Without further delay, let's find out some of the best back sleeper mattresses out there.
Tuft & Needle Queen
It's manufactured out of adaptive foam, which provides higher levels of support than memory foam and, at the same time, helps with cooling. This queen is Certi-PUR and Oeko-Tex 100 certified and comes with 10-year warranty.
There are many back sleepers who absolutely recommend this mattress and say they can't ever sleep on anything else. The unique to Turf & Needle adaptive foam is said to make a big difference in terms of back support. Everyone, regardless of the distance from the equator, also talks about the amazing respiration qualities of this unit, pointing out the freshness still in place even after longer sleep.
Most customers see this model as slightly on the expensive side but thanks to the company's free 100-day trial period policy and extensive warranty, you will have the chance to make sure that it's worth it.
Nectar
The Nectar makes a great option for back sleepers for a few reasons. First off, the firmness level measures 6.5 out of 10, which makes it a perfect medium-firm option (the exact range we recommend for back sleepers).
In addition, this firmness level works great for every sleeping position (back, side, and stomach). If you sleep on your back, but your partner sleeps on their stomach or side, everyone will still sleep well.
In addition, the Nectar is a fantastic memory foam option provides great lumbar support without that feeling of sinking into your bed. It's unlike anything we've tested in the fact you can still move around with ease, yet you still receive great support on all your pressure points.
If you're on the fence about Nectar, you've got almost nothing to lose. They offer an industry leading 365 night trial if you don't like it. How's that for believing in a product?
A queen retails for $795 but don't forget to use our coupon code for a discount. Enter "SLEEPADVISOR125" for an additional $125 off and two free pillows!
Want to learn more about the Nectar? Be sure to read our Full Review.
Lucid 10-inch Gel
Made of two parts, a thinner layer of ventilated gel and a thicker support layer, this model is with medium firmness, suitable for back sleepers. The cover is a special blend of lyocell and polyester, which makes it soft and breathable. The Lucid is Certi-PUR certified and doesn't contain any synthetic or natural latex.
The community really sees value for money in this model and many buyers get more than one for their homes. Some praise the unpacking process as being the easiest they've seen and share that the full ten inches are achieved after only several hours of inflation. It's interesting to mention that a lot of customers with leg pain swear by this foam.
While stated that the Lucid's firmness is medium, a lot of sleepers point out that it's slightly on the firmer side. However, depending on their weight, more back sleepers are satisfied and report previous pains disappearing compared to side sleepers.
Classic Brands Cool Gel 14-inch California King
This 2-layer mattress combines memory foam and cool gel technology to deliver support, comfortability, and cool sleep. The top layer has a plush feeling up to 4 inches deep, while the rest is concentrated support. It's Certi-PUR certified and comes with 25-year warranty.
Love memory foam beds? Check out our memory foam mattress buyer's guide.
Many customers point out the extremely well-balanced depth of the top 4-inch plush layer. They say it's just the right amount of softness until the support comes into play, ridding them of lower back pains known to plague back sleepers. A portion of the previously skeptical towards the cool gel people also mention that it works and does indeed help with temperature control.
This is another mattress on the more expensive side compared to others in the class. However, the combination of plush and support is something many find more than worth the higher price level.
Sleep Innovations 12-inch Skylar Queen Gel
The Skylar is made of three different layers – luxury plush, ultra-ventilated, and deep support. It's medium-firm and tailored for side and back sleepers who want cool sleep as the cover is poly-knit with open weave and the side-panels are breathable. It also comes with a 20-year limited warranty.
Customers swear by its healing properties, especially those with chronical lower back pain. They say the top luxury layer does an amazing job for comfortability, all the meanwhile they are properly being supported by the thicker bottom layer. An impressive amount of people with bigger bodies share that this mattress has completely changed the quality of their rest.
The Skylar tends to remain a little firmer during the first couple of weeks but adapts to the sleeper's features from then on to ensure great rest for years.
Modway Aveline 10-inch King Gel
The Modway has a cooling top gel layer and a supportive thicker bottom layer. The foam isolates motion, reducing the affect partners have on each other due to the difference in their sleep habits. The mattress is Certi-PUR certified.
Buyers have this as the one of the best choice if you are looking for a good money to value ratio. Many back sleepers who are on a budget recommend this Modway as it provides them with just the right amount of support and doesn't cost a fortune. People with partners who move too much, go to sleep late or simply wake up for water, say that they've never slept so calmly with their significant other right next to them.
Being on the lower end of the pricelist makes people think this bed is lower quality but the numbers of happy clients show that it's simply a great investment.
Conclusion
---
Resting on one of these mattresses as back sleeper is like a second birth. You shouldn't live your life with pain and other health issues because your bed is definitely not the right one for you. In this day and age, science has given us comfort-inducing and affordable materials, so we have no excuse but lay down and enjoy a revitalizing good night sleep.
As a back sleeper, you need to be careful when picking the right firmness because your lower back is critical (more back sleeper tips). Too soft and you will have an arch all night, causing deformation and pain across your whole body. Too firm and your spine will ache, making you turn and unable to go into deep sleep.
Are you looking for more mattress options? Be sure to read our complete mattress guide.
Once you find the correct firmness, you need to consider the longevity of your investment. Make sure the materials and build quality are of high-enough order to last you several years. Still, even a very good mattress needs to come with a decent warranty, covering manufacturing defects as widely as possible.
From the quality of the materials and the right amount of support to the fair warranty and predicted longevity, the right mattress should fit your budget. People with certain needs, like the back sleepers, can't afford to buy just any bed and spending a little more for the right reasons is fine.
Sources
http://www.spine-health.com/wellness/sleep/choosing-a-mattress-back-support-and-sleep-comfort-patients-advice-part-iii
Author:
Sarah Cummings
I think we're all nerds, but I'm probably the biggest nerd in the group. Put me nose deep in a spreadsheet and I'll start smiling.
I love to travel, hang out with positive people, and love cycling when I find the time!
My hope is that everyone who visits our site will walk away with a fresh perspective. I think too many people in society downplay the importance of sleep. In my opinion, it's the difference between an average life and an amazing one.