Updated January 14th, 2018 –  We are proud to present our revised list for this year with several fantastic choices. Hope you like it!
Although an innerspring is one of the oldest bed types, they're still trendy. And it doesn't mean they are less durable or too firm like some people think. Typically, they feature a steel coil core (support system) with a padded layer or if it's a hybrid then a layer of foam on top.
This provides you with a comfortable, flexible, and supportive surface that'll keep you cooler than most other bed types (most notably, memory foam). A modern innerspring base also allows for natural body movement and limits motion disturbance which is excellent for people sleeping with a partner.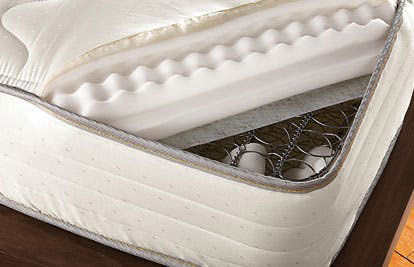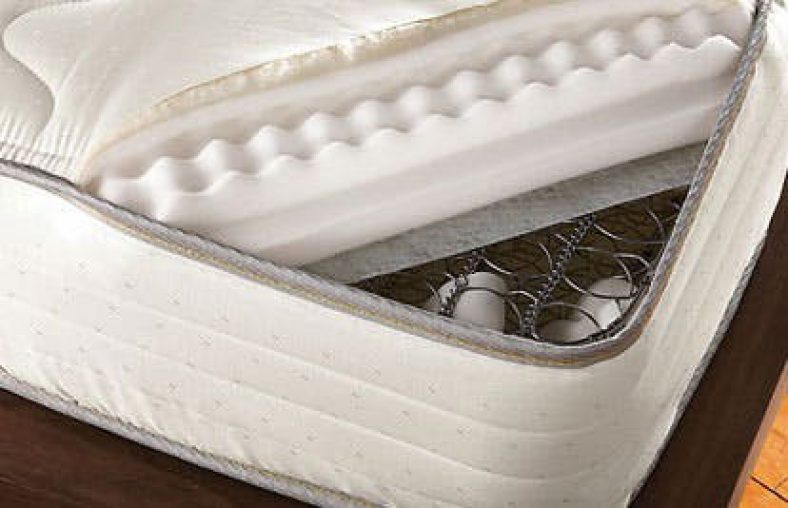 Note: There are many types of innerspring mattresses – the quantity, design, and thickness (or gauge) of coils varies greatly. Plus, some are "hybrid" beds, which can be either topped with memory foam, latex, or even gel. Also, the depth and density of the layers can also differ.
All of this variety can make choosing the right model difficult. But don't let that put you off! We've reviewed the highest rated innerspring brands. Below are our five top picks for 2018!
| IMAGE | MATERIALS | HEIGHT | WARRANTY | RATING |
| --- | --- | --- | --- | --- |
| Saatva | Luxury innerspring (coil-on-coil construction) | 11.5"-14.5" | 15-year non-prorated warranty | 9.7/10 |
| Winkbeds | Foam and gel-based with spring coils | 14.5" | 10-Year Full Replacement Limited warranty | 9.3/10 |
| Alexander Hybrid | Copper infused foam and high-quality individual coils with extra edge support | 13" | Limited Lifetime warranty | 9.0/10 |
| Voila | Pocketed Coils, Gel Infused Memory Foam and Latex and Airflow System | 10", 11" & 12" | 10-year limited warranty | 8.6/10 |
| Aviya | Breathable and cool foam and innerspring core | 12" | 10-year warranty | 8.5/10 |
Top Rated Innerspring Mattress Reviews
Saatva (Editor's Choice)
Saatva is hands down our #1 pick in this category considering it's the closest thing to a pure spring bed (which you will rarely see these days). You can choose between 11.5" and 14.5" in height, but you won't see much difference in feel or firmness.
The cover is very soft and breathable, made from 100% organic cotton. Right underneath there is a "Euro-Style Pillow Top" layer of convoluted foam that adds additional pressure relief and comfort. Next, we have individually wrapped coils that add more bounce and provide better motion isolation. At the bottom, we have steel support springs that provide overall structure and integrity.
On a firmness scale, it's medium-firm (around 6-7 on a firmness scale of 1-10 where 10 is the firmest), and you can choose between three levels.
Why is it our winner? Saatva provides a traditional, luxury feel and comfort at an excellent price. Considering how rare this construction is these days, it's a definite winner for this category. You will enjoy every second sleeping on it.
Winkbeds
Winkbeds is a unique product we had the chance to test.It comes in three firmness levels and a "Plus" option for heavier individuals.
It's essentially a hybrid with an emphasis on using air and steel coils for deep layers with a total of 15" in height. TENCEL cover provides a soft, breathable and cooling surface with memory foam quilted as a pillowtop. Encased pocketed coils offer fantastic airflow and bounce and edge support while still providing necessary comfort and pressure relief.
Why is it unique? Winkbeds offers an optional "coolControl" system that acts as the foundation. It's an active cooling system that provides additional airflow for people who tend to sleep very hot or live in a warm environment. You can even control it with iOS or Android app, how awesome is that?
For this quality, you would pay more than $4000 in a store, even for the base model. But you can get this fantastic product for just a fraction of the price online. To sum it all up, The Standard model is more than enough for most people, "Plus" model if you have a few extra pounds and "coolControl" if you tend to sleep very hot.
Nest Bedding Alexander Hybrid
Nest Bedding is another giant and veteran in this booming industry.
This particular model has scored the highest rating on our top list of hybrids. It combines the power of foam and coils to get the best of both worlds while minimizing any drawbacks of both materials.
It has four separate layers and total of 13 inches in height. First three are designed for comfort and cooling with 2" of gel and another 2" of copper-infused foam.
The third layer is Nest's SmartFlow foam that offers incredible support.
Last, we have 7" of springs that provide a nice balanced feel and bounce.
Why we love it? Advanced use of materials, a smart combination of traditional and modern, lifetime warranty and a bargain price compared to any bed you would get in a store, Alexander Hybrid a choice you won't regret.
Voila
Another hybrid, but Voila uses entirely different construction than what we've seen above.
The top layer consists of gel foam to provide better cooling and pressure relief while second (polyfoam) layer serves to support the sleeper.
The innerspring layer is surrounded by foam shell which also helps provide better edge support and integrity.
It comes in three different firmness levels, but we recommend plush for side sleepers and medium/firm model for everyone else. It also comes with 100-night trial and a 10-year warranty.
Why is it on our list? Overall, Voila offers excellent contouring and pain point relief, and even though it has coil base, you can feel the top two foam layers. Considering that it's less expensive than most products from this category, it's a perfect alternative.
Aviya
You might have noticed that we prefer a lot of products constructed with foam/coil combination.
Aviya is another fine example that utilizes this powerful combination. The cover is nice and soft on touch and made from breathable materials and quilted with 1" of polyfoam.
Two more layers utilize foam for pressure relief and transitional support.
Right before the bottom layer of high-density foam we have individually wrapped coils which provide fantastic bounce, motion isolation, and airflow.
Aviya has that traditional innerspring feel (exactly what we are looking for this category). On a firmness scale, it's slightly firm (around 7 out of 10) which most sleepers will prefer.
It also costs less than all products listed here, making it a perfect budget pick, without sacrificing performance.
How To Choose A Great Spring Mattress
Innerspring beds come in a variety of models. Below we will have a look at the main coil designs and their pros and cons, as well as why coil count and coil gauge are important factors.
Different Coil Types Comparison
There are different types of coil patterns and designs. The most commonly available contain four main types of coil types, which are usually advertised as follows:
Pocket Spring
---
High-priced
Often considered the best type by customers, this design is also referred to as pocket, encased, wrapped, or Marshall coil. This kind of bed consists of hundreds or even thousands of individual coil springs, each sitting in its own fabric pocket. As they are not attached to each other, the springs can move independently of each other.
This type of spring system conforms to your body, distributing your weight evenly and preventing pressure points that can cause back and shoulder pain. For this reason, pocket spring mattresses provide supreme support. The individual springs also prevent motion disturbance, as, if you move, your partner does not feel it on their side.
Due to these highly desirable features, pocket spring beds are usually the most expensive of all four types.
Open Coils
---
Low-priced
Open coils, also commonly called "the Bonnell," is the oldest and most common type of spring system, and is often found in cheap innerspring mattresses. The open coil design consists of multiple springs, which are interconnected within a wire frame. A standard double open coil mattress usually contains about 300 springs.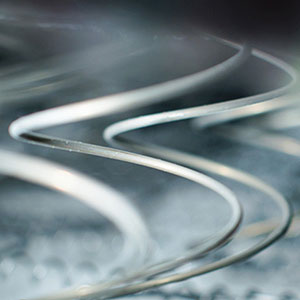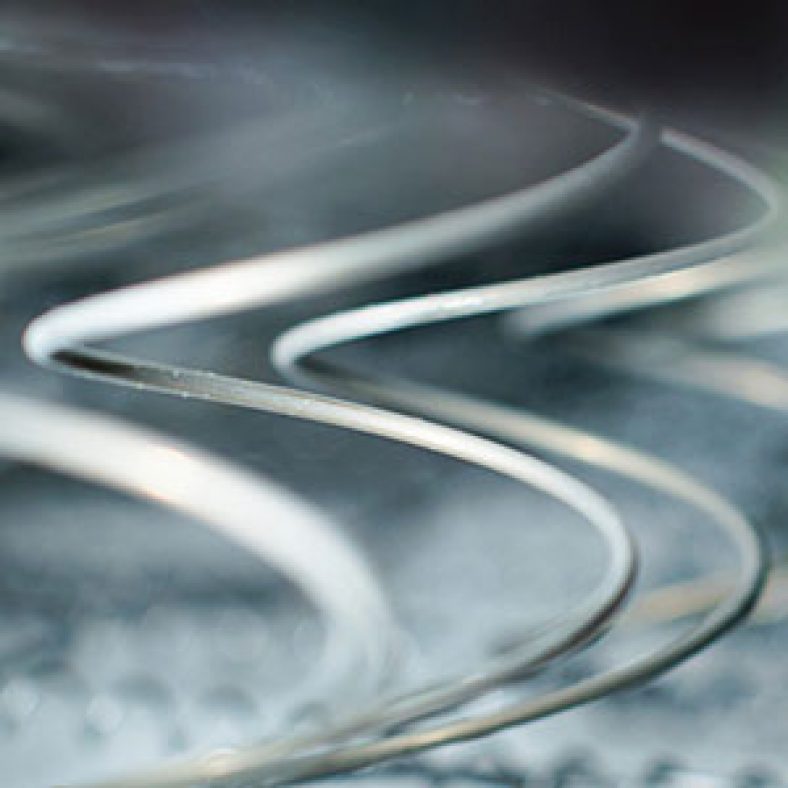 This design usually provides a very firm support. They are often used in orthopedic mattresses for this reason. They are also lighter than pocket spring mattresses, making them easier to turn. Unlike the pocket spring, however, they can "dip" in the middle. Couples may notice movement from their partner, and roll-together can be an issue, too.
Offset coils
---
Mid- to high-priced
Offset coils are similar in structure to open coils, except each spring is hinged together by a helical wire on top. Like pocket coils, this design provides body contouring and better motion isolation.
However, they can be made firmer than a pocket coil, as the hinging effect allows more load-bearing on the springs. This type of bed is an excellent choice if you want a soft surface with a firm, supportive core.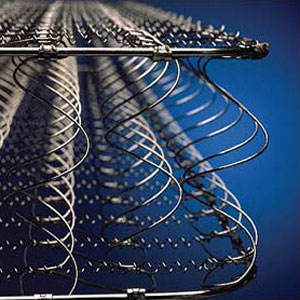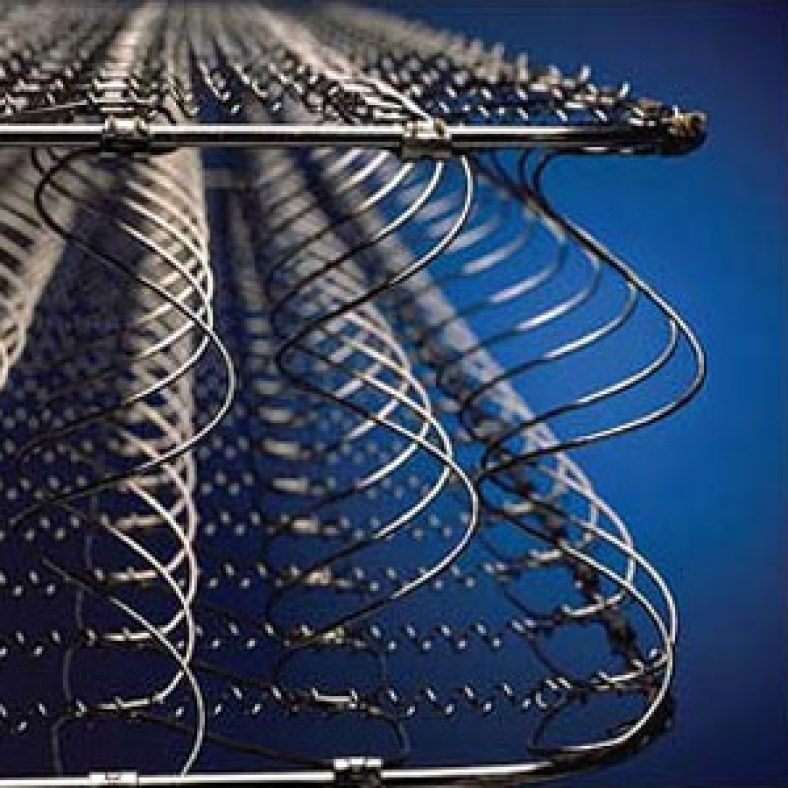 Continuous Coils
---
Low- to mid-priced
As the name suggests, continuous coil, also known as Mira Coil, beds are made up of rows of coils, going from head to toe, using a single piece of wire. These are then attached with helical wires, forming an interconnected network.
This design can provide a durable and very firm and supportive mattress at a low cost. However, they do not conform to your body as pocket spring and offset coils do, and they can be noisy.
Coil Count Guide
The coil count is the number of coils (or springs) inside the mattress. This amount can range from 200 in a twin to 1000 in queen size bed or 2000 in a high-quality, king size bed.
More coils indicate a better-quality mattress, as the more springs there are, the sturdier it will be. This means a more supportive as well as longer-lasting bed. It may not come as a surprise, then, that the higher the number of coils, the higher the cost. Anything under 300 is considered poor quality.
However, do bear in mind that the coil count isn't the only thing that matters regarding quality. The coil gauge is just also important.
Coil Gauge
The "gauge" of the coil refers merely to the thickness of the metal wire used to form the coil. Numbers commonly range from 12 and 15, with half gauges in between, but they can sometimes go up to 18.
While it may sound confusing, lower coil gauges have thicker wires and create a firmer spring, while higher coil gauges have thinner wires and provide a softer spring.
In other words, if you are looking for a very firm and supportive bed, it is best to go for a 12-coil gauge. If you prefer a bouncy, soft mattress, however, go for 13.5 and above.
You should always compare the number of coils to the gauge of the coils when choosing your bed. This is because a mattress with stronger wires but fewer coils can offer the same or even better quality as one with more but thinner coils.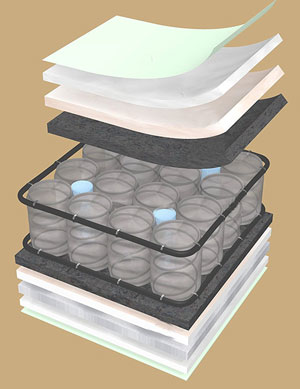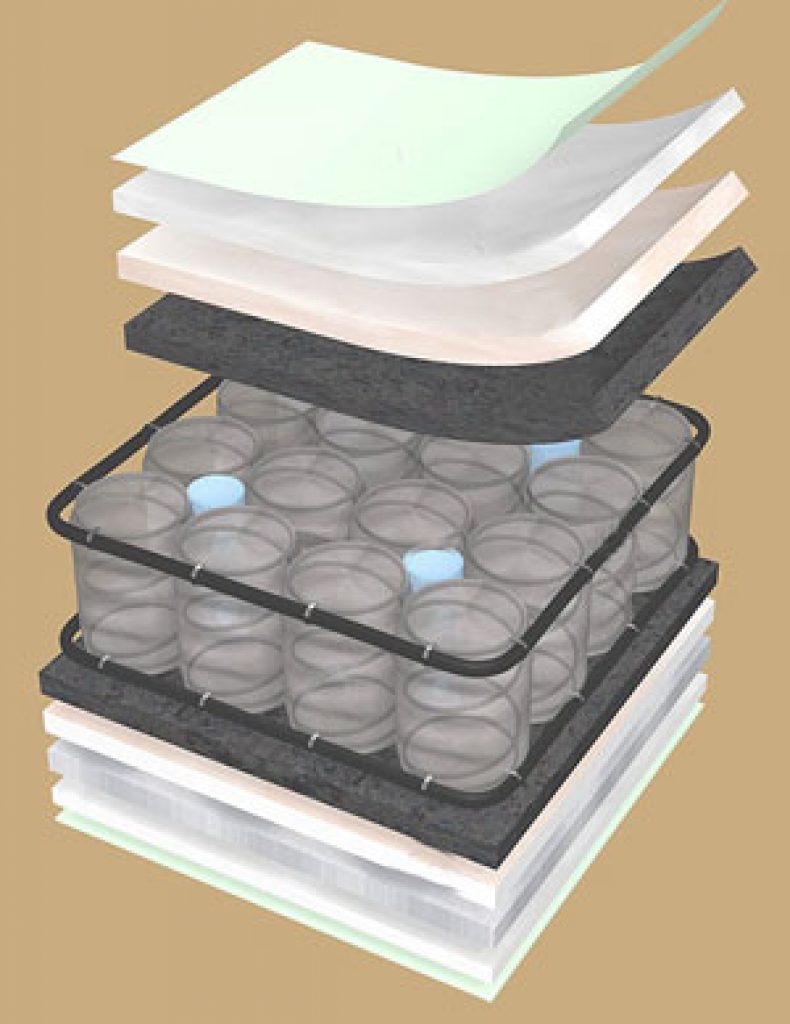 Advantages Of Owning A Coil Spring Mattress
Limited conforming ability
Innerspring beds do not mold so much to the shape of your body as some other non-innerspring types of mattresses. This means that there is more airflow around you, which stops you from getting uncomfortably hot at night. You can also move quickly on this surface, indicating that changing positions and getting up doesn't require effort.
Variety
Innerspring beds are sold in a wide variety of models from a large selection of brands. This means that there is likely to be one to suit your needs as well as your budget. Whether you want firm or soft, large or small, and with or without a memory foam or latex topper, you are sure to be able to find the right model for you.
Budget-friendly
As there are so many models on the market, there will always be an affordable choice if you are on a budget. There are also many models that are a great deal and still good-quality, so you don't have to give up on your dream of a great night's sleep.
Who Should Buy An Innerspring Mattress?
Anyone can benefit from owning an innerspring bed. In fact, some argue coil beds are good for your health because the springs hold up your body to provide the right support and alignment, as well as prevent poor blood circulation.
Spring beds are an excellent option for larger-set people, according to Web MD, as the firm support makes them easier to get in and out of. Innerspring mattresses are also the top choice for people with back pain, mainly firmer versions, given the excellent support they can offer.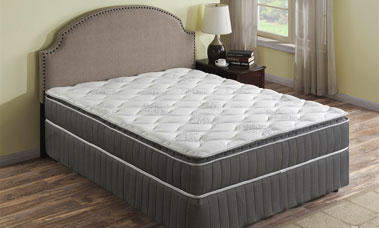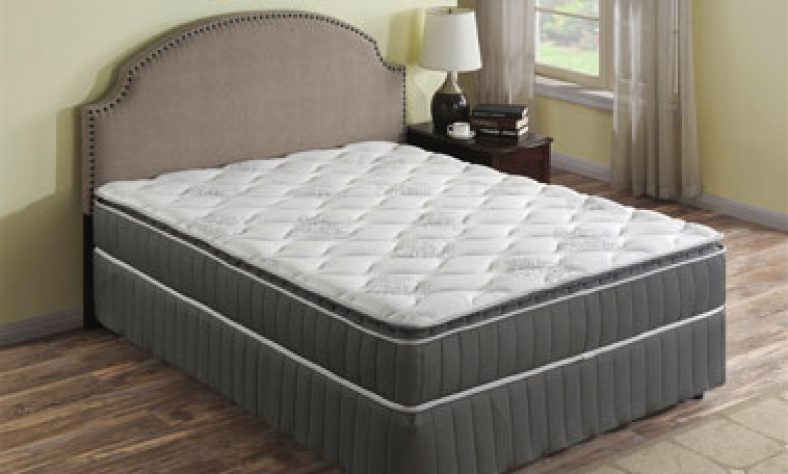 Depending on what position you sleep in, certain types of innerspring mattresses will perform better or worse for you. For stomach and back sleepers, it is recommended that you have a strong core support system to maintain optimal alignment of the spine. Therefore, pocket springs, which help spread your weight evenly on the bed, are a good choice if you fall into this category.
Side sleepers can do well with a hybrid innerspring mattress (see our top picks). You still need support from a coil core, but a top layer can provide more a comfortable, pressure-relieving surface.
Conclusion
---
Innerspring mattresses are the traditional choice and are still widely popular today. They provide support, durability, and breathability. There are many factors to consider when choosing a mattress, including spring design, coil count, and coil gauge. These all contribute to how durable, soft, or firm it is.
There are so many different models to choose from, which can be frustrating when you are trying to select a mattress, but it also means that there is going to be one to suit your needs. Hopefully, our how-to-buy guide has cleared up some of the mattress-related mysteries that were on your mind before you read this article.
As for the models we reviewed, we rated the reversible Signature Sleep Contour 8 Inch mattress at number one for a few reasons. Its pocket coil design means pressure-relief and minimal motion disturbance, and the foam padding on both sides also contours to your body, evenly distributing your weight and providing extra levels of comfort. What's more, this bed is "just right" when it comes to size, making it suitable for adults and children alike, as well as lightweight enough to move or flip, without effort. Lastly, all of these features come at a great price.
References
Get Holistic Health. (2012). How an Innerspring Mattress Benefits Your Health. Retrieved from the web on May 15th, 2017.
Hawks, Leona K. (1987). Selecting an Innerspring Mattress. Retrieved from the web on May 15th, 2017.
Zamosky, Lisa. How to Pick Your Perfect Mattress. Retrieved from the web on May 15th, 2017.
More Reading
Author:
Mark Reddick
When I'm not learning about sleep, you can find me watching "the big game" with my friends. I absolutely love sports and have grown to follow the rest aspect in athletes. Modern technology allows us to track athletes sleep and rest, which in turn helps predict their performance.
I hope that everyone that finds our site takes a new approach to sleep. The world needs to stop thinking about it as something "we just do", but rather something that allows us "to do everyday."
Cheers to having the best sleep of your life!