Have you been thinking about skipping the hassle of the brick and mortar mattress store and dreading an encounter with an aggressive sleep store salesperson? Finding a good quality mattress that is affordable and meets your specific needs is being made simpler thanks to several popular online companies. One company, in particular, Purple Mattress, could be your solution.
A good night's rest is essential to living a happy and healthy life. Whatever bed you decide on will set the tone for your slumber for close to ten years. There's a good chance your outdated mattress may be negatively affecting your snooze, and if you make the wrong choice on your next purchase, you may be in for some rough nights.
To determine if the Purple is the best fit for you, it's important to take a serious look at each specific feature and layer, while taking into consideration what conditions you sleep best in. Let's dive into the specifics of the Purple, let's compare it to its opponents, and let's resolve the online mattress debate.
Features of Purple
While many foam-based products found on the market today are known for holding on to heat, Purple sets itself apart by incorporating revolutionary Hyper-Elastic Polymer ™ technology. This innovative structural enhancement is not only extremely sturdy and stretchy, it temperature-neutral. This means that your sleep won't be interrupted by the scorching heat of summer or the cold bite of those winter months.
A bonus to this already innovative and unique design is its pressure-releasing capability. The Purple utilizes patented technology that successfully releases pressure, leading to increased comfortability on your spine and entire back. Pain in your hips and shoulders caused by the harshness of archaic springs will be in the past if you decide you're ready to take a snooze on the Purple.
The beauty of the purple, in addition to its breathability and comfortability, is that it matches the desired firmness level of most everyone. It is widely accepted as offering a medium firm feel, with increased bounce and a quick response time. This is due, in large part, to the previously mentioned Hyper-Plastic Polymer ™– The Purple's signature feature.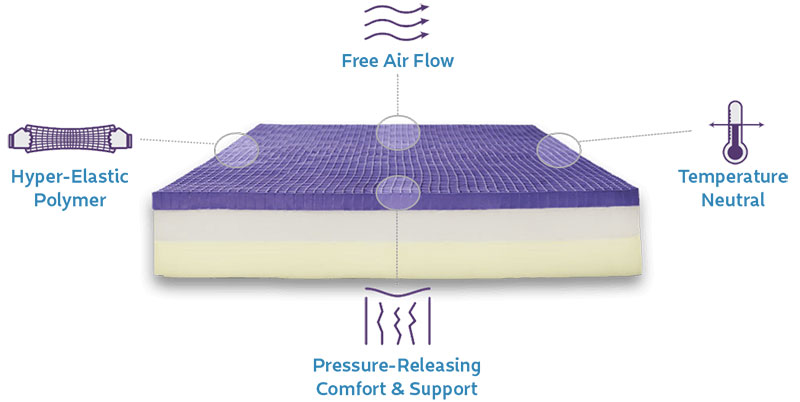 What Can Purple Do for Your Dozing?
You now understand the specifics of this unique technology, but what does it mean for you and your slumber? The bounce, flexibility and breathability are coupled with a latex-type sensation. This makes for the most unique feel you'll find on the market. 
It's considered a hybrid of traditional and non-traditional offerings by combining the firmness of memory foam and the bounce of the well-known (and increasingly unappealing) box spring selections. This combination lends to the Purple's diverse following and mass appeal.
Compared with its most direct competition, mainly the Ghost Bed and Casper, Purple is known for providing the coolest night sleep. Why is this important? Because sleeping in a cool environment has been proven to have many health benefits including falling asleep faster, sleeping deeper and appearing more youthful during the day, due to increased retention of melatonin.
Drawbacks to Purple
Overall there are very few foreseeable downsides to the Purple, most notably being the lack of customization based on firmness preference. Being that this mattress comes in only one design, those seeking an extra soft or extra firm experience will tend to be dissatisfied. It's important to consider that the firmness of this product depends on the varying weights of the individual.
On this same note, due to this unique design, support towards the edge of the mattress wains slightly. Users have observed that, when sitting toward the edge of the mattress, there is a tendency for added sinking, depending on the weight of the individual. While this is not exactly a deal breaker when shopping around, it's worthy of consideration.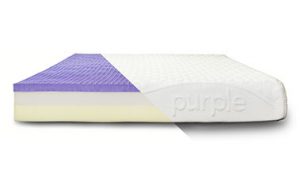 If you find this to be an issue, then you may be more well suited with a more traditional memory foam option. Remember, the Purple is not your typical memory foam, but rather a hybrid of archetypal memory foam and new-age mattress engineering.
What About the Other Layers?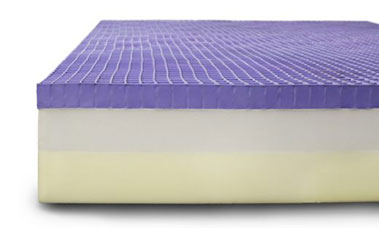 Purple includes two other layers found below the Hyper-Elastic Polymer ™. The first is the 3 ½ inches of polyurethane foam and the third (bottom layer) consists of 4 inches of this same foam.  
These two layers contribute to Purple's increased compression support and to create a foundation. Not much innovation found in these last two layers, but they get their jobs done.
How Does It Match Up to Competitors?
LEESA
Like Purple, Leesa is offering an innovative alternative to traditional memory foam mattresses by means of designing a distinctive top layer. Unlike the Purple, Leesa employs Avena foam, a patented latex-comparable material also known for its pressure relief, support, and cooling. In terms of edge support, Leesa has been deemed comparable to Purple, supplying less than ideal support at the edges.
CASPER
Unique to Casper is its top layer use of 1 ½ inch poly foam. While overall, Casper is marked as a comfortable sleeping solution, it is generally known for being the warmer option among the newly-engineered memory foam products. Additionally, Casper is not the most viable option for sleepers nearing or exceeding 250 pounds. Individuals around this weight tend to experience an unsupportive feel.
GHOSTBED
Yet another distinctively designed memory foam mattress with a specially designed top layer is the GhostBed. They have designed their top layer using aerated latex foam as their signature feature. This material aims at providing that all-important cooling sensation, along with much-needed bounce and support. With a look akin to that of Casper, it distinguishes itself by providing more support than its competitors.
Overall Impressions
After considering all the alternatives to the Purple, and analyzing their unique features and attempts at creating a cool, comfortable and supportive mattress, the Purple stands out significantly. 
The superior design of the top layer made with Hyper-Elastic Polymer ™ provides an exceptional night's sleep. It is breathable and cool, which are key features when considering a new mattress purchase.
If you are in the market for a non-traditional selection and are tired of visiting sleep stores and encountering awkward and hovering salespeople, the Purple is definitely a viable option.
Just keep in mind that this is not your standard memory foam bed. It will feel like latex and it will offer more support and a quicker response.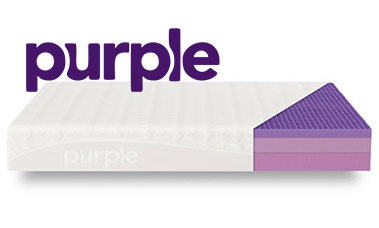 The exclusivity of materials used for the top layer make this truly a one-of-a-kind mattress that has solidified its spot as one of the most highly regarded options you'll find on the internet.
Author:
Sarah Cummings
I think we're all nerds, but I'm probably the biggest nerd in the group. When we were in college, Mike and Jill would always be the first to fall asleep during our study nights.
As you can tell by my picture, I have a book in my hand almost around the clock. So yes, I'm a nerd just like Sheldon Cooper!
My hope is that everyone who visits our site will walk away with a fresh perspective. I think too many people in society downplay the importance of sleep. In my opinion, it's the difference between an average life and an amazing one.