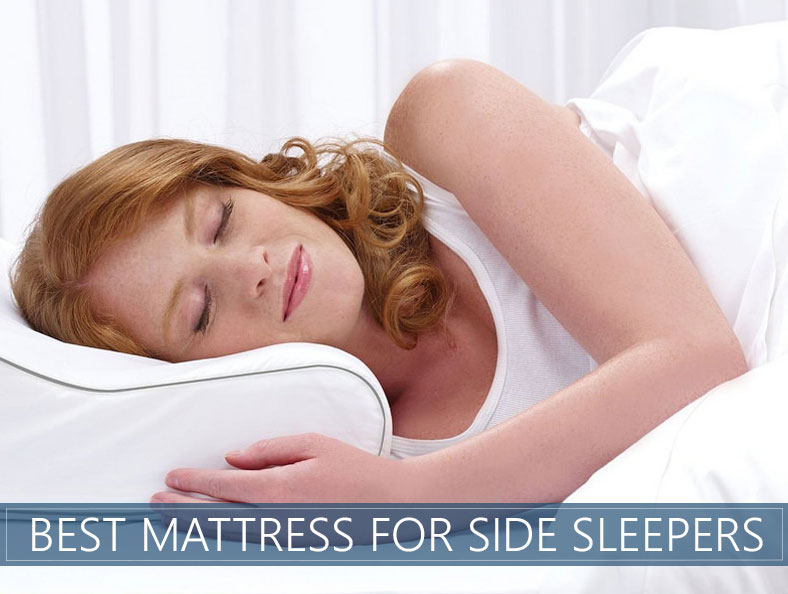 Did you know that an approximation of about 15% of all adults prefer to sleep on their sides with their legs outstretched as much as possible? Another 41% of adults would prefer to sleep in an actual fetal position as their back is hunched and their legs are bent. So is there an appropriate mattress type for side sleepers?
Side sleeping is actually quite common amongst women who are currently pregnant as this is amongst the best ways to accommodate the bumps of their growing babies. Keep in mind that this is a challenging position to sleep in and there are a lot of pressure points which could potentially cause you quite a lot of pain in the long run. So, what bed type can be good for side sleepers?
Your mattress is undoubtedly amongst the most important things that are capable of providing you with the necessary rest and comfort. Additionally, if picked correctly, it could also prevent snoring and improve circulation.
Choosing the right one, however, is quite overwhelming as there is a serious amount of things that you would have to account for. This is where we step in the picture to providing you with a helping hand. We will synthesize the most important information about picking a side sleepers mattress, and we will also review a few of the best ones currently on the market.
| IMAGE | NAME | FIRMNESS | HEIGHT | MATERIAL | RATING |
| --- | --- | --- | --- | --- | --- |
| | Nectar | Medium | 11" | Medical Grade Visco Elastic, Hi Core Transition and High Vegetable Base Super Core Support Foam | 9.8/10 |
| | Layla Sleep Memory Foam | Medium Soft | 10" | 3" Copper Infused foam, 6" of support and another 1" of firmer memory foam | 9.6/10 |
| | Loom & Leaf by Saatva | Medium Firm and Firm Option | 12" | 2" Gel Foam, 2.5" memory foam, 2" polyurethane and 5.5" support foam | 9.5/10 |
| | Tomorrow Sleep | Medium Firm and Medium Soft | 10" | Cool Memory Foam, Airy Comfort Memory Foam, Bounce Foam, Ventilated Foam Rail System, Pocketed Coil Network System | 9.2/10 |
| | Sleep Innovations Shiloh | Medium | 12" | 2.5" SureTemp memory and 9.5" high density support foam | 8.8/10 |
| | Brentwood Home Cypress | Medium | 13" | 3.5" Gel Memory, 2" Ventilated Airflow Zone, 7.5" Base Foam | 8.5/10 |
| | Tuft & Needle | Medium Soft | 10" | T&N adaptive foam and support foam | 8.2/10 |
Challenges as a Side Sleeper
Pressure Points Cause Pain
When it comes to side sleeping, there is one rather significant drawback that you would have to account for and handle as quickly as you can – pressure. The truth is that as much as we'd like sleeping on our sides, it's something which brings in quite a lot of it and it targets some fine points.
One of the most commonly pressured points of our body throughout this particular position is our lower back. The more constant the pressure is, the more severe the pain is going to become. This is something that you should allow to happen as it could quickly develop into chronic pain.
Through the usage of the best mattress type for a side sleeper, you would be able to relieve a lot of the pressure and hence, prevent any further conditions. This is quite critical, and it needs to be taken into very serious consideration.
Hip Pain
Hip pain usually starts to manifest and to become especially difficult and bothersome in women who are pregnant and prefer to sleep in the fetal position. Their lower back would usually be hunched, and their knees would be facing towards the chest area.
This puts a serious amount of constant pressure on our hips as they are not in a relaxed position. Even though it wouldn't happen immediately, the truth is that pain is going to start radiating throughout the entire area when you wake up early in the morning.
Even though the pain is likely to go away in a few hours as your body starts to adjust to the daily routine, this is something that could potentially ruin your entire morning routine and set you off on the wrong foot. Additionally, hip pain could quickly turn into a chronic condition which would require serious treatment.
A proper mattress is going to ensure that the pressure off your hips is properly taken care of or significantly dispersed in order alleviate this point.
Shoulder Pain
When you sleep on your back or your stomach, there is literally no pressure on your shoulders. This is one of the benefits of sleeping in either one of those positions. However, as a side sleeper, you should know that things are quite different.
As a matter of fact, you should be aware that you are essentially placing a significant amount of constant pressure on your shoulder, regardless of which one It is. As you tend to move through the night, it is quite common for side sleepers to alternate their shoulders for support even if you don't actually realize it at the time.
This is what results in shoulder stiffness in the morning and you might not actually be able to control it on your own. Keep in mind that this is also attributed by the fact that your side sleeping position puts your shoulders in awkward poses which should be accounted for. A proper mattress which locks the position of your shoulder socket could potentially alleviate a serious amount of stress when it comes to it.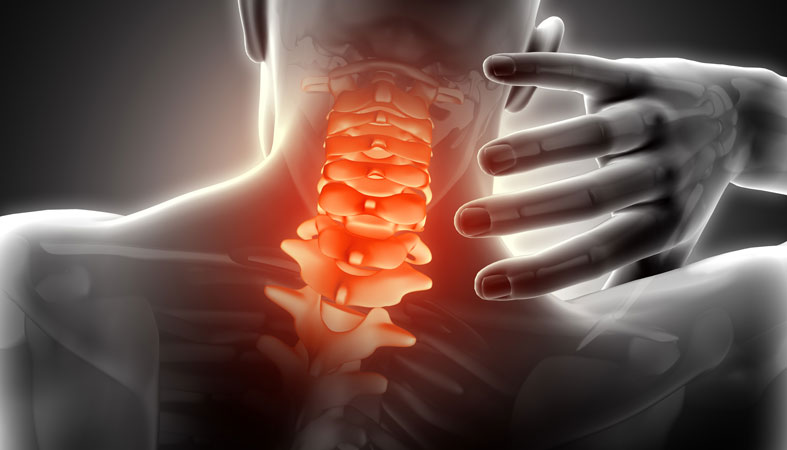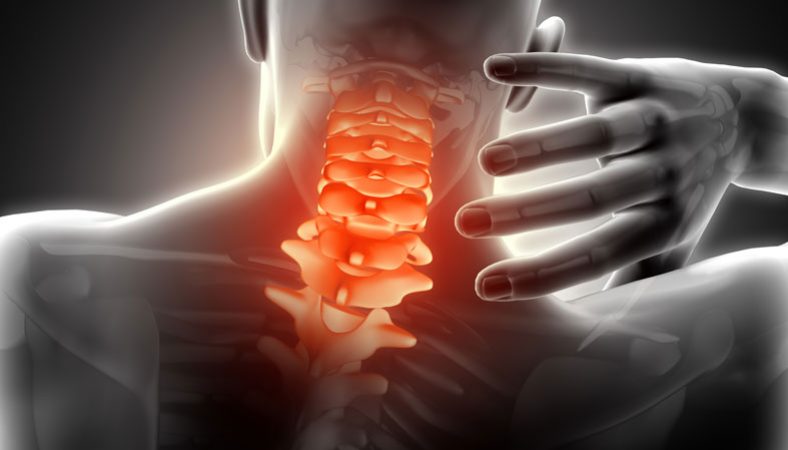 Neck Pain
When you sleep on your sides, the original allocation of pressure will concentrate in your neck alongside the other pressure points hereby mentioned. This is going to cause a lot of unpleasant stiffness and it might even restrain your neck movements to a certain extent. Obviously, that's the last thing you're looking forward to.
With this in mind if you take advantage of a mattress which is soft enough to relieve that pressure off those pressure points, you might actually help yourself quite a lot. This is why the mattresses which are intended for side sleepers would usually provide a significant sinkage as your weight is actually focused and more targeted.
If the mattress is too firm, it is likely to cut off a major portion of the blood circulation which takes place in your body. This is going to cause serious aching and pain just because it won't contour the widest points in your shoulders. This could also be attributed by serious spinal misalignment which most commonly results in serious pain in your neck area. That's why a side sleeper's mattress is likely to be a bit softer and, in any case, it should deliver an expressed contouring to make sure that everything is handled properly.
Back Pain
Back pain could also be a result of inappropriate mattress combined with the awkwardness of the side sleeping position. If the mattress is too soft, this will cause your lower back to sink in deeper as that's where more weight is being concentrated. On the other hand, if it's too firm, this could cause serious discomfort, especially if you are lighter regarding weight.
With all this in mind, the thing that you need to consider is the density of the foam as well as the softness of the mattress. Ideally, you'd be looking for a solution which hugs you conveniently without inducing the feeling as if you are trapped. This is something quite important. At the same time, you are looking for a combination of softness and support in order to contour your body line while relieving you of pressure at the same time.
Back pain could easily escalate and cause a myriad of associated issues. It is most commonly caused by inappropriate postures as well as a lack of support while you sleep. If your mattress is actually softer than it should be, this is definitely going to disrupt your alignment and cause a sensation of stiffness which will quickly translate to aching and serious pain. Make sure to keep this into account when you go ahead and pick up the top rated mattress for side sleepers.
How the Mattress Type Affects Side Sleepers
Memory Foam
Obviously, the most popular choice when it comes to this category, a great memory foam mattress (for side sleepers) is something that you might want to consider. The truth is that there is a lot of merit for purchasing a solution of the kind for a range of different reasons.
Right off the bat, when you look at the mattress types for side sleepers, the most important thing that you want to consider is whether or not it conforms to the contours of your body. This is undoubtedly something quite important and you should take it into account. If it doesn't, the firmness of the mattress, regardless of whether it's harder or softer, is going to play a detrimental role and that's not a risk you should be willing to take.
With this in mind, a proper mattress could easily be a great solution but you'd have to do extensive testing and make sure that the foam aligns to your body in a manner which is convenient and which doesn't alter it as this could cause pain. The softness should be adequate but the support should not be compromised. Additionally, make sure that the foam is of high quality and that you do not get that trapped sensation of low-quality solutions.
Innerspring
Innerspring constructions bring a significant amount of value to your mattress because of the convenience that they provide. First of all, the overall breathability and air flow of these mattresses are incomparable to anything else on the market. Additionally, they are known for being quite supportive and reliable in this particular regard.
Of course, they do have their drawbacks. For instance, if the coils are not individually wrapped, the longevity of the mattress is put in jeopardy and it may not last you as much as a regular memory foam option.
To elaborate on whether it's a convenient option for a side sleeper – in their true, authentic form, innerspring mattresses are not the best choice. The reason for this is simple – they bring in significant support but there is a definitive lack of conformity. This could put more pressure on certain points and that's not something that you ought to consider. If the top layer is covered with a comforter of this foam-type, the picture changes completely. However, this is an entirely different category that you should consider.
Considering an innerspring mattress? Read our full buyer's guide.
Hybrid
Even the top rated innerspring mattress designed for side sleeper is not going to provide you with the same level of convenience as a hybrid solution.
A hybrid mattress is one which combines the convenient support brought by the steel coil system with an additional or more than one layers of foam. The type of foam could be different but it's usually high-quality memory foam that you should be looking forward to.
In any case, there are quite a lot of benefits which stem from using a solution of the kind. While you would receive the necessary conformity which is lacking in traditional innerspring mattresses, the support that is brought by the coil system is something that usually misses in a foam mattress. This is a great option and it's one that you truly might want to take into account as it brings a splendid combination of comprehensive solutions intended to deliver the best sleeping sensation for a side sleeper.
Other Buying Considerations
Firm or Soft
There is no answer to this particular question as you would undoubtedly have to consider your personal preferences as well as the issues that you might be facing. With this being said, it is quite important to land the most appropriate balance between softness and firmness. A mattress that's too soft could turn out to be applying more pressure on your lower back and shoulders while firmer options generally bring tension to the area around your neck and hips.
Obviously, the solution is a balanced mattress which is aligned with your own personal specifications. First of all, you need to consider your weight. This is one of the most characteristic properties that you should account for.
If you are heavier, you should consider something that's going to contour your body perfectly and usually, it would be a softer mattress. Hence, solutions with thicker top layers would be preferable. On the other hand, if you are light weighted, you might consider a firmer mattress as it would take less sinkage for the foam to conform to your shape.
Of course, it's also important to consider the type of pain you might be feeling. All in all, when it comes to optimal bed firmness for side sleepers you should aim for one which brings perfect spinal alignment when it comes to it.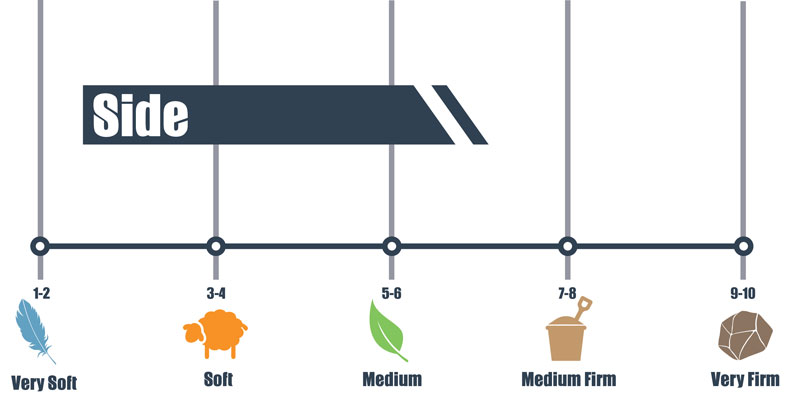 Benefits of Sleeping Sideways
If you feel naturally tempted towards sleeping on your left side, there is actually a valid, scientific reason for that. A lot of reports show that there are actual benefits of sleeping on your left in spite of on your right side. Some of them include:
Reduced heartburn
It prevents snoring
It boosts your digestion properties
Helps to clear your lymph
Improves your overall brain health
The reasons for that are numerous. In a nutshell, it comes down to better alignment of your entire body, including your internal organs and not just your spine.
Of course, as we've mentioned above, there are also challenges which are associated with sleeping on your side. When you're considering the benefits, make sure not to forget weighing in the side effects and potential risks as well.
Top 7 Side Sleeper Mattress Reviews
Nectar
Nectar is a brand which brings convenience in every sense of the word. The truth is that it takes advantage of a high-end, 4-layer construction which is specifically designed to ensure that there is enough support as well as softness to make you feel like sleeping on a cloud.
The top layer of the mattress is the comforter. It is usually one inch thick before it's quilted and it's made out of memory foam gel. This means that it would be comfortable and it would also provide serious air flow and heat dispersion. The next layer is 3 inches thick and it's made of high-end memory foam. That's the layer which will contour your body and help you relieve the pressure.
Following is a 1.75 inches layer of foam which is designed to be a transitional and supportive one. Right beneath it you'd have a bottom layer which is intended to serve the purpose of a foundation. It's thicker than the others to provide serious support – it measures about 5.25 inches in thickness.
PROS
High-quality materials
A comforter of gel foam
Very supportive foundation
CONS
It might be a bit too soft for people with larger weight
Layla
Coming to you is another well-established and high-end mattress brand which brings splendid side sleeping solutions. There are a few things that you need to consider when considering Layla mattresses.
First off, they bring tremendous edge support. In fact, we find it quite difficult to identify mattresses which are made of memory foam and have nearly the same edge support as an innerspring solution. This is something that you ought to take into account.
The motion isolation is also quite superior in comparison to others. Given the fact that the mattress features a dual-side characteristic with one being firmer and the other being a lot softer, the motion isolation is absolutely flawless. This is perfect for couples.
PROS
Enhanced heat dispersion for a cool feeling throughout the entire night
There is no unpleasant off-gassing smell
It has two different firmness levels
It's comfortable
It has a soft cover
CONS
The soft side might not be as appropriate for side sleepers
Loom & Leaf by Saatva
The Loom & Leaf mattresses brought to you by Saatva are designed to accommodate the necessities of a side sleeper. They come with conforming materials and a properly structured layered construction to ensure that everything is handled properly.
Now, typically, Saatva is an online brand which brings predominantly innerspring mattresses but Loom & Leaf is entirely made of foam materials. There are 4 different layers, the first one being 2 inches and it's made out of conforming gel foam for comfort and coolness.
The second layer is made of pure visco-elastic memory foam and it's followed by another 2-inch layer made of transition foam which anticipates the base one. The foundation is thick – it's 5.5 inches in length and it is made of high-end high-density support foam to guarantee the support.
PROS
Properly structured layering
Convenient and high-quality materials
Perfect heat dispersion and lacks retention
CONS
The off-gassing smell could last a little longer
Tomorrow Sleep
There is one thing that describes Tomorrow Sleep bed perfectly, and that's memory foam feel (pressure relief, "hug" and contouring). In fact, it's a hybrid with foam on top and coils in the middle for extra edge support, cooling and bounce. You get pros of both worlds with none of the cons.
The mattress has two firmness levels (medium-firm and medium-soft). Both have similar construction though. The cover looks nice and it's made from a breathable polyester material.
If you prefer that gentle "hug" of memory foam, but you tend to sleep "hot" or you just want to share the bed with your partner without waking them up at night then the hybrid construction of Tomorrow Sleep will be fantastic for you.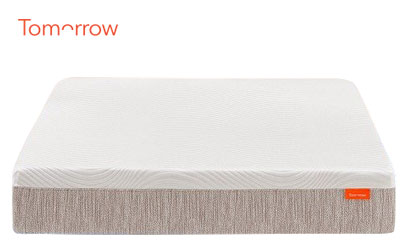 Material
Firmness (soft to firm)
Price
OVERALL RATING: 9.2 out of 10
PROS
Memory Foam Feel
Breathable Covers
Better cooling with coil base
Great Contouring
Made in the USA
CONS
Costs a bit more than regular spring or foam beds
Sleep Innovations Shiloh 12" Memory Foam
This is an entirely new look of a mattress which has a lot of experience on the market. It's designed for people with average to bigger bodies and it's perfect for side sleepers.
It is constructed in a manner which relieves pressure from common pressure points and it comes with 2 overall layers with the one being a regular comforting layer and the second being 9.5 inches of support bottom layer. The latter takes advantage of high-density support-plus memory foam to enhance the stability.
If you are looking for a firm mattress which also contours quite well, this is an obvious choice. It is convenient enough to accommodate a range of sleeping positions as well.
PROS
Splendid Support
Beautiful appeal
Relieves pressure from common pressure points
CONS
A bit firmer for side sleepers
Appears to be very bulky
Brentwood Home Cypress
This is another very common and preferred option for people with side sleeping habits. It comes with a few different layers. The 13-inch option features 3.5 inches of conforming gel foam which is specifically designed to ensure that no pressure is applied.
Furthermore, the mattress also offers superior spinal alignment and it brings little to no motion transfer to accommodate couples who are overly active while they sleep. There is a removable zipper cover which is lined with branded and high-end New Zealand Wool to wick moisture and to regulate the overall temperature.
PROS
Great for couples
Isolates your spine pretty convenient
Brings a lot of comfort
CONS
It's not as firm as it claims to be
Tuft & Needle
This is mattress which takes advantage of the patented T&N adaptive foam technology which is designated to bring a slightly bouncy yet very supportive sensation. It is geared towards different sleeping positions and it is certainly capable of accommodating the awkwardness of your body while you sleep on your side.
The product brings a localized bounce which is not going to disturb your partner throughout the night but it's going to relieve you from serious pressure. The foam which is being used is of extremely high quality and is believed to be superior to latex as well as to regular memory foam.
The entire thing is made in the USA which guarantees the quality of the materials used for its construction.
PROS
Great for couples as it isolates motion
Provides a nice and comfortable bouncy sensation
Conforms perfectly to your body
CONS
There is a slightly awkward edging
Conclusion
---
As you can see for yourself, there truly are quite a few things that you would have to consider when it comes to picking up the most excellent mattress for side sleepers. The awkwardness of the sleeping position requires you to react adequately and to make a very specific choice in order to prevent any further complications.
We truly hope that the information we've laid out above would provide you with the necessary assistance when you decide to go up against this challenge. We hope that you can make the right purchase without having to go through an abundance of different mattresses and waste a few days on it.
The units we've described are amongst the most popular and effective solutions for your specific sleeping habits. They have been validated by serious public feedback and they stand the test of the common user.
Sources and References:
More Reading:
Author:
Sarah Cummings
I think we're all nerds, but I'm probably the biggest nerd in the group. When we were in college, Mike and Jill would always be the first to fall asleep during our study nights.
As you can tell by my picture, I have a book in my hand almost around the clock. So yes, I'm a nerd just like Sheldon Cooper!
My hope is that everyone who visits our site will walk away with a fresh perspective. I think too many people in society downplay the importance of sleep. In my opinion, it's the difference between an average life and an amazing one.