Transparency Disclosure – We may receive a referral fee for products purchased through the links on our site...

Read More

.
If you're the type of person that loves a little bit of everything—from toppings on your hot fudge sundae to variety in your mattress—then a hybrid bed may be right for you. Hybrids combine the best of both worlds, giving you the softness of foam and the pushback support of coils.
Still not sure whether a hybrid will work for you? Layla took the world of mattresses by storm with their original all-foam flippable bed, and they now offer a dual-sided hybrid too.
Our Layla Hybrid mattress review will take a look at both the soft and firm sides to see how each stacks up. In a rush? Skip to the bottom for our final thoughts.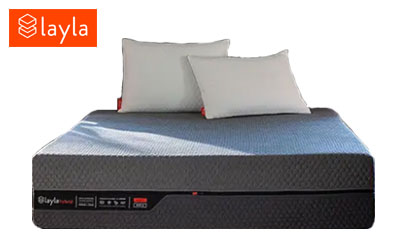 Get Layla Hybrid Mattress
This versatile hybrid bed has two distinct firmness options that should appeal to a wide range of individuals.
Click the button below to get Layla Hybrid Mattress.
Watch Our Layla Hybrid Video Review
Who Do We Think Matches With Layla Hybrid?
Online Shopping Newbies – Buying a mattress online may feel intimidating since you don't know exactly how the bed will feel. Layla gives you a 120-night risk-free trial, and the flippable design gives you two unique experiences in one bed.


---

Couples – This bed has lots of versatility that could appeal to couples with different sleep needs. The thicker coils around the perimeter should also allow you and your bedmate to use the entire surface of the bed for sleeping and other bedroom activities.


---

Petite and Lightweight Sleepers – Small and lighter individuals often find that most mattresses feel too firm. The softer side of the Layla Hybrid bed could be a good fit for this group of people.
Possible Layla Hybrid Complaints:
It isn't a true firm. – Even the firmer side of this bed is still closer to a medium-firm feel. For heavier folks or dedicated stomach sleepers, this hybrid may feel too soft and lack the support these individuals need.


---

Some motion transfer – Because of the coils in this mattress, you're likely to experience some motion transfer compared to an all-foam version. That being said, the coils are individually pocketed to help curb motion transfer and the foams will help as well. Therefore, you won't experience as much motion transfer as a traditional innerspring bed.
Construction: What's Inside Layla Hybrid?

The Layla Hybrid stands 13 inches tall with a total of 5 layers. The charcoal gray cover is designed to be light and airy for breathability, and the zipper allows you to remove the cover for easy cleaning.

Let's take a deeper look at this dual-sided hybrid, working from the soft side down.

The first layer contains 2.5 inches of copper-gel memory foam. The copper works to cool the product and maintain a comfortable temperature, while the memory foam's variable support works to provide spinal lift, deep compression relief, and breathability. This layer also includes antimicrobial odor control.
The following two inches of Max Airflow support foam contains deep channels for maximum cooling and zoned surface modification technology (SMT). The SMT provides customized support for a wide variety of needs.
The middle features a 6-inch layer of 14-gauge individually pocketed coils that are designed to offer pushback support and bounce while helping to isolate motion at its source. The perimeter is reinforced with a double row of 16-gauge coils to provide enhanced edge support.
Beneath is the transitional layer on the firmer side and consists of 1.5 inches of the same surface modification technology for zoned support.
The last layer also serves as the firm top layer and features one inch of copper-infused memory foam for a soft and supportive feel.
First Impression: How Does It Feel?

The Layla Hybrid arrives in a large duffle bag with carrying straps inside. Built-in handles on the cover should also help with set-up and flipping this bed over so you can try out both sides. Once unrolled, it may take a day to reach its full shape.

Testing out the softer side, you should feel the plush memory layers provide a deep hug. Flipping it over, the firmer side should provide a gentle cradle, leaving you feeling more on top of the mattress.
Firmness Scale: 4/10 (Soft), 7/10 (Firm)
Pressure Relief

Most people have had the unpleasant experience of sleeping on a rock-hard bed at a hotel or during college. If the poor night's sleep wasn't bad enough, you probably woke up with all sorts of aches and pains where your body's grooves couldn't sink in. That's why companies invest so much time and money into making sure their mattresses offer exceptional pressure relief—and the Layla Hybrid is no exception.

Regardless of which side you choose, the foam layers with built-in zoning are designed to cradle your body and relieve pressure in key areas like the shoulders and hips. Unlike most foams that allow the entire body to sink in, these feature variable support, which means your heavier areas will get the relief they need, while your midsection and lumbar region should be well supported. Choosing which side to sleep on will ultimately comes down to what feels best for your body type and sleep style.
Support

While memory foam shines when it comes to pressure relief, pocketed coils are known for offering that pushback support you need to keep the spine in neutral alignment. The copper-infused top layer is designed to react under the weight of your body to provide extra support.

The foams should contour to your natural curves, filling in the space around the lumbar region, while the pocketed coils offer buoyancy and support. You are likely to feel more on top of this bed on the firmer side, though, as the softer option has more sinkage. This hybrid's responsiveness should also help with repositioning and getting in and out of bed.
Preference-based Features

Bed-in-a-box

Similar to the popular bed-in-a-box delivery method, Layla ships this mattress to your doorstep. Inside the box, the mattress is in a large bag that includes handy carrying straps. Direct shipping saves the company money, which they pass along to customers in the way of affordable pricing.

---

Cooling

Unlike traditional memory foam that tends to retain heat throughout the night, the infusion of copper can help to offset this by drawing heat away from the body. The open-cell foams and individually pocketed coils should also keep sleepers cool while sleeping on this bed by allowing air to flow freely.

---

Exceptional Edge Support

Poor edge support can reduce the usable sleeping space and make it difficult to sit on the edge of the mattress. The Layla Hybrid has a double layer of higher gauge coils along the perimeter to offer the same exceptional support across the entire surface of the bed.

---

Good Motion Isolation

Anyone who shares a bed—with a partner, kids, or furry friends—likely knows something about nighttime disturbances when those bedmates are getting in and out of bed or just rolling around. This hybrid is designed with individually pocketed coils and layers of memory foam that minimize motion transfer, so you should sleep more peacefully regardless of what's going on around you.

---

Adjustable Base Compatible

Unlike innerspring units that are all connected, these individually pocketed coils move independently, so they are ideal for adjustable bases.

---

Made in the USA
Certifications

CertiPUR-US® Certified

All of the foams used are certified to contain safe limits of ozone depleters, formaldehyde, and heavy metals, such as mercury and lead.
Coupons, Trials, Warranties, and Shipping

Shipping - Free shipping is available to the lower 48 states and to Alaska, Hawaii, and Canada for an additional fee.
Trial - A generous 120-night sleep trial is provided, so you can test out one (or both) sides of this bed risk-free.
Warranty - Layla offers a generous 10-year warranty.

| Size | Dimensions (inches) | Price (w/o discount) |
| --- | --- | --- |
| Twin | 38" x 75" x 13" | $1,299 |
| Twin XL | 38" x 80" x 13" | $1,399 |
| Full | 54" x 75" x 13" | $1,599 |
| Queen | 60" x 80" x 13" | $,1699 |
| King | 76" x 80" x 13" | $1,899 |
| Cali King | 72" x 84" x 13" | $1,899 |
Overall Summary
Once again, Layla has created an award-worthy flippable bed that offers a balance of comfort and support for nearly every sleeper. This versatile hybrid bed has two distinct firmness options that should appeal to a wide range of individuals.


Side sleepers should be very impressed by this bed's ability to conform to the shape of their curves and relieve pressure in the heavier areas. The softer side is well-suited to meet the needs of most side sleepers, but heavier folks who sleep on their sides may prefer the firmer option.


Folks who sleep on their backs are always on the lookout for options that offer good lumbar support. The zoned foams in this mattress should do a good job of filling in the space between the shoulders and hips, while the pushback support from the pocketed coils works to keep the spine in neutral alignment. Most back sleepers will likely prefer the firmer side that keeps them sleeping more on the surface of the bed.


Spinal alignment can be an issue for stomach sleepers since the weight of the hips can cause this area to sink and create an arch in the spine. Our team noticed some slight sinking in the hips and midsection in this position, so while this may work for lightweight sleepers, most will probably find it not firm enough.


This bed should be a good fit for combination sleepers who change positions throughout the night. The firmer side leaves you more on top of the bed, which should be the better side for this group. With the versatility of a hybrid design and two levels of firmness, combination sleepers should feel very comfortable on this bed.


Two unique sides and a balance of pressure relief and support make this a great option for couples with varying needs. This mattress has reinforced edge support and limited motion transfer, so couples should be able to use the entire surface and not have to worry about interrupted sleep when one partner moves around.


While the coils in this mattress should help to offset the sinkage of memory foam under heavier weights, the Layla Hybrid will likely be too soft for sleepers over 230 pounds. Heavier side sleepers may feel well supported on the firmer side, but back and stomach sleepers may want to look at options designed with heavy frames in mind.


Lighter than average and petite sleepers should feel right at home on Layla Hybrid. The plush foams are designed to allow even lighter frames to sink in and experience the full potential of this bed. Light-weight sleepers will likely prefer the softer side to experience a gentle cradle as they sleep.
We think Layla has created another top-performing bed with the addition of this hybrid. Sleepers who love the feel of memory foam but are looking for a little more support should be very happy with the pairing of pocketed coils and enhanced foams. This versatile design with two unique sides may set a new standard in the mattress industry.
Our team covers as many areas of expertise as we do time zones, but none of us started here as a so-called expert on sleep. What we do share is a willingness to ask questions (lots of them), seek experts, and dig deep into conventional wisdom to see if maybe there might be a better path towards healthy living. We apply what we learn not only to our company culture, but also how we deliver information to our over 12.7M readers.
Sleep research is changing all the time, and we are 100% dedicated to keeping up with breakthroughs and innovations. You live better if you sleep better. Whatever has brought you here, we wish you luck on your journey towards better rest.