Transparency Disclosure – We may receive a referral fee for products purchased through the links on our site...

Read More

.
Copper may not be the first thing you imagine when you dream of a comfortable new bed, but we think it's a really "cool" addition to mattress technology. Layla's dual-sided, copper-infused memory bed promotes temperature regulation while supplying fantastic pressure relief.
Our Layla mattress review showcases the brand's flagship model. With the Layla mattress, you are essentially getting two for the price of one: Soft on one side if you want a softer pressure-relieving sleep, or flip it over and try out the Firm for a more supportive feel.
Keep reading for a rundown on pressure relief, comfort, support, and quality, or skip all that and get straight to our scoring and verdict.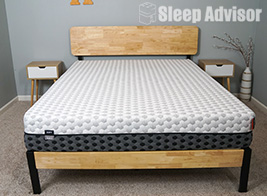 Get an Extra $10 OFF the Layla Mattress
Soft on one side, firm on the other: this memory bed gives you a choice of feels.
Click the button below and use our coupon code
"SLEEPADVISOR"
at checkout.
Watch Our Layla Mattress Review
Who Do We Think Matches With Layla?
Active folks – Soft side up, this product excels in relieving pressure along all of your body's heaviest points with the deep cradling of memory foam. Firmer supportive layers underneath will help ensure that your spine remains in neutral alignment.


---

Sweaty sleepers – The cover is infused with the company's proprietary cooling ThermoGel®, and the first layer of memory foam incorporates copper, a "thermal superhighway." Both work together to noticeably reduce heat retention, which is often associated with traditional memory materials.


---

Hesitant shoppers – Layla mattress is flippable, with Soft and Firm sides. By designing one bed with two firmness levels, you can discover the type of support and pressure relief that suits your body best. In addition, the brand provides a generous risk-free 120-night trial period to help you decide if their product is the right fit.
Possible Layla Complaints:
It doesn't have bounce. – This bed delivers all the advantages that make memory products great, including pressure relief and contouring, and has added features to reduce heat retention. However, people looking for more bounce and prefer to sleep on the top of their mattress may not appreciate the deep hug of the Layla mattress, especially when turned to its Soft side.


---

No Medium Firmness – Layla offers plenty of customization and versatility by including two sides (Soft and Firm), but the bed does not have a medium option to accommodate those who want a more universal feel, such as couples.
Weight Considerations
The Layla Mattress is constructed to hold up to 900 pounds. That being said, the company suggests that individuals who weigh 200 pounds or more should check out the hybrid version of this bed, which provides support through an individually wrapped coil system.
Heavier sleepers typically need more substantial support to prevent them from sinking in too deeply, which throws off the spine's alignment, possibly leading to pain and discomfort. Although the Firm side of the Layla memory foam could work for some, if you carry significantly more weight, you may prefer the hybrid version of this bed or another brand that designs a mattress specifically for larger frames. Lightweight sleepers under 130 pounds should be a good fit for the soft side of this bed, but some who only sleep on their stomach could enjoy the feel of the firm side.
Construction: What's Inside Layla?

The Layla works with various foundations or slatted bed frames and adjustable bases.

The fully removable cover has a top that is a polyester/viscose/lycra blend infused with cooling ThermoGel®, which is activated when it comes into contact with moisture.

For this review, we will take you through the layers as they are stacked when the soft side is up.

At the top is three inches of copper-infused memory foam for contouring and comfort. Copper, both antimicrobial and a highly efficient heat conductor, helps keep the mattress cool and germ-free. In addition, the copper cells in the foam firm up under pressure so that heavy parts of the body receive both pressure relief and additional support from this unique material.
The next layer is two inches of convoluted Air Flow support foam, which resembles what we recognize as an egg crate shape. This layer promotes airflow that helps the mattress's temperature remain regulated while providing additional pressure relief and support.
Going deeper you'll find a 4-inch thick foam that is Layla's primary source of support for the sleeper. This layer ensures minimal motion transfer and maximum longevity.
The base is a 1-inch layer of the same copper-infused foam used in the first layer that provides contouring and comfort when the mattress is flipped over. The foam on this end is thinner to complement the firmer feel. The addition of copper provides the same faster cooling and antimicrobial odor control.
First Impression: How Does It Feel?

After you unwrap the Layla and roll it out, it will inflate as the memory foam expands to its intended shape and size.

The soft cover has hexagon stitching, with one side darker than the other so that you can quickly tell which side is firm and which is soft. As you lie down on the soft side, you should feel the foams give you a deeper cradle. Conversely, the firm side should leave you feeling more "on" the bed rather than "in" it.
Firmness Scale: 5-6/10 (Firm) 4-5/10 (Soft)
Pressure Relief

If you wake up on a firm mattress feeling pain in pressure points like your hips, back, and knees, you will likely love waking up on softer memory foam. The pressure relief of this product truly excels; memory foam is specially made to cradle your body in a deep and cozy hug. However, if pressure relief tops your list of needs, you will probably prefer the Soft side of the Layla bed that gives some extra TLC for problematic joints and muscles.

Memory foam is the top of the heap for pressure relief because it's a unique material that can mold to your shape. The Layla mattress isn't as slow to respond as other memory materials, though , which allows for smoother repositioning. The material does not snap immediately back into place, providing a gentle contour, especially in the lumbar area.
Support

On both sides, the Layla mattress offers a classic memory-bed feel that cradles the body's curves while providing good support. Like many beds in the memory space, there is next to no bounce. Either side of the Layla mattress should accommodate various sleep positions. However, if you are an active (combination) sleeper and ease of repositioning is exceptionally important to you, you may want to try the firm side for additional comfort.

Heavier folks will get better support from the firm side, while those on the lighter end will probably prefer the Soft side.
Preference-based Features

Dual-Sided Firmness

With Layla memory foam mattresses, you get two firmness options in one product and can flip it to whichever side best suits your sleeping preferences.

---

Bed-in-a-box

Don't want to go into a mattress retailer, talk to a salesperson, and schedule a delivery? Layla has you covered. This bed is vacuum-sealed and shipped in a box so that you can get it at your convenience.

---

Cooling

The Layla mattress should perform remarkably well for cooling, even though it's a memory foam bed. A major reason for this is the use of copper, a natural heat conductor that can promote a cooler sleep space.

---

Great Motion Isolation

Like most memory foam beds, the Layla mattress performs well for motion isolation. Jumping or simply getting in and out of bed produces a very minimal transfer of movement from one part to the other. Motion isolation is helpful for couples who sleep light and have different sleeping schedules. You should sleep undisturbed by your partner moving around in this bed.

---

Adjustable Base Compatible

---

Handcrafted in the USA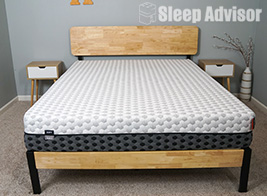 Get an Extra $10 OFF the Layla Mattress
Soft on one side, firm on the other: this memory bed gives you a choice of feels.
Click the button below and use our coupon code
"SLEEPADVISOR"
at checkout.
Certifications

CertiPUR-US® Certified

This CertiPUR-US certification indicates that experts tested the mattress for dangerous levels of hazardous chemicals and heavy metals, including formaldehyde, ozone depleters, lead, and mercury.
Coupons, Trials, Warranties, and Shipping

Coupon - Get an extra $10 OFF the Layla Memory Foam Mattress using our coupon code "SLEEPADVISOR" at checkout.
Shipping - This mattress ships for free within the continental USA and is available for Alaska, Hawaii, and Canada for an additional fee.
Trial - The company gives you 120 nights to decide if this mattress is right for you.
Lifetime Warranty -Layla offers an industry-leading lifetime warranty that lasts for as long as you own the mattress.

| Size | Dimensions (inches) | Price (w/o discount) |
| --- | --- | --- |
| Twin | 38″ x 75″ x 10.5″ | $749 |
| Twin XL | 38″ x 80″ x 10.5″ | $849 |
| Full | 54″ x 75″ x 10.5″ | $999 |
| Queen | 60" x 80" x 10.5" | $1,099 |
| King | 76" x 80" x 10.5" | $1,249 |
| Cali King | 72" x 84" x 10.5" | $1,249 |
Layla vs. Nectar

If you're still on the fence about the Layla, we will compare it to another memory foam bed from a different brand, the Nectar.

Thanks to their memory foam construction, both of these models should provide you with optimal pressure relief. The Nectar is slightly taller at 11 inches versus Laya's 10-inch height. Rather than copper, the Nectar infuses gel into its top memory foam layer. Those who value cooling should know that the Layla has three foam layers dedicated to cooling instead of only one in the Nectar.

Layla has a leg up over its competition by providing shoppers with two firmness options in one mattress by offering a dual-sided product that has a soft and firm feel. On the flip side, no pun intended, Nectar comes in one firmness level, which we've rated at a mid-range 6.5 on our scale.

With regards to price, Layla also provides a bit more bang for your buck since it offers two firmness choices at a more cost-friendly price than its competitor.

However, the Nectar is ranked better for edge support, which may be necessary for those who want full access to the bed's surface or couples who need more space.

Full Comparison Here: Layla vs. Nectar
Overall Summary
Overall, Layla is a versatile mattress that can benefit a range of body types and sleep preferences. Its unique copper-infused memory foam should keep you cool and comfortable while you sleep.


The Layla earned top marks for this category, as side sleepers should feel exceptionally well-accommodated on the soft side, which delivers pressure relief to the hips and shoulders. Side sleepers tend to experience additional pressure because their body weight is concentrated on a smaller surface area, so the Layla is an excellent match for this type of sleeper.


This mattress earned a 5/5 here because most back sleepers should feel comfortable on the bed's firm side, which should keep the body lifted for optimal spinal alignment while continuing to provide pressure relief to areas like the legs and shoulders.


The Layla also received high marks for stomach sleepers since the firm side should help prevent their hips from sinking too deeply, which is essential for proper spine alignment. Significantly heavier stomach sleepers, however, may enjoy a firmer hybrid option with more robust support.


The Layla scored a four for combo sleepers because memory foam can make it tough to reposition throughout the night. However, the firm side should better support sleepers who toss and turn, as long as they don't spend too much time on their side.


The Layla scored a four because the foam slightly compresses when lying on the edge, though some couples with a bigger bed may not be bothered by that. Nevertheless, this mattress earned high marks for couples  thanks to its ability to reduce motion transfer significantly, allowing you to move around without waking your partner.


The Layla is limiting for heavier sleepers, which is why we scored this bed at a 3 in this category. Those with heavier weight considerations with likely only be limited to the Firm side, and if they're over 200 pounds, the company suggests their Hybrid model instead for better support.


Layla's soft side is ideal for those who are significantly lightweight, and that is why we gave this mattress a 5 here. The foams should still compress as intended, giving you the support and pressure relief your body needs. Lightweight stomach sleepers also have the option to use the firm side if they need more solid support in the hips.
Overall, this mattress scored a 5/5 for memory bed lovers who need good pressure relief with high-end cooling features. You would be hard-pressed to find a better value than the Layla, especially with their two fully integrated firmness options for added versatility backed by a Lifetime Warranty.
Our Verdict
Layla's exceptional detail to cooling features is why we feel this bed is an ideal investment for folks who are in search of a product that'll help prevent them from getting too hot while they sleep.
We also recommend the Layla for folks who need superb relief for their pressure points. Built with memory foam, one of the best materials for pressure relief, this should be an excellent match for these shoppers.
Lastly, we feel this bed is excellent for couples who are light sleepers. This mattress delivers motion isolation so partners can move without disturbing the other person.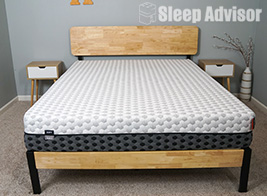 Get an Extra $10 OFF the Layla Mattress
Soft on one side, firm on the other: this memory bed gives you a choice of feels.
Click the button below and use our coupon code
"SLEEPADVISOR"
at checkout.
Frequently Asked Questions
Can I try the Layla mattress risk-free?
Layla allows buyers 120 nights to trial the mattress to see if it's a suitable fit for their needs without any obligation to keep it. This will enable customers to try it out for almost four whole months to ensure it's the right bed, a sufficient amount of time for just about anyone to make sure they're investing in a product they feel confident about.
Can I finance the mattress?
Based on details from their website, their terms seem almost too good to be true, except it seems like they aren't. Layla offers 0% interest, 0% APR, and no late fees, even if you miss a payment. In addition, they pledge to work with your circumstances as long as your credit check is approved. However, keep in mind that if you miss a payment, your credit could still be impacted even if there is no late fee.
What is the Layla made of?
Layla has a few options to choose from, the memory foam mattress and the hybrid mattress version. Both have copper-infused memory foam to control temperature and draw it away from your body to keep you cool, and the Layla hybrid mattress includes pocketed coils for quiet motion control.
Is the Layla suitable for hot sleepers?
The Layla Mattress is excellent for hot sleepers because it uses copper-infused memory foam. Copper conducts heat and therefore transfers heat away from you as you sleep, dispersing it and preventing warmth from gathering under your body. As a result, the Layla should keep you sleeping comfortably all night long.
What makes the Layla mattress unique?
The Layla mattress takes out the middleman to save on cost and passes that on to their customer. Additionally, it's flippable, offering two firmness levels in one bed. They also use materials often found only in high-end products like copper-infused memory foam to keep you cool throughout the night, offering a fantastic value.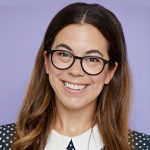 Jill Zwarensteyn is the editor for Sleep Advisor and a certified sleep science coach. She is enthusiastic about providing helpful and engaging information on all things sleep and wellness.
Based in Los Angeles, she is an experienced writer and journalist who enjoys spending her free time at the beach, hiking, reading, or exploring new places around town.
She's also an avid traveler who has a personal goal of being able to successfully sleep on an airplane someday.