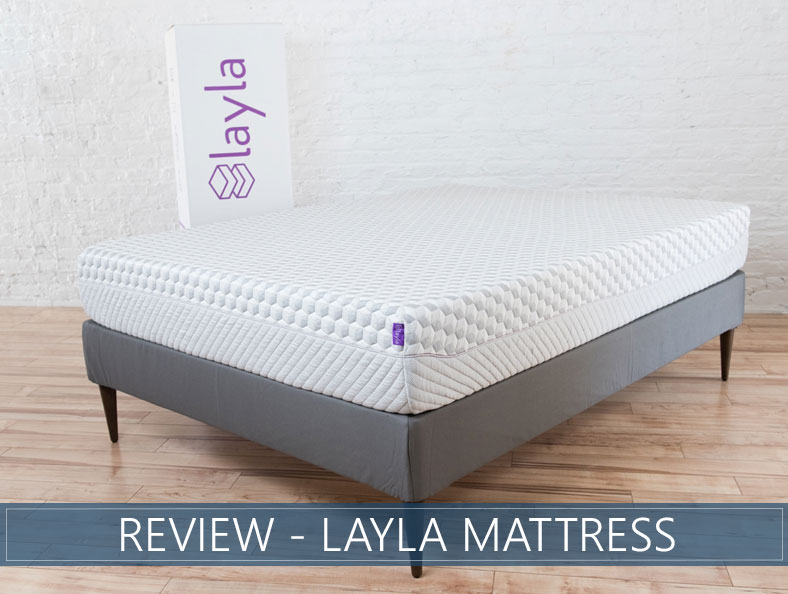 It's safe to assume your old mattress is letting you down; it's time for an upgrade. You might have noticed there are a TON of different mattress companies flooding the market. How do you know if the Layla bed is worth your hard earned money (hint: read Sleep Advisor)?
Layla is one of the most exciting mattresses: It uses a copper infused memory foam layer for cooling and it's two-sided with dual firmness levels.
While we can't support any claims, many people believe that copper can improve blood circulation and increase energy. Folks wear the bracelets to achieve this, but you are possibly just one night's sleep away from it.
Let's not waste any more time and jump into our full Layla mattress review and see why it's one of our favorite mattresses this year.
Video Review
You will love the Layla if you:
Want a cool memory foam mattress – There's no way around it, the Layla is one of the coolest foam-based models we have tested. It does three things to achieve this:

The cover is built using ThermaGel
It features copper infused memory foam layer
uses a 2nd layer that's convoluted (shaped like an egg carton) to allow for maximum airflow.

Want to try something unique – Layla uses copper in their bedding material. The company was aiming for possible health benefits with the copper. And don't forget about the two-sided aspect; this bed has two unique firmness levels.
Want something versatile for sleeping positions – We'll break down the exact firmness levels later in the review. Just remember that one side is softer (perfect for some sleeping positions), while the other side gets pretty close to firm.
You might not like the Layla if you:
Don't like memory foam – We tested both sides of the mattress, and it gets close to being a traditional style memory foam product. If you hate feeling a little "stuck" (and you like a little bounce) in your bed, then we don't recommend this option for you.
You and your partner have non-compatible firmness desires – One side is quite soft, probably at the 4 out of 10 firmness level. The other side, while still acting as a memory foam bed, hovers around 7-7.5 out of 10. If one of you hates soft, or vice versa, you may want to choose a more "middle ground" firmness level mattress.
Do you want to see more mattresses that we review? Click here for our full list.
Construction (Materials & Quality)
As always, let's begin by taking a look at the construction of the mattress. The cover is built using ThermaGel which aids in keeping you cool. You will feel a noticeable "coolness" when you touch the cover. It's not quite a striking as the Aurora mattress we tested, but it's a strong point for this product.
As we go through the different layers, recall that this is a dual-sided mattress. It ships with the softer side up; we'll start with the top layer and move our way down.
Note: To change the firmness level, simply unzip the mattress cover, flip the bed, and put the cover back on it.
The mattress is a total of 10-inches.


The first layer is a 3-inch memory foam that's infused with copper. It uses a 3-pound density foam.
The second layer is a 2-inch transitional foam. This is different than most mattresses we have tested because it's a convoluted Style. That just means it is shaped like an egg crate (more air flow).
The "base" layer is a 5-inch polyurethane foam. It's the firmest and acts as the support layer. It uses a 2-pound density foam.
The bottom (or top if flipped) layer has little use when the soft side is on top. If you flip the bed, then this is your new top layer. It's 1-inch and uses copper infused memory foam.
Firmness (Support & Feel)
The mattress arrives as a medium soft. If you flip the mattress, it becomes a straight-up firm. On the firmness scale (10 being the firmest), we put the soft side a 4. If you rotate it to the other side, you'll notice it's around a 7-7.5 out of 10.
When we tested the soft side, we noticed that classic memory foam feel immediately. Your body feels well supported and cradled. If you have pain that flares up on a firm bed, then you will love the comfort and pressure relief.
Even though the firm side falls at a 7 of our 10, it's deceivingly "comfortable" and supportive. Your body will sink into the top layer just like the soft side, but it's not quite as deep.
In fact, we typically suggest side sleepers go with soft or medium firm mattresses, but we believe that some side sleepers will enjoy the firmer side. Worst case scenario, you can just turn it back to the soft side.
Let's explore in more depth the performance for different sleeping positions:
Back sleepers will feel well-supported on both sides. Your hips will sink in deep enough to support your back nicely. However, if you're on the heavier side, we would recommend the firmer side.
Stomach sleepers will feel pressure in their hip area on the soft side. We suggest stomach sleepers go with the firmer side.
As mentioned, side sleepers will feel no pressure on their shoulders and hips on both sides. However, we recommend using the soft side in most cases.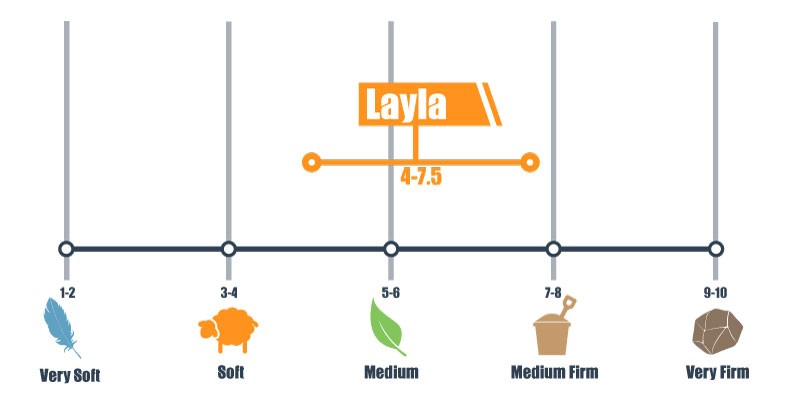 Motion Transfer
Motion transfer (or isolation) is very important to some, but not others. If you sleep with a partner, then you should pay attention (nothing worse than being woken up in the middle of the night).
In general, all foam mattresses do an exceptional job limiting motion, and the same can be said for the Layla. If you check out of video review above, you'll see that the can in our demonstration barely moves when we "jump" into the bed.
Rest assured lovebirds; you won't be disturbed when your partner comes back into bed at night.
Sinkage
We would say the Layla mattress sinks more than the average bed, and just slightly more than a traditional foam option. When you lay on the bed, you will feel quite a bit of sinking around your bodies pressure points.
It's important to note that sinkage is not a good or bad thing; it's based on your preference. If you want something that's going to hug and cradle you, then you can expect that with the Layla. It's an extremely comfortable bed to lay on, but don't expect to move around with ease.
Edge Support
When we sat on the edge of the bed, we noticed it caved down a little bit. All foam beds, especially ones that arrive in a box, are known for having average-at-best edge support. We consider the Layla's edge support to average when compared to other foam models.
However, when we slept on the very edge, we did not feel like we were going to fall off whatsoever. Some mattresses can give you a feeling of being ejected, and that wasn't the case.
Other Considerations
Here are a few housekeeping items to review:
Trial Period: Layla offers a slightly better than average trial period (120 nights).
Warranty: They beat most competitors here with a Lifetime warranty.
Shipping: Free shipping is included in the US.
Return Policy: Not only is the return free within the first 120 nights, but Layla will send someone to pick up the mattress from your home, so you don't have to stress about shipping it back.
Coupons: Enter SLEEPADVISOR at checkout for $100 off.
Size, Dimensions, Price Chart
| Size | Dimensions | Price (without discount) |
| --- | --- | --- |
| Twin | 38x74x10in | $499 |
| Twin XL | 38x80x10in | $599 |
| Full | 54x74x10in | $799 |
| Queen | 60x80x10in | $899 |
| King | 76x80x10in | $999 |
| Cal King | 72x84x10in | $999 |
Final Thoughts
---
Excellent!
The Layla is one of the most comfortable memory foam options out there that like to do things a little different: It's infused with copper, and the bed can be flipped with dual-firmness levels.
Add your review
For memory foam lovers, it's hard to find a more comfortable bed at a better value than the Layla.
On top of that, this bed makes an ideal choice for folks looking to spice things up with the infused copper and dual-sided features.
With a 120-night trial period and lifetime warranty, rest assured Layla stands behind their product. We enjoyed testing this bed and are confident to recommend it if you believe it fits your preferences.
Author:
Jill Thompson
I've been married for 8 years to my loving husband Mike. We have two boys that keep us busy with sports. Having kids has definitely made sleep an even more important element in our lives. Now, our sleep quality not only affects me and my husband, but our two boys. Poor sleeping habits might lead us to poor parenting decisions.
When I'm not obsessing about sleep you can find me playing tennis or golf.
I love talking about sleep and hope your sleep quality improves after stopping by our site.