Transparency Disclosure – We may receive a referral fee for products purchased through the links on our site...

Read More

.
Are you a hot sleeper? Do you toss and turn at night, trying to stay cool? The Mayo Clinic recommends creating a restful environment for sleeping in so you can get enough shut-eye.
Sure, your memory foam mattress is extremely comfortable, but it does retain a lot of heat. Cooling sheets for Tempurpedic and similar foam mattresses might be precisely what you need to help keep you cool and comfortable at night.
10 Best Cooling Bed Sheets
Cooling sheets are designed to wick away moisture and heat from your body. These sheets are made from high-quality materials to help keep you cool while you sleep. They tend to be fairly lightweight, making them more comfortable and easy to navigate.
But which sheets do you choose?
We've put in the research and have gone through hundreds of reviews to make sure that you can find the best sheets to stay cool at night.
DreamCloud Luxury Cotton Sheet Set
100% Long-Staple Cotton

Six Sizes Available

Diagonal Twill Weave
DreamCloud luxury sheets have a long-lasting diagonal twill weave pattern that helps the sheets stay soft and cool with every wash. Plus, you can wash these in a washing machine using a gentle cycle for easy convenience. The sheets are safe to tumble dry but make sure to use the medium setting. 
The design is easy to work with, thanks to the deep pockets and elastic corner bands. This helps the sheets fit on any mattress 12 inches or taller. Plus, DreamCloud offers six standard sizes, including the largest, California King. The Full/Queen and King/California King sets come with two pillowcases.
What's worth noting?
One of the best things about these luxury sheets is that the foot of the bed is labeled. The fabric is breathable and cool to the touch, while the combed and ring-spun yarn ensures durability even with frequent washing. 
Helix Ultra-Soft Sheet Set
Moisture-Wicking

Eco-Friendly

Two Colors Available
The Helix Ultra-Soft Sheet Set is extra soft to the touch, thanks to the Tencel fibers. Tencel fibers give the sheets smoothness and softness that remains high-level even after multiple washing. Plus, these sheets are moisture-wicking, drawing the heat away from your body to help you stay cool throughout the night. 
Eco-conscious shoppers should appreciate the eco-friendly production Helix is proud of. The natural fibers used in these sheets require 10 to 20 times less water to produce in a sustainable closed-loop process. 
Helix's Ultra-Soft Sheet Soft comes in two colors: White and Slate. You can choose between six standard mattress sizes. These are safe to wash in a machine, but only on a warm cycle and with a mild detergent. 
What stands out?
Helix offers a 100-night sleep trial and a 3-year warranty with its Ultra-Soft Sheet Set. It takes about three to ten days for the sheets to arrive at your doorstep. 
Brooklyn Bedding Tencel Sateen Sheets
Tencel™ Lyocell fibers

Four Colors Available

Moisture-Wicking
Brooklyn Bedding Tencel Sateen Sheets feature Tencel™ Lyocell fibers that are naturally soft and gentle. The sateen fibers have a cross-section and weave that keep the sheets soft even after repeated washing to ensure longevity and durability. 
Brooklyn Bedding sheets are moisture-wicking, which is excellent for hot sleepers. The fabric supports the body's natural thermal regulating mechanism, allowing breathability and keeping the sleeper cool and dry. In addition, the Tencel™ Lyocell fibers come from sustainable wood sources, which should appeal to eco-conscious shoppers interested in sateen sheets.
You can wash the sheets in a washing machine, but make sure to use cool to warm water. Tumble drying on low is allowed. 
These are designed to fit mattresses 11 to 14 inches tall. On top of that, the company offers a 120-night trial and a 1-year warranty. However, you can only return the sheets after using them for at least 30 days after the date of purchase. 
Most Breathable Cooling Sheets
Serta Arctic Sheet Set
Cooling Triple Fabric Blend

Deep Pocket Design

400-Thread Count Fabric
Breathability is key when it comes to cooling, regardless of the fabric. However, only a few sheets are designed to maximize coolness and breathability. The Serta Arctic sheets are made of a triple fabric blend featuring Tencel, CoolMAX polyester, and cooling nylon. The blend keeps you comfortable and cool even during the hottest nights. 
The 400-thread count fabric is smooth and soft to touch, remaining like that even after repeated washing. Plus, it stays cool throughout the night, providing cool relief for hot sleepers and those struggling with hot flashes. 
The Serta Arctic sheets are available in six standard mattress sizes. The deep pocket design makes it a good fit for mattresses up to 18 inches tall, while the Gripwise technology ensures a secure fit. This way, the fitted sheets won't move around regardless of how much you toss and turn. 
Full, Queen, King, and Cali King sheets come with two pillowcases, while Twin and Twin XL come with one.
Best Organic Cooling Sheets

Saatva Organic Percale Sheet Set
100% GOTS Certified Organic Cotton

Deep Pockets

45-Day Free Return
These Saatva sheets are made of organic percale, featuring a luxe matte finish that provides comfort and cooling. The organic long-staple cotton is said to get better and softer with every wash. 
The sheets come in seven sizes. The Split King set comes with two Twin XL fitted sheets, while the Twin/Twin XL sets include one pillowcase only. The rest have one flat sheet, one fitted sheet, and two pillowcases. All sizes have deep pockets and are meant to fit mattresses up to 16 inches tall. 
Saatva Percale sheets are machine washable, but you should only use cold water and a gentle cycle. Make sure to use no bleach and tumble dry on low to avoid damage. 
Another thing worth noting is the 200-thread count, delivering a perfect balance of breathability and softness. Also, Saatva ships these pre-washed for a lived-in feel, but washing them before first use is still recommended. 
Best Cotton Cooling Sheets
WinkBeds Cotton Sheet Set
100% GOTS Certified Organic Cotton

Deep Pockets

45-Day Free Return
Hot sleepers who prefer a natural feel of cotton should like this WinkBeds Fine-Combed Cotton Sheet Set. Cotton fibers in this set are fine-combed to deliver a naturally comfortable and soft feel most sleepers will benefit from. Plus, the fibers feature a 260-thread count and a sateen weave for added softness. 
Cotton is soft and remains cool even during the hottest nights. It can be machine-washed, but on a gentle cycle only.
WinkBeds sheets are made in the USA. The company sports patented "Guaranteed to Fit and Guaranteed to Stay On" deep sizing that fits most mattresses. The sheets also have DreamFlex patented corner bands that help them stay on without moving. 
WinkBeds offers six standard sizes, with each set including a flat sheet and a patented fitted sheet. Twin and Twin XL sets include one pillowcase, while the rest include two. 
Best Moisture-Wicking Cooling Sheets
Tempur-Pedic TEMPUR-Rayon
100% Rayon 

Soft Jersey Knit

Moisture-Wicking
These Tempur-Pedic cooling sheets are made of 100% rayon from bamboo. The first thing you notice is a soft jersey knit, delivering comfort, softness, and natural moisture-wicking qualities. 
One of the things that stands out the most is the Staytight™ corner strap design. It helps the sheets stay in place by creating a non-slip fit regardless of the type of mattress. 
The fabric is moisture-wicking, which makes it an excellent option for hot sleepers. Tempur-Pedic helps keep you cool by keeping the surface of your bed cool to the touch. The sheets come in eight sizes, and you can choose between five colors to match your bedroom decor. Standard sets include one fitted sheet, one flat sheet, and two pillowcases. 
Tempur-Pedic offers free shipping and a year warranty for the Tempur-Pedic TEMPUR Rayon sheets. However, the company doesn't provide any trial period for this product. 
Best Percale Cooling Sheets

Brooklinen Classic Percale Sheets
Cool to Touch

270-Thread Count

100% Long-Staple Cotton
The Classic Percale Sheets have a 270-thread count weave for maximum comfort and a timeless luxury feel. The sheets are made of 100 percent long-staple cotton, perfect for hot sleepers as they stay cool throughout the night. 
Brooklinen offers these sheets in six standard mattress sizes. King and Cali King sets have king-sized pillowcases, while other sets have standard pillowcases. In addition, the sheets have "long" and "short" labels on the side for easier use.
The Classic Percale Sheets are OEKO-TEX® certified for chemical safety, so you can be sure you sleep on a high-quality fabric. In addition, sleepers can choose between solid colors and limited edition designs. 
These are easy to maintain since you can machine-wash and tumble-dry them. Wash with like colors using cold water only. 
Brooklinen offers a 365-night trial and a 1-year warranty for all their products, and they pay for the return shipping. 
Best Bamboo Cooling Sheets

Cozy Earth Bamboo Sheet Set
100% Viscose from Bamboo

Moisture-Wicking

Six Sizes Available 
Bamboo is one of the best options for hot sleepers as it's breathable and moisture-wicking. These Cozy Earth Bamboo Sheets are made of 100 percent viscose from bamboo, delivering excellent cooling, comfort, and style. In addition, the soft sateen finish gives off a luxury feel even after multiple washing. 
Each set includes a flat sheet, a fitted sheet, and two pillowcases. However, Split-King sets include a flat sheet, two Twin XL fitted sheets, and two King-Size pillowcases to fit couples sleeping on larger beds. 
One of the best things about these is that they fit mattresses up to 20 inches tall. It's an industry-leading deep pocket design, but it also fits regular mattresses that aren't as tall. 
Bamboo is naturally cool and breathable, so it should help hot sleepers and those struggling with hot flashes. Plus, these are machine-washable with regular detergent. The fabric is naturally soft, so no fabric softener is needed. 
Best Hypoallergenic Cooling Sheets

Dreamfoam Deep Pocket Bamboo Cotton Sheets
Deep Pocket Design

Thermal Regulating Properties

Breathable and Moisture-Wicking
Dreamfoam designed these bamboo cotton sheets with hot sleepers in mind. The sheets have thermal regulating properties thanks to the rayon fibers derived from bamboo to maintain your ideal body temperature even during the hottest nights.
The sheets are moisture-wicking and naturally hypoallergenic, which is great for allergy-prone people. In addition, the fabric helps promote an antimicrobial sleeping environment ideal for sensitive skin. 
On top of that, cotton is exceptionally breathable, allowing constant airflow to prevent overheating and sweating. This is especially useful if you sleep on an all-foam bed without any cooling properties. 
Dreamfoam offers three soft colors, making it easy to match the sheets with any room decor and accessories. Plus, the sheets have deep pockets and are designed to fit mattresses up to 17 inches tall. 
These come with a 30-day trial and a 1-year warranty. The company issues a full refund and pays for return shipping.
How to Choose Cooling Sheets
Material
Choosing the right set of cooling sheets can be overwhelming due to so many options available. Not only that, some products might not live up to their promises, and different materials deliver different results. 
The options listed below are all great for regulating temperature and moisture wicking:
Egyptian Cotton:

For a long time, Egyptian Cotton has been the gold standard when it comes to bed linen.

Egyptian Cotton is

high-quality and has a high thread count

. Plus, it's

easy to wash and very durable. The downside is that it creases badly.




---

Pima Cotton:

Similar to Egyptian Cotton, this is mostly grown in the States.

Pima is

also high-quality and durable with a luxurious feel.

The material is also

easy to keep clean

but needs

ironing.




---

Supima:

Supima

is similar to Pima Cotton and

is

home-grown.

Like the others above, Supima is a luxury material.




---

Bamboo:

The popularity of bamboo is growing every day.

This is because bamboo is

more sustainable to grow than cotton and produces strong, durable fabric fibers that breathe well.




---

Tencel:

A fiber made from pulped plants and wood. The fibers are good quality with a silkier feel,

but they're

not as durable as good quality cotton.




---

Polyester:

Traditionally, polyester is not associated with breathability. However, when used to create

moisture-wicking

items, it can be highly effective at keeping you dry and confident. A big plus is that it does not wrinkle.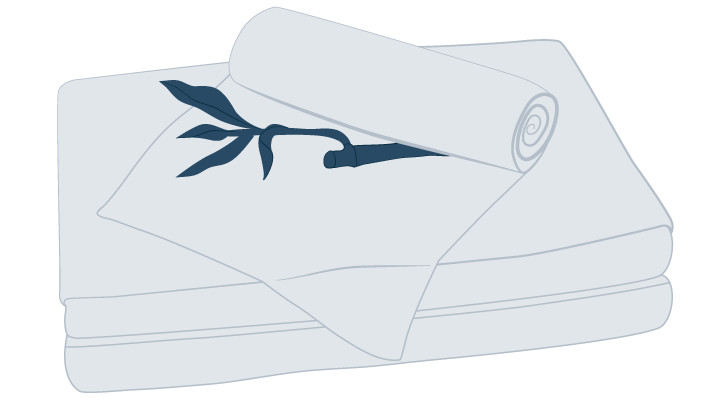 Thread Count
When it comes to thread count, you would think that the higher it is, the better it is for you. This is true when it comes to durability and a luxurious feel. However, this is not true when it comes to the breathability of the material.
No matter what the material is made from, the more tightly it is woven, the less it allows air to circulate through it. This can increase heat retention, which is bad news for hot sleepers. That's why a microfiber sheet, even when made of synthetic material, could be more breathable than an all-natural fiber.
Hold up a piece of microfiber, and you'll be able to see that there is more space between the fibers. If you're a hot sleeper, a high-quality cotton duvet cover may seem like an excellent option, but it could be the reason that you're not sleeping well as well.
When choosing natural fibers, look for a thread count of between 200 and 400 to be on the safe side.
Weaves
The type of weave that your bed linen makes a significant difference in breathability.
Percale: This is a much tighter weave, and thread counts here usually start at 200. Highly durable, but not quite as breathable as other types of weaving. This usually has a crisper feel.


---

Sateen:

This

weave has a very distinctive pattern and sheen and is looser.

Sateen is

more breathable

, but it's

also more susceptible to snagging.




---

Jersey:

This is also a looser form of weaving that creates a

lightweight

fabric with a fair amount of stretch in it. It can be more breathable, depending on the fibers used to weave it.




---

Satin:

This type of weave creates a lustrous material.

Satin's breathability will depend

on what fibers are used during construction.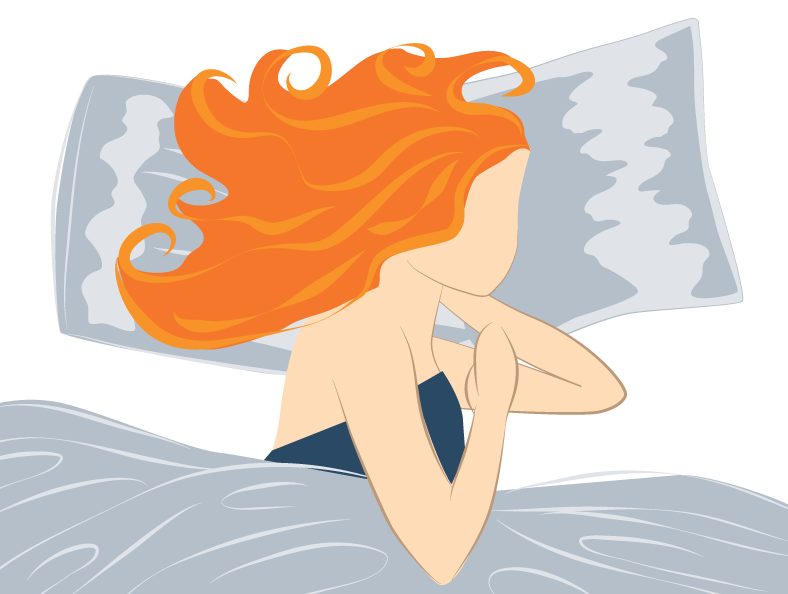 Color
Did you know that the color of your blankets and duvets can also influence how hot your bed is at night? This is because dark colors absorb more heat and light, and light colors reflect them.
When the sun shines directly on your bed, the amount of light, and so heat, absorbed will depend on what coverings you have on your bed. The more they absorb the sun's rays, the hotter your bed gets.
Consequently, you start your evening at a disadvantage because your bed has been soaking up the sun all day.
Size
What size is your bed? Is it a single, double, queen, or king? Those give you a rough idea of where to start looking but, to be certain your new purchase will fit, you need to measure your bed.
Measure the width, length, and height of the bed. Make sure that your order will fit properly.
Which Types of Sheets are Best for Cooling?
The types of sheets best for cooling are those made from breathable materials. Materials like cotton, silk, and bamboo are the most popular types of sheets because they're breathable, thermoregulating, and moisture-wicking. The following list explains these benefits in detail.
Breathable: Sheets made from breathable materials like cotton foster airflow to keep you cool. These are the best for cooling because they help prevent overheating and sweating.
Thermoregulating: Some materials, like bamboo, are thermoregulating. Thermoregulating means the fabric can adjust to your body temperature and keep you cool when it's hot and warm when it's cold.
Moisture-wicking: Sheets that are moisture-wicking pull the sweat away from your body, preventing you from becoming overheated.
Breathability, thermoregulation, and moisture-wicking sheets are best for cooling. The reason for this is that they allow the air to circulate, prevent you from sweating, and help you stay cool throughout the night.
Why You Need Cooling Sheets
Night Sweats
Night sweats can leave you exhausted, rather than having a peaceful night's sleep. It's not pleasant, and it may feel embarrassing if you share a bed with a partner.
Read More: Causes of Night Sweats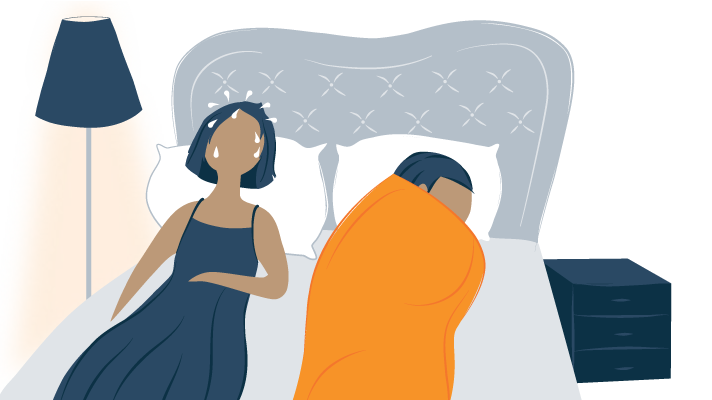 Menopause
Just when you start to reach an age when you are more comfortable and settled with who you are, Mother Nature throws you a curveball. Menopause is something that all women go through, and some seem to sail through with flying colors.
However, for most, it's the hot flashes that are particularly uncomfortable, especially when they're disturbing your sleep at night.
Illness
When you are battling a disease like diabetes or hyperthyroidism, getting enough sleep is essential to managing your condition properly. But it's a catch-22 situation – illness, both chronic and acute, can make sleeping more difficult by raising your internal body temperature and making sleep unpleasant and uncomfortable for you.
Summer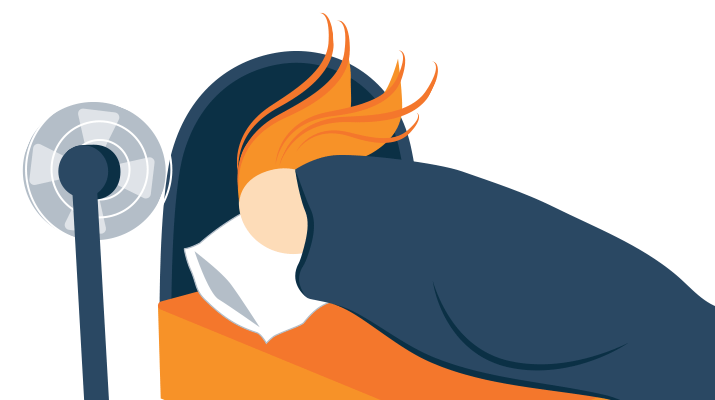 Most people love summer since there's something so uplifting about bright, sunny days. It's almost like you feel that you can do anything. Unfortunately, the sunshine also has a darker side – it can make things hot.
Even though the temperatures drop after the sun has gone down, it's not always enough to enable you to sleep comfortably.
Conclusion
If you are serious about getting the most refreshing night's sleep ever, you need to think seriously about what you sleep on. Every little detail makes a huge difference, from the mattress and pillow that you sleep on, to a cooling pad and the bed sheet on top.
You can make your bed a complete haven for you and help yourself sleep cooler, even when the mercury is rising. You will be amazed at what using the right bed linen can do for your quality of sleep overall.
Whether you choose to go the all-natural route with something like cotton, bamboo, or Tencel, or you decide to choose something more synthetic, as long as you know what to look for regarding weave, breathability, etc. you are well on your way to the right choice.
We have given you the information you need to make that choice today.
Our team covers as many areas of expertise as we do time zones, but none of us started here as a so-called expert on sleep. What we do share is a willingness to ask questions (lots of them), seek experts, and dig deep into conventional wisdom to see if maybe there might be a better path towards healthy living. We apply what we learn not only to our company culture, but also how we deliver information to our over 12.7M readers.
Sleep research is changing all the time, and we are 100% dedicated to keeping up with breakthroughs and innovations. You live better if you sleep better. Whatever has brought you here, we wish you luck on your journey towards better rest.