Do you often wake up at night feeling too warm? If so, a set of cooling bed sheets could help you achieve better rest. These sheets are designed to wick away moisture and guard against heat retention. The best cooling sheets are made from high-quality materials and tend to be fairly lightweight, breathable, and comfortable against your skin.
So, which sheets should you choose, and how do features such as weave, fabric, and thread count come into play? We've selected our top picks and written a buyer's guide to help you find the right sheets for a soothingly chill night's sleep.
9 Best Cooling Bed Sheets
The Best Cooling Sheets, Reviewed
Best Moisture-Wicking Cooling Sheets
Tempur-Pedic TEMPUR-Rayon Bamboo Sheet Set
Moisture-winking sheets made with rayon from bamboo.
These Tempur-Pedic cooling sheets are made of 100 percent rayon from bamboo. The first thing you notice is a soft jersey knit, delivering comfort, softness, and natural moisture-wicking qualities.
One of the things that stands out the most is the Staytight™ corner strap design. It helps the sheets stay in place by creating a non-slip fit regardless of the type of mattress.
The fabric is moisture-wicking, which makes it an excellent option for hot sleepers. Tempur-Pedic helps keep you cool by keeping the surface of your bed cool to the touch. The sheets come in eight sizes, and you can choose between five colors to match your bedroom decor. Standard sets include one fitted sheet, one flat sheet, and two pillowcases.
What should you know?
Tempur-Pedic offers free shipping and a year warranty for the Tempur-Pedic TEMPUR Rayon sheets. However, the company doesn't provide any trial period for this product.
Best Affordable Luxury Cooling Sheets
Luxome Luxury Sheet Set
Soft 400-thread count luxury sheets.
Sleep Advisor Score
4.90 / 5
Luxury sheets can sometimes be overly expensive, but with the Luxome Luxury Sheet Set, you can still enjoy the comfort and luxury feel without paying a high price. The set is made from 100 percent pure viscose from bamboo and has a 400 tread count. The fabric is soft and woven to deliver optimal cooling, durability, and softness.
Luxome offers seven sizes, making it easy to match the set with any standard mattress size. Plus, these have deep 17-inch pockets, which means they should fit most beds. Shoppers can also choose among a range of color options, adding even more value to this luxury yet affordable cooling set.
What stands out about it?
Although these are luxury sheets, they don't require any special care. All you have to do is make sure to wash them separately to avoid lint from other fabrics. Machine wash using cold water and a gentle cycle. Also, tumble dry on low.
Best Non-Slip Cooling Sheets
Sleep Number True Temp Sheet Set
Sheets made for those who sleep hot at night.
Sleep Advisor Score
4.50 / 5
Are your sheets always moving around or coming off completely as you sleep? If so, you may want to consider this Sleep Number non-slip set with flat and fitted sheets and two pillowcases. The sheets feature the ExactFit™ and SmartFit™ designs that help keep them in place even when you're tossing and turning.
In addition, the True Temp set features the brand's proprietary 37.5™ technology that adapts to your body heat, regulating the bed's temperature accordingly. This cooling technology maintains a comfortable temperature regardless of the seasons. The set also has the Logic™ labels you can see on the brand's other bedding models, allowing you to make the bed easier by aligning them.
What stands out?
These cooling sheets are made from cotton, polyester, and spandex blend, featuring a 300-thread-count sateen weave. They're machine-washable, but make sure you use cold water only.
The company offers a 1-year warranty, a 100-night trial, and free shipping.
Best Cooling Sheets with Deep Pockets
Saatva Organic Percale Sheet Set
Sleep Advisor Score
4.50 / 5
While cooling is an important attribute in bed sheets, especially if you run hot, it's not the only factor for many sleepers. Often, people might encounter fitted sheets that don't fit over their mattresses. As a result, the fitted sheet can frequently roll up, which can be frustrating.
Saatva's Percale Sheet Set should not only help keep you cool with its breathable cotton but the pockets are made to fit mattresses up to 16 inches high. This means these Saatva sheets should still work with mattresses that are thicker.
What's worth mentioning?
With the purchase of this sheet set, Saatva provides customers with a 45-day return policy and a 1-year limited warranty.

The company offers free shipping, so there's no need to worry about paying extra shipping fees.

These sheets feature a 200-thread count designed for optimal softness and breathability.
Best Bamboo Cooling Sheets

Cozy Earth Bamboo Sheets
Sheets that get softer with every wash. Also great for hot sleepers.
Sleep Advisor Score
4.90 / 5
Bamboo is one of the best options for hot sleepers as it's breathable and moisture-wicking. These Cozy Earth Bamboo Sheets are made of 100 percent viscose from bamboo, delivering excellent cooling, comfort, and style. In addition, the soft sateen finish gives off a luxurious feel even after multiple washing.
Each set includes a flat sheet, a fitted sheet, and two pillowcases. However, Split-King sets include a flat sheet, two Twin XL fitted sheets, and two King-Size pillowcases to fit couples sleeping on larger beds.
Why we think you'll like it
One of the best things about these is that they fit mattresses up to 20 inches tall. Though it's an industry-leading deep pocket design, it also fits regular mattresses that aren't as tall.

Bamboo is naturally cool and breathable, so it should help hot sleepers and those struggling with hot flashes. Plus, these are machine-washable with regular detergent. The fabric is naturally soft, so no fabric softener is needed.
Most Breathable Cooling Sheets
Serta Arctic Cooling Sheet Set
Sleep Advisor Score
4.90 / 5
Breathability is key when it comes to cooling. The Serta Arctic sheets are made of a triple fabric blend featuring Tencel, CoolMAX polyester, and cooling nylon. The blend keeps you comfortable and cool even during the hottest nights.
The 400-thread count fabric is smooth and soft to the touch, remaining like that even after repeated washing. Plus, it stays cool throughout the night, providing cool relief for hot sleepers and those struggling with hot flashes.
Why should you consider this product?
The Serta Arctic sheets are available in six standard mattress sizes. The deep pocket design makes it a good fit for mattresses up to 18 inches tall, while the Gripwise technology ensures a secure fit. This way, the fitted sheets won't move around regardless of how much you toss and turn.

Full, Queen, King, and Cali King sheets come with two pillowcases, while Twin and Twin XL come with one.
Best Sateen Cooling Sheets
Brooklyn Bedding Tencel Sateen Sheets
Sleep Advisor Score
4.70 / 5
Brooklyn Bedding's Tencel Sateen Sheets feature Tencel™ Lyocell fibers that are naturally soft and gentle. The sateen fibers have a cross-section and weave that keep the sheets soft even after repeated washing to ensure longevity and durability.
These sheets are moisture-wicking, which is excellent for hot sleepers. The fabric supports the body's natural thermal regulating mechanism, allowing breathability and keeping the sleeper cool and dry. In addition, the Tencel™ Lyocell fibers come from sustainable wood sources, which should appeal to eco-conscious shoppers interested in sateen sheets.
What's worth mentioning?
You can wash the sheets in a washing machine, but make sure to use cool to warm water. Tumble drying on low is allowed.

These are designed to fit mattresses 11 to 14 inches tall. On top of that, the company offers a 120-night trial and a 1-year warranty. However, you can only return the sheets after using them for at least 30 days after the date of purchase.
Best Percale Cooling Sheets

Brooklinen Classic Percale Sheets
Featuring a breathable 270-thread count weave.
Sleep Advisor Score
4.50 / 5
The Classic Percale Sheets have a 270-thread count weave for maximum comfort and a timeless luxury feel. The sheets are made of 100 percent long-staple cotton, perfect for hot sleepers as they stay cool throughout the night.
Brooklinen offers these sheets in six standard mattress sizes. King and Cali King sets have king-sized pillowcases, while other sets have standard pillowcases. In addition, the sheets have "long" and "short" labels on the side for easier use.
What makes it special?
The Classic Percale Sheets are OEKO-TEX® certified for chemical safety, so you can be sure you sleep on a high-quality fabric. In addition, sleepers can choose between solid colors and limited edition designs.

These are easy to maintain since you can machine-wash and tumble-dry them. Wash with like colors using cold water only.

Brooklinen offers a 365-night trial and a 1-year warranty for all their products, and they pay for the return shipping.
Best Cooling Sheets for Kids
Nest Bedding Kids Eucalyptus TENCEL Luxury Sheet Set
Sleep Advisor Score
4.50 / 5
Kids often sleep hot, so providing them with cooling sheets can significantly improve their sleep quality. These Nest Bedding sheets are made from luxurious Tencel™ fiber extracted from pulp and wood. As such, the sheets are smoother and softer than most wool, linen, and cotton sheets within this price range. They're also moisture-wicking, which is important for hot sleepers.
This Nest Bedding set comes with a top sheet and one fitted sheet, regardless of the size. However, the Twin and Twin XL come with a single standard pillowcase, while the Full size comes with two pillowcases.
What stands out?
The Tencel™ fiber comes from renewable wood resources, which is important for eco-conscious shoppers. On top of that, it has excellent cooling properties, keeping the bed's surface cool to the touch all night.

These are machine-washable, but make sure to use cold water and mild detergent. Tumble-drying and ironing are also allowed but on low.
What Kind of Bed Sheets Will Keep You Cool?
The types of sheets best for cooling are those made from breathable materials. Materials like cotton, silk, and bamboo are the most popular types of sheets because they're breathable, thermoregulating, and moisture-wicking. The following list explains these benefits in detail.
Breathable: Sheets made from breathable materials like cotton foster airflow to keep you cool. These are the best for cooling because they help prevent overheating and sweating.
Thermoregulating: Some materials, like bamboo, are thermoregulating. Thermoregulating means the fabric can adjust to your body temperature and keep you cool when it's hot and warm when it's cold.
Moisture-wicking: Sheets that are moisture-wicking pull the sweat away from your body, preventing you from becoming overheated.
Breathability, thermoregulation, and moisture-wicking sheets are best for cooling. The reason for this is that they allow the air to circulate, prevent you from sweating, and help you stay cool throughout the night.
What Should You Look For in Cooling Sheets?
Material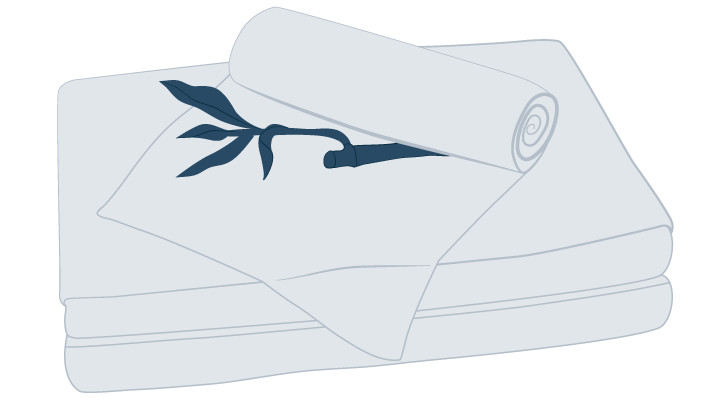 Choosing the right set of cooling sheets can be overwhelming due to so many options available. Not only that, some products might not live up to their promises, and different materials deliver different results.
The options listed below are all great for regulating temperature and moisture wicking:
Egyptian Cotton:

For a long time, Egyptian Cotton has been the gold standard when it comes to bed linen.

Egyptian Cotton is

high-quality and has a high thread count

. Plus, it's

easy to wash and very durable. The downside is that it creases badly.




---

Pima Cotton:

Similar to Egyptian Cotton, this is mostly grown in the States.

Pima is

also high-quality and durable with a luxurious feel.

The material is also

easy to keep clean

but needs

ironing.




---

Supima:

Supima

is similar to Pima Cotton and

is

homegrown.

Like the others above, Supima is a luxury material.




---

Bamboo:

The popularity of bamboo is growing every day.

This is because bamboo is

more sustainable to grow than cotton and produces strong, durable fabric fibers that breathe well.




---

Tencel:

A fiber made from pulped plants and wood. The fibers are good quality with a silkier feel,

but they're

not as durable as good quality cotton.




---

Polyester:

Traditionally, polyester is not associated with breathability. However, when used to create

moisture-wicking

items, it can be highly effective at keeping you dry and confident. A big plus is that it does not wrinkle.
Read More:
Weave
The type of weave that your bed linen has makes a significant difference in breathability.
Percale – A percale weave is what's known as a plain weave. In other words, it's constructed by crossing the threads over one other in an "over, under, over, under" pattern. This leads to sheets that are extremely durable as well as breathable—a desirable cooling combo.
Jersey – Contrary to popular belief, jersey is not a particular fabric, but a kind of weave. Jersey-knit sheets can be made from 100 percent cotton or a blend of cotton and polyester. A jersey weave leaves sheets feeling naturally stretchy, even without any added elastic materials. It's a versatile knit that shouldn't leave you too cold or too hot.
Sateen – A sateen weave follows a pattern of one yarn under and three or four yarns over. Although it has impressive cooling capabilities, it's not as accomplished as percale when it comes to beating the heat.
Satin – This type of weave creates a lustrous, shimmery material. Its cooling powers are dependent on the fabric used in the sheets, but if a breathable textile is chosen, a satin weave can keep sleepers reliably chilled out.
Thread Count
When it comes to thread count, you would think that the higher it is, the better it is for you. This is true when it comes to durability and a luxurious feel. However, this is not true when it comes to the breathability of the material.
No matter what the material is made from, the more tightly it is woven, the less it allows air to circulate through it. This can increase heat retention, which is bad news for hot sleepers. That's why a microfiber sheet, even when made of synthetic material, could be more breathable than an all-natural fiber.
Hold up a piece of microfiber, and you'll be able to see that there is more space between the fibers. If you're a hot sleeper, a high-quality cotton duvet cover may seem like an excellent option, but it could be the reason that you're not sleeping well as well.
When choosing natural fibers, look for a thread count of between 200 and 400 to be on the safe side.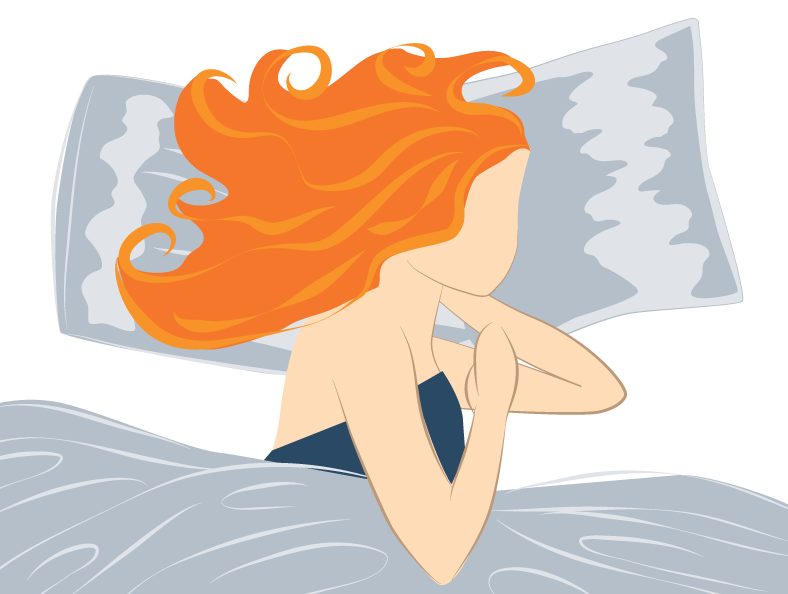 Color
Did you know that the color of your blankets and duvets can also influence how hot your bed is at night? This is because dark colors absorb more heat and light, and light colors reflect them.
When the sun shines directly on your bed, the amount of light, and so heat, absorbed will depend on what coverings you have on your bed. The more they absorb the sun's rays, the hotter your bed gets.
Consequently, you start your evening at a disadvantage because your bed has been soaking up the sun all day.
Size
What size is your bed? Is it a Single, Double, Queen, or King? Those give you a rough idea of where to start looking, but you should also measure your bed.
Measure the width, length, and height of the bed. This will ensure that your order fits properly.
Who Should Use Cooling Bed Sheets?
People With Night Sweats
Night sweats can leave you exhausted, rather than having a peaceful night's sleep. These aren't pleasant, and it may feel embarrassing if you share a bed with a partner.
Read More: Causes of Night Sweats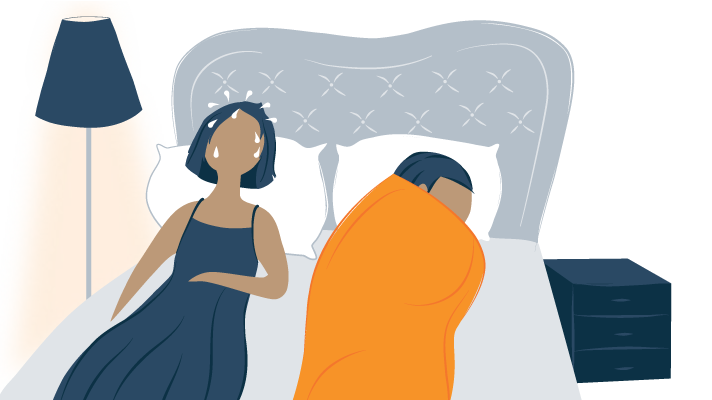 Women Going Through Menopause
Menopause can come with multiple symptoms, and one of the most common ones is hot flashes. Experiencing hot flashes at night can make it difficult to rest comfortably, which is where cooling sheets could help.
Someone with an Illness or Health Condition
Certain illnesses and health conditions, both chronic and acute, can make sleeping more difficult by raising your internal body temperature and making sleep unpleasant and uncomfortable for you.
People Who Live in Warm Climates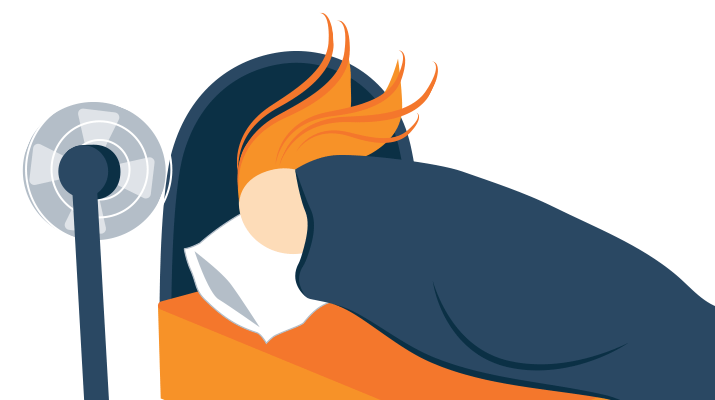 Living in a hot climate is a breeze for some people, but for others, the heat is very bothersome. If you live someplace where it's usually warmer than it is cool, you'll understand the importance of cooling sheets.
Even if you don't live someplace that is consistently warm, cooling sheets can also be a game-changer for the summer season. Mostly, summers are great. Unfortunately, all that consistent sunshine also has a darker side – it can make things hot.
Even though the temperatures drop after the sun has gone down, it's not always enough to enable you to sleep comfortably.
Who Shouldn't Use Cooling Bed Sheets?
People Who Run Cold
For those who tend to run cool rather than warm, cooling sheets might be the last thing you need at night. Instead, you might choose sheets that are made from warmer fabrics, like flannel, fleece, or heavier cotton.
If you do run cold, don't worry. There are lots of perfectly healthy reasons why some people run cooler and some people run warmer, like muscle mass or body fat, for example. People with more muscle mass or body fat tend to run warmer than those with less.
People Who Live in Cooler Climates
Maybe you live someplace up north, in the mountains, or maybe even in the desert where the temperature drops dramatically at night. Wherever you are, if it is cold at night there, you definitely won't want sheets that keep you even cooler.
Do keep in mind, though, that even if it is cold outside, you should still aim to keep your thermostat low, somewhere between 60 and 67 degrees since sleeping in a cooler room is better for your sleep quality.
Other Ways to Stay Cool At Night
Cooling Mattress – Certain mattress materials are more naturally

cooling

than others, like latex, for example. There are also plenty of mattress manufacturers now making mattresses with an additional cooling gel layer or including some other cooling technology. Read more about cooling mattresses here.

Cooling Topper – Mattress toppers

are not just a great way to add some extra squish to your bed; they can also help cool you off at night. This is especially useful for those who have a warmer memory foam mattress already and would like to add a cooling layer rather than purchase a whole new mattress.

Cooling Pillow – Cooling pillows

are an excellent way to keep your whole body cool. After all, much of our temperature regulation happens in the head, so cooling off this area is important. Cooling pillows use a combination of breathable fabrics, like bamboo or cotton, and various cooling technologies like gel or carbon fiber.

Fan – This might seem obvious, but adding a ceiling fan or floor fan to your nighttime routine can be a game changer. You can even try hanging a cool, damp sheet or a bucket of ice in front of the fan to cool things off even more. Homemade AC!
Other Tips – If you sleep hot, there are plenty of other ways to cool down. Try some lightweight pajamas

, or you can keep your curtains or blinds closed during the day to keep heat from warming up your room. Even though the temperature drops at night, your room will trap the heat from the day if it is pouring in through the windows.
Cooling Sheet FAQs
What are cooling sheets?
Cooling sheets are sheets that help keep you cool at night. They can do this with fabric– for example, bamboo and Egyptian cotton are great at keeping things cool. They can also do this with the type of weave– the percale weave is known for its cooling abilities. They can also do this with thread count. Contrary to what you might think, a higher thread count might actually lead to warmer sheets.
What are the best cooling sheets?
The best cooling sheets will depend on the sleeper's budget and personal preferences. Generally, you'll want to look for lightweight or moisture-wicking fabrics, as well as weaves and thread counts that promote cooling.
What's the best material for cooling sheets?
In general, sheets made from bamboo, Tencel, linen, or cotton with a percale weave will feel the most lightweight, airy, and cool. Do keep in mind, linen sheets tend to need some wearing in, as they might start out a little stiff.
Conclusion
If you are serious about getting the most refreshing night's sleep ever, you need to think about what you sleep on. Every little detail makes a huge difference, from the mattress and pillow to a cooling pad and the bed sheet on top.
Whether you choose to go the all-natural route with something like cotton, bamboo, or Tencel, or you decide to choose something more synthetic, as long as you know what to look for regarding weave, breathability, etc. you are well on your way to the right choice.
We have given you the information you need to make that choice today.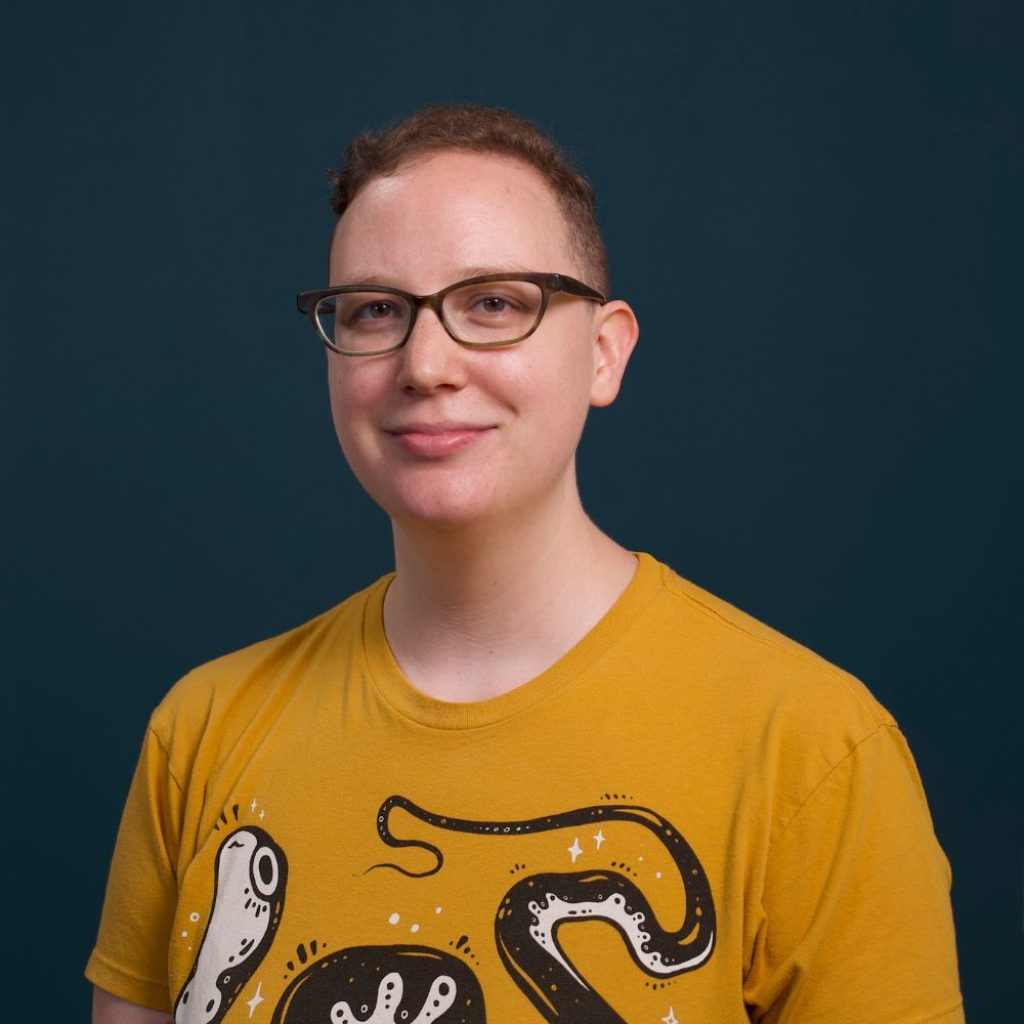 Melanie Kassel
Performance Editor
About Author
As Sleep Advisor's Performance Editor, Melanie writes and edits content throughout the site to ensure it's accurate, engaging, and up-to-date.