Transparency Disclosure – We may receive a referral fee for products purchased through the links on our site...

Read More

.
Disclaimer - Nothing on this website is intended to be a substitute for professional medical advice, diagnosis, or treatment...

Read More Here

.
Hot sleepers may find themselves continually flipping to the cooler side of the pillow. If you frequently wake up sweaty and unrested, you're not alone in your struggle with heat discomfort.
A cooling pillow could help remedy this common issue, and we've gathered the best products in this article to help you cool down.
They come in a variety of models, with different materials, covers, and contouring designs. We break down our favorite brands to help you choose which is best.
In this post, we'll show you how to choose a pillow that works for you and who can benefit from each one.
Best 7 Cooling Pillows
Best Cooling Pillow for Back Sleepers
Marlow Pillow
A cooling memory foam pillow (100% vegan).
The Marlow is stuffed with a mix of gel-infused memory foam and polyester fiber that should provide back sleepers with crucial head and neck support. The two zippers that make its loft adjustable also make it extra breathable: unzipping one or both of them exposes gussets that promote airflow.
At the same time, the pillow's feel softens the more it's unzipped. You can experiment with leaving both zippers closed, unzipping just one, or unzipping both to find your ideal firmness.
Why did we select it?
The Marlow's breathable cotton cover provides added cooling.
This pillow comes with a 2-year warranty and a 365-day return policy to ensure sleeper satisfaction.
Best Cooling Pillow for Side Sleepers
Layla Kapok Pillow
The shredded inner materials of the pillow effectively reduce heat during the night.
Sleep Advisor Score
4.50 / 5
Read Full Review
Memory foam is often recommended for side sleepers because of its top-notch contouring abilities. The Layla Kapok Pillow features a fill that contains a blend of shredded memory foam and natural Kapok fibers. This design allows the pillow to conform to your shape, which should not only feel comfortable but help prevent unwanted neck and shoulder pain.
This pillow features a cover made of a polyester and viscose blend that should feel soft to the touch. Additionally, the cover has Hexagon stitching to help foster airflow.
Why do we love it?
Another perk for side sleepers is that the Layla pillow is adjustable. If you want a lower loft, simply remove some of the inner fill for a better feel.
The company offers an impressive 120-night trial and a 5-year warranty with your purchase, which shows they stand by their product.
Best Luxury Cooling Pillow
Cozy Earth Silk Pillow
The pillow has a premium bamboo viscose shell that's naturally breathable and has temperature-regulating properties.
Sleep Advisor Score
4.90 / 5
If you're looking for a pillow upgrade that even Oprah herself deemed the "softest EVER", then you might want to consider the Cozy Earth Silk Pillow. Not only does this pillow offer incredible luxury with the use of materials including mulberry silk and bamboo viscose, but it also should give sleepers plenty of moisture-wicking and breathability.
Cozy Earth prioritizes the responsible production of their inventory, so you know you're getting an ethically-made pillow. Another benefit is the generous trial period and warranty; the company offers up to 100 nights to test out the pillow and a 10-year warranty after purchase. Plus, you don't need to worry about paying extra shipping fees as the company ships this pillow for free.
What else should you know?
The Cozy Earth Silk Pillow is available in Standard or King size.

This product is machine washable, but we encourage you to follow the manufacturer's directions for cleaning and drying in order to maintain quality.
Best Adjustable Cooling Pillow
Lagoon Otter Pillow
A gel-infused memory foam pillow to prevent heat retention.
Sleep Advisor Score
4.80 / 5
Like its animal namesake, the Otter is soft, flexible, and knows how to stay cool. It's stuffed with a mix of gel-infused memory foam and microfibers, and you can reach right in to remove or replace the fill as you see fit. This degree of customization allows almost any type of sleeper to use this pillow, whether you sleep on your back, side, stomach, or a combination of the three.
The gel inside the Otter's memory foam helps to prevent heat retention, and the foam itself is CertiPUR-US® certified, meaning it's free of certain harmful substances and passes emissions standards.
What stands out?
A generous 5-year warranty and 100-night trial speak to Lagoon's confidence in this versatile pillow.
All parts of this pillow are machine washable, though Lagoon recommends only washing the inner pillow and fill up to once a year.
Best Cooling Pillow for Any Sleep Position
TEMPUR-Cloud Breeze Dual Cooling Pillow
A medium-feel pillow for all sleeper types.
Sleep Advisor Score
4.30 / 5
Tempur-Pedic offers a great pillow for all kinds of sleepers with their TEMPUR-Cloud Breeze Dual Cooling Pillow. The bed contains the brand's proprietary TEMPUR® Material in a medium-feel that's designed to be highly adaptive in order to work for all sleep positions.
The brand keeps hot sleepers in mind by adding two layers of their TEMPUR-Breeze® Gel, one on each side of the pillow. This way, you should expect maximum cooling no matter which side of the pillow you use.
What's worth mentioning?
Customers should love the convenience of this product. The TEMPUR-Cloud comes with a removable cover that's machine washable for easy maintenance.
While the brand does not offer a trial period for their pillow, the item comes with a 5-year warranty.
The pillow's cover is 100 percent cotton, a highly breathable material that should provide added airflow for better sleep.
Best Cooling Pillow for Stomach Sleepers
Brooklyn Bedding Luxury Cooling Pillow
A pillow with dual-action cooling for hot sleepers.
Sleep Advisor Score
4.60 / 5
Stomach sleepers should typically avoid very lofty pillows, as they can cause the head and neck to bend upwards from the spine. The Brooklyn Bedding Luxury Cooling Memory Foam Pillow comes in a low-profile version for this very reason, and its flatter shape encourages healthier spinal alignment.
What's more, its open-cell design and incorporation of cooling gel keep its surface cool and comfortable. Its knit cover is likewise soft and breathable.
Why did it make the list?
The open-cell memory foam conforms easily to the shape of your silhouette for quick pressure relief.
This pillow contains copper-graphite, which boosts its antimicrobial properties.
Best Hypoallergenic Cooling Pillow
Coop Eden Pillow
A gel-infused memory foam pillow with a hypoallergenic design
Sleep Advisor Score
4.60 / 5
The mix of memory foam and microfiber inside the Eden has both hypoallergenic and cooling properties. The non-toxic fill resists the accumulation of allergens and irritants, and the gel-infused foam guards against uncomfortable warmth.
Shoppers who prioritize thoroughly vetted materials should be happy to know that this pillow also has CertiPUR-US® and GREENGUARD Gold certifications, ensuring that it meets high standards for health and safety.
What else stands out?
When you buy an Eden, you'll get another half-pound of fill, which will allow you to adjust the loft as you please.

Eden's cover is machine-washable, so maintenance is a cinch.
What is a Cooling Pillow
A cooling pillow is specially designed with temperature-regulating features to help those who sleep hot achieve better rest. Cooling features vary among brands and can be included in the fill, cover, or both areas. Some pillows may feature cooling gel in the foam, particularly with memory foam, while others may use may utilize more breathable fabrics like cotton in the cover. These types of pillows can complement other cooling products like mattresses, toppers, and sheets. Sleeping in a cold space is better for your quality of rest, so having bedding products that facilitate that would be a valuable investment in your health.
How To Choose A Cool/Cold Pillow
Cooling pillows come in many different designs, materials, and shapes. To help find the right pillow, you need to consider multiple product factors in addition to cooling features.
Price
The price of a pillow will be a significant factor for most shoppers, particularly those on a limited budget. Cooling pillows offer a more advanced design, and therefore, you are likely to encounter slightly higher prices than non-specialty pillows. Price varies, though, with some products below the 100-dollar mark and others well above it. Additionally, the bigger the pillow size, the higher the price. While you may be concerned about paying a little more for this type of pillow, you should consider that it could have a positive impact on your quality of rest, which would make it a valuable investment since good sleep translates to better daily performance and overall health.
Sleeping Position
You should factor in your sleep position when pillow shopping. The reason for this is that certain pillows can be better for some positions, and you'll want something that optimizes your neck alignment so you don't wake up with any aches and pains. For back and side sleepers, that's usually a pillow with a medium-high loft and firmer support. Stomach sleepers, on the other hand, are better suited with flatter, softer pillows that ensure their head isn't raised at an uncomfortable angle. Adjustable pillows are a great option if you're unsure or want the ability to customize your pillow. With an adjustable pillow, you can add or remove filling as needed to ensure a comfortable feel.
Cooling Properties
If you're on this page, then cooling properties are likely a top priority. Cooling features are great for people who are prone to overheating at night or live in warmer climates. Bedding companies vary in how they incorporate these features; they can be added into the fill, cover, or both. If this is important to you, look for pillows that explicitly say they have temperature-regulating properties. For those who are extra hot, having a pillow that has cooling mechanisms in both the fill and the cover might be the better option.
Firmness
Pillow firmness refers to how soft or hard the product feels as you rest on your head on it. Some people enjoy a pillow with more firm support that keeps their head lifted while others love the feel of sinking their head into a plush surface. While the ideal firmness will be unique to the individual sleeper, one way to help you narrow down options is to consider your sleep position. Often, people who rest on their side or back like a firmer pillow that keeps their head and neck in better alignment, and stomach sleepers tend to opt for a softer pillow that sinks in more so their head isn't raised too much as this could cause stiffness in the morning.
Pressure Relief
A pillow that contours the sleeper's head and neck can deliver excellent pressure relief to alleviate tension in these areas. Pillows that typically provide better pressure relief have a soft to medium feel that still allows the individual's head to sink into the pillow more. People who sleep in every position can benefit from a great pressure-relieving pillow, but back and stomach sleepers may want a pillow with a medium-firm feel so that the cradle is more of a gentle hug that still keeps their neck in good alignment.
Loft
Loft refers to how high or thick the pillow is, and it ranges from low to high. Selecting the right height is vital for ensuring good alignment; a loft that's too high or low could leave you waking up with neck discomfort. That being said, it might be hard to know what's right for you if you're not able to test out the pillow in person. Generally, side and back sleepers should look at pillows with a medium loft while stomach sleepers should consider a low loft. Another tip is to look at pillows with an adjustable fill, which gives you the added convenience of customizing your pillow's height to your desired feel. You should also consider that the type of fill inside a pillow may affect the height, with some materials being more likely to flatten compared to others.
What Materials Go in a Cooling Pillow
Brands utilize an assortment of different materials to promote a cooler sleep space. These are located in the fill or the cover.
Internal Fill
Latex – Latex is a great option because the material is temperature-neutral and won't retain heat. Companies can manufacture synthetic or natural latex, though natural is the more eco-friendly option of the two. The primary factor to consider with latex is to make sure you don't have an allergy to this material, as this could make matters worse. However, the material is hypoallergenic, so it's great for keeping dust mites and bacteria at bay.


---

Memory Foam – Memory foam molds to the shape of your head and neck, relieving pressure points and providing firm support. They are denser and heavier than other types of pillows. Some contain shredded memory foam, which is lighter, more moldable, and tends to provide better airflow than solid foam, thus keeping you cooler. However, shredded foam is not as dense, so it may not give you the same level of support as standard memory foam.


---

Down and Down Alternatives – Down pillows are made using the inner features of geese and ducks. Though down is fluffy and soft, these pillows can be much more expensive than other options and some shoppers may feel they're unethical because animals are used to make them. Down alternatives have grown in popularity as a more animal-friendly choice, usually containing cotton or a polyester fiber fill to provide a similar softness to traditional down. A down alternative pillow will also be cheaper, which is helpful for budget shoppers.


---

Buckwheat – Buckwheat is a breathable product containing thousands of processed husks, which are not easily compressed, so they provide firm support. Since buckwheat pillows have no synthetic cooling agents, they are often hypoallergenic, meaning they can be an excellent choice for people with allergies to synthetic materials. Buckwheat models cannot be washed, as the hulls will become damaged, but if the cover is removable, you could wash that.


---

Gel or Copper – Many cold pillows come with gel or copper in the fill, particularly with memory foam. The cooling performance of the gel depends a lot on the quality of the model. Gel models are not machine washable; you can wash them by hand and leave them to air dry.
Cover Material
Cotton – Cotton is popular for its breathability, which is why it's often used in the covers of cooling pillows. Cotton can also be a more sustainable material, with more and more companies utilizing organic cotton in their products, including pillows. People who have allergies can also enjoy cotton since it is hypoallergenic.


---

Phase Change Material – Some cooling options come with a phase change material, or PCM, which regulates your body temperature. PCM fabrics are designed to cool you down when you're warm, and heat you up when you're cold. These materials are usually used in conjunction with memory foam, which ruins if machine-washed. Therefore, these pillows should only be hand-washed.


---

Bamboo – Bamboo pillows usually consist of a soft bamboo outer layer with a contouring memory foam interior. Bamboo doesn't retain heat, so it's helpful for breathability. Bamboo-made covers can usually withstand machine washings.
Advantages of Owning The Coolest Pillow
The Cooling Effect
While there are lots of pillows on the market offering maximum comfort, a cooling pillow goes a step further. They can provide ultimate comfort as well as more relaxing sleep. They do this by keeping you cool throughout the night so you don't wake up hot and sweaty.
Save Some Cash
If you have to use the air conditioner overnight, chances are you are running up some big electricity bills. By using a cold pillow, you can significantly reduce how much you use the air conditioner, thus saving cash and the environment.
Variety
Cooling pillows are popular on the market right now and, as we have seen, they come in all shapes and sizes. That means, whether you are looking for one that is hypoallergenic, made with memory foam, gusseted or classic, there is going to be one to suit you.
Other Factors To Consider
Design
You should choose a cooling pillow for your particular sleeping style. You could get the best one on the market, but if it's not right for you, your sleep will be affected.
First of all, if you are a stomach sleeper, a thinner, soft model will be a better choice for you. For side and back sleepers, slightly firmer and medium-high pillows are usually a better choice, as they provide better support for your neck.
For side and back sleepers with shoulder, back, or neck pain, there are many different types of contoured cooling pillows, which have a curved design that adapts to your head, neck, and shoulders. These can help you maintain good spinal posture while keeping you cool at the same time.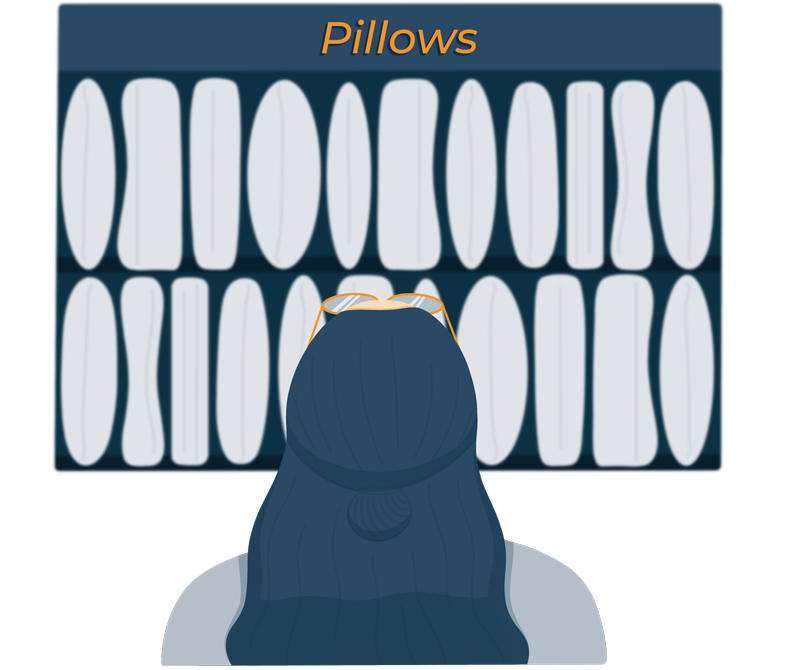 Warranty
When you get a pillow, you want to stick with it for a while, right? That's why, when choosing a cooling pillow, you should check out the warranty on the product. This is an indicator of its quality. While pillows won't have as long a warranty as a mattress, a decent warranty indicates it's likely a better-made product.
Other Ways to Stay Cool at Night
Cooling pillows aren't the only way to keep you comfortable at night; you can also invest in other temperature-regulating products to promote a cooler environment.
Accessories
Cooling Pads – Mattress pads can provide added comfort to your mattress while also helping keep you cool. If you want a mattress pad but know you sleep hot, invest in a cooling pad specifically.
Cooling Sheets – Sheets touch you directly when you sleep, making them an excellent way for you to feel immediate cooling while you sleep. Looking for breathable, cooler materials like cotton, bamboo, and Tencel.
Cooling Toppers – Like pads, toppers can enhance the feel of your mattress, and many toppers are equipped with cooling features to promote better sleep for those prone to overheating.
Mattresses
Many companies understand the needs of hot sleepers, and as such, design their mattresses with special cooling mechanisms. In some cases, these are similar to what's used in pillows, such as cooling gel in foam or cotton covers. Additionally, brands may utilize coils to further deliver airflow to the sleeper.
Explore our top picks for the best cooling mattresses.
Bedroom
There are different ways to keep your bedroom cool. Running the air conditioner or turning on a fan can get keep the room nice and cool. When temperatures start to drop, keeping the window open is also a more cost-effective way to cool down the room.
Pajamas
The pajamas you sleep in are another way to help you remain comfortable throughout the night. As you can imagine, bulky, heavier materials will likely make you warmer. Instead, opt for cooler materials like satin or cotton, and rather than wearing long-sleeve shirts or pants, swap those out for tank tops, t-shirts, and shorts.
Who Should Buy A Cooling Pillow?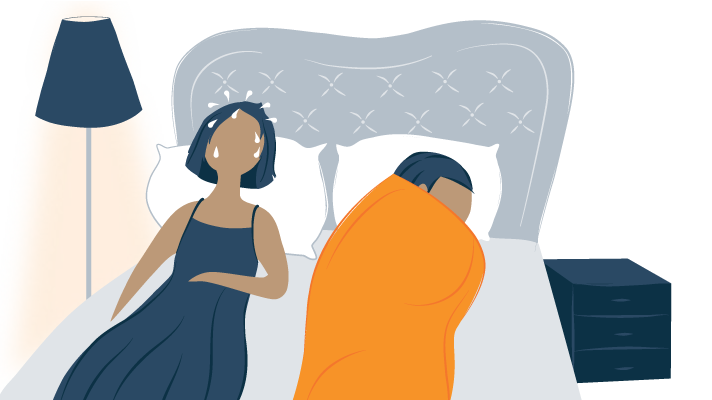 If you tend to wake up during the night feeling hot and sweaty, a cooling option is a good choice for you.
The cooling effect and breathability of these pillows can give hot sleepers a more restful, uninterrupted night's sleep. They can be especially useful during the summer months and a lifesaver for anyone who lives in a hot, humid climate.
Research by the American Academy of Sleep1 has also shown that people with insomnia can be helped by cooling down the prefrontal cortex, which is the area of the brain just behind the forehead. So, if you have this common sleep disorder, a cooling pillow could help you drift off easier.
Frequently Asked Questions about Cooling Pillows
Is There a Mattress Firm Cooling Pillow?
Mattress Firm does not have their own cooling pillow, but they do sell multiple cooling pillows from other notable bedding companies, such as Serta, Tuft and Needle, and Tempur-Pedic.
Does the Casing Matter?
While most of us prefer to place our own pillowcase over the cushion to protect it, this isn't to say that the original casing doesn't matter. While cotton is known to be a breathable material, Tencel and wool are also great options that can be eco-friendly. Others, such as polyester blends or nylon, may get in the way of a pillow's cooling abilities.
Before buying, make sure you know what the casing is made from, and if it's removable for easy cleaning.
Find Out More: Top Rated Pillow Cases
In Conclusion
Cooling pillows can be a lifesaver for those who have trouble getting a good night's rest due to overheating or menopause symptoms, and they can potentially help those with sleeping disorders.
There are many different types on the market, which means there's bound to be one to suit your sleeping habits. Remember: choosing the right cooling cushion for your sleeping style is crucial since you want to be both cool and comfortable.
Resources:
Kloc, Joe. "Putting Insomnia on Ice". (2011, November 1). Retrieved from the web on June 7th, 2017. https://www.scientificamerican.com/article/putting-insomnia-on-ice/.