Transparency Disclosure – We may receive a referral fee for products purchased through the links on our site...

Read More

.
Hot sleepers may find themselves continually flipping to the cooler side of the pillow. If you frequently wake up sweaty and unrested, you're not alone in your struggle with heat discomfort.
A cooling pillow (also known as a "chillow," a pillow that doesn't retain heat) could help remedy this common issue and we've gathered the best products in this article to help you cool down.
They come in a variety of models, with different materials, covers, and contouring designs. Choosing the right one can be tricky given the various features. We break down our favorite brands to help you chose which is best.
In this post, we'll show you how to choose a pillow that works for you, who can benefit from each, and help you cruise into 2022 feeling your best.
Top 5 Cooling Pillow Reviews
Casper Foam Pillow w/ Snow Technology
AirScape™ foam
1-Year Limited Warranty
30-Night Trial
Cooling Snow Technology™
When it comes to advanced cooling features, this pillow from the Casper brand is hard to beat. The foam pillow on its own contains the company's proprietary AirScape™ foam, which has hundreds of perforations designed to maximize airflow. However, it's the addition of Snow Technology™ that really sets this product apart.
Snow Technology™ is optional and costs an additional 50 dollars, but for those who need great cooling, we recommend it. This advanced feature includes four HeatDelete™ Bands throughout the pillow and a cool-touch outer layer. Together, these and the AirScape™ foam should create a highly comfortable space to rest your head.
What stands out?
Customers will receive a 1-year limited warranty and a 30-night trial to test out the product at home.
According to Casper, Snow Technology™ should provide sleepers with as many as 12 hours of cooler sleep.
Best Cooling Pillow for Side Sleepers
Layla Kapok
Kapok Fibers and Memory Foam Fill
Polyester/Viscose Blend Cover
Adjustable Loft
120-Night Trial
5-Year Warranty
Memory foam is often recommended for side sleepers because of its top-notch contouring abilities. The Layla Kapok Pillow features a fill that contains a blend of shredded memory foam and natural Kapok fibers. This design allows the pillow to conform to your shape, which should not only feel comfortable but help prevent unwanted neck and shoulder pain.
This pillow features a cover made of a polyester and viscose blend that should feel soft to the touch. Additionally, the cover has a Hexagon stitching to help foster airflow.
Why do we love it?
Another perk for side sleepers is that the Layla pillow is adjustable. If you want a lower loft, simply remove some of the inner fill for a better feel.
The company offers an impressive 120-night trial and a 5-year warranty with your purchase, which shows they stand by their product.
Best Cooling Pillow for Any Sleep Position
Tempur-Pedic TEMPUR-Cloud Breeze Dual Cooling Pillow
Medium-Feel TEMPUR® Material
Two TEMPUR-Breeze® Gel Layers
Removable, Machine-Washable Cover
5-Year Warranty
Tempur-Pedic offers a great pillow for all kinds of sleepers with their TEMPUR-Cloud Breeze Dual Cooling Pillow. The bed contains the brand's proprietary TEMPUR® Material in a medium-feel that's designed to be highly adaptive in order to work for all sleep positions.
The brand keeps hot sleepers in mind by adding two layers of their TEMPUR-Breeze® Gel, one on each side of the pillow. This way, you should expect maximum cooling no matter which side of the pillow you use.
What's worth mentioning?
Customers should love the convenience of this product. The TEMPUR-Cloud comes with a removable cover that's machine washable for easy maintenance.
While the brand does not offer a trial period for their pillow, the item comes with a 5-year warranty.
The pillow's cover is 100 percent cotton, a highly breathable material that should provide added airflow for better sleep.
Best Cooling Contouring Pillow
Bear Mattress Contour Pillow
Cooling Side and Soft Side
Hypoallergenic
U-Shape Design
Siliconized Fiber Fill
Bear's contouring pillow not only provides sleepers a reprieve from neck pain, but they have also optimized their pillow for cooling. The Bear Contour Pillow features a unique U-shape design that aims to reduce pressure on the neck and shoulders by supporting the natural curves of these areas.
For hot sleepers, the Bear pillow features a special cooling ICE fabric. The fill inside the pillow is a siliconized fiber for optimal comfort.
What stands out about it?
This product is specially made to target neck pain, so for those waking up with a stiff neck, you should find a great match with the Bear Contour Pillow.
The ICE fabric should be a major help for hot sleepers since it's made to stay cool throughout the night.
The pillow is hypoallergenic, making it a great selection for those with allergies as well.
Best Cooling Pillow for Pressure Relief
Nolah Cooling Foam Pillow
Nolah AirFoam™
Cooling Outlast® Cover
120-Night Trial
Made in the USA
After a long day, the last thing you want is an uncomfortable pillow that leaves you feeling pressure on your head, neck, and shoulders. Nolah's Cooling Foam Pillow contains the brand's proprietary Nolah AirFoam™, a high-quality material designed to provide optimal pressure relief.
This pillow is no slouch when it comes to cooling either. Nolah AirFoam™ is made to remain temperature-neutral, so you shouldn't worry about the foam becoming too warm while you sleep. The pillow's Cooling Outlast® Cover contains cotton and phase-change technology to help deliver plenty of cooling on the surface.
What should you know?
Nolah offers shoppers 120 nights to test out the pillow in the comfort of their home, which should be plenty of time to make a final decision.
The Nolah Pillow is made in the United States, so if you're invested in purchasing American-made products, you'll appreciate this brand.
How To Choose A Cool/Cold Pillow
Cooling pillows come in many different packages. There are varying types of designs, materials, and shapes. Here is a rundown of the most common types available on the market at the moment:
Gel or Water Based?
Many cold pillows come with an external gel layer or, perhaps less commonly, with a water layer. Through the process of conduction, these work by absorbing body heat from your head and neck, dispersing it across the gel or water layer, thus leaving you with a cool feeling.
Gel pillows are commonly used and usually come as a combination package with memory foam for ultimate comfort. The cooling performance of the gel depends a lot on the quality of the model.
As for water options, the good thing is that they are usually customizable, firm and they shape themselves to contours. So, they can offer excellent support for your neck and back. The downside to these pillows they can be heavy and somewhat noisy if there is any air in the pouch after you fill it. For light sleepers, this can be bothersome, but it can be solved by removing the air.
Machine Wash vs. Hand Wash
Gel models are not machine washable. You can wash them by hand and leave them to air dry.
Water-based pillows can usually be machine-washed and air-dried, but you must remove the refillable pouch beforehand.
Learn More: How to Wash Pillows
Breathable Options
Some cooling models are made from breathable materials, such as buckwheat and bamboo. These materials do not retain heat and enable airflow. This means that warm air does not build up inside the pillow. Plus, the airflow leads to evaporation of moisture, which has a refreshing cooling effect.
Buckwheat style contains thousands of processed husks, which are not easily depressed, so they provide firm support. As these options have no synthetic cooling agents, they are often hypoallergenic, meaning they can be an excellent choice for people with allergies to synthetic materials.
Get More Info: Highest-Rated Buckwheat Pillows
---
Bamboo pillows usually consist of a soft bamboo outer layer with a contouring memory foam interior.
Machine Wash vs. Hand Wash
Bamboo-made covers can usually withstand machine washings.
Buckwheat models cannot be washed, as the hulls will become damaged. You can, of course, wash the pillow cover on its own.
Phase Change Materials
Some cooling options come with a phase change material, or PCM, which regulates your body temperature. They are usually used in combination with contouring memory foam. These substances have a high heat of fusion melt and solidify at a specific temperature. While changing its state from liquid to solid, it can release heat to your body or absorb heat from your body. So basically, if you're cold, it heats you up, and if you're hot, it cools you down (no more sweaty head).
If it sounds super clever, it's because it is! NASA initially developed and tested PCM technology.
Machine Wash vs. Hand Wash
PCM materials are usually used in conjunction with memory foam, which ruins if machine-washed. So, these pillows should only be hand washed.
Other Factors To Consider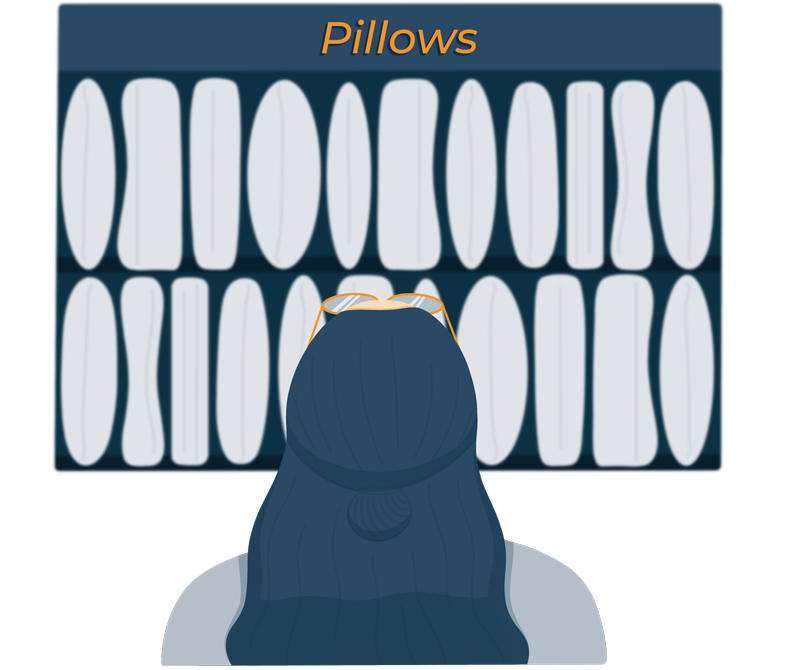 Materials
Memory foam seems to be the most popular material for cooling pillows. This material molds to the shape of your head and neck, relieving pressure points and providing firm support. They are denser and heavier than other types of pillow. For this reason, they are usually unsuitable for stomach sleepers due to their height.
Some contain shredded memory foam, which is lighter, more moldable and tends to provide better airflow than solid foam, thus keeping you cooler. However, as shredded foam is not as dense, it may not give you the same level of support as standard memory foam.
Memory foam pillows can come with an initial odor that customers often complain about. Most of these come with an advisory statement that says to air out your new pillow in a well-ventilated area for 24-72 hours to get rid of this scent.
Check Out Our Guide: Best Memory Foam Pillows
---
Another material found in cooling pillows is gel fiber. This is breathable, washable, and made to feel just like down. It provides excellent support and but is much plusher and fluffier than foam.
---
For all-natural, hypoallergenic, natural materials like buckwheat or bamboo are an excellent choice.
Design
It is imperative to choose a cooling pillow for your particular sleeping style. You could get the best one on the market, but if it's not right for you, your sleep will be affected.
First of all, if you are a stomach or back sleeper, a thinner, soft to medium-firm model will be a better choice for you. For side sleepers, extra firm, higher pillows are usually a better choice, as they provide better support for your neck.
For side and back sleepers who suffer from shoulder, back, or neck pain, there are many different types of contoured cooling pillows, which have a curved design that adapts to your head, neck, and shoulders. These can help you maintain good spinal posture while keeping you cool at the same time.
Warranty
When you get a pillow, you want to stick with it for a while and create a bond with it, right? That's why, when choosing a cooling pillow, you should check out the warranty on the product. This is an indicator of its quality. Quality products should have at least a 3-year warranty.
Advantages of Owning The Coolest Pillow
The Cooling Effect
While there are lots of pillows on the market offering maximum comfort, a cooling pillow goes that step further. They can provide ultimate comfort as well as a more relaxing sleep. They do this by keeping you cool throughout the night so that heat-build up does not disturb your slumber.
Save Some Cash
If you have to use the air conditioner overnight, chances are you are running up some big electricity bills. By using a cold pillow, you can far reduce the amount you have it on, thus saving cash and the environment.
Variety
Cooling pillows are popular on the market right now and, as we have seen, they come in all shapes and sizes (so to speak). That means, whether you are looking for one that is hypoallergenic, made with memory foam, gusseted or classic, there is going to be one to suit you.
Who Should Buy A Cold Style Pillow?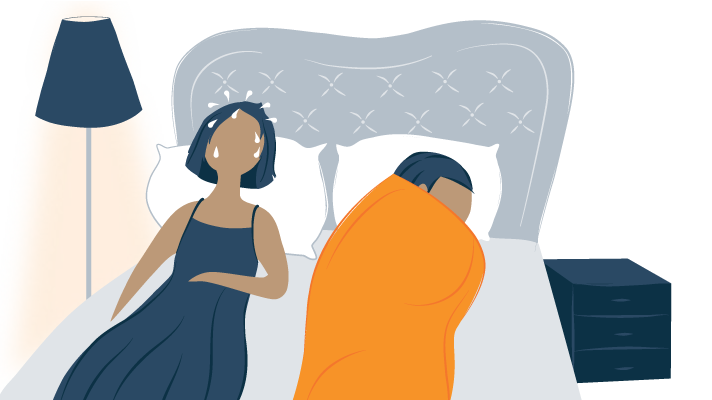 If you tend to wake during the night feeling hot and bothered – perhaps you flip your pillow to the cooler side or go in search of a glass of water – a cooling option is probably a good choice for you.
The cooling effect and breathability of these pillows can give hot sleepers a more restful, uninterrupted night's sleep. They can be especially useful for hot sleepers during the summer months. They can also be a lifesaver for anyone who lives in a hot, humid climate.
Research by the American Academy of Sleep has also shown that people with insomnia can be helped by cooling down the prefrontal cortex, which is the area of the brain just behind the forehead. So, if you suffer from this common sleep disorder, a cooling pillow could ease your restless sleep and help you drift off easier.
Frequently Asked Questions about Cooling Pillows
Is There a Mattress Firm Cooling Pillow?
Yes, there are multiple offerings available. These are typically with a concentration on materials with phase change capabilities. In addition, there are wicking properties in order to cut down on uncomfortable moisture for the sleeper.
The different features work together to drive towards the ultimate goal of being comfortable with each use.
Does the Casing Matter?
While most of us prefer to place our own pillowcase over the cushion to protect it, this isn't to say that the original casing doesn't matter. While cotton is known to be a breathable material, Tencel and wool are also great options that can be eco-friendly. Others, such as polyester blends or nylon may get in the way of a pillow's cooling abilities.
Before buying, make sure you know what the casing is made from, and if it's removable for easy cleaning.
Find Out More: Top Rated PIllow Casses
Conclusion
Cooling pillows can be a lifesaver for those who have trouble getting a good night's rest due to overheating or menopause symptoms; and they can also potentially help those with sleeping disorders, too.
There are many different types on the market, which means there's bound to be one to suit your sleeping habits. Remember: choosing the right cooling cushion for your sleeping style is crucial, as you want to be cool as well as comfortable.
Happy buying!
Rachael is a content writer for Sleep Advisor who loves combining her enthusiasm for writing and wellness. She's had a passion for writing since she was a kid when she wrote awful poetry. She's honed her craft quite a bit since then and considers herself a lucky duck to get paid to do what she loves.
Embracing the remote work life, she occasionally takes her work on the road and lives out her travel writer pipe dream.
In her free time, she attempts to meditate regularly, rides her bike to Trader Joe's, and enjoys trying every type of food that she can get her hands on.