Transparency Disclosure – We may receive a referral fee for products purchased through the links on our site...

Read More

.
Anyone with curly hair has probably researched the benefits of a satin pillowcase, but the right product can do so much more than smooth your frizzies. The highest-rated pillowcases can help keep your skin clear, help you stay cool, and even resist fabric wrinkles. Those with sensitive allergies could even benefit from hypoallergenic material, meaning you could say goodbye to hives and morning sniffles.
The best news yet? A good cover doesn't have to break the budget. We'll guide you through what you need to know regarding materials, care, and maintenance, and introduce you to our favorite products to improve your sleep station.
9 Top Rated Pillow Case Reviews
Alaska Bear –
Exceptional Value
600 thread count
100% Mulberry silk
Promotes health skin and hair
Hand-wash only
Hidden zipper
Made from a six hundred thread count 100 percent Mulberry Silk, this luxurious case should help to smooth down those flyaways and help keep your skin flawless without costing an arm and a leg. It comes in six sizes, this brand even offers a body pillow cover and is available in a variety of colors and patterns.
If you're still working on taking off your makeup before bed, this case might not be for you as it needs to be hand-washed or dry cleaned, but the reviewers say it's worth it for the quality it provides. Some feel that silk even helps to hydrate their skin to prevent wrinkles and fine lines upon waking. Best of all, most reviewers seem happy with the hidden zipper to keep the case on their pillow so it doesn't slide off in the night as other brands may.
Shop Bedding –
Best Luxury Satin
100% polyester satin
Variety of size and color options
Natural silk feel
Budget friendly
Machine washable
This budget option is made from 100 percent polyester satin and is available in seven sizes and a variety of colors and patterns ranging from standard white to zebra print. Though it's a synthetic material, reviewers feel the quality provides similar effects to natural silk in reducing frizzled hair and helping to keep sleepers cool as they sleep. That means potentially less pillow flipping in hot climates.
This is one of the most reasonably priced options we've found, though the low price isn't reflected in the quality. Most reviewers say the fabric held up well throughout washing without shredding or coming apart, so if every once in a while you forget about your makeup, it shouldn't be the end of the world. Some reviewers say this case even helped replace wraps or scarves for black or curly hair, making for a more comfortable sleeping experience.
HC Collection –
Best Wrinkle-Free
100% brushed microfiber
Wrinkle resistant
Breathable
Machine washable
Multiple size and color options
Made with 100 percent brushed microfiber, these polyester covers should be breathable, soft, and resist wrinkles for those who want their bedding to look pristine right out of the wash. For those who are looking for a material to stay soft after a few laundry cycles, reviewers say this product holds up exceptionally well without pilling or wrinkling. Available in two sizes and a variety of colors, these cases should match most bedding or sheet sets, meaning you won't need to replace your whole bed set to find matching replacement pillowcases.
If you prefer overstuffed or king pillows, these cases should fit as long as you order the right size. For such a reasonable price, reviewers are surprised at the quality and soft texture of the fabric. For those who are looking for an environmentally-conscious option, this polyester material should use less water, soap, and energy to clean when compared to cotton.
Mellanni –
Best Hypoallergenic
Hypoallergenic
Brushed microfiber
Multiple sizes and patterns available
Machine washable
For those with allergies, materials that collect dust, pollen and dander can be conducive to congestion, red eyes, and overall worsened sleep. That's why we recommend using Mellanni's brushed microfiber cases to help fight dust mites and other allergy triggers. Available in three sizes and a variety of patterns, these cases should fit a children's bed as easily as an adult guest room depending on your pattern selection.
As microfiber is easy to clean these cases can wash easily in your washer and dryer without you needing to worry about them shrinking or pilling up. If you have pets or seasonal allergies, cleaning them often could help manage your symptoms better. Reviewers say this material is incredibly soft and maintains its texture through multiple washes.
For those who live in warm climates, the fabric should breathe well, helping to keep you cool.
Bedsure –
Best Silky Satin
Polyester satin weave
Silky-soft feel
Machine washable
Available in many colors and sizes
Budget friendly
This polyester satin weave is our favorite non-silk fabric with a silky-soft feel. Reviewers love that this product allows their hair and skin to glide across the surface without catching or drying them out for smoother hair and smoother sleep. As this product isn't made from actual silk, it's machine washable when used with a lingerie mesh bag and should hold up well in the wash.
For those with lash extensions or implants, this soft pillowcase could help prolong the life of your treatment by preventing snags or pulling out fibers according to the manufacturer. As it's available in a variety of colors and sizes, this product should be a feasible option for most shoppers and due to its lower than average price point, it could be a great budget option. For those who sleep hot, reviewers say these stay cool in most environments.
100% Mulberry silk
Available in multiple colors and sizes
600 thread count
Promotes hair health
Discreet zipper
This 100 percent Mulberry silk product is available in five sizes and multiple colors to compliment your sheet set or help add a pop of color to your bedroom. At a six hundred thread count, this material is great for smoothing frizzy hair and stopping curls from becoming matted and may even help keep skin moisturized through the evening.
At a reasonable price, this pillowcase is soft and smooth, helping some sleepers stay cool. With a discreet zipper on the side, the case shouldn't slip off in the night even if you're an active sleeper. Reviewers feel the silk it great quality for the price, and while it probably won't eliminate the need to brush your hair or moisturize your face, it should supplement your efforts in ways that other materials can't.
Perhaps best of all, your skin and hair should glide across the surface of your pillow instead of sinking in or pulling at your skin.
SLP Baby –
Best Color and Pattern Range
Many color and pattern options
100% Mulberry silk
Promotes healthy skin and hair
Machine washable
Zipper
From guest rooms to everchanging teenagers and growing babies, there are many reasons to buy patterned or colored bedding. While a crisp bright white set could provide a professional and grown-up look, for kids who wet the bed or teens who eat midnight snacks, they may not be the best option. SLP Baby provides a great range of colors and patterns for those who want to add some self-expression to their bedding.
For your little princess, trendy teen, or anyone who loves florals, these 100 percent Mulberry silk cases are both beautifully designed, and according to reviewers, luxury quality for a reasonable price. For less than most other pure silk brands, these cases can help reduce wrinkles, split ends, and with a zipper, they shouldn't slip off in the night. Perhaps best of all, these cases are machine washable, saving you a trip to the dry cleaners after every spill.
Pinzon by Amazon –
Best Heavyweight Cotton Flannel
100% cotton flannel
Ultra-soft
Breathable
Variety of colors, patterns, and sizes
Wrinkle-resistant
Durable
Whether you live in a cool climate or just like to sleep toasty warm, this 100 percent cotton flannel pillowcase should be ultra-soft and keep you cozy while remaining a breathable fabric to allow proper airflow. Available in a variety of colors, patterns, and sizes, this material should fit most sizes, sheet designs, and colors. If you're looking for a low maintenance option, these cases can help prevent wrinkling.
According to reviewers, the cases are velvety soft, machine washable, and hold up extremely well over time when compared to other brands. If you want a durable case that you won't have to think about replacing for a while, this could be your best option, especially if you change your sheets throughout the seasons. Though they can keep you warm, reviewers in hot and humid climates say these cases breathe well to prevent overheating.
Budget-friendly
Variety of sizes and colors
Breathable
Microfiber polyester
Hypoallergenic
Wrinkle resistant
For those on a budget, these cases are an affordable option compared to luxury materials without sacrificing quality. Available in a variety of sizes and colors, this product will likely match most sheets or duvets, making them a great replacement option for worn out or dirty cases. These cases are made with breathable microfiber polyester, making them hypoallergenic, durable, and wrinkle-resistant.
As they're machine washable, these make great additions to children's rooms or guest rooms that tend to accumulate dust. Reviewers say these are a great multi-season option, breathing well in warm climates as well as keeping you warm in the winter. With an envelope style enclosure, reviewers say your pillow isn't likely to slide out in the night even for active sleepers.
If you're planning on a more colorful option the colors shouldn't bleed or fade in the wash, but we always recommend washing them alone the first time just in case.
Buyer's Guide for Pillowcases
When it comes to sleep, we are aware there are lots of opinions, which is why we consider a variety of requests. From materials made in America to high thread counts, this buyer's guide will cover all the factors to ensure you get the right product for your needs.
Materials/Fabric Types
Pillowcases are made from a variety of materials and fabrics, and not all of them are optimal for everyone. Before you buy, we want to make sure you know what you're purchasing.
While you may know cotton as the soft breathable material that keeps you cool, not all cotton is created equal. Egyptian cotton is one of the most common options for sheets and pillowcases as its extra-long fibers make for a soft and vibrant texture. Other options include Pima and upland cotton.
Both are often American grown, though different in texture. Pima features long and strong fibers that resistant to tearing and pulling while Upland has short fibers for an affordable option.
Read more:
When it comes to pillowcases, silk is often labeled the best, especially when it comes to cosmetic benefits. Pure silk can help reduce wrinkles and fine lines because it won't absorb facial oils like cotton or other materials.
As it's smooth, it could even help reduce bedhead or frizziness in curly hair. Before you spend a lot of money, make sure your material is real mulberry silk, not just a blend.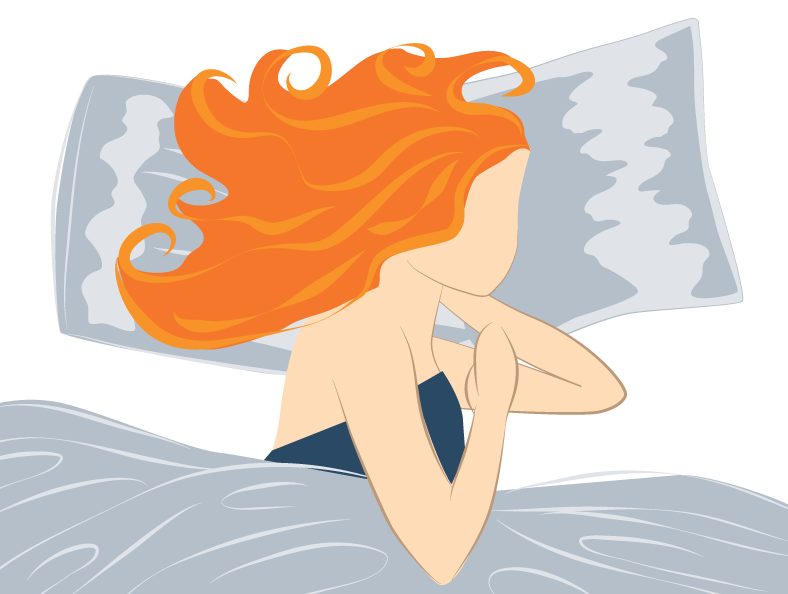 An often reasonably priced alternative to silk, satin is a weave, rather than a specific fabric, and can be made from polyester, nylon, and even silk. Depending on the fabric, satin can vary in price, but most of our options are more affordable.
This weave is usually made from cotton, wool, or polyester and can be a great option for cooler climates. Both breathable and soft, flannel pillowcases will absorb some moisture and though it isn't silky smooth, it can be great for keeping you warm and holding up well through camping, travel, and various washes.
This more affordable alternative to natural materials is usually hypoallergenic, wrinkle-resistant, and soft, especially when woven into a brushed microfiber
True linen is made from fibers from the flax plant, making it one of the oldest fabrics in the world. While it's usually rough spun and not known to be soft, the material is extremely light and breathable, making it a great option for pillow shams or cases in hot climates, so long as it doesn't scratch your skin.
Nylon is a synthetic material made from a plastic polymer. While it's not natural, it can be ultra-strong, shiny, and is often made into rayon or other stretchy materials.
Size
When you buy king-sized sheets you may not be aware they often come with king-sized pillow shams. If you're happy with your standard pillows but love your new sheets, most pillowcase options are available in standard to allow you to continue to enjoy your bedding and your pillows.
Some options are even available in body pillow dimensions to help you keep them clean and protected. Before buying, be aware the pricing may vary depending on size.
Thread Count
The only fabric where thread count usually makes a noticeable difference is with cotton. While standard sheets range from 100-600 thread count, some luxury sheets can reach up to 1000. Thread count refers to the number of threads woven into a square inch.
A higher thread count usually means thicker and softer sheets, however, if the count is too high it can make the fabric more susceptible to runs or rips. Some microfiber sets boast thread counts of well over a thousand but usually refer to a comparable thread count by feel rather than the actual count. If you want to be sure the thread count is accurate, cotton material is usually your best bet.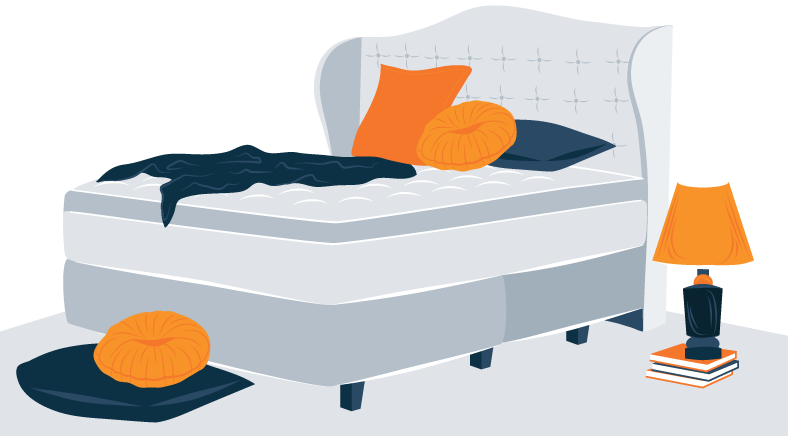 Budget
Spending over twenty dollars on a pillowcase isn't a feasible option for everyone, so for those on a budget, we included a few less expensive options that should hold up well in terms of quality. While it's certainly true that in some cases you get what you pay for, we feel many low-budget options are comparable to luxury fabrics, especially in the silk arena.
General Design
When it comes to assembly, there's nothing worse than trying to fit a normally shaped pillow into an oddly shaped pillowcase. Before you buy, make sure you look at the dimensions and look of the case to ensure the seams, hems, and folds are uniform and ideal for what you're looking for.
Zippers and Openings
For silky and satiny fabrics, it can be easy for your pillow to slip right out of its case while you're sleeping, defeating the purpose of protecting it in the first place. To combat this effect, many manufacturers use an envelope design to fold the pillow in place, or include a discrete zipper for easy assembly.
Quality and Durability
Most of the options on our list are reasonably priced, and the quality should hold up to what you pay for your product, but we're all too familiar with buying something you expect to hold up only to spot holes a few weeks later. To avoid this happening to your new cases, we recommend reading the reviews and choosing materials that you can verify.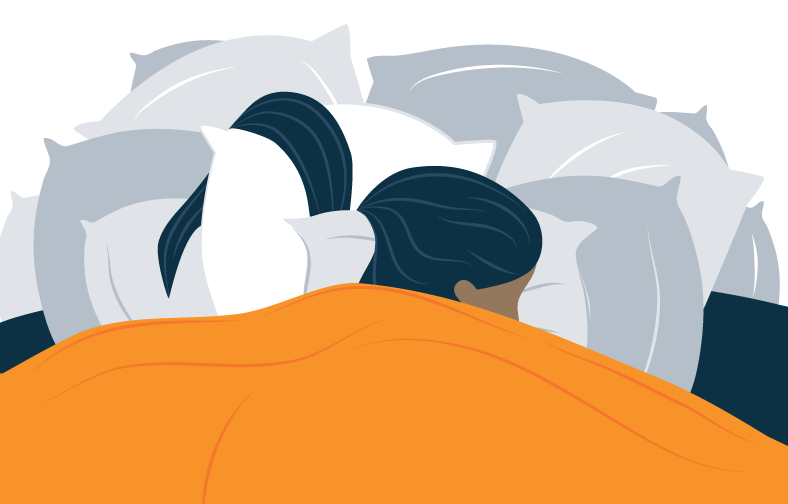 Breathability
If you tend to sleep hot, having a breathable pillowcase can help increase airflow and direct warmth away from your face. This means less pillow flipping and sweating. Cotton and microfiber are great breathable options.
Hair and Skin Benefits
Having a clean pillow cover is important for good skin care, but some fabrics are better than others when it comes to preventing tangling and reducing fine lines. Unlike cotton or microfiber, silk and satin shouldn't absorb oils from your hair or skin and should allow you to move freely, preventing frizziness and tangles.
Care and Maintenance
While cotton and microfiber are usually machine washable and safe for tumble drying, satin, silk, and wool often require more care and attention. Before buying, it's important to review the care instructions so you know whether to dry clean your case every few weeks or if spot cleaning is safe.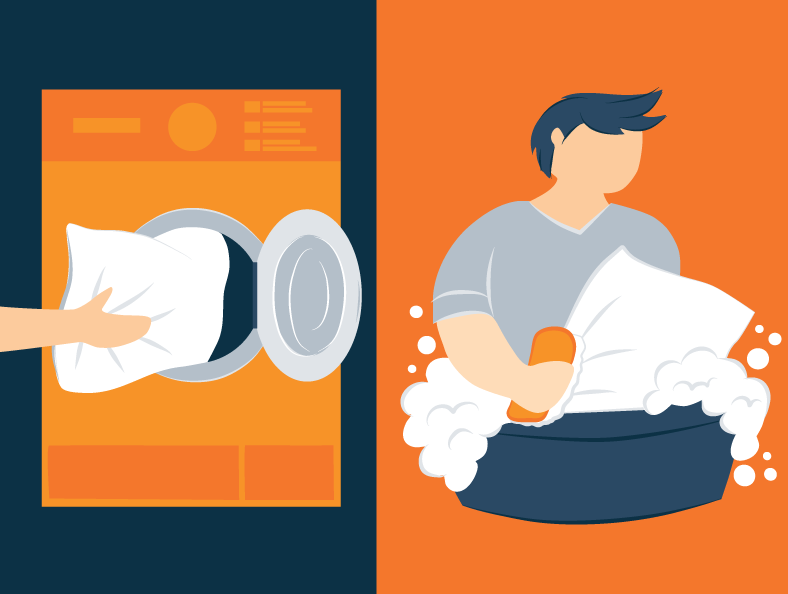 Protective Covers
If you're worried about allergens or bed bugs, there are protective cases that can kill bugs within your pillow fibers and protect against allergens. Most can be used under a pillowcase easily.
Frequently Asked Questions about Pillow Cases
Which type is the softest and most comfortable?
A high thread count cotton will likely provide the softest texture for sleepers, but sometimes it depends on personal preference. Some prefer the texture of a brushed microfiber.
What is the best pillowcase for acne?
Silk and satin cases are often recommended by dermatologists because these materials are not as absorbent as cotton or microfiber, meaning your skin's oils will stay on your skin, keeping it hydrated and your pillow cleaner.
What is continental style?
This style of pillow cover is square to fit decorative or headboard pillows. They generally come in a few different sizes depending on the use.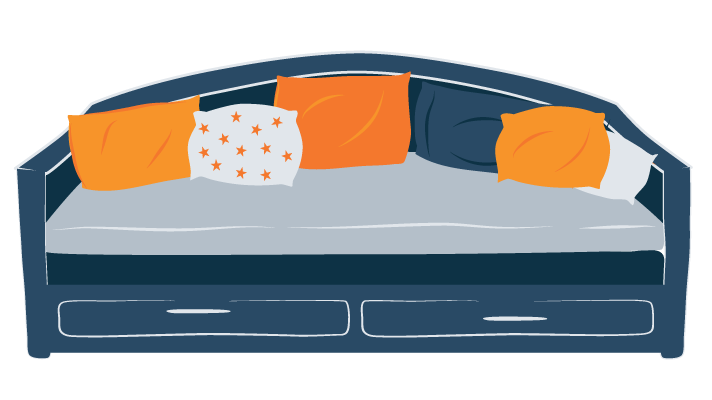 Conclusion
Pillow covers can add to room decor, help with allergies, and even smooth frizzy hair, but the best pillowcase is a matter of preference. From cotton to silk, there are certainly plenty of options and benefits to go along with each.
Whether you're looking to replace an old case but still match your sheets or want an option that can help with your skincare, there is probably an option for you on this list. Our buyer's guide should point you in the right direction toward finding the right product for your needs for the right price.