Transparency Disclosure – We may receive a referral fee for products purchased through the links on our site...

Read More

.
For those who have trouble getting comfy at night, a new pillow might help you rest with ease. There are multiple options, from memory foam to latex to cotton or down feathers, the selection is endless, and we're here to help you find the right choice for your needs.
You want to find a pillow with the right loft height for your particular sleep position because the ideal size for side sleepers and stomach sleepers could significantly differ. 
We researched all the different materials, designs, and brands to provide you a cheat sheet on the pros and cons so you can easily find the best pillow. For all the details on choosing your pillow, check out our buyer's guide, or click through our favorite options and their highlights to make your pick.
10 Top Rated Pillows Comparison
WinkBeds Adjust-A-Cube Pillow
Memory Foam Cube Fill
Adjustable Loft
Cooling Cover
Removable Cover
Machine Washable
If you're looking for a pillow with an enhanced design to help you sleep better, you shouldn't find much better than the Adjust-a-Cube pillow from WinkBeds. More than just a cushion for your head, the Adjust-a-Cube comes with impressive features that give it a leg up over the competition.
To start, there's the Cool Knit™ Cover, which is made of polyester and is designed to stay cool and soft. Additionally, the cover is durable for long-lasting use. Just inside this cover is a memory foam pillow shell, so you won't feel the cube-shaped fill directly.
What stands out?
The pillow's fill features cube-shaped pieces of memory foam infused with gel that you can easily remove to adjust the loft to your liking. Plus, the gel prevents the memory foam fill from overheating so that you remain comfortable.
You can remove the pillow's cover and place it in the washing machine for easy maintenance.
Nest Bedding Easy Breather
Machine-Washable Cover
Adjustable Loft
Shredded Memory Foam Fill
Eco-Friendly, Cooling Cover
For those leading busy lives, having products that are easy to maintain is a major plus. Nest Bedding's Easy Breather Pillow features a removable cover that's machine washable, earning its place as our pick for 'Best Washable Pillow.'
Not only is the cover easily washable, but it's eco-friendly and designed for optimal cooling. The pillow's fill contains shredded memory foam that should adjust to your neck and head well. Additionally, this product is adjustable, allowing you to find the loft that feels most comfortable.
Why do we love it?
The easily washable cover should make maintaining your Easy Breather pillow a breeze. Plus, hot sleepers will benefit from the cover's cooling design, which is made to disperse heat and absorb moisture.
The pillow's adjustable fill fosters optimized comfort, reducing your chances of waking up with a stiff or sore neck.
Saatva Memory Foam Pillow
CertiPUR-US® Certified Memory Foam
Cooling Graphite Technology
Shredded Memory Foam Core
Organic Cotton Cover
Machine Washable Cover
If you love the feel of a memory foam bed, then there's a good chance you'll equally enjoy a quality memory foam pillow. Memory foam is known for its ability to contour the sleeper's shape, and in this case, it should provide optimal contouring for the head and neck areas.
This pillow from Saatva features a shredded memory foam core, along with a CertiPUR-US® certification to ensure the foam in this product meets strict health and safety standards. Memory foam has a tendency to run hot, but that shouldn't be an issue here; The pillow contains cooling graphite technology to draw heat away for a more comfortable slumber.
What's worth noting?
Saatva's pillow has an organic cotton cover for a more eco-friendly and breathable surface.
You can remove the cover and place it in the washing machine to clean it.
Nectar Graphite Pillow
Carbon-Infused 

Graphite Fibers

Easy to Clean

50-Day Trial
The Nectar Graphite Pillow is built with memory foam to help cradle your head and support your neck, which should deliver a more comfortable sleeping experience.
Cooling is a primary feature of this pillow. The product contains graphite fibers and polyethylene yarns. These materials are made to promote a cooler sleep space, which is great if you're prone to overheating at night.
Nectar has added graphite to the memory foam in order to prevent the material from becoming too warm, a common downside to memory foam. Nectar has also implemented carbon fiber cool-tech in the pillow's cover. This, along with the anti-microbial technology, should deliver cooling and a cleaner surface. 
Why consider it?
The Nectar brand offers customers a 50-day trial period, giving them sufficient time to try out their new pillow at home. 

You should be able to easily keep this product looking fresh by using water and mild soap to spot-clean the pillow.
Helix Adjustable Pillow
Gel Microfiber Fill
100-Night Trial
1-Year Warranty
100% Cotton Cover
Polyester Shell
Being able to adjust your pillow from the inside is an excellent way to ensure it's as comfortable as possible to help you get your best sleep. Helix's adjustable pillow features a removable support insert that allows you to adjust the loft to your liking. This support insert is made of polyester.
The Helix Adjustable Pillow comes with a gel microfiber fill and cotton cover that should be optimal for hot sleepers, as these will help keep the product cool throughout the night.
Why we love it
The Helix pillow's adjustable design gives you a better chance of creating a cushion that feels more comfortable, and in turn, this can help you rest easier and wake up without discomfort in the neck or shoulders.
Helix backs up their product by offering customers a 1-year warranty and a 100-night sleep trial.
Best Pillow for Side Sleepers
Layla Kapok
Two Size Choices (Standard and King)
Copper Cooling Technology
Hypoallergenic
CertiPur-US® Certified
Layla has integrated its copper cooling technology into the cover of this sleek pillow, which features both shredded memory foam and kapok fill. The memory foam fill also contains conductive copper, which works to regulate temperature, preventing overheating – a big plus for anyone who loves the memory feel but finds it can make them too warm.
The Layla comes in two sizes, Standard and King. The advantage of the shredded material inside is that you can move it around to accommodate your sleeping position, making it ideal for back and side sleepers.
Why did it make our list?
Kapok is unique because it is taken from fibers found in seed pods of the Kapok tree. These trees are mostly found throughout the rainforest and are pesticide and chemical-free.
If you have allergies or prefer to use a pillow that does not include down, this could be the perfect hypoallergenic pillow you have been searching for.
Brooklinen Marlow
Cooling Memory Foam

Supportive and Adjustable

Vegan and Allergy-Friendly
The Brooklinen Marlow is constructed with memory foam and polyester fiber. These materials should provide support and comfort to the head and neck as you sleep. 
Hot sleepers should find a great match with the Marlow. The pillow's cooling foam and breathable mesh should help regulate the pillow's temperature so you can sleep more peacefully.
Adding to the Marlow's appeal is its adjustability. The product comes with a zipper enclosure. When you close the zipper, the pillow should feel firmer, and conversely, unzipping the pillow should make it softer. This allows the pillow to adapt to different sleep styles.
Why we picked it
The Marlow's cover is made from breathable cotton to further enhance the cooling effects.

Brooklinen will let you test out the Marlow for a full year before you commit to the purchase. 

This product's antimicrobial shell should help keep it in good condition for years to come.
Best Luxury Pillow

Coop Home Goods The Eden
Gel Memory Foam and Microfiber Fill

Machine-Washable Cover

Extra Half-Pound of Fill Included

GREENGUARD Gold and CertiPUR-US® certified
The Eden from Coop Home Goods is the perfect pillow upgrade for a more luxurious sleep experience. The pillow's fill is made with gel memory foam and microfiber. Together, these materials should provide soft support and excellent cooling. Memory foam tends to run hot, but the addition of cooling gel helps curb this so you don't have to worry about waking up hot and sweaty during the night.
Those with allergies should also love this product because it's hypoallergenic and therefore, resistant to common allergens like dust mites and debris. The Eden's liner is made from 100 percent polyester, while the breathable Lulltra™ contains polyester and bamboo viscose-rayon. 
What's worth mentioning?
Coop Home Goods gives you an extra half-pound of fill for free with your purchase. This way, you can adjust the pillow's loft to whichever feels best for maximum comfort.

You can remove the cover and clean it in the washing machine for added convenience. 
Brooklyn Bedding Talalay Latex Pillow
Two Loft Options: Low and High
Hypoallergenic
Sustainable Talalay Latex Core
Organic Cotton Cover
Latex offers some exceptional benefits to sleepers. This material is sustainable, breathable, and responsive enough to adjust to the sleeper's movements. Brooklyn Bedding's Talalay Latex Pillow comes at a competitive price point that should appeal to shoppers.
One of the product's biggest advantages is that shoppers can customize their purchase by choosing between a high or low loft. This way they can select what's going to feel best for enhanced rest.
What should you know?
The pillow features a sustainable Talalay latex core along with an organic cotton cover, making this a great eco-friendly product for those who value this in their bedding products.
The pillow's hypoallergenic design is optimal for individuals who are sensitive to allergens like dust mites and debris.
The latex and cotton cover are both highly breathable, so you shouldn't have to worry about becoming too warm while you sleep.
Purple Harmony Pillow
Advanced Hyper-Elastic Material
Responsive and Cool
Inflatable Adjustable Loft
Hypoallergenic
If you are familiar with Purple mattress technology, you will instantly notice the same grid with their pillow. The Hyper-Elastic polymer creates a cool surface with excellent support, response, and air circulation. It should conform nicely to the head and neck without losing its shape.
The pillow comes with an inflatable "booster" so you can modify the height (loft), and can be easily removed if needed, providing a dynamic, customizable product able to cater to a variety of needs. The cover is constructed from polyester, bamboo viscose, and spandex. The pillow is also 100% machine-wash safe for those unexpected events.
Why did it make our list?
The Purple should help those side and back sleepers who struggle with comfort find plush relief, helping with neck and spinal alignment.
If you suffer from allergies and need something that's made without memory foam or feathers, this is an excellent hypoallergenic product.
A Note on Pillow Sizes
Let's discuss different sizes you will encounter when shopping for a new pillow. It wouldn't make sense to purchase a King size for a toddler bed, right? Let's take a look at these standard dimensions, but have in mind that some manufacturers have their own custom sizes.
Name
Size
Standard
20" x 26"
Super Standard
20" x 28"
Queen
20" x 30"
King
20" x 36"
Euro
26" x 26"
24" x 24"
22" x 22"
20" x 20"
18" x 18"
16" x 16"
Body
54" x 20"
48" x 20"
Toddler
14" x 20"
Best by Material and Type
Material plays an important role when it comes to comfort, feel and cooling properties of your pillow. There is no single "best pillow" type. Different sleeping preferences and needs will require different materials and structure. First, let's take a look at various foams and then, we will take a look at natural and organic options.
Different Types of Foam
Polyurethane, memory foam, and latex pillows have become some of the most popular materials in the last 15 years or so for a variety of sleep positions. All of them offer fantastic support, contouring as well as cooling these days with higher-end pillows. They come in three most common shapes that have different properties.
Shredded – The most notable feature is that these pillows are adjustable and you can change the loft height until you are satisfied. It's also much more breathable than molded. Recommended for stomach sleepers.


---

Molded – Offers great contouring and support and we recommend this shape of pillow for neck and back pain.


---

Noodle – Similar to shredded memory foam when it comes to breathability, and you can also adjust it. Good for all sleeping positions.
Memory Foam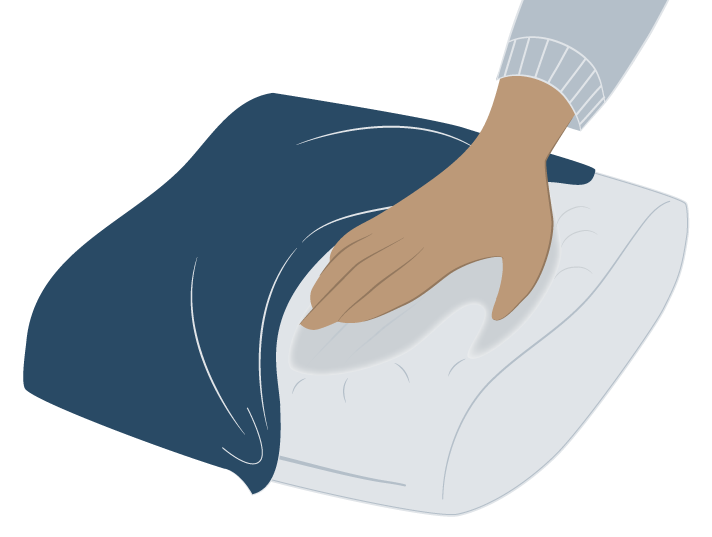 For a reason, this material has become the favorite among people suffering from back or neck pain. It has a slower response time and good "hug" which means it will quickly contour to your neck and head, providing support where it's most needed while relieving the main pressure points.
If we had to list one negative aspect, it's that it may retain more heat than other materials. But, new and improved design with gel on top can solve this problem quickly.
You will usually find these pillows as shredded, molded or noodle foam (or sometimes a mix).
Pressure relief


---

Contouring
Sleeps hot


---

Stronger smell
Latex
You will encounter two pillows, natural and synthetic latex (or a blend of these two). Natural latex is extracted from tree sap and is one of the most eco-friendly materials you can find. A blend is also a great option if you are looking for a less expensive pillow, and it still retains many qualities like hypoallergenic properties. Even though a latex pillow may cost more, fantastic cooling, durability and natural materials make it worthwhile.
Some pillows are a hybrid of latex and other materials, often only including a latex core with an outer shell of memory foam or other foam types.
Natural


---

Eco Friendly


---

Great Cooling
More Expensive


---

Less hug and contouring
Polyurethane Foam
When opting for polyfoam pillows, you will notice a more balanced feel compared to memory foam or latex pillows. It's also the least expensive of the three. It's often cooler than a memory foam pillow but not as cool as a latex pillow. While foam will still relieve pressure points, it may not be the best option for those with tender spots.
One thing to note is that it may have a stronger smell when it arrives and can be less durable. But, higher-tier custom poly-foam-based pillows offer all of the benefits with none of the cons, like our selected pillow for this category.
Less Expensive (in general)


---

Balanced feel


---

Good cooling
Odor (with lower tier pillows)
Alternative Pillow Types
Alternative pillows are created to provide a similar feel and features of natural materials at a much lower price. Obviously, the biggest downside is that these may not last as long.
Because many people suffer from allergies to down, manufacturers created an alternative that provides the same feel, but uses cotton or polyester as the main fill. If you are looking for better cooling, in some cases an alternative pillow may retain less heat than a natural down pillow, providing a much cooler sleep experience.
Some down alternatives also have adjustable pillow loft, which is recommended for stomach sleepers. If you love that soft down feel, but you suffer from allergies, try one of these, and you may love it.
Less expensive


---

Hypoallergenic
Shorter Lifespan


---

Not as natural
The Duck And Goose Co


---

Acanva
Polyester provides a more traditional feel like cotton does. Most pillows feature a polyester cover as it provides good cooling and is pretty inexpensive, but a big downside is that polyester fill has the lowest lifespan of all pillow fill types. These are often recognized as the universal hotel pillow that gets the job done but is nothing special.
You will notice that a polyester pillow may flatten easily and can be somewhat noisy. With all this being said, we do not recommend buying polyester filled pillows since there are many other natural options you can buy that provide a similar feel for the same amount of money.
Recommended Natural and Organic Pillow Types
Something worth noting is that organic pillows are always natural, but natural doesn't always mean it's organic. Let's take a look at these examples:
Wool, cotton, natural latex and down feathers are all extracted from plants or animals, meaning these materials are natural.


---

Organic pillows must be certified. Each of these materials can be organic, but this means the whole manufacturing process and materials used do not contain pesticides or dangerous chemicals. These certifications are a must have for people suffering from allergies.
Let's take a look at different types and natural materials used as pillow filling.
Down Feather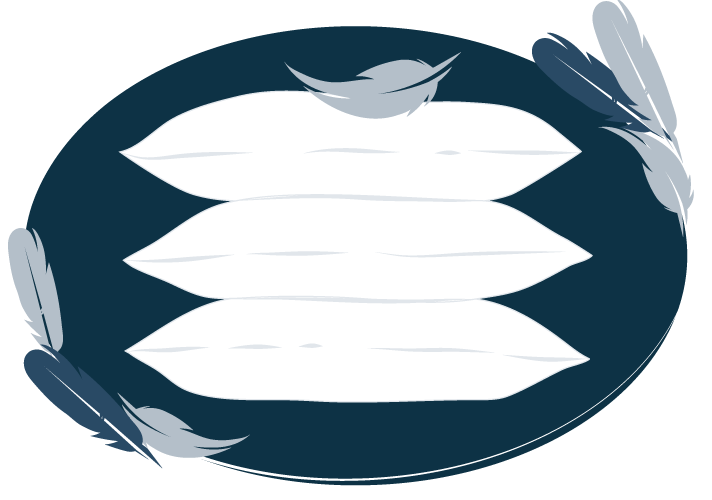 These pillows are made from down feathers of ducks, geese or swans. They can be a mix of down (soft and fine feathers found under harder outside layer) and denser feathers if you want a firm pillow.
It's typical for a down feather pillow to flatten after some time, that's why they have greater loft at first, with a moderate firmness level. Keep in mind that you may need to dry clean them, which can be somewhat a disadvantage. If you tend to sleep hot, down is good until it flattens, then it may lose its ability to regulate heat.
Natural


---

Nice and Soft feel


---

Good breathability
Difficult maintenance and cleaning


---

More expensive


---

Some people have down allergies
#1 Choice: eLuxury Goose Down Pillow
Buckwheat
Adjustable pillows allow you to add or remove fill to your desired loft, allowing you to choose higher or lower density pillows. These dense pillows are packed with buckwheat hulls and have a high firmness level. They are among the best adjustable pillows for cooling due to low heat retention and they also make the list for the best down alternative pillow options.
The biggest downside is that the hulls can be quite noisy and unresponsive to movement, similar to a bean bag. This may not be the best option for you if you like to change your position a lot during the night or if you need targeted pressure point relief. One of the biggest advantages is that it's hypoallergenic and it's suitable for anyone suffering from allergies.
Have in mind that you cannot machine wash the hulls. You can either replace them or put them in the sun for a few hours.
Learn More: Highest Rated Buckwheat Pillows
Hypoallergenic


---

Great Cooling


---

Natural and healthy material
Difficult to clean


---

Noisy


---

Low response
#1 Choice: ComfyComfy Buckwheat pillow
Cotton
Cotton is a natural material and can be manufactured as organic. It's also hypoallergenic and has great breathability and cooling. You will find many pillows with an affordable price tag. With all these above mentions pros, we have to mention that cotton pillows may have a shorter lifespan and tend to flatten over time, though the firmness level may vary by the amount of fill you add. If you choose a suitable loft, you can use it for any sleeping position.
Lower Price


---

Breathable


---

Sleeps Cool
Shorter Lifespan


---

May clump and flatten easily
Our Pick: Naturepedic Organic Cotton/PLA Pillow
Care and Maintenance
Pillows might not be the first thing you think of cleaning when it's time to wash your sheets, but they can be hosts to dust mites, bed bugs, and lots of other critters you want nowhere near your face. It's probably a good idea to clean them a few times a year, especially once you've found the best pillow for you.
To help your pillows last longer, we recommend using a pillow protector to prevent the oils of your skin from entering the pillow or causing stains. While some cotton pillows can be thrown directly in the washing machine and dryer, others like down feather pillows can be washed under special precautions and tumble dry without heat. It's important to always reference the manufacturer's care instructions.
If you have severe allergies, or pets that cause you to wash your cushions more frequently, it's always a good idea to look at the manufacturer's care label before treating your pillow or buying in the first place.
Get More Info: How to Wash Pillows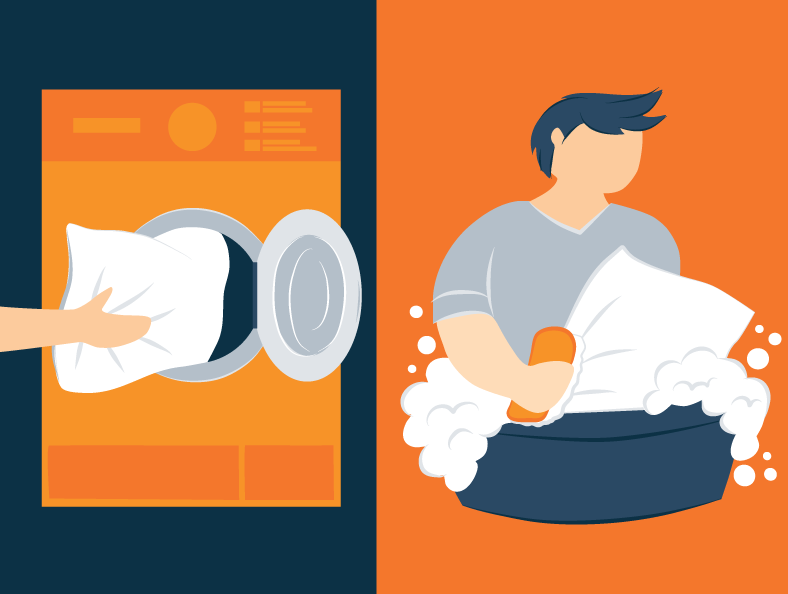 Top Choices by Sleeping Position
We all have a different sleeping style. Some of us like to sleep on the stomach while some are side sleepers and back sleepers, or a combination of a few. When it comes to your pillow choice, the sleep position will play a major role. For example, loft, density, and firmness level play a significant role in overall comfort and experience.
If you are not familiar what loft is, it's the height of the pillow when it's on a flat surface without any additional pressure applied. It's useful to determine which type of sleeper you are and choose according to that.
Side Sleepers
Side sleepers may want to consider a adjustable loft pillow because you can set the height to your preference. This will allow perfect neck and spine alignment. As far as materials, shredded foam pillows (memory or latex) would be a much better choice because of their pressure point relief properties. But, if you want to go natural, you can pick goose down pillow and adjust it to your liking.
Want to read more? Check out our complete guide for side sleeper pillows.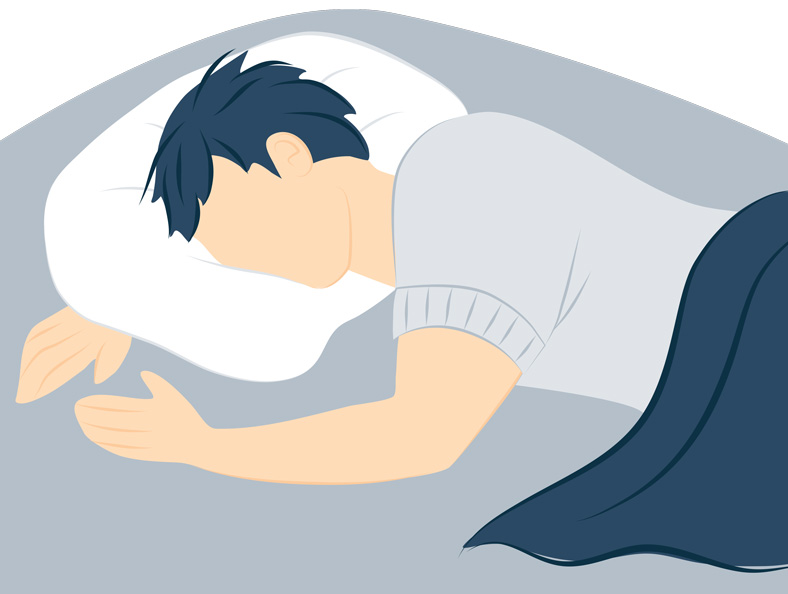 Back Sleepers
Keeping your neck and spine in healthy alignment is a priority for any back sleeper. You don't want your head raised too much (even though some of us prefer that) or too flat against the mattress. However in most cases, low or medium loft is better for your neck than high loft if you sleep on your back.
Memory foam pillows or latex should be able to provide sustained support throughout the night in this arena. Heavier back sleepers might want to opt for couple degrees higher to compensate for increased head and shoulder weight, and may consider an adjustable loft pillow, like shredded memory foam or down feathers.
Stomach Sleepers
Stomach sleepers will require the least amount of loft. You could even sleep without a pillow if that's what you prefer. The key here is that your head remains in alignment and that it's not raised too high. If you combine high loft with a mattress with soft mattress, you will most likely suffer from back or neck pain in the long run.
We recommend going with a adjustable loft pillow, such as shredded memory foam pillows. Again, heavier people can opt for medium loft to compensate but you should never go for high.
Cooling Pillows
In the last few years, quality cooling pillows have become very popular. We emphasize "quality" because many companies advertise their pillows as "cool," but in reality, they may lack the qualifications.
Wondering how to choose the right pillow, material, and type? Let's take a look at our graph here and see the cooling properties of different materials.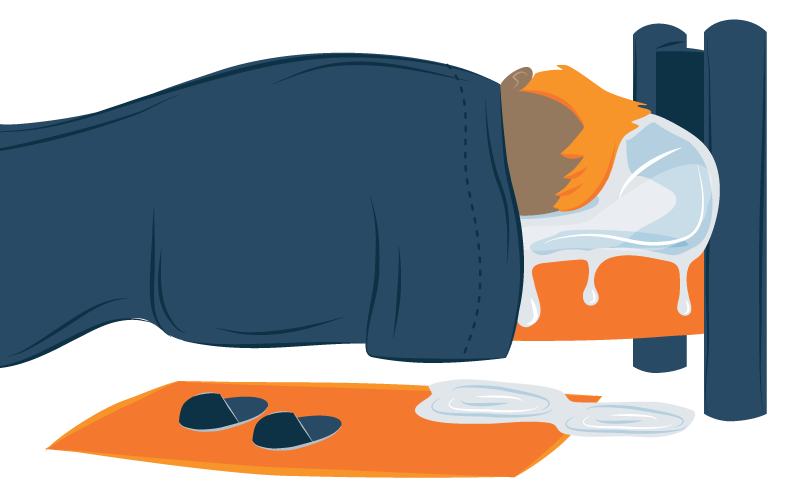 Here are three fantastic choices that utilize different technologies to achieve cool feel.
Classic Brands – A layer of gel memory foam is applied on top, providing better heat distribution.


---

Carboncool Pillow – Phase Change Covers help regulate the temperature along with aerated foam.


---

Nest Bedding Active X – Filled with Energex foam which does not retain heat. It feels like a mix of latex and memory foam and also has phase change fabric for additional cooling properties.


---
Interested in exploring further? Check out our complete guide for cooling pillows here.
Best Pillows by Specific Medical Condition or Needs
If you suffer from neck pain, back pain, shoulder pain or even more chronic issues like snoring and sleep apnea, your pillow can be one of the causes and it can play an important role in minimizing the symptoms. Let's take a look at various medical conditions and needs and how to choose a great pillow based on that.
Keep in mind that changing your pillow is only one of many treatment options for these conditions, and consulting your doctor can help you make the right choice moving forward.
Allergies
Allergic reactions during sleep can often be caused by incorrect pillow type. Materials such as feather pillows may collect more dust mites and some people are directly allergic to it. On the other hand, latex, buckwheat, cotton and high-quality memory foam pillows are hypoallergenic and rarely cause allergies.
Our Tip: If you love that soft down feel, you can buy an alternative (usually made from cotton) and make sure that you place the pillow outside in the sun to kill off any mites.
Find Out More: Is My Pillow Toxic?
Snoring
Snoring, as you know can be a big problem for your partner. But, there is a solution for that, and it's not some complicated machine or a mouthpiece. In most cases of light snoring, it's just a matter of finding the right pillow and head elevation.
Side sleepers and stomach sleepers will rarely snore anyway, so this is a back sleeper problem most of the time. If you're a back sleeper, slightly elevating your head is good, but it can cause neck pain in the long run. This is why we recommend a memory foam pillow more than any other option for this, to help your neck and head with pressure relief while it still helps with snoring.
Memory foam pillows may also help to reduce neck pain in some sleepers.
InteVision Foam Wedge


---

LANGRIA Anti Snore
Neck Pain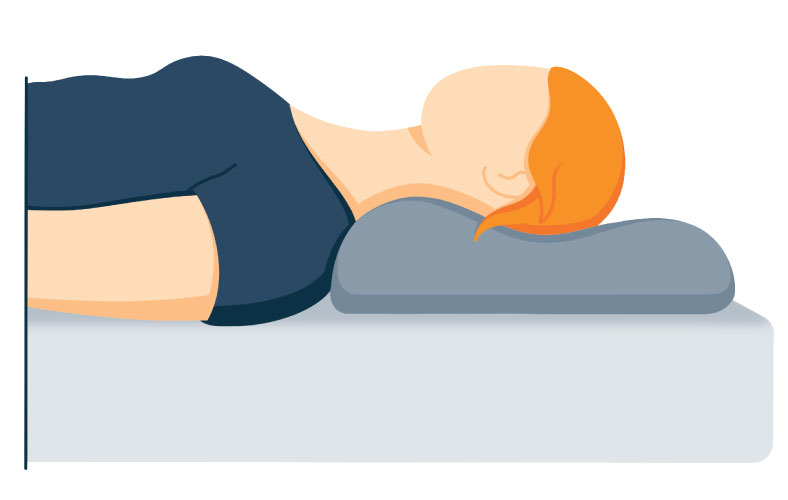 One of the most common causes of neck pain is your mattress and old or improper pillows. Although there could be many underlying conditions, so it's advised that you consult a doctor before making any decision. Many people make a mistake and do not consider their preferred sleeping position and weight, which could lead to further neck strain.
Stomach sleepers require lower loft (almost flat) so that your neck doesn't get curved.


---

Side Sleepers need a contour pillow, curving from the base of the neck to the ear (slightly heightened).


---

Back sleepers require medium loft with contouring toward the spine.


---

Combination sleepers require a contoured pillow with medium loft that is preferably adjustable to accommodate all sleeping preferences.
As for types, a memory foam pillow will likely work wonders when it comes to pressure relief but if you prefer natural materials go for latex or down (if you are not allergic).
Migraines
If you ever suffered from migraines, you know how deeply they can affect your sleep. Not only can they up to 72 hours, but it can severely impact your ability to perform even the simplest tasks. Migraines can be caused by a spasm of the main artery that supplies the brain with blood. When it contracts, it causes this familiar pain, pulsing, and nausea.
One indirect migraine cause is incorrect sleeping posture. In some cases you can correct this with an alternative pillow design to align your spine and neck naturally and to prevent any further nerve irritation.
Recommendations: The best pillows for migraines will include memory foam, latex or buckwheat pillows with good cooling properties that keep your spine and neck naturally aligned. These are coincidentally some of the best pillows for neck pain and back sleepers as well.
Sleep Apnea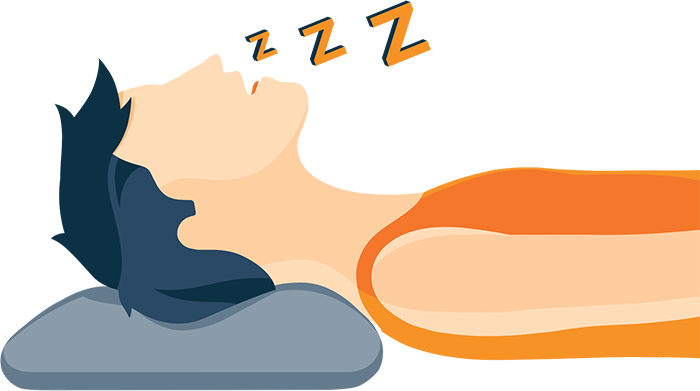 Pillows designed to help with obstructive sleep apnea force you to be a side sleeper or stomach sleeper while providing enough head and neck support to keep you aligned. As some of you may already know, sleeping on your back is not recommended for this condition as it can increase the number and occurrence of apnea episodes. If you have OSA, you may want to consider this alternative pillow.
We recommend: EnduriMed CPAP Pillow
Memory foam pillows like this one offer fantastic contouring while the indentations and shape allow for CPAP machines to remain in place without discomfort.
Looking for more info? Visit our in-depth guide for best sleep apnea pillows.
Toddlers
You might be wondering why toddlers can't sleep on regular pillows. It's only partly because a child doesn't have the same neck and head proportions as a fully grown adult. There are several factors to keep in mind before choosing the best pillows for your toddler.
Allergies – Many babies suffer from allergic reactions even though we don't know it yet. If you want to be extra safe, choose a hypoallergenic material and pillow cover.


---

Firmness – Toddlers will need a firm pillow. You likely don't want to buy a very soft pillow as it increases the risk of suffocation. Go with medium firm pillow options, most kids love it, and it's safe. Additionally be careful with memory foam pillows that may become too soft with heat.


---

Cover – Here, you may go organic if you prefer covers without dyes and harmful chemicals. Cotton or polyester blend is a good choice.


---

Fill Material – A memory foam pillow is one of the most popular choices these days but may not be suitable for children under the age of three. If your child is not allergic, you could opt for a down feather firm pillow.
Our #1 Pick: Little One's Pillow
Pregnancy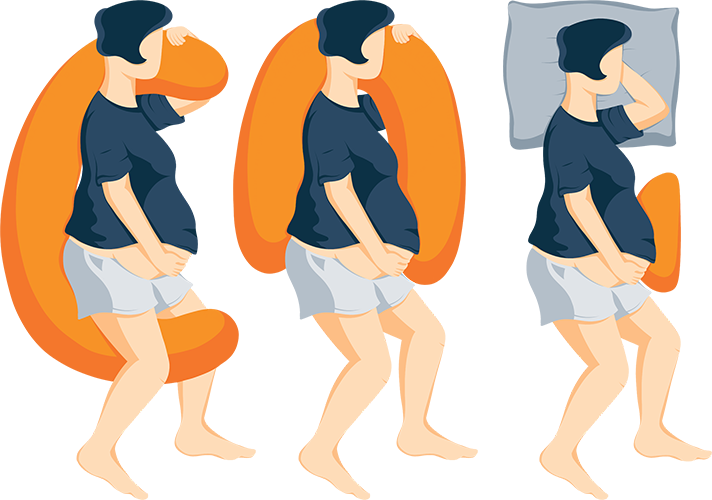 Pregnancy pillows are a special model of body pillow, shaped as U or C letter to allow maximum comfort during sleep without the added pressure to the stomach. Because many expectant moms are side sleepers, they may choose to continue to use it even after giving birth. Let's take a look at a few buying considerations for this alternative pillow:
Does it have a washable cover? – Most higher-end body pillows will have machine washable covers. You can imagine the stress of trying to clean them while still attached to the pillow.


---

Size – Most brands don't offer multiple pillow sizes but keep in mind that if you have a petite body shape and choose a bigger pillow, you may not have the full comfort and experience of a body pillow that fits just right.


---

Filling – If you are not allergic to down than feathers pillows are an option for some higher end body pillows. Memory foam pillows are an option too if you require a bit more support and contouring.
In Conclusion
As you can see, there is no such thing as the "best pillow" that will suit everyone in any situation. We all have different needs, and in the end, it's down to our personal preference. Different pillow fill and cover materials have different cooling, firmness levels and comfort properties. The definition of "best pillows" will be the products that fit your needs the best.
We hope that this roundup helped you understand which is the right pillow for your needs. Whether you're among the back and side sleepers, or you prefer your stomach, we've gone over the ultimate pillow brands and products you can buy from every category and for specific medical needs, but if you need any help or you would like us to review a certain pillow brand, feel free to drop a comment or contact us.
Rachael is a content writer for Sleep Advisor who loves combining her enthusiasm for writing and wellness. She's had a passion for writing since she was a kid when she wrote awful poetry. She's honed her craft quite a bit since then and considers herself a lucky duck to get paid to do what she loves.
Embracing the remote work life, she occasionally takes her work on the road and lives out her travel writer pipe dream.
In her free time, she attempts to meditate regularly, rides her bike to Trader Joe's, and enjoys trying every type of food that she can get her hands on.