Transparency Disclosure – We may receive a referral fee for products purchased through the links on our site...

Read More

.
Are you experiencing issues sleeping? If so, the reason might be hiding behind the inconvenience of your pillow. However, searching for a new one might truly feel like searching for a needle in a haystack. This is due to the vast majority of options, most of which would seem absolutely the same to the regular person.
Instead, we've taken the liberty of showing you one pillow that's liked by many. The Malouf Talalay Latex Pillow is a solution that might just fit your needs. Let's find out.
We would recommend the Malouf Talalay Latex Pillow to people who:
Are looking for a good bargain – this model is quite affordable for the qualities that it has. This is something you should keep in mind as it would be rather challenging to beat that deal. There aren't a lot of companies who would be capable of producing a similar quality pillow for the same price tag.
Are a fan of natural latex – made out of 100% Talalay latex, this pillow is the definition of organic latex. And, with it, there are quite a few perks. The breathability is enhanced, the support is proper, and the overall durability of your pillow would certainly meet your requirements.
Want to customize the comfort – there are two available lofts – high and low. There are two firmness levels – firm and soft. There are numerous options for you to take your pick from – that's the end game. This makes it great for the side, back and stomach sleepers.
Are looking for the cradling effect – that's just it. The entire pillow is designed with proper comfort zones thanks to the Talalay latex material. It is known to be able to cradle to your head as well as to provide natural support to your neck. This guarantees that you'd sleep well and you wouldn't wake up with pain in the neck.
On the other hand, we wouldn't recommend the pillow to those of you who:
Want a straightforward memory foam solution – there is a slight push-back in the pillow which some people might not enjoy. If you want a simple memory foam sleeping sensation, you'd have to look for something else. We selected some of the top rated memory pillows, you can check them out here.
Are allergic to latex – this doesn't need any further explanation.
All in all, these are the pre-qualifying criteria that you'd want to keep in mind. Now, let's have a closer look at the construction, feel and overall performance of the pillow.
The Construction
As the names suggest, this is a product which is made entirely out of latex. The filling is 100% Talalay latex. What's important to note here is the lack of any kinds of synthetic additives. This is something that you should be looking forward to as you are spending the entire night, every night, with your face buried in your pillow.
The last thing that you'd want it touching are chemicals, and lead, which is not excluded from the majority of cheap options out there which are filled with these.
There are a few holes made along the latex – they are specifically intended to optimize your comfort while sleeping. At the inner portions, you'd sense larger holes while at the outer portions – there are smaller holes. They are intended to ensure that you receive the perfect cradling effect for your head.
Usually, a lot of people are worried about the fact that this would jeopardize the support. Well, thanks to the performance capabilities of Talalay latex, this is not something that you ought to be worried about.
It goes without saying that apart from the proper comfort and support, these holes and the overall construction of the pillow also deliver great airflow and cooling capabilities. You can rest assured that you wouldn't have to flip the pillow over in the middle of the night, seeking sanctuary on the cooler side.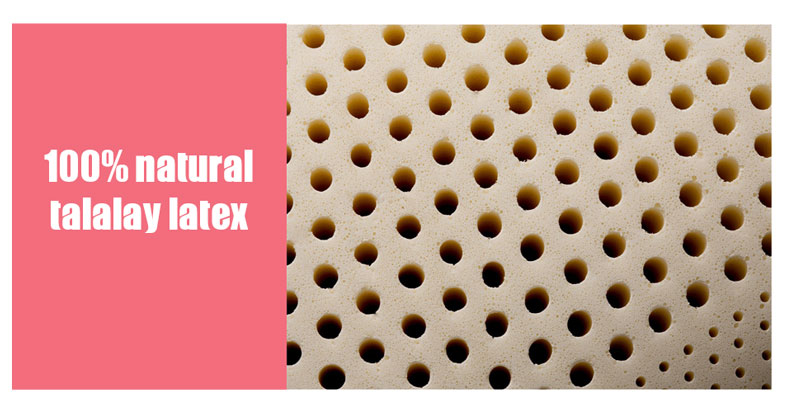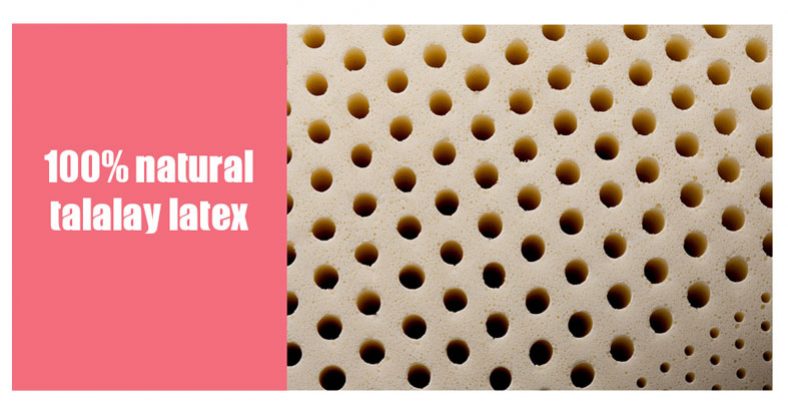 The Cover
The cover also plays a very important role in the overall sleeping sensation that the pillow will bring. It is made out of 25% rayon from bamboo and 75% polyester. The materials constitute an overly soft cover which doesn't dampen the general capabilities of the materials.
Of course, the cover is removable, and you could wash it in the washing machine and tumble dry it afterward.
How does it feel?
This is a moldable pillow, but that's something you are probably expecting from a 100% latex solution. The shape of the pillow is easily changed and very responsive. This allows different types of sleepers to use it very comfortably.
However, we've taken the liberty of suggesting what to choose depending on your sleeping positions. With this said, if you are a side sleeper, you can go for a high loft as well as plush or firm version, depending on your personal preference. If you sleep on your stomach, we'd suggest a lower loft, so your neck can stay in a natural position.
Last but not least – if you sleep predominantly on your back, you should get a higher loft as well. The firmness may vary depending on your personal preferences, but you need to remember that your pillow shouldn't be too low and too soft. You can read more about this in our article that's focused on back sleepers only.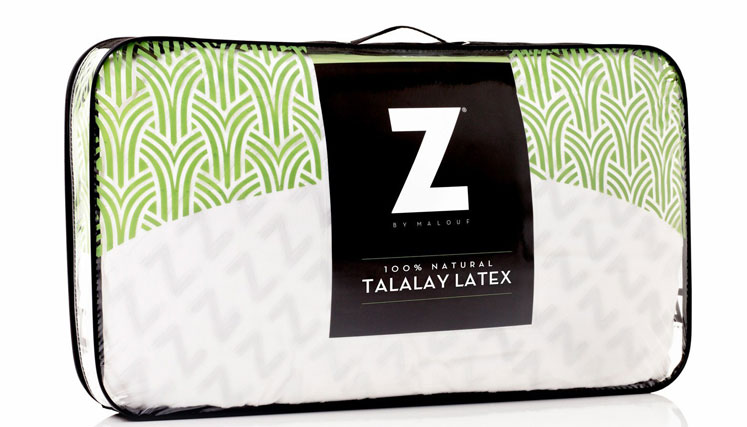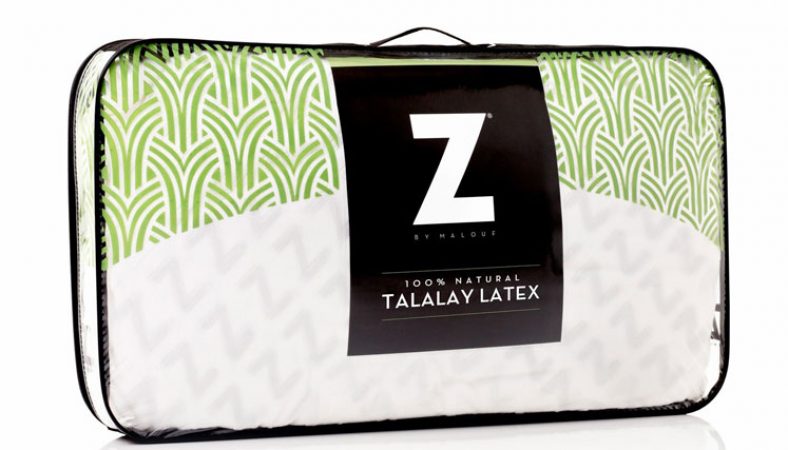 Other Considerations
The piece is backed by a 5-year warranty by Malouf. If the solution is deemed defective, the company is going to replace, repair, or even refund your purchase throughout this period. However, normal tear and wear are, obviously, not covered.
There is also a slight off-gassing smell that you should be prepared for. It's not something horrible, but it is notable. We'd suggest that you don't use the pillow for the first week to allow for the smell to completely go away.
There are different sizes available, and you can purchase different lofts with each one of them. You could also specify the firmness level that you'd require.
To Conclude
---
This is a great pillow for the price you're paying. While it's not cheap, it's also not by all means expensive. However, the quality is far above the average, and that's why the deal is worth it. The materials are of the highest quality and the overall sleeping sensation brought to you by the pillow is undoubtedly desirable.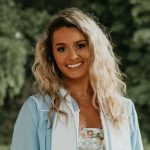 Katie Simpson is an editor for Sleep Advisor. She brings her experience in the wellness space, specifically in testing products and writing honest reviews, to the Sleep Advisor site where she provides helpful information on mattresses, sleep accessories, sleep health, and more.
As a former insomniac and dedicated back sleeper, Katie loves sharing her newfound appreciation for sleep with others. She's also an advocate for cranking the thermostat down at night — setting the temperature above 68 at night should be a crime.
Outside of work, her passion for living a healthy lifestyle continues in the gym, where you can find her lifting weights and doing yoga.