Transparency Disclosure – We may receive a referral fee for products purchased through the links on our site...

Read More

.
This guide has been updated on June 3rd 2023.
Do you wake up in the morning with a stiff neck and sore upper back, feeling unrested because your head isn't being adequately supported? Are you tired of stirring in the middle of the night, only to find that your ordinary feather filled pillow has fallen flat?
For those of you experiencing these pillow-related issues, we've created a guide to help you find best memory foam pillow for your specific needs. Plus, we'll go over why switching to them might lead to a more comfortable and better night's rest.
The concept of using memory foam products that react to your body temperature and conform to your unique shape has quickly caught on. Understanding this shift from down pillows to memory foam pillows is the first step in determining why it may be time for you to ditch the feathers.
6 Best Memory Foam Pillows
Top 6 Memory Foam Pillows Reviewed
So, which one is the best memory foam pillow choice for you long-term? Below are our eight favorite memory foam pillows on the market today, all with unique attributes for you to consider.
Interested in exploring further? Check out our guide for the best pillows here.
Coop Sleep Goods
King size available
Adjustable fill
Washable cover
CertiPUR-US® certified
GREENGUARD Gold certified
Made in the USA
This is arguably the best-shredded memory foam pillow on the market. Part of their appeal is that they are extremely customizable regarding firmness and loft. This is made possible by its zippered inner casing that can be opened and filled with the desired amount of shredded foam.
The shred is made from premium-grade proprietary foam blend, according to its manufacturer. What's more, refills for these shreds are readily available, adding to its increased hypoallergenic design.
Another hypoallergenic feature is its removable cover, which makes for easy routine cleaning. Complete with its tightly woven inner case, this is one of the more allergy-friendly options you'll find. This cover is made up of 60% polyester, 40% bamboo-derived rayon, and is intended to keep the pillow cool throughout your sleep.
There are very few foreseeable issues with Coop Sleep Goods pillow. One of the few complaints is that it may take a while to get used to. Being that memory foam pillow is quite a contrast to traditional feather pillows, uncomfortableness is very common for the first week or two. However, once surpassing the threshold of the first few uses, the pillow becomes quite enjoyable.
The only other problem with this option is that it is very much unlike other memory foam options, in that it is much softer. When buying a good memory foam pillow, many tend to assume that they will be firmer. With shredded foam, however, the product is noticeably softer, but for those looking to enjoy the benefits of memory foam while still appreciating "fluff," this is an excellent choice.
Want to read more? Check out our full Coop Sleep Goods review here.
Snuggle-Pedic Ultra-Luxury Bamboo Shredded Memory Foam
King size available
Adjustable fill
Washable cover
CertiPUR-US® certified
Made in the USA
The Snuggle-Pedic considers itself to be comparable to a down pillow that never goes flat. While this is the same feature among memory foam pillows, this brand has won notable favor among consumers.
Like other shredded memory foam pillows, it offers the ability to customize height and firmness by giving you the opportunity to increase or decrease the amount of shredded foam within. The shredded foam in encased by an inner cover and further insulated by the breathable and machine washable outer cover.
This outer cover employs Snuggle-Pedic's Ultra-Luxurious Kool-Flow™ Micro-Vented Bamboo Cover, that helps to increase breathability, lending to a consistently cool pillow.
The main issue that purchasers have experienced with this brand of shredded memory foam pillow is that the foam does not seem to hold shape over time. Many have noted that, after some months, a moderate amount of fluffing is needed. After throwing it in the dryer, some have found success in restoring the product to it's original "fluffiness."
Need more details? See our complete Snuggle Pedic pillow review.
Dough by Z
King and travel size available
Plush and Firm options
Three lofts
100% Tencel cover
CertiPUR-US® certified
This is an excellent option for those who often travel, as it's a bit smaller than most of its kind, but it certainly can make for a very comfortable at home option.
It is designed with rounded edges, giving it the look of a classic feather pillow with the firm support of 100% polyurethane foam.
The outer casing consists of 75% polyester and 25% rayon from bamboo, making it yet another appealingly hypoallergenic selection.
Being that this is a mid-size option offering medium firmness, there are not very many complaints. Some people find it too big for travel, while other posture that it might be too small to sleep on. Some consider it too firm for their taste while others prefer an even firmer option.
Overall, for those who travel regularly and are in need of a memory foam pillow that is smaller than the standard size, this is a great choice.
Iso-Cool Memory Foam Pillow
King and travel size available
Different lofts and firmness options
Tencel removable cover
CertiPUR-US® certified
This pillow is created by SleepBetter, and employs 100% Visco-elastic foam Active Air Technology™ that allows for better airflow, leading to a cooler night's sleep while still benefiting from the supportiveness of the foam.
It is a gusseted design, which means that it is made with extra material at its sides, which is meant to increase its thickness. Its form also consists of microscopic Phase Change Material beds that adjust to regulate body temperature throughout the night.
While many who purchased it in the past have thoroughly enjoyed it, many who have recently chosen this option find it to be of lesser quality than in prior years. Whether this is due to manufacturer malfunction is unknown.
Looking to learn more? See our complete Iso Cool pillow review.
Conforma
King size available
Ventilated memory foam
Washable cover
This option is of the more traditional memory foam pillow and is ideal for many different sleeping habits. With a 5-inch loft, this pillow is one of the taller of its kind, make for an increasingly supporting choice for both back and side sleepers.
What is unique is its aerated memory foam design, which is created with a pattern of holes to keep your head cool while providing ventilated neck and head support. This idea of ventilation for memory foam has increasingly become one of the more important factors, and conforma has taken note with its revolutionary design.
Conforma also prides itself on its "next generation" foam, complete with cooling properties that allow for self-ventilation. This aerated design aims to dissipate body heat and allow air to travel through the material.
Interested in more details? Read our full review for Classic Brands Conforma pillow.
Saatva Memory Foam Pillow
Cooling Graphite Foam
Organic Cotton Cover
Shredded Memory Foam Core
45-Day Return Policy
1-Year Warranty
Saatva's memory foam pillow is going to be a great match for shoppers who need a quality memory foam pillow with advanced cooling capabilities. Despite its popularity, memory foam is known for running hot. Saatva found a solution to this problem by incorporating three cooling measures into this pillow.
The most notable method is that they infused graphite technology into their foam to keep it cool. Second, the pillow features an organic cotton cover, which fosters breathability and helps absorb moisture. Third, the brand included natural latex into the pillow's shredded memory foam fill. Latex further keeps the material cool by supporting airflow.
Though Saatva's memory foam pillow is slightly higher in price, you're getting an exceptionally well-made product. The foam in this pillow is 100 percent CertiPUR-US® certified. Plus, the cover is machine washable, so maintenance should be a breeze.
Things to Consider When Shopping for a Memory Foam Pillow
To help you in the shopping process, you'll want to consider important product details. Taking into account these factors can help you find the best memory foam pillow for your needs.
Budget: Memory foam pillows are available at different prices, making it easier for everyone to find a model that works for their budget. You should start by deciding how much money you'd be comfortable spending. Then, consider what you're getting for the price. Your memory foam pillow doesn't have to be expensive, but you should think about if you're investing your money well. Think about the durability, warranty, comfort, cooling, and other features you may or may not get for the price you had in mind.
Sleeping Position: Some memory foam pillows are designed for specific sleeping positions, while others are more versatile. Your preferred sleeping position is important because not every pillow will fit every sleeper. For example, back and side sleepers usually need a thicker pillow or a higher loft, while stomach sleepers may prefer a lower profile memory foam pillow.
Firmness: Memory foam pillows are available in different firmness levels, ranging from a soft to firmer feel. You should also consider your sleeping position because not every firmness level will be comfortable in each position. Back and side sleepers usually like medium to firm pillows, while stomach sleepers typically like softer pillows.
Motion Transfer: Memory foam is an excellent material for motion isolation, so it's a good option if you're sharing a pillow with your partner. Memory foam pillows ensure you don't experience motion transfer, so partners won't disturb one another if they move around. The firmer the memory foam, the less likely you will feel any motion across the pillow.
Cooling Properties: Memory foam isn't the best for cooling, but pillows made from this material usually include cooling features to help prevent overheating. Cooling pillows include gel or copper-infused memory foam that pulls the heat away from you, reducing any chance of hot flashes and overheating. Some also feature cooling covers to further keep heat at bay.
Loft: Pillow loft refers to how thick a pillow is. Thickness is an important consideration because it plays a vital role in spine and neck alignment. A low loft pillow is 4 inches or less, while a mid-loft pillow is 5 to 6 inches thick. A high loft pillow is thicker than 6 inches. The best way of deciding on a pillow loft is to consider your sleeping position. Back sleepers should like all three loft options, while side sleepers usually go for mid or high loft. Those who prefer sleeping on their stomach typically need a low loft pillow.
Pressure Relief: Memory foam pillows are good for relieving pressure and preventing it from building up. Pillows made specifically for pressure relief are typically best for side sleepers. Side sleepers often struggle with pressure build-up on the neck and shoulder area, which a good memory foam pillow should help with.
Who Would Benefit From a Memory Foam Pillow?
Side Sleepers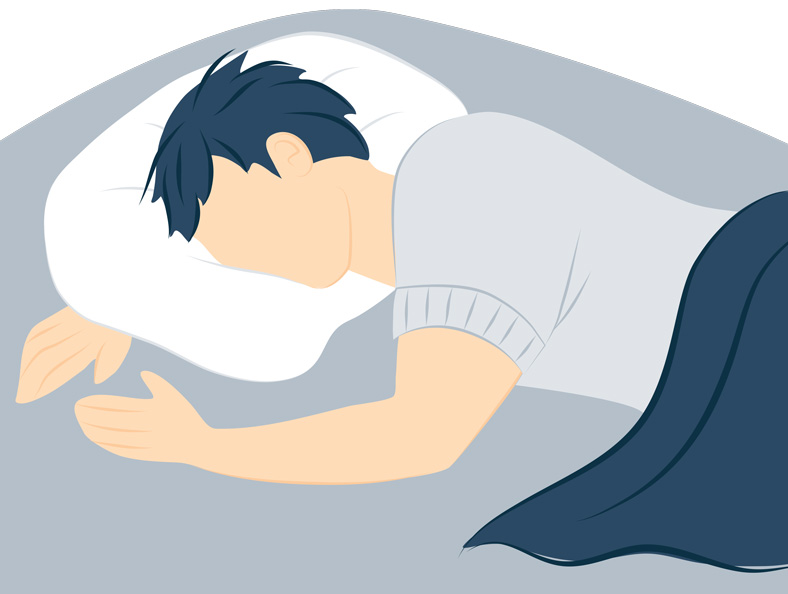 Side sleepers should benefit from memory foam pillows and the pressure relief they provide. Unlike a traditional feather pillow, a memory foam pillow retains its shape throughout the night. This allows the neck to stay in a neutral position so that you don't wake up feeling stiff and achy. Specifically, for those who mainly sleep on their sides, it's common to experience stiff necks each morning due to improper alignment of the spine. There are many side sleeper pillows on the market, and many of them are foam based.
People with Allergies
Allergy sufferers should benefit from memory foam pillows because the material doesn't hold dust mites the way traditional pillows do. According to Ashley Woodcock, Professor of Respiratory Medicine in South Manchester, most traditional feathered pillows contain dust mites and millions of fungal spores that create miniature ecosystems within your pillows. (Source). Furthermore, Jeffrey C. May of May Indoor Air Investigations suggests these traditional pillows are causing severe health risks for those with allergies. By far, the most long-term and optimal solution is to use a safer and more hypoallergenic option, like a memory foam-filled pillow.
Learn More: Are There Hidden Toxic Chemicals in Pillows?
People with Neck Pain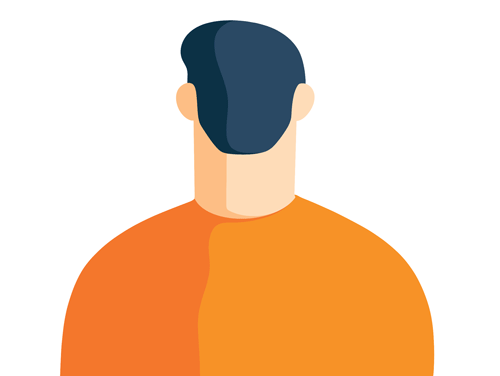 Those struggling with neck pain may find relief in a memory foam pillow. These pillows provide elevated support, helping ease the neck pain you may feel due to Cervicalgia or another condition.
Your neck and head should be elevated to a specific height when trying to alleviate neck pain. Memory foam pillows are a way for you to accomplish this because polyurethane is specifically designed to provide elevated support and a "melting in" feeling that adds to your overall comfort.
Get More Info: Best Pillows for Neck Pain
Different Types of Memory Foam Pillows
Now that you are aware of the pros and cons, it's good to look at the different subcategories and their unique features to determine which of these options is right for you.
Traditional
The most commonly purchased option is the traditionally shaped pillow. With a traditional pillow, a piece of memory foam is cut to the size specifications of your cover. A traditional pillow has a rectangular shape.
Contour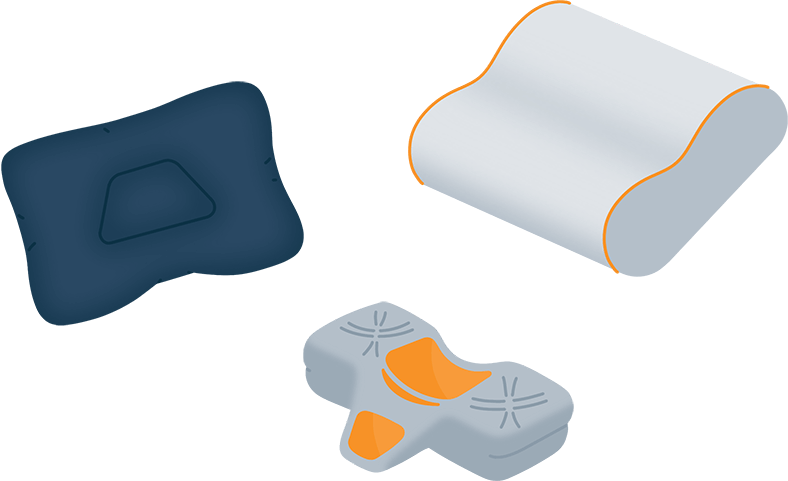 A contour pillow is cut into a more specific shape, and it is uniquely crafted to cradle your head at just the perfect angle. With the aim of providing ideal support for the head and neck, you're likely to experience maximum results regarding neck pain relief.
However, this type is not favored among those sleepers who tend to move regularly throughout the night. This model is commonly only comfortable in certain positions. Stomach sleepers will find this pillow unpleasant.
Shredded
The shredded option is similar to the traditional in that it is shaped much like a pillow filled with feathers. However, its contents are made up of thousands of shredded pieces of memory foam that are tightly compacted together.
This style is becoming more popular, because its shredded interior provides extra breathability throughout the night. Additionally, by squishing it, the loft and proportion of stuffing can be adjusted to the desired form.
Wedge
The wedge shape is the most unique of the four offerings. This pillow style consists of a large triangle made from a single slab of memory foam. While it is not primarily used in sleep situations, it has many practical applications for your health.
This is a great pillow for reading in bed, while pregnant, or for those with respiratory problems.
View Our Full Guide: Top 9 Wedge Pillows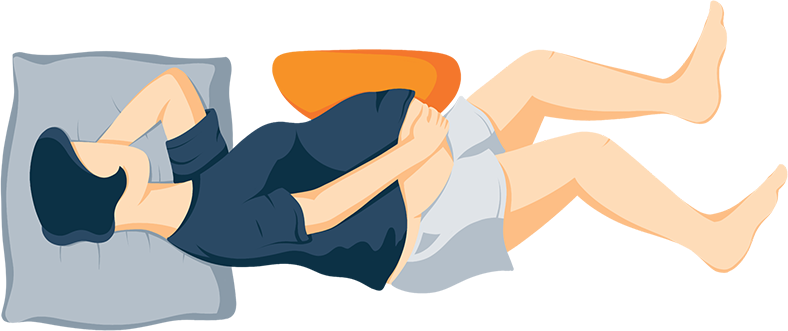 Memory Foam Pillow Sizes
Pillow sizes vary from manufacturer to manufacturer, but most stick to traditional dimensions. Standard, Queen, King, and body pillows are the most common sizes, each with their unique measurements. Although a Standard-size pillow is the most versatile, it doesn't work for everyone. The exact dimensions of each pillow size are listed below.
Standard: 20×26 inches
Queen: 20×30 inches
King: 20×36 inches
Body: 20×50 inches
Some brands offer a Super Standard size that's two inches longer than a Standard pillow. This is good if you want a pillow that's larger than a Standard-size model but smaller than a Queen or King.
Pros and Cons of Memory Foam Pillows
Pros
Memory foam pillows bring many benefits that make them a popular option. Plus, these pillows are versatile enough for most people regardless of their preferred sleeping position.
Shape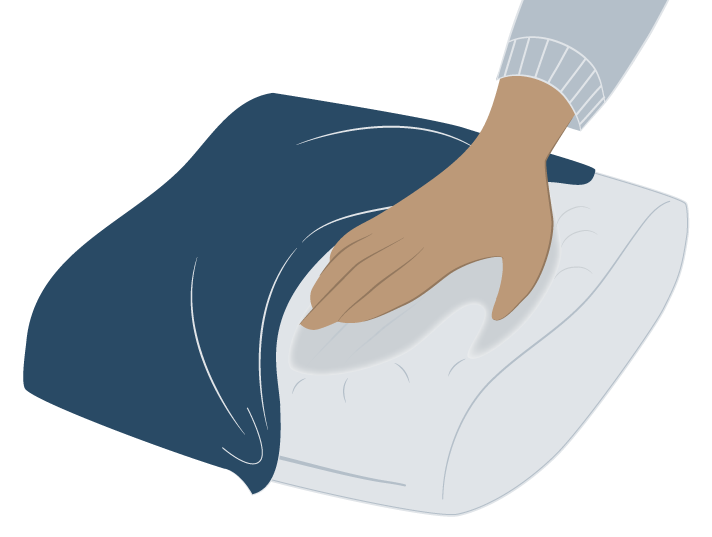 Memory foam retains its shape, supporting and contouring your head, neck, and shoulders. The pillow should mold to your head regardless of the loft and firmness you choose. Many memory foam pillows provide relief for common pressure points in the neck and shoulders. Since it doesn't compress under the weight of your head, the pillow keeps your spine aligned, preventing you from waking up with a stiff neck.
Support
Memory foam pillows are excellent for people with chronic shoulder, neck, and back pain. Frequent pain can make it difficult to fall and stay asleep, but a comfortable memory foam pillow should help ease the pain. The material also retains its shape, offering consistent support and pain relief regardless of your preferred sleeping position.
Motion Isolation
If you have a memory foam mattress, you probably know how well the material performs for motion isolation. Memory foam is a good option for partners who like sharing a pillow because it doesn't transfer motion. Instead, the material absorbs motion, so you're unlikely to wake up your partner if you toss and turn.
Cons
While there are very few issues found by those who have purchased memory foam pillows, it's important to consider the few problems that have been highlighted by consumers.
Cost
Memory foam is high-quality, but it's one of the more expensive options on the market. The upside is that shoppers have plenty of brands to choose from, and the direct-to-consumer model helps bring down costs. Ultimately, if a memory foam pillow fosters better sleep, paying a little more would be a smart investment.
Heat Retention
Much like it's counterpart, the memory foam mattress, this polyurethane material is known to retain heat throughout the night. Although this has been a frequent complaint in the past, manufacturers have implemented cooling measures into their memory foam cushions to help hot sleepers rest more comfortably.
Find Out More: Top Rated Cooling Pillows
Smell
One of the most commonly discovered issues is the unpleasant chemical smell that accompanies this material for the first few days or even a couple weeks. This off-gassing is usually harmless and will dissipate. However, people who are easily bothered by strong scents could see this as a drawback.
What Makes Foam Pillows So Special?
Memory foam pillows offer unique benefits that other materials may not provide. These advantages can not only improve how well you sleep, but in doing so, can boost your quality of life as well.
Motion Transfer Resistance
The most highly recognized benefit of owning a memory foam pillow is its ease of motion transfer resistance. Memory foam mattresses have been known to perform well in this category, and the same goes for their pillow counterparts. The memory technology enables the cushion to essentially build a mold around your head for optimal neck and head support. This may also reduce snoring because the foam keeps the neck aligned and the air passages open.
Consistent Shape Over Time
Unlike feather filled pillows, memory foam does not lose its shape over time. There will never be a need to "fluff" this type iof pillow. Memory foam headrests are made primarily from polyurethane, a material specially manufactured to keep its form for years to come. This also lends to the product's longevity versus traditional pillows that may need to be replaced sooner.
However, it's important to note that some shredded memory foam pillows have the propensity to lose shape gradually over time and may need some fluffing or re-shaping.
Let's Put This To Bed
If you are a side sleeper, you may greatly benefit from the contoured style. For many back or stomach sleepers, this is not the most suitable pick.
If you are pregnant or experiencing gastrointestinal or esophageal related health concerns, the wedge memory foam pillow may be ideal. However, if you find the incline or firmness displeasing, you might be better suited for a classic style or shredded memory foam pillow.
Whatever your individual sleep needs may be, you'll be able to find a great memory foam pillow.
Frequently Asked Questions
What is the Best Memory Foam Pillow?
Choosing the best memory foam pillow depends on your sleeping preferences and needs. You will need to consider factors like your sleeping position, loft, firmness, size, cover material, and cooling. This means that what someone may consider the best memory foam pillow may not work for you.
How Often Should You Replace Your Memory Foam Pillow?
You should replace your memory foam pillow every 2 to 3 years. Although it doesn't harbor dust mites and allergens the way traditional pillows do, a memory foam still has a limited lifespan. You can also prolong its lifespan by spot-cleaning and washing regularly. Still, most models are only good for up to three years before you should consider buying a new one.
Sources and References: