Transparency Disclosure – We may receive a referral fee for products purchased through the links on our site...

Read More

.
Disclaimer - Nothing on this website is intended to be a substitute for professional medical advice, diagnosis, or treatment...

Read More Here

.
Do you suffer from a medical condition that is preventing you from getting a good night's rest? Are breathing difficulties, pain, or reflux keeping you up at night? Using a wedge pillow might be the helpful solution you're missing.
Finding the best wedge pillow may be a bit confusing because there are many options to choose from in various shapes and sizes.
For some people, a wedge pillow can help by elevating the upper body or legs. Their unique shape can also support side sleepers, pregnant women, or anyone who struggles with back pain. In some cases, wedge pillows may be recommended by pediatricians to elevate the height of a crib mattress or bed for infants and children who have reflux.
People struggling with congestion, poor circulation, hernias, vertigo, or foot problems may also benefit. Surgeons may also recommend patients use these special pillows after knee or hip surgery.
We've reviewed the top 9 choices to help make the buying process a little easier.
Top 5 Best Wedge Pillow Reviews
Best Odor-free Wedge Pillow
MedSlant Wedge Pillow
This pillow was created by an acid reflux sufferer who couldn't find the wedge pillow that was just right for her. With that in mind, this pillow has a 7" rise, and is just the right elevation for side sleepers.
The MedSlant is an extra-large body positioning device that is half the width of a queen-size bed. Measuring 31″ x 28″ x 7″, this wedge pillow should provide plenty of space for any sleeping position. This pillow is designed to elevate and support the upper body, allowing gravity to keep acid down and the airways open.
The MedSlant is made in the USA with a hypoallergenic memory foam overlay that adjusts to your body shape and reduces pressure points. High-quality poly foam is under the top layer and should offer all-night support so you can wake up feeling refreshed. This product features CertiPUR-US foam, a certification guaranteeing safe levels of certain chemicals.
The MedSlant features a removable, washable microfiber cover that should hold its shape after many washes. To enjoy the benefits of elevated sleep, use this product on its own or with your pillow on top.
Best Multi-Layer Design Wedge Pillow
InteVision Foam Bed Wedge Pillow
Featuring a two-inch layer of memory foam, InteVision's Foam Bed Wedge Pillow, this pillow is great for any issues that get in the way of a good night's rest. This is a good wedge pillow to consider if you need a higher rise on your wedge pillow, as it clocks in at a 12" rise.
The InteVision Ortho Bed Wedge is designed to elevate the lower extremities. This unique cushion can be used post-surgery to reduce pain and inflammation. Elevating the ankles and feet above heart level should help improve circulation.
The InteVision is designed to create "zero gravity" spinal alignment, helping the spinal cord to relax and relieving back, hip and knee pain. The two-layer design features a highly resistant poly foam base layer for support and a memory foam layer on top for comfort. The high-quality machine washable cover is removable for easy cleaning.
The InteVision weighs only 3.2 lbs, so it should be easy to take with you anywhere. This generously sized wedge pillow measures 8″ x 21″ x 24″. For those who would like to have extra pillowcases, an optional Egyptian cotton pillowcase is available for purchase separately on Amazon.
Best Dust Mite Resistant Wedge Pillow
Brentwood Home Therapeutic Foam Wedge Pillow
While the majority of backrest pillows take the form of the "husband pillow" style, with a large backrest and two arms designed for reading or sitting up in bed, they're not the only game in town. The Brentwood Home wedge pillow features a simple design that sets up on the back of your bed, and encourages a comfortable, straight upright seating.
Sleep Advisor Score
4.60 / 5
The Brentwood Home Zuma Therapeutic is designed to provide comfortable support for those suffering from difficulty breathing, acid reflux, hiatal hernias, poor circulation, and back or neck pain. This triangle can be used to elevate the lower body, upper body, or to stabilize the trunk for lying on your side.
The Zuma Therapeutic can also be used to elevate the legs or hips to provide support and reduce pain or inflammation. The gradual slope should offer comfortable positioning and uses gravity to maintain open airways and keep reflux down. This pillow can also be used vertically as a comfy spot to rest against for reading or relaxing.
The extra soft and stretchy cover features a breathable knit material that is removable for washing. This product is hypoallergenic, dust mite resistant, and uses CertiPUR-US certified foam. This low VOC pillow is made without ozone-depleting chemicals, mercury, lead, formaldehyde, phthalates, PBDEs, or TCEP flame-retardants.
Best Economical Wedge Pillow
FitPlus Premium Wedge Pillow
High-density memory foam wraps around this pillow, making it best for sleepers who love to sink into bed. At 15" wide, it's a better size for sleepers looking to relieve specific areas of their body or elevate feet and knees.
The FitPlus Premium Bed Wedge features 2-inches of memory foam over a premium-grade polyurethane foam base. Memory foam is known for its therapeutic ability to mold to the contours of the head, neck, and shoulders. By providing comforting support, this pillow should help you sleep soundly.
Elevating the upper body can help to provide relief from neck and back pain, snoring, acid reflux, breathing problems, allergies, and more. This FitPlus product can also help to promote a healthy sleep position by supporting the upper back and shoulders. The ergonomic shape is designed to support healthy posture, preventing orthopedic issues in the shoulders, neck, and spine.
The soft, breathable cover should help to provide a comfortable temperature while you sleep, and can be removed for washing. This multipurpose wedge pillow can also be used for watching TV, reading in bed, or for under the legs and feet to increase circulation.
Best Wedge Pillow for Hot Sleepers
Helix Wedge Pillow
The Helix Wedge pillow is uniquely designed to help people adjust their sleeping positions and prevent nighttime annoyances like snoring, back pain and acid reflux.
Sleep Advisor Score
4.30 / 5
Read Full Review
The Helix wedge pillow can be used for various purposes. Those who sleep warm should appreciate the gel memory foam, which works to release heat through hot nights, letting sleepers rest comfortably.
The pillow was specifically created at 10 inches high so that it can be used for the neck, back, or legs, lending its capabilities to a variety of needs. Individuals who suffer from neck soreness, muscle aches, or back pain should find relief in this product when properly placed under the head or legs.
The Helix's design was created with spine alignment and comfort in mind to minimize pressure on the lower back, helping you gain more rejuvenating sleep. The generous 100-night trial should provide ample time to decide whether or not the pillow makes a difference in your sleep life, and the 1-year warranty should provide peace of mind your product will offer a significant return on your investment.
What Is A Wedge Pillow?
A wedge pillow is simply a triangle-shaped pillow with a gently tapered incline. The slope helps to elevate the upper portion of the body, supporting the head and neck during sleep. It can also be used to elevate the lower limbs for increasing circulation and reducing pain/inflammation.
Pregnant women may find that a triangle pillow helps them find a comfortable sleeping position as their belly grows. Side sleepers may use them to alleviate pressure between the knees. Even stomach sleepers have found that they can be useful for re-training them to sleep in a different position.
Many people with medical conditions may also benefit from sleeping with a wedge pillow. Elevating the head should improve snoring, sleep apnea, congestion, vertigo, and more. The unique shape means they can also be used in an upright position for watching tv, reading, or any other activities while awake.
Triangle Pillow Buying Considerations
Size / Height
Size and height can be important factors to consider if you plan on using the pillow for any medical conditions such as acid reflux or sinus congestion. Wedge pillows come in various shapes and dimensions and some manufacturers offer multiple heights to choose from.
Low heights are usually between 6 to 8 inches and are designed for aiding sleep apnea, acid reflux, and other medical issues. Mid-range sizes are 10 to 12 inches and should help prevent muscle aches and pains. Tall height options are about 15 inches and are usually best for comfortable relaxing or positioning.
Shape
Wedges are available in a variety of shapes and sizes. All options will typically feature some kind of slope and most are in the shape of a triangle. Some models feature a gradual incline and others come with very steep inclines.
Conveniently, some options are foldable to create additional shapes and for easy storage. Figuring out the best wedge pillow for you will depend on your health needs and whether you are looking for something you can travel with.
Material / Firmness
The type of material used can be an important feature to consider for finding a perfect pillow with optimal level of firmness to suit your needs. A traditional polyurethane foam usually will provide firmer support that is ideal for back sleepers.
Memory foam is known for its ability to contour to the shape of the body, providing optimal pressure relief for those who sleep on their side.
Polyester filled wedges have a similar pillow feel that is softer and could be ideal for easing back pain but are generally not useful for addressing health issues.
Sleeping Position
People sleep in a variety of positions including on their side, back, and stomach. Some people are also combination sleepers, changing positions during the night. Front and back sleepers usually prefer a soft and thin wedge pillow whereas side sleepers may prefer firm and thick options.
Some people also choose to use wedges between the knees or to elevate the legs. For these purposes, the type of pillow will be based on comfort and preference.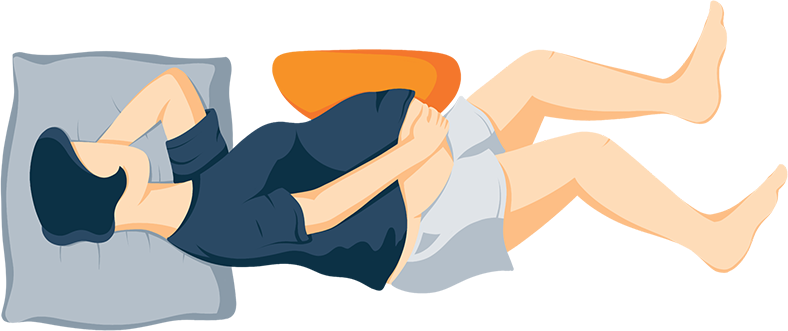 Therapeutic Use
Wedges provide support for different therapeutic uses depending on their shape and size. Pillows with a gradual incline are generally the best option for pregnant women.
Health issues such as sleep apnea, acid reflux, heartburn, or sinus congestion will usually be improved using a standard size. Steeper inclines found in larger pillows may be best for helping to ease back pain and preventing spinal misalignment.
A slight curve may be ideal for leg use to prevent any issues with circulation. For more information, see our guide on how to use a wedge pillow.
Why Own a Wedge Pillow?
Improve Breathing
According to research performed in Brazil, sleeping at an incline may be beneficial for those with sleep-related breathing difficulties, including sleep apnea. Elevating the head and neck should prevent the upper airways from collapsing during sleep, improving breathing and oxygenation to the brain. This can also be beneficial for those who snore.
Avoid Stiffness
Many people wake up with stiff backs and necks. Wedge pillows may help to reduce pressure points and correct sleeping posture for a restful night's sleep. Depending on what type of sleeper you are, these cushions can be used under the head and neck, lower extremities, or between the legs.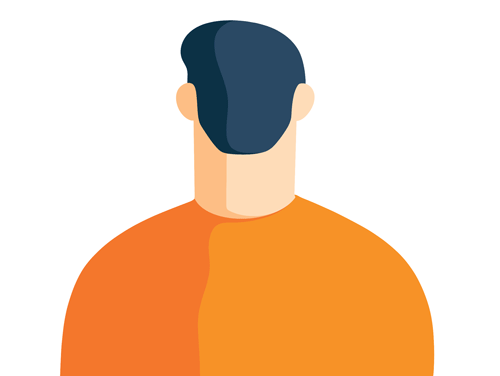 Relieve Heartburn
Sleeping at an incline may help to improve symptoms of heartburn by allowing gravity to prevent stomach contents from rising up into the esophagus. For heartburn, a lower wedge pillow with a gradual incline and about 6 to 8 inches high is generally the best choice.
Reduce Congestion
Congestion caused by sickness or allergies may be improved by sleeping with the head elevated. Gravity can help to assist drainage from the ears and nasal passages, allowing built-up fluid to drain. Many users will notice an improvement as soon as the next morning.
Improve Circulation
Elevating the feet, ankles, and legs may help to improve circulation by increasing blood flow back to the heart. This can be especially helpful after surgery or when experiencing swelling in the lower extremities. Placing a pillow between the legs may also reduce varicosity and improve symptoms of restless leg syndrome. Curious to know more? If so, see our article on the benefits of Sleeping with Legs Elevated.
Healing
After having surgery, elevating the surgical area is often recommended for helping to reduce pain and inflammation. Depending on the location of the procedure, the wedge pillow can be placed under the legs, knees, or upper body. Elevation should also be helpful after an injury like a broken bone or sprain.
Prevent Acid Reflux
Similar to heartburn, acid reflux is a condition where stomach acid travels up the esophagus causing a burning sensation. This condition is more common when lying flat because abdominal pressure can open the sphincter that normally separates the stomach from the esophagus. According to research conducted across the United States, sleeping at a slight incline should allow gravity to reduce acid reflux. To learn more about these benefits, see our article on Inclined Bed Therapy.
Support While Reading
Many people enjoy reading or watching TV as part of their bedtime routine. Resting up against the headboard can be uncomfortable, and traditional pillows offer little back support. A larger wedge with a steep incline may be very useful, but any wedge placed in a vertical position should work for relaxation purposes.
Frequently Asked Questions about Wedge Pillows
Can a wedge pillow help sleep apnea?
Sleeping on the back can collapse the lungs and upper airways, leading to problems like snoring and difficulty breathing. By elevating the head and neck, many individuals with sleep apnea should notice an improvement in their breathing and a reduction in their CPAP reliance.
Can a triangle cushion relieve sinus congestion?
Sinus congestion from allergies, a cold, or the flu can make breathing difficult and prevent restful sleep. Using a wedge pillow may help to reduce nasal blockage and congestion. Sleeping at an incline should help the sinuses to easily drain, promoting peaceful sleep and easy breathing.
Can a wedge pillow minimize snoring?
Snoring is often due to blockage in the nasal passages or upper airways. A slightly elevated position may help to minimize snoring by maintaining open airways and reducing inflammation. A standard wedge with a 30 to 45-degree incline will generally be the best choice for this purpose.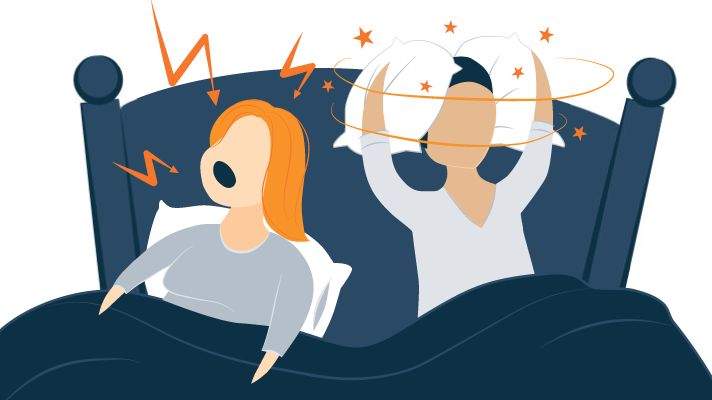 Are wedged shaped pillows good for back pain?
Back pain is often due to poor posture while sleeping. By supporting the cervical spine and lumbar region, many people notice a great reduction in pain upon waking. Placing a pillow between the legs may also help to keep the spine in a neutral position, alleviating pain.
Conclusion
If health issues like acid reflux or sleep apnea are keeping you awake at night, sleeping with a wedge pillow may provide relief so you can get the rest you need. There are many options to consider, each with different therapeutic purposes.
Consider the type of material or foam, the level of firmness, and the pillow size. Some larger pillows may be too big for a small bed, so be sure to review the dimensions before making your purchase. Expectant mothers may also find relief from heartburn and swollen ankles using a wedge pillow for support.
With so many options to choose from, you can find the most ideal wedge pillow for you based on features including long-term durability, handles for portability and travel, folding designs for storage, and removable covers for easy washing. While it can take a night or two to get used to, a wedge pillow could be the difference in your overall sleep health.