Transparency Disclosure – We may receive a referral fee for products purchased through the links on our site...

Read More

.
Many folks struggle with hip and shoulder pain throughout the night, specifically side sleepers. We're aiming to help you fix that. If you feel pain on the outside of your hip or upper thigh, there are several reasons you could be experiencing this discomfort, and your bed may not be helping.
If you struggle with frequent difficulty sleeping, there are mattresses specially created to offer soothing relief to achy joints. Sleeping is a critical part of our lives, without which we can't be our best selves. When we're tired, we could potentially sabotage our careers, relationships, and even our health.
Pain and suffering may be an inevitable part of life, but that doesn't mean you can't find solutions. In this article, we'll share the best mattresses for bad hips and shoulder pain, valuable tips on how to minimize that pain, and choosing the right bed to help.
10 Best Mattresses for Hip & Shoulder Pain
Top 10 Beds for Shoulder/Hip Pain Reviews
Helix Midnight Luxe
Hybrid Mattress

Best for

Side and Back

Sleepers

Firmness Level: 6-7/10

100-Night Trial

15-Year Warranty
Helix Midnight Luxe mattress is an upgraded version of the Helix Midnight. The Midnight Luxe is two inches taller, featuring an extra layer of gel Visco foam and coils with zoned support. The upgraded design should provide exceptional pressure relief on the hips, shoulders, and legs.
Memory foam is commonly used for pressure relief, conforming to the body, and reducing pressure build-up. The construction starts with a breathable premium pillow top, followed by a memory foam comfort layer, gel Visco support layer, high-grade polyfoam transition layer, the coil unit, and DuraDense foam base layer.
Why is it special?
The Helix Midnight Luxe pillow top features Tencel technology to promote airflow and prevent overheating.

The coil unit has individually-wrapped coils with zoned support to reduce pressure build-up in the hips and

shoulders.

The Midnight Luxe comes with a 15-year warranty compared to the Midnight's 10-year deal. 
Best Value Mattress for Hip and Shoulder Pain
Nectar
Memory Foam Mattress
Best for Side, Back, and Stomach Sleepers
Firmness Level: 6.5/10
365-Night Trial
Forever Warranty
Nectar combines memory foam and standard conventional foam to relieve pressure on the hips and shoulders. The mattress is 12 inches tall, starting with a heat-resistant and odorless polyethylene cover. Below the cover is the 2-inch gel-infused memory foam quilted to the cover for temperature regulation and body contouring.
The middle layer of the Nectar mattress is made from conventional foam. This layer is 4 inches thick, supporting your body and allowing easy repositioning. The final layer is a 6-inch standard conventional foam, creating a sturdy foundation for the upper layers to respond to your body. Side, back, and stomach sleepers should benefit from the foam's mid-range firmness and pressure-relieving performance.
Why is it special?
The Nectar bed responds to your movement, providing comfortable support in all sleeping positions. The construction and mid-range firmness should help with stiff muscles and achy joints.
Aurora Luxe
Hybrid Mattress
Best for Side, Stomach, and Back Sleepers
Firmness Level: 5/10 (Soft), 6.5/10 (Medium), 8/10 (Firm)
120-Night Trial
10-Year Warranty
Sleepers with arthritis should look for a mattress to reduce contact pressure on sensitive joints. The Aurora Luxe is available in three firmness options, allowing sleepers to choose the stability and softness that fits their needs.
The Aurora Luxe mattress has five layers and is 13 inches tall. The construction starts with a layer of CopperFlex™ foam with TitanCool™ technology for pressure relief and cooling. The second layer is the hyper-elastic TitanFlex™, suitable for sleepers with latex allergies. The third layer is swirl visco-elastic memory foam, followed by 8-inch Ascension X™ pocketed coils for support, stability, and durability. Below the coils comes the base layer of high-density foam.
Why do we love it?
The Aurora Luxe gives a cloud-like feel regardless of the firmness you choose. Sleepers with arthritis should like softer models, especially if they like sleeping on their side.
Best for Back Sleepers with Hip Pain
DreamCloud Premier Rest
Hybrid Mattress
Best for Side and Back Sleepers
Firmness Level: 6/10
365-Night Trial
Forever Warranty
Back sleepers with hip pain should enjoy the DreamCloud Premier Rest mattress for its mid-range firmness and pressure-relieving construction. The bed has thick foam layers that cradle the body and reduce pressure build-up. DreamCloud Premier Rest is a hybrid bed with a breathable cover, keeping hot sleepers cool throughout the night.
Average-weight back sleepers should enjoy the firmness, while stomach sleepers may prefer a firmer bed. The DreamCloud Premier Rest features 8.5-inch individually-wrapped coils for the bounce and responsiveness you want when repositioning. DreamCloud Premier Rest has a 2.5-inch soft foam layer on top of a transitional layer that prevents sleepers from sinking into the bed.
Why is it special?
The DreamCloud Premier Rest should fit lightweight and average-weight back sleepers who struggle with hip pain. The construction feels supportive with just enough bounce.
The bed is 16 inches tall, which is significantly higher than most mattresses.
Best for Heavy People with Hip Pain
The WinkBed
Hybrid Mattress
Best for Side, Back, and Stomach Sleepers
Firmness Level: 4.5/10 (Soft), 6.5/10 (Luxury Firm), 7.5/10 (Firm)
120-Night Trial
Lifetime Limited Warranty
If you're heavier and experiencing hip pain, your mattress should offer enough support for spinal alignment and quality pressure relief to melt away pressure against your hips. The WinkBed is a hybrid made of springs and various foams. The subtle bounce in the coils and the soft, plush foam offers comfort and support, ideal for those with pain at pressure points like the hips.
The high-quality textiles in this mattress should be immediately apparent. A substantial mattress, the WinkBed totals 13.5 inches tall, providing enough depth for heavier sleepers to feel comfortable and supported.
Why is it special?
The WinkBed comes in three firmness levels. However, if you find you want more support, the brand offers the WinkBed
Plus, a special version of their WinkBed specially designed for heavier individuals.
The coil unit is zoned to provide extra pushback support in heavier areas.
Best Luxury Mattress for Hip and Shoulder Pain
Nolah Evolution
Hybrid Mattress
Best for Side, Stomach, and Back Sleepers
Firmness Level: 6/10
120-Night Trial
Lifetime Warranty
The Nolah Evolution is a hybrid mattress that stands 15 inches tall. The bed has a total of five layers, including top-tier proprietary materials like the AirFoamICE™ foam, AirBreath™ Heat Escape Gusset, and the HDMax™ coils. In addition, the Evolution mattress has an organic cotton cover, cooling Euro topper, high-resilience foam, transition foam, and a plant fiber foundation. These layers add cooling, support, durability, and structure to the bed.
Nolah foams have the CertiPUR-US safety stamp of approval, which means they're free from chemicals and toxins. The brand also gives an extra incentive with their industry-leading warranty and a trial period of 120 nights, allowing shoppers enough time to test out the mattress.
Why do we love it?
The Nolah Evolution should work for all sleeping positions thanks to its mid-range firmness, support, and pressure-relieving properties.
The bed features individually-wrapped coils that hug the body while soothing pressure points near the shoulders, hips, and waist.
Best Adjustable Mattress for Hip and Shoulder Pain
Saatva Solaire
Memory Foam Mattress
Best for Side, Back, and Stomach Sleepers
Firmness Level: Adjustable
365-Night Trial
Lifetime Warranty
The Saatva Solaire mattress offers up to 50 firmness options, so it should fit all sleep positions and body types. For those who share a bed with a partner, you can adjust the firmness on each side of the bed to fit your preference, which may differ from your partner's.
The construction of the Saatva Solaire starts with a pillow top quilted to 2 inches of foam. Next is the 5-Zone Talalay Latex, followed by 2-inch gel-infused memory foam for pressure relief. Further down is the moisture barrier added to prevent bacteria growth. The next layer is the 6-inch vulcanized latex air chamber you can adjust to the desired firmness. The final layer is the 5-zone convoluted polyfoam.
Why is it special?
The bed's use of zoned latex and memory foam should help melt away pressure in the shoulders and hips.
Best Eco-Friendly Mattress for Hip and
Shoulder Pain

Leesa Legend
Hybrid Mattress
Best for Side and Back Sleepers
Firmness Level: 6/10
100-Night Trial
10-Year Warranty
Eco-friendly products continue to gain popularity among consumers, especially in the mattress market. For those who want something better for the environment that also combats hip and shoulder pain, the Leesa Legend is a suitable match.
The Legend's commitment to an environmentally-conscious product includes both sustainable manufacturing practices and materials. The Leesa Legend's cover is made from 100-percent organic cotton, moisture-wicking Merino wool, and fiber from recycled water bottles.
Why we picked it
The Legend's unique design includes two coil units. The first is a layer of micro pocket springs placed at the head and foot of the bed with firm polyfoam in the middle. This layer is made to provide enhanced pressure relief and support.
Along with the micro coils, the bed's first two foam layers, which include a layer of memory foam, should deliver quality pressure relief to the hips and shoulders
Best Hybrid Mattress for Hip Pain
Bear Pro
Memory Foam Mattress

Best for Back and Stomach Sleepers

Firmness Level: 7/10

120-Night Trial

Lifetime Warranty
The Bear Pro has multiple assets that someone experiencing hip pain could benefit from in a mattress. 
To start, the Bear Pro features a Celliant® cover that's both breathable and is reportedly able to reduce inflammation, which could alleviate pain. Below the cover are four foam layers, including a copper-infused foam, gel memory foam, responsive transition foam, and a high-density support foam. 
The combination of these materials should provide a comfortable space for those with hip pain. While the softer foams help melt away uncomfortable pressure on the hips, the dense foam base can help ensure proper body alignment. Furthermore, the responsive transition foam should help make repositioning easier.
Why we love it
Bear's use of Celliant® is unique to the brand, since the brand is one of the only companies that uses this textile. Therefore, if you want to try something more new and innovative, this could be a great solution. 
Best Mattress for Pressure Relief
Puffy Original
Foam Mattress

Best for Back and Stomach Sleepers

Firmness Level: 5.5/10

101-Night Trial

Lifetime Warranty
Puffy's Original mattress is a memory foam bed that's rated at a 5.5 on our firmness scale, providing a medium firmness that should give a nice mix of pressure relief and support. 
For those experiencing pain in the hips and shoulders, Puffy's slightly softer feel combined with pressure-relieving foam should deliver a cozy sleep space. 
Puffy brings their own unique take on comfort and cooling with their exclusive Cooling Cloud™ Foam and Climate Comfort™ Foam. Both foams should foster a cooler environment, and Climate Comfort™ Foam is specially made to cradle the sleeper's body, which should help with pain. 
This mattress should accommodate most sleepers, though stomach sleepers will likely want something firmer.
What stands out?
Puffy provides customers with a highly appealing 101-night sleep trial and a lifetime warranty with their purchase.

Puffy's cover is stain-resistant and hypoallergenic. 
Why You Should Trust Us
The Sleep Advisor team reviews each mattress in person so we have a genuine understanding of how the mattress feels and performs. To begin, we unbox the mattress and place it onto a bedframe. We first asses the cover, looking for features like cooling, softness, and cushioning. The next step is to evaluate how the bed performs under pressure, first by applying pressure with our hands and then in each sleep position. Lying in different positions lets us know how supportive the bed is and if it's good at relieving pressure. After that, we'll perform a series of tests for additional features, such as bounce, motion isolation, and edge support. The final testing portion is to determine if there are any new mattress smells present, which is known as off-gassing. These smells usually go away within a day or two, but it's helpful to know if you can expect any right away, particularly if you're sensitive to odors. We then take all the information we've gathered to rate the bed in individual categories as well as how it stacks up overall. This gives us a thorough idea of who we would recommend this product to, helping our readers find the right mattress for their needs.
Causes of Hip Pain at Night
The Wrong Mattress
The cause of hip pain can be as simple as not having the right mattress, or it could be an indication of a more severe underlying condition. The pain can be blamed on just about anything.
According to the Mayo Clinic, these are the top reasons people experience hip and shoulder pain at night:
Arthritis (there are more than 100 varieties, all of them are painful!)


---

Injuries, including but not limited to sprains, tears, tendinitis and fractures


---

Pinched Nerves


---

Cancer


---

Infections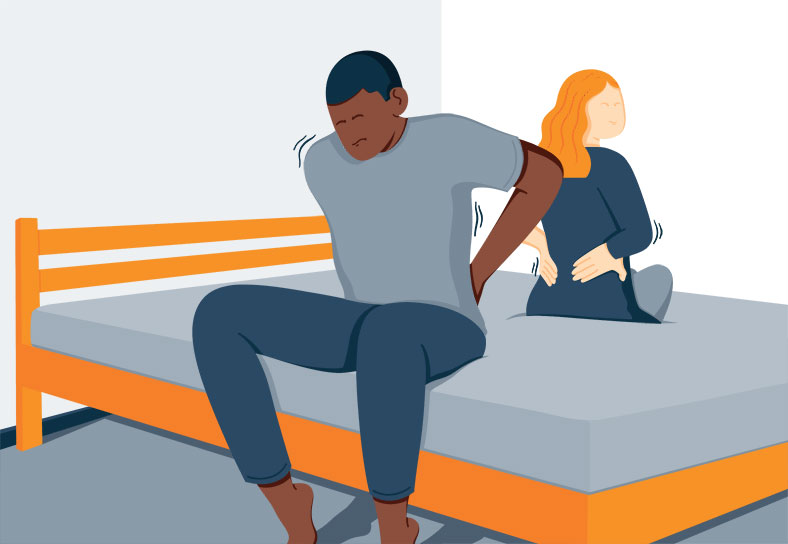 We'll discuss some of the conditions in more depth later in this article. However, evaluating whether or not you have the right mattress first and seeking a medical professional's input can be powerful.
If your bed is too hard or too soft, it could put your spine at an unnatural angle. Spending seven to nine hours of sleep each and every night at this awkward angle can lead to severe problems, and of course, pain.
When we sleep, especially on our side, we put the majority of our body weight in the shoulder/hip area. So, if you have pain here, imagine how uncomfortable that's going to be!
If your mattress is too firm, these body parts probably won't be able to sink in and get any pressure relief at all. It'll feel like sleeping on concrete.

On the other hand, if your bed is too soft, your hips and shoulders will sink too far down and not have the proper support to keep your spine at a neutral angle. Either way, you're setting yourself up for a nightmare of a time in the bedroom.
Our suggestion is to look into getting a new mattress. Most online bedding companies allow you to try their product for 100 to 120 days so you can see if this solves your problem before taking more drastic measures.
Sleeping Position
If your hip and shoulder pain diminish when you switch positions, that's a key indicator that the way you've chosen to sleep is contributing to your pain. You still might have some other issues happening, especially if your bed is not right for you, but it should be comforting to know that you can get relief just by moving around a bit.
People with pain in their bodies usually do best by sleeping on their side, given that they have a supportive sleeping surface. When you lie on your side, the weight of your shoulders and hips can sink into the mattress. If you could view the spine at this angle, you'd see that it maintains a straight position, and doesn't form a kinked curve, which can result in pain.
In order for this position to alleviate symptoms, it's imperative that the bed has an ideal blend of comfort and support. Again, if the mattress is too firm, the spine can tilt up, especially in the pelvic area. Similarly, a too-soft bed can allow you sink in too deeply and lose the support you need to stay comfortable and pain-free.
Another reason why side sleeping can be ideal is that most people report pain in only one side of their body. So, if it hurts to sleep on your right side, you can often get relief by switching to your left, and vice versa.
View Our Complete Guide: Best Rated Mattresses For Side Sleepers
Sleeping on your stomach is somewhat controversial. First of all, stomach sleepers are in the minority. And second, doctors debate about whether this position is healthy for anyone.
Still, some people insist that the only way they can fall asleep and stay that way is by lying on their stomach. If this sounds like you, here are a couple of things to keep in mind:
Your mattress should be on the firmer end of the spectrum. If it's too soft, your hips will likely sink in and cause your back to arch. Now, you might be dealing with some not-so-fun lower back pain to add to the discomfort in your hips.

---

Put a pillow either underneath your stomach or pelvis. The cushion can help ease your body in a more natural angle.
If lying on your side hurts no matter which side you try, and you can't stand the thought of sleeping on your stomach, you may want to try your back. Again, exercise caution with this position because it can create excess pressure in the base of your spine.
We recommend putting a pillow underneath your knees to elevate the lower body slightly. If you still feel pressure, you can try adding a second cushion.
Another option is a wedge pillow. You can place it directly under your knees, or get a second one to prop up against the headboard to create the effect of a makeshift recliner.
Get More Info: How to Sleep On Your Back
Conditions
Also known as bursa inflammation, bursitis is when the fluid around your joints (hips, knees, shoulders, and elbows) becomes inflamed and causes pain. It can occur at any time of day but is typically worse at night as lying down can put pressure on the affected areas. Patients report that they feel the sharpest pain at the source of the inflammation, and that it radiates outward.
That painful tingling that goes down the side of your leg is a top symptom of sciatica. This condition is a result of inflammation in the sciatic nerve, the nerve that goes from the base of your spine at your lower back down to your feet. It's typically caused by misalignment and injury, and though treatable, is quite painful.
As we age, the tendons that connect our bone and muscle lose their elasticity and therefore the ability to provide cushioning and support for force and tension (hence the name, tendons). Combined with physical activity, especially high-impact like running and tennis, the tendons become irritated, resulting in tendonitis. Proper rest, heat and ice treatments, therapy and a mattress with adequate support can all reduce the symptoms of tendonitis.
Arthritis is an inflammatory condition of the joints, resulting in pain, weakness and stiffness where the bones meet. As we mentioned earlier, there are more than 100 types of arthritis, the most common being rheumatoid arthritis (RA) and osteoarthritis.
In most cases, the cause is the result of an immune response that triggers the body to attack healthy tissue. Symptoms can occur at any stage in your life but are often correlated with age.
This condition is associated with the elderly because it's the result of overuse and neglect during the course of several years. It occurs as the result of degeneration in a patient's joint cartilage, though it can also appear as a result of an injury or infection. Osteoarthritis is highly painful and causes extreme stiffness, especially in the hips, knees, and hands.
Carrying extra weight around can put undue pressure on your entire body, and with pregnancy, since the weight is concentrated in a single area, it can result in exacerbated pain in the low back and hip area. The third trimester is the timeframe when moms-to-be experience the most discomfort and hip pain.
If you're pregnant and have hip pain, it can seem impossible to get comfortable, no matter what you do!
In addition to making sure you have the right mattress, it's also imperative to sleep in the right position (we recommend trying side sleeping) and have adequate support in the form of pillows. Many women have found success with either placing a pillow between the knees or getting a full body pillow designed for pregnancy that helps to ease pressure and discomfort, resulting in a comfortable night of sleep.
Looking to learn more? Check out our guide for Sleeping While Pregnant.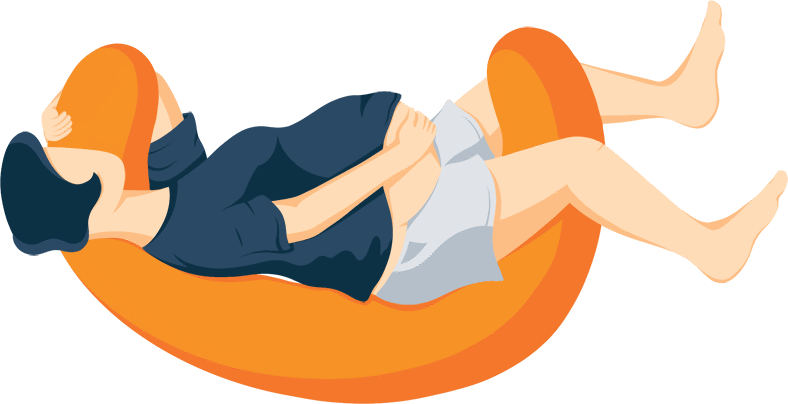 Tightness in a muscle can make you feel sore, especially if you move a certain way or put your body in a position that strains the muscle further. Stretching and rest are two ways to loosen muscles and get rid of the associated pain.
There are a variety of stretches you can do, but the quickest and easiest one is this:
Stand in place; cross one foot over the other at the ankle.


---

Bend forward to touch your toes. Don't worry if you can't get all the way there. Just go as far as you can until you feel a decent stretch.


---

Hold for about 30 seconds and then cross the other foot in front.
This stretch can help ease symptoms of sciatica as well as loosen the IT band, a tendon that does down the side of your leg and is overly tight on just about everyone, especially those who sit all day at a desk job.
Bowel troubles like colitis and poor digestion can often also cause hip pain. The reason is that because our body is a connected system, a problem in one area can express itself as pain in another part of the body.
So, even if you're not feeling pain in your bowel area, if you do have some type of digestive condition and pain in your hip, the two could be related. Work on fixing that underlying digestive condition to see if it improves pain elsewhere.
For More Info: How Digestion Affects Your Sleep
Whoever invented the phrase "better sore than sorry" obviously never had to sleep with hip or shoulder pain. Overexerting yourself with exercise, especially of the high-impact variety, can make getting a pain-free night of sleep virtually impossible.
If you're feeling extra sore from a long run, overdoing it at the gym, or helping your old college buddy move across town, you might need to take it easy for a few days. If you can't bear the thought of missing a workout, try a lower impact exercise like swimming or walking. And remember to stretch.
What Type is Best for Hip & Shoulder Pain?

Memory Foam
Latex
Hybrid
Innerspring
What to Look for in Your Mattress for Hip and Shoulder Pain
Pressure Relief
A lot of people throw the term "pressure relief" around, but if you're not in the industry, it might not make a lot of sense.
Here's what's meant by the term: when we lie down, our weight is heavily concentrated in two body parts – our shoulders and our hips. These are our widest parts, and so when we go horizontal, our weight settles here.
If a bed's surface is either too hard or too soft, it'll put undue pressure on these areas. When that happens, it can cause pain, numbness, and discomfort.
Spine Alignment

When we're in bed, our spines should be in proper alignment. But, what does that mean exactly?
When you lie down, your spine should look the same as it does as if you were to view it on someone who is standing from a straight-on view. To sum up, it should look straight. When your bed is the ideal firmness and you're sleeping on the right size of pillow your spine should indeed look straight.
If it's buckled upward or dipping down, it is out of alignment. Even just one night of sleeping like this can cause several nights, if not weeks, of pain.
Durability
It's easy to find a mattress that feels comfortable for a few nights or months. However, cheaper mattresses may break down over time and within a few years they might sag in all the wrong places.
A sagging mattress could put undue pressure in the hip and shoulder areas, resulting in unnecessary and totally preventable discomfort.
If you're buying a foam mattress, you can seek out something that is made of a higher density foam at the core. And if latex is your bed of choice, keep in mind that natural is more durable than synthetic.
For innerspring mattresses, there are different types of coils, and they're made from different steel thicknesses. Many durable innerspring mattresses will likely have either pocketed coils (which are individually wrapped), or offset coils. A further advantage of these two coil structures is that they should provide more contouring and conformity than most innerspring designs.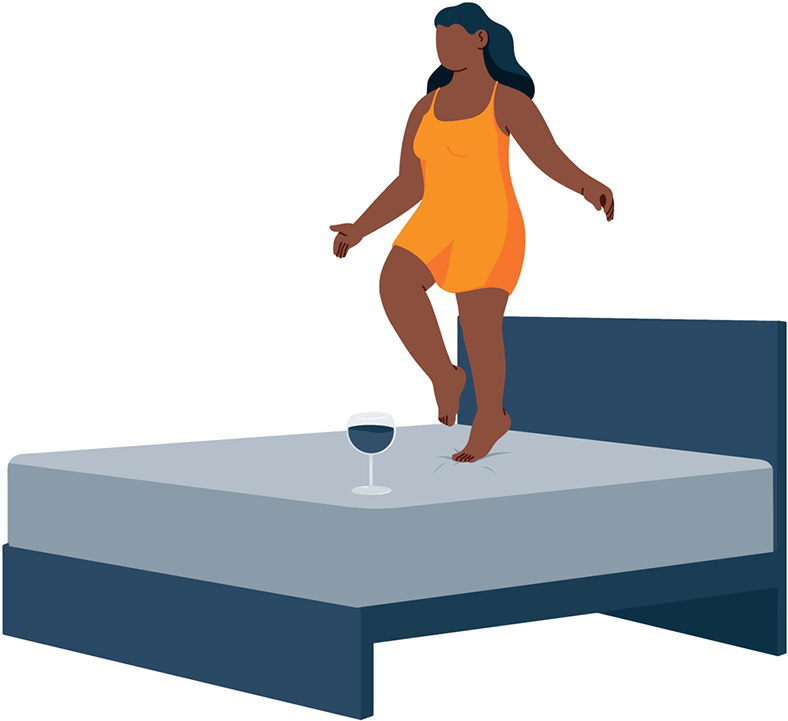 Frequently Asked Questions About Mattresses for Hip and Shoulder Pain
Why is my shoulder pain worse at night?
The stress and movement of the day can build up and peak at night. Then when you lie down and remain still, the shoulder tends to stiffen. If you combine that with a suboptimal mattress and the wrong sleeping position, it's a recipe for disaster.
If you lie on your shoulder, this can also increase the level of pain, especially since you're not moving and allowing blood to circulate and relax the muscles.
Get More Info: How to Relieve Shoulder Pain at Night
Should I stretch before bed? Will that help?
Stretching is one of the best things you can do before bed. Your chiropractor or physiotherapist can recommend exercises for you to do daily and in addition to the toe touching stretch mentioned above, a stretch called pigeon can be an effective hip opener.
You can do this exercise either standing, sitting or lying down. Here are instructions if you'd like to try it lying down:
Supine Pigeon
Lie flat on your back


---

Raise your legs and bend knees so that they're at a 90-degree angle


---

Cross your right leg loosely over your left knee; your right knee should be pointing out toward the side of the room


---

Wrap your arms around the left leg; clasp your fingers if you can


---

Gently pull your left leg toward your chest. You'll feel a stretch in the back of your right leg


---

Hold for 30-60 seconds


---

Repeat these steps on the other side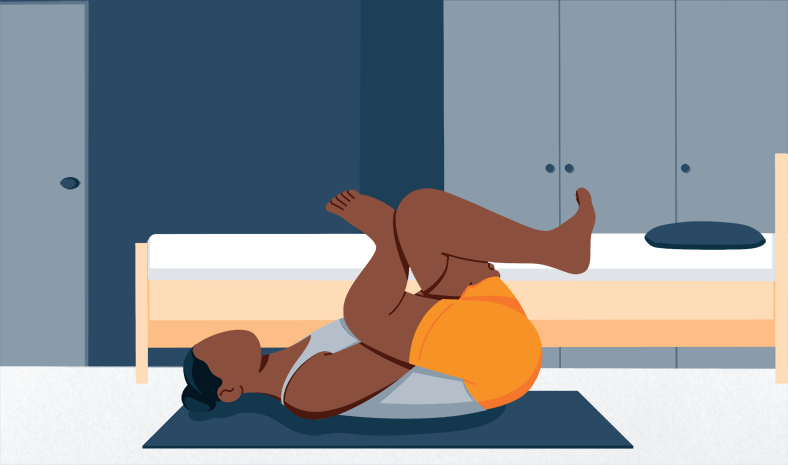 What's recommended if both hips hurt while sleeping?
If both hips hurt simultaneously, it can feel like an impossible task to fall asleep. Stretching and a pain reliever may help. You can also invest in a contoured body pillow that provides superior all-over pressure relief.
If you're still uncomfortable, you're going to need some additional help. You may want to try this experiment (and it could even be fun!):
Book a night at a hotel, preferably a good one. Try sleeping in their bed. If you wake up feeling little or no pain, you may have proof that your mattress was the culprit all along!
If you're hesitant to splurge on a fancy hotel, consider getting a bed with a no-risk trial so you can see if that will make a difference.
Can a mattress topper help with the pain?
Pressure points, especially those that build up around painful joints, can ruin your night's rest and plague your entire day with fatigue. Plusher mattresses that have great support systems can greatly reduce the likelihood that you'll aggravate your pain in the night, but not everyone can stretch their finances towards a brand new mattress at a moment's notice.
A mattress topper may be a fantastic alternative that can add just a touch extra pressure relief to your bed without overextending your budget. There are many to choose from, and they are made from all different kinds of materials depending on your preferences for surface temperature, body conformance, and thickness. There are also a few organic choices out there if you prefer a more all-natural sleep.
Read Our Full Guide: Mattress Toppers for Hip Pain
Conclusion
There's probably no bigger frustration than not being able to fall asleep, especially when it's because of hip or shoulder pain. While the potential causes of this type of discomfort could be a mile long, we think there are numerous, natural solutions out there.
Consider how long you've had your mattress. If It's more than five years, you might be due for something new. And, if you suspect that your bed might be too hard or too soft, try sleeping on another one for a night or two to help prove or disprove that theory.
Good luck, and sweet dreams!
Rachael is a content writer for Sleep Advisor who loves combining her enthusiasm for writing and wellness. She's had a passion for writing since she was a kid when she wrote awful poetry. She's honed her craft quite a bit since then and considers herself a lucky duck to get paid to do what she loves.
Embracing the remote work life, she occasionally takes her work on the road and lives out her travel writer pipe dream.
In her free time, she attempts to meditate regularly, rides her bike to Trader Joe's, and enjoys trying every type of food that she can get her hands on.