Transparency Disclosure – We may receive a referral fee (at no additional cost to the buyer) for products purchased through the links on our site or other applicable pages. To learn more, please read our full disclosure page here. We also encourage you to read about how we may research and/or test Products here.
Nothing on this website is intended to be a substitute for professional medical advice, diagnosis, or treatment. You should always seek the advice of your physician or other qualified health provider with any questions you may have regarding a medical condition. The contents of this website are for informational purposes only.
It goes without saying that for some of you who might be unfortunate enough to suffer from arthritis or back pain, for instance, choosing a bed that gives you proper relief is absolutely critical.
The choice that you will make will be an inflection point. As such, it could either help you alleviate the aching or make it even worse.
It is a challenging prospect, and you should definitely be very wary of it. Failing to choose the right mattress for arthritis sufferers could significantly diminish your quality of sleep because of your body's sensitivity alongside other issues such as chronic joint pain, improper spinal alignment, and others of the kind.
The mattress that you set your sights on should conform to the curves of your body in a natural manner that should help relieve the inconvenient pain and help you get the good night's sleep that you've been craving for quite some time.
Allow us to walk you through the key considerations to be aware of when it comes to it. We will also go through some of the best options on the market, so you don't have to waste time and effort on your own.
Our 6 Arthritis Mattress Reviews
As you can see, your bed is absolutely critical for pain relief, especially when you have arthritis. With this in mind, we've taken the liberty of providing you with a few quick choices that are among the best on the market right now.
The Casper – Spine Alignment
Highlights:
CertiPUR-US® Certified
100-Night Trial
10-Year Warranty
Designed and Assembled in the USA
Casper has been continually refined while striving for a universal feel that can give each individual body the right balance of comfort and support to melt away pressure and gently align the spine.
The newly updated Zoned Support™ feature delivers an extra boost to the bed's alignment capabilities.
The soft surface layer of Casper responds quickly to pressure and is easy to move around in, while the firmer layers underneath gently build support and transition to the base that stabilizes the bed's foundation. Overall, the bed is intended to hold you in a gentle cradle, which should relieve pressure without trapping you in.
What makes it unique? With Zoned Support™ in the third layer, the bed delivers extra reinforcement in the center of the bed where the hips typically rest to ensure that this part of the body, which tends to be the heaviest for most sleepers, remains level with your shoulders and legs.
Proper alignment can help reduce stiffness and difficulty getting out of bed in the morning. Casper's all-foam flexibility also lends itself well to adjustable bases, which allow the sleeper to adjust the position of their knees, legs, and back for maximum personalized comfort.
If you still want to learn more about this bed, read our complete analysis here.
Loom & Leaf – Easy to Reposition
Highlights:
Certified Organic Cotton
CertiPUR-US® Certified
120-Day Trial
10-Year Warranty
Made in the USA
Loom & Leaf is a memory bed from Saatva, a company aimed at creating affordable luxury with more eco-friendly materials.
Built with high-quality foams and textiles, this mattress offers a gentle cradle that alleviates pressure and a unique plush cover that makes navigating these foams much easier.
What is its best feature? The bed's four layers of high-quality foam are covered with a plush, quilted cover that is stretched tight over the construction. Aside from its soft, pillowy finish, the cover serves another important purpose: it gently cradles the body and prevents the sleeper from feeling trapped or immobilized.
It is important for those suffering from arthritis to change positions often throughout the night because remaining in one position can cause their joints to stiffen. Repositioning is simplified by the cover on both the Relaxed Firm and Firm options of this mattress. However, we do think the additional softness of the Relaxed Firm will provide the most comfortable amount of pressure relief to ease sore or inflamed joints.
Loom & Leaf is compatible with most adjustable bases, though Saatva has released its own adjustable frame that has incorporated massage and soft bedroom lighting.
Need to see more info? Check out our L&L review here.
Purple – Innovative Materials
Highlights:
CertiPUR-US® Certified
100-Day Trial
10-Year Warranty
Made in the USA
The designers of Purple wanted a mattress that was both soft and comfortable and firmly supportive at the same time, and to do so, they had to think outside of the traditional realm of materials and invent something truly unique.
The result is their Hyper-Elastic Polymer™ grid system that uses a gel-like material to support curves and relieve pressure simultaneously.
What makes it stand out? Their proprietary material is unlike anything we have seen before in the mattress industry, and its design allows it to buckle under your weight while gently conforming to and supporting your curves, such as your lumbar region when lying on your back or your waist when lying on your side.
Purple's materials are also temperature neutral and easily navigable, which is critical for sleepers who want to prevent overnight stiffness and discomfort from lying in one position all night. The soft polymer and underlying foam, which were built to whisk away any possible pressure buildup and support the spine in a gentle hug, work well with adjustable bases.
Learn more about this innovative model here.
Bear Mattress – Celliant Technology
Highlights:
CertiPUR-US® Certified
100-Day Trial
10-Year Warranty
Children's Charity Initiative
Made in the USA
According to Bear, the best night's sleep helps your body rest and restore itself so you can wake up the next day ready for whatever life brings.
That's hard to do if you're stiff and uncomfortable, but cutting-edge technology in the Bear mattress cover aims at improving your overall health and is currently undergoing clinical testing to prove its long-term benefits.
What makes it special? Celliant® is a performance textile that uses infrared technology to reportedly increase oxygen flow and help repair sore muscles, and ongoing investigations are working to establish what possible assistance the technology could provide for different health conditions. If you're interested in knowing more, we encourage you to do your own research into the science behind the material.
Bear's all-foam mattress can be set up on an adjustable base if you prefer, and the quick-responding foams have a bit of bounce, which can be important for easy repositioning. The structure of the bed was designed to gently cradle your curves and align your spine without making you feel stuck.
Check out more information here if you think this one is good for your needs.
Zenhaven – Targeted Support
Highlights:
Dual-Sided
Certified Organic Cotton
OEKO-TEX® Certified
120-Day Trial
20-Year Warranty
Made in the USA
If everyone's body is different, it stands to reason that every case of arthritis is different as well. Zenhaven's advantage is their 5-zoned targeted support system that aims to deliver the right amount of pressure relief and the right amount of support right where your body needs it most. The dual-sided latex design also provides two firmness choices, Luxury Plush or Gentle Firm, in one mattress, so you may decide what works best for you.
What makes it unique? The 5-Zoned Comfort Layer uses a design with strategic pincore holes in Talalay latex to vary between extra give or reinforcement in different zones throughout the bed's structure. Side sleepers especially will appreciate the added boost of support under their hips and knees, which is neither too soft or too firm for painful joints.
Latex has the unique ability to conform to your curves without making you feel marooned, which is important for those who need to change positions a lot throughout the night. The material is also compatible for use with adjustable bases, which can help you easily elevate your back or knees to maintain comfort.
Read more about this latex model here.
Nest Bedding® Love & Sleep – Budget Choice
Highlights:
CertiPUR-US® Certified

GREENGUARD Gold Certified

100-Night Trial

Lifetime Comfort Guarantee

Lifetime Warranty

Made in the USA
With their award-winning entry-level offering, Nest Bedding seeks to prove that an excellent price does not require sacrifices in comfort or support.
Love & Sleep's sleek and streamlined construction uses three different layers of foam, including Energex™, which provides excellent pressure relief and comfort while still being quick responding and temperature controlled.
The materials are stabilized by a solid base that helps keep your spine well-aligned, are responsive enough to be navigable, as well as flexible enough for adjustable frames. Phase change materials in the cover carry heat away when your body heats up and allows it to return when your body cools down.
What stands out? We think Nest Bedding provides an excellent long-term value for the price with Love & Sleep, which is priced under $600 for the Queen size. Despite its more budget-friendly price point, the company is still committed to working with every customer to ensure the correct fit.
Between the Lifetime Warranty and the Lifetime Comfort Guarantee, your sleep interests should be well tended. Should your firmness or pressure relief needs change over time, the company will also work with you to switch out the bed for something that better addresses your pain points.
See more about L&S bed here if you're interested in learning more.
How Arthritic Pain Affects Your Sleep
Arthritic pain is particularly unpleasant. It is a dull and constant aching sensation that you can't seem to get rid of. It is particularly pronounced when you are sleeping on an uncomfortable mattress, and it can manifest later through the day as well. There are two main types of conditions that you should be aware of.
Rheumatoid
If you have rheumatoid arthritis and that's what gets you turning and tossing late at night, rest assured that you are far from being alone. Even though patients with this condition aren't calculated and counted precisely, it is expected that at least 80% of them report fatigue as one of the main symptoms.
What this will lead to is an elevation of stress hormones. In other words – the less you sleep, the more stressed out you may feel throughout the entire time. Patients with RA also report aggravated flares that are particularly challenging.
And, on top of it, you might feel serious pain even if you are not flaring – to make matters worse. Additionally, failing to get enough night's sleep could also have an impact on the production of growth hormone and this can impact your recovery and a range of other functionalities.
Osteoarthritis
This type of arthritis has a direct relation to your sleeping habits. It relates to serious joint pain, and this could be multiplied substantially if you are using an uncomfortable or inappropriate mattress for this type of pain. Arthritis sufferers should consider using a specific, conforming mattress. Nevertheless, you'd experience additional pain, and it would make falling asleep a lot harder.
The alternative is also rather uncomfortable – you can wake up a lot earlier or through the middle of the night thanks to the unpleasant and serious pain that you're feeling. Now, it is also important to understand that there is a connection between your sleeping habits and this condition. Osteoarthritis is not something that will cause insomnia. In fact, it was observed that both disorders actually existed simultaneously, which is something rather interesting.
Why A Great Bed is Important
Your choice of a good mattress can have a significant impact on your aching. Arthritis sufferers need a great and appropriate bed more than regular people as it can directly impact their actual condition. This is something that you ought to take into proper consideration.
Keep in mind that you spend an approximation of one-third of your life sleeping. Your rest is absolutely critical if you are to combat this particular condition, as well as many others, and it is a vital component for your entire well-being. Taking your time to find a great bed might definitely be worth it.
If you are elderly and you struggle with arthritis, regardless of which type of it, all of the above is particularly true. As an arthritis sufferer, you need to make sure that your bed conforms to your body in a beneficial manner.
This is something very important: Your bed should relieve the pressure on important parts of your body such as shoulders, neck, hips, thighs, lower back and much more. These are also the most common points which cause arthritis pain.
Buyer's Guide for Arthritis Pain Relief
Pressure Relief
What you need to understand is that serious joint pain is most commonly symptomatic of inflammation. If that's the case, you should know that it is very sensitive to pressure. With this in mind, if your mattress actually causes additional pressure points which build up in your hips, back or shoulders, for instance, this could easily aggravate the pain associated with arthritis.
You will need a sleeping surface which is specifically designed to enhance your spinal alignment while simultaneously relieving pressure to promote less pain and better night's sleep.
Allows for Shifting
This is also quite important. Arthritis sufferers are prone to move a lot during the night because they are particularly uncomfortable because of the pain. With this in mind, the perfect mattress would address that issue, and it would likely have a firmness that's rather medium so that it would offer the necessary comfort, regardless of the sleeping position that you prefer.
If you choose a softer solution, this can to make it more challenging for you to move through the night. If you stay in one position for a longer period, on the other hand, this is likely to cause even further issues with your condition.
Consider Temperature
The temperature is a critical factor that you have to account for when you're purchasing a bed, regardless of its purpose. The problem that most mattresses for arthritis sufferers face is that they retain heat because they are usually made of foams.
The airflow is usually impaired, and this makes it a bit uncomfortable when the weather is hotter. With this said, you should look to a mattress that addresses this issue in order to supplement the overall comfort you should experience while sleeping. The last thing you'd want is to wake up in the middle of the night, dripping with sweat.
Solid Support / Foundation
This is probably one of the most important things that you might want to account for when it comes to choosing a bed for arthritis sufferers, especially for the elderly and seniors.
The foundation layer is usually made of high-density foam, and it is responsible for keeping the overall integrity of the entire bed. It should provide the proper support for your entire body, and it is particularly critical for heavier sleepers or those of you who prefer to sleep on your sides. This is an important primary consideration and something to look for while you're on the hunt.
Account for Insomnia
While there are no definitive links between arthritis and insomnia, these conditions often occur simultaneously, and recent research suggests that lack of sleep can make the symptoms of arthritis even worse throughout your day-to-day life. Solutions to this problem may be as simple as improving your overall sleep hygiene or finding a mattress that is a better fit for  your body (you can see our top insomnia bed picks here).
Reducing the pressure points that develop when you're sleeping can keep you from waking up to change positions, which can be exceptionally difficult for people with arthritis. If you are a combination sleeper who tends to be more active at night, struggling to turn over in really soft materials can wake you up faster than if you're lying on a bed that responds to your movements. Knowing which you prefer can help you narrow down which mattress will best suit your body.
Return Policy
It goes without saying that the mattress industry is one that has been substantially disrupted by the influence of the internet and its involvement in our everyday life. With a range of different solutions sold only online, you are deprived of the chance to test out the solution and actually feel the sensation before you buy it.
While this is usually not a problem, you need to make sure that your bed is backed by a solid and comprehensive return policy – one that you can easily employ and trigger if you feel that the mattress doesn't provide you with the necessary relief.
How Sleeping Position Affects Your Pain
Different sleeping positions apply various amounts and points of pressure to the mattress, setting up characteristic specifications that pertain to each position. With this said, you should consider your preferred position as it could easily determine the choice of bed. It is also something that could have an overall impact on your condition.
Back
Believe it or not, this is not the most preferred sleeping position, but it is quite near. With this said, you should know that if you are a back sleeper, your mattress needs to provide the necessary support to enhance your spinal alignment.
Usually, back sleepers can afford to sleep on softer mattresses as the pressure applied by their body is dispersed on a larger surface and it doesn't cause the mattress to sink as much. If you choose a firmer mattress, this might make you feel as if you are floating on top of the bed, in some cases causing additional pressure points instead of relieving them.
Stomach
A lot of the things that we mentioned about the back sleepers are also true for the free-falling sleeping position, as it is commonly referred to. A wider range of people prefer to sleep on their tummies compared to those who would prefer sleeping on their backs. With this said, you should know that the overall physical support of the bed is the key characteristic to account for in order to alleviate joint pain and pressure points.
If you are heavier, however, you might go for a firmer mattress as this would increase the sinking and make sure that you don't come in contact with the high-density support foam of the foundation layer too soon.
Side
The vast majority of people prefer sleeping on their sides. With this in mind, the most important thing to consider here are the contouring capabilities of the bed. Side sleepers tend to experience the most pressure points – in their knees, shoulders, and hips.
These are usually body parts that are heavier and would cause the mattress to sink – they need to be settled naturally in order to ensure that the spinal alignment is not lacking. Softer surfaces are usually preferred here. However, there is a fine line to consider because if you go too soft, you would be creating more pressure than you alleviate, which is important to keep in mind.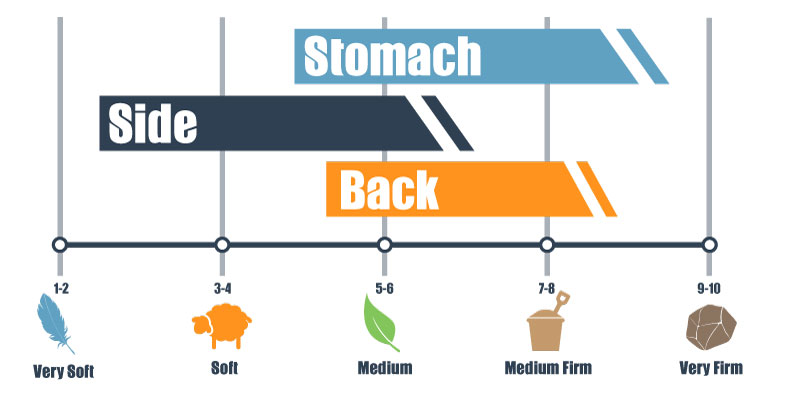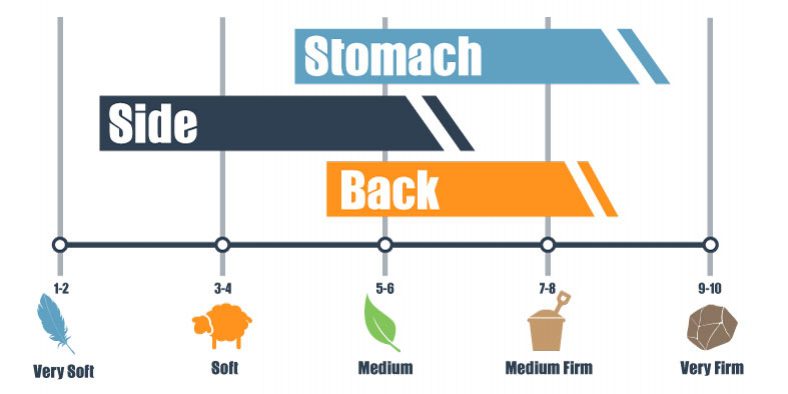 Innerspring
An innerspring mattress is one that has steel coils inside of it as one of its primary layers. They are characterized by slightly bouncier appeal and typically increased firmness. With regard to arthritis sufferers, an innerspring mattress might not be the best choice for a side sleeper, but it does depend on the brand and materials.
However, they are great if you prefer to sleep on your back or stomach. Additionally, most of the solutions come with very nice and comfortable covers which bring additional comfort and enhanced sleeping sensation which makes up for the slightly firmer overall appeal.
Memory Foam
This material tends to be great for people who have issues with arthritis. This is due to the fact that it contours to your body in a natural manner, helping to ensure splendid spinal alignment. Of course, choosing the best bed out there is not an easy task, but you can refer to some of the suggestions we have mentioned above – most of them represent memory foam mattresses.
Latex
Latex is a high-end material that is commonly used in more expensive solutions. It is characterized by being particularly responsive. With this in mind, it also provides superb contouring capabilities, and it doesn't make you feel trapped. If you move a lot during the night because of the turmoil caused by arthritis, you can benefit from this particular mattress type. It is great for all kinds of sleeping positions as well.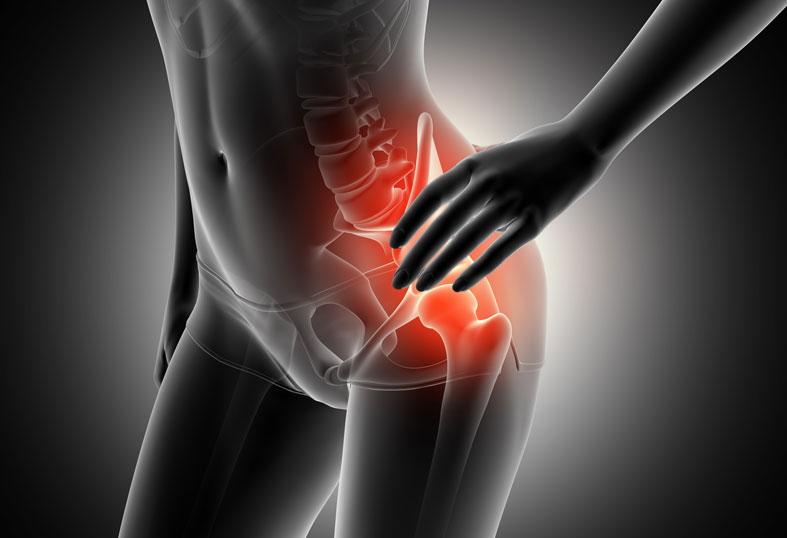 Common Arthritis Pain Areas
Joints
Obviously, the most common parts of your body that would be affected by this condition are your joints, especially for senior citizens. Arthritis is the result of serious inflammation and it results in dull, continuous pain, most commonly in your joints.
Hip
Your hips are amongst the heaviest parts of your body and, as such, if you don't receive the necessary support, they would be subjected to pressure. This is usually something that people who prefer to sleep on their sides struggle with.
Back / Lower Back Problems
Naturally, one of the most common areas that you can experience serious pain is your lower back, especially for older folks. This is due to the fact that there are quite a lot of joints there and all of them are usually subjected to a lot of pressure.
Arms & Shoulders
Your shoulders could also be serious pressure points, especially if you prefer to sleep on your sides. As such, the most important thing to consider here is the contouring capabilities of the mattress. Memory foam beds are a type that work well in this case.
Spine
Your spine is the most integral part of your body, and you have to make sure that it is properly aligned. Spinal misalignment is the most common problem that people who suffer from arthritis experience and it's something that has to be addressed accordingly.
Consider a Mattress Topper
If you have arthritis, regardless of its type, but you can't really afford to go ahead and spend a small fortune on a new mattress, you shouldn't be too worried. There is an alternative. Mattress toppers that are specifically designed for people with issues of this kind are a great choice if you don't want to spend the extra amount of money.
Mattress toppers for arthritis sufferers basically resemble the top layer of your mattress – the layer that is intended to ensure the comfort and most of the support. You can put it on top of your bed to enhance its supportive capabilities and to help ensure that you get the necessary pressure relief.
Click here to learn more about our top mattress toppers picks.
Four Natural Arthritis Remedies
Lose Weight
One way to help may be to start taking steps towards losing weight. Joint pain is further enhanced and made far more serious by excessive weight, so it is something to consider with insight from your doctor.
This is quite logical – the more you weigh, the more pressure you put on your joints. Losing weight is one of the things you can consider to remedy arthritis and its symptoms naturally.
Improve Your Diet
Arthritis is usually associated with inflammation, and this is something that could be addressed by an enhanced and proper diet. One of the most important things to consider is adding turmeric to your dishes.
This is a yellow spice commonly used in Indian cuisine, and it contains curcumin – a natural chemical known for relieving pain associated with arthritis.
Get Active
Exercises are going to provide you with a lot more benefits than just weight loss. If you move regularly, you should experience enhanced flexibility and mobility in your joints.
There are a lot of different movements such as walking, for instance, that could actually be damaging if your joints are not in proper condition – regular exercising can help you with that.
Consider Chiropractic Care
This is something you can go ahead and consider if the pain has become particularly burdensome.
With this said, it is an effective and appropriate way of dealing with the condition, and you can easily take advantage of it.
Conclusion
---
As you can see, arthritis is something that's going to have a huge overall impact on your life, yet there are some options that can help you manage it. One of the most important and prominent things you can start with, however, is your mattress.
We believe that we've gone through the most important characteristics that you'd have to account for in order to handle this type of pain and hope beds that we've summarized are particularly appropriate and helpful to you.
Of course, if you decide to purchase something else, you can take advantage of our buying guide to navigate you through the abundance (or you can see out top overall picks here).
Author:
Mark Reddick
When I'm not learning about sleep, you can find me hanging out with my wife and close friends.
I absolutely love entrepreneurship and learning how to improve yourself daily. We only get one life, and I want to make it the best one possible.
I hope that everyone that finds our site takes a new approach to sleep. The world needs to stop thinking about it as something "we just do," but rather something that allows us "to do every day."