Transparency Disclosure – We may receive a referral fee for products purchased through the links on our site...

Read More

.
Disclaimer - Nothing on this website is intended to be a substitute for professional medical advice, diagnosis, or treatment...

Read More Here

.
Pregnancy is one of the most exciting times of life. It is also a challenging time, as a woman's body goes through an incredible transformation in the 40 weeks leading up to the due date. There are many difficulties to be dealt with at various stages of pregnancy, including morning sickness, heartburn, fatigue, muscle soreness, and more.
In addition to those points, many pregnant women struggle to get a good night of sleep as they get farther and farther into the process.
For that reason, an entire market has developed with the goal of making the expectant mother as comfortable and relaxed as possible at night.
In this buying guide, we are going to help you sort through that market to pick out the best pregnancy pillow for your needs. Even though you will only be using this pillow for a few months while pregnant (and for any future pregnancies), it is still a worthwhile investment. In fact, many women find them so comfortable that they actually continue to use them when no longer carrying a child.
Let's get down to business and find you the perfect maternity pillow!
The list below is going to highlight seven of the products you can find on the market today. You will find a link to each product page included at the start of the review.
Our 7 Top Rated Mother Body Pillows Reviews
Leachco Snoogle Total Body Pillow
C-shaped design
Three color options
Washable cover
One of the top maternity pillow options on the market, the Snoogle Total Body Pillow from Leachco has a modest price point, great reviews, and plenty of beneficial features. This is 'C' shaped pillow can be used at any time, as it is not specifically meant only for pregnancy.
It does excel at that job, however, as it wraps around your body from your head down to your legs. The design leaves space for your growing belly, and the cover can be removed and machine washed.
A quick scan of the reviews which have been left for this pillow reveals that most buyers love their Snoogle. It is noted that it works nicely for both pregnant and non-pregnant individuals, meaning you may keep getting value from your purchase long after your child has been born.
It's certainly still worth reviewing the rest of our list to check out all of your options, but it is going to be difficult to beat what you can get from this simple, affordable option.
The Leachco Snoogle hits on all of the key points that you might be looking for, making it a leader in this market.
Today's Mom Cozy Comfort Maternity Pillow
Oversized U-shaped design
Zippered cover
Machine washable
From Today's Mom, this model is larger than most of our other options, wrapping around both sides of the sleeper. It will take up more space, but allow you to easily turn from side to side without moving the pillow.
If you sleep with a partner in a queen-sized or smaller bed, there might not be enough room to accommodate both of you and the pillow, and you can probably forget about cuddling. However, many women find that the extra support in this product allow them to sleep more soundly, so they need less space to move around.
We suggest taking a look at the dimensions and taking your partner's preferences into account.
While it has not worked perfectly for all users, most feel that it helped them get back to sleep thanks to the support it provides. It should be noted that some of the positive reviews have been left by those who are not pregnant and chose to use this kind of pillow for other reasons.
So, again here, you may be able to get use out of this pillow even when the pregnancy has been completed.
PharMeDoc Full Body
C-shaped design
Includes travel bag
Machine washable cover
Another great and affordable 'C' shaped cotton maternity pillow, this product has been a favorite of many women over the years.
Thanks to the wrap-around design, you can support your head and neck, back, hips, knees, and more all with a single pillow.
This model is not as bulky as some of the others on our list, so it may be a more reasonable option for those who don't have a big bed to share with their partner. The cover of this pillow is 100% cotton, and it comes with a five-year warranty.
As is the case with most of the pillows we have listed, this pillow has collected a long list of positive reviews. Among the compliments paid to this product include the maneuverability of the pillow, its overall comfort, and the way the case can be removed easily for wash.
Oggi Elevation Pregnancy Body Pillow
U-shaped design
Wedge support
Washable, zippered cover
Next up, Oggi has a unique contoured shape which offers support specifically for the belly of the pregnant sleeper. There is a curve within the side of the pillow that should fit your bump nicely, and the curve on the other side is meant to support your back as you rest.
One of the larger pregnancy pillows on the market, you will probably need plenty of bed space to fit this pillow, but many moms prefer the bulkier feel as it provides more support. Though it is one of the pricier options we've seen, it could be a good investment for future pregnancies and the time you spend recovering postpartum.
With multiple uses and positions, this product could work as a nursing pillow later on, or help alleviate pressure points between the legs. While some softer pillows might flatten over time, this model should hold its shape well.
When budgeting for a new baby, we know there are many considerations, so we recommend factoring in comfort for mom throughout the pregnancy, especially if it will come in handy in the future as well.
S2BMOM Contoured Total Body Pillow
U-shaped design
100% cotton cover
Machine washable cover
This one falls into the 'U'-shaped category, meaning it is meant to wrap around your body from the top down. You can lay your head directly on the pillow and then use it to support your belly and back. The pillow has a 100% cotton cover, and the cover can be easily removed and washed.
With a reasonable price tag that falls in line with many of the products in this market, you should keep the S2BMOM Total Body in mind as you shop.
While there are plenty of positive reviews for this product, the comments of past buyers are not quite as unanimous as they are with some of the other market options. Some users are happy with the comfort, and the way it has helped them sleep, but others express concern about how much filling is included in the product.
If you aren't looking for an overstuffed pillow, this could be the right option for you, though keep in mind it may require fluffing from time to time to maintain its support.
Maternity Pillow from Hiccapop
Wedge design
Dual firmness memory foam
Machine washable cover
At this point in the list, we are going to go in a new direction. Rather than the large 'C' or 'U'-shaped pillows that have made up the rest of the list, this option from Hiccapop is a small pillow which is meant to be positioned just under your belly for comfort in the night.
This is a wedge pillow which has a soft and firm side so you can pick which feels most comfortable to you at the moment. There are a couple of advantages to sticking with this simple design – first, of course, is space savings.
This is a small pillow compared to the large options throughout the rest of the list. Also, since it is so small, this pillow is extremely affordable.
The reviews which have been left for this simple pillow are incredibly positive. This is one of the best-reviewed pillows for maternity you will find – or anything else for that matter – which is reason enough to give it your attention.
Compliments include the quality of the fabric, the option of changing sides to alter firmness, and the ability to take off the cover. Considering its low price tag and great reviews, this is a pillow that should stay at or near the top of your list.
Lavish Home Full Contoured Pillow
U-shaped design
100% cotton cover
Machine washable cover
This pillow from Lavish Home is another that is not meant specifically for pregnant women, as it can be used as a body pillow by anyone looking for a more comfortable night sleep.
For those who are pregnant, it offers nice support for both the back and belly. It has a removable cover which is machine washable, and the filling is polyester hollow fiber.
This product is on the lower end of the price scale compared to the others we reviewed, and it is similar to other polyfill products in terms of support.
While it is too large for some beds, others find it to be just right in terms of support and find the filling thick enough to support their hips and legs.
As is it U-shaped, the product allows the sleeper to flip over without too much repositioning and can be used as a nursing pillow when the baby comes. At a good price with a variety of uses, many moms will likely be happy with their purchase.
Pregnancy Pillow Buyer's Guide
While the idea of purchasing a good pregnancy pillow may have you excited about the possibility of improved sleep, it would be a mistake to rush out and buy the first one you can find. There is a tremendous amount of variety in this market, which is why you need to think about the features that you need most. Following is a list of some of the main points you need to check on before you buy.
Size
Simply put, some pregnancy pillows are downright huge. If you sleep with a partner in something less than a King bed, you might find that you quickly run out of room after you add a large pillow to the equation.
Fortunately, there are compact options available as well, so think about what size pillow is going to work for your situation. Opt for larger ones if you want maximum support and have plenty of room to spare. If space is at a premium, however, go for a smaller option that can still give you some of the support you need.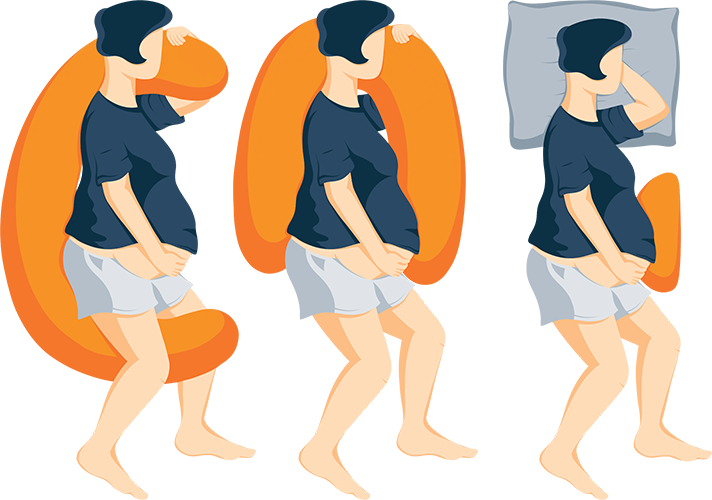 Fill Material
As is the case with all other kinds of sleeping gear, there are a variety of fill materials used in these pillows. Some of the most popular options include memory foam, down, and others. Memory foam is known for being highly supportive, but it can also be hot – which is already something that is a problem for many pregnant women.
Down, and down alternatives, on the other hand are lightweight and cooler, but they may not offer the same degree of support. As a good rule of thumb, you should think about sticking with the same kind of fill material that you enjoy in a regular pillow. After all, if it is comfortable under your head, it will likely be comfortable around the rest of your body as well.
Price
While sleep is extremely important during pregnancy, you still don't want to have to break the bank on this purchase. If this is going to be your only pregnancy, you may not use this pillow again after these few months – and even if you do have other children, you will only use the it few months at a time during those pregnancies.
That isn't to say that you should buy the cheapest one you can find, but you should at least be aware of how much you are going to have to invest. Finding a product that balances quality with cost is the best bet when shopping in this market.
A Removable Cover
Many pregnancy pillows are uniquely shaped, meaning they can be difficult to wash with conventional methods. However, if you pick out one that includes a removable cover, the task of washing comes down to taking off the cover and throwing it in the washing machine.
Washing the cover of your pillow from time to time is a great way to prevent it from picking up undesirable odors, so having a cover that is easily removed and replaced is a great feature.
Benefits of Owning a Maternity Pillow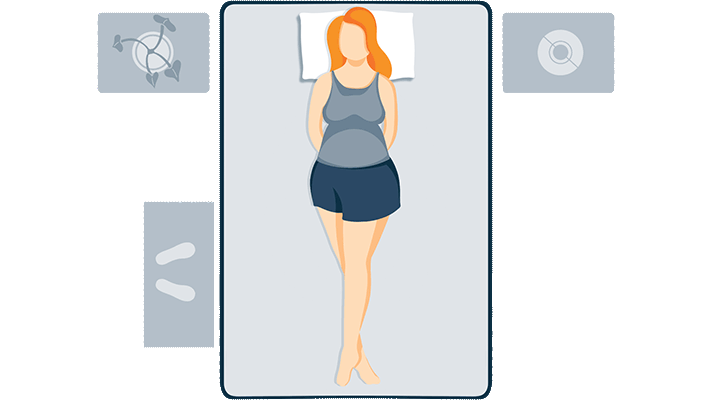 A pregnancy pillow has the ability to minimize sleep disruptions, ease pregnancy pain, and help you relax. If you're on the fence about whether you really need to splurge on a new pillow you'll only use for a few months, here are a few benefits to add to your list.
First, you will notice back support that may help you be more comfortable while trying to sleep. The changing shape of your body during pregnancy may make it tough to get comfortable on your side, which is the suggested sleeping position for pregnant women. However, you may have an easier time settling in if you use the pillow for a pregnant woman.


---

Have you started snoring? If so, you may find that it can help to eliminate that issue – which is something your partner will surely appreciate. There is no guarantee that it's is going to take away your snoring habit, but it certainly could help you stay quiet through the night.


---

Overall, it is well-suited to your body should help you to relax and sleep more comfortably through the night. If you have been struggling to sleep well up to this point, you just might come to think of your new pillow as one of your best friends.
Frequently Asked Questions About Pregnancy Pillows
Which pregnancy pillow shape is best?
The best shape will largely depend on user preference. Keep in mind that many are designed to support your neck as well, so if you use a flatter pillow for neck support, a big fluffy one might be hard to adjust to.
Many women prefer support for their growing bellies and something to go between their legs for hip support. Most models will support this position, though keep the dimensions in mind if you're taller as you want to make sure the pillow reaches your knees when bent.
When do you start using a pregnancy pillow?
There is no set gestational age where you must begin to use extra support, in fact many women use them from the start of their pregnancy. Even though your belly might not be showing, there may still be extra pressure on your bladder and hips and a little support could help alleviate that.
Later in pregnancy, around the third trimester, it becomes important to sleep on your side, and a pregnancy pillow can help make it more comfortable for many sleepers.
Conclusion
You should be happy and excited during your maternity period, as you wait for the arrival of the new addition to your family. However, it is hard to be in a good mood when you can't get a solid night of sleep. We hope that we managed to help you find the best maternity pillow for your needs.
Put it to work in your bed, you just might be able to get back to sleeping well during the final few months leading up to delivery. After all, you aren't going to get much sleep when you have a brand new baby in the house, so you should try to get as much sleep as possible while you have the chance!
While you are at it, you might need a brand new crib mattress for your newborn, so check out some of the reviews, your baby will sleep better and so will you.