Transparency Disclosure – We may receive a referral fee for products purchased through the links on our site...

Read More

.
Disclaimer - Nothing on this website is intended to be a substitute for professional medical advice, diagnosis, or treatment...

Read More Here

.
The quality of your pillow could help you achieve better sleep, but that doesn't mean you have to spend a fortune on one. Plenty of budget-friendly pillows can offer substantial comfort, support, and durability.
There's more to pillows than price, though. Buying a pillow that doesn't complement your sleep style may contribute to neck pain, pressure build-up, and frequent tossing and turning. For this reason, it's crucial to choose the right option that helps eliminate these issues. In this article, we share the best cheap pillows for every type of sleeper and the most important factors you should consider before buying.
Our Picks for the Best Cheap Pillows of 2023
What to Look for When Buying a New Pillow
Buying a pillow is an important step toward having a good night's sleep. Apart from the price, you should consider the fill, loft, and firmness, among other things, that can help you find the most comfortable cheap pillow.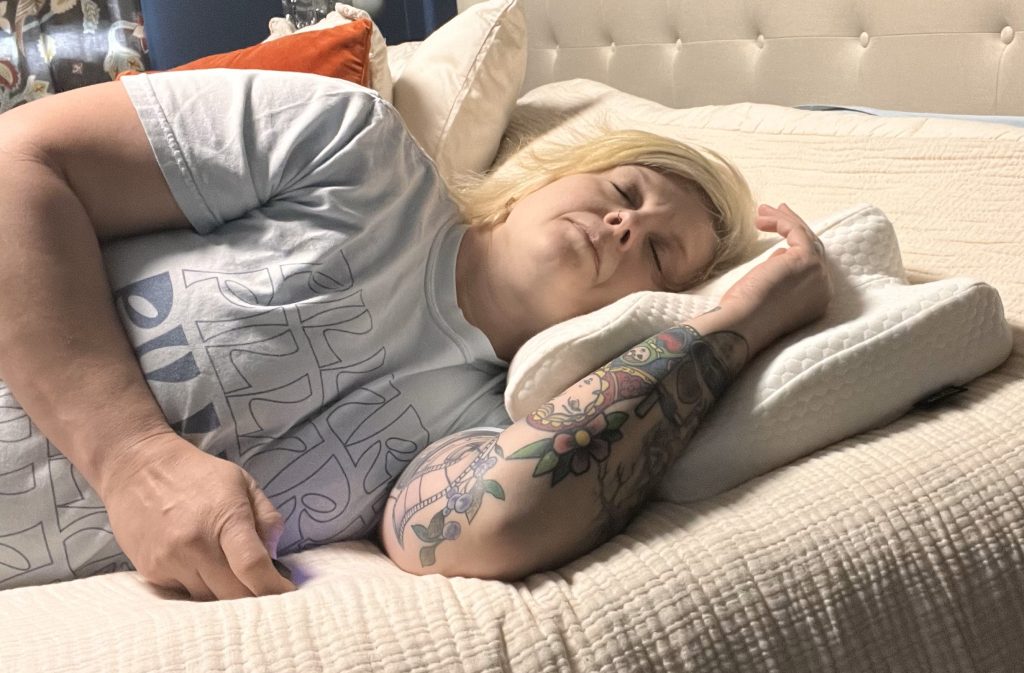 Fill
Pillows come with different fill materials that offer variable performance. For example, some materials are softer but need fluffing, while others are firmer and solid. The fill determines the shape and often the longevity of the pillow. Some of the most common fill materials in cheap pillows are listed below.
Memory Foam
Shredded Memory Foam – Shredded memory foam is made when large foam sheets are broken into smaller pieces. This material is often used in pillows because it's softer than solid memory foam. Shredded foam is also more breathable and unlikely to overheat, so it rarely has any gel infusions.


---

Solid Memory Foam – Solid memory foam is a single-piece foam typically used in firmer pillows because it offers excellent support with a bit of contouring to relieve pressure. Solid memory foam retains its shape well and will bounce right back to its original state once you get out of bed.
If you're interested in learning more about memory foam pillows, check out our top picks for the best memory foam pillows.
Down
Down is another common option for those seeking a soft pillow. The fiber comes from the underside of a goose or duck. Down pillows are fluffy and soft but may sometimes flatten, which is why they require frequent fluffing and shaking. The significant downside to down pillows is the higher price.
Down Alternative
Down alternative is made from polyester, rayon, and other synthetic materials. The fibers are supposed to mimic down, which is why this type of filling is called down alternative. Although real down is softer and fluffier, down alternative is often cheaper and better for allergy-prone people because it's hypoallergenic.
Latex
Latex is a popular pillow fill option, but it may not be as cheap. This material is extracted from a natural rubber tree, so it's a good option for eco-conscious shoppers and those prone to allergies. Latex is firm and holds its shape well, so these pillows are unlikely to collapse under your weight. Latex pillows are often cooler than memory foam, making them good for hot sleepers.
Learn more: Best Latex Pillows
Feather
Feather comes from the bottom part of the bird's feather. This part of a feather is fluffy and soft. However, like down, it requires frequent fluffing and shaking to return to its original shape because it tends to flatten after several uses. Feather pillows are also easy to adjust by adding or removing the feathers from the interior.
Read more: Down vs Feather
Buckwheat
Buckwheat pillows are filled with hulls of buckwheat seeds. These may feel springy if you pressure them, but they provide firm support. This makes buckwheat pillows good for back and side sleepers in need of good support for healthy spine alignment. The hulls also promote airflow, keeping the pillows cool for hot sleepers to use.
Kapok
Kapok is a natural pillow filling suitable for eco-conscious shoppers. The fibers are similar to silk, making these pillows suitable for all sleeping positions. Kapok is a good alternative to down and feather as it has no odor and provides similar performance. Kapok comes from the tropical Kapok tree instead of an animal, so it's also vegan.
Cotton
Cotton is commonly used in pillows because it's thick, firm, and durable. Cotton pillows are slightly firmer, but some brands offer softer models that have a blend of cotton and other materials. As such, cotton pillows are a good option for back sleepers looking for ample support for the head and neck area.
Wool
Wool offers support and comfort, and pillows with this filling are often adjustable. Natural wool is typically combined with cotton for enhanced comfort. Wool pillows are sturdy and contouring, which helps promote a healthy spine alignment when sleeping on your back and side. However, wool is rarely found in cheap pillows since it's usually made in luxury products.
Microbead
Microbeads in a pillow are made from polystyrene. The beads provide a comfortable sleeping experience because they're pliable and breathable. Because they're small, microbeads foster sufficient airflow to keep the pillow cool, making it a good option for hot sleepers.
Loft
Pillow loft refers to its height, and sleepers have their choice of different loft options. Although most people find a pillow loft between four to six inches the most comfortable, the right height is a matter of preference. You should first consider your preferred sleeping position since back and side sleepers usually need slightly higher pillows than those who sleep on their stomach. Conversely, stomach sleepers need a lower loft to prevent neck pain. In some cases, the loft is easy to adjust by adding or removing the fill. If you're not sure what loft you prefer, an adjustable loft could be helpful.
Support/Firmness
Much like the loft, firmness and support are also a matter of preference. Some people like soft pillows that flatten when you lie on them, while others like firm pillows that retain their shape even under compression. The firmness of your pillow depends on the fill. For example, down pillows are almost always softer than memory foam. The support a pillow can provide depends on its firmness because softer pillows aren't as good at supporting the head and neck as firmer models.
Cooling
Even cheap pillows can be cooling, making it easy for hot sleepers to achieve a better night's sleep without breaking the bank. How well a pillow performs in this category depends on its materials and structure. For example, microbeads are usually cooler than memory foam. However, some brands use cooling gels to make a memory foam pillow more suitable for those who sleep hot. The pillow's cover also significantly affects how hot or cold it runs. If you tend to sleep hot, you may find what you're looking for in our top picks for best cooling pillows.
Value
You can still get value for money without buying an expensive pillow. The value of a cheap pillow depends on many things, like the warranty, trial, and material quality. Even for budget pillows, most brands give out at least a 1-year warranty, although some companies offer a lifetime warranty. Trial periods vary from 30 to 100 nights, depending on the brand.
Frequently Asked Questions
What is the best cheap pillow?
The best cheap pillow is the one that fits your sleeping habits, preferences, and budget. The bedding market offers a range of models to choose from based on your needs. Therefore, all you have to do is determine your budget, desired loft size, materials, and other details we mentioned above to help ensure the pillow works for you.
What is a good price for a pillow?
A good price for a pillow will be something that works within your budget but still gives you a quality product. Pillows can be expensive, depending on the materials used in them and any special design features. Size, loft, cover material, cooling infusions, and other factors also affect the price. You should be able to find good-quality budget pillows under 100 dollars.
What are cheap pillows made of?
Cheap pillows can be made from various materials, but synthetic ones are often the most common Memory foam and down alternative are the most popular options for cheap pillows since all other materials are more expensive.