Transparency Disclosure – We may receive a referral fee for products purchased through the links on our site...

Read More

.
Disclaimer - Nothing on this website is intended to be a substitute for professional medical advice, diagnosis, or treatment...

Read More Here

.
Brooklinen focuses on providing classic, high-quality products. The Marlow is the brand's memory foam option for pillows, and its adjustable design features zippers on both sides to modify the pillow's firmness to your liking. The inside of the pillow contains 80 percent chopped cooling memory foam and 20 percent polyester fiber, along with a breathable mesh for enhanced airflow. 
I tested out the Marlow for myself, and in this review, I break down my first-hand experience with this pillow. I'll share how the pillow feels, performs, and who I think are the best people suited for this product. Keep reading for the full review or jump down to my final thoughts for a summary on the Marlow.
Brooklinen Marlow Pillow
A gel-infused memory foam pillow which is a happy-medium between plush and firm.
Sleep Advisor Score
4.20 / 5
Read Full Review
You will love the Marlow if you:
Sleep on your back – I felt most comfortable while lying on my back. My head and neck remain supported, but the memory foam still provided some nice cushioning and contouring for me to melt into a bit.


---

Are a hot sleeper – The Marlow feels cool to the touch, which is already a great sign if you're a hot sleeper. Additionally, the pillow's fill contains cooling memory foam along with a breathable mesh, which should enhance the pillow's cooling effects.


---

Are prone to allergies – This pillow is anti-microbial, which means it's designed to prevent the growth of bacteria and allergens. As a result, the pillow should remain fresh.
You might not like the Marlow if you:
Prefer lightweight pillows – The Marlow has more weight to it, similar to pillows often used in hotels. While this is considered an advantage for some, others who enjoy more lightweight, fluffy pillows may prefer a different option.

Sleep on your stomach – The Marlow pillow was too high for stomach sleeping. Personally, I like having a little thicker, fluffy pillow to hold while I lie on my stomach, but this isn't ideal for spinal alignment since my head was raised too much. Therefore, if you're a stomach sleeper, I'd recommend going with a lower loft pillow.
Construction (Materials & Quality)
The Marlow's construction starts strong. This pillow is both 100 percent vegan-friendly and anti-microbial, making this a fantastic product for animal lovers and anyone with allergies. The pillow's design includes a zipper on both sides, which is meant to allow the sleeper to adjust the pillow's firmness to their liking.
Cover – The cover of the Marlow is made with 100 percent cotton, 120 GSM sateen fabric. 120 GSM — or grams per square meter — means the material is lightweight. The cover is great for breathability and feels cool to the touch, which could be further complemented by a cooling pillowcase.
Inner Lining – The pillow's lining is a breathable mesh made up of 100 percent polyester. Not only does this contain the fill inside the pillow, but it should also enhance airflow throughout the product.
Fill – The fill of the Marlow is made with 80 percent cooling chopped memory foam and 20 percent polyester fiber. Although memory foam has a reputation for overheating, Brooklinen solves this issue by incorporating cooling foam specifically. As a result, you should get the nice cradling of memory foam but not overheat.
Firmness (Comfort & Feel)
The Marlow arrives compressed and rolled up in a box within a box, so it's well-protected en route to your home. After unpacking the pillow, you'll fluff it out and you should notice it expand almost immediately.
I would describe the firmness of the pillow as a medium. The zippers on the sides are meant to adjust the pillow's firmness. If you unzip both, it should feel the plushest. If you unzip one, it should have a medium feel, and then keeping them both zipped gives it the firmest feel.
While testing out the pillow, I noticed more of a difference between having both zipped and both unzipped. That being said, it wasn't a significant change, in case that's something you might be expecting. Overall, I felt the pillow remained a comfortable medium-firm feel.
Pressing into the pillow and lying on it, I could feel the conforming memory foam, which gave it softness and adaptability, but it wasn't so plush that it lacked support. Switching between sleep positions, I felt most comfortable while lying on my back, though I think this could a good match for side sleepers as well.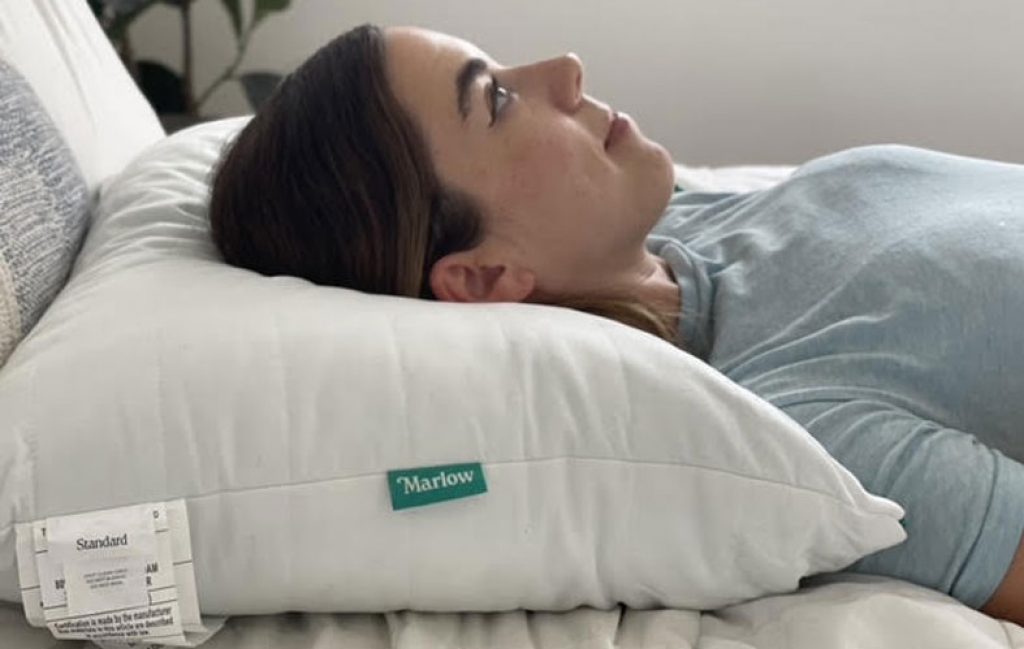 Temperature Regulation
Hot sleepers should find a great match with the Marlow. The Marlow feels cool when you touch it, which should provide immediate relief for those living in warm temps or anyone prone to sleeping hot at night.
Don't let the addition of memory foam deter you. Brooklinen uses a chopped memory foam with cooling properties to help regulate the pillow's temperature and prevent overheating. Along with the fill, the pillow's breathable mesh gusset and lightweight cotton shell should enhance the product's cooling capabilities.
Noise & Smell
The Marlow does come with some initial off-gassing. Off-gassing is a normal, new product smell that can come with certain mattresses and bedding materials, particularly those made with memory foam. Although it's not harmful, some people may not like that. I'm more sensitive to smells, so I did notice it, but compared with other memory foam products, I didn't think this was particularly bothersome. I would say to give the pillow at least a day for the smell to air out and go away, and then you should be fine.
As far as noises, this pillow is completely silent, so if your partner is a light sleeper, they won't be bothered by this product.
Other Considerations
Size Options – The Marlow comes in two sizes: Standard and King. The standard weighs 40 ounces, and the King weighs 55 ounces.
Warranty – Brooklinen offers a two-year warranty for this product.
Trial – The Marlow comes with a very impressive 365-day return policy.
Shipping – The company ships for free on orders over 100 dollars. Therefore, if you order at least two pillows, you'll have them shipped at no charge.
Final Thoughts
Brooklinen's commitment to cooling features in their Marlow pillow is impressive. Each product layer is built with temperature regulation in mind. I thought it was incredibly comfortable for back sleeping. I didn't feel too uncomfortable while on my stomach, but because my head was raised a little too much, I would advise stomach sleepers to go with something flatter for better spinal alignment.
Overall, I think the Marlow presents a fantastic value, particularly for those who love sleeping on memory foam pillows. With the Marlow, you shouldn't have to worry about feeling too warm with this material, solving the main downside of memory foam. Though I noticed some initial off-gassing, it should dissipate within a day or two, and as someone sensitive to smells, I didn't find it very bothersome.
Brooklinen Marlow Pillow
A gel-infused memory foam pillow which is a happy-medium between plush and firm.
Sleep Advisor Score
4.20 / 5
Read Full Review