We all have our favorite sleeping position that we've become accustomed to over the years – the one that feels most comfortable. However, experts say certain positions are better for you than others.
The primary postures are on the stomach, on the back, and the side. Resting and sleeping on the back is considered to be the healthiest of the three.
If you prefer stomach or side sleeping position, you may want to consider switching things up. We'll provide you with tips on how to sleep on your back, the advantages of this sleeping position, and other helpful information on this topic.
Why Do It?
A 2022 national survey[1] found only 10 percent of respondents are back sleepers, compared to 16 percent who sleep on their stomach and 74 percent who are side sleepers. Yet, despite these findings, more people may want to consider back sleeping for the physical and beauty benefits that can come with it.
The Benefits of Sleeping on Your Back
Neutral Spine
A neutral spine describes how the vertebrae naturally curve and align to put the least amount of stress on the muscles and bones. A neutral spine is considered good spine alignment, and it could help minimize the risk of developing pain. According to health experts, lying on the back is the ideal position[2] for keeping a person's spine as neutral as possible while they're asleep.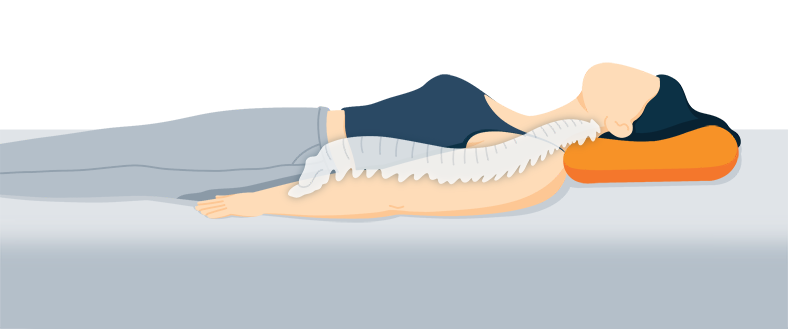 Reduces Wrinkles
When you wake up after napping on your side or stomach, you'll likely notice creases on your face and chest. Experts say that after a while, lying in those sleeping positions can lead to breakouts and premature wrinkles (so called "sleep wrinkles"). Therefore, if you want to reduce the risk of developing wrinkles[3], back sleeping will be the best option.
Alleviates Sinus Buildup
Trying to doze off while experiencing a stuffy nose due to a cold can be easier said than done, despite how tired the individual feels. Lying face up, though, could minimize frustrating nighttime nasal congestion, but you have to slightly modify your posture for it to work. To do this, sleep on your back but keep your head propped up with either a few pillows or an adjustable base so that gravity can help drain your nasal passages, allowing you to breathe easier.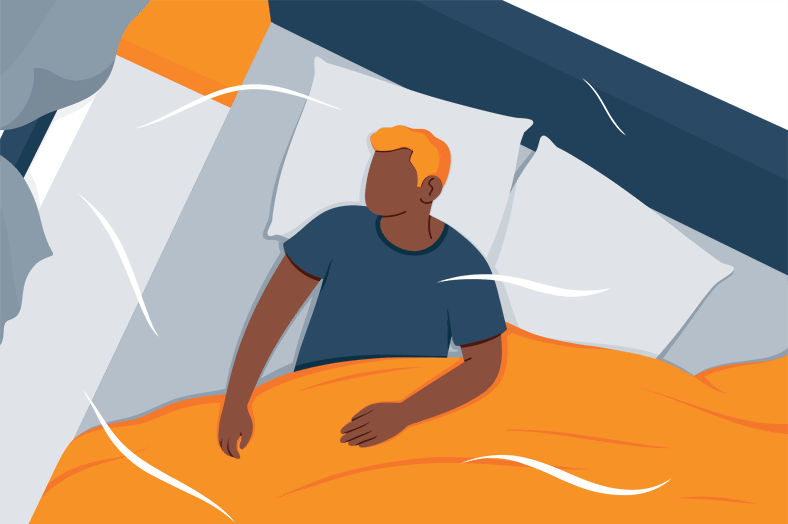 Eases Tension Headaches
A tension headache can develop from a combination of stress, repetitive activities, and bad posture. Examples of activities that can cause this include looking at your phone, jaw clenching, working on a laptop, and driving or playing video games for extended periods. They are described to feel as though a tight band is around the head.
Another cause of this type of headache is stomach sleeping. That's why if you're dealing with this kind of headaches, authorities[4] recommend back resting instead while also making sure the neck is in a neutral posture.
How to Train Yourself to Sleep on Your Back
When you are naturally used to resting in a certain position, it can be challenging to adjust to something new and to try to train yourself to sleep on your back, mainly if you have been sleeping one way for years or even decades. However, the following tricks should help make it easier to modify how you sleep so that you may be able to reap the benefits mentioned above.
Lie Down Flat
Naturally, the first step is to lie down flat on your bed with your head facing directly up. The head and neck should both be neutral to reduce any tension that could cause pain. To keep the spine properly aligned, resist the urge to twist your head to the side or rotate your knees to the left or right.
From there, you can explore how it feels to place your arms above the head in a makeshift goal post-formation. Some people may find that raising their arms feels comfortable, while others may experience pressure on their shoulders. Experiment with this idea, and see what works best for you.
Elevate the Head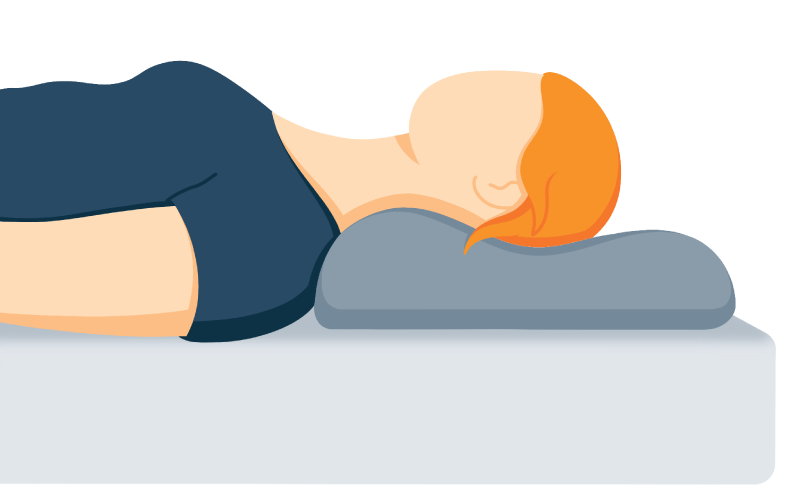 Next, you will need to focus on keeping the head in a slightly raised position with the help of a small pillow. Raising the head helps ensure the head and neck are in a healthy, neutral alignment with the rest of the spine.
You can also put pillows under your arms to help you feel more supported. Some experts recommend a buckwheat pillow because it is flatter and can be rearranged to suit the individual's preference. The most important thing to remember is to avoid having the head propped up too high or resting too flat, which creates an unnatural alignment.
Get More Info: 7 Benefits of Sleeping with Head Elevated
Put a Pillow Under Your Knees
If you're not accustomed to sleeping this way, you may initially experience some pain and pressure in your lower back. In this case, it can be helpful to put a pillow under your knees[5] to maintain the natural curve of the lower back and get relief.
Another way to try and minimize pressure on the back is to do some light stretching before bed. People who sit all day tend to have tight hamstrings and hip flexors, and stretching should relieve some of that tension build-up. The Pigeon, a popular yoga pose, is an excellent stretch for the hips.
To do this, sit with one knee bent and the other leg extended behind you, and then place the heel of the bent leg toward the hip of the straight one while also making sure the hip of the extended leg remains facing down. Next, rest your hands on your thigh or the floor in front of you. Try to hold this stretch for at least a minute, and then repeat this exercise on the other side.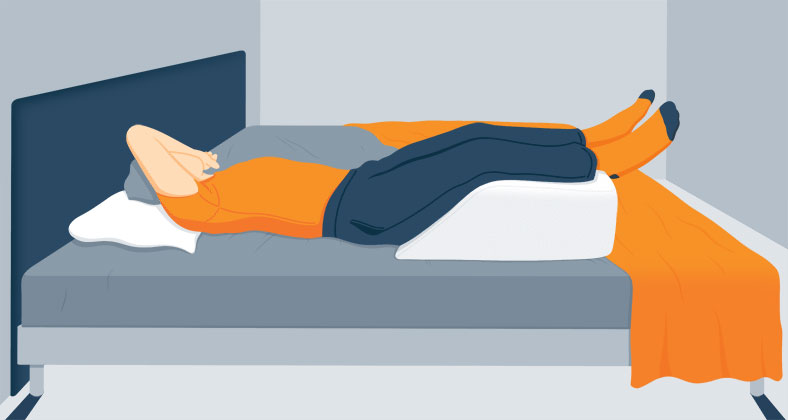 The Starfish Position
Be careful attempting this if you spend the night with a partner since you will be taking up more room on the bed. The starfish position is as it sounds. The individual lies down flat on the mattress with the head facing up and their arms and legs spread out wide across the bed – essentially mimicking the shape of a starfish.
Rather than lying straight like a soldier, extending the limbs may help relieve pressure to rest more comfortably. A BBC report[6] from 2003 found that 5 percent of people get their slumber in the starfish position.
Be Persistent
Altering how you rest can take time, and the amount of time can vary from person to person. Even though it may take a while to get used to sleeping differently, try not to feel discouraged or give up. In this case, persistence is key.
If you find yourself rolling over to your side during the night, resist the urge to admit defeat. Instead, roll on to your back again and keep trying. Over time, it should start to feel more natural.
Frequently Asked Questions
Can pillows help train you to be a back sleeper?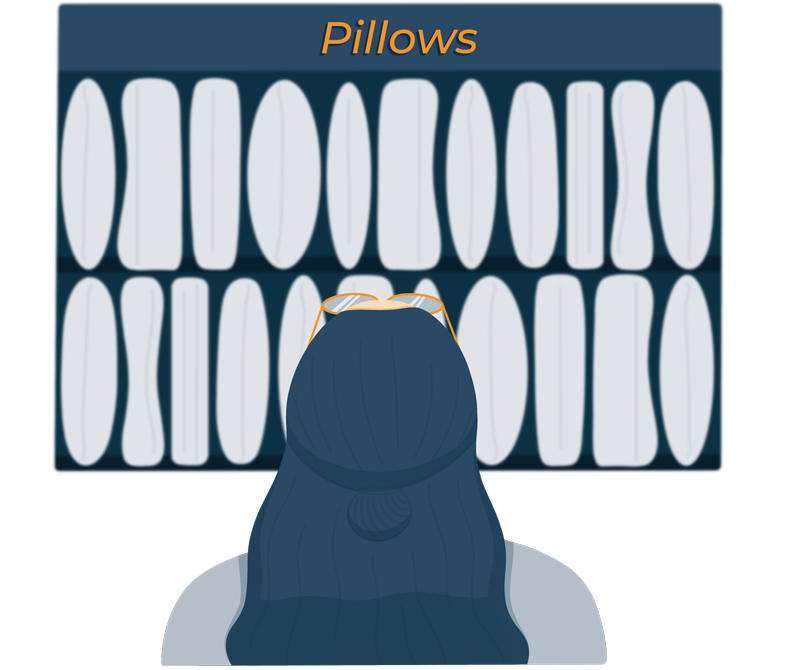 What's the best mattress for this position?
Why can't I fall asleep on my back?
Can I sleep on my back while I'm pregnant?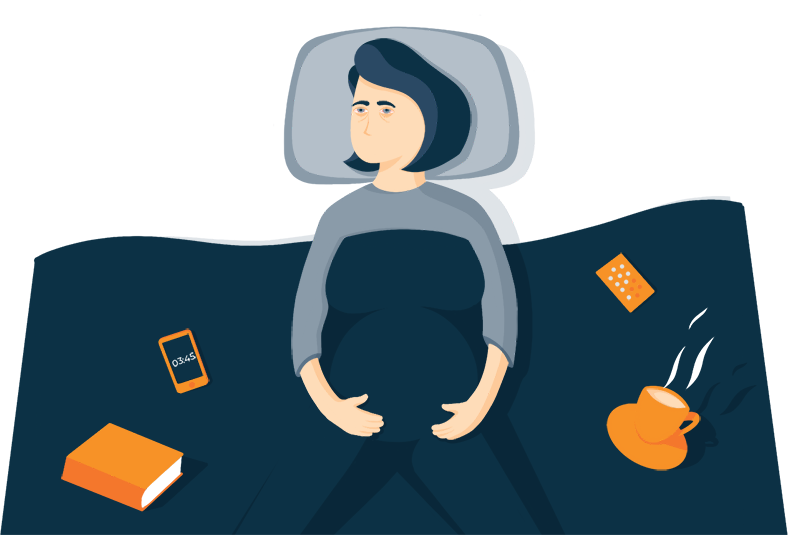 Does sleeping on your back cause sleep paralysis?
Sources and References:
[1] "National Sleep Survey Pulls Back The Covers On How We Doze And Dream", PR Newswire, 2012.
[2] "What Sleep Positions are Best for Your Back?", Wexner Medical Center, 2018.

[3] "Choosing the Best Sleep Position", Johns Hopkins Medicine
[4] "Easing Your Tension Headaches: 7 Tips From a Chiropractor", Cleveland Clinic, 2020.

[5] "Slide Show: Sleeping Positions that Reduce Back Pain", Mayo Clinic, April 22, 2020.
[6] "Sleep Position Gives Personality Clue", BBC News, September 16, 2003.
[7] "Sleep Paralysis Causes and Prevention", University of Pittsburgh Medical Center, 2015.
Jill Zwarensteyn is a content writer for Sleep Advisor and is enthusiastic about providing helpful and engaging information on all things sleep and wellness.
Based in Los Angeles, she is an experienced writer and journalist who enjoys spending her free time at the beach, hiking, reading, or exploring new places around town.
She's also an avid traveler who has a personal goal of being able to successfully sleep on an airplane someday.