Transparency Disclosure – We may receive a referral fee for products purchased through the links on our site...

Read More

.
Heavier individuals can't sleep on any mattress. Instead, they need a bed specifically tailored to their needs. If you're in this group, you probably know what it means to have the right mattress supporting your body without letting you sink into it.
The Titan Plus Luxe from Brooklyn Bedding is made for plus-sized individuals, offering a gentle hug and support in multiple sleeping positions. In addition, the mattress has a medium firmness, providing the right balance of soft pressure relief with firm support.
Our Titan Plus Luxe review will investigate the pros and cons of this mattress, focusing mostly on how the bed feels and performs under the extra weight. Or, if you don't want to read all the details, you can skip to our verdict.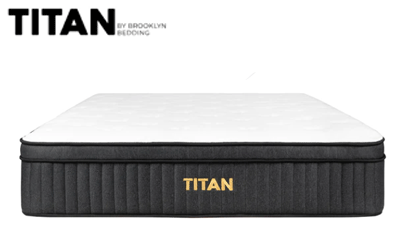 Get Titan Plus Luxe Mattress
This specially-designed hybrid is made for heavier sleepers to help them get better, more comfortable sleep.
Click the button below to get Titan Plus Luxe Mattress.
Noteworthy Updates
Brooklyn Bedding has recently changed the names of some of their mattresses. The Titan Plus Luxe was previously known as the Titan Luxe Hybrid.
Watch Our Titan Pluse Luxe Mattress Review
Excellent Matches For Titan Plus Luxe:
Hot Sleepers – This mattress has a cooling design with gel infusions and coils that allow plenty of temperature regulation. In addition, there's an option to add a cooling panel to the cover if you need more cooling to help you fall asleep.


---

Heavier Folks – The Titan Plus Luxe is designed specifically for heavyweight sleepers who weigh over 230 pounds and prefer sleeping on their side or back. The mattress offers spinal support and pressure relief in the heaviest body areas.


---

Couples – This mattress has excellent edge support and motion isolation, so it's a good option for couples. In addition, its medium-firm feel should fit partners with different sleeping habits or if one person doesn't weigh as much.
Possible Titan Plus Luxe Considerations:
Too Soft for Stomach Sleepers – Heavier stomach sleepers may prefer a firmer bed because they need more support to prevent the hips from sinking in. The Titan Plus Luxe is medium-firm but may not do a good job keeping your hips aligned with your shoulders if you weigh over 230 pounds.


---

It Doesn't Fit Lightweight Sleepers – Lightweight and even average-weight sleepers may find this bed too firm. The Titan Plus Luxe is meant for heavy sleepers, meaning that lightweight people may not even activate the upper layers, leaving much to be desired.
Weight Considerations
The Titan Plus Luxe is created to support heavier sleepers and can hold up to 1,000 pounds total – or 500 pounds per person for couples.
Heavy folks weighing over 230 pounds are the best match for the Titan Plus Luxe. These people often need plenty of spinal support along with pressure relief in the shoulders, hips, and knees. However, heavier sleepers who enjoy sleeping on their stomach may find it a touch too soft.
If you share a bed with a partner, it's also helpful to see how the Titan Plus Luxe may feel for those who aren't heavier. Average sleepers between 130 and 230 pounds should like the Titan Plus Luxe if they sleep on their stomachs. Back sleepers should find sufficient spinal support and comfort, but side sleepers could find it too firm.
Lightweight sleepers weighing under 130 pounds will likely find this bed too firm.
Construction: What's Inside Titan Plus Luxe?

The Titan Plus Luxe features six layers and is 13 inches tall. The bed feels responsive, bouncy, and easy to move on, although it allows only a little contouring. The construction starts with a soft cover quilted with an inch of gel memory foam. You can also get an optional cooling panel made from phase-change material if you need advanced cooling.

Below the pillowtop is a layer of TitanFlex™ foam designed to relieve pressure by cushioning all the sensitive areas.
Going further down you will find Energex™ foam, designed to offer deeper compression support that is crucial for heavier bodies. The Energex™ foam allows a bit of contouring before the support layer.
The support layer of the Titan Plus Luxe has 8-inch TitanCaliber™ coils individually wrapped for maximum motion isolation. The coils provide bounce and support while promoting airflow through the foam layers.
The base layer is made from high-density foam supporting the coil layer above. The foam is one inch tall, giving the entire bed structure, enhancing stability and durability.

The Titan Plus Luxe is excellent for hot sleepers who like sleeping "on the bed" instead of "in it". The mattress is available in seven standard sizes, all of which have the same layers but the price varies depending on whether you want the optional cooling panel. Additionally, Brooklyn Bedding advises using foundations with solid support because the Titan Plus Luxe weighs 75 to 135 pounds.
First Impression: How Does It Feel?

The Titan Plus Luxe is heavy and large, which you'll notice right when it arrives at your doorstep. For this reason, it's best to have someone help you because moving it around alone would be tricky, more so if you want to bring it upstairs.

The first thing you may notice is that the mattress is cool-to-the-touch. When you lie on the bed, you should feel gentle cradling and contouring while your heavier areas are well-supported.
Firmness Scale: 6.5/10
Pressure Relief

Pressure relief comes from distributing your weight evenly across the mattress. A bed that offers good pressure relief will do exactly that without concentrating your weight on the hips, lower back, and shoulders.

The Titan Plus Luxe should feel medium-firm, but this depends on how much you weigh. Average-weight sleepers should find it firmer than heavyweight folks and may also feel the pressure building up in different areas.

This mattress has memory foam quilted to the cover, offering a nice cradle before the comfort layer. The comfort layer is made from the brand's proprietary TitanFlex™ foam, designed to cushion sensitive areas so that pressure won't build up.

Heavier folks who like sleeping on their back should find good pressure relief in the lumbar region, resulting in an overall better sleeping experience. However, you may feel the pressure building up on your back when sleeping on your stomach.
Support

The Titan Pluse Luxe is designed with support in mind as it features extra-supportive TitanCaliber™ coils. The coils are 8 inches tall, 13.5 gauge, and individually wrapped to move independently, offering more support where it's needed the most. This targeted support is excellent for heavy sleepers as it focuses mostly on the heaviest parts of the body.

When you lie on the bed, you feel the upper layers should gently hug your curves just enough to provide comfort and pressure relief. In addition, you should feel your weight generously supported without the mattress becoming too soft.
Preference-based Features

Optional Cooling Cover

You can choose the GlacioTex Cooling Cover that should amplify the cooling effect. Although the mattress provides sufficient breathability and is already cool to the touch, the GlacioTex cover enhances this even more.

---

Free Shipping and Returns

Brooklyn Bedding offers free shipping and returns, although you have to try the mattress for 30 nights before returning. After that, if you decide it's not the right fit for you, the company may send you a topper, exchange the mattress, or refund your money.

---

Durability

This mattress looks and feels durable as it's made from quality materials that should last a long time. Plus, it's constructed for heavier sleepers, so it's unlikely to sag for at least ten years, thanks to its strong coils and high-density foams.

---

Cooling

Hybrids are known to be cooler than all-foam mattresses because they have coils that promote airflow. In addition, the Titan Plus Luxe has gel infused into the first foam layer designed to dissipate heat.

---

Exceptional Edge Support

This mattress has excellent edge support you'll notice if you sit or sleep near the edge. You should feel sufficient support along the sides, which may make the mattress feel bigger because you'll have more surface area to use.

---

Easier Repositioning

Sleeping on the Titan Plus Luxe should feel like sleeping "on top of the bed", meaning you won't sink into the construction. Plus, the bed feels more buoyant, which should help you reposition if you like to sleep in different postures throughout the night.

---

Bed-in-a-Box

The Titan Plus Luxe is shipped in a box, which makes it easier to move from your doorstep to your bedroom. However, we already mentioned this is a heavy mattress, so you may still need someone to help you move the box around.

---

Compatible with Various Bases

Brooklyn Bedding advises using a foundation with solid support and minimal to no flex. This means you can use slatted wood or metal foundations where the slats aren't more than 4 inches apart. You can also use wood or metal foundations and solid platforms.

---

Made in the USA
Coupons, Trials, Warranties, and Shipping

Shipping - Shipping is free within the United States.
Trial - You can keep this product for 120 nights to ensure it's your dream mattress, and if it isn't, the company will refund your money.
Warranty - There is a warranty on this brand good for 10 years.

| Size | Dimensions (inches) | Price (w/o discount) |
| --- | --- | --- |
| Twin | 38" x 75" x 13" | $899 |
| Twin XL | 38" x 80" x 13" | $974 |
| Full | 53" x 75" x 13" | $1,274 |
| Queen | 60" x 80" x 13" | $1,599 |
| King | 76" x 80" x 13" | $1,799 |
| Cali King | 72" x 84" x 13" | $1,799 |
| Split Cali King | 36" x 84" x 13" | $974 |
Overall Summary
The Titan Plus Luxe is a heavy-duty mattress designed to deliver support and pressure relief for heavier folks, The mattress doesn't sag and should last you at least 10 years as it's made from quality materials. Plus, it should fit side and back sleepers, along with couples.


Heavier side sleepers should like the medium firmness and how the mattress feels in areas prone to pressure build-up. Therefore, the bed should provide gentle cradling, hugging the shoulders, hips, and knees just enough to prevent the pressure from building up when you sleep in this position.


This bed is excellent for heavy back sleepers because they often need more support than average and lightweight sleepers. The Titan Plus Luxe has a cradling comfort layer that adapts to your curves, while the supportive coils keep the spine in alignment when you sleep on your back.


Stomach sleepers should pay special attention to spine alignment because the hips often sink when in this position. This is even more the case for heavier individuals because hips carry the most weight, which could impact your sleep posture. Although the Titan Plus Luxe is medium-firm, it may be too soft for dedicated stomach sleepers weighing over 230 pounds.


This bed has just enough bounce to allow easy repositioning, crucial for heavier individuals who like sleeping in different positions. In addition, combination sleepers who don't stay in any sleeping position for too long should like how the bed feels, supporting and hugging the body in the heaviest areas.


Couples looking for bounce and support should like the Titan Plus Luxe. The mattress can handle up to 1,000 pounds, which means it's an excellent option for heavier couples. In addition, it's good for both side and back sleepers and has good motion isolation so that partners don't wake each other up when tossing and turning.


Heavier folks often struggle to find a mattress that supports their body while also relieving pressure in sensitive areas like the shoulders, hips, and knees. The Titan Plus Luxe is designed specifically for those weighing over 230 pounds as it features heavy-duty coils and high-density, durable foams.


Lightweight sleepers weighing under 130 pounds will probably find this mattress too firm. These sleepers are less likely to not activate the upper layers, so they may not feel any hugging or cradling. Dedicated stomach sleepers weighing less than average might like the support, but that'll quickly disappear if you change positions.
The Titan Plus Luxe is an excellent mattress that promises durability, comfort, pressure relief, and superior support for heavy folks. This high-value bed packs cooling, a luxurious feel, and everything else you'd expect from a high-quality brand like Brooklyn Bedding.
Our Verdict
After testing the Titan Plus Luxe, we feel this mattress is a fantastic match for heavier sleepers. We recommend the mattress for several reasons, but one of its main selling points is the superior construction that supports extra weight without allowing pressure to build up.
The mattress is excellent for side and back sleepers weighing over 230 pounds. In addition, the Titan Plus Luxe is helpful for heavier couples and those who sleep hot.
Heavier bodies should find abundant support in the 8-inch steel coils that are individually wrapped for motion isolation and bounce. The bed's value, supportive construction, and pressure-relieving capabilities make it a favorite among heavy sleepers.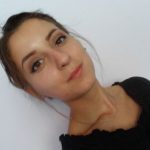 Olivera is a content writer for Sleep Advisor and is enthusiastic about sleep. She firmly believes in the benefits of daytime naps on top of getting a full 8-hour sleep at night.
She started writing in 2016 and never looked back. What she appreciates the most is her flexible working hours and the ability to work with people worldwide.
In her free time, Olivera enjoys reading Spanish literature, taking pilates classes, and trying out new cocktails with friends.