Transparency Disclosure – We may receive a referral fee for products purchased through the links on our site...

Read More

.
Disclaimer - Nothing on this website is intended to be a substitute for professional medical advice, diagnosis, or treatment...

Read More Here

.
Are you one of the 22 million Americans living with sleep apnea? 80% of people with this nighttime breathing disorder go undiagnosed. If you've been told you snore at night or if you wake up feeling like you haven't slept at all, this could be a part of the problem.
The standard treatment for this condition is a continuous positive airway pressure (CPAP) machine, but sometimes lifestyle changes can help too. Your sleeping position affects your airway, so having one of the best pillows for sleep apnea that improves breathing is essential.
Keep reading to see our top 5 picks for the highest rated pillow for sleep apnea and some great info about how they help.
5 Top Rated Pillows for Sleep Apnea Reviewed
Relax Home Life –
Best Wedge
Triangle shaped wedge
Memory foam for comfort
Breathable bamboo cover
Two sizes available
Multi-functional design
This triangle-shaped wedge by Relax Home Life features an industry-leading design for comfort and results. When the head and neck are kinked or in an awkward position, the tubes extending from the mouth to the lungs can become blocked. Sleeping with the head elevated may improve breathing and reduce snoring by promoting an open airway.
This wedge features a 1.5-inch memory foam top layer for comfort and pressure relief. The firm base consists of premium grade polyurethane (poly) foam for strong support. The breathable cover is made from soft and luxurious bamboo viscose, designed to keep you cool and comfortable all night long.
This wedge measures 25″ W x 26″ L x 7.5″ H and is available in a larger 30.5″ W X 33″ L x 12″ H size. When you're not sleeping, you can prop this cushion behind you for comfy support while you're reading or watching TV in bed.
Cushy Form –
Best Multi-Use
Multi-purpose pillow
Medical 12-inch height
Lightweight
Machine washable cover
This bed wedge by Cushy Form is a multi-purpose pillow that was crafted at a 12-inch height for medical use. This incline is the best for keeping the airway open and improving symptoms like snoring, apnea, and acid reflux. Overall, this cushion measures 25″ W x 24″ L x 12″ H and weighs in at just 6.5 lbs.
The firm base is designed to support your neck and torso, promoting optimal spinal alignment. This helps alleviate any pain or discomfort. Sleeping peacefully shouldn't be a problem with the 1.5-inch high-density memory foam layer on top for added comfort. A soft and breathable cover is included for temperature regulation and can be machine washed as needed.
Not only does this wedge work well for sleeping, but it can be used in many different ways to keep you comfortable and healthy. Place this cushion upright behind you for support while you are relaxing, or use it under your legs to improve circulation.
EnduriMed –
Best CPAP Machine Compatibility
Contouring memory foam
Built-in ergonomic mask cutouts
4-in-1 design
Designed specifically for CPAP users
If you use a CPAP at night, you're probably familiar with how frustrating it can be to sleep comfortably without air leaks or kinked tubing. If you've ever wished there was a pillow created specifically with CPAP users in mind, you're in luck. This memory foam contour design by EnduriMed is a pillow like no other.
Sleeping comfortably on your back or side shouldn't be a problem with four built-in ergonomic mask cutouts. The soft memory foam base cradles your head and neck, while the contours provide space for your mask and tubing to freely lay. Change positions from side to side with cutouts on both ends, or flip the pillow around for smaller frames.
This 4-in-1 design offers unique customizations based on your preferences and needs. Bruising from your mask, pressure lines, and interrupted sleep could be a thing of the past with a cushion that was designed specifically with your comfort in mind.
Lumia Wellness –
Best Basic CPAP Compatibility
Butterfly-shaped design
Made for CPAP users
Side cutouts for mask
Integrated hose straps
Cool, breathable memory foam
Organic cotton pillowcase
This butterfly-shaped cushion by Lumia Wellness is another example of a design that was custom-made for CPAP users. The contoured shape with side cutouts provides space for the mask to rest freely while reducing pressure and preventing air leaks. The integrated hose straps provide a place to secure tubing so you have one less thing to worry about.
The cool, breathable memory foam should create a comfortable and supportive sleep experience in any position. This product is designed to have the narrow end closer to your neck. Your face should be positioned at the edge so your mask occupies the open space from the cut-out section.
A premium organic cotton pillowcase is included and it is soft and breathable. This cover is removable for easy machine washing when necessary. This highly rated cushion is small and lightweight, perfect for travel or use at home.
Sleep Innovations –
Best Cervical Contour
Ergonomic design
Promotes spinal alignment
Two levels of contour to choose from
Adaptive memory foam
Made in the USA
Lightweight for travel
Ergonomic designs are popular for alleviating neck and back pain because they keep the cervical spine in an optimal position. Not only does this work well for pain relief, but it can also prevent the airway from becoming compromised. Cervical cushions have an "M" shape with one end slightly higher.
This layout is designed to gently cradle the head in the middle, with an arch to support the neck. This alignment keeps the head and neck straight, promoting open airways as well. With two levels of contour to choose from, you should be able to find the right fit for your frame.
This therapeutic design is enhanced by adaptive memory foam for additional comfort and support. This product is made in the USA and comes in three sizes: travel, standard, and queen. At just 1.4 lbs, this lightweight cushion should be easy to take with you for a great night's rest on the go.
What Is Sleep Apnea?
Sleep apnea is a type of sleep-disordered breathing that affects nearly 1 billion people worldwide. Men, women, and children from all ethnicities and walks of life are impacted by this disorder. For most people, the condition goes undiagnosed unless a partner or a loved one recognizes the symptoms or a serious side effect occurs.
Sleep apnea is characterized by pauses in breathing throughout the night that typically last for 10 seconds or longer. When this happens, the body and brain are deprived of oxygen and serious consequences can occur. Left untreated, this condition can lead to headaches, diabetes, stroke, high blood pressure, heart attacks, and even death.

Major Types of Sleep Apnea
There are three most common types of sleep apnea. Read on to find out if one applies to you.
This is the most common type, and it occurs when the tongue or soft tissues in the back of the throat partially or completely block the airways. Loud snoring is one of the telltale signs.
With this type, there is a problem with signaling from the respiratory control center in the brain. When the brain fails to signal the body to breathe, apneas occur.
When a person suffers from both obstructive and central forms, they are considered to have "complex" sleep apnea.
Best Sleeping Positions for Sleep Apnea
Depending on what position you normally sleep in, you could be making your symptoms better – or worse. Positional therapy is one of the first steps in treating sleep apnea.
Sleeping on the back is considered to be one of the worst positions when it comes to this condition. This position allows the tongue to fall back, contributing to blocked airways and potentially making symptoms worse. If changing your sleeping position isn't an option, elevating the head may help.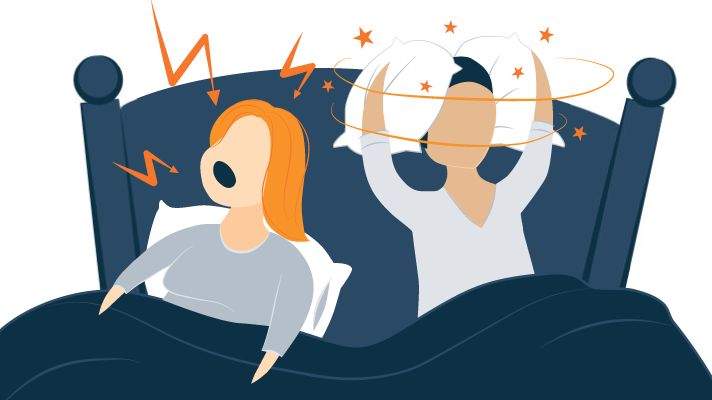 Side sleeping is considered the ideal position for preventing apneic episodes. Laying on the side can help to prevent the soft tissues and tongue from blocking the airways. Many physicians will suggest learning to sleep on your side as the first lifestyle change to make.
Stomach sleeping works with gravity to prevent obstruction of the airways and symptoms like snoring, but it does have its downsides too. Depending on the height of the pillow and where the face ends up (e.g., buried in the pillow), this could also lead to kinking of the main tubes that line the airways.
Best Pillows for Sleep Apnea
Finding the best pillow for improving apneic episodes comes down to the size, shape, and material. If you use a CPAP, you'll want to look for something that can accommodate your mask and tubing.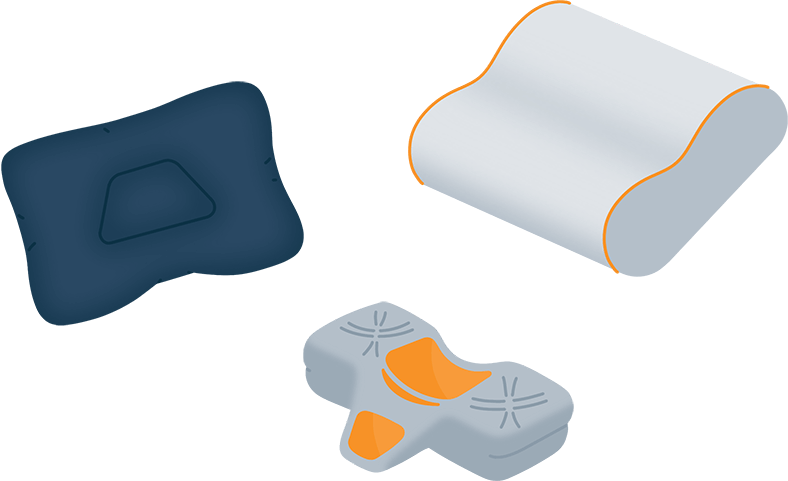 Most foam pillows have the benefit of relieving pressure and providing support to help with proper neck and spinal alignment. Foam makes a great material for side sleeping and conforming to the shape of a CPAP mask.
This is one of the most common materials used to create CPAP pillows. The pressure-relieving nature of memory foam works well for CPAP users and helps prevent air leaks and facial bruising.
Many people love the feel of sleeping on a feather or down pillow, but these are not the best choice for sleep apnea. This material is very squishy and doesn't provide adequate support for the head and neck.
These pillows work by elevating the upper body to maintain an open airway and alleviate snoring and other symptoms. Wedge pillows can be a good choice for back sleepers who are reluctant to change sleep positions.
Cervical pillows have a contoured shape to keep the head and neck straight, preventing the airways from collapsing. They also work well for relieving pain and tension. In most cases, this design works best for side sleeping.
With the growing number of CPAP users, specialty pillows are hitting the market with unique designs to accommodate masks and tubing. Many have contours where with mask can rest and straps to keep tubing in place.
Average Price for a Sleep Apnea Pillow
Like most pillows, prices will vary based on size, type, and materials. Specialty pillows that have unique features for CPAP users will generally be more expensive than traditional ones. Most pillows for sleep apnea cost between $20 to $80, which is around what you can expect to pay for a premium pillow as well.
Trial
Just like with mattresses, some companies offer a sleep trial which allows you to test out the pillow for a certain number of days to make sure it works for you.
Warranty
Sometimes, companies offer a warranty against any manufacturing defects that may occur. This can bring peace of mind that if any issues arise, the company will offer a replacement free of charge.
Additional Considerations for Sleep Apnea Pillows
Sleep apnea pillows can be a great way to improve breathing and reduce symptoms like snoring before turning to other medical interventions. For some people, this type of lifestyle change is enough to improve symptoms enough that no other treatment is required. For others, this is just another tool to offer additional comfort and support.
Like all sleeping products, what worked for your neighbor down the street isn't necessarily what will work for you. When it comes to CPAP masks, there is a wide range of options to suit individual preferences. The same goes when it comes to pillows, where one size doesn't fit all.
If you have been a back sleeper since birth and can't imagine having to change, the best option may be a wedge to help you improve breathing in this position. For side sleepers, a cervical pillow can make a huge difference in maintaining an open airway.
Cushions that are specifically designed for CPAP compatibility can be a welcome option to prevent air leaks and enhance comfort while wearing a mask. Having a built-in space to accommodate the different mask types and tubing can be extremely helpful in getting a good night's rest. Unfortunately, many of these cushions are made from memory foam which was the downside of retaining heat.
In some cases, a pillow isn't enough to improve symptoms. If you change your sleeping position but still don't notice a difference, it may be time to speak with your physician about the best treatment options for you.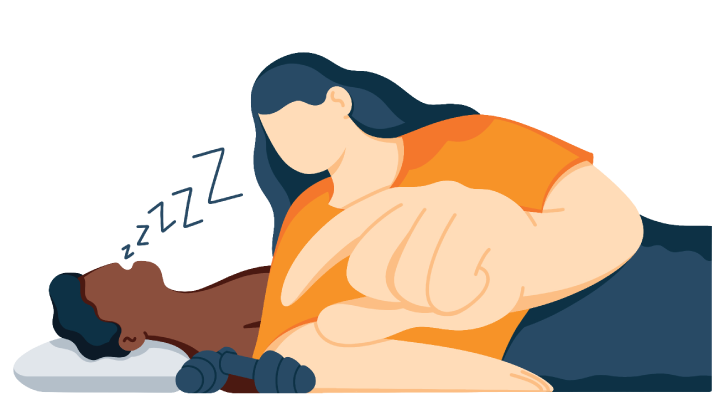 FAQ about Pillows for Sleep Apnea Sufferers
Can a pillow really help with sleep apnea?
Yes, a pillow really can make excellent changes for your well-being. Certain sleeping positions can improve symptoms as well, and others can make them worse. We recommend having a product that keeps your head and neck in a neutral alignment with your spine regardless of what position you are in.
The benefits vary from person to person and are dependent on which form of the disorder you have. Positional therapy is only beneficial for obstructive and complex apneas, not for central.
If you already use a CPAP machine but wonder if a cushion can be helpful too, the good news is that it can be. Lifestyle changes can allow for a reduction in pressure settings and are a step towards freedom.
What type of pillow is best for sleep apnea?
Different pillows work well for different sleeping positions and body types. For side sleepers, we recommend memory foam or cervical pillows. While back-sleeping isn't recommended for those with sleep apnea, these folks will likely be most comfortable on a wedge pillow. Most sleepers, regardless of sleeping position, should be able to find a pillow that fits their needs with a model specifically designed for CPAP compatibility.
What is the best sleeping position for sleep apnea?
The best sleeping position for sleep apnea is side sleeping, as the airway should remain opened and unblocked. People have a higher risk of blocking their airway through back sleeping and stomach sleeping.
Conclusion
If you suspect you have sleep apnea, the first step is getting a diagnosis. Your doctor can help you decide what treatment options are available and whether lifestyle changes alone could help. In most cases, positional therapy is the initial recommendation you'll receive.
Side sleeping can be extremely helpful in reducing symptoms, but back sleeping is still a possibility with the right tools for support. With many different options and designs, you should be able to find the right pillow for your needs. Just remember that it's the position of the airways that matters the most, so choose something to keep you comfortable and well supported for the best results.
In case you want to see more products that can help, check out our list of top rated mattresses for sleep apnea.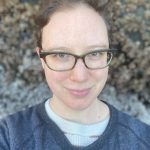 As Sleep Advisor's Performance Editor, Melanie writes and edits content throughout the site to ensure it's accurate, engaging, and up-to-date.
Sleep has always been a top priority for her—even at childhood sleepovers, she was never able or willing to pull an all-nighter. After spending some time researching studies and writing articles for a sleep hygiene app, she became hooked on sleep science writ large.
These days, she's a proud member of the Sleep Advisor editorial team and finds continual inspiration in the best sleeper she knows: her enormous cat, Cole.