Transparency Disclosure – We may receive a referral fee for products purchased through the links on our site...

Read More

.
Snuggling up in a warm comforter can be, well, comforting. However if your comforter isn't the right weight or proper material it can hinder your quality of sleep by causing you to overheat or be too cold. If you're not waking up well rested, it could be time to update your comforter – but how can you know that you're getting the best-rated comforter out there? You want to jump into bed each night looking forward to wrapping yourself up in your cozy covers.
The softest comforter could easily make you feel as if you are sleeping on a bed and it doesn't even stop there. If you manage to make the right pick, it's something that could change the appeal of the entire room.
However, there are quite a lot of different options for you to choose from. Do you choose a down alternative or duck down? What's the best thread count? If you have no idea how to answer those questions, you'd probably have a hard time picking the best model for your bedroom. Allow us to elaborate a bit.
Below you'll find some of the best options divided by the respective category as well as some general tips that you can take advantage of.
4 Best Comforters for 2021
Our Top 4 Picks Reviewed (by category)
LinenSpa All-Season –
All-season Pick
All-season model
Microfiber down alternative fill
Reversible color design
Box stitch design
Machine wash cold
This is one of the best-selling products on the market, and it proves that you don't really have to spend a small fortune to get a high-end, luxurious comforter. Starting off with the things that matter, the shell of this model is made out of 100% polyester. On the other hand, the filling is made of microfiber.
What you might have noticed about the fabrics is that they both are hypoallergenic. This means that they won't irritate your skin as down would.
At the same time, it's also important to note that this model will work perfectly regardless of the readings of the thermostat – it's an all-season pick for a reason!
Siliconized Fiberfill  Down Alternative fill
Box style stitching
Fits easily inside a duvet cover
Machine wash cold
If you're looking for something of seriously high quality and you want it to be reliable, this is the model to go with. It guarantees truly strong stitching, and it is made out using premium filling. The stitching is in a box style which adds a rather crisp overall look to the entire thing.
The comforter is particularly soft as it is created with soft materials including a siliconized fiber filling which delivers additional coziness, comfort and a very soothing sensation.
Surely, the fabrics are all hypoallergenic, guaranteeing that they won't cause any allergic reactions or any irritations to your skin. It's machine washable, and you can sun- or tumble-dry it if you need to.
Pinzon –
Down Alternative
Hypoallergenic
100% Polyester fill
All-season model
Microfiber shell
Box stitching
Made in OEKO-TEX Standard 100 factory
This model is made entirely out of polyester. It's a year-round solution which is going to be appropriate regardless of the season. The down alternative brings hypoallergenic capabilities with itself, making sure that it's soft and that it won't irritate you.
The stitching style is quite common – the entire thing is box-stitched from one end to another. This does have a purpose apart from aesthetics – it is intended to prevent the filling from lumping at one point, and it keeps it distributed evenly throughout the entire comforter.
The piece is machine washable and very easy to clean. It is also made using a third-party independent certification system. It intends to guarantee that the textiles which are taken advantage of meet all the environmental and safety standards.
100% cotton Barrier Weave down proof fabric
650 Fill Power Hyperclean Pacific Coast Down
All season model
Box stitching
Allergy Free Warranty Certified by American Down & Feather Council
This is undoubtedly one of the best options on the market right now. Upon first seeing this comforter, you'd most certainly want to dive right into your bed and stay there forever. This is an incredibly luxurious model made of crisp premium cotton coming in a rather distinctive stripe pattern which is woven to the highest, down-proof standards.
The filling is 650 Fill Power Down from the Pacific Coast which is incredibly high-quality. The thread count is for all seasons, and there is a barrier weave made of 100% cotton. The fabric is down proof. There is a comforter lock border which is going to provide you with maximum loft.
The fabric is hypoallergenic, and it won't trigger any allergic reactions or skin irritations. The entire thing is very convenient and, most importantly – incredibly comfortable. It is also backed by a 10-year warranty.
How to Buy a Comforter
Size
There are a few different criteria that you would want to account for when it comes to choosing a comforter. The size is one of them. The most important thing to consider here is that the size should conveniently match the size of your bed.
As we've mentioned above, it is important to note that some of the models are inconsistent in this regard. This is why we suggest you to be extra cautious. Read reviews and make sure that you will get exactly what you need, because some of them could cost quite a lot, and it would be a shame if you get the wrong size.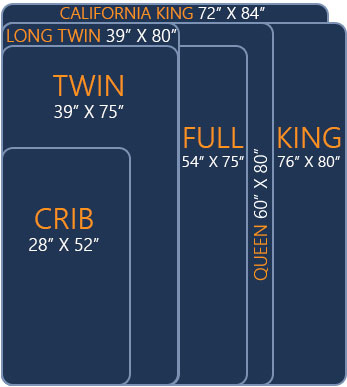 Weight Softness / Fluffiness
The softness of your comforter is a critical area; it's the main factor people consider when choosing a comforter. Some people prefer a bit firmer options, but the wide majority are die-hard fans of fluffiness and ultimate softness.
There are different types of fillings that you can choose if you want to achieve perfect softness. However, keep in mind that too soft is not that good. It could retain heat quite substantially, and it could also feel a lot bulkier and inconvenient. The important thing here is to strike a perfect balance between the softness, the materials, and your expectations.
Material
There are a few different materials that the comforter can be made of, including the filling. This is why you ought to make your mind in advance. Each of the materials provides different sleeping sensation which is something that should be considered.
Furthermore, the most important thing here is to make sure that, regardless of the fabric, the product is entirely hypoallergenic. This is important for everyone as it would determine the overall sleeping sensation that the comforter brings. A hypoallergenic piece would ensure that you are not irritated and that no allergic reactions are triggered.
Pricing / Value
How much money can you afford to spend? As you can see from the options that we've decided to showcase, the prices can vary quite a lot.
If you want to go for a regular, polyester-based comforter, you wouldn't have to worry about paying that much. These are usually budget-buys. Of course, it doesn't mean that they are not comfortable. We'd suggest circling back to the first review of the Linen Spa comforter to see how this is exemplified there.
Furthermore, keep in mind that this is something that you would be using for quite some time. Hence, the value of the purchase is generally reasonable.
Comforter Terms
Duvet vs. Comforter
For the most part, at least in North America, these terms can be used interchangeably as they represent the same thing. Technically, however, the duvet is rather similar to the comforter, but it doesn't have an outer shell. This means that it is usually placed right inside the cover.
Duvets are not really used with other kinds of bed linen like sheets or blankets. The comforter, on the other hand, is used with those particular types of bed linen. This is an important consideration that you'd have to account for when making the overall choice.
Want to see more? Read about the main differences between comforter and blanket here.
Baffle Box vs. Sewn Through
The main thing to consider here is that a baffle box comforter is conveniently sewn with boxes which are flexible and are into the comforter – they are going to create pockets. The fill which is inside the comforter is going to be distributed properly throughout these boxes which prevents lumping and stacking of filling in one corner.
On the other hand, a sewn-through comforter is going to have sewing which is through the top as well as the bottom layers of the unit. This is going to formulate patterns such as curved rectangles, diamonds or channels, for instance. These are known to perform a little bit better compared to the baffle box counterparts.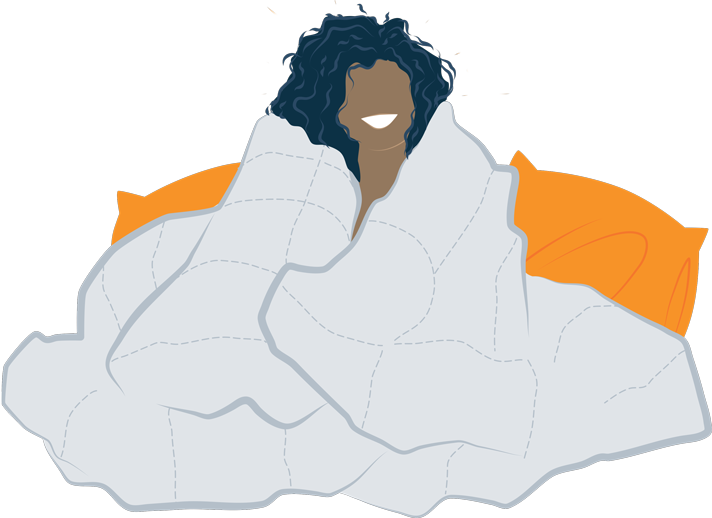 Fill Power
One of the most common things that people are unaware of is the fill power characteristic. The truth is that this is a measurement for the volume that one ounce of down is going to occupy. In other words, the higher the fill power, the more down there is within the comforter and all the benefits that stem from that.
A larger fill power number is going to suggest a model which is going to provide perfect and greater levels of insulation. The average here is around 600 fill power which is going to provide you with mediocre durability, warmth, and comfort in general. If you want to ensure that everything is handled as per the highest standards, make sure to go for a higher number than this.
Thread Count
The thread count is going to indicate the overall number of yarns which are included in an inch of fabric. Higher thread counts suggest finer yarns – they are softer and more comfortable compared to the alternative. Keep in mind, though, that the thread count is not as important as it is when you are choosing a bed sheet, mainly because the comforter itself is unlikely to be touching your skin.
What is more important here is that if your thread count is higher, this means that the fill will remain within one place within the comforter, preventing any possibilities of breaking out and leaking or of lumping and stacking at one particular place.
Different Filling Types
Down Alternative
If your comforter fails to use goose down or duck down as means of filling, the chances are that you are looking at a down-alternative unit. This is highly likely to be listed in the specifications. This can mean that the filling is made of cotton fibers, gel fibers, cotton and polyester blend fibers and others of the kind.
The most expensive product when it comes to down alternative is the one made out of gel fibers. This is mainly because it's the softest and it also provides splendid heat dissipation which allows you to sleep cool through the night without any particular issues.
View Our Guide: Best Down Alternative Comforters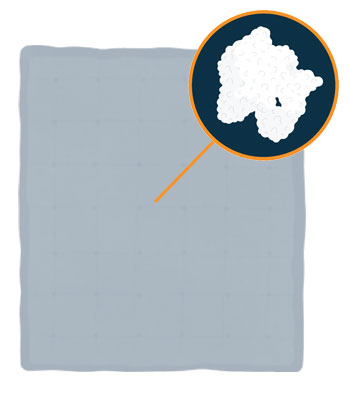 Down Cluster
The down cluster is known to be the fluffiest part of the feather of a duck or a goose. It exists right beneath the main, core part of the feather itself. When it is implemented within the comforter, it is going to provide increased warmth compared to the main part of the feather.
Now, it is also important to note that the manufacturer is most likely to list the percentage of the down cluster which has been implemented in the blanket. This you can find in the specifications. If you have a higher percentage of the cluster, this means that the comforter is of higher quality and it also suggests that the fill power and the overall comfort would also be enhanced.
Duck Down
This is one of the most common fill materials which are used in comforters throughout the entire North America. It is far more used compared to goose down. As a general rule of thumb, you should be aware that duck down is far from being as fluffy and soft as goose down.
This is the main reason for which comforters which are made of duck down are far more affordable and commonly encountered on the market. This is also why duck down is never used in products of the finest quality – it's simply not as good as goose down.
Find Out More: Top Rated Down Comforters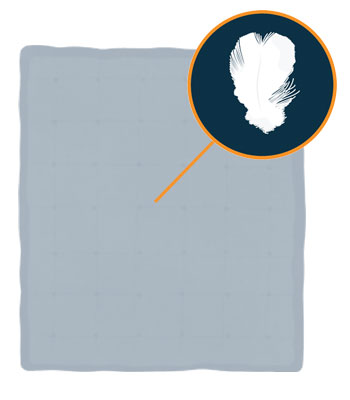 Goose Down
Speaking of which, goose down is usually incorporated in comforters which are made in Europe. It is the most common fill material, and it is far fluffier compared to duck down. Don't make the mistake of thinking that this is the best choice that you can make, though.
We strongly advise that you take a look at the percentage of down cluster which is used in the comforter before making a purchase call. This is going to ensure that you are aware of whether you are buying a quality unit or a knock-off. Goose down is considered to be a near-premium material which brings softness, fluffiness and a very nice overall appeal which is something that you'd usually be looking forward to, unlike other materials which might not be as soft.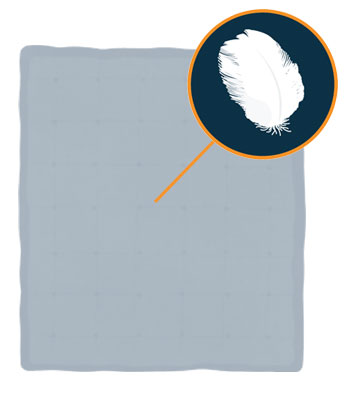 There are better options that you can take advantage of in the face of gel fibers fill and other premium materials.
Frequently Asked Questions about Comforters
Should I get a warm comforter for winter and cool one for summer?
The comforter should feel perfect, regardless of the season. Naturally, we advise getting an all-season option. We've reviewed one of the kinds above, and you can take a look at it. This is going to guarantee that you can use it regardless of what the thermostat says.
If you have to, when buying a comforter for the summer, make sure that it does sleep cool. The last thing you'd want is to start waking up all sweating through the middle of the night. This is something that will disrupt your entire night's sleep, and you will wake up feeling more tired than when you fell asleep.
What are the most reputable comforter brands?
Generally speaking, there are quite a lot of brands that could be classified as reputable. In order for us to trust a manufacturer, the materials that he uses need to be of the highest quality. Furthermore, the company has to use proper sewing technology to ensure that the filling itself is distributed evenly throughout the entire comforter and that it's prevented from stacking at one place.
With this said, some of the better brands on the market that you can choose from include: Pacific Coast, Sleep Better, Linen Spa, Pinzon, Egyptian Bedding and others of the kind. These are some of the renowned names that you might want to check out when searching for a comforter.
Is a comforter recommended for hot sleepers?
Typically, if you produce more heat than the average person, you ought to be more cautious when picking your comforter. While they are recommended, you need to make sure that you choose a unit which is capable of dissipating the heat conveniently. The last thing that you'd want is a model which is going to make matters worse.
Make sure to get something that uses gel predominantly. This is a material which is known for dispersing the heat evenly throughout the entire surface of the unit, making sure that you don't sweat. Furthermore, it is going to sleep you rather cool.
Interested in exploring further? Check out our top rated cooling blankets / comforters.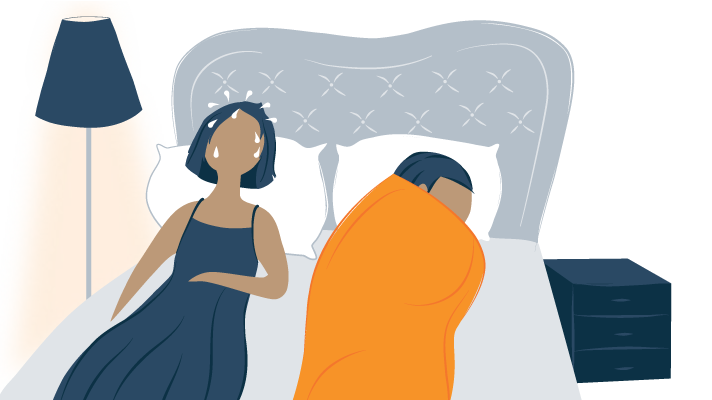 Are there comforters for people who have allergies?
The majority of the comforters are appropriate for people who have allergies. This is because they use fabrics with hypoallergenic properties which prevents any allergic inflammations and triggers to take place. This also guarantees that the fabric doesn't irritate your skin and that it is perfectly comfortable.
Our Final Thoughts
As you can see, there are quite a few things that you might want to take into account. Choosing a comforter is far from being a thing that you can do without having the necessary information in advance.
With this said, we hope that everything that we've said here would make the shopping experience a lot better. We intend to take out the hassle in the process and to make it as easy and free of burdens as it's possible.
You can also check out the options that we've managed to review. They represent some of the most wanted models on the market right now in their respective categories. They offer splendid capabilities and very appropriate qualities which are worth accounting for.