Transparency Disclosure – We may receive a referral fee for products purchased through the links on our site...

Read More

.
While winter nights may seem more suitable for a big fluffy comforter, the right product should be comfortable across all seasons, retaining heat when necessary and breathing on warmer nights. Down is insulating, plush, and soft, which is why it is a popular cold weather option, and although it is great for the winter, it can be used all year long.
This highest rated down comforter list hits the top features of some of the favorite products out there and covers all the ins-and-outs of what exactly down is and what to look for when making your choice.
4 Best Down Comforters for 2021
Our Top 4 Down Comforters Reviewed
Egyptian Bedding –
Best Design
Filling: 100% Goose Down
Cover: 100% Egyptian Cotton
Baffle box design
Quilting patterns make a huge difference in the quality of a down blanket (as we will discuss later on), and it is an important feature to look for when making a new purchase. Egyptian Bedding offers a baffle box design, arguably the best stitching for keeping down in place without compaction problems. Double stitched, this blanket is sure to keep the filling exactly where it needs to be in order to keep you warm for many winters to come.
The shell is made from 100 percent Egyptian cotton, which is natural and soft to the touch. It is definitely on the warm side, as it is rated a 750 fill power comprised of goose down, so if you live in colder climates, this is a great pick. On the other hand, if you sleep particularly warm, another option may be best.
Filling: 100% Goose Down
Cover: 100% Cotton
Baffle box design
A comforter fit for the whole year made with goose down and a cotton cover, some would say Royalay has it all. It has a fill volume of 600, a versatile choice for most climates and seasons because it insulates well in the winter while still keeping cool in the summer months due to its breathable and lightweight fabric. Reviewers from Chicago to Texas agree that this can easily be an all-season possibility.
This comforter works great as a duvet insert, and it will stay put because of the reinforced loops. The seams are piped and double stitched, meaning you should expect no leakage and a long-lasting, durable product. The comforter may take a few days to fluff up properly because it is delivered in a small bag, so keep that in mind if it seems a little flat when it first arrives.
Filling: 100% Goose Down
Cover: 100% Cotton Sateen
Baffle box design
OEKO-TEX STANDARD 100 certified
If you live somewhere freezing and need some heavy duty winter warmth, Globon may be your best bet. Filled at 700 power, it is a good choice to fight off the cold nights during those chilly months. The goose down is Texcote Nano Treated, meaning it is water repellent, hypoallergenic, quick drying, and durable.
This blanket is covered in a 400 thread count satin-weave cotton that is soft and cozy. It is stitched in a baffle-box design for loftiness and resilience. Globon prides themselves in sustainability; the down is not plucked from live sources but is retrieved from the food industry, and the comforter is OEKO-TEX® Certified.
This product does come at a price, though, being on the more expensive side. But the quality of materials combined with the higher fill volume should make this product last for years, meaning you will not have to replace it as soon as some cheaper alternatives.
Utopia Bedding –
Down Alternative
Filling: 100% Down Alternative
Cover: 100% Polyester
Baffle box design
Many are looking for that signature plushy feel of down but want a cheaper or different material. Down alternatives are popular comforters due to the combined affordability and coziness. Utopia Bedding is one of the best because of these things.
This blanket is filled with a Siliconized Fiberfill that mimics the properties of down, which those who suffer from down allergies should appreciate. The cover is a microfiber material that should solve any overheating issues. Made to be used as an insert, its box-stitched design and its piped edges should keep the filling where it needs to be while fitting snuggly inside a duvet.
Some people who own this product reported damage when machine washing at home, so be sure to follow all manufacturer instructions regarding cleaning, such as using the gentle or delicate cycle with cold water and tumble drying on low.
Why Should You Have a Down Comforter?
Excellent Warmth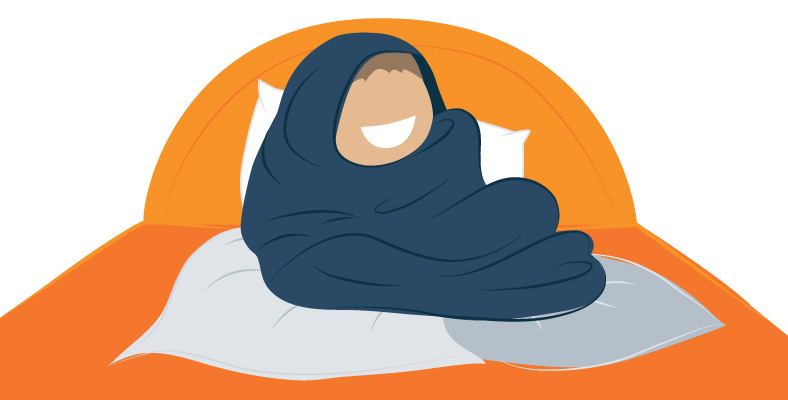 If you live in a cold climate, staying warm is key for a good night's rest. You could blast the heater, but it may also blow up your utility bill, which could make winter a whole lot more expensive. Down comforters are pound-for-pound the best option in bed linens to stay warm. You may not even have to turn on the space heater, after all.
Lightweight
Heavy comforters make it difficult to move around at night and reposition. They tend to get tangled up and some people feel like it makes them trapped because of the weight. You do not have to have a heavy comforter to stay warm, though.
Made from feathers, down stays lightweight while still keeping you warm at night. When the warmer weather comes around, it is easier to fold up and store, as well.
Durable
Down does not often come cheap; however, your investment should last you a long time—a good down comforter should last between 10 and 15 years if cared for properly. Using a duvet cover will make the down last longer because it is not exposed to skin and oils. We will go into more detail on how to take care of your new comforter later.
Soft
People often compare a good night's sleep with the feeling of sleeping on a cloud. Down is probably the closest thing to that; it has a plush and cozy feel that makes you want to jump into bed at night. The fineness of down feathers minimizes clumpiness, and they usually plump right up again after washing, assuring each night is as soft as the first.
Down Comforter Buyer's Guide – Factors to Consider
Down Types
There are really only two types of down, either those made from the feathers of ducks or from geese feathers. In general, duck down is a little cheaper than goose because full-grown geese are bigger and offer a fluffier down. Sometimes, feathers are used from geese that are not fully-grown, so goose feathers do not always mean more loft in the comforter.
Both types of down keep you warm at night and have that soft feel.
Other Fill Materials
Although true down can only come from duck and geese feathers, there are often other materials used to fill comforters for a variety of reasons. Cotton makes the construction more affordable, but it is not insulating like down is. Wool is warm, but it is heavy and expensive, while silk is usually used in comforters that are intended to be used in the summer or warmer months due to its lightness.
Alternatives use synthetic materials to mimic the softness and plush warmth of down. There are a few benefits to synthetics: Some people are allergic to down but still want the feel of down. Alternatives also tend to be cheaper than straight down, and some, such as gel fiber, can even provide a loftier feel.
View Our Guide: Best Down Alternative Comforters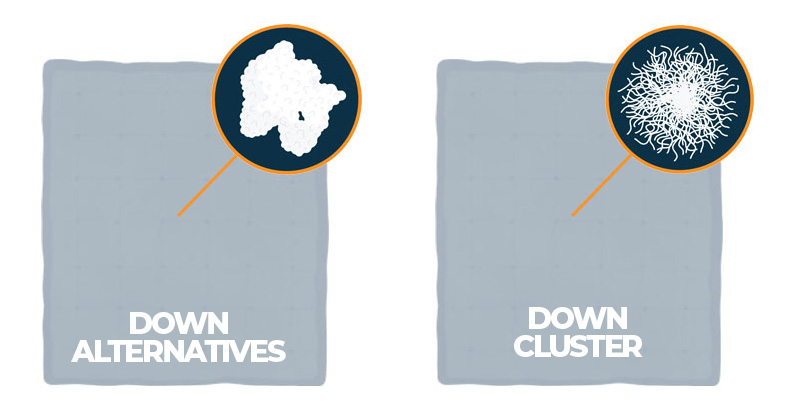 Down cluster, unlike alternatives, are still made of down. The cluster comes from underneath the feathers of the bird and serves as a layer of insulation. It is much loftier than feather down and has a plusher feel. If you are looking for the warmest comforter, clustered down may be your best bet.
Sometimes manufacturers use other feathers from geese and ducks to help fill in the gaps. These feathers are more on the surface of the bird instead of on the underside, meaning they are technically not down. They are not insulating and warm; however, they are still light and airy.
Check Out Our Guide: The 4 Highest Rated Comforters
Fill Volume (Fill Power)
Not only are materials important in choosing a down blanket, but also how much filling is used; how much your comforter is filled will determine how warm the blanket will be. In order to quantify this, fill volume is used, which measures the space that 1 ounce of down fills. The higher the number, the more warmth it will provide, and the lower the number, the less plush and insulating.
If your comforter is rated below 400, it probably will not be very warm. This fill power would be best used in the warmer months and for those who live in hotter climates but still want that feeling of the soft and plush down material.
The 400-600 range is also generally suited for the summer months, but if you sleep particularly warm, a blanket near the 600 range may be perfect in the winter months. If you live in an area where it does not get below freezing, this might also work well.
Blankets in this range are great for winter warmth. If you sleep more on the warm side, choose a comforter in the lower range. If you live in a pretty cold place or sleep averagely than one in the higher end would most likely be best.
Fill powers above 800 are the warmest and loftiest options. These blankets will fight off viciously freezing climates. You should expect to pay a little more, but you should also expect it to last for years.
Outside Shell Material Options
The outer material is called a shell, and just like the inside can be filled with alternate materials, the shell can be made with pretty much any fabric. The outside fabric comes in a variety of options, each with pros and cons. Some will alter the way you should care for your comforter, so also keep that in mind when choosing your shell material.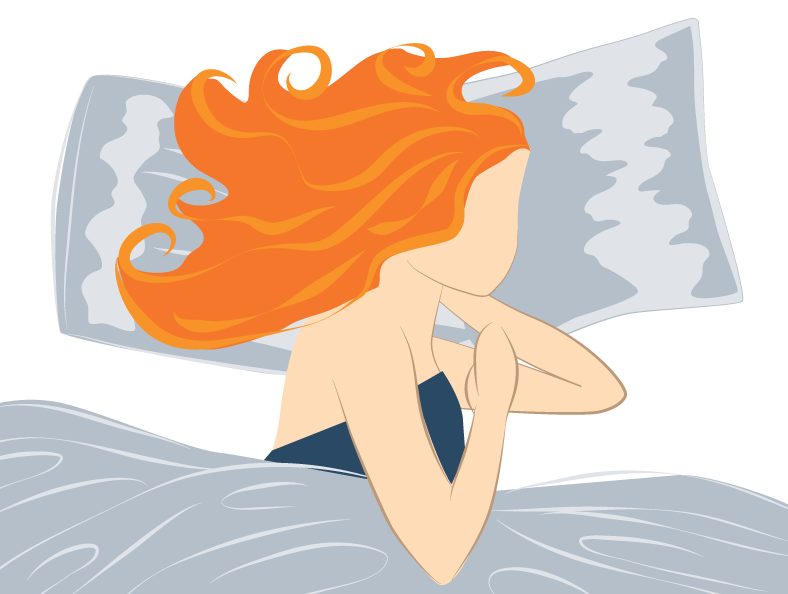 Silk is smooth, soft, and it combats dust mites, which is great for keeping those allergies in check. Overheating is less frequent because of its breathability. However, silk is expensive and also difficult to clean, and most manufacturers recommend to only use professional cleaners to make it last longer.
Wool wicks moisture like a champ, and many people love the warmth and softness that it brings. It is not as commonly used as a cover than other materials because of its heaviness, which negates the reason many people prefer down. Like silk, it is also expensive for quality wool.
The most widely used material, cotton is soft, generally affordable, and durable. It is hypoallergenic, natural, and easy to care for. Many find that cotton wicks moisture unlike, say, polyester, but for some, cotton is not breathable enough, and they prefer other materials instead.
Blends of Cotton and Synthetics
Cotton is often blended with polyester or other synthetics for affordability, strength, and breathability. Polyester tends to retain moisture, and the blend helps minimize this. Premium cotton can come at a higher cost, so a blend with synthetics can keep those prices lower while providing some of the same benefits.
Stitch Design
The way a comforter is sewn together can affect the quality and durability. You definitely do not want your blanket coming apart, and you want to make sure that the down stays in place to minimize possible clumping or cold spots. Some are stitched all the way through both the top and the bottom throughout the surface of the blanket, while others are held together by sewing through added fabric layers.
Diamond-quilted comforters look exactly how they sound. On the outside, you will see a diamond pattern sewn throughout, which most often connects the top shell to the bottom. This method should keep your down in place but may cause some restriction.
As we talked about in the previous section, diamond quilting can take the form of a sewn-through technique, where the top and bottom are connected by stitching through the comforter and creating little pockets of down. It should keep the down in place, but it might not be as fluffy.
Instead of sewing all the way through the comforter, this method holds the top and bottom together by stitching both to a separate piece of fabric in the middle. Rather than making smaller, more constricted pockets, the down has more space to move around but is still held in place. This is usually the most expensive method.
This technique stitches the shell together only around the perimeter of the comforter, which should feel more like a traditional blanket. The down will likely have more space to move around, but this could cause some clumping and cold spots in the future.
Thread Count
Thread count is measured by the amount of thread inside one square inch of material. The higher the count, the more durable, soft, and expensive your product. Unfortunately, some manufacturers double count their 2-ply yarn, making their count look higher than it is.
Try and find thread counts between 300 and 600 to get the most out of your money.
Comforter Maintenance, Storage, and Cleaning
Since down comforters do not come cheap, you will want to make sure that you are taking the proper precautions when storing and cleaning your blanket. Follow the manufacturer's instructions on washing; many can be cleaned in the washing machine but should be washed in cold water using mild detergents. Each comforter may vary.
Rotating your blanket can also increase the life of the down inside. Flip it every so often so that one section is not being worn down more than the others. Shaking it may help the down redistribute and prevent clumping.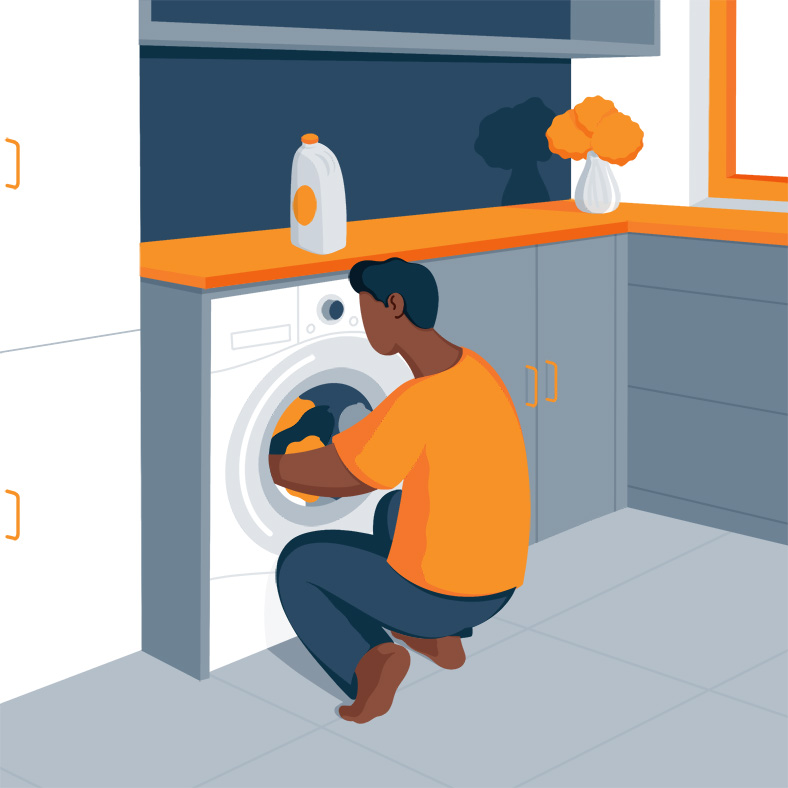 When storing your comforter, do not use vacuum sealed bags, and try to avoid plastic bags and cardboard boxes, as they will compress the down and shorten its life. Fold up the blanket and store it in a dry place where it has room to breathe, such as a closet, so that moisture is not trapped inside.
Frequently Asked Questions about Down Comforters
What's the best down comforter for hot sleepers?
If you sleep particularly hot, look for something with moisture-wicking technology. Fabrics like bamboo, microfiber, silk, and cotton sateen should keep you from overheating and waking up in a sweat. Down alternatives may be the best option for you due to the insulating nature of down.
A lighter weight down might do the trick, as well. This is where fill power comes into play; look for a comforter with a rating below 400 if you get extremely warm at night or possibly in the 400-600 range if you live in a colder climate.
Why can they get too hot?
Down is made from the under-layer of feathers from a goose, duck, or sometimes swan. This layer is meant to keep these birds warm during the winter months, meaning they are naturally insulating and keep their body heat in. For humans, those same insulating qualities are utilized; the heat that we emanate is trapped by the down, helping us stay warm.
The more down fill a comforter has, the warmer it should be because it is harder for the heat to escape. This can cause some overheating problems for those who sleep warm.
Conclusion
We know that looking for a down comforter may seem frustrating; along with searching for an often-used and possibly expensive product, there is new terminology to learn, dozens of features to understand, and thousands of choices to comb through. Every person sleeps uniquely, meaning different comforters will serve different needs, but now that you have gotten here, you are armed with the knowledge to make a decision based on your specifications.
Make this winter a little warmer at night—for your own sake and for the sake of your utility bill.