Transparency Disclosure – We may receive a referral fee for products purchased through the links on our site...

Read More

.
Disclaimer - Nothing on this website is intended to be a substitute for professional medical advice, diagnosis, or treatment...

Read More Here

.
Ordering a mattress in a box online is commonplace nowadays, and eliminates the inconvenience of borrowing a vehicle for transport or paying delivery fees. However, buying a bed this way does mean that you likely won't be able to test it out before it arrives. How can you know which bed in a box is best?
We've done the research and written the reviews to narrow the field down to 10 exemplary beds. Our picks below take several features into consideration, including which mattresses are suited for different sleeping positions and lifestyles. Consult this list to maximize your odds of choosing the best mattress in a box for you.
10 Best Mattress-in-a-Box Picks
My Video Review of The Best Bed in a Box Mattresses
Compare Bed in a Box Mattresses
| | | | | | | | | | | |
| --- | --- | --- | --- | --- | --- | --- | --- | --- | --- | --- |
| | | | | | | | | | | |
| | Nectar Mattress | Helix Midnight Mattress | WinkBed Mattress | Emma Mattress | Nolah Evolution Hybrid Mattress | Bear Elite Hybrid Mattress | Brooklyn Bedding Signature Hybrid Mattress | Helix Dusk Mattress | DreamCloud Premier Mattress | Birch Mattress |
| Rating | | | | | | | | | | |
| Firmness | Medium-firm: 6.5/10 | Soft: 6/10 | Multiple firmness options | Soft: 5/10 | Multiple firmness options | Soft: 6/10 | Multiple firmness options | | Soft: 5.5/10 | Medium-firm: 6.5/10 |
| Material | Foam | Hybrid | Hybrid | Foam | Hybrid | Hybrid | Hybrid | Hybrid | Hybrid | Hybrid |
| Cooling | — | — | | | — | — | — | — | | |
| Warranty | Lifetime warranty | 10-year warranty | Lifetime warranty | 10-year warranty | Lifetime warranty | Lifetime Warranty | 10-year warranty | 10-year warranty | Lifetime warranty | 25-year warranty |
| Shipping | Free shipping | Free shipping | Free shipping | Free shipping | Free shipping | Free shipping | Free shipping | Free shipping | Free shipping | Free shipping |
| Trial Period | 365 nights | 100 nights | 120 nights | 365 nights | 120 nights | 120 nights | 120 nights | 100 nights | 365 nights | 100 nights |
| Best For | Back Sleepers, Side Sleepers, Hip Pain, Joint Pain | Couples, Back Sleepers, Side Sleepers | Back Sleepers, Stomach Sleepers, Back Pain, Hot Sleepers, Side Sleepers | Hot Sleepers, Kids, Back Sleepers | Side Sleepers, Back Sleepers | Side Sleepers, Back Sleepers | Couples, Back Sleepers | Back Sleepers | Back Sleepers, Hot Sleepers | Back Sleepers, Stomach Sleepers, Hot Sleepers |
| | | | | | | | | | | |
Top 10 Mattresses in a Box, Reviewed
Why the Nectar Earned Best Mattress-in-a-Box Overall
Because it's often the first mattress that comes to my mind when someone says the phrase "bed in a box," Nectar is my top pick for this roundup. This brand has been a fixture in the online mattress world for years, and they show no sign of slowing down.
If you ask me, the secret to their staying power is a mix of reliability and affordability. Their flagship mattress-in-a-box is an all-foam model that feels delectably soft before it supports you with a firm base. Nectar's policies are also worth mentioning—not many companies give you as much leeway with their sleep trial and warranty.
What's the Nectar Mattress Made Of?
The Nectar is 12 inches high and has three foam layers under its top cover.
The first is a 2-inch layer of gel memory foam, and the bed gets most of its pressure-relieving powers from this material. Underneath is a 3-inch transition layer that's a bit firmer and adds some responsiveness to the bed.
Finally, there's a hefty 7-inch core of ActiveSupport foam. This is the layer that really grounds the mattress and gives you a secure sense of support.
What I Liked
Very little motion transfer – Nectar is one of the reigning champions of motion isolation. These foams can absorb even larger movements, like a partner repositioning or getting in and out of bed.
Easy on the joints – I felt substantial pressure relief when I was lying on top of the Nectar. That first layer of memory foam did a great job of cradling my joints and soothing the parts of my body that most needed a break.
Potential Drawbacks
It's not the coolest mattress in town – Nectar claims that this mattress has a cooling cover, and that the gel inside its memory foam will help prevent heat buildup. In my experience, though, these features didn't make a huge difference. If you sleep really hot, a hybrid bed would be a better choice.
Too soft for stomach sleepers – My stomach-sleeping buddies should look elsewhere for a new bed. Although the Nectar felt quite cozy on my back and side, when I was lying on my belly, I could tell that my spine was sinking out of alignment.
Looking to learn more? Read our Nectar mattress review.
Why the Helix Midnight Earned Best Mattress-in-a-Box for Side Sleepers
Helix has created whole mattress collections based on specific sleeping positions, and the Midnight was whipped up with side sleepers in mind. According to the brand, this mattress-in-a-box is also their most popular model. It has a hybrid construction (that is, foam upper layers on top of a spring support system), and its medium-firm feel was a hit with our review team—they thought it felt great on their sides and their backs.
What's the Helix Midnight Made Of?
The Helix Midnight has five layers (six if you count its cover) and stands 11.5 inches tall. Its first comfort layer is made of Memory Plus Foam, which is a proprietary foam made by the brand. Its primary function is pressure relief, and it should mold to the contours of your body.
The next two layers are both made of Helix Responsive Foam. This foam is a little firmer than the Memory Plus foam above, mixing supportive and pressure-relieving properties.
The Midnight's coil unit has up to 1,000 pocketed springs that compress independently of one another. The springs are reinforced on the long sides of the bed to keep the edges from dipping when you sit or lie on top of them.
At the very bottom of the bed, you'll find a layer of sturdy DuraDense foam.
What We Liked
More responsive than all-foam alternatives – The Helix Midnight had some welcome bounce to it, allowing combination sleepers like Emma to easily change position while lying down. This is an important quality for those who don't like feeling "stuck" in their mattress.
Competitive pricing – Emma called this bed "a killer value for the money," and I agree. Helix prices its core collection of hybrids very affordably when compared to many other bed-in-a-box sites.
Potential Drawbacks
Not for stomach sleepers – When testing the Midnight on her stomach, Emma felt her hips sink into it a little too much for comfort. We wouldn't recommend it if you're prone to sleeping on your belly.
It feels bouncy, not super plush – The Midnight is a hybrid bed with a springy, medium-firm feel, so it won't scratch your itch if you're looking for a very deep cradle.
Want to learn more? See our full Helix midnight review or check out our picks for the best mattresses for side sleepers.
Why the Winkbed Earned Best Mattress-in-a-Box for Back Pain
When you're coping with back pain, a mattress with a solid support system will be better for you than an ultra-plush bed. Even more helpful is zoned support—that is, support components that provide different levels of pushback to different parts of the body.
The WinkBed incorporates zoning in both its coil unit and its foam. It has a foam LumbarLayer™ that gives lift to the lower back, and its zoned springs ease up in resistance around areas that need more cushioning. My fellow reviewers Mark and Sean were both impressed by how the WinkBed managed to merge pressure relief with this precise kind of support.
What's the WinkBed Made Of?
The WinkBed is 13.5 inches high and can be ordered in one of four firmnesses: Softer, Luxury Firm, Firmer, and Plus.
At the top is a breathable Tencel© cover that's made with sustainably harvested Eucalyptus wood pulp. It's your introduction to the bed's Euro top—a very plush layer quilted with soft, heat-resistant foam.
Underneath are additional foam layers (including the proprietary LumbarLayer™) that fight motion transfer and boost both comfort and support.
They lead into the mattress's coil unit, where individually wrapped coils occupy different zones that provide varying degrees of pushback. Body parts that need less support should feel cushioned, whereas those that need some added lift should be boosted. The coils are also stronger around the edges of the bed.
What We Liked
Comfy but sturdy – In our experiences with the WinkBed, we all came away admiring how cozy yet durable this mattress feels. Its pillow top eases you into the support layers with lovely softness. But those coils are super strong, and WinkBeds puts these mattress designs through some brutal testing (as in, giant robots slamming into the surface of the bed over and over) to make sure they can stand the test of time.
Handcrafted details – As each WinkBed is handmade to order in domestic factories, they have attractive flourishes. Mark was a fan of the tufting at the surface of the bed, and I like the blue, speckled border that's sewn around the Euro top.
Potential Drawbacks
Motion transfer – Sean pointed out that the WinkBed probably won't isolate motion as well as an all-foam model. If you're a very light sleeper, I'd steer you toward a bed without springs.
It's heavy – In the WinkBed's case, sturdiness equates to heaviness. Once this hybrid has decompressed, it'll be a tough bed to move without help.
Interested in more details? See our WinkBed mattress review or explore our roundup of the best mattresses for Back Pain.
Why the Emma Original Earned Best Memory Foam Mattress-in-a-Box
If you're going to order a memory foam mattress-in-a-box, you'll want to do your due diligence. Look for CertiPUR-US® certified foams and a company that distinguishes the function of each layer, like Emma does.
Their Original model is billed as their most popular mattress, and it's out to disprove many common memory foam complaints. Zoning, temperature regulation, and (of course) pressure relief play big roles inside this classy and affordable bed.
What's the Emma Original Made Of?
The Emma Original is 10 inches tall and has three foam layers underneath its removable, washable cover.
The first is a layer of Airgocell® foam. This material is replete with air pockets and should outperform traditional memory foams at cooling.
The second layer is a proprietary foam that Emma calls Halo Memory Foam™. It conforms to your silhouette as you relax on the bed, cradling your body while also encouraging a neutral spinal alignment.
Finally, the third layer is made of HRX (High Resiliency Extra) foam. This base layer has been zoned into three parts that push back against areas of the body that most benefit from a supportive foundation.
What I Liked
Great for side sleepers – Memory foam mattresses tend to do well at pressure relief, and side sleepers need as much of that as they can get. The Emma Original should allow your shoulders and hips to nestle in without issue.
A standout base layer – I think it's neat that the base layer is cut with channels that can encourage airflow and assist with its zoned support—other all-foam beds often just have a solid slab at the bottom.
Potential Drawbacks
Foam sleeps hot – That Airgocell® foam might advertise awesome cooling properties, but all-foam beds struggle to stay as cool as hybrids and innersprings.
It's pretty soft – We rated the Emma Original at a 5 on our firmness scale, which is markedly softer than the "medium firm" feel that works for the broadest swathe of sleepers. If you're a stomach sleeper, a larger person, or someone who wants their bed to feel springy and firm, this isn't the mattress-in-a-box for you.
Why the Nolah Evolution Earned Best Soft Mattress-in-a-Box
Given that this bed has seven internal layers, it's impressive that Nolah can fit the Evolution into a box at all. But they can, and you'll be thankful for the easy transportation after you've seen the mattress's stately 15-inch height.
This hybrid is available in three firmness options, and so far, we've tested the Luxury Firm. Even though it has "firm" in its name, Stuart deemed it "packed with soft layers for plush relief." It has lots of different foams inside that give you all the cushion you'll need if you favor a pillowy sleep surface.
What's the Nolah Evolution Made Of?
The Evolution is 15 inches high and has seven total layers, not including its top and bottom cover. The top cover has cooling fibers interspersed with organic cotton. It shields the bed's 2-inch Euro pillow top, which helps to funnel heat out of the bed through the surrounding vented gusset.
Next up is a layer of AirFoamICE™, a proprietary foam infused with graphite for cooling. This foam reputedly beats classic memory foam when it comes to both pressure relief and temperature regulation; the tiny air bubbles scattered throughout the foam assist in both departments.
It's followed by a 2-inch layer of supportive high-resilience foam, and a 1-inch layer of dense, responsive foam that segues into the innerspring system.
The coil unit in this bed consists of HDMax™️ Tri-Zone™️ coils, which are sorted into three sections to bolster the different parts of the back with varying amounts of support. The springs are individually wrapped and therefore compress only when pressure is applied, mitigating motion transfer.
Additionally, the reinforced perimeter coils are great for couples. This top-notch edge support allows both partners to spread out across the bed without feeling like they're losing firmness at its borders.
What We Liked
Fortified edges – Stuart and I were appreciative of just how robust the Evolution's edges were. "You could build your house on Nolah's edge support," Stuart joked. I wouldn't try getting a building permit for your bed, but I do think the edges can stand up well to someone sitting or lying on them.
Plush but springy – Softer mattresses often suffer from too much sinkage. But not the Evolution: its hybrid nature means that there's bounce beneath its cushioning foams. "I was still able to move around and reposition easily without feeling like I was being sucked in by quicksand," said Stuart.
Potential Drawbacks
Not budget-friendly – Unless there's a big sale going on, the Nolah Evolution is not what I'd call a cheap mattress. It's priced fairly for its high-quality proprietary materials and lofty profile, but it'll cost you more than a no-frills option.
Stomach sleepers may sink too low – Stuart commented that his hips and lower back sank into this bed when he tried lying on his stomach. That's not ideal for dedicated stomach sleepers, as they need enough firm support to lift these areas.
Need more details?Check out our full Nolah Evolution mattress review. Find our top picks for the best soft mattresses here.
Why the Bear Elite Hybrid Earned Best Hybrid Mattress-in-a-Box
Hybrid mattresses include both foam comfort layers and an innerspring system for support. They're pretty mainstream in the bed-in-a-box world these days, but in my opinion, the Bear Elite Hybrid manages to be a cut above its competitors.
It features zoned coils, copper-infused memory foam, and a cover made with two very special ingredients—Celliant® and Phase Change Material. The first claims to help with your body's tissue recovery (especially after a workout), whereas the second should keep you pleasantly cool.
What's the Bear Elite Hybrid Made Of?
The Bear Elite Hybrid is 14 inches high and has five total layers, including its cover. You can order it in a Firm, Medium, or Soft feel.
The cover includes Celliant® fibers, which allegedly transform your body heat into infrared energy. That energy can boost blood flow to areas in contact with the textile, encouraging those areas to oxygenate and recover more efficiently during rest.
Also inside the cover is PCM, or Phase Change Material. This material contains molecules that absorb and release heat as they shift between solid and liquid states. These phase shifts can reputedly draw excess heat away from you as you sleep.
Under the high-tech cover is a layer of copper-infused memory foam, which molds to your body and relieves pressure buildup. The copper is simultaneously a cooling mechanism and an antimicrobial element.
A layer of dynamic foam adds a bit more support before transitioning to the bed's coil unit. There, zoned springs give targeted support to the lumber area and other regions that require a specific degree of pushback. The coils are also reinforced on the edges to prevent them from dipping as you spread out on the bed.
Under the coils is a base layer of high-density foam.
What We Liked
It plays it cool – Stuart said he immediately felt the cover's cooling capabilities when he laid down on this bed. "I'm pretty sure that it would do a good job of keeping anyone cool throughout the night," he added.
Zoned coils cater to your body – "Sleepers with back, hip, or shoulder pain will love the zoned coil system," Stuart predicted. When we review hybrids, I always look for this kind of zoning, because it respects the fact that we need different levels of support under different body parts.
Potential Drawbacks
Too plush for stomach sleepers – The Bear Elite Hybrid is available in multiple firmnesses, but Stuart was wary of how stomach sleepers would take to the comfort layers. "Exclusive stomach sleepers may not like the plush feel as much," he warned.
Price might be a factor – Like the other fancy hybrids on this list, the Bear Elite Hybrid doesn't come cheap. Stuart agreed: "This mattress is more expensive than most beds in a box, which is something to consider."
Why the Brooklyn Bedding Signature Hybrid Earned Best Cheap Mattress-in-a-Box
A good hybrid mattress should include tough springs and durable-yet-cozy foams. In these regards, the Brooklyn Bedding Signature Hybrid definitely makes the grade—and it's priced more affordably than many other hybrids you could order. As my fellow tester Mark put it, "[this] mattress is where affordability meets quality."
What's the Brooklyn Bedding Signature Hybrid Made Of?
The Brooklyn Bedding Signature Hybrid is 11.5 inches tall. It has five total layers, including a breathable quilted top that feels pleasantly soft. The thickness of its subsequent layers depends on which version of the bed you order: Soft, Medium, or Firm.
Below the cover is a layer of TitanFlex™ comfort foam. This material feels similar to latex foam in terms of its responsiveness and malleability.
The second layer is a sheet of VariFlex™ transition foam for both comfort and support, followed by the 8-inch tall innerspring unit.
The innerspring unit has individually wrapped coils that react independently to applied pressure. This layer also features stronger coils around the sides of the bed for enhanced edge support.
Finally, a 0.25-inch base of high-density foam anchors the bed.
What We Liked
A lifted feel – The Brooklyn Bedding Signature Hybrid has a springiness to it that helps you to feel elevated atop the bed. "I like how firm this bed feels," said another tester, Emma. "It's very supportive, which is great for back and stomach sleepers. It almost feels like the bed is lifting me up."
High responsiveness – Emma and I think this bed would be a great fit for combination sleepers. Its springs and its TitanFlex™ foam are both bouncy enough to work with you, not against you, as you move around. "Because it's so responsive, adjusting positions is super easy," Emma commented.
Potential Drawbacks
A little firm for side sleepers – On her side, Emma felt some pressure build up on her hips and shoulders. "If I exclusively slept on my side, I'd probably choose a softer bed," she concluded.
No extra-fancy features – "This bed doesn't have a ton of bells and whistles," Emma admitted. "But it's a pretty solid bed for the price that you're paying." I agree—the Brooklyn Bedding Signature Hybrid isn't the most groundbreaking mattress-in-a-box out there, but sometimes you just want a basic, comfortable bed without too many bonus features.
Why the Helix Dusk Earned Best Firm Mattress-in-a-Box
A bed-in-a-box that's too plush can cause your body to sink into the layers and lie unevenly, often misaligning your spine. The Helix Dusk was designed to prevent this outcome—and to satisfy sleepers who love a firmer surface. Its combination of proprietary foams create a mattress that should work well for both stomach and back sleepers. The brand also claims that its medium-firm feel can charm partners who have slightly different comfort preferences.
What's the Helix Dusk Made Of?
The Helix Dusk is 11.5 inches in height and has five layers, plus a soft cover.
Instead of traditional foams, the Dusk features foams that are unique to the Helix Brand. Its first layer of Helix Dynamic Foam behaves similarly to latex, with a balance of cozy compression and springy responsiveness.
The next two layers are made of Helix Responsive Foam. The first helps with pressure relief and contours adaptively to your body as it moves; the second is more focused on support.
Next, the coil unit provides crucial counterpressure with pocketed coils. The springs on the long edges of the bed are stronger to guard against sagging sides.
A bottom layer of DuraDense foam stabilizes the bed.
What I Liked
Nice amount of springiness – When you're shopping for a firm bed-in-a-box, you'll have to choose between hybrid and all-foam models. As a hybrid, the Helix Dusk will be more responsive than a foam mattress, and therefore better for people who move around often during the night.
Relatively inexpensive – The Core Collection of Helix beds are priced more affordably than many other hybrid mattresses-in-a-box. You won't get a ton of luxury features, but you'll save money in the long run.
Potential Drawbacks
Side sleepers may be uncomfortable – I don't recommend this bed for side sleepers. It's made to provide lift more than cushion, so your hips and shoulders may not feel cradled enough.
Cooling cover costs extra – If cooling is a priority for you, you can pay more to add a GlacioTex™ Cooling Cover to this bed. Otherwise, you get a soft cover with no high-tech cooling properties.
Want more mattress options? Explore our picks for the best firm mattresses.
Why the DreamCloud Premier Earned Best Luxury Mattress-in-a-Box
At 14 inches high and with cashmere in its cover, the DreamCloud Premier strikes a very elegant picture. It's an upgrade from the brand's flagship model, with more loft and cushion, but it still arrives at your home conveniently packaged in a box.
Even though I'm an established fan of the original DreamCloud model, I give the Premier major points for its softer feel. The Euro top makes this hybrid a luxury mattress-in-a-box, but it doesn't take away from the supportive core that I (and my spine) prize so much.
What's the DreamCloud Premier Made Of?
The DreamCloud Premier has five layers in addition to a top and bottom cover. It stands 14 inches tall.
Its first layer is its quilted cashmere cover, which feels super soft and is charmingly decorated with clouds. Underneath is a 1-inch layer of memory foam that really amps up the pressure relief.
It's followed by a 1-inch layer of soft foam that boosts the cradling factor even more. It's only slightly firmer than the memory firm above, and both foams are quilted into the bed's Euro top.
Then, there's a 2.5-inch layer of dynamic foam that undergirds the more plush foams above. It transitions well into the mattress's spring unit, which consists of 8.5-inch pocketed coils that are thicker and stronger around the edges of the bed.
Finally, there's an inch of denser foam at the base that grounds the mattress.
What I Liked
Awesome pressure relief – Moreso than the original DreamCloud, this bed allows your body to nestle in and let go. Its Euro top felt very cozy as it cradled my joints.
Reliable lumbar support – Even with that plush Euro top starting things off, my midsection and lower back felt well supported on my back and side. I was initially nervous that my spine would feel misaligned due to the increased softness of the bed, but that worry was unfounded.
Potential Drawbacks
It's not for stomach sleepers – When I rested on my stomach, my hinks sank a bit too low into the Premier. I would advise dedicated stomach sleepers to find a firmer bed.
You can feel some movements – I wasn't blown away by the Premier's motion isolation. Tiny shifts went undetected, but I could definitely feel it when a fellow tester changed positions next to me on the bed.
Want to find out more? Check out our full DreamCloud Premier mattress review or check out our picks for the best luxury mattresses.
Why the Birch Natural Earned Best Organic Mattress-in-a-Box
If you like your home goods green, then the Birch Natural may your ideal mattress-in-a-box. It's been certified by the Global Organic Textile Standard for all of its organic components, and it features natural latex foam instead of synthetic poly foams.
In addition to its eco-friendly pedigree, the Birch Natural has a medium-firm feel that should gladden most kinds of sleepers. My colleague Stuart found it to be an enjoyably bouncy bed—great for combination sleepers that change position throughout the night.
What's the Birch Natural Made Of?
The Birch Natural is 11 inches tall with an organic cotton cover and five internal layers.
Its first and second layers are made of organic wool, which serves as the bed's natural fire retardant and as a comfort material. It's followed by a layer of natural Talalay latex.
This latex foam is sourced from the sap of rubber trees, and is innately antimicrobial. It gives the Birch Natural its bounce, but it also has enough give to relieve pressure and soothe the body's joints.
Underneath, you'll find the Birch's core support system: up to 1,000 pocketed coils. The steel springs on the long sides are also reinforced to maximize the usable surface area of the bed.
Finally, a base layer of wool provides an extra dose of fire safety and stability.
What We Liked
A combo sleeper's dream – With a layer of springy latex on top of its coil unit, the Birch Natural is exceedingly responsive. You should never feel stuck or like you've sunken too deeply into its layers, and switching between sleeping positions should be seamless.
Conscientious sourcing – The organic and natural materials in this bed come from producers that value the Earth and its resources. For example, Birch knows the farm of origin for the wool in each of their mattresses, and they get their latex from sustainably tapped trees.
Potential Drawbacks
Not very plush – Stuart didn't think the Birch Natural would feel soft enough for exclusive side sleepers, though he enjoyed it on his back and stomach. "If you want a softer mattress, this might not fully suit your needs. But you can add on the mattress topper with your order for an extra fee," he noted.
Not much motion absorption – A hybrid this bouncy is apt to transfer movement. If you're a light sleeper, you may wake up when a partner gets into bed or changes their position.
Looking for more info? Read our in-depth Birch mattress review or discover our top picks for the best organic mattresses.
What Is a Bed in a Box?
A bed in a box is a mattress purchased online that is then compressed, rolled up, and shipped to the customer in a box. Buying a mattress this way can help eliminate overhead costs and give you a better deal. Plus, receiving your mattress in a box makes it easy to transport to whichever room you plan to use it in.
Because these beds have been compressed before shipping, manufacturers often recommend giving them a day or two to air out and expand to their full size before you sleep on them.
Mattress in a Box vs. Traditional Bed Comparison
If you've ever moved a mattress, you may already know the biggest difference between a traditional bed and a mattress in a box. The weight alone makes most people want to ditch the heavy beds and get something that's slightly more lightweight in general and compresses nicely into a single box.
We should warn you, however, that the compression is done at the factory. If you do move, you won't be able to fold your mattress into a compact box, but in some cases, it will be much lighter weight and easier to get from point A to point B.
Also, not all beds you buy online are compressed. Some arrive in full-size packages, but even then, some are still less cumbersome than a traditional bed.
Read Our In-Depth Guide: How to Buy a Mattress Online
Weight isn't the only difference, though. In the next section, we'll go more in-depth about the pros and considerations of buying a bed in a box, versus sticking with a traditional mattress.
Mattress in a Box Pros
Lower Prices
Mattresses shipped in boxes are usually dramatically less expensive than the beds you'll see in a mattress store. That's because bed-in-a-box brands don't have to factor in the costs of dealing with a retailer or other middlemen. Instead, they sell directly to you, the consumer.
Here's a real-life example: Let's say a mattress costs $400 to make. A mail-order mattress company can sell it to you for about $1,000 and still make a hefty profit, even if they pay for the shipping and offer generous return policies.
However, if the brand wants the mattress stocked in a brick-and-mortar store, they'll first have to sell it to the retailer for more money than it cost to make. After that, the retailer also has to make a profit, so they may double or triple the price that they paid to stock the mattress.
By the time you walk into the store, the same bed is now going for much more than the $1,000 you would have paid online.
Easy Transport and Setup
A mattress in a box is much easier to maneuver around your home than one that hasn't been compressed. Mattresses from a traditional store often can't be moved without help from multiple people, with tight hallways, doorframes, and stairs acting as formidable obstacles.
With a bed in a box, you can often transport the entire bed from your doorstep to your bedroom by yourself. Just know that once it's out of the box and expanded, you likely won't be able to fit it back in—you'll have to learn how to move a mattress the traditional way at that point!
Generous Trial Periods
Online mattress brands want you to feel secure in your choice of bed. Although you can't try it out before ordering it, they'll usually offer you something even better: the chance to try the bed at home for multiple weeks or even months.
These sleep trials are the surest way to know if you've picked the best mattress for your needs. Comparatively, a short nap on an in-store mattress just doesn't give you the full picture.
No-Hassle Return Process
If you want to return your bed in a box after a sleep trial, then you can typically return the mattress with minimal stress. Many brands will even send a delivery team to pick up the mattress at an appointed time.
You will likely be issued a full or partial refund, and you can then resume your search for your perfect mattress match.
Pressure-Free Shopping
Buying a mattress in a box means you can steer entirely clear of pushy salesmen. The shopping process is in your hands—you can compare products, read reviews, and research each bed's specifications before you make a choice.
Mattress in a Box Cons
You (Usually) Can't Try Before You Buy
Buying a mattress in a box means that you typically don't see or touch the bed in person before you purchase it. That fact can give many shoppers pause.
However, long-term sleep trials are meant to assuage this feeling of taking a risk—the most trustworthy online mattress brands will make both the testing and return processes intuitive and painless.
If you still must feel a mattress with your own hands before you commit to a purchase, then you can look into online brands that display their products in showrooms or other partner venues.
Expansion and Off-Gassing
When you unpack your mattress in a box, it may need a bit of time—a few hours to a couple of days—to expand to its full size. This is a natural consequence of the compression process.
Check the manufacturer's instructions so you know exactly what to expect, and how long you should wait before sleeping on your new mattress.
As it expands, the bed may also release a chemical odor. These smells are part of a process called off-gassing, which occurs when the volatile organic compounds (VOCs) inside the new mattress hit the air.
The odor should dissipate over time, but some people are more sensitive to the smell than others. If you react strongly to these kinds of smells, consider looking at beds made with natural latex or other natural materials.
What to Consider When Shopping for a Mattress in a Box – Buyer's Guide
Construction & Material
One of the most common and inexpensive options is a memory foam mattress. Memory foam is a cushiony material that conforms to your body, making it feel like your bed is giving you a soft and gentle hug.
Memory Foam
Memory foam mattresses tend to have the highest satisfaction rate among sleepers, mostly because they're incredibly comfortable and the way they conform to your body makes the bed feel more custom than a traditional innerspring mattress.

There is a wide range of quality and price when it comes to memory foam. Some of the cheapest and some of the most expensive options you'll find are both made from memory foam. The differences will have to do with the type of foam used in the bed, how dense it is, if it has additives like gel or copper, whether it's made in the U.S. or abroad, and whether it's certified to be non-toxic.
Polyurethane Foam
Distinct from memory foam, latex, and springs, polyurethane foam features a fast response time and plenty of support but often varies by density. Many bed in a box brands use varying densities of this foam for the support layers and sometimes infuse the material with gel to help the bedding stay cool.
These can come in all levels of firmness, however many brands combine the foam with other materials, like latex or memory foam to add more comfort.
Latex
Latex is a lot like memory foam in that it's a contouring material, but unlike memory foam, you don't sink into it as slowly. Latex is known for having a bit of bounce, too, which is ideal for couples who are sexually active.
There are two types of latex: natural, which is sourced from the sap of a rubber tree; and synthetic, which is petroleum-based. Natural latex is more expensive, but sometimes it's also more durable. If you're price sensitive, a good option is to get a mattress that has a blend of both natural and synthetic materials.
Read Our Full Guide: Best Latex Mattresses
Hybrid
Hybrid mattresses combine innerspring coils with foam or latex. Typically, the base of the bed will consist of coils, and the top layers will have different types of foam for cushioning and support.
A hybrid bed is usually a little more expensive, but they're a popular choice among people who are reluctant to stray from the innerspring construction they grew up on.
Sleeping Position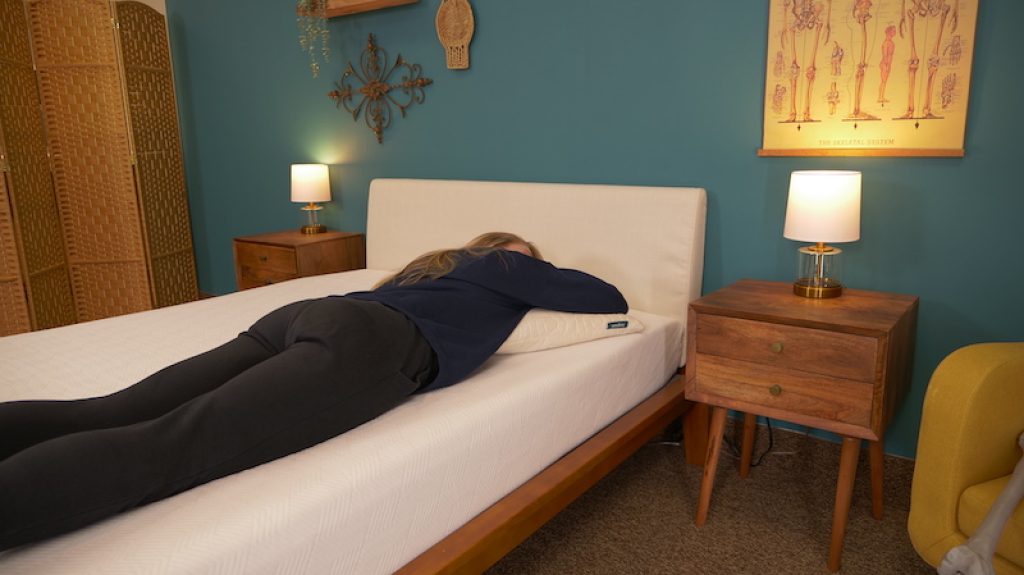 Your sleeping position can be a key determinant when it comes to the mattress-in-a-box you pick. Because different sleeping positions result in different comfort and support needs, it's best to acquaint yourself with your primary sleeping position and read up on its quirks.
Back sleepers tend to require medium-firm beds that offer an even ratio of support and pressure relief.
Side sleepers gravitate toward softer mattresses, which take pressure off of their shoulders and hips as they snooze.
Stomach sleepers need a firmer mattress to prevent their hips from sinking too low and nudging their spine out of alignment.
Combination sleepers who change positions throughout the night should look for mattresses with high responsiveness, so they don't get "stuck" in layers that compress too deeply.
Firmness

"Firmness" describes the feel of a mattress on a spectrum from soft and plush to firmer and more solid. When you order a bed-in-a-box, you should consider your firmness preferences.
Certain beds are known for their cloud-like feel, whereas others are marketed as firm or medium-firm. A medium-firm mattress is often a safe pick for the "average" sleeper. If a mattress is too soft, it can cause certain body parts to sink too deeply into the bed. If it's too hard, then getting comfortable can be difficult.
Some mattresses that come in a box enable you to choose one of multiple firmness levels when you make your purchase. A firmer model will usually differentiate itself from a softer one in the makeup of its layers.
Cooling & Airflow
Find yourself struggling with temperature regulation while you sleep? Having a bed that keeps you cool is important, not just in the summer months. The reason is that when we sleep, our body's temperature drops, and we shed heat. If our mattress is a heat trap, then we can end up getting hot and uncomfortable.
Unfortunately, traditional memory foam is known for "sleeping hot," so if you're evaluating a memory foam mattress and overheating is an issue for you, make sure you find one that has cooling properties. This could mean either infusions of gel or copper that conduct heat and draw it away from your body or an open cell construction that allows for breathability and airflow. Phase change materials can also be used for temperature regulation.
Latex and hybrids will generally allow you to sleep cooler, but again, if you do tend to sleep hot, make sure you pay close attention to what the top layer of the bed is made out of and look for something that is designed to help you stay cool.
Price & Value
When you shop at a brick-and-mortar mattress store, there's not always a correlation between price and quality. A lot of times stores will price their selection based on the deal they struck with the manufacturer, or what they need to move versus what they can afford to keep on hand longer.
However, in the online bedding space, it's easier to judge the quality of what you're getting based on price. You'll also notice that higher-priced brands use premium material and often contain more natural substances, rather than synthetic ones. More expensive products tend to have higher-density foams.
Mattresses starting at about 600 dollars tend to perform well and are much less than store models. If you see a queen bed that's 500 dollars or less, make sure you do your research to make sure it won't sag within a year or two, so you don't end up having to buy something new.
If you're looking at hybrid mattresses, you may spend significantly more due to the more sophisticated construction and premium material blend. However, hybrids can be a very solid option and worth looking into.
Get More Info: How Much Does A Mattress Cost?
Company Reputation and Support
In most cases, you won't be able to visit a showroom and meet with a company representative. There are exceptions, for example, if the company does indeed have a showroom and you happen to live close by, but again, you probably can't count on this.
Instead, you'll have to rely on a company's online reputation and their website to find out if you're dealing with a company that's reputable and produces a quality product.
Fortunately, you'll be able to read reviews from verified purchasers as well as read our carefully researched reviews in this article.
We also recommend browsing the company's FAQs page to make sure you know how to get a refund or submit a return request if you buy something and you don't like it. Remember that the length and flexibility of a company's warranty policy can sometimes be an indicator of their product's quality.
For example, a company that stands behind their product for a lifetime seems more credible than one that stands behind its performance for only a year. However, you should make sure to get into the fine print to see what exactly the policy entails to make sure it is in line with industry standards.
3 Tips for Buying a Mattress in a Box
1. Be Wary of Suspiciously Low Prices
The saying goes that if it sounds too good to be true, it might be. The same goes for mattresses. If you find something for several hundred dollars, it might be tempting to buy it.
Online, a lot of these mattresses look pretty similar, and you'll see the same buzzwords mentioned time and again. However, there are differences to watch out for, and a bed that is 200 dollars versus one that is between 600 and 1,000 dollars will have cheaper materials that might not hold up over time.
A cheaply constructed mattress can sag within a couple of years (if not sooner), and those cheaper materials are often toxic. Many times it's the foam materials that are toxic.
If you see a mattress that looks comparable to a higher-priced brand, look closely. Check to see if the materials have any safety certifications, review the warranty policy, and also check to find out if there are shipping charges.
Some companies may lure you to their site with the promise of a low price, but then when you go to check out, you might find that the cost to have the bed shipped to your home is as much as the price of the bed itself.
However, there are times when getting a cheaper model is suitable, like for a guest room or temporary living space. There are many great models available for that type of use.
2. Avoid Memory Foam if You Sleep Hot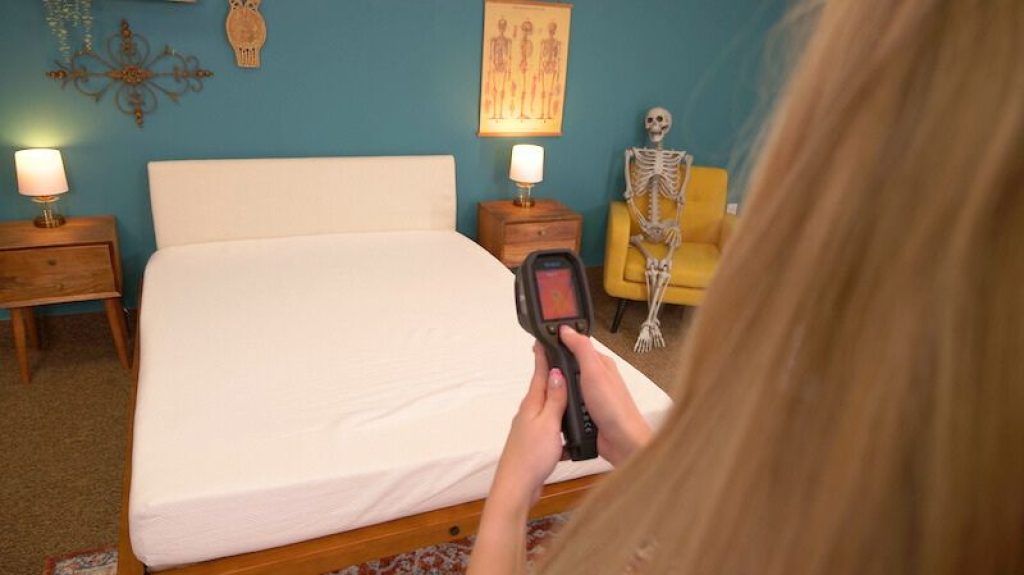 If you're prone to getting hot at night, you should exercise caution when you evaluate memory foam models. The lower-end options mostly use pure memory foam, which can trap your body heat and make sleeping comfortably a challenge.
Instead, you can consider either a hybrid or latex mattress. Innerspring mattresses with their circulating air are known for sleeping cool.
However, that does not mean that memory foam is completely out. If you're set on it, look for options that have a breathable design or gel or copper infusions that work to draw the heat away from your body.
3. Double Check Warranty Policies
There are a few reasons to double and triple-check the warranty policy before you make a purchase. Brands with strong quality products tend to offer long warranty periods. You'll see a range of warranties ranging from about ten years to a lifetime!
The length of the warranty isn't the only thing to consider, though. You should also check to see what constitutes a warranty claim.
Take a look at how much "sag" your mattress has to have before you file a claim. The technical word for this is an "indentation," and it is usually anywhere from .75 inches to 1.5 inches.
The lower the number, the better the policy tends to be. By the time your bed is sagging an inch and a half, you could be miserable. To put this into perspective, a 1.5-inch sag can make it seem like the middle of your body is sinking into a pit and throws your body's alignment off.
Mattress in a Box FAQs
Where is the best place to buy a mattress in a box?
There are many places you can order a bed in a box. While most are online, some companies even have showrooms where you can test the mattress out before conveniently ordering one.
For trusted and established brands you can click the link to their site and order directly through the company. There is next to no worry, as the manufacturers have generous trial and warranty periods. Third-party sites with the same brands, however, do not always come with the same perks.
You can also order beds off of sites like Amazon, Walmart, and Costco. Amazon has an exceptionally wide range of products – even top brands. If you order from Walmart or Costco, just make sure to read the reviews so you have a clear picture of what you are ordering.
View Our Complete Guide: Top Rated Beds on Amazon
What if I need to return my mattress in a box?
The return policy for these mattresses will vary among brands. If you are within the trial period, you should be able to receive a full refund for the bed, though some companies may ask you to wait at least 30 days before returning the bed. When you're ready to initiate a return, you can contact the manufacturer who will explain what you need to do. Some companies will then coordinate a pickup time and date in which they'll retrieve the mattress However, this is not universal among brands. Therefore, we recommend understanding the full details of the return policy so that you don't have any unexpected issues if you have to return the item.
Is a bed in a box as good as a traditional mattress?
Yes, a mattress in a box can deliver the same great quality that you'd get when shopping in a brick-and-mortar store. The bed-in-a-box sales model, which refers to beds sold online that are then shipped to the customer in boxes, allows you to purchase directly from the manufacturer. As a result, you can get a top-tier bed at a lower cost. Not every online bed is going to be a reputable product, though, which is why purchasing from trusted companies and doing extensive research before buying is important.
How long does a mattress-in-a-box last?
A quality mattress-in-a-box should last 5 to 7 years or more—the same amount of time as a mattress you buy in a store. Its materials, construction, and usage will all affect its longevity, as will the care and maintenance you conduct after purchasing it.
Mattresses with fewer layers and less durable materials, such as interconnected spring units or outdated foams, won't last as long as more modern beds. If you're looking for a mattress that will stand the test of time, consider ones that have undergone extensive stress testing and that incorporate robust materials such as latex.
Learn More: How Long Do Mattresses Last?
Which mattress in a box is the softest?
Memory foam and latex usually provide enhanced softness, though there are some softer innerspring models available as well, such as hybrids, which offer the advantages of coils with extra comfort foams. Among most mattress-in-a-box brands, you'll be able to choose different comfort layers, such as soft or plush, medium, and firm.
If you end up buying a bed and it's not soft enough for your needs, consider purchasing a mattress topper. Quality toppers start at about $50 and allow you to customize the feel of your bed without the hassle of a return.
Depending on the brand, some organic beds can tend to be softer than non-organic beds, such as those that use wool and cotton in their covers. Brands with organic offerings tend to price their beds higher, but since natural and organic materials are often more durable, it could be a worthwhile investment if you have aligning priorities.
Check Out Our Full Guide: Top-Rated Soft Mattresses Reviewed
Do you need a base or box spring for a bed-in-a-box?
Most mattresses that ship to you in a box do not require a box spring. However, manufacturers often recommend using a slatted platform bed or foundation to keep your mattress well-supported (and off of the floor).
You might also want to look into adjustable bases, as many bed-in-a-box mattresses are compatible with these high-tech frames.
Certain beds may have more specific requirements for their bases. While shopping, always check the mattress's product page or the brand's FAQ page to see what foundations are the best match for a given bed-in-a-box.
Which frame should I use for my bed in a box?
Most of the time, any frame will do, but there are exceptions and a few limitations.
Each brand will tell you specifically which types of frames are suitable and which ones to avoid, but we'll get you started with some things you'll need to consider.
Some frames have slats that are too far apart. If you're looking for pure memory foam beds, you should get slats that are closer together to prevent dipping.
Also, if you want an adjustable base, keep in mind that not all mattresses will accommodate that, particularly hybrid/innerspring models. However, this isn't universal, and there are hybrid brands that do indeed work well with adjustable bases.
Read More: Best Adjustable Bed Frames
Conclusion
Sources and References: