Transparency Disclosure – We may receive a referral fee for products purchased through the links on our site...

Read More

.
Amazon has just about everything, with reviews to go along. Amazon features hundreds of great mattress choices, but how do you navigate shopping for such an important purchase on this online platform?
With so many choices it could be hard to decipher which bed is the top rated bed on Amazon. This article helps break down some of your choices by selecting some of our favorites in a few different categories that could be potentially helpful for you as the shopper.
If you make a selection and want to know more, be sure to hop on over to the product review to get even more details.
Shopping Recommendation:
Are you confident that a mattress from Amazon is the perfect option for you? If so, continue exploring this page!
If you're unsure or want to learn about more great mattress options available then we recommend you check out our list of best-rated beds on the market. It is a great starting place for most mattress shoppers because it includes a diverse list of mattress picks based on various preferences, styles, and needs. It also includes links to an additional 60+ best mattress pages from Sleep Advisor (example: best budget mattress).
10 Best Online Mattresses
10 Highest-Rated Beds on Amazon
Best Mattress on Amazon for Back Pain
Nectar
All-Foam Design
CertiPUR-US® Certification
The Nectar is an all-foam mattress rated 6.5/10 on our firmness scale. The bed excels at supporting the back and providing comfort in all sleeping positions. Back sleepers should appreciate spine alignment and support from the foam layers.
Memory foam slowly responds to weight, wrapping your body and providing gentle cradling. The mid-range firmness should provide enough support while also relieving pressure. This helps prevent achy joints and stiff muscles, especially in the lower back. The construction starts with 3 inches of gel-infused memory foam, followed by 2 inches of soft conventional foam. The base is a 7-inch standard conventional foam, supporting your body and the upper layers.
Why we like it:
Gel-infused memory foam delivers a plush feel by contouring your body. The gel in this layer is designed to cool hot sleepers, pulling the heat away from you and preventing the foam layers from overheating.
Looking for more info? Read our review of Nectar mattress.
Best Hybrid Mattress on Amazon
Lucid Memory Foam Hybrid
Firmness Level: 7/10
100-Night Trial
10-Year Warranty
This Lucid hybrid mattress is an excellent option for back and stomach sleepers, thanks to its mid-range firmness. The bed is supportive enough to keep your spine and hips aligned with no pressure build-up.
This hybrid has solid edge support that couples should benefit from. The Lucid hybrid can support heavy individuals and couples as it allows them to utilize the entire surface of the bed. The hybrid design combines foam and coils to bring the best of both worlds. The Lucid's comfort layer is classic memory foam infused with charcoal to dissipate heat and pull it away from your body.
Why we like it:
The support layer with pocketed coils is beneath all the foam layers. The coils give this bed the bounce and body-contouring pressure relief in all sleeping positions. Each coil is individually wrapped to move independently for minimal motion transfer.
Lucid offers a 10-year warranty and a 100-night trial for you to test the mattress.
Interested to learn more? Check out our review of the Lucid bed.
Best Mattress For Combination Sleepers on Amazon
Casper Original
All-Foam Mattress
Zoned Support™
Firmness Scale: 6/10
Combination sleepers should like the versatility of this Casper all-foam mattress. The first layer is the AirScape™ perforated for breathability to prevent overheating. Next is the 2-inch Zoned Support™ acting as a transitional layer. This layer is softer around the shoulders and knees, which should help relieve pressure in these areas. The last layer is a dense foam that adds durability and support to the upper layers.
Combination sleepers fall asleep in one position and wake up in another. These folks need a versatile bed that adapts to their bodies in all positions. This Casper mattress excels by adapting to the body's curves and allowing easy repositioning.
Why we like it:
The foam layers are designed to hug the body, providing gentle cradling without letting you sink into the mattress. Couples should like motion isolation, especially people who have different sleeping preferences.
The Casper Original is rated 6/10 on our firmness scale, versatile enough for combo sleepers.
Want more info? Read our review of Casper mattress.
Linenspa Memory Foam Hybrid
10-Year Warranty
Open Coil System
Firmness Scale: 7/10
Innerspring mattresses provide unique breathability and comfort. This Linenspa bed combines foams and springs to provide bounce and support in nearly all sleeping positions. The bed is rated 7/10 on our firmness scale, which should be good for back and stomach sleepers. However, side sleepers may prefer a softer bed for a better pressure-relieving experience.
The Linenspa cover is made from a polyester blend quilted with memory foam. The comfort layer is 1.5 inches, designed to provide satisfying sinkage without letting you sink too deep into the layers. The support layer features 6.5-inch steel coils for additional bounce and support for the upper layers. The coils encourage airflow for temperature regulation, helping hot sleepers cool.
Why we like it:
Although this bed is rated 7/10, the innerspring system gives enough bounce for easy repositioning. The mid-range firmness helps with healthy spine alignment by supporting the body.
Want to read more? Check out the review of Linenspa mattress brand.
Best Memory Foam Alternative on Amazon
Tuft & Needle Original
10 Inches Tall
Adaptive® Foam
Firmness Scale: 5/10
The Tuft & Needle Original mattress has two layers standing 10 inches tall. The top layer is a 3-inch of Adaptive® Foam, mimicking memory foam and latex for optimal pressure relief. This material provides support and pressure relief without the drawbacks such as overheating. The base layer is a 7-inch polyfoam for added structure and support. The base is much firmer than the top of the mattress.
The Adaptive® Foam is infused with graphite to pull the heat away from the body. This should help hot sleepers sleep more comfortably, especially during the hottest nights. The temperature regulation and breathability prevent the foam layers from overheating.
Why we like it:
The Tuft & Needle Original is on the softer side, rated 5/10 on our firmness scale. This should fit side sleepers, preventing pressure from building up in the shoulders, hips, and legs.
Interested in finding out more? Read our review of Tuft and Needle mattress.
Best Mattress For Athletes on Amazon
Zoma Start
100-Night Risk-Free Trial
Reactiv™ Response Layer
Made in the USA
The Zoma Start is designed for optimal comfort and pressure relief. The bed is suitable for athletes as it has a cool cover made of AirCloth performance fabric. Athletes should benefit from spine alignment and comfort, which should help with recovery.
The memory foam in this bed helps keep the body in a neutral position. The highly responsive Reactiv™ layer promotes spine alignment in all sleeping positions. The layers of the Zoma Start include Triangulex™ memory foam, Reactiv™ foam, and Support+ Core foam. The bed comes with a CertiPUR-US® certification that ensures the materials don't have any harmful materials.
What stands out:
The Zoma is wrapped in breathable AirCloth that wicks away moisture and heat, helping hot sleepers stay cool.
This bed responds to movement and allows easy repositioning, which should be good for combo sleepers who fall asleep in one position and wake up in another.
Want to read more? Check out the review of Zoma mattress brand.
Best Memory Foam Mattress on Amazon
AmazonBasics Memory Foam
100-Night Trial
Firmness Level: 6/10
Good for Side Sleeping
Memory foam is one of the best materials for comfort and pressure relief. This AmazonBasics mattress is made entirely out of foam standing 12 inches tall. The mattress cover is soft and thin, feeling gentle to the skin, so you can sleep without sheets. The top layer is soft memory foam that hugs the body and allows gentle cradling. Next is a transitional layer that gives the bed support, followed by the base made of two foam layers. The last two layers have large holes for ventilation, helping hot sleepers cool.
Memory foam is known to overheat, but this shouldn't be a problem with this AmazonBasics mattress. The ventilation in the base layer offsets the overheating issue, allowing maximum breathability for a more comfortable sleeping experience.
What stands out:
Side sleepers should like the gentle cradling of this AmazonBasics memory foam mattress. The bed hugs the body and provides pressure relief in this position.
Best Mattress on Amazon for Side Sleepers
Zinus Green Tea
100-Night Trial
Firmness Level: 5.5/10
Good for Side Sleeping
Side sleepers need a soft mattress to relieve pressure on the shoulders, hips, and legs. A bed that's too firm can cause pressure build-up, which shouldn't happen with this Zinus mattress.
The Zinus Green Tea features a unique comfort layer made of memory foam. Memory foam is known to overheat, but this shouldn't be a problem here because of the infusions Zinus incorporated. This comfort layer features green tea and ActivCharcoal infusions for cooling, moisture absorption, and neutralizing odor. Strict side sleepers will like the soft cradling, but stomach and back sleepers may prefer a firmer mattress. The foam helps to isolate motion, which should appeal to couples with different sleeping preferences.
What stands out:
The base layer of this Zinus mattress is made of high-density polyfoam giving the bed shape and support and preventing the upper layers from sagging.
Zinus offers an industry-leading trial of 100 nights for you to test the mattress.
Interested to get more info? Read our Zinus 12″ mattress review.
Best Latex Mattess on Amazon
Eco Terra 11"
100% natural Talalay latex
Two firmness options
Individually-wrapped coils
Made in the USA
Eco Terra focuses on bringing customers a quality latex bed that's more environmentally friendly at the same time. The Eco Terra mattress is made with 100-percent natural Talalay latex that's also hypoallergenic, a win for those with allergies. The mattress cover is made with organic cotton for a soft, breathable feel that should foster a comfortable sleep experience. 
The Eco Terra stands 11 inches high and comes in two firmness options, medium and medium-firm. The different firmness choices are ideal for better customization, ensuring you get a bed that closely meets your individual needs and preferences. 
Why we love it
The bed's individually-wrapped coil unit not only provides a supportive base, but the coils should deliver additional airflow, further keeping the sleeper cool and comfy.

The Eco Terra is an American-made mattress, making this a great locally-sourced choice for shoppers.
Want more info? Read our review of Eco Terra mattress.
Best Mattress in a Box on Amazon
Dynasty Cool Breeze
If you love the comfort of memory foam but hate how hot it can sleep, your solution may be the Dynasty Cool Breeze Mattress.
Sometimes the company likes to throw in some free-with-purchase sleep accessories for mattresses sold on Amazon.
What makes this mattress so cool? Dynasty is topped off with 3 inches of memory foam with an infused cooling gel. Beneath this are two 2-inch layers of convoluted AirFlow foams to help enhance circulation. These components make it a suitable choice for those looking for cool sleeping memory foam bed.
The foams in this bed specialize in pressure relief and should work great for sleepers of varying body types and sleeping positions. This option could be especially worth your interest if you are a side sleeper seeking better pressure relief. Side sleepers often experience pressure buildup in their shoulders and hips and the foams in this bed could help wash away nagging strain.
Buyer's Guide for Mattress Deals on Amazon
In the age of convenience, Amazon is a hot place to buy just about anything on your shopping list, including a top mattress. These beds come shipped compressed in a box and can be easily set up by the customer.
Several of these mattresses are Prime items, allowing those who have a subscription to Amazon Prime to enjoy two-day shipping. This is especially nice considering there are some in-store and online brands that can take up to two months.
Amazon's online interface is user-friendly and makes online shopping a breeze. Simply search for the item in question, click on the one you are interested in, and add it to your cart. After this, all you have to do put in your purchasing information and you could see your new bed in as little as two days.
Amazon also suggests other products related to your search, whether that be a similar mattress or items you might need, like new pillows, sheets, or even a bed frame.
Advantages for Shopping Amazon.com
Shopping on Amazon presents a load of benefits for customers. Listed below is more helpful information that could help you as you start shopping.
Comprehensive Product Page
Listed on the product page on Amazon should be an in-depth specifications list and other helpful information. The details vary with each product, but common information can include product dimensions, materials, and certifications. These pages often compare to the manufactures web page and sometimes can include even more helpful information.
This should be present at the top of the listing and indicates the company and the specific model. This piece of information can be helpful especially if said company has a large line of products that are similar.
At least one photo of the item you are looking at should be available on the Amazon listing. Photos like these can help you determine what you are ordering and are often helpful and allowing you as the shopper to visualize your purchase. Some products may even include a layer by layer break down of their bed.
Specifications may be the most helpful piece of information as these can help tell you what type of bed it is you are ordering, how it feels, its dimensions, what its made of, and if it has any certifications. Listed should also be warranty information and trial period, if applicable.

Product Availability
Product availability varies between different sellers on Amazon. Amazon keeps tabs on this as item availability info is listed on the page. Shoppers can see if an item is in stock, out of stock, and can even display if there are only a few items left in the seller's inventory.
If an item is running low, the seller can notify customers that there are only a few items left in the company's inventory. If an item is out of stock, the page will often notify customers to check back later or can even let them make their purchase with a delayed shipping period.
How fast your item ships could depend on a number of different factors. Is the item sold out, are you a Prime member was there a delay? Whether you are waiting a day or a month, Amazon keeps tabs on shipping information and typically do a good job at tracking packages.
Easy Accessory Shopping
Amazon has included several helpful tools as part of their online shopping experience. Comparing prices between vendors and finding accessory items should be as easy as scrolling and clicking. In just a few minutes you can find the best deal and add a few extra items to your cart to make your sleeping experience even more enjoyable.
Customers can search between a number of different vendors for their purchase. Amazon typically generates the cheapest purchasing option first, but shoppers can browse between vendors, looking at varying mattress prices, specifications, and shipping options. If you want more information about the vendor, just click on the seller's name and info for a bio and reviews.
Frequently Bought Together
If you are shopping for a mattress it is likely you might need a few accessories to go with it. Whether that be new sheets, an adjustable bed frame, of a couple extra pillows. Amazon generates items that other shoppers have purchased with their mattress so you can quickly look at products that might work well with your new bed.
If shoppers scroll down past the pictures and additional product information, they can also look at similar beds to the one they are shopping for. Amazon has made it easy to look at closely related products, whether that be mattresses from the same brand, similar beds, or a mattress topper. This makes comparing product choices much easier.
Special Offers and Promotions
There are often special offers and promotions on products. These are even more likely if the shopper is a member of Amazon Prime.
Prime member receives free two-day shipping and can be offered special sales on items at varying times during the year. These sales can present a great deal of savings and have been known to affect mattress prices.
AmazonSmile
AmazonSmile presents the same interface, products, and price as Amazon.com, but presents an added bonus that helps set the company apart.
When Amazon users shop with AmazonSmile, 0.5% of their purchase on eligible products is donated to their charity of choice. Over 100 million dollars have been donated to varying organizations with this program.
Customer Feedback
As great as professional reviews are it is always nice to see what customers like you are saying about a product. Customers can ask questions to vendors and leave open and honest feedback.
Customer Questions and Answers
New shoppers and recent customers are able to leave questions about a product and can typically expect answers within a day or two. These are made available on the Amazon listing and are present for all new customers to see.
Knowing how other people experienced a product or vendor can help you know what you are getting in to, especially since you have never actually tried or even seen this bed. For many shoppers, customer reviews are the first thing they look at and it might not be a bad idea to follow that trend. A good rule of thumb is to look for products that have at least 3 stars.
Amazon Bed Shopping Considerations
Shopping online has many perks, and for the most part, those outweigh the drawbacks but it is also important to keep in mind that it is not a perfect platform. With that said, there is nothing to worry about, so long as shoppers know what to look out for when purchasing a bed through Amazon.
Trial and Warranty Policy May Differ
When ordering a bed online it is important to know how long you have to test out the product. Unlike a mattress retailer, you cannot try it out in the store, so you may want to know how long you have to return it and what kind of warranty your purchase holds.
The manufacturer's warranty or trial period may not be the same as it would be posted on the product's website or in the manufactures store. This is often because the mattress is being sold by an alternative vendor. This is why it is important to compare not only prices but product specifications as well.
Typically with an Amazon purchase, customers have 30 days to return their product, but it is important to educate yourself on this information as you are comparing products and vendors so you can have the most accurate information. You will likely want to compare this with the manufactures webpage as well.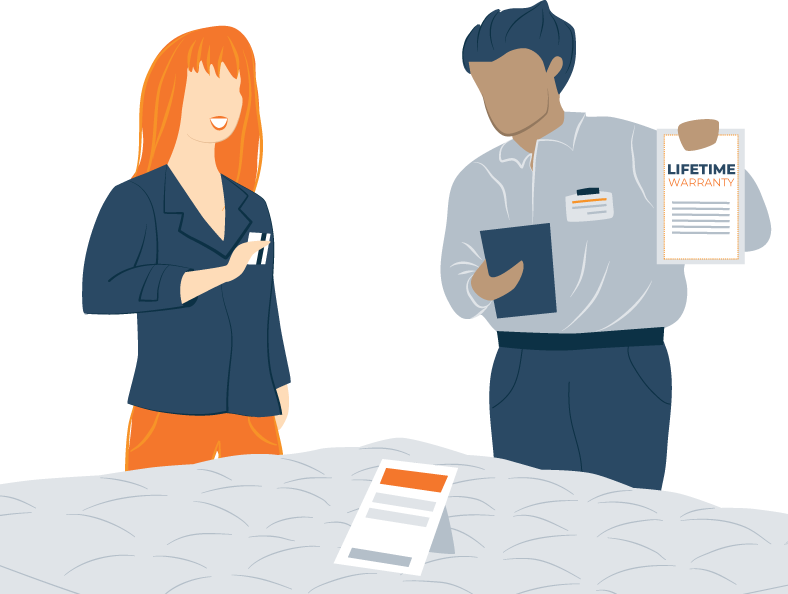 Alternative Sellers Besides Brand
As mentioned in the last section, your mattress could be sold by a different vendor. This is not necessarily a bad thing, as they may be able to offer the product at a competitive price and could potentially offer the same or a better warranty. But, the opposite could also be true, this is why it is so important to perform your own research on each bed you look at.
Prices Fluctuate
Prices on Amazon often change. It is perfectly fine to take your time when buying a mattress but it is important to check up on items you are interested in on a semi-regular basis.
To make this easier, you could add your item to a customized list on your Amazon account or you could add the item to your shopping cart and hit save for later. Either of these actions could make it easier to keep tabs on the bed you are interested in.
Reviews May Be Biased
As great as reviews may be, they are not always trustworthy. For instance, if someone hates memory foam and they went ahead and purchased and reviewed a memory foam bed, their outlook would likely be negative.
Some vendors have even been known to pay people to purchase their products and leave 4 or 5-star reviews. These actions are often verified purchase and almost untraceable. For these reasons, it is advised to read both negative and positive reviews to form your own judgments before purchasing.
Specs May Be Out of Date
Not every vendor or manufacturer updates their Amazon listing on a regular basis. This can lead to old information. In the past listings have failed to list updates in product construction, changes in dimensions and sizes available, firmness options, and even the name of the product.
On the flip side, some bands focus more heavily on their Amazon sales presence and their Amazon page may have their most up-to-date information. Compare and contrast cannot be stressed enough.
Size/Firmness Availability
Different sizes and firmness options are not always listed on the same page. That means if you are tiring to compare a King and a Queen or a Firm and Medium bed, you might have to manually search exactly what you are looking for.
In addition to this hassle, what is sold on the company's website can be different from what you see on Amazon. Again, this is why it is important to compare the two platforms.

Customer Service is Limited
Although Amazon has excellent customer service, they sell millions of different products, so it is unlikely that they know whether or not the memory foam in the second layer of your mattress has a cooling gel.
Their customer service should work with you the best they can but you may do better reaching out directly to the vendor.
Fewer Delivery Options
As great as two-day shipping with Amazon Prime may sound, for some customers, it may not beat out the convenience of White Glove Delivery.
White Glove Delivery is a service that offers in-home placement of your mattress and removal of your old bed.
With Amazon, this option is not available. Amazon mattress orders are typically delivered compressed in a box and require the customer to set up their bed-in-a-box mattress.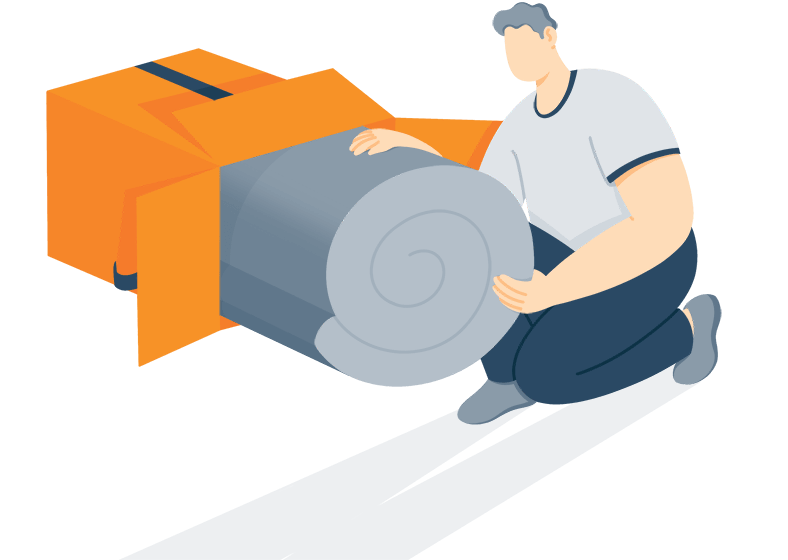 Shopping Checklist When Buying Mattress on Amazon
Make a Budget
Mattress prices can be drastically different. Some are less than a hundred dollars while others can cost you thousands, so know exactly how much money you are willing to drop on a new bed.
It could be tempting to spend $2,000 dollars on that fancy luxury mattress, but your budget was only $500 dollars. Stick to the budget.
See our top budget picks.
Make a Shopping List
After you have your budget, figure out exactly what it is you need to buy. If you need a mattress protector, maybe some pillows or a base, be sure to put those on the list.
It would be a shame to get your new mattress, only to realize you forgot to buy sheets that fit it.
Compare Several Brands
There are a lot of companies out there selling products that are drastically different as well as those that sell beds that are nearly identical. If you already have a general idea, Amazon helps by making further suggestions on the listing pages.
Verify Policies and Specs
At the risk of repeating ourselves, we urge you again to compare the Amazon listing to the company's website.
If the information is lacking but it looks like a good choice, reach out to the vendor via email or give the manufacturer a call. Knowledge is power, and when it comes to both your finances and sleep health, it is best not to take any risks.
How to Complete an Amazon Purchase
So, you are ready to buy a mattress? To finish shopping, there are a few simple steps to follow once you have decided what item you want to purchase.
Click the yellow icon that says, "add to cart"


---

You will then be prompted to select "proceed to checkout," click this if you are ready to place your order. If not return to your shopping and return to your cart to follow this step.


---

Enter your shipping information


---

Enter your billing information


---

Select your shipping method


---

Select the yellow icon that says, "Place your order"
After you have followed these steps you should be sent an order confirmation via email. This should allow you to track the shipment on your item, cancel or edit your purchase, and archive your order.
The stressful part is over. Now all you have to do is wait! Within a few short days, you should have a new bed to help you get you the rest you deserve.
Conclusion
Thanks for sticking with us. Hopefully, this guide has been a helpful tool to get you on your way to buying your first Amazon bed-in-a-box. If the beds recommended above do not seem to fit your needs, there are many more options available but this should give you a good place to start.
Remember if you still have questions, we have a ton of different guides online that can teach you about a lot of different materials or possibly some other online options outside of Amazon. Feel free to reach out in the comments section as well, we love helping out our readers.
Our team covers as many areas of expertise as we do time zones, but none of us started here as a so-called expert on sleep. What we do share is a willingness to ask questions (lots of them), seek experts, and dig deep into conventional wisdom to see if maybe there might be a better path towards healthy living. We apply what we learn not only to our company culture, but also how we deliver information to our over 12.7M readers.
Sleep research is changing all the time, and we are 100% dedicated to keeping up with breakthroughs and innovations. You live better if you sleep better. Whatever has brought you here, we wish you luck on your journey towards better rest.