Transparency Disclosure – We may receive a referral fee for products purchased through the links on our site... Read more here.
Light sleepers can have a difficult time sleeping through the night. A partner stirring or getting up to go to the bathroom can wake them from a deep slumber, leaving them to a potentially challenging task of falling back to sleep again.
In this article, we share our great mattress options for light sleepers and our top recommendations for people who wake up to the slightest noise or disturbance.
Though not technically a disorder, it can be frustrating. But before you kick your partner out of bed or don a pair of noise-cancelling headphones, you might be able to improve how soundly you sleep just by getting a new bed!
Top 6 Beds for Light Sleepers Reviews
Nectar –
Exceptional Value
CertiPUR-US® Certified
365-Night Trial
Forever Warranty
Nectar's three layers of foam should keep motion transfer to a minimum, and the gel in the memory foam layer should help prevent you from being woken up by fluctuations in temperature. Its design provides a deeper hug that should cradle your pressure points nicely while muffling the feel of your partner moving around at night.
What makes it special? Nectar offers an outstanding amount of value for its price point and includes all the quality materials and cooling technology you might need to help you sleep undisturbed all night long. Selling online and shipping in smaller boxes reduces the company's overhead a lot, and this allows them to give you a lot of premium materials for your dollar.
In addition to the construction, Nectar gives you a truly risk-free deal with their 365-night sleep trial, one of the longest in the industry that gives you a full year to make sure Nectar is your best possible mattress match. Both this and the Forever Warranty also add significant value to your overall purchase of this mattress.
Want to read more? Check out our full Nectar review here.
Dual-sided Firmness
CertiPUR-US® Certified
120-Night Trial
Lifetime Warranty
Made in the USA
Layla's motion isolating memory foams are enhanced with an infusion of copper, an efficient heat conductor that disperses heat through the mattress so it can't build up around your body and wake you up in a sweat. The dual-sided construction of Layla lets you try two different memory foam feels to see which you prefer, a softer and deeper hug or a firmer and gentler cradle.
What's the advantage? The feel of Layla is reminiscent of classic memory foam beds, especially on the bed's softer side, and should hold your body in a nice deep hug that melts away pressure without letting you overheat. If a deeper hug isn't what you're looking for, the firmer side should hold your body closer to the surface of the mattress, while still comfortably cradling your pressure points.
In addition to the copper in the comfort foams, Layla has also specially designed a cover that contains a special gel. This makes the cover feel cool to the touch and helps prevent temperature regulation issues on the surface of your mattress. As an added bonus, this cover can be removed and sent to the dry cleaners.
Need more details? Read our full review for Layla Bed.
The Casper –
All Sleeping Positions
CertiPUR-US® Certified
100-Night Trial
10-Year Warranty
Designed and Assembled in the USA
Casper's all-foam construction was designed to suit a variety of individual shapes and sleep position preferences without letting your body develop pressure points that can wake you up in the night. Though the foams contain a moderate amount of bounce, motion transfer should be minimal so partners or pets getting in and out of bed shouldn't disturb your sleep.
What makes it unique? Engineers and scientists behind Casper set out to invent a bed that had a universal feel that would adapt to different shapes and sizes in whatever position they preferred. This universality was recently enhanced when they added zoning to the bed's transition layer to help those with heavier hips and midsections maintain optimal spine alignment.
Exclusive stomach sleepers, in particular, need to make sure their hips remain level with the rest of their body, as any overarching could cause a light sleeper to wake up in the middle of the night. The Zoned Support™ feature should help keep your spine straight without sacrificing pressure relief for your knees and shoulders, regardless of position.
Looking for more info? Read our full Casper mattress overview here.
Loom & Leaf –
Luxury Look & Feel
Certified Organic Cotton
CertiPUR-US® Certified
180-Night Trial
15-Year Warranty
Made in the USA
Loom & Leaf definitely makes an impression with its 12-inch height and plush cover made to envelop your body in a soft, luxurious cradle that will help prevent any motion disturbance. Luxury was the goal of the Saatva Company, which set out in 2010 to introduce a line of mattresses that brought high-end and more eco-friendly features to the online mattress industry.
The foams in Loom & Leaf are made with a portion of sustainable bio-based oils, and the cover is certified organic cotton. Several cooling features were added, including a Spine-Zone gel bound with memory foam to help your body stay cool and comfortable without any temperature fluctuations that may disturb your sleep. Because your body is cradled closer to the surface, more air can circulate around you, which should also keep you cool.
What stands out? The premium materials sourced by the designers of Loom & Leaf give it a high-end look and feel that could cost you thousands of dollars more in a retail store. The density of the foams is also highly durable, which adds considerably to the bed's overall value. For your convenience, Loom & Leaf is delivered for free and set up in your bedroom through the company's free White Glove Delivery service.
Interested in exploring further? Visit our in-depth Loom & Leaf bed review.
CertiPUR-US® Certified
120-Day Trial
10-Year Warranty
Made in the USA
If you have a tendency to sleep hot, you know the misery of tossing and turning and rolling around on your mattress trying to find a cool spot that can lull you back to sleep. A bed with a superior cooling system, such as Muse, may help alleviate some of your temperature regulation concerns and keep you sleeping like a lamb all night.
What's its best feature? Muse Sleep keeps their mattress cool using three different features to control temperature.
To offset any uncomfortable pressure points that might build up on your body in your preferred sleeping position, Muse offers three different feels so that you may select a more tailored match when bringing a new mattress into your home. You can choose between Soft, Medium, and Firm, depending on what you think may best suit your individual body type and preferences.
Want to know more? See our complete guide for Muse mattress here.
Copper Dreams –
Gel Memory Foam
CertiPUR-US® Certified
OEKO-TEX® Certified
120-Day Trial
10-Year Warranty
Made in the USA
A tighter budget shouldn't mean that you have to compromise on your comfort or sleep quality because companies like Dreamfoam have your back. They deliver high-quality materials in more streamlined designs that can fit nicely into your budget. If you are a light sleeper dreaming of a memory foam bed that can isolate motion and keep you cool, you may be interested in the iPedic Sojourn (formerly known as Ultimate Dreams Supreme).
This is an impressive 12-inch mattress containing premium foam designed for great pressure relief and durability. The top comfort layer is infused with copper-graphite foam to help keep you cool, and the impressive 6-inch base should help prevent motion transfer while maintaining comfortable spine alignment.
What is its advantage? Because Dreamfoam owns their own manufacturing facility and designs their mattresses in-house, they can save substantially on the costs of overhead and outsourcing. In keeping with their mission to provide more affordable sleep while maintaining quality, they pass these savings directly on to the consumer.
Need more info? Check out our full review of the Copper Dreams.
Are You a Light Sleeper?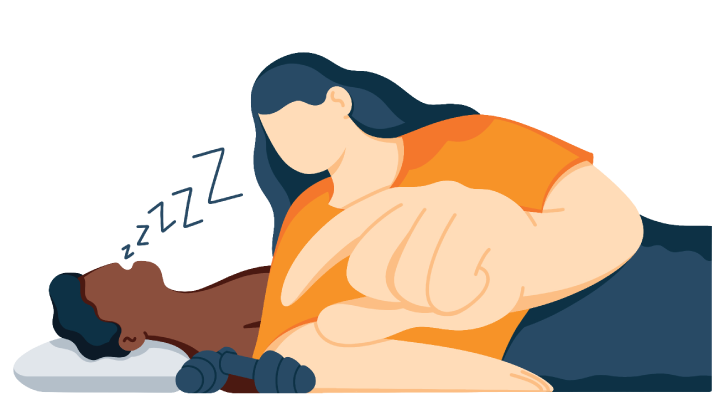 Being a light sleeper is often a subjective diagnosis that we label ourselves with. However, there is evidence suggesting that these people don't spend time in the deeper sleep phases for as long as they should.
As a refresher, when we're asleep, our bodies go through four distinct phases, starting with light sleep, then progressing into a deeper sleep, restorative, and finally REM (rapid eye movement). Each cycle lasts for about 90 minutes.
Again, unless we go to a lab for an official study, we don't have a scientific way of determining whether it's all in our heads or if we have genuine challenges cycling through the phases.
To sum up, you may experience one or more of the following:
Waking up to the slightest noise or disturbance


---

Waking up from subtle temperature variations, either hot or cold


---

Not entering the deep phases of sleeping


---

A condition or ailment that wakes them up often
Light Sleeper vs. Deep Sleeper
While a deep sleeper can snore through a zombie apocalypse, light sleepers will wake up to the sound of a pin dropping on the carpet.
According to Science Daily, when we're asleep, our brain produces waves, called spindles, that block sensory information (like sound) from getting to the thalamus. The thalamus is the part of our brain that sends sensory information, like pain and noise, to our body. People with fewer spindles will sleep less deeply than those with a higher frequency of them.
Another interesting tidbit that was revealed in this study is that most of the time, the subjects weren't even aware that they were roused awake during the night. This evidence suggests that more of us are light sleepers than we realize.
The problem with this is that sleeping is an essential function for health, tissue repair, and mental stability. Being a light sleeper could be a bigger issue than people realize, which is why we decided to find the best mattress to help people rest more fully.
What Causes Light Sleeping?
One of the biggest culprits that cause it is a disease or health condition that prevents someone from feeling comfortable enough to fully relax. Back pain, injuries, and acid reflux are just a few of the health challenges that may cause someone to wake up frequently.
If you have a partner who tosses and turns, snores, or has sleep apnea, you'll also be more likely to wake up easily.
Other causes include being in a room that is too hot or cold, as well as being in an environment that has either constant noise or sudden noises that jar you awake.
Is There Any Way to Become a Deep Sleeper?
Thankfully, yes! Here are some tips:
Use a white noise machine: It'll block out noise as well as provide a steady and comforting hum.


---

Supplement with melatonin: Melatonin is a hormone produced by your body when it's time for bed. Taking it can help induce shuteye and encourage a deeper experience.


---

Ditch the electronics: The blue glow from your television can keep you up. Also, if you leave it on while you're in bed, it's going to affect the quality of your shuteye, though you may not realize it.


---

Avoid caffeine after noon: It stays in your system for several hours, so consuming it in the late afternoon is going to inhibit your ability to fall asleep.


---

Develop a nightly routine: Maybe it's making sleep tea or laying out your clothes for the next day the night before. This trains your body that when you do these activities, it's time for bed.
Frequently Asked Questions
What should I do if my partner is a light sleeper?
If you're continuously waking up your partner, there are a couple of things you can do to make them less grumpy.
The first is to be more mindful of how you get into bed and how dramatically you toss and turn during the night. If you know your partner is the type of person to wake up at the slightest disturbance, you'll have to do your part to be less disruptive.
The other, easier, thing to do is invest in a mattress that has superior motion isolation. These are the types of mattresses where you can drop a bowling ball on one side of the bed, and the glass of red wine you put on the other side won't tip over.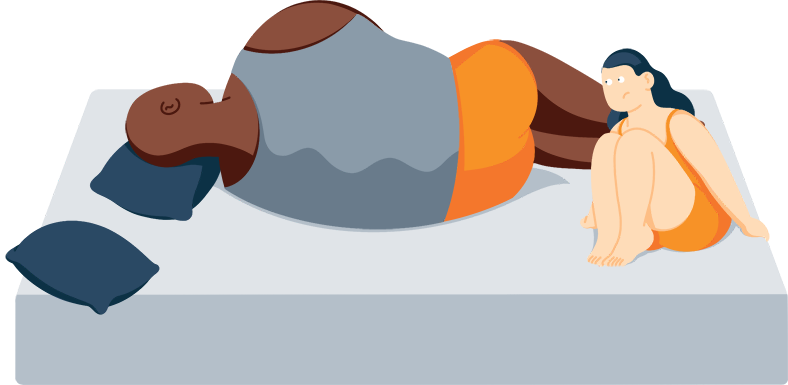 This clumsy illustration is supposed to demonstrate that even if you're jumping on the bed, your partner won't feel it and will be able to stay asleep.
The best mattresses for motion isolation are memory foam. If you're not familiar with this material, it's a type of foam that retains the shape of your body when you lie on it. This helps decrease the experience of motion transfer because the viscous surface muffles movement across the surface of the bed.
View Our Full Guide: Best Mattresses for Couples
How do I learn to become a light sleeper?
You can train your body to sleep less deeply. The first step is being aware of it and then asking yourself if there's anything that's causing you to maintain a level of alertness. New parents, for example, often wake up to care for their infant and know they must stay alert. But, once that phase in your life is over, it's necessary to tell yourself that it's okay to sleep soundly.
Another tip is to get a sleep app that tracks your sleeping cycles. After a number of nights, the app suggests the ideal times for you to go to sleep and wake up. It makes sense that going to bed at the right time can help train your body for better sleep.
Can light sleep cause snoring?
It's actually the other way around! Snoring can wake you up, even if you don't realize it. Snoring typically occurs in the second stage of sleep, before you end up in the restorative or REM stages. Therefore, if you habitually snore, you fall more into the light sleeper category.
Conclusion
Whether it's a pain that's preventing you from getting proper rest or your partner re-enacts last weekend's triathlon in his sleep, having the right mattress can help you get significantly deeper sleep. Remember, memory foam is best for motion isolation, but if you tend to sleep hot, seek out a brand that offers either cooling gel or copper in the top surface layers.
Our team covers as many areas of expertise as we do time zones, but none of us started here as a so-called expert on sleep. What we do share is a willingness to ask questions (lots of them), seek experts, and dig deep into conventional wisdom to see if maybe there might be a better path towards healthy living. We apply what we learn not only to our company culture, but also how we deliver information to our over 12.7M readers.
Sleep research is changing all the time, and we are 100% dedicated to keeping up with breakthroughs and innovations. You live better if you sleep better. Whatever has brought you here, we wish you luck on your journey towards better rest.