Pillows come in a variety of feels, which is why most of us have a favorite one we sleep on. However, what you consider a comfortable pillow might not be ideal for someone else. The firmness of a pillow reflects how soft or hard it feels, and some pillows may complement certain sleep styles more than others.

While there are many firmness options available to shoppers, firm pillows are often considered the best for spine alignment if you're a back or side sleeper. We'll review some of the best firm pillows and help you know what to look for in the buyer's guide further below.
6 Best Firm Pillows Reviewed
Sleep Advisor's Testing Methodology
At Sleep Advisor, our product reviews are based on findings from in-person tests that allow us to have a genuine understanding of how the mattress feels and performs.
For this roundup, we prioritized features that are especially important for firm pillows. We paid special attention to components such as pillow thickness, support elements, material, and cooling features.
Best Firm Pillows
Editor's Choice
Brooklyn Bedding Talalay Latex Pillow
A sustainably sourced latex pillow with cooling properties.
Sleep Advisor Score
4.70 / 5
The Brooklyn Bedding pillow easily takes first place with its eco-friendly construction and firm profile. It's made from sustainably sourced Talalay latex that's also highly responsive and breathable. This pillow adapts to the shape of your head and neck while promoting airflow for a cooler sleeping experience. It also has an organic cotton cover you can remove and machine-wash.
You can choose between a low and high loft, depending on your preferred sleeping position. For example, side and back sleepers can go with a high loft, whereas stomach sleepers should consider a low loft for better spine alignment.
Why we like it:
Talalay latex is suitable for allergy-prone people, including the ones who are allergic to latex. Naturally extracted latex is safe for those who struggle with asthma and other respiratory conditions.
Brooklyn Bedding offers a 3-year warranty and a 30-day trial, giving customers enough time to test the pillow.
Best Firm Memory Foam Pillow
Saatva Memory Foam Pillow
A luxury memory foam pillow offering cooling features.
This Saatva is made entirely of memory foam, so it's an excellent choice for those who want an all-foam feel. The pillow has a shredded memory foam core that supports the neck and head but offers a bit of contouring to prevent pressure build-up.
Although memory foam is known to overheat, this Saatva has advanced graphite technology that helps draw the heat away from you. This way, the pillow's surface remains cool, helping hot sleepers achieve better sleep. In addition, the memory foams are CertiPUR-US® certified to be free of toxins, chemicals, and other harmful substances.
What should you know?
Saatva comes with an organic cotton cover that helps it remain cool throughout the night. The fabric is breathable and machine-washable for easy care.
The memory foam in this pillow is infused with graphite to help achieve a better cooling effect. The technology draws the heat away so that the surface doesn't overheat.
Best Firm Cooling Pillow
Lagoon Otter Pillow
A gel-infused memory foam pillow to prevent heat retention.
Sleep Advisor Score
4.80 / 5
The Lagoon Otter is stuffed with gel-infused memory foam that's also CertiPUR-US® certified to ensure you sleep cool throughout the night. This foam also provides a supportive and firm surface to sleep on.
The fill is also removable, so your pillow can be as firm or soft as you'd like with easy adjustment, meaning it should work for nearly every sleeper. The pillow is super easy to care for, since every part is machine washable.
What stands out?
Lagoon offers a 100-night trial and 3-year warranty for their products, giving you plenty of time to try out and a promise of durability.
Best Firm Down Pillow
Brooklinen Down Pillow
The Brooklinen Down pillow is available in three firmness levels, making it versatile for a variety of sleepers.
Down pillows are typically not the first choice for sleepers looking for a firm pillow. However, this Brooklinen down pillow is available in three firmness levels: Plush, Mid-Plush, and Firm. The Firm model has a dual-core structure with a high ratio of feathers in the inner layer. As such, the pillow maintains should shape throughout the night.
This Brooklinen pillow is recommended for side sleepers as it helps fill the gap between the neck and the bed. The pillow also has a 100 percent cotton sateen shell for a more luxurious look and feel. The edges are double-stitched and durable, which is easy to confirm by tugging the sides.
Why do we like it?
This down pillow is treated with Ultra-Fresh antimicrobial treatment to reduce dust mites and bacteria, promoting a safer sleep environment for people prone to allergies.
Brooklinen offers a 365-night trial for customers to test how they like this firm pillow before committing to a purchase.
Best Firm Pillow for Combination Sleepers
Layla Kapok Pillow
The shredded inner materials of the pillow effectively reduce heat during the night.
Sleep Advisor Score
4.50 / 5
Read Full Review
Combination sleepers are sometimes the hardest to accommodate because they sleep in different positions, which means they need a versatile pillow. The Layla Kapok is a luxurious pillow made from reactive memory foam and Kapok fibers that adapt to your neck and head in different positions. Kapok fibers are plush to prevent pressure build-up, while the open-cell memory foam supports the neck and head, giving that firm feel.
The pillow has a soft cover that's gentle on your skin as it's made from a polyester/viscose blend. The cover also has hexagon stitching, which is said to help with breathability and provide a more high-end appearance.
What stands out about it?
Kapok fibers and shredded memory foam support airflow, helping the pillow remain cool throughout the night.
This Layla pillow comes overstuffed, giving you an option to remove some of the fibers to customize the loft (pillow height), which is ideal if you're a combination sleeper.
Best Firm Pillow for Side Sleepers
Eli & Elm Side-Sleeper Pillow
A contoured designed pillow for side and back sleepers.
Sleep Advisor Score
4.30 / 5
Side sleepers who prefer a firm pillow may struggle to find a comfortable position that doesn't cause pressure build-up on the shoulders. The Eli & Elm pillow can help with this as it's designed specifically with side sleepers in mind. The pillow conforms to your neck and head, allowing proper spine alignment to eliminate neck pain. In addition, the U-shape should leave space for your shoulder.
The Eli & Elm side sleeping pillow is adjustable; you can easily customize the support level and height by adding or removing the latex and polyester filling. The pillow has a zipper and a wide opening for easy access.
Why we like it
The cover is made from smooth cotton, polyester, and spandex, while the filling features 75 percent latex and 25 percent polyester fiber. The company also sells custom pillowcases since this pillow doesn't fit in any standard ones.
The Eli & Elm pillow is OEKO-TEX certified.
Firm Pillow Buyers Guide
Buying a firm pillow shouldn't be complicated, but the many options available may seem overwhelming. In many cases, you have to think about more than just firmness, so it's not enough to go out and buy the first firm pillow you come across. In the guide below, we'll break down firmness and some other factors you should consider.
What to Have in Mind When Buying a Firm Pillow
Apart from firmness, you should consider other factors such as your preferred sleeping position, materials, shape, and more. These things are crucial for your comfort, so let's dive in.
Sleeping Position
How you sleep determines what kind of pillow you'll find the most comfortable. People sleep in different positions, so dedicated side sleepers will need a different pillow than what a stomach sleeper would use. Getting a pillow that doesn't fit your sleeping position may result in poor sleep quality, chronic neck pain, and overall discomfort.
Side Sleepers
A firm pillow is a good choice for side sleepers, especially those struggling with neck pain. The pillow of your choice should fill the gap between the neck and your mattress, taking the pressure off your neck and shoulders. In addition, a firm pillow supports the neck so that the spine remains in alignment.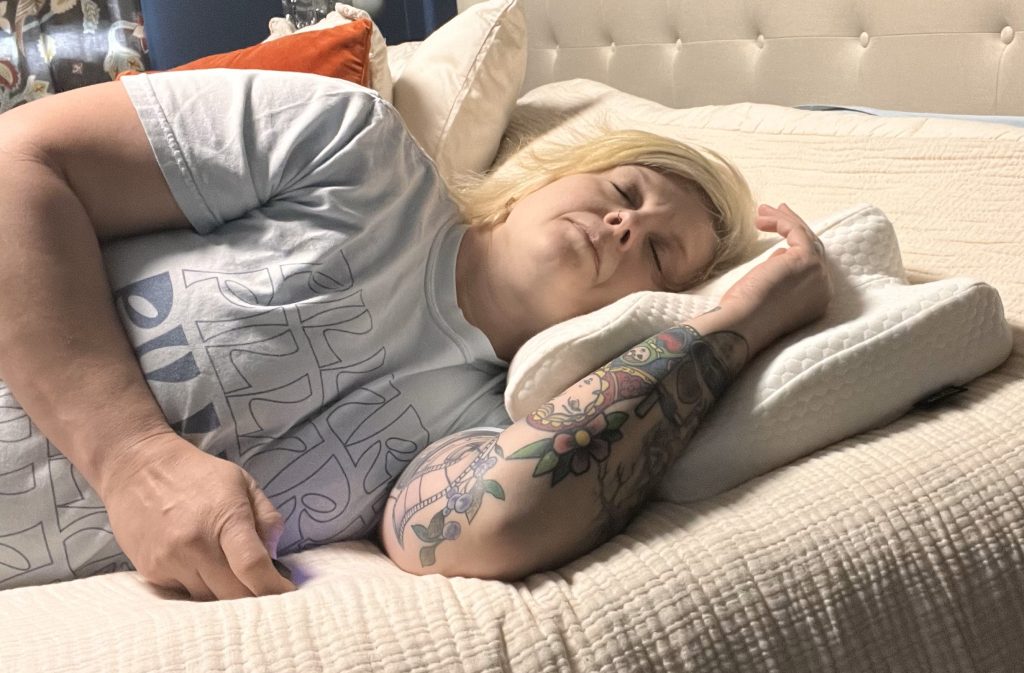 Back Sleepers
Back sleepers may prefer medium to firm pillows that offer a bit more contouring for the head. Again, you want a pillow that fills the gap between your neck and the bed without collapsing. A firm surface should provide sufficient support, keeping your neck straight and aligned to prevent discomfort in the morning.
Stomach Sleepers
Stomach sleepers usually like softer pillows. This is because most of their face is pressed against the pillow and they don't need to keep the head as supported, so a softer surface should feel more comfortable in this position. However, a medium-firm pillow might be a better choice to support the head and prevent it from falling deep into the pillow, which can cause respiratory issues.
Combination Sleepers
Combination sleepers need a versatile pillow because their preferred sleeping position changes all the time. If you sleep in every position periodically, you may want a firm pillow with an adjustable fill. This way, you can add or remove some of the fill to customize the firmness and height to fit your favorite sleeping position at the time.
Firmness
Firmness varies among pillows, with some being more firm and others more plush. For this reason, you should always double-check the firmness description listed on the manufacturer's website. Firm pillows offer excellent support for the neck and head, but they may be too rigid for some people, in which case a medium-firm or soft option may be more fitting. Some pillows have an adjustable firmness, and these are typically best for combination sleepers who rotate between positions or someone who wants a more customized feel. With adjustable pillows, you can remove or add fill to create your ideal firmness and loft.
Size
Pillows are available in different sizes, giving customers the opportunity to choose based on their needs and preferences. The sizes typically go from standard to King, with a few options in between. You don't necessarily need to coordinate your pillow size with the size of your mattress, but for some, this may help them in their decision-making process since you know it will fit. Choosing one will depend on the size of your bed and whether or not you like sharing your pillow. One thing to keep in mind is that the size of your pillow may affect the price since the biggest sizes are often the most expensive.
Loft
Loft refers to the pillow's thickness, which can be low (less than three inches), medium (three to five inches), or high (more than five inches). The loft often compresses when you lie down, although the compression is minimal in firm pillows. The pillow's height is an important factor because it can directly impact neck alignment, which is why you need to consider this for your sleep position. For example, back and side sleepers should go with a medium or high loft, while stomach sleepers need a low loft.
Shape
The pillow shape you choose depends on your preference and what you find most comfortable. Some have a conventional shape, while others feature a unique U-shape design. The U-shape pillows are typically made for side sleepers to make room for their shoulders. However, side sleepers can also use regular-shaped pillows as long as the loft and firmness fit them. Another thing to keep in mind when deciding on the shape is the pillowcase. The more unconventional the shape, the more difficult it'll be to find a pillowcase that fits.
Material
The material the pillow is made of will have a significant role in how comfortable it feels. You should first consider the cover because it's the closest to your skin. Many pillows have cotton, sateen, or silk, all of which are good options. However, make sure to check if the cover is washable and how you're supposed to clean it. The material that the pillow is filled with is equally important. This can be latex, memory foam, microfiber, feathers, down, down alternative, and more.
Price
Most of us have a limited budget to work with, so deciding on how much you're willing to spend beforehand is helpful. However, you should remember that pillows are available at a range of prices, regardless of their firmness. So, firm pillows may not be more affordable or expensive than soft ones. The price typically depends on the brand name, materials, cooling properties, size, and adjustability.
Types of Firm Pillows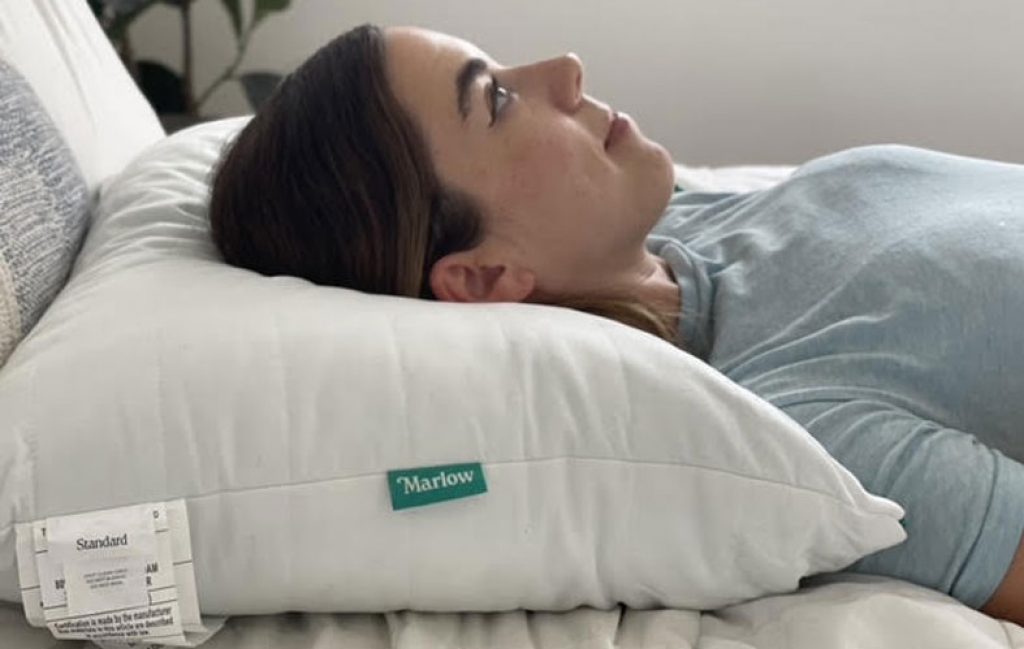 The market offers multiple pillow types to choose from based on your preference. Some of the most popular options include memory foam and latex, but down, down alternative, buckwheat, and others are also good for multiple reasons. In addition, many of these are available in different firmness levels.
Memory Foam
Memory foam is supportive and contouring, so it's a good option for many pillows. Although available in a range of firmness levels, medium-firm is typically the firmest you'll find, whether it's shredded foam or a solid foam core. Pillows with a solid foam core generally are firmer than those with shredded foam, offering better support for side and back sleepers.
Latex
Latex feels much like foam, and sleepers can choose between natural and synthetic latex. Although most companies use natural latex in pillows and mattresses, synthetic is also good if you're allergic or want something at a lower cost. Firm latex pillows usually have a solid core, offering gentle contouring for the head and neck. Latex pillows are known for their shape retention and lasting durability.
Down
Down comes from the underside of duck or goose feathers. This is a fluffy and soft material with excellent insulating properties, so it's typically found in comforters more than pillows. Nonetheless, down pillows are highly popular for their durability and comfort. However, those seeking a firm pillow may not like down because it's lightweight and soft, so it flattens easily.
Down Alternative
Down feels cozy and soft, but many people still avoid it because it's an animal product. If you want to avoid down because it triggers your allergies or for ethical reasons, you may want to consider down alternative. Down alternative has polyester fibers that feel just as plush and lightweight as down. However, the highest firmness level you'll find is medium-firm.
Buckwheat
Those seeking an extra firm pillow may want to consider buckwheat since they're heavy and dense. These are made from buckwheat kernels' hulls, offering a high level of support and cooling. Buckwheat pillows are durable and breathable, so they're good for those who sleep hot. Some even have an adjustable design, allowing you to remove or add fill to customize the loft and firmness.
Wool
Wool comes from sheep, so these pillows aren't vegan. However, it's commonly used in bedding because it's soft, warm, and breathable. Plus, it's also a natural fire barrier. Although it has many benefits, wool isn't common in pillows, especially firm ones. You may come across soft to medium-firm models, but the more pressing issue is the noticeable odor.
Water
Water pillows can be filled entirely with water or feature a core of memory foam, polyester, or down. These have a reservoir where you can add or remove water to customize the loft. Water pillows are versatile, so you can easily find them in different firmness levels ranging from soft to medium-firm.
Who Should Use a Firm Pillow?
Side and back sleepers should use a firm pillow, whereas stomach sleepers may prefer softer models. Firm pillows provide superior support for the head and neck, keeping everything in alignment with the spine. Heavier individuals weighing over 230 pounds may also like a firm pillow that doesn't compress under their weight.
Frequently Asked Questions
Can a pillow be too firm?
A pillow can be too firm if it doesn't complement your sleep style. For this reason, it's important to identify your preferred sleeping position and what you need in a pillow because this can help you figure out the right firmness. A pillow that's too firm can be uncomfortable to sleep on, causing neck and spine misalignment as well as pressure points on the head and face.
How firm should a pillow be?
There's no such thing as right firmness that fits every sleeper. We all have different needs, so it's normal that our pillows will differ as well. When choosing the firmness of your pillow, you should consider your sleeping position, body weight, and what feels good.
How much do firm pillows cost?
A quality firm pillow can cost anywhere between 50 to 120 dollars. Firmness doesn't typically impact the price, but you may find that some brands charge more for a firm model because of other design features like the materials, size, or cooling properties.
Are firm pillows better than soft pillows?
Firm pillows aren't necessarily better than soft pillows. The firmness you'll choose depends on the position you sleep in and what you find comfortable. Although firm pillows are better for some people, like side or back sleepers and heavier people, they aren't better for stomach sleepers or lightweight people. So, ultimately, firmness is a matter of preference.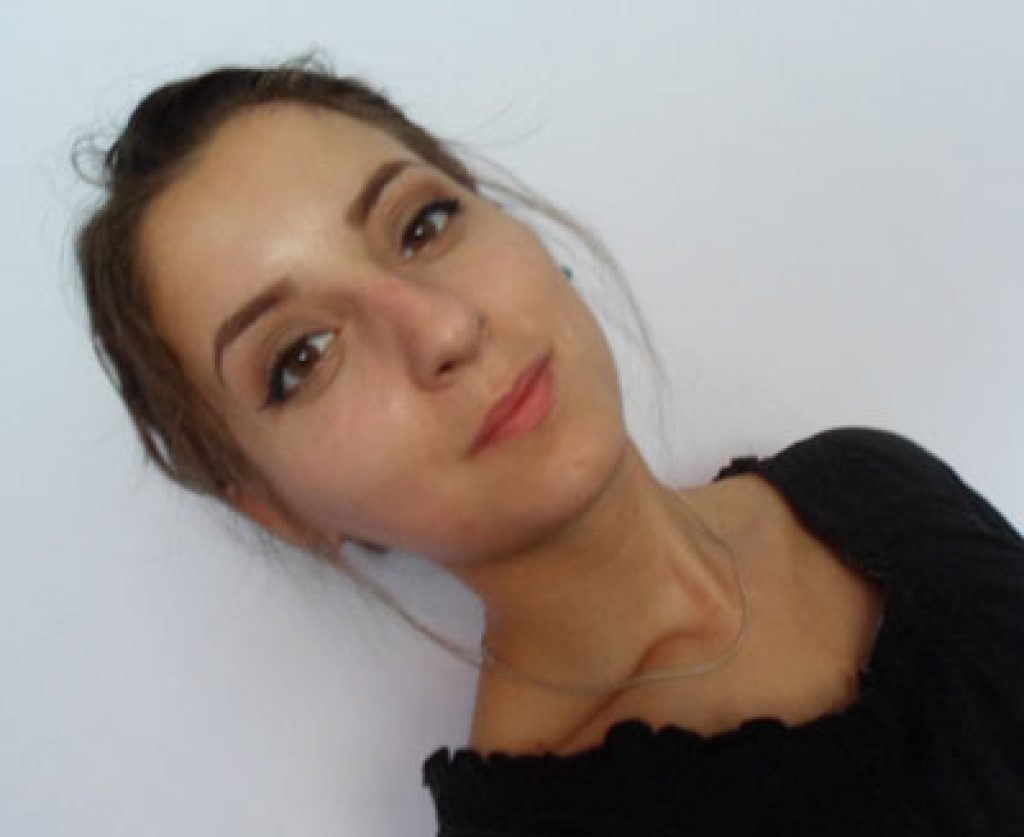 Olivera Jancikin
Content Writer
About Author
Olivera is a content writer for Sleep Advisor and is enthusiastic about sleep. She firmly believes in the benefits of daytime naps on top of getting a full 8-hour sleep at night.