Can you make your mattress firmer without replacing it entirely? This article answers the question of how to make your mattress firmer by offering solutions that can be easily done in the comfort of your own home.
Not having their mattress firm enough can cause all sorts of problems for sleepers, such as not getting the right amount of support and pressure relief needed for a comfortable night's rest.
Hopefully, this guide can help sleepers find a solution that helps them make their beds a bit firmer.
Why Firmness Can Be Important
Firmness is important not only because it determines things such as how easily the sleeper can move around, but also for things like spine alignment and pressure relief for joints, hips, and backs. Too firm and a mattress might feel uncomfortable, but too soft and there might be too much sinkage or not enough reinforcement.
Want to learn more? Read our complete mattress firmness guide.
How Thickness Comes Into Play
Thickness can also be important for heavier folks because there is less risk of bottoming out. Other factors are more preference based, including how much material you want to be sleeping on and possibly sinking into. However, thickness does not translate directly to sinkage — it can also mean there are more transition layers and a solid support layer making up the foundation.
Tips For Fixing a Mattress that is Too Soft
Sleepers may sometimes feel powerless in improving their bedding, but it does not have to be that way. There are many things sleepers can do to improve the condition of their sleeping surface by making it firmer than they may have thought possible.
Many brands offer a lengthy trial period, which allows customers to test drive their purchase for a few months to see if it is to their liking. If not, they can easily return it back to the manufacturer for a full refund or an exchange for a firmer choice.
Flip the Bed
Sometimes mattresses can be flipped to be made firmer, as the other side can sometimes be softer or harder, depending on the brand and configuration. Usually, this comes in the form of a flippable bed, meaning one that has two sides to it, meaning that it can be used both ways.
Most of the time, the unused face of the mattress will usually be a bit sturdier than average, meaning that you do not necessarily need one built to be two-sided, rather it just needs to be double-sided. Sleepers should check to make sure ahead of time if that is the case with their product.
Use a Mattress Topper
Normally, these are designed to make a sleeping surface softer, but not all brands fit this purpose. Some are more geared towards increasing resistance and support. This normally means that your sleeping surface can be made firmer, solely by adding the appropriate topper to it.
These toppers can be made from several different materials, such as memory foam or latex. Some might perform better than others, which is something to watch out for. You can check product descriptions on either the manufacturer's website or at a retailer for more information.
View Our Full Guide: Best Mattress Topper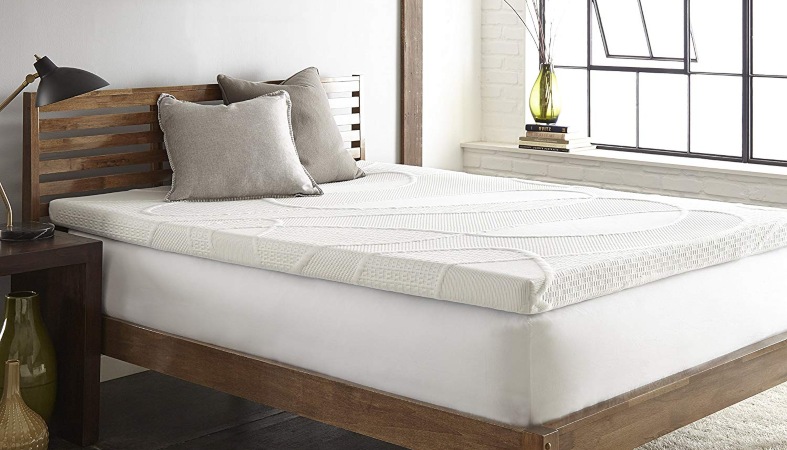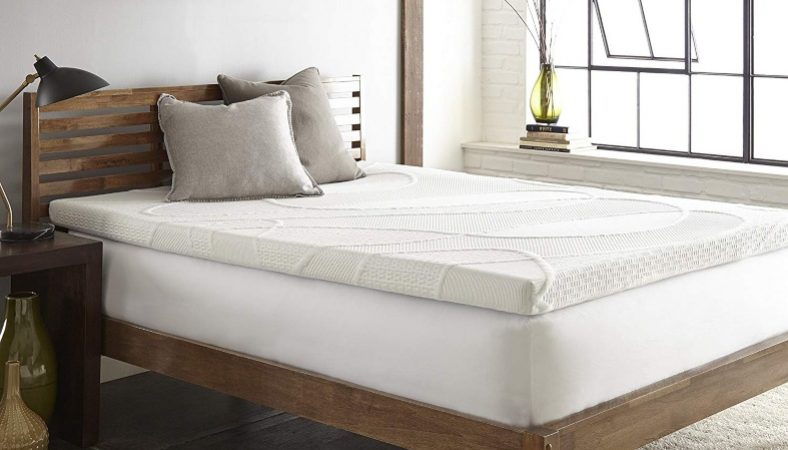 Check and Replace Worn Out Layers
Sometimes, the culprit might simply be a matter of damaged layers. This might be a bit more complicated in nature, as not all manufacturers make their product with easily swapped out layers or removable covers, but many do offer these types of services.
Check to see if your layers are worn out and if they can be replaced. If so, this just might give you the extra firmness needed to make your sleeping surface more suitable for resting on.
Check and Replace Box Spring or Platform
Box springs and platforms may play a role in reinforcing layers to keep them more resistant to pressure. Over time, these can wear out, as most things do, meaning that sleepers may have to replace them eventually. Luckily, there are affordable options and can be done without spending too much money.
Maybe the solution to your mattress is simply changing the base.
Add/Replace Plywood Support
One trick is to add plywood directly under the mattress, either between the mattress and box spring or bed frame if you don't have a box spring. Doing this essentially adds a supportive base layer to your mattress that can add some firmness.
Some brands may not recommend that customers use plywood underneath their bed because the bedding materials may need to breathe from the bottom to not grow mold. This is especially true with all foam beds.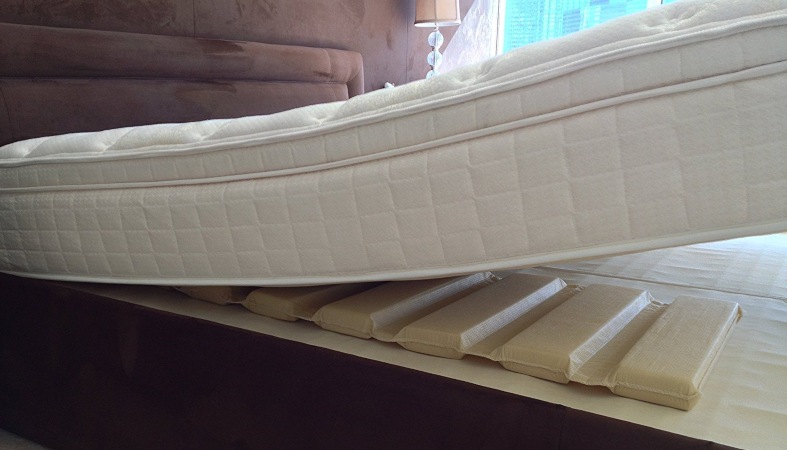 Move Mattress to the Floor
Sleepers may be familiar with this method already, as sometimes having a bed frame might not be ideal for your situation. Sleepers can place their bed on the floor of their space, which should add more support to the base of the bed without any additional cost.
This option should be the cheapest alternative and some people might prefer this as a bed frame can take up room in the bedroom.
Read More: Is Sleeping on A Mattress on The Floor Bad?
Watch That Thermostat
Another thing that is important to do is to keep an eye on the thermostat. Temperatures may seem like they do not have a significant effect on a mattress, but they absolutely can affect how firm it is. Keeping a room cool can especially help folks sleeping on memory foam mattresses.
Get More Info: Best Temperature for Sleep
Use Your Trial Period (If Still Valid)
If you are running out of options or if other methods do not quite work, there is also the trial period of your product, if it is still in effect. Usually, beds will come with a specific time frame, like 100 nights, where you can return it for a full refund if it is not to your liking. Take advantage of this if possible.
How to Know You Need a New Bed
This is going to vary from individual to individual, as there is no set in stone rule for when a sleeper ought to replace their bed though most manufacturers recommend 7 years. It might help to pay attention to how the material is holding up and whether it is falling apart or sagging in areas.
Find Out More: Side Effects of Sleeping On a Bad Mattress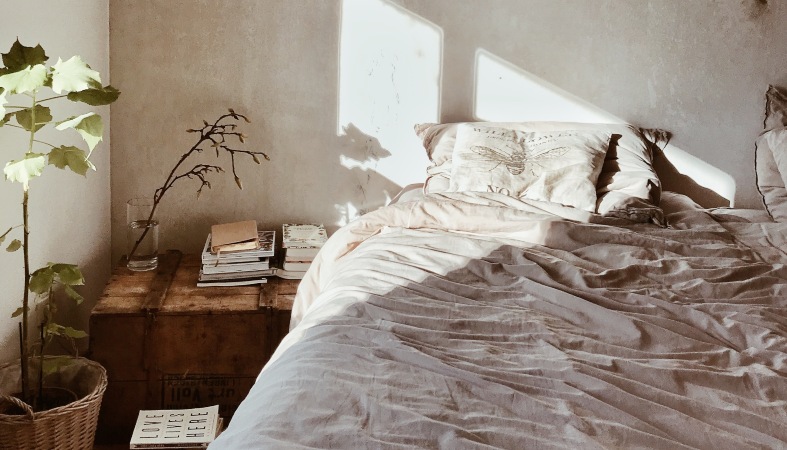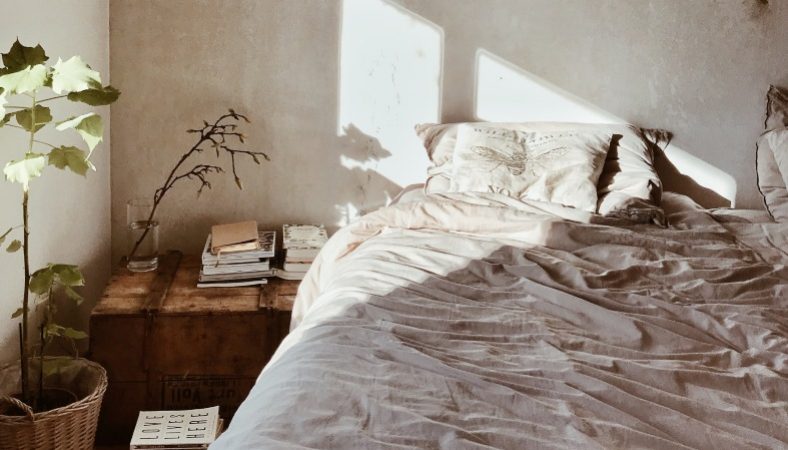 Frequently Asked Questions
Are there special considerations for memory foam?
Memory foam tends to have special considerations in that it shapes to temperature, meaning that consumers might want to make sure that their bedding is not sagging due to this. If a room is too hot or too cold, it could have an adverse effect on the material, cooler temperatures generally produce a firmer surface.
How can I fix a pillow top bed?
A pillow top is subject is also subject to sagging, which can luckily be improved. You can add more blankets beneath a bed sheet to help adjust this, as well as removing the top, if detachable, and put them in a dryer to fluff them out.
Need more details? Learn how to fix a sagging mattress here.
Conclusion
---
Making a mattress firmer can be difficult for many people, but there are tips and tricks on how to handle a bed that starts to slump a little. Each method may yield varying results, depending on the type of setup a person has, which means that it might help to know what your mattress needs ahead of time.
Another important thing to keep in mind is warranties, as some product might still be in within this time frame, meaning that you could simply get a replacement to fix these problems. If not, then following the methods provided may go a long way in making sleep more comfortable.
Our team covers as many areas of expertise as we do time zones, but none of us started here as a so-called expert on sleep. What we do share is a willingness to ask questions (lots of them), seek experts, and dig deep into conventional wisdom to see if maybe there might be a better path towards healthy living. We apply what we learn not only to our company culture, but also how we deliver information to our over 12.7M readers.
Sleep research is changing all the time, and we are 100% dedicated to keeping up with breakthroughs and innovations. You live better if you sleep better. Whatever has brought you here, we wish you luck on your journey towards better rest.