Disclaimer - Nothing on this website is intended to be a substitute for professional medical advice, diagnosis, or treatment...
Read More Here
.
As you settle onto your cozy, comfortable bed tonight and prepare for a good night's rest, think about how awful sleeping while riding on a horse would be. Years ago, though, some ancient tribes used to do just that.
Thanks to some technological advancements, we've vastly improved the way that we sleep, and the more that we research and discover, the better our sleep can get!
Nowadays, people sleep differently across the globe. In eastern parts of the world, some people place the mattress directly on the floor, while others sleep on a mat, bedroll, or nothing at all.
In this article, we'll weigh the benefits and disadvantages of having your mattress on the floor.
PROS
Related: Explore our top picks for the best mattresses for scoliosis.

Related: Explore our top picks for the best cooling mattresses for hot sleepers.
CONS
The most apparent disadvantage of sleeping on the ground would be exposure to dust that accumulates on the ground. Regular cleaning is a must to prevent respiratory problems and allergic reactions. Inhaling dust and other dirt particles can leave a permanent mark on your health. This can be avoided by raising your mattress a little above the floor surface, although we still suggest that you clean your floor as frequently as you can.

When there is no adequate airflow, given that the mattress is placed directly on the floor, excessive heat and sweat can cause the mattress to trap all that heat and liquid and form a layer of mold inside of it. Mold can cause serious allergic reactions—not to mention the bad odor that will render your mattress useless and ready to be thrown away.

Another gross issue can be bed bugs settling in and making your mattress their new home. This problem can even get worse since they can multiply and spread inside the mattress very fast. Raising the bed slightly above the floor can prevent this as long as none of the bedding hangs or touches the floor. You could also use mattress encasements or a mattress protector to protect your bed if you are not home for an extended period of time.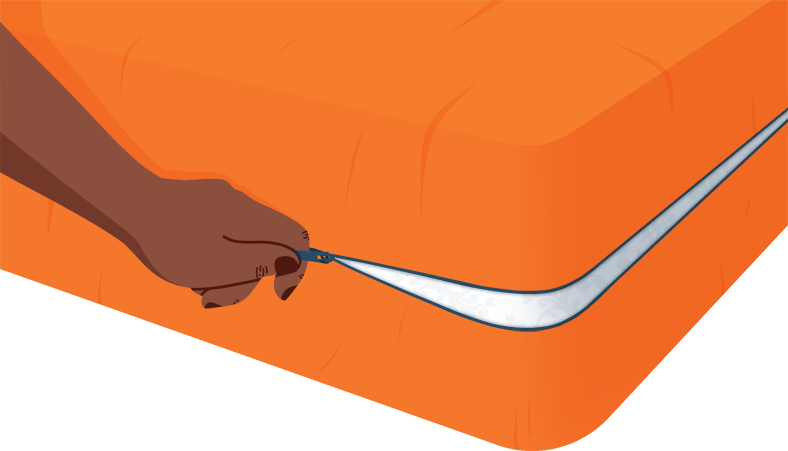 While it can be pleasant to sleep on the floor in warmer climates, doing the same when it is cold or near freezing outside can pose a serious health risk. Breathing in extremely cold air may cause harm to your lungs, and it could constrict your blood flow, possibly causing hypothermia. However, a good heating system can combat these things.

People who only sleep on their side will not be able to adapt to this way of sleeping. The increased pressure from the floor will cause severe discomfort in the hips and shoulders and make a good night's rest impossible. Sleeping on the mattress on the floor works best for people who sleep on their back and stomach.
Frequently Asked Questions
Does mattress type matter?

When it comes to choosing a foundation for your bed—or forgoing one—the materials matter. While some beds will have no trouble supporting you on a slatted base, others like memory foam and some innerspring models will require a solid foundation to last.
When you decide to put your bed on the ground, keep in mind this could mean poor air circulation through the materials, reduced cooling, and less pressure relief, so it may not be the right choice for every type of sleeper.
Will it void my mattress warranty?
In some cases, floor sleeping will void your warranty. Many companies outline what kind of base is required in order to maintain it; just be sure to read over the guidelines before tossing your bed frame to the curb.
Conclusion
To conclude our comparison we will point out that, as with all new experiences, having your bed on the ground will take some time to get used to. You may find it uncomfortable at first, but with reports of improved health and quality of sleep, this could be a positive adjustment for you. The upside is you can always go back if you change your mind, which means there is no harm in trying this "new way to sleep." We recommend you try it out and see if it will benefit you.