Transparency Disclosure – We may receive a referral fee for products purchased through the links on our site...

Read More

.
Disclaimer - Nothing on this website is intended to be a substitute for professional medical advice, diagnosis, or treatment...

Read More Here

.
Is your mattress no longer performing like it used to? Have you changed your sleeping position, and the bed doesn't feel as comfortable anymore? Perhaps you bought a new bed and it needs a little extra firmness or cushioning. If any of these apply, purchasing a mattress topper could be a cost-effective solution.
Mattress toppers go on top of your bed to adjust its feel, firmness, and overall performance. Although toppers can be expensive, they're cheaper than mattresses. On top of that, there are many affordable mattress toppers on the market.
Follow along as we share the best cheap mattress toppers and a helpful buyer's guide for purchasing one.
Our Top Picks for Affordable Mattress Toppers
Best Budget Mattress Toppers
Editor's Choice
Helix Plush Mattress Topper
The Helix Plush mattress topper adds a thin layer of plushness and quilting to the top of a mattress. It doesn't dramatically change the firmness or feel but does add a bit of luxurious plushness.
Sleep Advisor Score
4.40 / 5
Read Full Review
The Helix Plush Topper is one of the most versatile options if you want to improve your mattress' feel. This one has a luxury plush feel thanks to the Revoloft™ Cluster fiberfill and ultra-soft fibers. The combination creates softness and long-lasting shape, so you can use the topper for years to come. In addition, the fibers are resilient, meaning that this one is unlikely to rip.
The Helix topper is made from breathable, hypoallergenic materials safe for allergy-prone people and those with sensitive skin. The fabric is soft and breezy, which is excellent for hot sleepers. In addition, this topper has baffle box stitching to ensure all fibers stay evenly distributed. 

Why we like it
This USA-made topper is machine-washable, so it's easy to maintain. Helix recommends washing it in cold water using a gentle cycle and mild detergent. You can tumble-dry with little or no heat.

Helix offers a 1-year warranty and a 100-night trial with this product.
Most Comfortable Mattress Topper
Brooklinen Down Mattress Topper
Sleep Advisor Score
4.40 / 5
Finding a comfortable mattress topper is no easy task since we all have different preferences and needs. However, this Brooklinen topper fits most sleepers as it's made from down-alternative and microgel fill, delivering softness you may not get from your mattress. 
The Brooklinen Down Alternative Topper is a luxury piece. The topper has a tufted construction, ensuring all fill is evenly distributed and encased in a cotton shell. In addition, this product also has a cotton skirt that fits mattresses up to 18 inches tall. The topper has a waterproof barrier at the bottom but is noise-free. 

What stands out about it?
This Brooklinen model is machine-washable, and you can tumble-dry it using low heat.

Although it's meant to modify the feel of your bed, this topper can also act as a mattress protector as it has a waterproof barrier to keep spills from infiltrating your mattress.

Brooklinen offers a 1-year warranty and a 365-night trial with this product.
Best Affordable Cooling Mattress Topper
Mattress Topper Gel Swirl Memory Foam Topper
A budget mattress topper with cooling gel for hot sleepers.
This mattress topper by Brooklyn Bedding is great if you're after a cooling model. The topper is available in two heights: 2 and 3 inches.  The patented memory foam has cooling gel swirls to cool the surface of the bed and provide a temperature-neutral sleep environment. 
The feel is ultra-plush, so it should work well for lightweight sleepers and those sleeping on their side. The topper offers gentle contouring and cushioning, so it's ideal if your mattress is too firm. 

What should you know?
The foam in this topper is CertiPUR-US® certified, which means it's free of pollutants, chemicals, heavy metals, and other harmful substances.

This topper is shipped in a box and weighs only 2.5 pounds, so it's easy to move from the front door to the bedroom.

The biggest downside to this product is that it doesn't come with straps to hold it in place, so keep that in mind.
Best Affordable Latex Mattress Topper
PlushBeds Natural Latex Mattress Topper
Made of natural latex and extremely customizable.
Sleep Advisor Score
4.90 / 5
Latex is an excellent choice for allergy-prone people and those looking for eco-friendly materials. This natural material contains no chemicals or synthetics. In addition, it's hypoallergenic and good at keeping bacteria and mold away. Latex is also good at relieving pressure, so this topper should prevent discomfort in the shoulder and hip area. 
The construction starts with a GOTS-certified cotton cover that adds to the luxurious feel and breathability. This product comes in several sizes, but you can also choose between two heights and five firmness options, depending on your needs. As a result, the PlushBeds Natural Latex Topper should complement a wide variety of different needs. 

What makes it special?
The Talalay latex used in this mattress topper comes from sustainable sources. The material contains no harmful substances and is of the highest quality, as you can tell by its safety and eco-friendly certifications.
Best Affordable Soft Mattress Topper
TEMPUR-Cloud Mattress Topper
A topper offering excellent motion isolation for those sleeping with a partner.
Tempur-Pedic toppers feature the same proprietary material you can find in their mattresses. The TEMPUR® material is adaptive, offering much-needed support and comfort. In addition, this material should excel at delivering pressure relief. 
Although it looks sturdy and expensive, this Tempur-Cloud Topper is soft and affordable. The first time you lie on it, you should notice the plush foam and hugging sensation it provides. The Tempur-Cloud is two inches tall and resistant to allergens and dust mites. The topper also has a stretch skirt and a removable cover you can wash in the machine. Tumble-drying is allowed but only on cold. 

What's worth pointing out?
Tempur-Pedic is a well-known brand, so there's no doubt about the quality of its products. Although the Tempur-Cloud comes with a 10-year warranty, the company doesn't offer any trial for you to test out the topper.
Best Affordable Luxury Mattress Topper
Layla Mattress Topper
This copper-infused mattress topper will keep you cool at night.
Sleep Advisor Score
4.20 / 5
Read Full Review
Layla does an incredible job of delivering luxury at an affordable price. This memory foam topper looks and feels luxurious, providing cooling, support, and pressure relief. The topper has copper gel beads in the foam, absorbing heat and pulling it away from your body. This way, it should remain cool even during the hottest nights.
Apart from cooling, the copper beads can enhance that plush feel that memory foam is known for. The topper is two inches tall, but it will condense under your weight. Still, it holds well, so it's unlikely you'll be able to feel the bed underneath. 

Why we think you'll like it
Layla offers a 120-night trial for your to test the topper. If it's not for you, you can return it for a full refund before the trial ends.

All foams in this Layla mattress topper are CertiPUR-US® certified free of harmful substances.
Read our full Layla Memory Foam Topper Review.
Best Affordable Mattress Topper with Dual-Layers
ViscoSoft Serene Hybrid Mattress Topper
Affordable mattress toppers usually have a single layer of foam or another material. The ViscoSoft Serene Hybrid Topper is different because it has two layers. The topper features a plush pillow-top and gel-infused memory foam for a hugging and cooling sensation.
The ViscoSoft Serene Hybrid Topper has a 300-thread count cover you can remove for washing along with an 18-inch deep-pocket design that makes it easy to fit on almost any mattress. The anti-slip straps ensure the topper stays in place and doesn't move on the bed, which is especially convenient for restless sleepers and kids. 

Why it stands out
This foam topper helps eliminate motion transfer, so it's excellent for innerspring or latex mattresses that are bouncier. Plus, it's plush enough to reduce pressure build-up.

The ViscoSoft Serene Hybrid Topper comes with a 5-year warranty and a 90-day money-back guarantee, giving customers enough time to test if this model is right for them.
What is a Mattress Topper?
A mattress topper sits on top of your bed as an extra layer to alter how the bed feels. They offer a budget-friendly way to extend your bed's lifespan and make it more comfortable for sleeping.
Toppers are typically made from foam, although they can also be made from latex, down-alternative, and other materials. A topper can be either firm or soft and is usually between two and four inches tall, allowing sleepers to find one that suits their needs and preferences.
Mattress Topper vs. Pad
Mattress toppers and pads may seem like they're one in the same, but they are two different bed accessories. A mattress pad offers some slight cushioning and protection from spills, but it won't significantly adjust how a bed feels. On the other hand, a mattress topper is a thicker unit that will more noticeably alter your bed's feel while also providing a safeguard against spills and accidents.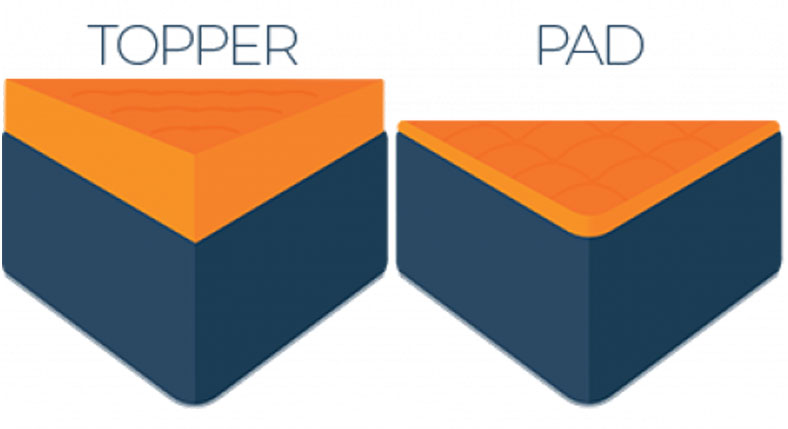 Types of Mattress Toppers
Memory Foam

– Memory foam toppers are popular for their slow-moving and hugging feel. The material offers gentle contouring and pressure relief that's especially important to side and back sleepers. However, memory foam can be warm as it's known to trap heat, which may be uncomfortable if you're a hot sleeper. Some models have graphite and gel infusions that help with cooling. Open-cell memory foam is also more breathable and cooling.

Poly Foam

– Poly foam is among the best options if you're after a cheaper mattress topper. The material offers pressure relief and cushioning but may not last you as long as memory foam. Most poly foam mattress toppers have a chemical smell that, although not harmful, can be noticeable the first few days.

Latex

– Latex is an excellent material for mattress toppers because it's eco-friendly, breathable, and responsive. Latex is bouncier than memory foam, and it's also naturally cooling, so it's good for hot sleepers. On the other hand, latex mattress toppers are among the most expensive ones.

Down and Down Alternative

– Down and down-alternative are also found in mattress toppers. These are usually more plush and may feel like a feather bed, which them a nice, luxurious feel. They're warm, cozy, and often affordable, though down alternative will be less costly than regular down.

Gel Foam

– Gel foam gives contouring and pressure relief you find in memory foam but without overheating. These toppers are made from foam featuring gel infusions that help keep the surface cool.

Pillow-top

– Pillow-top mattress toppers look and feel luxurious, providing an extra layer of softness and plushness. However, these are unlikely to alter the bed's firmness. Instead, they make it a touch more comfortable than it already is.
Mattress Topper Benefits
Mattress toppers can make a significant difference in how your bed feels. This is true even for affordable toppers since many are still high-quality even with the lower price. The biggest benefit of using a mattress topper is added comfort and support. Furthermore, toppers can help make your bed softer or firmer so it's more suitable for your sleeping habits. Most of all, buying a mattress topper is much cheaper than buying an entirely new bed. 

If your mattress is trapping heat, you can add a cooling topper for added temperature regulation. You could also use a topper to add a bit of cushioning to prevent pressure build-up if your bed is too firm, or conversely, a firm topper could deliver better support if your bed's too soft.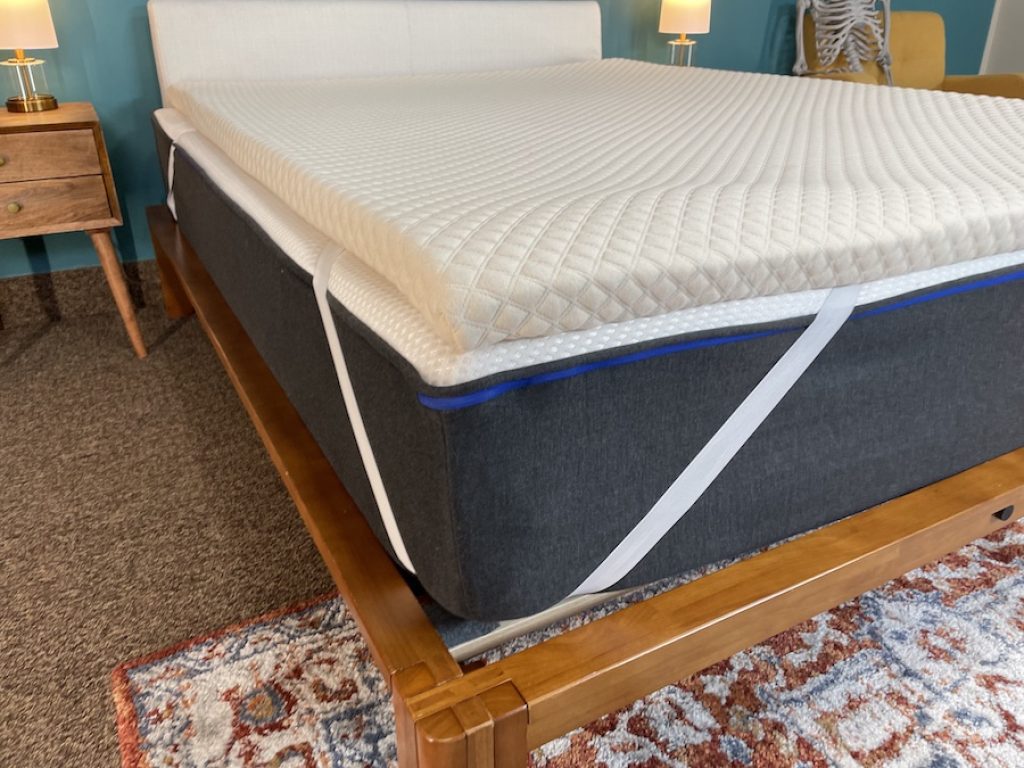 How to Choose the Best Mattress Topper
The best way to pick a topper is to consider important factors that can help determine if a certain product will work for you.
Materials
Mattress toppers can be made from materials such as memory foam, gel foam, poly foam, latex, down, and down alternative. Therefore, you should consider the pros and cons of each material. Additionally, the cover material can play a big role in the breathability and moisture-wicking properties of a mattress topper.
Bounce
Bounce is another critical factor you want to check before picking a mattress topper. This is especially important for combination sleepers and people with mobility issues since a bit of bounce can help them get in and out of bed. The level of bounce usually depends on the materials. For example, latex is bouncier than memory foam, so you can expect more buoyancy from latex toppers.
Thickness
Most mattress toppers are between two and four inches. Some brands offer multiple thickness options of the same topper. The thickness plays a significant role as it can alter the feel of the bed underneath. So, a thicker topper is more likely to prevent you from feeling the bed, whereas a thinner model may not. Think about how much you want to change the way your mattress feels and pick a thickness according to that.
Firmness
Firmness is another important thing to consider before picking a mattress topper. This is crucial if your bed is too firm or soft for you. A topper can help alter how your bed feels, so you'll want to get the right firmness level for your sleep position. In most cases, side sleepers benefit from softer toppers, whereas back and stomach sleepers might prefer firmer models.
Sleep Position
Your sleep position will help you determine which mattress topper is best for you. A quality topper that fits your sleep position will make your bed more comfortable to sleep in. As said, most side sleepers prefer softer toppers for their pressure relieving capabilities. Those who prefer to sleep on their back and stomach usually like firmer toppers.
Durability
Even affordable toppers can be long-lasting, depending on the quality of materials and manufacturing. The best way to determine if a topper is durable is to check what it's made with. As mentioned, latex and memory foam are the most durable options, whereas poly foam isn't as long-lasting.
Price
The price is often what it all comes down to when choosing an affordable mattress topper. However, simply picking the cheapest topper may not bring you as much satisfaction as you think. The key is to find an affordable product that still offers quality, comfort, and durability. So, although it helps to have a predetermined budget, make sure that the price isn't the main thing you're focusing on.
How to Know if it's a Good Quality Topper
With so many options, it may be difficult to tell if a mattress topper is good or not. This is especially the case with online shopping because you can't touch or feel the product before buying. However, many brands offer a trial period so you can test out the product before commmting to the purchase. How long a trial lasts varies depending on the brand, but you usually get at least 30 days. In some cases, certain brands may not offer a trial period for toppers, so you should keep this in mind and check before buying.

You should also confirm the warranty your topper comes with. A warranty that lasts a few years indicates that the brand is confident in its product. Certifications like CertiPUR-US® and GREENGUARD Gold also speak to the overall quality of a mattress topper regardless of its price.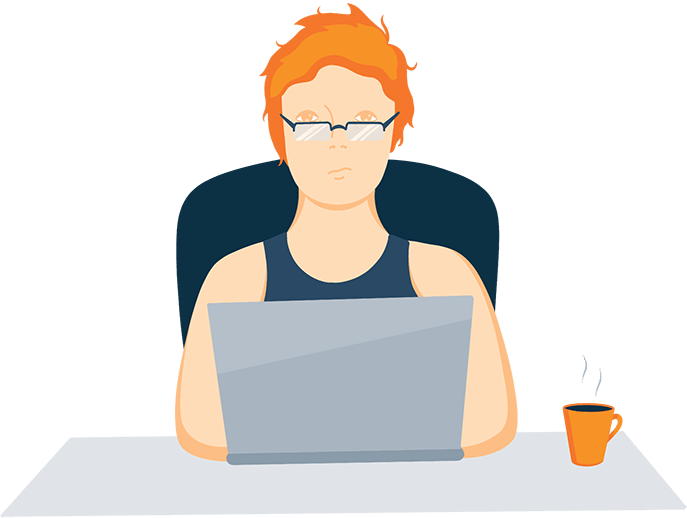 Frequently Asked Questions
What can I use instead of a mattress topper?
A mattress topper is a unique accessory meant to alter how your bed feels and performs, which you can't get from any other bedding accessory. Although mattress pads and protectors may also give a bit of cushioning, this is often not enough to change the overall feel of your mattress.
What mattress topper thickness is best for back pain?
The best mattress topper thickness for back pain is two or three inches depending on the material. If you struggle with back pain, it's best to look for a topper that allows a bit of contouring while enhancing the support so that your spine is straight in all sleep positions.
Is it good to have a mattress topper?
A mattress topper can help create a more comfortable sleep environment, especially if you don't sleep well on your bed. This can translate to better sleep and overall health. However, a mattress topper is only good for you if it fits your needs in terms of comfort, contouring, and pressure relief.
Do mattress toppers help?
Mattress toppers can help improve your bed by making it more comfortable in different ways. Depending on your needs, the right topper can help with pressure build-up, back pain, sleep posture, and cooling. If you're looking for specific qualities in a topper, make sure to do your research before buying.
What is the best material to use for a topper?
Mattress toppers can be made from different materials, and the best materials will depend on multiple factors such as comfort and durability. Each material type has pros and cons, so it's a matter of finding one that suits your needs. For example, if you want the best cushioning and pressure relief, you will likely enjoy memory foam. On the other hand, latex may be a better option if you're a hot sleeper and want something longer-lasting.