Disclaimer - Nothing on this website is intended to be a substitute for professional medical advice, diagnosis, or treatment...
Read More Here
.
Chances are you're reading this right now because you are living with lower back pain. First off, you are not alone. Lower back pain is a common issue among people, and this is for a variety of reasons, such as age, muscle strains, arthritis, or a herniated disc.
Another factor that can deeply impact lower back pain is how you sleep. Here, we'll give you some tips for sleeping with lower back pain, go over the types of lower back pain, the best sleeping positions for you, and other commonly asked questions.
1. Start with the Right Mattress
A recent study1 shows that sleeping on a medium-firm bed, as opposed to a soft or extra-firm one, is best for people with back pain. This is because a medium-firm mattress for back pain supports the proper alignment of the spine while you're sleeping.
The Two Types of Lower Back Pain
There are two main types of back pain: acute and chronic. Whichever type you're experiencing, making improvements to the way you sleep can have a big impact on your back.
Acute
Acute lower back pain is short-term, lasting somewhere between a few days and a few weeks. This type of pain is often connected to an injury or some other identifiable event. When acute back pain fades, there won't be an ongoing effect on your mobility.
Chronic
Chronic lower back pain is pain that lasts for three months or longer and in many cases, doesn't begin with a clear link to an injury. Interestingly, chronic lower back pain has increased by more than 100 percent13 in adults in the last decade and can be tied to things like stress, depression, and anxiety.
If you have a condition, like a herniated disc, that might be causing long-term lower back pain, we recommend seeing a doctor to create an action plan.
Explore our top picks for the best mattresses for herniated discs. 
What is the Connection Between Sleep and Lower Back Pain?
Sleep and lower back pain have a sort of cyclical connection. This is because lower back pain can cause disturbances in sleep – if you are physically uncomfortable, you're going to have a harder time sleeping.
The harder time you have sleeping, though, the more your back pain will be exacerbated. A 2020 study14 found that not only can back pain cause sleep disturbances, but sleep disturbances can lead to back pain. This is likely because, during deep sleep, one of the four sleep stages you experience during the night, your body performs tissue growth and repair15. In short, this is when much of your physical healing happens. Sleep deprivation impairs this healing process and can affect your mood in a way that heightens pain sensitivity.
Therefore, making changes in the way you sleep is vital to breaking this cycle.
Does Your Sleep Position Affect Lower Back Pain?
Your sleep position plays a big role in lower back pain. This is because certain positions support better alignment than others. We'll go over the different sleeping positions and their benefits (or lack thereof) below.
The Best Sleeping Positions for Lower Back Pain
Back Sleeping (Best) – According to Keck Medicine of USC, the best position for those with lower back pain is lying flat on your back2. You might have tried this before and found it uncomfortable or hard to stay in this position. If that's the case, try placing a pillow under your knees to prop them up and keep your spine flat on the mattress, rather than curved upward. You'll also want to place a good, supportive medium-loft pillow beneath your head.
Side Sleeping (Good) – If lying on your back is too difficult or uncomfortable, or if you are pregnant, sleeping on your side is a good runner-up for back pain. Try sleeping with your legs straight, rather than bent, and put a pillow between your knees. This will keep your spine in neutral alignment. Unfortunately, the most popular sleeping position–on your side with legs bent upward– is less ideal for back pain, because it promotes an uneven distribution of weight that can create more back pain2.
Explore our picks for the best mattresses for side sleepers. 
Stomach Sleeping (Worst) – If you have back pain, sleeping on your stomach is probably making it worse. This position puts the most pressure on your lower back because it flattens the natural curve of your spine. Plus, it causes you to have to turn your neck to the side, which can cause neck and upper back pain as well2.
Are you a stomach sleeper who wants to improve your sleep? View our top picks for the best mattresses for stomach sleepers.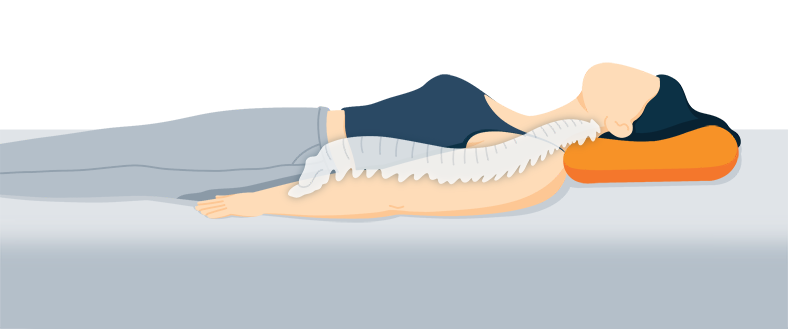 Can a Mattress Cause Lower Back Pain?
If you have slept on a good mattress and then on a bad one, perhaps while traveling or staying at someone else's house, you know first-hand that mattresses can cause lower back pain.
Research16 backs this up. In a study, participants' beds were replaced by medium-firm mattresses, specifically layered with foam and latex based on the participants' sleeping positions. Over 12 weeks, participants rated their sleep quality, comfort, back pain, and stiffness. Progressively over the weeks, participants reported not only less and less back pain and stiffness but better quality of sleep and less discomfort during the day as well.
This shows us that the mattress we choose is vital to minimizing and even healing existing back pain.
When Should You See a Doctor for Lower Back Pain?
Back pain is common and often goes away on its own or by making lifestyle and sleeping changes. According to the American Academy of Family Physicians17, though, you should talk to your doctor if:
The pain began with an injury
The pain is debilitating
The pain goes down your leg below your knee
Your leg, foot, groin, or rectum feel numb
You have fever, chills, nausea, vomiting, stomach pain, or weakness
You have trouble going to the bathroom
Your pain gets worse or doesn't improve after 2-3 weeks
How should I sleep to relieve lower back pain?
The best position for lower back pain is on your back with one pillow behind your head and one pillow tucked behind your knees. If you can't sleep well on your back, you can try sleeping on your side with your legs long and straight, with a pillow tucked between your knees. These positions should keep your spine in its best alignment to relieve lower back pain.
Is it better to sit or lie down with lower back pain?
Sitting in a chair for long periods is a major cause of lower back pain because it creates a lot of compression in the lower back. If you have lower back pain, you'll want to avoid sitting if you can. Try lying flat on the floor with a pillow underneath your knees or with your legs long and propped up, flat against the wall.
What's the best sleep position for lower back pain during pregnancy?
Lower back pain during pregnancy is extremely common, and unfortunately, it can make sleeping comfortably difficult. Try to avoid sleeping on your back when pregnant, as this can put pressure on your uterus and cut off blood flow to your baby. Instead, sleep on your side. You can place pillows underneath your stomach and between your legs if this feels comfortable and supportive. You can also try sleeping with a heating pad on your back but avoid putting extreme temperatures on your stomach.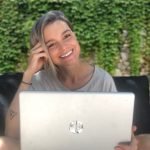 Natalie is a content writer for Sleep Advisor with a deep passion for all things health and a fascination with the mysterious activity that is sleep. Outside of writing about sleep, she is a bestselling author, improviser, and creative writing teacher based out of Austin.
When she's doing none of these things, you will most likely find her outdoors, at the gym, or... asleep.