Disclaimer – Nothing on this website is intended to be a substitute for professional medical advice, diagnosis, or treatment…
Read More Here
.
Choosing the right mattress is a huge step toward helping you sleep better. Purchasing a new bed is an individual process; What works for one person may not apply to someone else.
Finding the right product is about more than just what's within your price range too. You'll need to consider other important construction factors that can impact how a bed will feel and perform for you specifically. Plus, with so many mattress options available, knowing what to look for will help you narrow down the list.
I'll show you how to pick a new mattress and the most important things to consider in the buying process.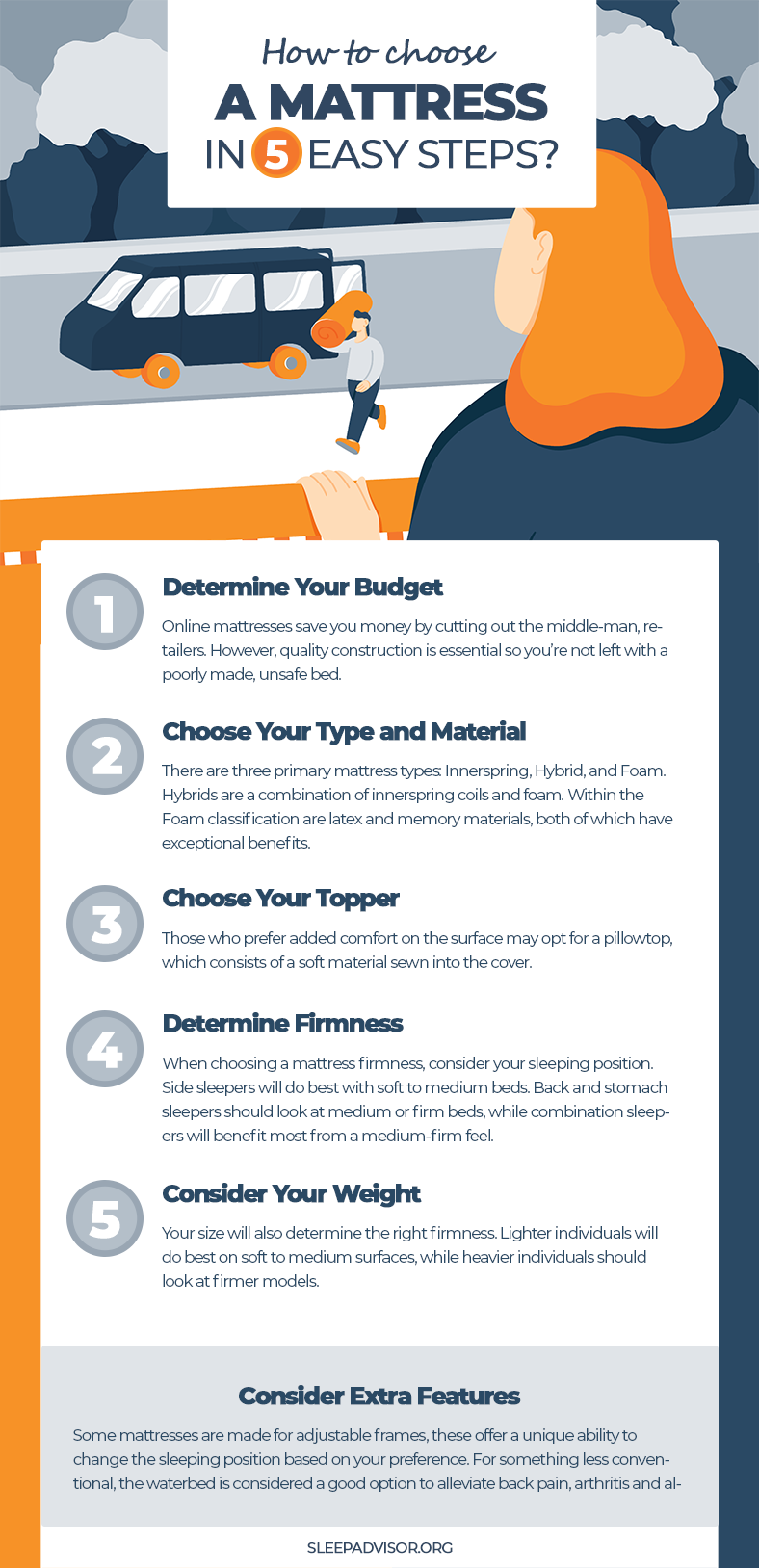 Step 1: Do You Really Need A New Mattress?
Many people change their beds after just a few years, and that's perfectly fine if you can afford it. Buying a bed is not a small investment, so you'll need to assess if now's the right time to get one.
Generally, after seven years you will most likely need a new mattress. Of course, this will depend on the quality of the bed's materials and how you've maintained it over the years. Good maintenance and high-quality materials could extend the product's lifespan by a few years. That being said, if you feel back or neck pain after waking up, then then you should start shopping around.
More Reading:
Here is the average mattress lifespan based on material and type: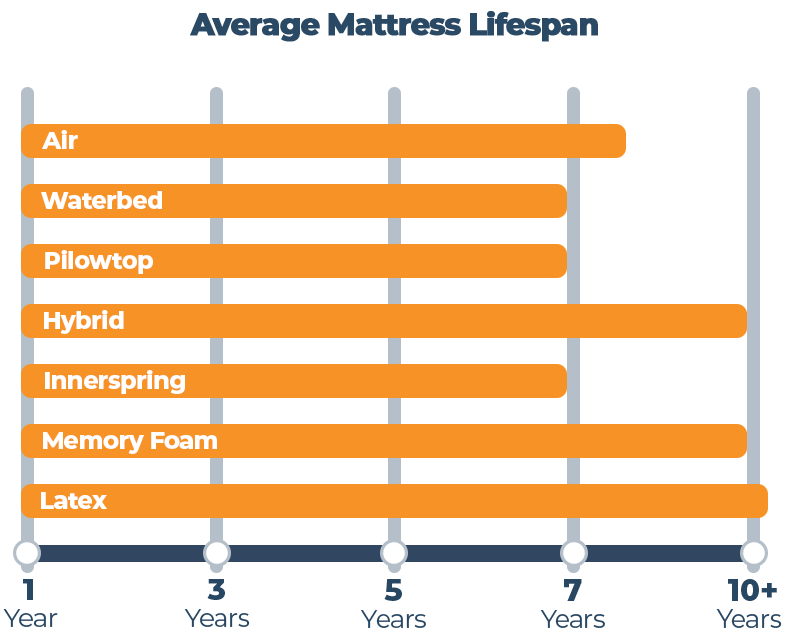 Step 2: Determine your Budget
Determining your budget for a new mattress is an important step. Beds come in all sorts of price ranges, so the good news is that you'll probably find something you like that's affordable.
One of the best things to happen to the mattress industry is access to online shopping. Buying online means that customers can purchase directly from the manufacturer rather than a third-party retailer. As a result, this cuts down on costs, and consumers have more access to top-tier mattresses at lower prices. Additionally, many brands offer holiday deals for extra savings on their beds.
Don't get confused here. More money does not mean better quality. If you think that some of these online options are somehow worse than in-store ones, you are badly mistaken. Stores tend to inflate the prices by as much as 1,000 percent.
Here are some guidelines for you:
Don't always go with the cheapest option you find – This is a rule of thumb for most products you buy online. Spending less than 500 dollars for a Queen-size mattress usually means the product is not as durable and won't provide you with better sleep quality.

A higher price does not mean higher quality – On the flip side, you don't need to put down thousands of dollars to get a comfortable bed. There are many great options that don't come with a hefty price tag.


---

Go with the 1,000-dollar range for a Queen size – This is usually where you will find the best bang for your buck.


---

King / California King will cost slightly more – You should increase the budget for King and California King to 1,400-1,500 dollars as you will have more choices in that range.
Need more details? Check out our guide to top online mattresses.
Step 3: Choose Your Ideal Type and Material
Choosing the mattress type and materials is when personal preference becomes more significant. Consider the advantages and disadvantages of each variation and whether it would suit your needs.
Want to know more? Head over to our complete mattress types guide.
Here are the most common options on the market:
Innerspring (Coils) Beds
Innerspring is the most traditional mattress form. These beds feature a coil unit and above it, a thin layer of cushioning. Hybrids, which contain coils and layers of foam on top, are also under the innerspring umbrella even though they vary from the traditional construction. The four types of coils found in innerspring beds are Bonnell, encased, offset, and continuous. Encased coils are usually found in hybrid models.
A major pro to purchasing a standard innerspring bed is that it is one of the most affordable options on the market. Spring beds are exceedingly durable. Being that the springs are typically made from different types of metals, they tend to keep their shape for many years.
Lastly, the amount of space between the coils circulates air well for a cooler night's sleep.
The biggest downside to innerspring beds is that they don't have as much cushioning, and this could be problematic for those seeking good pressure relief.
I suggest the DreamCloud Luxury Hybrid for a great innerspring mattress. The coils in the DreamCloud are individually wrapped, so you get the benefits of springs but reduced motion transfer, which is great for couples. Additionally, the DreamCloud comes with gel-infused memory foam for pressure relief and comfort.
I also suggest the Saatva Classic for a great innerspring mattress. This bed features a unique coil-on-coil design. The top unit focuses on conforming to the sleeper's body and minimizing motion transfer, while the bottom unit delivers substantial support to prevent sagging.
Ideal for: People who want strong support, durability, cooling, and bounce.
Read More: Highest Rated Innerspring Beds
Latex Beds
Latex mattresses are known for their cooling, sustainability, responsiveness, and comfort. Authentic latex foam is made from the Hevea-Brasilenis tree, specifically from the white liquid extracted from it. Latex is harvested, and when the excess water is removed, you end up with raw material fantastic for various products, bedding systems being one of them.
Another advantage of latex is that you don't get that new mattress smell that's typically found in memory foam products.
There are two types of Latex:
Natural – This is the healthier and more eco-friendly option. However, natural latex is usually more expensive, so you should expect to pay more for a bed with this material.
Synthetic – This version of latex is made by mixing synthetic polymers with natural tree sap. While it's less expensive, synthetic latex is not as healthy or eco-friendly as the naturally-derived form.
I suggest The WinkBeds EcoCloud for a great Latex mattress. This mattress features a 4-inch thick Talalay latex layer designed to provide firmer support in the lower back and softer cushioning in the shoulders and hips.
I also suggest the Nolah Natural for a great Latex mattress. This bed comes with Talalay latex, along with a coil unit that has targeted zoned support to ensure you rest as comfortably as possible.
Latex is best for people who want good cooling, responsiveness, and bounce.
View Our Full Guide: Top Rated Latex Beds
Memory Foam Mattresses
Memory foam was first developed by NASA as a safety material for seat cushions to protect pilots and passengers during plane crashes. Since then, the material has blossomed into the burgeoning product employed by virtually every mattress maker.
Memory foam conforms to every inch of the body that is pressed into it. When you lift your body from the material, it slowly regains its original form, essentially making it perfect for every body type and every sleeper.
Another unique property of memory foam is its motion isolation capabilities. You may have seen those commercials with a lady jumping on a mattress with a glass of wine at the other end. Miraculously, the wine doesn't spill.
The wine doesn't spill because the energy from jumping is not transferred to other parts of the mattress. This translates to better sleeping for couples, because one partner's movements shouldn't impact the other person.
A common issue with memory foam is that this material retains heat. If you sleep hot, memory foam may not be the best choice for you. That being said, many manufacturers have implemented cooling features into their memory foam to curb this issue.
I suggest the Nectar Original for a great memory foam mattress. The Nectar is rated exceptionally well for motion isolation and has a medium-firm feel that should complement most people well. Plus, they infuse gel in their memory foam to help keep the material cool.
I suggest the Leesa Original for a great memory foam mattress. The Leesa contains a layer of cooling Avena® foam above the memory foam layer to help with temperature regulation and keep sleepers comfortable.
Read Our Full Guide: Best Rated Memory Foam Mattresses
Hybrid Beds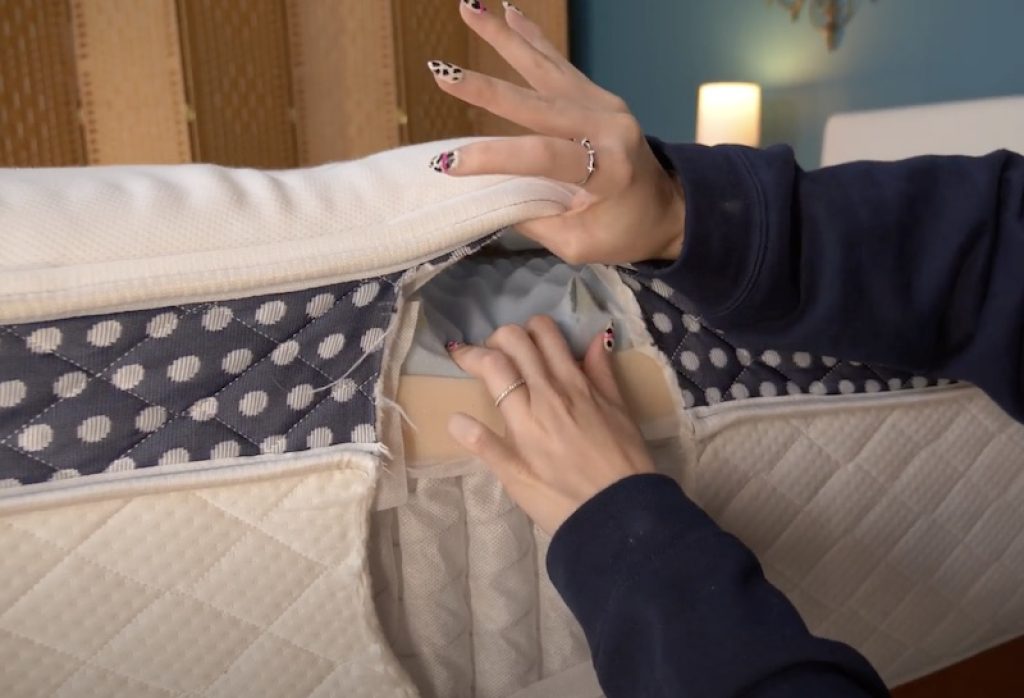 The hybrid mattress is a combination of innerspring and foam layers. Providing the best of both construction styles, this option offers the comfort of foam coupled with the support of springs.
The amount and types of foam used in hybrids vary among brands. Some companies use memory foam and polyfoam in their hybrid beds, while others utilize latex for the comfort layers. The benefit of hybrids is that there is plenty of variety available to shoppers, and like their traditional innerspring counterparts, they deliver extra airflow.
Hybrids are an enhanced design, which means they typically cost more. However, they can provide a great sleep environment that makes them worth the investment for many people.
I suggest the DreamCloud Luxury Hybrid for a great hybrid mattress. The DreamCloud blends premium memory foam with high-quality coils to provide an upgraded sleep space.
I also suggest the Nolah Evolution for a great hybrid mattress. The Evolution is a high-quality hybrid that includes lots of helpful cooling features, such as a Cooling ArcticTex™ cover and Nolah AirFoamICE™ foam.
Good For: People who want good support, bounce, cooling, and pressure relief.
Check Out Our In-depth Guide: Top Rated Hybrid Mattresses
The following three mattress types are less common but still important to consider:
Adjustable Mattresses
The term adjustable can refer to either the mattress itself or the base it rests on. Adjustable mattresses offer a unique ability to change the bed's position based on your preference. With an adjustable base, you can elevate the head or feet giving you more options than traditional products. These foundations can provide extra comfort for people suffering from chronic lumbar pain or just want to be slightly elevated to prevent snoring.
I suggest the Saatva Solaire for a great adjustable mattress. The Solaire has a unique design that includes a 6-inch air chamber made of vulcanized latex.
The sleeper can modify the chamber's setting from 1-50 depending on how firm they want the bed to feel. The Solaire is compatible with adjustable bases as well.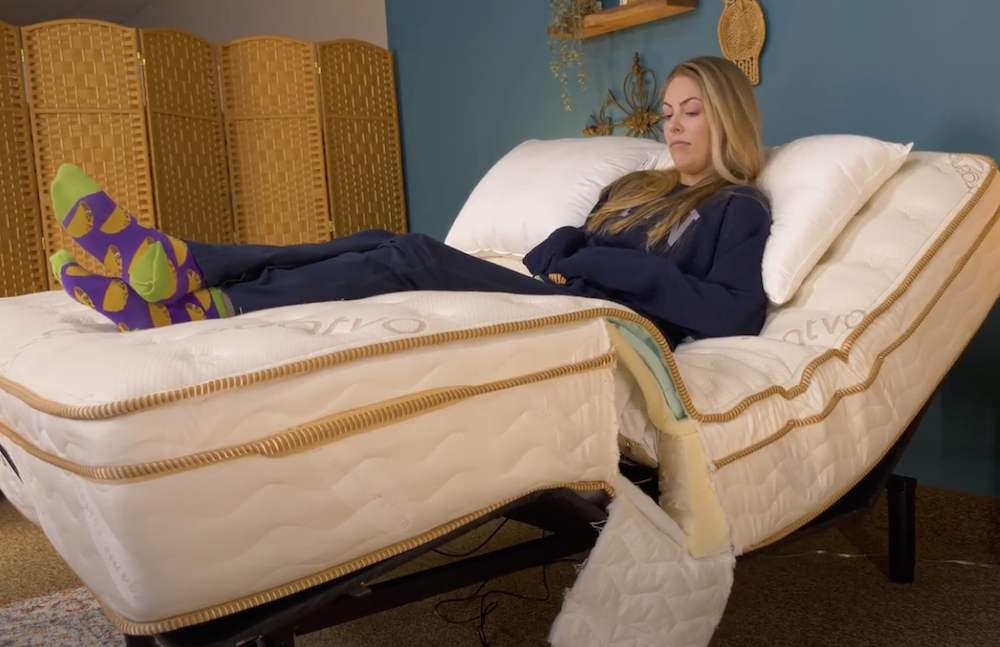 I also suggest the Aurora Luxe for a great adjustable mattress. With the Aurora Luxe, shoppers can purchase this mattress in one of three firmness options: Soft, Medium, and Firm. By allowing this customization option, shoppers have a better chance of finding a bed that meets their needs better. Sleepers can use the Aurora Luxe on an adjustable base to further customize their experience.
Perfect for: People with certain medical conditions like snoring, older sleepers, and people with lower back pain.
Find Out More: Best Mattresses for Adjustable Beds
Pillow-Top Mattresses
A pillow-top mattress has a layer of soft material sewn into the cover to make it more comfortable. These are also considered more luxurious and usually cost a bit more than standard options. You can find a pillow-top surface in memory foam, latex, or hybrid beds.
I suggest the Birch Original for a great pillow top mattress. The Birch is an all-natural and organic bed that's excellent for those who value an eco-friendly product.
I also suggest the Bear Star Hybrid for a great pillow top mattress. Bear's pillowtop is unique in that it contains Celliant®, a textile that can reportedly improve oxygen blood flow and reduce inflammation by converting kinetic energy from the body into infrared light.
Good for: People with back pain, arthritis, and allergies and anyone looking for something less conventional.
Get More Info: Top Rated Pillow Top Beds
Waterbeds
A waterbed is exactly as it sounds: a vinyl mattress filled with water inside. Waterbeds are a unique option on this list. They were most popular during the 1980s and remain available to consumers today. Some of the most common reasons for choosing this type of bed is a backache and arthritis relief. These beds are also great for people with allergies.
Good for: People with back pain, arthritis and allergies and anyone looking for something less conventional.
Follow Our Guide: Top Waterbed Mattresses
Step 4: Find the Best Mattress Size
Once you decide on a specific brand and model, you'll then need to select the mattress size you want. You may already have a size in mind based on what your previous mattress was. However, if you're moving into a new home, the amount of space available could impact whether you can get a bigger size. Mattresses come in standard sizes to help you know how much space they'll take up. I recommend measuring your room to see if that California King you have your eye on will, in fact, fit comfortably in the space.
You'll also need to factor in whether you sleep with a partner. A Full-size bed might be a cheaper deal, but if you like to spread out, a King or California King may be the better option. Conversely, if the bed is for a child, teen, or single sleeper, they probably won't need a Queen size or bigger. Instead, they might be better suited for a Twin, Twin XL, or Full model.
Step 5: Determine Your Ideal Sleeping Position and Firmness
Most of us have a unique way of sleeping every night. No matter if you sleep on your side, stomach, or back, or even if you switch throughout the night, you must consider your sleep style when selecting a mattress. The reason for this is that your favorite sleeping position will determine the ideal firmness of your new bed.
Need help? Visit our complete mattress firmness guide.
Back
The most important factors for back sleepers are support and pressure relief. If your mattress is too soft, your body will sink in and cause back pain, but if it's too firm, you won't get enough pressure relief.
Generally, the best beds for back sleepers have a firmness rating between 5 and 7.
Mattresses that contain memory foam tend to provide the highest level of comfort for people who sleep on their backs. This is because they contour the spine while maintaining proper support and structure.
I suggest the Helix Dusk as a great mattress for back sleepers. The Helix Dusk has a medium firmness that should complement most back sleepers. Additionally, the construction includes great layers for back sleepers, such as DuraDenseFoam, coils, Memory Plus Foam, and Helix Dynamic Foam.
Want to see more? Look into our mattresses for back sleepers guide.
Side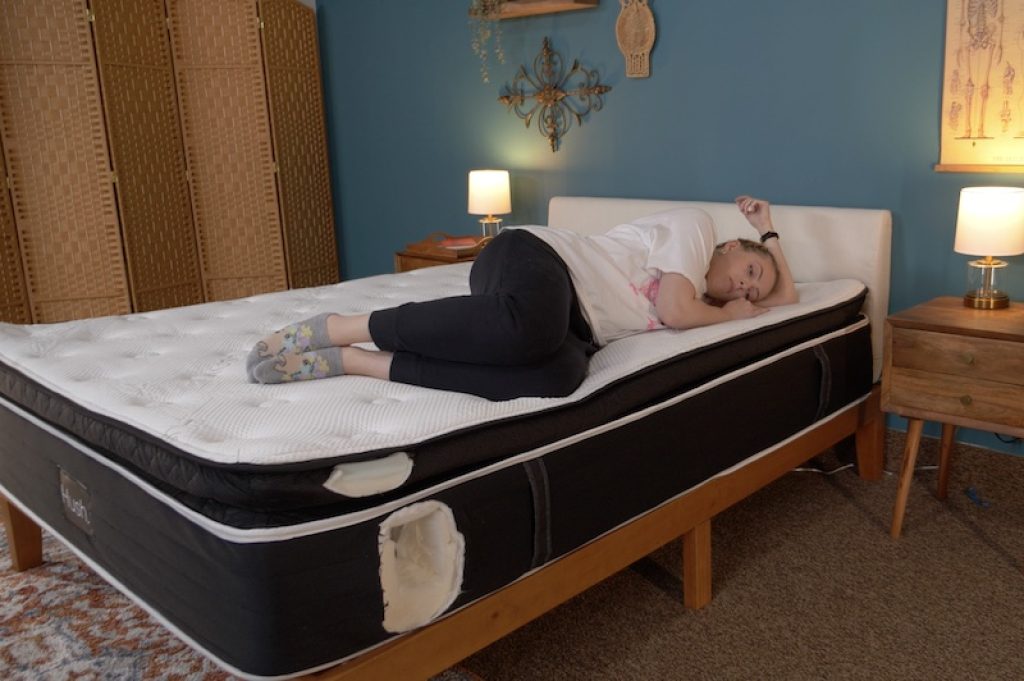 People who sleep on their side often experience pressure accumulation because their weight is concentrated in a smaller area. Therefore, these individuals should go with a softer mattress that will provide a more equal distribution of pressure.
If you're a side sleeper, choose a mattress with a firmness rating between 4 and 6.
I suggest the Helix Midnight as a great mattress for side sleepers. The Midnight contains Memory Plus Foam, which should provide sufficient pressure relief for those who lie in this position.
Looking for more info? Read our complete mattress for side sleepers buying guide.
Stomach
The most important thing for stomach sleepers is to provide equal distribution of weight since the midsection will cause the most pressure. If the mattress is not firm enough, your spine will curve and this can cause back pain.
Stomach sleepers should look at beds in the medium-firm to firm range, usually a 6 or higher. If you're heavier, though, you should seek out something firmer than a 7 to ensure quality support.
I suggest the Nolah Natural as a great mattress for stomach sleepers. The Natural model has a firm enough feel that should provide stomach sleepers with good support to keep their midsection from sinking too deep into the bed. That being said, heavier stomach sleepers should consider adding on Nolah's Luxury Firm mattress topper for added firmness and support.
Learn More: How to Choose Perfect Bed for Stomach Sleepers
Combination
Combination sleepers are those who rotate between several or all three of the aforementioned positions. Therefore, they need a versatile, medium or medium-firm feel that can accommodate more sleep positions. Another important mattress quality for combination sleepers is a responsive (bouncy) mattress that makes it easier for them to reposition themselves. If it's harder to move around, that could cause them to wake up during the night and lead to poor sleep.
Learn more: Visit our list of the best mattresses for combination sleepers.
Step 6: Consider Your Weight as a Factor
Weight plays a big role in choosing a mattress because it can impact factors like support, feel, sinkage, and even cooling. Furthermore, a particular mattress will feel very different to a lightweight person than it will to an average or heavier sleeper.
Body weight considerations often go hand-in-hand with sleep position, and you'll need to consider both these factors together.
Let's look at the following guidelines for choosing an ideal firmness level based on your weight:
Light (Less than 130 pounds) – Lightweight sleepers usually do best with beds that have a plush to medium-firm feel, depending on their sleep position. Lightweight side sleepers will likely enjoy the plush side, while back and stomach sleepers need more support with a medium-firm mattress. We suggest the Tempur-Pedic TEMPUR Cloud as a great mattress for lightweight sleepers. This mattress has a medium-firm feel that should work well for lighter individuals who sleep on their back or stomach. If you're a side sleeper, though, you'll want to go with something softer.


---

Average (130-200 pounds) – Average-size sleepers usually prefer medium-firm beds, but there is some variance based on their sleep position. If you lie on your side, a mattress with a 5 firmness rating may feel best. Back sleepers will likely enjoy a bed rating between a 6 and 7. Stomach sleepers will likely need a 6 or higher.


---

Heavier Person (200+ pounds) – Heavier people usually need a firmer bed to compensate for extra sinkage, so a 7 rating or higher is best. If you are having problems with cooling, consider coil mattresses for added airflow. Lastly, choose a thicker (12 inches or more) bed to avoid sinking through the layers. We suggest the Titan Plus as a great mattress for heavier sleepers. The Titan Plus mattress is specially designed for heavier individuals and includes industrial-strength supportive coils to help prevent the sleeper from sagging into the bed.
Need more details? Follow our guide to the best beds for heavy people.
Step 7: Test Comfort and Support
Whether you're testing out a mattress in-store or at home during your trial period, you want to get a thorough understanding of how the product performs for comfort and support. As you lie on the bed, evaluate whether you feel comfortable enough to easily sleep on it. Does the mattress relieve your pressure points? Does it provide a deeper hug or a gentle cradle? Comfort is subjective, so as long as it works for you to achieve optimal sleep, that's most important.
The other key feature is support, which is how well the mattress keeps your spine in proper alignment. This is vital for preventing back pain. As you assess the bed's supportive layers, you'll want to look for any signs of pressure on your spine or awkward positioning. For example, if you're a stomach sleeper and notice your hips dipping into the bed, you'll probably need to go with something more supportive for your body type.
Step 8: Look for Sleeping Hot Solutions
Constantly waking up during the night because you're too warm can negatively affect your sleep quality. The good news for hot sleepers is that there are numerous mattress options tailored to the needs of those prone to overheating. If this sounds like you, then you'll want to seek out beds with cooling features. The coils in innerspring and hybrid models offer great airflow, while latex beds are inherently temperature-neutral and therefore, don't retain heat.
Read More: Best Cooling Mattresses
Memory foam is a popular choice but because it's known to easily overheat, the material isn't always ideal for hot sleepers. However, many companies have found a way to help with this by infusing cooling gels or using open-cell foam structures to help mitigate heat build-up.
Additionally, if love memory foam but worry about becoming too warm, consider getting a hybrid with memory foam in the comfort layer so you get the extra airflow from the innerspring coils. Additional cooling features and breathable materials in mattresses may include graphite, copper, Tencel, cotton, and moisture-wicking bamboo or wool. Some brands also create proprietary cooling materials for their mattresses.
Frequently Asked Questions
How do you choose a mattress for a child?
To choose a mattress for your child, you'll want to take into account their age. Ideally, you'll want something that will work for them throughout the years, from childhood to adolescence. The next step is to consider the size of the bed. Usually, kids can do well on Twin or Twin XL mattresses, even as they grow. However, if you want extra room for growth, you might consider investing in a Full mattress.
Some brands, such as Saatva and Helix, make beds for children, so these could be a great place to start looking. In general, the mattress should provide a good blend of pressure relief and support to help ensure your little one sleeps well.
Explore our picks for the best beds for kids.
How do you choose a mattress for back pain?
If you're looking for a mattress to help with back pain, you'll must prioritize support as this will help your spine remain neutral and prevent your back pain from worsening. The coils in hybrid and innerspring mattresses are great for enhanced support, and hybrids have the added benefit of additional foam layers to simultaneously deliver pressure relief. If you carry more weight, finding a mattress that's supportive enough to keep your spine lifted is especially important. The good news is that there are high-quality mattresses for heavy sleepers that have durable builds to ensure healthy alignment.
When is the best time to buy a mattress?
The best time to buy a mattress is when your current one no longer gives you adequate comfort and support. However, there are great opportunities throughout the year to take advantage of extra savings on the industry's top beds. Many mattress companies provide exceptional deals on their products during major holidays, such as Black Friday, Labor Day, Memorial Day, the Fourth of July, and more. If you're in the market for a new bed and a holiday is around the corner, this would be the best time to make a purchase.
Where is the best place to buy a mattress?
The best place to buy a mattress will depend on whether you prefer to shop online or in a traditional brick-and-mortar store. Online shopping gives shoppers easy access to hundreds of different mattress brands from the comfort of their homes. Rather than having to make the drive to your nearest mattress store, you can do your research at home, buy the bed, and have it shipped directly to you.
Buying a mattress online also means you can buy a top bed for a fraction of the cost you'd pay in-store because the middleman cost is eliminated. However, some people prefer to physically see and touch the mattress before they make a purchase, and in this case, buying from a store would likely be the best option for those shoppers.
Julia Forbes
Lead Product Tester
About Author
Julia is the Lead Reviewer at Sleep Advisor, specializing in testing out mattresses and sleep accessories – she's in the right line of work, because she loves to sleep.