It used to be that canopy beds were found exclusively in the homes of royalty and the very wealthy. Their elaborate designs, luxurious curtains, and towering posts oozed more luxury and decadence than most commoners could afford.
However, those days are long gone, and this bedroom trend is here to stay. They are more accessible than ever, and there are even options to put them in a kid's room or make your own in true DIY fashion.
If you want to feel like your bedroom is a palace or that you're staying in a five-star luxury hotel, then take a look at our canopy bed ideas for inspiration.
Before we begin, here's a quick terminology tip: you may hear four-poster and canopy beds for adults used interchangeably. However, they are two different bed styles. A four-poster bed has vertical columns at each corner, but they tend to extend a few or several inches, at most.
A canopy bed, on the other hand, has posts that extend four feet or higher. There will be cross beams that connect the posts as well. When you add drapes or other fabrics, you get the full effect.
Canopy Bed Design Ideas
Modern
Simplicity is key when you're looking for modern design ideas. Bright white exudes modernism. Opt for bright white and lower canopies for a more streamlined look. Skip the draped fabrics to allow for open spaces and the illusion of more square footage.
Or, if you have a larger bedroom and love the idea of breezy drapes, select a sheer white fabric. It'll be lightweight and look contemporary.
Wooden
Wood looks best in large rooms, especially if you select a design that's thicker or more ornate. Depending on your overall color plan, you might want a warm cherry wood, a dark brown, or even an oak or pine stain. The shade of wood you choose will set the overall mood in the room, from old-world sophistication to country cottage chic.
Classic
Classic doesn't have to mean simple or boring. We like the idea of thin posts for an uncomplicated look. Consider the idea of getting something metal that can be painted to fit any room décor. You can also repaint when you decide to update your bedroom style.
Half-Canopy
If you've got commitment issues or you don't like the idea of being surrounded on all sides, a half-canopy may be ideal. It's almost like a giant headboard that extends just past the end of your pillows. It's like a hat for your bed, but much more visually appealing. This is more art and style than substance or function, but we think they look neat!
Monochromatic
You can play around with colors or go bold and make everything monochromatic. Most people think of white when they think of choosing just one color, but what about black? Picture an all-black bed with a black draped canopy. In fact, opt for thick drapes, and you'll get the effect of blackout curtains. If you've got an untraditional sleep schedule or suffer from insomnia, you may find the cave-like darkness of this set up helpful for sleep.
Enchanted
Picture a forest merging with your bedroom furniture. An enchanted canopy bed could look like you have twigs, branches, and leaves instead of standard-looking posts. Your sleeping surface will look like it came straight out of a fairytale.
DIY
We mentioned earlier that it's possible to make something like this yourself without having to buy new or expensive furniture. The easiest and most cost-effective way is to hang a canopy circle curtain from your ceiling. Choose whichever fabric you'd like to have draped through and voila! You have a beautiful bed waiting to be enjoyed.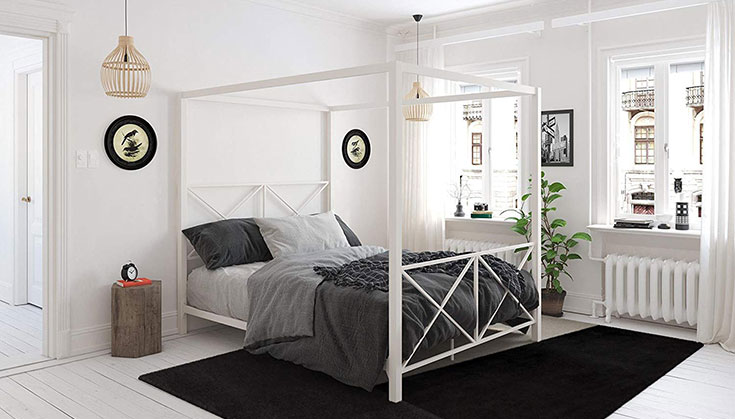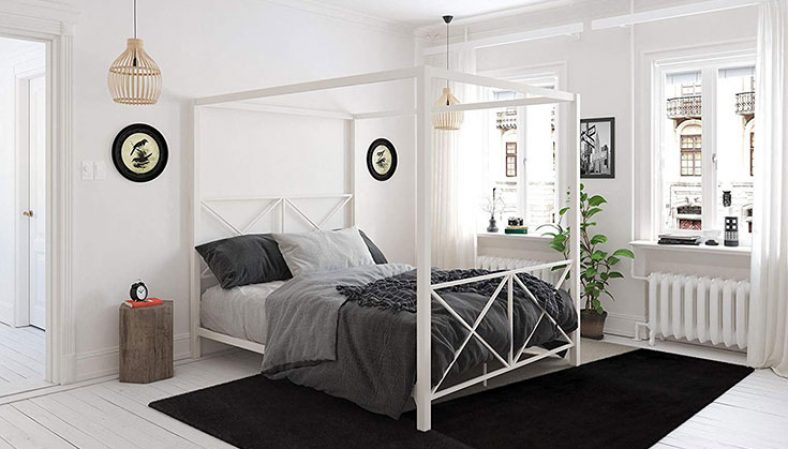 Elegant
A bed that's fit for a queen (or king) will have sharp lines and an air of sophistication. We prefer dark tones, jewel-toned drapes, and silk bedding to complete the look.
Victorian
The Victorian era was known for innate pieces of furniture, and bedding was no exception. Look for thick posts with carved details. You'll also want to make use of heavy drapery. The heavier, the better. This was an era of long rest periods and shame in anything sordidly sexual. Create a hidden paradise that doubles as a hideaway from the world or private tent to shield you and your partner from prying eyes.
Colorful
Your imagination is the only limit here, but we suggest finding colors and patterns that match your personality. If you're feminine, why not try either a bright pink velvet drape or a sheer bubblegum pink mesh. Or, play around with stripes and tassels. Once you have your base, experiment and change out colors whenever you desire.
Vintage
Get inspired by the original versions. These things probably weighed nearly as much as a car, but they were so unique and elegant. Just make sure you hire movers if you ever decide to relocate. These old-school furniture pieces featured thick, ornately carved posts, tons of fabric, and a variety of materials, including both wood and metal.
Romantic
To keep the romance in the bedroom alive, try black, wrought iron posts and dreamy white, semi-sheer fabric to provide coverage around the circumference of the bed. You may want to look for posts that have unique designs on the top to match your room décor. Bonus points for getting bedposts that are easy to use for tying.
Detailed
It can be fun to pick a bed that features ornate designs, colors, and unexpected combinations. Instead of the plain and simple structures you're used to seeing, look around and check out some that have carved cut-outs or unique patterns.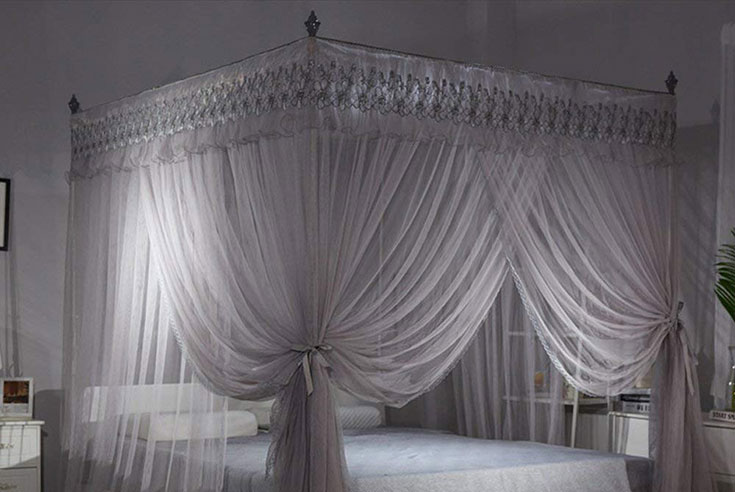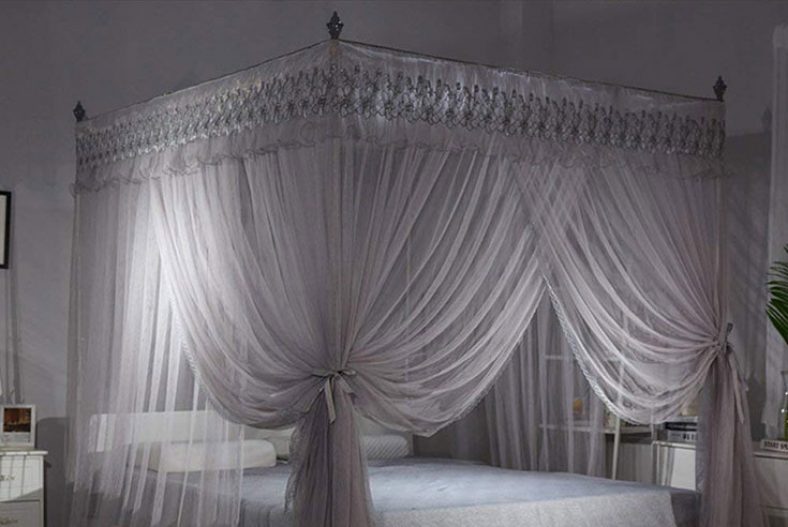 European
Think King Louis IV. He may have been King of France more than a thousand years ago, but there's also a whole style of furniture named after him. It's very European with warm browns, creamy whites, and curves and carvings that even Michelangelo would approve of.
It takes a certain type of person to pull off this look, and in modern times, it's best done with a single piece of furniture rather than a whole collection, but we can't think of a better way to sleep than with a European-style canopy bed.
Round
If you've got a circular bed, then this look is even more interesting. It's reminiscent of I Dream of Jeannie! Alternatively, a round canopy over a traditional rectangular bed is also quite stunning.
Pop-art
The pop-art movement of the 1950s and 1960s featured bold colors and graphic, comic-style prints. Think Andy Warhol and Roy Lichtenstein who used iconic prints and repetitive patterns to create something entirely new. While you may not want to plaster a new canopy bed with Campbell's Soup can prints, you can still achieve this style with bold colors like red. Maybe an accent wall will do the trick?
Metal
Metal offers a modern take on this classic style. It's ideal for urban environments, large spaces and people who want the comfort of a canopy bed without the fussiness. Shiny chrome looks sleek as does a brushed nickel. To balance out the hard edges of the metal, add an upholstered headboard in white or ivory.
Breezy
To recreate the feeling that you're sleeping on a sandy beach with the ocean breeze flowing through your bedroom, choose thin rods and lightweight fabric that you can tie back to the posts. You'll swear you hear crashing waves.
Tall
If you're blessed with tall ceilings, the possibilities are endless. You'll be able to get posts that have more intricate patterns because they won't overwhelm the space as they would in a room that has shorter ceilings. Look for sky-high posts, and as much detailing as you're comfortable with.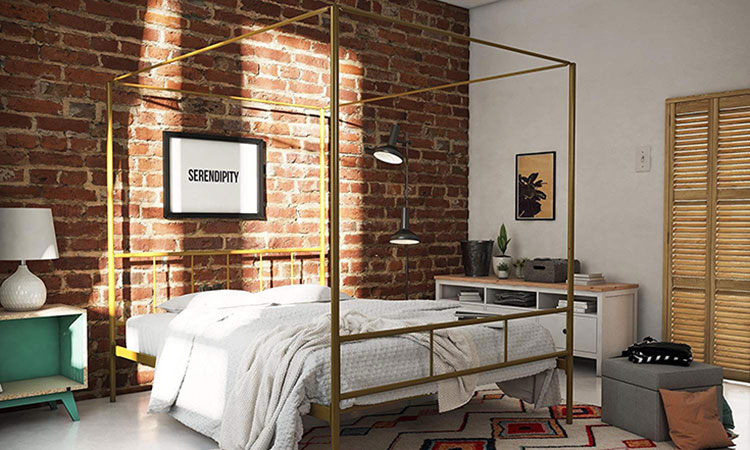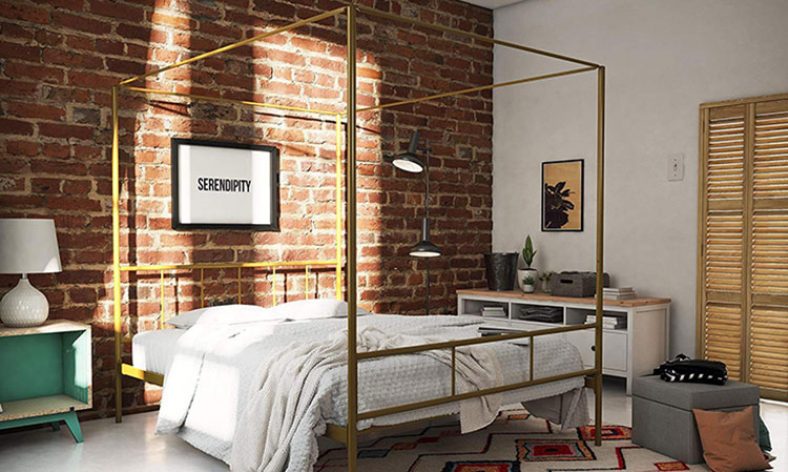 Princess
Canopy beds and princesses go hand-in-hand. Just about anything you select will be reminiscent of a princess's bedroom. But again, we love the classic standby of black wrought iron with ornate carvings at the tips combined with a semi-sheer white draped fabric.
Experiment with lace. It's not for everyone, but it provides a touch of whimsical to something that would otherwise border on too simple. This style is also a winner if you're seeking out bed canopies for girls.
Fairytale
Supplementing with details other than just plain posts and sheer drapes will add to the luxurious vibe. We recommend looking into faux leather for head and footboards, contrasting materials like wood and metal, and finally exploring carved posts that look like they were expertly designed and made by skilled artisans.
Cradle
If you have a little one, you might want to add a canopy to their crib. It'll provide visually interesting details and textures to aid in their development and learning. Be careful to make sure that the fabric is secured, and the fabric doesn't present a choking or smothering hazard.
Outdoor
If you've ever been to a large hotel with an outdoor pool, you've probably noticed private cabanas with draped canopies. You can get this same effect at home by ordering something online. Or, if you have trees in your backyard, try draping fabric over the branches and placing a bed or cushion underneath.
Medieval
Some say bigger is better, and that's certainly the case if you adopt the medieval style. This design is all about thick lines, and ornate patterns. Look closely, and you may even discover a coat of arms hiding in the design.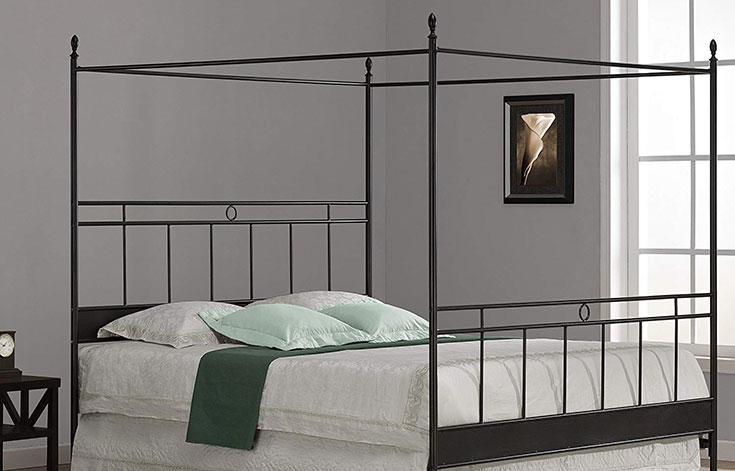 Rustic
Aged and reclaimed wood add a rustic charm for any look. Many people recommend this look for the outdoors, but we think it's equally charming inside too. Depending on the rest of your décor, you could end up with a beachy, coastal theme or an outdoorsy, adventurous feeling.
Antique
Walk into any decent antique store, and you're bound to find a canopy bed on display. You'll probably pay a pretty penny, so unless you've got an unlimited budget, it may be more fun to see what's available to get inspired. Then see if you can find something similar online or at a local store.
With Lights
If you're looking for a finishing touch to add to the romanticism of a canopy bed, you'll delight in the beauty of lights. It'll almost be like looking up at the stars, with a subtle twinkle illuminating your bedroom. Be safe and avoid lights that get hot. Also, never leave the lights on unsupervised.
Frequently Asked Questions
How do I put a canopy on my four-poster bed?
There are a couple of ways to do this. If your posts are too low to attach the drapery to, then you'll want to attach your drape to the ceiling. To do this, screw hooks into the ceiling directly above the corners of the bedposts. Then put the fabric hoops over the hooks. Finally, use tiebacks to create the look of a canopy without the tall pillars.
If you have high posts, and you want to hang fabric from them, you can wrap loops around each post and drape them that way. It's surprisingly easy!
What is the best canopy design for kids?
Round canopies tend to be the least expensive and most portable. If you're worried about your children being injured on the posts of a four-poster bed, you may want to keep the lines of their bed simple and drape a round canopy from the ceiling. These round versions are available in multiple colors and are reasonably priced.
Where can I buy cheap ones?
Luckily, these are relatively common in many furniture retailers and larger stores. Our favorites for getting the best selection are Wayfair, Walmart, and Amazon.
Can I use a canopy when camping?
Yes, definitely. There are lightweight canopies that are designed with the traveler in mind. Not only do they contribute to a romantic atmosphere, but they're also vital in protecting you from bugs, like mosquitoes.
Conclusion
---
If you're looking to add some class to your bedroom, but you'd prefer not to spend a fortune or do an entire room makeover, consider adding a canopy to your bedroom. As it turns out, you can do this project yourself without having to invest a ton of money or time!
Looking for more inspiration?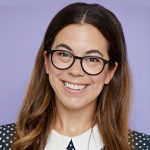 Jill Zwarensteyn is the editor for Sleep Advisor and a certified sleep science coach. She is enthusiastic about providing helpful and engaging information on all things sleep and wellness.
Based in Los Angeles, she is an experienced writer and journalist who enjoys spending her free time at the beach, hiking, reading, or exploring new places around town.
She's also an avid traveler who has a personal goal of being able to successfully sleep on an airplane someday.