Transparency Disclosure – We may receive a referral fee for products purchased through the links on our site...

Read More

.
Sleep plays an essential part in our health and well-being, so having a comfortable and inviting place to rest certainly helps. Picking out the right mattress is a good place to start; however, bed frames also need careful consideration.
Metal bed frames have been around for a long time and are gaining popularity again—but why? For starters, metal is sturdy, durable, and affordable, which ticks all of the main boxes for what people seek in a decent bed, yet with hundreds to choose from it can still be overwhelming.
We've been busy rounding up the best rated metal frame beds currently on the market to help you on your journey to better sleep.
7 Top Rated Metal Bed Frame Reviews
AmazonBasics –
Editor's Choice
6 size options
2 styles available
For sleepers up to 250 pounds
Easy to store
This foldable metal platform bed frame requires no box spring and provides a noise-free, sturdy foundation with 13 inches of under bed storage space.
Made from durable steel and completed with a black finish, it comes in a range of sizes and is suitable for sleepers up to 250 pounds.
With no tools required for assembly, reviewers confirmed it is incredibly easy to set up, and buyers are pleasantly surprised about the quality of the frame considering the low price.
4 size options
2 models available
Steel Slat support
The Van steel 16-inch metal platform bed frame provides strong support with its steel slats and, again, requires no box spring. It has 14 inches of clearance for under bed storage, and thanks to the addition of foam-padded tape, it's squeak free.
Available in different sizes with an option for round or square edges, it is finished in black and can hold up to 500 pounds.
People who bought this product found it straightforward to put together and are pleased with how stable it is.
4 size options
Steel material
Headboard included
If you like the look of a headboard, the Mia Modern Studio is a simple yet stylish option, with noise-canceling foam-padded tape attached to the frame and non-slip velcro on the wooden slats, which prevent any mattress movement.
Made in Twin, Full, Queen, and King sizes with a smooth black finish and a 12-inch clearing of space underneath, reviewers like the look of this modern metal bed frame, found it easy to assemble and think it is a perfect height.
Classic Brands –
Best Heavy Duty
6 size options
Foldable
Can be used with or without a box spring or foundation
This stand-alone Hercules black metal 14-inch platform lives up to its strong name, designed with mattress longevity in mind. Alternatively, it can be placed inside of an existing wooden bed frame if you require extra support.
It is headboard compatible, meaning that there are built-in brackets that enable users to attach different headboards of their choice, and has 13 inches of ample floor storage underneath.
There is a six-step, toolless assembly process, and the frame can hold up to 2400 pounds, depending on which size you opt for.
Overall, it is considered a great value for money and ideal for those who are active sleepers.
Best Price Mattress –
Easy Assembly
6 size options
Foldable model
So far, all of the frames listed here have been easy to construct, but this Best Price Mattress frame takes it to another level, literally taking minutes to set up.
A completely solid foundation that requires no box spring, the 100% steel construction comes in a range of sizes with 14 inches of under bed storage space.
Although it isn't the most exciting to look at, reviewers like how easy it is to put together and move around and love how cheap it is for the quality.
Naomi Home –
Best 14 Inch
4 size options
2 color options
Foldable model
The idealBase 14" is a foldable platform bed frame with heavy-duty steel construction for excellent mattress support and a weight capacity of up to 600 pounds.
It comes in colors black, brown, and red and has 13 inches of storage space underneath. Due to the convenient folding mechanism, it is easy to assemble and stow away.
Reviewers like that it is affordable, noise-free, and has adequate hidden storage space
Mellow –
Best Steel Slats
4 size options
2 styles available
Heavy Duty Steel Slats
Mellow's low metal bed frame with steel construction throughout the frame and slats gives another level of stability and longevity. Available in a range of sizes and 12-inch and 14-inch height versions, it's got a modern grey look with rounded corners for extra safety.
Although this does require tools to assemble, they are included with the product, so it is still quick to put together with a Fit2Lock feature.
Reviewers said this bed looks better than what they were expecting and confirm it provides extremely sturdy support.
Metal Platform Bed Frame Buyer's Guide
When there are so many types of metal bed frames to choose from, it helps to gather as much information as possible so that you find the perfect option for you and your sleeping needs.
Can the frame support your choice of mattress? Does it fit your budget? Is it easy to assemble? These are some of the main questions you need to take into consideration. Other features, such as storage, headboards, types of metal, and edges, are worth a thought too.
Below, we have put together as much information as possible to help you make a well-informed decision on the best frame for you.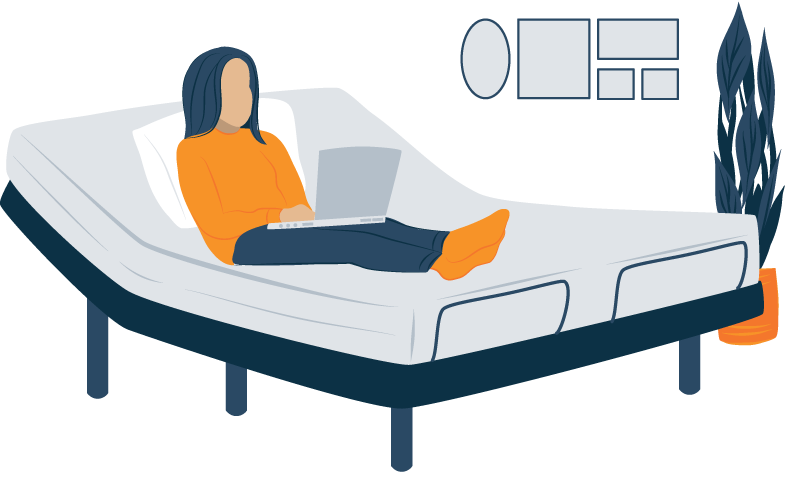 Metal Mattress Frame Features
In comparison to bed frames made from alternative materials such as leather or wood, metal wins hands down when it comes to longevity and sustainability. Metal is sturdy, durable, and can survive in different climates as well as against termites and other nasties.
Metal frames offer various styles of design. With the vast range available, there is no need for your bed to just be an accessory. It can be the centerpiece that elevates the overall atmosphere of your bedroom, making it an inviting place to get some sleep.
Common Types
Obviously, this guide is focused solely on metal mattress bed frames, so it would make sense to look at what types of metal they can be made from. From steel to iron and brass, you may find one is more suitable to your bedroom aesthetic than the others or simply just better for your budget.
Steel is man-made from iron and carbon, making it harder and stronger than iron alone. This makes it a great material choice for a very sturdy bed frame that is also long-lasting.
A traditional material for a bedframe going back to the 17th century in Italy, iron became popular because it removed the risk of bed bug infestations. Almost all iron beds now have a steel framework so you get both style and strength combined.
Originally, brass bedsteads were quite plain in style but have transformed due to Art Deco, Victorian, and Edwardian influences over the years. Brass gives off a "classy" style but tends to look more expensive than it is. You will also find steel frames that come brass coated for the perfect mix of style and durability.
Metal Bed Frame: Calculate the Size
Like mattresses, bedsteads come in a range of standard sizes, and it isn't possible to find a one-size-fits-all frame. Therefore, you need to make sure that the size of your desired mattress and frame are compatible. The main dimensions to measure are the width and length, as most frames will cater to different mattress depths.
If you are looking for a bespoke sized frame, some manufacturers can help you out, but you would need to inquire about what sizes they can produce. In cases where you might want something extremely large, it is important not to forget the logistics of getting it into your home!
King
76" x 80"
Ideal for couples who either like their own space whilst they sleep or who have pets or young children that also like to hop in.
Queen
60" x 80"
The Queen-size is a common choice for couples who like to snuggle up or for an individual who likes a bit of extra room.
Full
54" x 75"
This is a good size for single sleepers or for people who don't need as much legroom.
Twin
38" x 75"
The twin is the perfect choice for a child's first "proper bed," for a smaller bedroom or guest room.
Standard
The above dimensions are widely accepted to be the standard sizes across the US and may differ in other countries. Therefore, be mindful of where you are purchasing your frame from to ensure your mattress will actually fit.
Metal Beds Considerations
Before you make a final decision, there are some other things that you should contemplate, such as style, platform, under-bed space, slats, and assembly. Although these features may not be essential to everyone, they could be the make or break factor that helps to influence your final purchase.
Type of Foundation
Having a good solid base under your mattress makes for a more comfortable sleep, and the two main types of foundation are platform and box spring.
Platforms are known for providing a more solid metal bed frame, but if you're searching for a foundation that gives additional height to your bed while supporting your mattress, a box spring is what you need.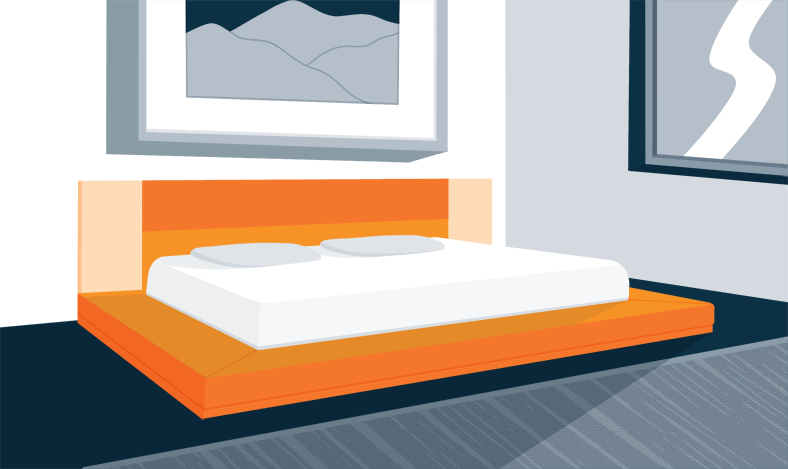 Platform bed frames are typically available at a cheaper price. They also provide good bed elevation, especially for those who want to save on buying a box spring.
Box springs consist of a frame with springs in the middle that are covered in cloth. They enhance the support of the mattress and act as a shock absorber to deliver high comfort. However, unless your bed frame still uses slats for support, you don't really need this.
Design (Style)
There are many designs of metal frames that may interest you. The different types of metal material can even offer different eras of design; for example, iron and brass could be a great option for a Victorian or Art Nouveau interior-styled home, and steel can create a more modern or industrial feel.
Elements such as headboards and footboards add a lot to the overall look and feel of the bed, but features like rounded edges or height could be designs you prefer purely for safety reasons.
Maybe you don't care too much about what the actual bedstead looks like, so storage space underneath could be the design element that provides more benefits to what your whole room looks like.
Ultimately, there is a metal frame style for everyone.
You can either purchase a metal bed frame with headboard already attached or go for an option where you can switch up the look. Some frames come with free brackets included which are compatible with various headboard options. Alternatively, you may be able to buy brackets online which fit your frame.
The footboard was originally used to stop the mattress from slipping; however, with features nowadays such as non-slip slats, it isn't always necessary and more of an aesthetic thing. Again, brackets are sometimes included with the frame.
Storage Space
More functional bed frames offer a decent amount of storage in the space created underneath it.
Storage dimensions are usually located in the manufacturer's product description, so users can decide what they can fit under there or utilize space saver boxes that will slide underneath with ease, keeping everything stored neatly out of view.
Slats
Because the slats are invisible once the mattress is placed on top, not much thought is given to them, but they do serve a very important purpose of supporting the mattress and providing comfort.
Widely distanced slats can cause damage to the mattress in the long term, so it is worthwhile to examine that. Sprung slats add a natural movement but are a little more expensive, whereas flat slats, like steel, help to prevent sagging, increase mattress life, and offer a firmer sleeping experience.
You can also find slats with velcro or tape attached, which aim to keep the mattress securely in place.
Height
The height of your bed frame could be dependent on several factors, such as the height of the user, the depth of the mattress, storage space, user age, and health conditions that can make getting up and down difficult, such as arthritis.
Some people like to flop down onto the bed, and others prefer to climb in. Room size also impacts the height, as low beds can make small rooms feel more spacious, and large rooms may need a grand and tall bed to fill it. It's completely down to personal preference.
Assembly
Imagine ordering your dream bed only to find out you have no idea how to put it together!
Most product descriptions will state the type of assembly required and whether you will need additional tools or not. Customer reviews can also give a clear indication of how difficult users found the task, so they are worth reading through.
Some constructions may be very simple, and others could be complicated and need some extra help. If you are absolutely terrible at anything DIY-related, then we would suggest asking friends or family to help out, hiring a handy person, or looking for bed frames that come ready assembled.
Cost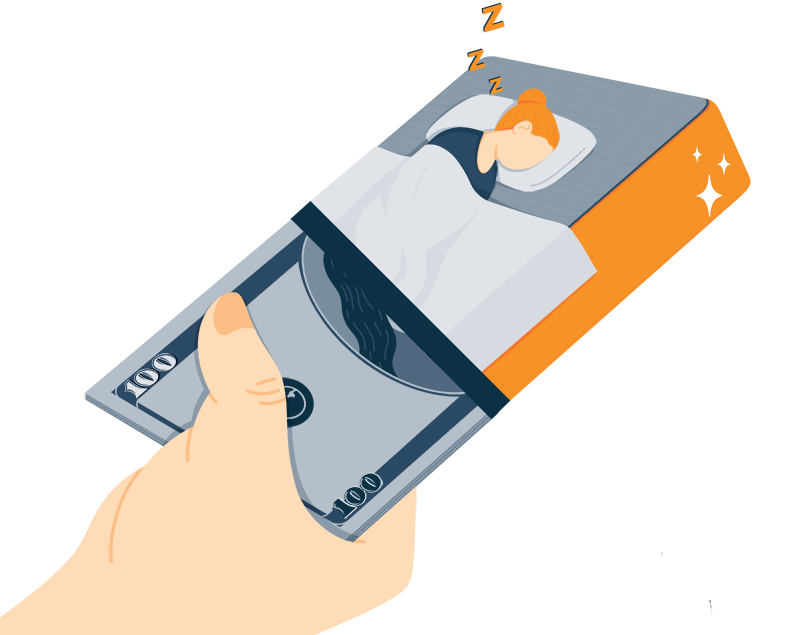 Of course, the price is one of the main things to take into account. You don't want to be blowing your whole budget on just the bed frame because there is still the mattress, bedding, and delivery costs to add on.
Metal bed frames, in general, can be found cheaper than their wooden or leather counterparts, and due to the durability of the material, even higher costing metal frames will be worth it for the fact that they won't need to be replaced as frequently.
Like with most products, you get what you pay for, so if you are after a simple basic metal structure that does the job, you won't need to part with much money.
Metal Frame Beds Pros
If you have got to this point and are still unsure which type of bed frame to opt for, then here we'll cover the best points of getting a metal one, from sturdiness to assembly, which may help you to finalize your decision.
Sturdy Properties
Metal beds are known for being strong and robust, suitable for users no matter how much they weigh or move about. They also provide firm support not just for you but for your mattress.
Modern and Traditional Designs
As we touched upon briefly before, different metals can offer both a modern simplistic look or traditional, elegant design. It's possible to choose anything from a vintage Victorian-style frame with detailed castings to an industrial-style simplistic frame for a clean and unique look.
The combination of color and finish can also add another dimension to the design if you are looking for something extra fancy.
High Resistance
Compared to leather or wood, metal tends to be a more sustainable option, as it is the only material that proves highly resistant to hazards like changing weather conditions, pests, and fires. This means they generally have a longer lifespan and offer higher safety standards than the others.
Price Tag
Although you can get metal frames from extremely cheap to very expensive, the price is a pro point since you can still get a good quality frame even at a cheap price.
Easy Assembling
Metal beds are easy to assemble, with both flat pack and fold-out options that take just moments to put together and dismantle.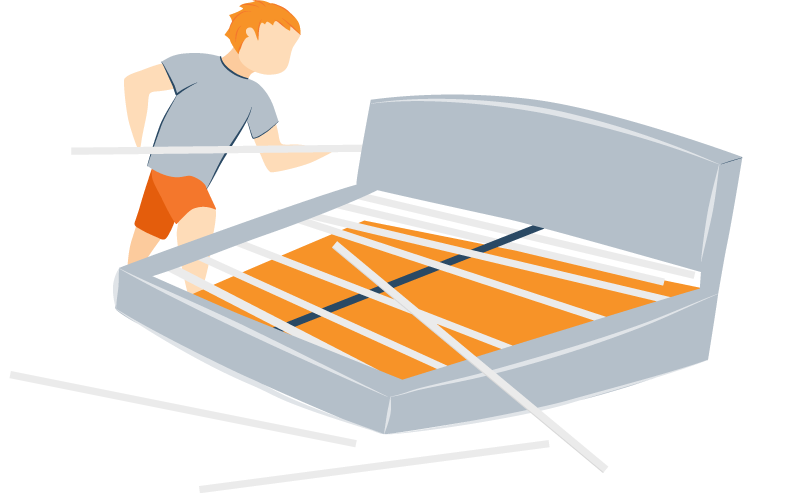 Conclusion
With so many types on the market, shopping for one can be really exhausting. Just know that whether you are looking for a frame that offers extra storage space in a small bedroom or would like your bed to act as the main attraction, there are some amazing options to choose from.
Take time to consider the exact type that you need and make a note of the non-negotiable factors that your bed frame must have to help you whittle down your options.
Hopefully, our buyer considerations and top picks will help you on your way to finding the perfect metal bed frame for you and your home.
Our team covers as many areas of expertise as we do time zones, but none of us started here as a so-called expert on sleep. What we do share is a willingness to ask questions (lots of them), seek experts, and dig deep into conventional wisdom to see if maybe there might be a better path towards healthy living. We apply what we learn not only to our company culture, but also how we deliver information to our over 12.7M readers.
Sleep research is changing all the time, and we are 100% dedicated to keeping up with breakthroughs and innovations. You live better if you sleep better. Whatever has brought you here, we wish you luck on your journey towards better rest.