Transparency Disclosure – We may receive a referral fee for products purchased through the links on our site...

Read More

.
Purple, known for its captivating mattress ads, has developed a luxury model of its hybrid mattress. The Purple Hybrid Premier is a step up from Purple's other hybrid mattress, offering 1-2 inches of extra comfort in the Purple Hybrid Premier 3 and the Purple Hybrid Premier 4.
The construction of the Purple Hybrid Premier is not all that different from the Purple Hybrid. So do these few inches and upgrades make a notable difference? In this review, we'll cover every detail of Purple's most advanced model and determine whether this mattress is worth the hype and the price tag.
Our reviews are thorough, but if you're just looking for the verdict, you can skip to our overall summary on the Purple Hybrid Premier here.
Noteworthy Updates
The Purple Hybrid Premier 3 offers three inches of their GelFlex grid, and the Purple Hybrid Premier 4 includes, as you might have guessed, four inches of the GelFlex grid.
Purple notes the Hybrid Premier as the company's best-selling model.
Purple Hybrid Premier is a Great Match for:
Combination Sleepers  – The Purple Comfort Grid, with multiple thickness options on the Premier, make this an excellent mattress for sleepers who frequently change positions. Also, the pressure relief features make it a fabulous fit for those who sleep on their sides, back, or stomachs.


---

Heavier Sleepers – Those extra inches of comfort give heavier sleepers the space they need to sink comfortably into the mattress while still maintaining proper spinal alignment.


---

Hot Sleepers – Purple designed the Premier with your comfort in mind. Made with temperature-neutral materials, the GelFlex grid and the breathable cover encourage airflow through the mattress, keeping you from overheating.
Possible Purple Hybrid Premier Concerns:
It might be too bouncy – The other Purple mattresses excel in motion isolation, but the added inches make the Premier model more bouncy than its predecessors. The added bounce can be considered a drawback by couples concerned with moving around and waking each other.


---

Longer break-in period – The Purple Hybrid Premier may also take users slightly longer to break in than a foam or more standard hybrid mattress. With these added inches and the distinctive feel of the GelFlex grid, the bed may take some time to adjust to if you're not used to the Purple brand.
Weight Considerations
The Purple Hybrid Premier is one of the best mattresses for sleepers of nearly any weight. The 3-inch and 4-inch options for the GelFlex Grid layer add the softness that lighter sleepers need, as well as the depth and support that heavier sleepers require. The layer of stainless steel coils also provides a firm, even surface to help stabilize the spine. Meanwhile, both thickness options for the upper layer offer a level of softness that most sleepers will find quite comfortable.
Purple has no official weight limit for their mattresses, though they recommend no more than 300 pounds per sleeper or 600 pounds per mattress. Heavier sleepers may want to go with the thickest option for the Hybrid Premier to guarantee that the bed maintains its support in stomach and side sleeping positions.
If you are over 300 pounds, we advise checking out brands that make beds specially designed to support individuals with higher weight considerations.
Construction: What's Inside the Purple Hybrid Premier?
Like the Purple Hybrid, the construction of the Hybrid Premier model uses a combination of stainless steel coils and Purple's one-of-a-kind GelFlex grid. The Premier offers the thickest versions of the GelFlex layer, giving sleepers the most deluxe options available from Purple.
The Purple Hybrid Premier is wrapped in the Premium StretchMax Cover made of viscose, polyester, and lycra. The flexible material is both highly responsive and ultra-breathable.
The mattress height will depend on which grid option you choose; the Purple Hybrid Premier is 12 inches tall, and the 4 is 13 inches tall.
Below the cover, you'll find either three or four inches of Purple's exclusive GelFlex grid. The grid is made from temperature-neutral materials and specifically designed to flex and move to contour your whole body comfortably.
Going deeper, there is a .75-inch layer of transitional foam between the grid and coils.
The supportive layer consists of 7.5" of stainless steel coils. This layer gives sleepers an even, supportive surface and deep pressure relief. The coils are individually wrapped in noise-reducing fabric so that you'll never have to listen to squeaky springs when you're trying to sleep.
The base consists of an additional .75-inch foam layer.

The main difference between this bed and the Purple Hybrid when it comes to construction is the thickness of the GelFlex layer, which adds height and softness.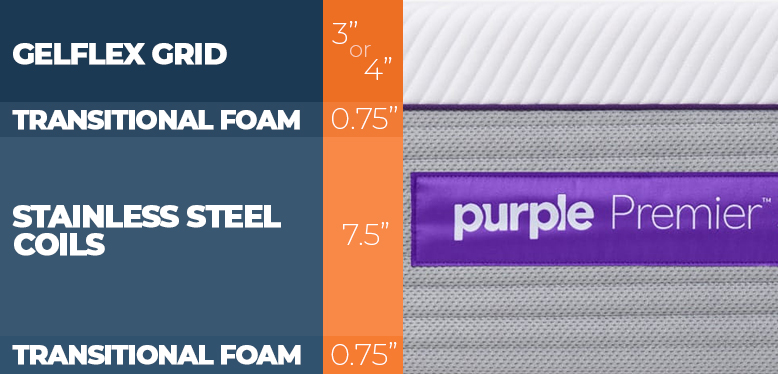 First Impression: How Does It Feel?
The Purple Hybrid Premier arrives compressed with handles on either end of the Purple bag. Upon unboxing and unwrapping, the bed expands up to 70-80 percent almost immediately.
When you lie down on the Premier for the first time, you'll notice the difference from a traditional mattress. The GelFlex grid makes this bed feel both soft and firm at the same time. When pressure is applied, the grid collapses directly under that pressure and gives way to gentle, comfortable support.
Firmness Scale: 5/10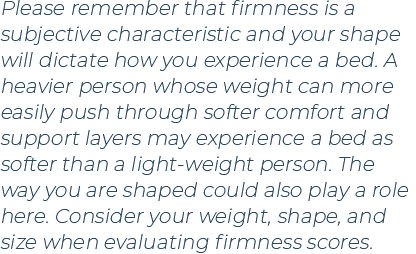 Pressure Relief
When you lie down, you may notice aches and pains beginning to creep up. For this reason, a mattress that's good at alleviating pressure can help you rest more comfortably.
Superior pressure relief is one thing that sets Purple apart from its competitors, and the same goes for the Hybrid Premier model. The grid on the Premier mattress offers three or four inches of responsive cushioning, depending on which version of the bed you choose. With either option, most sleepers should find satisfying pressure relief.
The thicker GelFlex layer collapses beneath the body's pressure points and contours around the body's curves to create ideal spinal alignment. The Premier mattress also offers enhanced spinal alignment, thanks to its impressive design.
Sleepers should notice the alleviation of pressure as soon as they lie down. For side sleepers in particular, who frequently see an increase in pressure around the shoulders and hips, this mattress should provide unparalleled pressure relief.
Support
Good support is also vital for keeping the spine neutral, minimizing the risk of back pain. While this mattress is softer for a Purple bed, the Hybrid Premier still offers adequate support overall and promotes proper spinal alignment. With the supportive layer of coils backing up the GelFlex grid, the Premier creates a surface that sleepers can rest upon comfortably without feeling as though they're sinking into the mattress or unable to get up quickly.
The edge support goes above and beyond on this model, creating a sturdy perimeter around the mattress.
Preference-based Features
Multiple Firmness Options
The Purple Hybrid Premier offers two different levels of firmness. Both the 3 and 4 models provide softness and support, but the 4 model is softer due to the extra inch of GelFlex grid material.
Free White Glove Delivery
When you purchase this mattress, free white-glove delivery is included with your order. Professionals will hand-deliver and set up your bed at no additional charge.
Bed-in-a-box
While technically, Purple mattresses arrive in a bag rather than a box, this mattress still arrives compressed and more accessible to maneuver than a traditional mattress. Purple suggests having at least two people move and unbox their beds as they typically weigh between 100 and 200 lbs.
Cooling
Purple's proprietary GelFlex grid is designed with temperature-neutral materials, and the mattress cover is breathable. Along with these features, both the grid and the coil layer promote airflow throughout the mattress. As a result, you should have no problem keeping cool with the Hybrid Premier.
Exceptional Edge Support
The Purple Hybrid Premier has consistent support throughout the mattress, including the edges.
High Bounce
The extra inches on the Hybrid Premier's GelFlex layer make this Purple's bounciest model.
Adjustable Base Compatible
All Purple mattresses are compatible with adjustable bases, and you can even purchase Purple's adjustable base when you buy the bed. The Purple Ascent Adjustable Base comes with multiple presets, customizable head and foot sections, and two USB charging ports on either side of the bed.
Handcrafted in the USA
Purple mattresses are manufactured within the United States using American-made materials and machinery.
Certifications
CertiPUR-US® Certified – The Premier has been third-party tested and stayed below the minimum allowance for harmful chemicals and off-gassing.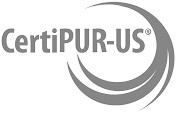 Coupons, Trials, Warranties, and Shipping
Shipping –  Shipping is free within the continental United States and available to Hawaii and Alaska for a small fee. Purple partners with Sleep Country Canada, which ships anywhere within Canada.
White-Glove Service – When you purchase the Purple Hybrid Premier, it comes with complimentary white-glove delivery service. The service is available for other Purple mattresses as well at an additional charge.
Trial – The Premier has a 100-night test period that begins when your bed is delivered. If you aren't happy with the Hybrid Premier, you can return it, and Purple will pick it up and give you a full refund of the purchase price. However, they ask that customers sleep on the mattress for at least 21 nights before considering a return or exchange.
Warranty – Purple offers a 10-year limited warranty with all of its mattresses. The warranty period begins on the date of purchase.
| Size | Dimensions (inches) | Dimensions (inches) | Price (w/o discount) |
| --- | --- | --- | --- |
| Twin XL | 38" x 80" x 12" | 38" x 80" x 13" | $2,499/$3,199 |
| Full | 54" x 76" x 12" | 54" x 76" x 13" | $2,699/$3,499 |
| Queen | 60" x 80" x 12" | 60" x 80" x 13" | $2,999/$3,799 |
| King | 76" x 80" x 12" | 76" x 80" x 13" | $3,599/$4,399 |
| Cali King | 72" x 84" x 12" | 72" x 84" x 13" | $3,599/$4,399 |
| Split King | 76" x 84" x 12" | 76" x 84" x 13" | $4,998/$6,398 |
Purple Hybrid Premier vs. DreamCloud Premier
Choosing a mattress is a big decision, and you want to know you've picked the best bed for your needs. Let's see how this mattress compares to a similarly constructed bed by a competitor.
Both mattresses have similar cooling features, with ultra-breathable covers and cooling gel in the upper layers of the DreamCloud Premier, taking the place of Purple's temperature-neutral Comfort Grid. These beds score similarly in edge support and bounce, striking a balance between sturdiness and responsiveness. Either mattress would be a good fit for combination sleepers needing to change position quickly and comfortably.
DreamCloud's Premier mattress is also a hybrid, though it is a bit thicker than the Purple Hybrid Premier, coming in at 15 inches in height thanks to its 8.5-inch support coils and multiple layers of comfort foam. The DreamCloud Premier scores a little higher than the Hybrid Premier in terms of firmness, still ranking medium firm with a 5.5 out of 10.
Sleepers who prefer to sink a little deeper into the mattress may prefer the DreamCloud Premier's euro top to Purple's Comfort Grid, which sometimes makes people feel like they're floating in zero gravity.
Overall Summary
When it comes down to it, the Purple Hybrid Premier is a great luxury mattress. The 3 and 4-inch options for the GelFlex grid offer users deluxe comfort and outstanding support. The extra addition, along with cooling features, reliable support coils, and above-average pressure relief, makes the Hybrid Premier a solid choice.


The bed scored a four because it won't be able to adequately accommodate sleepers over 300 pounds. However, Purple's exclusive comfort grid makes this a fantastic mattress for most side sleepers, earning this bed high marks. The added thickness in the Hybrid Premier efficiently relieves pressure around the shoulders and hips, common problem areas for side sleepers.


The Premier earned a four here since it will likely not support back sleepers weighing more than 300 pounds. However, the bed scored well for the majority of back sleepers.  The combination of support coils beneath the thick hyper-elastic grid creates a consistent and comfortable surface for back sleepers. The contour of the GelFlex grid should provide sufficient lumbar support.


Stomach sleepers generally prefer more support than a typical mattress to prevent sinkage and maintain spinal alignment. While the bed may not accommodate those with significantly higher weight considerations, which is why it earned a four, the added inches of GelFlex grid should provide that exact support to most stomach sleepers.


The Hybrid Premier rates highly for sleepers who rotate among the positions. The universal appeal of its firmness level, along with the mattress's high bounce factor and responsive support, makes it a perfect fit for combination sleepers who move between positions frequently throughout the night.


The Premier scored a four because the added bounce decreases motion isolation, making it more challenging to move around without waking your partner. However, other attributes earned this bed points. For example, couples should benefit from the cooling features and edge support in this mattress. Plus, the responsive and adaptive feel of the upper layers can be beneficial for sex.


Heavier sleepers weighing over 300 pounds will likely need to consider a brand that tailors their mattresses to folks with larger frames. However, the added inches to the GelFlex grid on the Premier model make this Purple's best mattress for heavy sleepers in the 200-300 range, earning this bed positive marks.


The Premier is Purple's softest option, which is why it ranks highly for light-weight sleepers. The bed provides a much softer surface than traditional mattresses and Purple's other mattress options without sacrificing high-quality support. The exceptional contouring of the grid should leave lightweight sleepers resting comfortably.
The Purple Hybrid Premier scores a very solid four out of five on our overall value ranking; the lack of motion isolation for couples and adaptability for significantly heavier sleepers keep it from a perfect score. Nevertheless, the cooling features, impressive blend of softness and support, and exceptional pressure relief make this an ideal mattress for almost anyone.
Our Verdict
If you're a lightweight sleeper, run hot at night, or change positions frequently, the Purple Hybrid Premier might be the right mattress for you.
Purple's design provides extraordinary pressure relief around crucial areas like the shoulders, core, and hips without skimping on support. The breathable construction of this bed should keep you cool all night as it stays dry and airy without trapping heat.
Additionally, the grid layer is what makes this such a good mattress for combination sleepers. The quick responsiveness makes it easy to switch between positions at night and still find sufficient support.
Katie is a content writer and serial hobby collector who enjoys naps almost as much as her pets do. When she isn't writing, she likes to ride her motorcycle, catch Pokemon with her hubby, and practice yoga with her dog.