Transparency Disclosure – We may receive a referral fee for products purchased through the links on our site...

Read More

.
Disclaimer - Nothing on this website is intended to be a substitute for professional medical advice, diagnosis, or treatment...

Read More Here

.
Are you pregnant and struggling to get a good night's sleep? Or maybe you're the supportive partner of a parent-to-be and want to help them get the rest they need?
Expecting a baby can be an exciting, albeit exhausting time—especially if you're struggling with sleep. According to the American Pregnancy Association¹, 78 percent of pregnant women experience insomnia. Aside from hormonal changes and frequent trips to the bathroom, back pain and discomfort are among the top reasons why insomnia occurs.
Replacing your entire bed can be costly, so we've put together a list of the top-rated mattress toppers for pregnancy to give your back (and your wallet) a break.
Best Mattress Toppers for Pregnancy
The Top 10 Mattress Toppers for Pregnancy, Reviewed
Editor's Pick
Saatva Graphite Mattress Topper
A luxurious topper with contouring support from its graphite infusion.
Sleep Advisor Score
4.80 / 5
Read Full Review
Saatva stakes its reputation on the luxurious, cozy feel of its mattresses and toppers, so it's no surprise that the Graphite Memory Foam Mattress Topper is a top pick for pregnant sleepers. This topper adds three inches of graphite-infused memory foam to the surface of your bed, upgrading its feel to new, cloud-like heights.
The graphite component and a breathable organic cotton cover keep the topper from overheating—an important feature for combating hot flashes. The foam should also relieve pregnancy-related aches and pains by contouring around sensitive pressure points.
What else do we love about it?
Saatva treats this topper with a Guardin® botanical antimicrobial treatment that helps to ward off mold, germs, and other irritants.
Many online mattress brands don't allow you to test out their toppers for very long. But Saatva gives you a full 180 nights to sleep with this topper, so you can be certain it's the right choice for restful nights.
Best Mattress Topper for Hip Pain and Pregnancy
Nolah Mattress Topper
A 2-inch mattress topper offering excellent cooling and pressure relief.
Sleep Advisor Score
4.90 / 5
Read Full Review
Pregnancy can feel like it's wreaking a special kind of havoc on your pelvic region, and hip pain is a common symptom. To combat it, you'll want a mattress topper that provides impressive pressure relief. The Nolah Mattress Topper claims to outperform memory foam in this area: it can absorb pressure around the hips up to four times more effectively.
Its soreness-soothing properties are attributable to its proprietary AirFoam™, which is also featured in the brand's mattresses. It's a CertiPUR-US® certified material with helpful cooling properties in addition to its plush, comforting surface.
What else did we notice?
An organic cotton cover lends this topper even more breathability and temperature regulation.
Depending on your comfort preferences, you can order this topper as a Plush or Luxury Firm model.
Best Pressure-Relieving Mattress Topper for Pregnancy
TEMPUR-Adapt Mattress Topper
Offers 3 inches of support for superior pressure relief.
Sleep Advisor Score
4.50 / 5
Read Full Review
The TEMPUR-Adapt® Topper is the result of decades of research into the right composition for all-over pressure relief. Its TEMPUR® material reacts to multiple factors—weight, temperature, and even body type—as soon as you come into contact with it. Thus, pregnant people should appreciate how customized it feels to their shape and symptoms.
This topper has Staytight™ straps that keep it from being pushed out of place on your mattress, even during restless nights. For an extra fee, you can also spring for a cooling cover made with temperature-regulating fabric.
How else does it excel?
The cover on this topper is removable, washable, and hypoallergenic, so you don't have to fret about dust mites and other irritants.
The TEMPUR® material is extremely long-lived, as evidenced by this topper's 10-year warranty.
Best Latex Mattress Topper for Pregnancy
Birch Plush Organic Mattress Topper
Made with natural latex, cotton, and wool, this topper offers luxurious cushioning.
Sleep Advisor Score
4.70 / 5
Sleeping while pregnant can entail a certain amount of restlessness during the night, as well as uncomfortable temperature fluctuations. Latex is a handy material that can address both of these concerns, as its high responsiveness allows for easy movement and its natural breathability keeps sleepers cool.
The Birch Plush Organic Mattress Topper uses Talalay latex in its construction, bookended by other eco-friendly materials such as organic cotton and wool. Each one is handmade in Arizona before it's sent to a buyer's home with no additional shipping costs.
What makes this topper great?
The Birch brand takes its commitment to the Earth very seriously, and has garnered certifications from GOTS, GREENGUARD Gold, and eco-INSTITUT for this topper.
The Talalay latex layer has the pleasant springiness that one would expect from this kind of foam, but should also contour to the body well enough to earn the "Plush" in its name.
Best Memory Foam Mattress Topper for Pregnancy
Layla Mattress Topper
This copper-infused mattress topper will keep you cool at night.
Sleep Advisor Score
4.20 / 5
Read Full Review
The Layla Memory Foam Topper should provide substantial relief from pregnancy-related aches and pains. At only 2 inches thick, it's easy to place and manipulate, but its copper-infused memory foam still creates an extremely plush surface.
The copper inside the foam helps to keep it cool, and also dissuades germs and other microbes from taking root. What's more, a five-year warranty guarantees that your investment in this topper is well protected.
What other features did we love?
The memory foam in this topper is CertiPUR-US® certified, meaning it passes emissions tests and doesn't contain certain harmful substances.
The topper is supportive as well as soft, and should palpably adapt to areas exerting more pressure than others, such as the shoulders and hips.
Interested? Read our full Layla Memory Foam Topper review.
Best Firm Mattress Topper for Pregnancy
Brooklyn Bedding TitanFlex Topper
A responsive and cooling mattress topper.
Sleep Advisor Score
4.20 / 5
If you're seeking more support from your mattress during pregnancy, the Mattress Topper 3" Titanflex™ Topper is up to the task. These 3-inch-thick topper can be ordered in a Soft, Medium, or Firm feel, and its proprietary foam mixes pressure relief with convenient responsiveness.
The CertiPUR-US® certified foam is also adept at cooling. Its open-cell structure allows for air pockets that help with temperature regulation, and an organic cotton cover also assists with breathability.
What caught our eye?
For an additional fee, you can swap the cotton cover for a "Luxury Cooling" knit cover and feel even more cozily chilled-out at night.
Best Gel Mattress Topper for Pregnancy
ViscoSoft Select High Density Mattress Topper
A high-density memory foam topper available in 3 or 4-inch thickness.
Sleep Advisor Score
4.50 / 5
The memory foam inside the ViscoSoft Select High Density Mattress Topper features multiple cooling elements that should keep pregnant sleepers from overheating. Most prominently, it's infused with cooling gel that resists the buildup of excess warmth.
But this gel topper also has a ventilated core for added airflow, and a breathable cover that can be easily removed and washed. These cooling mechanisms are all the more impressive when you consider the sturdy nature of the topper: the king-size version weighs a full 40 pounds.
What else did we notice?
The high-density foam in this topper is more durable than more lightweight poly foams, so it should last you for years to come.
A mesh bottom and adjustable corner straps keep the topper secure once you've placed it on your bed.
Best Cooling Mattress Topper for Pregnancy
Nest Bedding Cooling Mattress Topper
A 2-inch topper with tempurature-regulating foam for hot sleepers.
If you're a pregnant person experiencing hot flashes, a cool sleeping space can be a sanctuary. Fortunately, the Nest Bedding Cooling Topper can bring cooling capabilities to your existing mattress. Its Energex™ Temperature Responsive Foam "energizes" when it encounters body heat, dissipating uncomfortable warmth with its open polymer construction.

Nest even offers a 30-day sleep trial with this CertiPUR-US® certified topper, so you can test it over an entire month to see if it provides the coolness you're craving.
Why else do we like it?
This topper intends to split the difference between latex and memory foam alternatives, preserving the responsiveness of latex while offering the pressure relief of memory foam.
Best Organic Mattress Topper for Pregnancy
Avocado Latex Mattress Topper
If you're looking for earth-friendly products to help ease the more stressful parts of pregnancy, the Avocado Eco Organic Mattress Topper sets a high bar. Unlike most competitors, it's certified by MADE SAFE®, which means its construction has passed tough standards for its impact on both humans and the environment.
The topper features organic, natural latex that makes for a responsive yet pleasingly cushiony surface. The latex comes from rubber tree farms owned by the Avocado brand, and undergoes a strictly monitored manufacturing process.
What else stands out?
This topper also holds certifications from GOLS and GOTS for its organic latex and cotton, respectively.
A generous 100-night sleep trial allows you to test out this organic topper for an extended period of time.
Best Soft Mattress Topper for Pregnancy
Coop Sleep Goods Retreat Mattress Topper
A cooling mattress topper featured a memory foam and microfiber blend.
Sleep Advisor Score
4.90 / 5
Most mattress toppers look like a single, flat sheet of material that you lay on top of your bed. By contrast, the Coop Retreat Mattress Topper is made of several plush pockets, each filled with shredded Oomph™ memory foam and microfiber.
This unique approach to comfort means that pregnant sleepers can enjoy a plush, cloud-like layer that remains consistently soft across its entire surface. What's more, the Baffle Box design permits increased airflow for cooler nights.
What else stands out?
Even the way the memory foam is cross-cut contributes to the cooling power of this topper—plus, it keeps the fill from clumping within the pockets.
Certifications from CertiPUR-US® and GREENGUARD Gold prove that this topper has mindfully sourced ingredients.
What to Look for in a Mattress Topper for Pregnancy
As you start shopping for a mattress topper to make sleeping more comfortable, keep in mind the most important considerations for you. There are lots of different products and they each target different needs. Knowing what your top concerns are when it comes to sleep will help you as you begin your search.
Materials
Memory Foam
Memory foam is popular in the bedding and mattress industry because it's great at alleviating pressure points throughout the body. According to health experts, sleeping on your side, particularly the left side, is the best sleeping position during pregnancy1, but with side sleeping comes the risk of pressure buildup at the hip and shoulder. Adding a memory foam topper could be helpful for pregnant people transitioning to side sleeping, who may otherwise not get enough pressure relief from their mattress alone.
Latex
Latex is another great option for a mattress topper during pregnancy. This material is fantastic for pressure relief and support, and it's also highly durable for long-lasting use.
Another benefit of latex is that it doesn't retain heat, which could be helpful for extra-hot sleepers. Many eco-friendly brands also utilize toppers made with natural latex, which could make this type of topper ideal for pregnant people who are concerned about using synthetic-based mattress accessories.
Foam
Mattress toppers made from poly foam can still provide pretty good support and pressure relief and often come at a cheaper price than memory foam or latex options since they're not as durable. Some brands may create proprietary foams that they use in their mattresses and toppers for enhanced qualities like temperature regulation.
Fiberfill
Fiberfill is a type of topper made from a polyester blend. While they can feel very plush, they typically lack the support that memory foam and latex toppers provide, which might not be ideal for pregnant people since they will likely need more enhanced support for their growing bodies.
Feather
Like fiberfill toppers, feather-made ones are soft but minimally supportive. As such, these likely aren't ideal for those who are pregnant, but they could work for others who just want to add overall some softness to their sleep space.
Wool
Not only is wool soft and cozy but this naturally derived material is known for its ability to wick away moisture and provide year-round comfort. Wool is also fire-resistant and should offer resilient body support.
As a hypoallergenic and toxic-free material, wool may be a great option for pregnant women who are looking for safer bedding.
Sleep Position
Earlier we mentioned that sleeping on your left side is the best position for those who are pregnant. Conversely, these experts say that pregnant people should avoid back sleeping as it could lead to issues including back pain, breathing and digestive problems, hemorrhoids, low blood pressure, and worse circulation1. Of course, a growing stomach can also make stomach sleeping uncomfortable during this time.
Firmness
Toppers made with foams higher in density are going to feel firmer than those with lower densities. To accommodate your growing body, toppers that are at least a medium firmness should give you enough support and pressure relief for more comfortable sleeping.
That being said, firmness is subjective, and you may find that throughout your pregnancy, your topper will start to feel softer as your body grows since the additional weight will cause you to push through the foam more. For this reason, at least a medium firmness might be a good place to start, though this will also depend on your mattress' firmness since a very firm mattress combined with a firm topper might be too much.
Cooling
According to health experts, people who are pregnant can often feel hot2 because they have more blood in their bodies. While you may never have considered cooling bedding products before your pregnancy, they could be very helpful during it, and a cooling mattress topper is a good place to start. Many cooling mattress toppers combine a breathable cover like cotton with a cooling interior such as gel-infused memory foam or temperature-neutral latex.
Motion Isolation
Motion isolation is a term that refers to a topper's ability to keep movement from transferring over to the other side of the bed. This is also a common feature we cover in mattress reviews. It's mostly valuable for couples if one partner tosses and turns a lot and the other person is a light sleeper.
If this sounds like something you could use, we recommend toppers made with memory foam, which is great for absorbing motion.
Sex
Many sexually-active couples enjoy mattresses that are bouncier, which means they respond quickly to movement, usually through buoyant materials like coils. While toppers don't typically come with coils, there are plenty of latex mattress toppers available that could add some bounce to your bed space as this is also a responsive material.
Pressure Relief
As mentioned, side sleeping is ideal for pregnant people, which means that pressure relief is going to be important. Often, softer memory foam and latex toppers can be great for pressure relief, but this also depends on the state of your mattress.
If your bed is very firm, a plush topper could make your bed softer for pressure relief. Conversely, if your mattress is already soft, you may want a medium-firm topper to give you some extra support so you don't bottom out through the mattress layers.
Edge Support
Strong edges on a bed can make it more comfortable to sleep or sit along the sides. This can be good for solo sleepers and couples who like to spread out. Additionally, stronger edges can make getting in and out of bed easier for those with limited mobility.
A firm, supportive topper built with dense foam or latex could provide extra edge support to an older mattress or one that is newer but lacks edge support.
Budget
With lots of new expenses coming up for the baby, investing in a brand-new bed may not be an option. Thankfully, toppers are much more affordable than mattresses and can still give your bed a whole new feel. With lots of budget-friendly options available, you should be able to find one that meets all your needs without breaking the bank.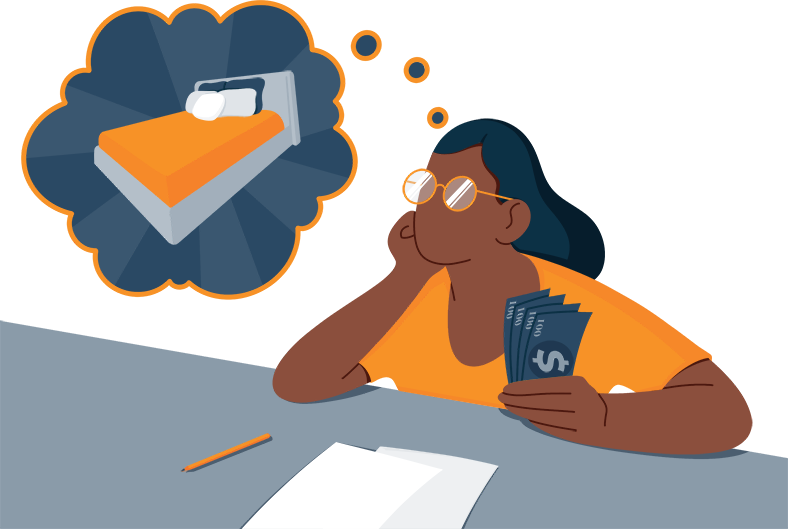 Mattress & Sheet Compatibility
Toppers go right on top of your mattress, so you'll want to be sure the topper you get aligns perfectly with your mattress to avoid any uncomfortable gaps along the edges. We recommend confirming the dimensions of your current bed and the topper you're interested in so you know they'll line up.
A topper also adds a few inches to your bed, which means you'll need sheets with pockets deep enough to accommodate this. Therefore, you'll want to make sure the pockets of your sheets cover both the mattress height and the topper height combined.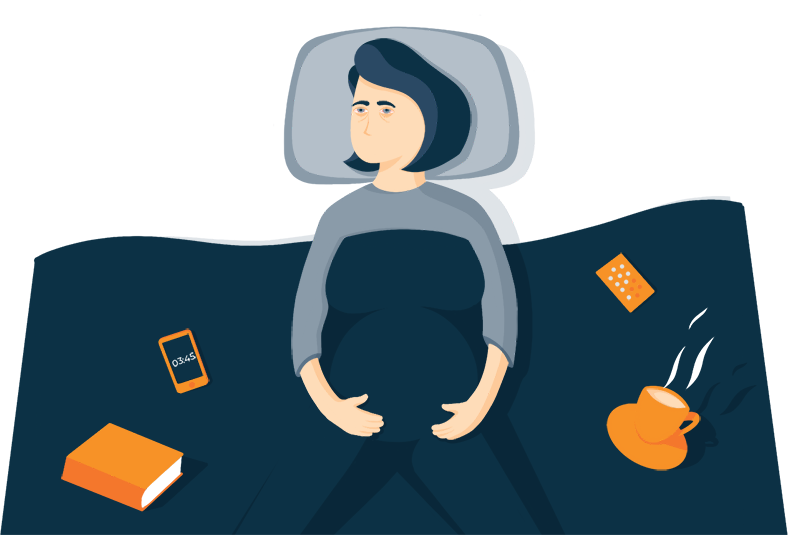 Best Mattress Topper for Pregnancy FAQs
Are mattress toppers good for pregnancy?
Yes, mattress toppers can be good for pregnancy. Toppers can provide pregnant people with extra support, pressure relief, and even cooling to help them feel more comfortable while they sleep. They're also much cheaper than buying a new mattress altogether.
Is it better to sleep on a firm or soft mattress when pregnant?
The answer to this depends on the specific needs of the sleeper. That being said, pregnancy means additional weight, so support is going to be important for helping to prevent back pain.
Mattress firmness and support are separate but often overlap, with many firmer mattresses offering solid support.
However, pregnant people are advised to sleep on their side, so a mattress that's too firm could create extra pressure. We recommend starting your mattress shopping journey by looking at medium-firm beds that typically do the best job of combining sturdy support with cushiony pressure relief.
Is memory foam good for pregnancy?
Yes, memory foam can be good for pregnancy, but it also depends on what the sleeper prefers. Memory foam can provide excellent support and pressure relief, but without cooling features, it typically runs hot. Additionally, people who prefer more natural and organic bedding might not like that memory foam is a synthetic material.
Our Final Thoughts
Toppers are a budget-friendly way to make a bed more comfortable, especially you go through a pregnancy. Plus, there are so many options available that you should be able to find one that meets your unique preferences and needs. While you may be searching for a topper for pregnancy, specifically, the good news is that the topper could still be useful long after as well.
References
"Best Sleeping Positions During Pregnancy". American Pregnancy Association. Webpage accessed May 1, 2023. https://americanpregnancy.org/healthy-pregnancy/pregnancy-health-wellness/sleeping-positions-while-pregnant/.

"12 Things No One Expects During a Summer Pregnancy". UnityPoint Health. Webpage accessed May 1, 2023. https://www.unitypoint.org/news-and-articles/12-things-no-one-expects-during-a-summer-pregnancy#:~:text=Being%20Hot%20All%20the%20Time,the%20woman%20to%20feel%20warmer.