Transparency Disclosure – We may receive a referral fee for products purchased through the links on our site...

Read More

.
Are you pregnant and struggling to get a good night's sleep? Or maybe you're the supportive partner of a glowing mama-to-be and want to help her get the rest she needs.
Expecting a baby can be an exciting, albeit exhausting time—especially if you're struggling with sleep. According to the American Pregnancy Association¹, 78 percent of pregnant women experience insomnia. Aside from hormonal changes and frequent trips to the bathroom, back pain and discomfort are among the top reasons why insomnia occurs.
Replacing your entire bed can be costly, so we've put together a list of the top-rated mattress toppers for pregnancy to give your back (and your wallet) a break.
3 Top-Rated Mattress Toppers for Pregnancy Review
Linenspa –
Best Gel Infused
Thickness: 2″ or 3″
8 size options
Gel infused memory foam
CertiPUR US certified
Is your current mattress lacking support? This gel-infused memory foam topper is available in plush 2 or 3-inch heights and is designed to distribute weight evenly for pressure relief and support.
The infusion of temperature-regulating gel beads should be a welcome solution for expecting mamas who overheat at night.
Thickness: 2″, 3″ or 4″
8 size options
Ventilated memory foam
This ventilated memory foam topper is designed to bring new life to your existing bed. The resilient foams are constructed for long-lasting conforming to alleviate pressure points while promoting a neutral spine.
The evenly spaced ventilation holes allow for maximum breathability and should help to keep you cool and comfortable all night long.
Sleep Innovations –
Best Dual Layer
Thickness: 4″
5 size options
Dual layer gel memory foam
CertiPUR-US Certified
Expecting mothers may love sleeping on this cloud-like, dual-layer topper that combines comfort and pressure-relieving support. The first layer features a 2-inch, fluffy fiber-fill encased in a soft, quilted cover that can be removed for easy machine washing. The second layer consists of 2 inches of cooling gel memory foam that is designed to hug your body for all-over comfort while drawing away excess heat for undisturbed sleep.
Safety is a big concern during pregnancy, so this topper features foams that are made in the USA and have the CertiPUR-US seal, meaning that they have been tested for safe levels of toxic substances.
Pregnancy Mattress Topper Buyer's Guide
Instead of buying a new bed, toppers add an extra layer of comfort—a great solution during pregnancy when extra pressure relief and support are a must.
Do Maternity Mattress Pads Improve Sleep?
There comes a point in pregnancy when the only comfortable (and safe) sleeping position is on your side.
For regular stomach and back sleepers, this can add an extra element of trouble when it comes to getting sleep. Add the discomfort from your growing belly, and it's no wonder insomnia rates soar in pregnant mamas.
While it won't solve your nightly need to pee, a topper may help to alleviate some of those common aches and pains keeping you awake at 2 AM.
Learn more: Sleeping for Two: Complete Guide to Sleeping While Pregnant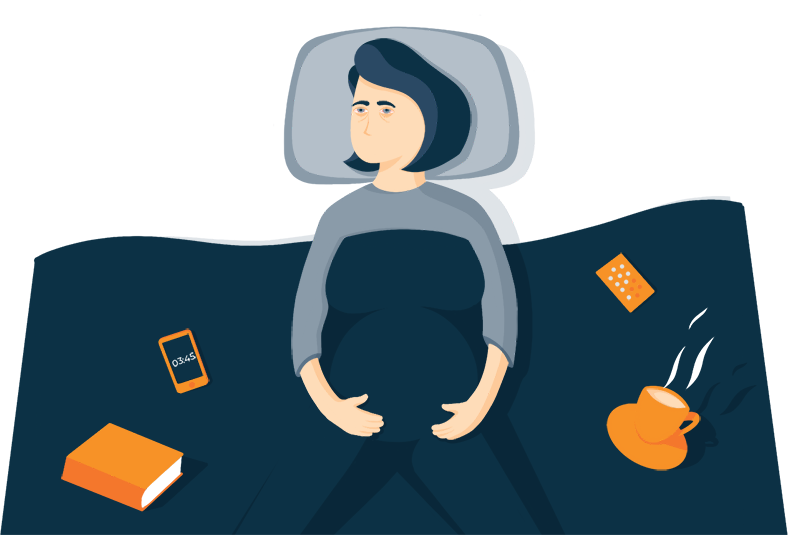 How Else This Product Benefits You
The body undergoes massive changes during pregnancy. As your midsection expands, a lot of pressure is placed on your hips and lower back as your spine tries to maintain a neutral alignment. Unfortunately, the same thing happens when you lay down at night.
Side sleepers typically experience excess pressure in the shoulders and hips, but expecting women may also feel pressure in their belly. Toppers are designed to evenly distribute weight, relieving pressure in heavier areas and supporting the spine for optimal alignment.
If your existing mattress is particularly firm, these pads can provide a softer surface to enhance your comfort.
Besides offering an extra layer of cushioning, many have cooling features which can be an added bonus during pregnancy when hormones may cause your body temperature to rise.
Is Wool Suitable Material?
Are you concerned about toxins and harmful chemicals that may pose a risk to your growing baby? Many pregnant women worry about exposing their unborn baby to hazardous substances in their mattress and bedding. Instead of replacing the entire bed, shopping for a topper made from natural materials may be an alternate solution.
There are many natural materials when it comes to bedding, but wool is often considered one of the best. Not only is it soft and ultra-cozy, but this naturally derived material is known for its ability to wick away moisture and provide year-round comfort. Wool is also fire-resistant and should offer resilient body support.
As a hypoallergenic and toxic-free material, wool may be a great option for pregnant women who are looking for safer bedding.
Key Considerations When Buying a Pregnancy Mattress Topper
As you start shopping for a mattress topper to make sleeping more comfortable, keep in mind the most important considerations to you. There are lots of different products and they each target different needs. Knowing what your top concerns are when it comes to sleep will help you as you begin your search.
Pain in Hips
Hip pain is a common concern as the pelvic joints relax and expand. Options that offer excellent pressure relief may help to alleviate pain for more restful sleep.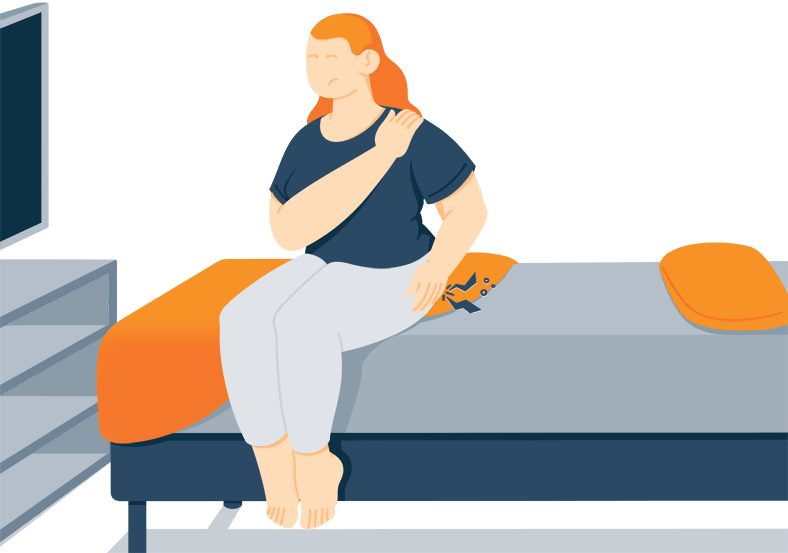 Odor Sensitivity
What's that smell? One of the first changes that alert women there may be a bun in the oven is a sensitivity to smells. Experts believe it may be a survival skill to help detect hazards (like spoiled food), but it can make navigating day-to-day life tough.
If you're struggling with odor sensitivity, you may want to keep this in mind as you shop. Off-gassing is the release of volatile organic compounds (VOCs) into the air. These potentially toxic materials are especially common in foam-based bedding.
One option is to look for companies that ship "stable," which means that the off-gassing happens at the factory, not your home. CertiPUR-US is a certification that tests for safe levels of harmful substances in foams. Opting for natural materials is another way to avoid these toxins entirely.
Density (Firmness)
Density often refers to how firm the material is. Even memory foam can range when it comes to density, so you'll want to pay attention to this as you're shopping around. When it comes to pressure relief, choosing a softer (less dense) material is usually preferable.
Price Tag
Last but not least, you'll want to keep your budget in mind. With lots of new expenses coming up for baby, investing in a brand new bed may not be an option. Thankfully, toppers are much more affordable than mattresses and can still give your bed a whole new feel.
With lots of budget-friendly options available, you should be able to find one that meets all your needs without breaking the bank.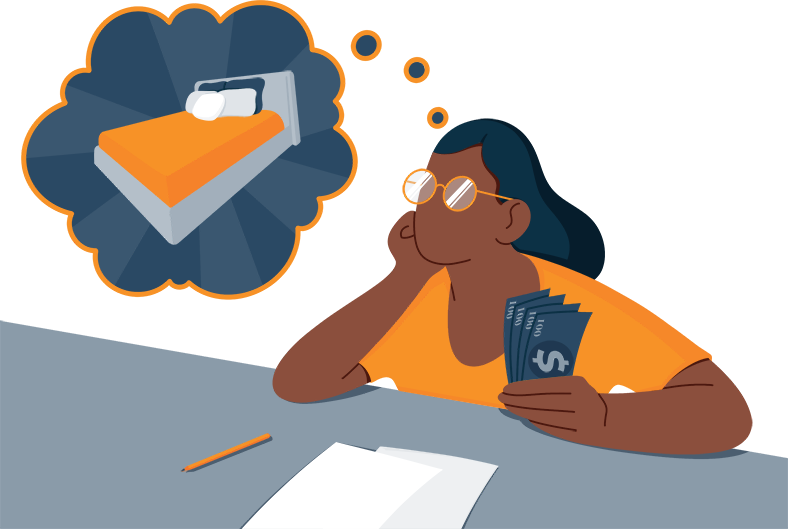 Conclusion
Let's be honest—sleeping during pregnancy is hard. At a time when your body is craving rest, it seems like everything is working against you when it comes to sleep. Growing a human puts a lot of strain on your hips and spine, so having comfort and support are important.
If you're not in the market for a new bed (after all, you still have a crib to buy), a topper can be a great alternative. This extra layer can gently cradle your body and belly so you may soak in those extra zzz's while you still can.