Life is too short to spend it sleeping on a bed that doesn't make you feel like a million bucks.
If you just bought a mattress and it seems overly firm, you'll need to figure out a few things:
Does it feel hard just because it's new? Will it soften up over time?
Did you buy something that simply isn't right for you?
In the first case, you'll be happy with your bed in no time. I've got a few tips that'll help you break in your bed so it's more comfortable.
If your situation is more like the latter, you've got a tough decision to make. Returning something this bulky (and personal) is a pain the rear. And some companies have more generous return policies than others, so you might not even be part of the return window.
Since you've already got the thing in your house, perhaps there's a way to salvage the situation and make your firm mattress softer.
Making Your Firm Mattress Soft
Check Your Foundation
If you've recently bought a mattress and it feels to firm, the first thing you should do is check your foundation. The reason is that not all types of mattresses are suited for different types of foundations. For example, if you recently switched from an innerspring bed to memory foam, you'll need to ditch the box spring.
On the other hand, if you have something that's not memory foam, then a box spring foundation can make your bed feel softer. This is something to keep in mind if perhaps you don't have a box spring.
As a general rule, remember that box springs are designed for innerspring mattresses. Just as the name implies, it's a box with springs inside that function as motion isolators for bouncy and disruptive coiled beds.
The foundation itself can be either a solid or slatted platform. Platforms tend to make a surface firmer, so if you're feeling especially uncomfortable and you have a foam bed you may want to consider an adjustable base that may not be as hard.
Learn More: Do You Need a Box Spring for Your Mattress?
Stepping on the Bed
A brand new mattress may be firmer than you anticipated, but you can easily soften it up by taking a few steps. Literally. You can break it in by sleeping on it night after night, and you'll experience some softening over time. However, if you want more comfortable sleep sooner, you can walk across the top of it every day, preferably for several minutes at a time, and that should soften it up quicker.
It probably goes without saying, but I recommend doing this procedure without shoes, so that everything stays clean.
Need more info? Find out how to break in a new mattress here.
Use a Mattress Topper
Buying a topper is one of the quickest, most effective, and cheapest ways to make a hard surface softer. By adding a supportive layer to the top of your bed, you can enhance pressure point relief and contouring. There are different materials available, including latex, memory foam, wool, cotton, feather, polyfoam, and down alternative.
The most popular option is memory foam. If you go with this variety, get something that is under two inches thick and a lower density for extra softness.
View Our Full Guide: Best Mattress Topper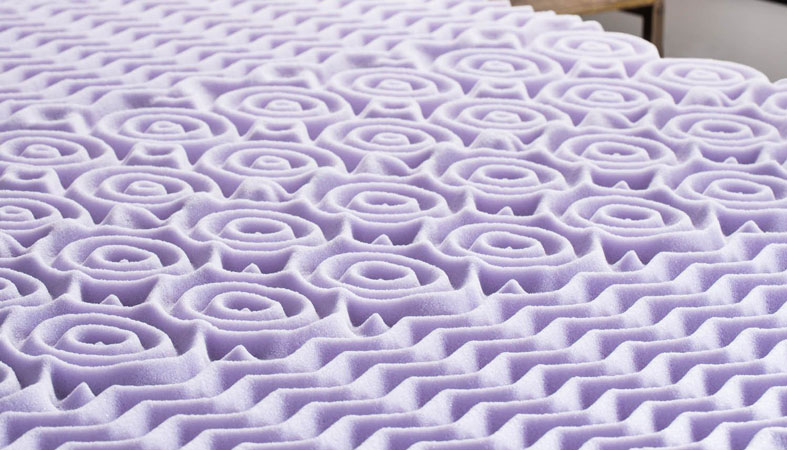 Warm it Up
This tip works if you're sleeping on a memory foam mattress. Because memory foam responds to external temperatures, a warm room will make it softer, and a cold room will make it harder. If you're sleeping in a chilly bedroom, consider upping the thermostat a few degrees to make things warmer.
Rotate and Flip It
If your mattress can be rotated or flipped, this option might provide some relief. It won't work for pillow top beds, but most others are flippable. You have two options:
Rotate it 180 degrees. Now the area that supported your head will now support your feet and vice versa.
Flip it over so that the top side is facing down.
Just like you rotate your tires regularly for even wear, the same should be done for your mattress.
Find Out More: How Often Should You Flip Your Mattress?
Making Your Soft Mattress Firm
Check Your Foundation
If your bed is getting older, the first thing you should do is check your foundation to make sure everything is intact and there hasn't been excessive wear and tear. Without a solid foundation, you're likely to feel the uncomfortable effects of a sagging mattress.
If you have a boxspring, check to make sure that it feels firm and resilient. If not, it's time to have it replaced. If you have a platform with slats, check to make sure that none of them are broken, sagging, and they're no more than three inches apart. Anything more and the bed won't have enough support, which will create a sagging or sinking feeling.
Interested in learning more? Check out the signs of sleeping on a bad mattress.
Here's a cool life hack that'll only cost you a couple of bucks: put a thin board, like plywood, between the mattress and the box spring. You'll get a firmer surface, and if you and your partner have different preferences, you can just put the board on one side of the bed.
View Our Comparison: Box Springs vs. Slats
Make it Cooler
As you know, memory foam responds to temperature. Since you can make a mattress softer by warming it up, the same is true when you want to make it harder. Cooling the room down to a lower temperature will stiffen up the material and make your bed feel firmer.
Read More: How to Make Your Memory Foam Mattress Cooler?
Rotate and Flip It
While this tip was mentioned as a way to make a hard mattress softer, it's usually more effective for making a soft and saggy cushion feel firm again. Because we tend to sleep in the same area of the bed, it's not unusual for it to have indentations and body impressions that rob your body of support.
By rotating or flipping it, you may be able to find a spot that has the firmness you're seeking.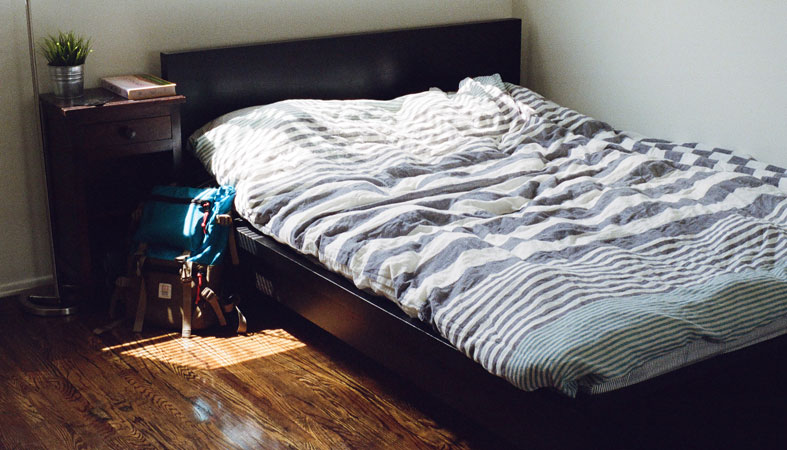 Mattress Topper (again)
It's a lot easier to use a topper to make a firm bed soft than the other way around, but it is still possible. There are a couple of materials that will subtly enhance the firmness of your mattress, though it won't be dramatic. The materials you should look for are Dunlop latex and compact wool. Avoid foams, as they'll have the opposite effect.
Replace Layers
Does our bed have a removable zipper cover? If so, you may be able to take out old, saggy layers with fresh, firm ones. You may need to get the help of a professional, and make sure you double check your warranty. Manufacturers tend to void a warranty if you've materially altered their products.
How to Make Your Bed Comfortable
Have you ever had one of those days where you long for the moment that you can get home, crawl under the blankets, and relax? Pure heaven, right?
I've found that one of the easiest ways to ensure that my bed is the most comfortable space in the house is through a special layering technique. Each part of is a delightful sensation of softness and luxury.
Here are my top four go-tos for a comfortable night of sleep:
Soft flannel sheets: In cooler weather, nothing beats the coziness of flannel sheets. When the weather heats up, I switch to jersey, t-shirt sheets. They are so soft!


---

Add a memory foam mattress topper: Side sleepers tend to need more pressure relief on their hips and shoulders. A topper made out of memory foam provides the perfect amount of cradling support.


---

Add a mattress pad cover: Get a quilted variety that holds your topper in place while doing double duty as an extra layer of padding.


---

Get a body pillow: Sometimes I like to snuggle, but I don't always want some hot, sweaty human with dragon breath taking up my space. That's why I love my body pillow. I get all the benefits of a snuggle partner without any of the drawbacks.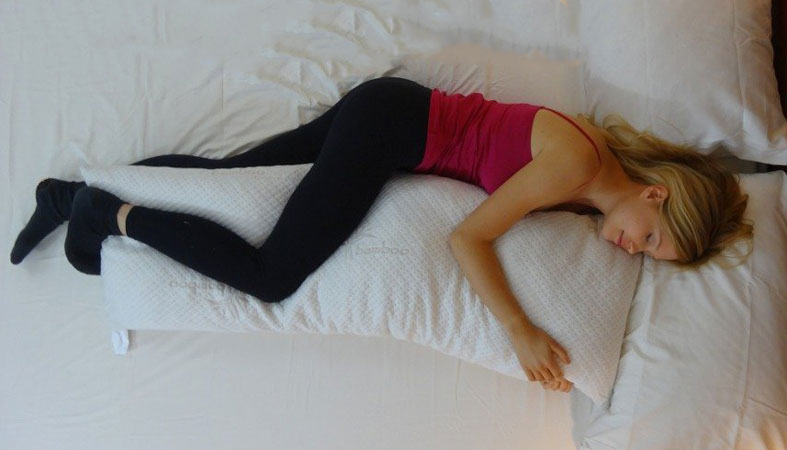 Frequently Asked Questions
Does a hard bed cause back pain?
Beds that are too hard or too soft can both cause back pain. In the case of one that is too firm, you'll find that it'll push on your pressure points (hips, shoulders, and torso) and cause misalignment. One way to tell if your mattress is too hard is if your arm falls asleep even though you're not putting much weight on it.
Get More Info: Is Your Mattress Causing You Back Pain?
Why does a new mattress feel firm?
Some types of mattresses feel firm when they're brand new, and they can take some time to settle. This is especially true for memory foam. Some online companies compress their beds in a box for shipping. When a company does this, you'll find that it will already be soft.
However, if your bed arrives fully intact, expect a bit of an adjustment period. It might be 30 days or more. Just like when you buy shoes and have to break them in to get rid of that "new" feeling, the same holds true for this type of product.
Does adding plywood underneath the bed make it firmer?
Yes, absolutely! You only need to do this if you have boxsprings. Otherwise, a solid platform frame will have the same effect.
Can I make my memory foam mattress firmer?
Yes, there are a few ways to make a memory foam bed feel firmer. The first is to sleep in a colder room. Cooler temperatures firm up the foam material. Another thing you can do is get a firm mattress topper.
Our team covers as many areas of expertise as we do time zones, but none of us started here as a so-called expert on sleep. What we do share is a willingness to ask questions (lots of them), seek experts, and dig deep into conventional wisdom to see if maybe there might be a better path towards healthy living. We apply what we learn not only to our company culture, but also how we deliver information to our over 12.7M readers.
Sleep research is changing all the time, and we are 100% dedicated to keeping up with breakthroughs and innovations. You live better if you sleep better. Whatever has brought you here, we wish you luck on your journey towards better rest.