Full-size beds, also referred to as "double beds," are generally bigger than a Twin and slightly smaller than the popular Queen-size mattress. The difference is in the overall surface area, length, and width.
However, a lot of people are unaware of the actual dimensions and how this could impact performance, price, and more. With this in mind, we've taken the liberty to break down the differences between a Full and Queen-size bed. Our goal is to make sure that you have all the necessary details so you can decide which one is right for you.
 Best Full-Size Mattresses
Best Queen-Size Mattresses
Comparison Chart
| | Full Bed | Queen Bed |
| --- | --- | --- |
| Width | 54 inches | 60 inches |
| Length | 75 inches | 80 inches |
| Popularity | 21% of all the purchases | 32% of all the purchases |
| Pros | The size is perfect for a single sleeper | It is usually suited for someone taller or for a couple |
| Cons | The full bed won't fit a couple good as it is too narrow | Even though the bed is designated for couples, it could still feel too narrow |
Difference Between Queen and Full Bed Explained
Dimensions
Starting off with the dimensions, as you can see from the comparison chart, the full-sized bed measures 54 x 75 inches while the queen-sized one measures 60 x 80 inches. The difference is quite significant, yet not enough for the queen bed to freely accommodate a couple comfortably. This is why both choices are usually preferred by people who prefer to sleep alone.
One of the best parts about owning a full-size is that it would provide you with a substantial amount of sleeping space without taking a whole lot from your room. Even though it's not as compact as a regular twin, it could fit within the majority of bedrooms comfortably. You will have the necessary amount of space to conveniently maneuver in your room.

Price
Regardless of the brand or built you go for, a full-size is always going to be the cheaper solution in absolutely every aspect. This is since they are both quite popular and are amongst the most regular choice of the majority of people. With this said, even the spare parts for the full-sized bed are going to be cheaper.
The reason for this is quite logical and straightforward – they are comparatively smaller which makes the main difference. This is something that you ought to account for. Queen sized beds also require larger pieces of sheeting, duvets, and comforters which is even going to jack up the price a bit so keep this in mind.
Comfort
You're likely to be looking at an overkill if you prefer the queen-size for a single sleeper. However, if you have the room to afford it, this is never a bad thing. This is especially true if you find yourself moving a lot during the night – the extra space could prevent you from waking up in the middle of the night as you've run out of room for your feet. While it's not the ideal pick for a couple, 30 inches per person is quite substantial and it's certainly better than the full-sized option.
This is the ultimate solution if you don't have excessive space in your bedroom and you intend to sleep alone. It is going to leave an inconsiderable 27 inches per person if you decide to share it which could be quite tight. However, if you are a single sleeper, the mattress is the most optimal space-saving option, which is quite awesome. Keep in mind, though, that it is also 5-inches shorter than its queen-sized counterpart.
Accessories
Accessories for full-sized beds are incredibly common, and you would be able to find different sets at prices which are fairly affordable. You would also be able to get a nice and appropriate duvet set at one of the most commonly visited big box stores or even online for as much as $20 or even less than that. You will also be given a room for one additional pillow, which is always something beneficial.
Finding accessories for your queen-size is also going to be a breeze as this is one of the most commonly purchased sizes. The sets are pretty much equally prized as the ones for the full-sized beds, even though a slight increase because of the larger dimensions is quite possible. There is nothing overly expensive to be worried about, though.
Recommended Room Size
If you want to purchase a full-sized bed, the recommended room size should be about 10 x 12 feet. If you don't have that, you should consider going down to a twin-size in order to allow yourself the additional breathing room around the mattress.
Once again, anything above 10 x 10 feet is likely to work fine, even though you'd have slightly less space around it for maneuvering. On the other hand, if thee room is smaller than 9,5 x 10 feet, you should consider going down a size to make sure that there is no discomfort.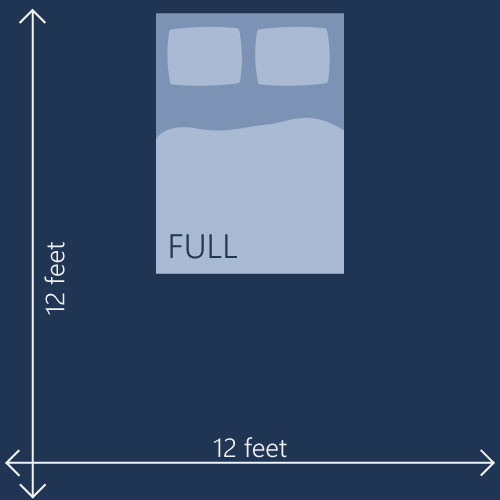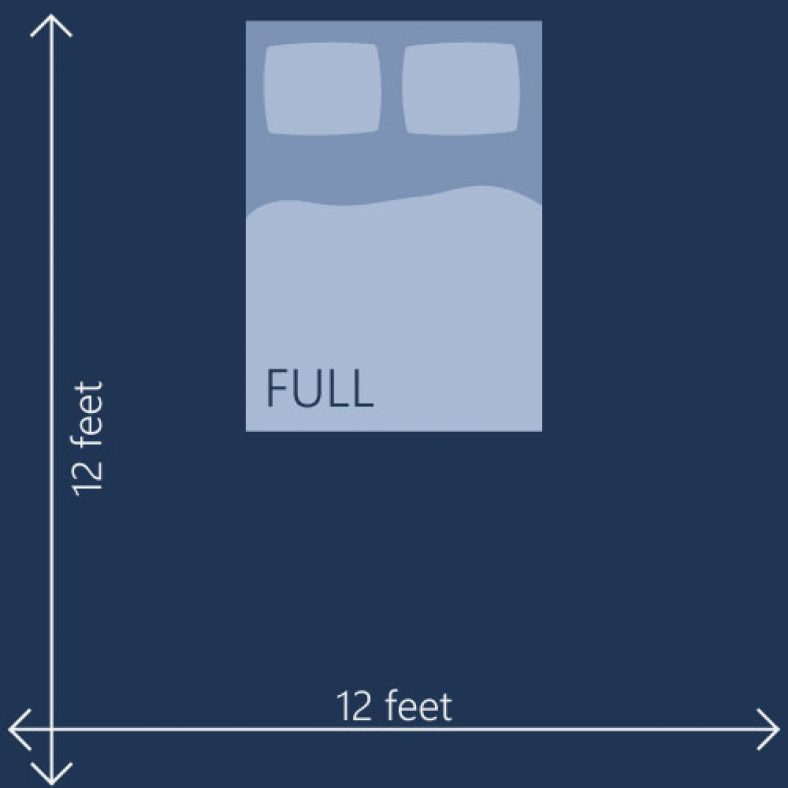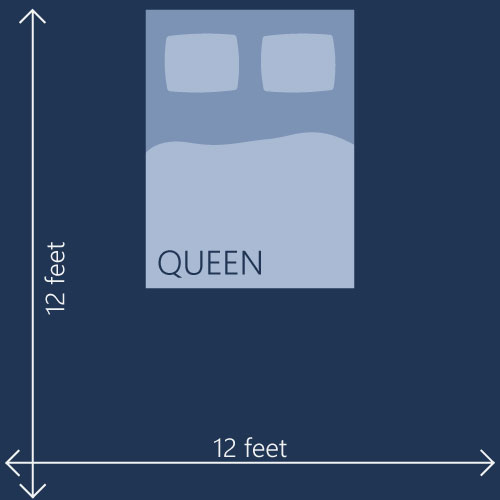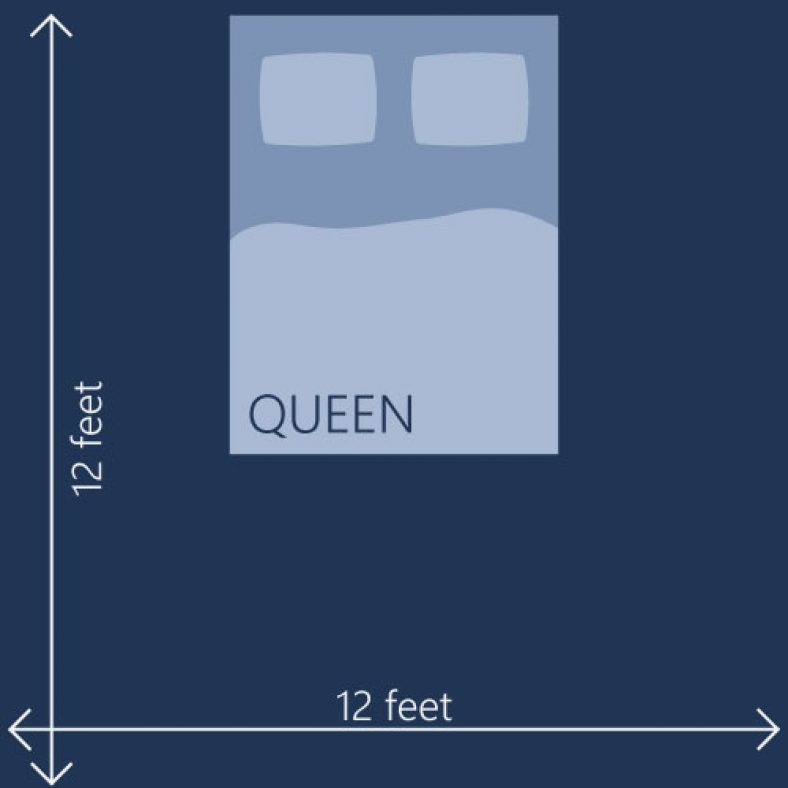 Full Bed Pros and Cons
The pros and cons of the full mattress are mainly related with its compactness and relatively larger sleeping space.
The Pros:
It is quite inexpensive
The solution is not too heavy
It is incredibly easy to find accessories
The Cons:
Queen Bed Pros and Cons
When it comes to queen mattresses, the advantages and disadvantages are slightly different due to the various dimensions.
The Pros:
It's good yet not ideal for couples
It's very easy to accessorize it
It provides additional room for your legs
The Cons:
It's slightly more expensive
It's heavier
Conclusion
---
As you can see, the differences between the full sized bed and the queen sized one could be quite substantial, especially if those few inches on top are what you're looking for.
At the same time, the size of your mattress is also going to determine a few different components such as the overall comfort not only of your sleeping solution but the entire bedroom as well. If you have a smaller room, it's wiser to go with a smaller option in order to leave enough space for other necessary furniture as well.
Hopefully, the aforementioned has been of value. We hope that now you have the necessary clarifications to make a quick and decisive choice.
Our team covers as many areas of expertise as we do time zones, but none of us started here as a so-called expert on sleep. What we do share is a willingness to ask questions (lots of them), seek experts, and dig deep into conventional wisdom to see if maybe there might be a better path towards healthy living. We apply what we learn not only to our company culture, but also how we deliver information to our over 12.7M readers.
Sleep research is changing all the time, and we are 100% dedicated to keeping up with breakthroughs and innovations. You live better if you sleep better. Whatever has brought you here, we wish you luck on your journey towards better rest.